A de novo next generation genomic sequence assembler based on string graph and MapReduce cloud computing framework
BMC Genomics
2012
13(Suppl 7):S28
Published: 13 December 2012
Abstract
Background
State-of-the-art high-throughput sequencers, e.g., the Illumina HiSeq series, generate sequencing reads that are longer than 150 bp up to a total of 600 Gbp of data per run. The high-throughput sequencers generate lengthier reads with greater sequencing depth than those generated by previous technologies. Two major challenges exist in using the high-throughput technology for de novo assembly of genomes. First, the amount of physical memory may be insufficient to store the data structure of the assembly algorithm, even for high-end multicore processors. Moreover, the graph-theoretical model used to capture intersection relationships of the reads may contain structural defects that are not well managed by existing assembly algorithms.
Results
We developed a distributed genome assembler based on string graphs and MapReduce framework, known as the CloudBrush. The assembler includes a novel edge-adjustment algorithm to detect structural defects by examining the neighboring reads of a specific read for sequencing errors and adjusting the edges of the string graph, if necessary. CloudBrush is evaluated against GAGE benchmarks to compare its assembly quality with the other assemblers. The results show that our assemblies have a moderate N50, a low misassembly rate of misjoins, and indels of > 5 bp. In addition, we have introduced two measures, known as precision and recall, to address the issues of faithfully aligned contigs to target genomes. Compared with the assembly tools used in the GAGE benchmarks, CloudBrush is shown to produce contigs with high precision and recall. We also verified the effectiveness of the edge-adjustment algorithm using simulated datasets and ran CloudBrush on a nematode dataset using a commercial cloud. CloudBrush assembler is available at https://github.com/ice91/CloudBrush.
Keywords
Sequencing ErrorCoverage DepthGraph ConstructionPosition Weight MatrixMapReduce Framework
Background
With the rapid growth of DNA sequencing throughput delivered by next-generation sequencing technologies [1], there is a pressing need for de novo assemblers to efficiently handle massive sequencing data of genomes using scalable, on-demand, and inexpensive commodity cloud servers. De novo genome assembly is a fundamental step in analyzing a newly sequenced genome without a backbone sequence. De novo assembly software must deal with sequencing errors, repeat structures, and the computational complexity of processing large volumes of data [2]. The most recent assemblers use de Bruijn graphs [3–10] or string graphs [11–14] to model and manipulate the sequence reads. Using the de Bruijn graph model of sequence assembly requires breaking reads into short k-mers [3]. Typically, de Bruijn graph-based assemblers must recover the information lost from the breaking of reads, and attempt to resolve small repeats using read threading algorithms [14]. Using the string graph model of assembly can help avoid this issue. However, with the deeper coverage depth of read data, our preliminary studies show that the underlying string graph used to model the intersection of reads becomes much more complex than expected by previous assembly algorithms [15].
After building the assembly graphs, algorithms based on de Bruijn graphs or string graphs manipulate the graph-theoretic models by using several operations of graph simplification to repair erroneous reads and to remove redundancy in graphs, such as removing short dead-end tips and bubbles of similar paths [
2
]. Erroneous reads and repeats may also result in more compounds with branch structures that complicate the assembly, especially as the sequencing depths of reads become greater and error rates increase. One example of the challenges faced is the chimerical links of edges, also known as chimerical connections [
4
], formed by partial overlap of two unrelated contigs (Figure
1
), where the partial overlaps are caused by sequencing errors. Other examples are ambiguous branching caused by short repeats and "braids" formed by shared branches (Figures
2
,
3
).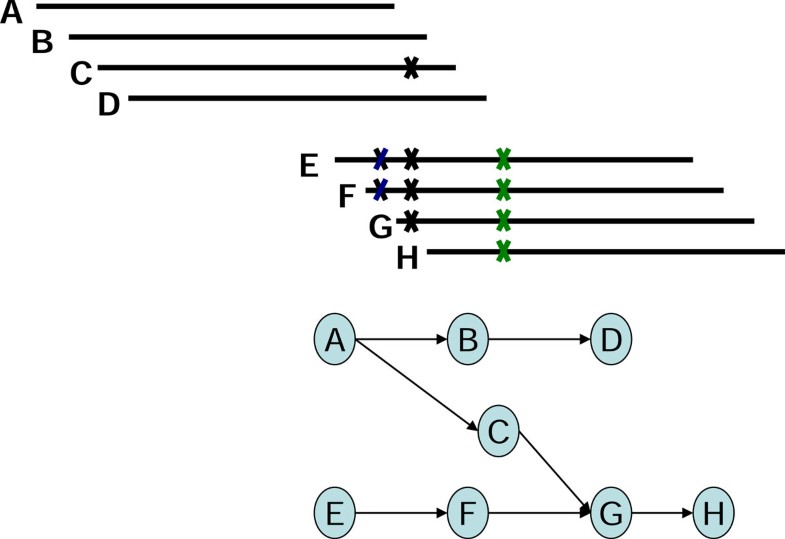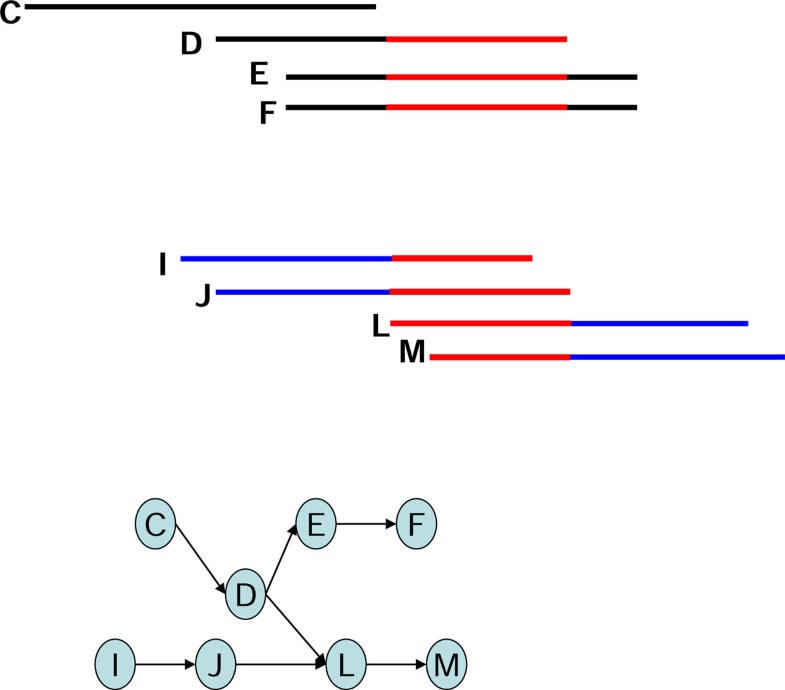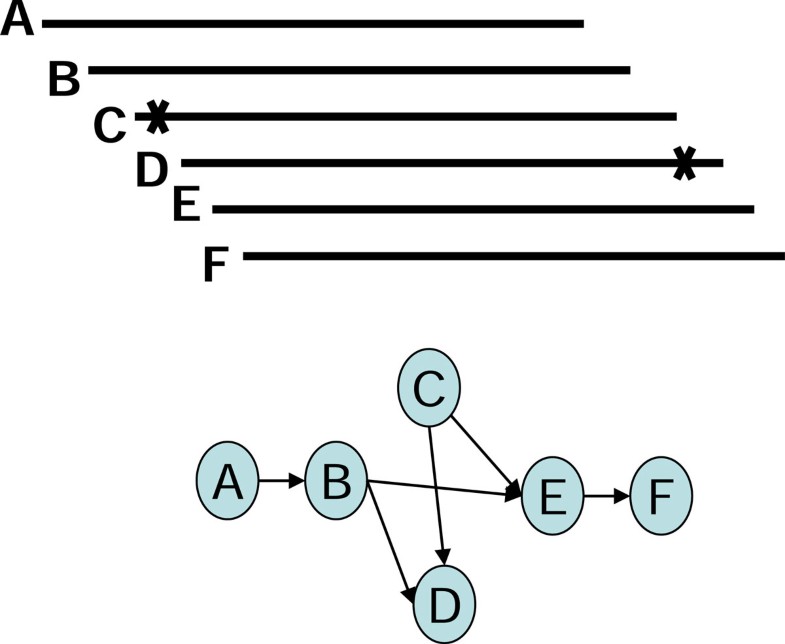 To unfold these complex branch patterns into correct linear paths in string graphs, we present an Edge Adjustment (EA) algorithm to remedy this problem. The algorithm utilizes the sequence information of all graph neighbors for each read and eliminates the edges connecting to reads containing rare bases. We also used simulated read datasets of Escherichia coli genomes of varying sequencing depths and error rates to verify the effectiveness of the EA algorithm. In addition, we integrated the EA algorithm into a distributed assembly program [15] based on string graphs and MapReduce cloud computing framework [16, 17], known as CloudBrush. We evaluated the method against the GAGE benchmarks established by Salzberg et al [18] to compare assembly quality with other de novo assembly tools. Moreover, we introduced a pair of novel indices to measure the quality of sequence assembly, known as precision and recall, to indicate whether the output contigs are faithfully aligned (i.e., without inversions or rearrangements) with a contiguous region in the target genome, and whether the output contigs fully cover the entire target genome. It is noteworthy that these two indices are important for follow-up annotation and analysis of the target genome. Finally, we ran CloudBrush on a nematode dataset using a computing cloud [19] and analyzed its performance.
Discussion and conclusions
With the rapid growth of sequence data, genome assembly remains one of the most challenging computational problems in genomics. String graph-based approaches have the benefits of read coherence [11], less memory requirement, and successful experience in analyzing Sanger sequence data [23]. In this report, we identify several types of structural defects in string graphs resulting from sequencing errors and short repeats. To remedy the structural defects in string graphs, we developed the EA algorithm that utilizes information from the consensus of graphical neighbors. To validate the effectiveness of the EA algorithm, we used simulated data to define four types of edges and a braid index to help evaluate the structural defects in string graphs. The experimental results show that the EA algorithm efficiently minimizes structural defects in string graphs. Thus far, the EA algorithm is not suitable for studies on SNPs, because it only removes the edges. We suggest that correcting the edges with sequence logos will maintain information for SNP analysis; this is the subject of a future study.
To demonstrate the validity of CloudBrush, we used GAGE benchmarks [18] to compare CloudBrush with other state-of-the-art assembly tools. The evaluation results show that CloudBrush is a conservative assembler that nevertheless can generate precise contigs that avoid error propagation in downstream analysis with moderate N50 contig lengths. We also tested the scalability of CloudBrush using three different sizes of hadoop clusters to assemble ~7-Gbp data of the C. elegans dataset on a hicloud™ computing service [19]. The study results show that the stage of graph construction is the primary performance bottleneck and its scalability in the MapReduce framework is quite impressive.
In future studies, we will incorporate the scaffolding issue and mate-pair analysis into the MapReduce pipeline. Combining state-of-the-art error correction and our edge analysis is another subject worthy of investigation. We believe that CloudBrush will achieve a better contig N50 with fewer misjoin errors if these former two issues are resolved. Adapting the pipeline toward third generation sequencing technologies is also an important direction of investigation.
Methods
We previously described a string-graph base assembly algorithm using MapReduce called CloudBrush [15]. The framework of MapReduce can easily be implemented as a modular pipeline, allowing it to be easily extended when improved algorithms have been developed. In this study, we have expanded on CloudBrush by revising its pipeline and adding an EA algorithm. We introduced the principle of the graph processing in MapReduce and the pipeline of CloudBrush. It is noteworthy that the code is written in Java and readers may refer to [15] for further details concerning the implementation of the procedures in the MapReduce framework.
Declarations
Acknowledgements
The authors wish to thank Chunghwa Telecom Co. and National Communication Project of Taiwan for providing the cloud computing resources and the technical supports they provided. They wish to thank Jazz Yao-Tsung Wang at the National Center for High-Performance Computing for his help with the efficient deployment of Hadoop clusters. YJC, CCC, and JMH were partially supported by National Science Council grant NSC 99-2321-B-001-025-.
This article has been published as part of BMC Genomics Volume 13 Supplement 7, 2012: Eleventh International Conference on Bioinformatics (InCoB2012): Computational Biology. The full contents of the supplement are available online at http://www.biomedcentral.com/bmcgenomics/supplements/13/S7.
Authors' Affiliations
(1)
Institute of Information Science, Academia Sinica, Taipei, ROC
(2)
Department of Computer Science and Information Engineering, National Taiwan University, Taipei, ROC
Copyright
© Chang et al.; licensee BioMed Central Ltd. 2012
This article is published under license to BioMed Central Ltd. This is an open access article distributed under the terms of the Creative Commons Attribution License (http://creativecommons.org/licenses/by/2.0), which permits unrestricted use, distribution, and reproduction in any medium, provided the original work is properly cited.