Research article
Open Access
Integrated metabolomics and genomics analysis provides new insights into the fiber elongation process in Ligon lintless-2 mutant cotton (Gossypium hirsutumL.)
Received: 2 October 2012
Accepted: 1 March 2013
Published: 7 March 2013
Abstract
Background
The length of cotton fiber is an important agronomic trait characteristic that directly affects the quality of yarn and fabric. The cotton (Gossypium hirsutum L.) fiber mutation, Ligon lintless-2, is controlled by a single dominant gene (Li 2 ) and results in extremely shortened lint fibers on mature seeds with no visible pleiotropic effects on vegetative growth and development. The Li 2 mutant phenotype provides an ideal model system to study fiber elongation. To understand metabolic processes involved in cotton fiber elongation, changes in metabolites and transcripts in the Li 2 mutant fibers were compared to wild-type fibers during development.
Results
Principal component analysis of metabolites from GC-MS data separated Li 2 mutant fiber samples from WT fiber samples at the WT elongation stage, indicating that the Li 2 mutation altered the metabolome of the mutant fibers. The observed alterations in the Li 2 metabolome included significant reductions in the levels of detected free sugars, sugar alcohols, sugar acids, and sugar phosphates. Biological processes associated with carbohydrate biosynthesis, cell wall loosening, and cytoskeleton were also down-regulated in Li 2 fibers. Gamma-aminobutyric acid, known as a signaling factor in many organisms, was significantly elevated in mutant fibers. Higher accumulation of 2-ketoglutarate, succinate, and malate suggested higher nitrate assimilation in the Li 2 line. Transcriptional activation of genes involved in nitrogen compound metabolism along with changes in the levels of nitrogen transport amino acids suggested re-direction of carbon flow into nitrogen metabolism in Li 2 mutant fibers.
Conclusions
This report provides the first comprehensive analysis of metabolite and transcript changes in response to the Li 2 mutation in elongating fibers. A number of factors associated with cell elongation found in this study will facilitate further research in understanding metabolic processes of cotton fiber elongation.
Keywords
CottonLi 2 mutationFiberElongationMetabolomicsGamma-aminobutyric acid (GABA)
Background
Cotton fiber is the most prevalent natural raw material used in the textile industry. Cotton seed fibers are highly elongated single-celled trichomes that differentiate from the outer epidermis of the ovule. The seeds of the cultivated cotton produce two types of fibers: short or fuzz hairs that have little commercial value; and long or lint hairs that are removed from the seeds during the ginning process and used for yarn production by the textile industry. Only 25–30% of epidermal cells differentiate into lint fiber [1]. Fiber development occurs in four distinct, but overlapping stages – initiation, elongation, secondary cell wall synthesis, and maturation [1–3]. The initiation stage starts from - 3 day of anthesis (DOA) to 3 days post-anthesis (DPA), and is followed by the fiber elongation stage. The lint fiber cells elongate for about 27–39 DPA and the secondary cell wall is formed from 17 to 53 DPA depending of the cotton species, cultivar and environment [4]. Cotton fiber initiation stage acts as a developmental switch to determine the number of fibers on each ovule. The extent of the elongation period determines fiber length, which ranges from 25–40 mm, while the extent of secondary wall thickening determines fiber diameter. Fiber properties are largely quantitative traits and environment conditions can determine whether the fibers reach the genetic potential of the cotton cultivar. Cotton of superior quality and value typically consists of long, fine, and strong fiber. The length of the fiber is one of the most important characteristics and affects spinning efficiency and the quality of the resulting yarn [1]. Competition with synthetic fibers has forced cotton industry to invest heavily in research to develop higher-quality fibers; however, one of the major limitations in genetic improvement of fiber is the lack of information at the molecular level regarding genes and regulatory elements that control fiber development. Elucidating the cellular and molecular basis of fiber elongation could identify potential targets for genetic manipulation of fiber length.
Genetic mutants are useful tools for studying gene function. In cotton several fiber-related mutants were discovered, from which Ligon lintless-1 (
Li
1
) and Ligon lintless-2 (
Li
2
) were reported to be monogenic and dominant, resulting in an extreme reduction in the length of lint fiber to approximately 6 mm on mature seeds [
5
,
6
]. It has been determined that
Li
1
associated with chromosome 22, whereas
Li
2
with chromosome 18 [
7
–
9
]. Cytological studies did not reveal much difference in seed fiber initiation between mutants and their near-isogenic lines suggesting the effects of the mutation occurs later in development during the elongation stage [
9
,
10
]. Kohel
et al
. observed restricted and similar fiber elongation pattern for the mutant lines, comparing
Li
1
and
Li
2
with TM-1 in a fiber developmental study [
11
]. Therefore, in a near-isogenic state with a wild-type (WT), these mutants represent good model system to study fiber elongation. Unlike the stunted and deformed vegetative morphology of
Li
1
plants [
5
],
Li
2
has normal vegetative growth, and the phenotype of the seed cotton is similar to
Li
1
. Also dry weight of
Li
2
developing fiber was reported to be significantly lighter then
Li
1
that was attributed to difference in secondary wall development between the two mutants [
11
]. Our laboratory selected the
Li
2
mutant as a model system to study fiber elongation for the reasons mentioned above. An
Li
2
mutant cotton line in a near-isogenic state with the Upland cotton variety DP5690 was developed in a backcross program at Stoneville, MS [
10
]. Morphological evaluation by scanning electron microscopy revealed no visible differences in the appearances of ovules and fibers from
Li
2
mutant and WT near-isogenic lines (NILs) during initiation and early elongation up to 5 DPA [
10
]. Comparison of
Li
2
mutant and WT seeds with fibers at maturity is shown in Figure
1
. In a previous report, an expressed sequence tag- simple sequence repeat (EST-SSR) marker with complete linkage to the
Li
2
genetic locus was identified using combined functional and structural genomics; and large-scale transcriptome analysis revealed changes in reactive oxygen species homeostasis and cytokinin regulation in
Li
2
mutant fibers compared to WT fibers [
10
].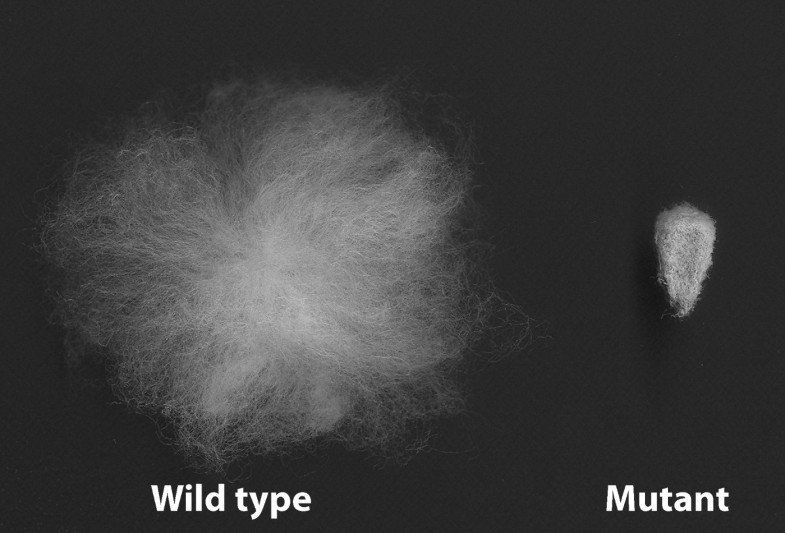 Much attention has focused on transcriptome analysis to study fiber-related mutants [10, 12–14], whereas biochemical analysis of the levels of low molecular weight compounds has been largely overlooked. The metabolome can be viewed as the end products of gene expression, and the measurements of large numbers of cellular metabolites provide a high resolution biochemical phenotype of an organism [15]. The phenotype can also be characterized by transcriptome or proteome analysis. However, mRNA levels do not always correlate with protein levels [16], and changes in profiling of transcripts or proteins may not always lead to alterations in the metabolic phenotype. Also, the majority of transcript and protein annotations are currently predicted based on sequence or structural motifs similarity and these annotations often offer limited information since many of these putative enzymes could be involved in a large number of different reactions. Metabolomics has the ability to reveal that the accumulated enzyme is more specifically related to specific biochemical reaction. Therefore, integrated approaches such as combined transcript, protein, and metabolite profiling offer greater opportunities for discovery and understanding of biological processes.
Gas chromatography–mass spectrometry (GC-MS) was previously applied to examine the effects of genetic and environmental manipulations [17]. GC-MS is currently the most developed of the available analytical tools and the growth of this technology offers the opportunity to view the effect of a single mutation on metabolism on a larger scale than previously possible. The goals of this study were to identify metabolic and transcript responses associated with fiber elongation using Li 2 NILs. Significant changes in the relative abundance of multiple identified metabolites were observed between NILs which are the result of genetic reprogramming of primary metabolism in response to Li 2 mutation. These results will facilitate future research in understanding metabolic processes controlling fiber elongation.
Discussion
Cotton fiber cell development is a complex and highly regulated process involving many metabolic pathways, signal transduction, and transcriptional regulation machineries. The
Li
2
cotton mutant line with extremely shortened lint fibers provides an excellent system to study cotton fiber elongation. In this article we report a comprehensive analysis of changes caused by
Li
2
mutation during cotton fiber development using GC-MS based metabolite profiling and transcriptomics approaches. It was previously shown that cotton fiber developmental stages can be separated by both gene expression and metabolite profiles [
43
]. Three overlapping stages of fiber initiation, cell elongation, and beginning of secondary wall deposition were evaluated by GC-MS analysis. PCA of GC-MS data determined that the
Li
2
mutation altered the metabolome of the mutant fibers compared to WT fibers. An overview of metabolic pathways and biological processes altered by
Li
2
mutation is illustrated in Figure
7
and discussed below.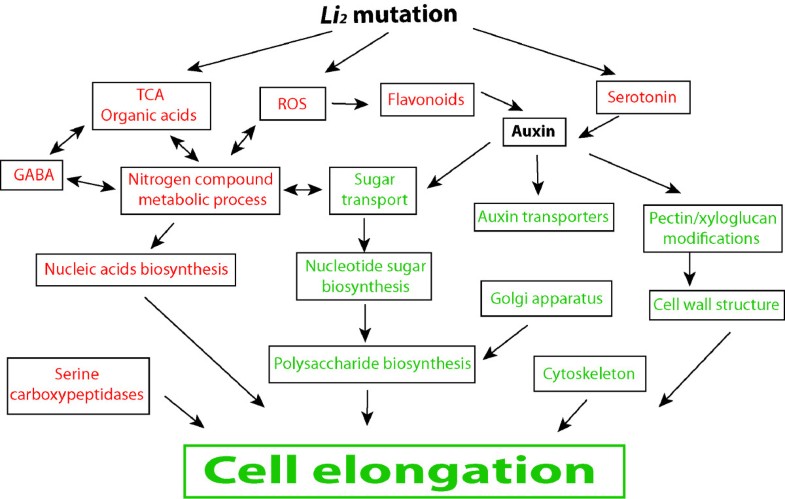 The incorporation of nitrogen into organic compounds represents a rate-limiting step in biomass production and may indirectly control the elongation process. There is a complex interaction between nitrogen and carbon metabolism as nitrate leads to an orchestrated change in gene expression, which facilitates a reprogramming of carbon metabolism [44]. PAGE analysis determined that nitrogen compound metabolism, including biosynthesis glutamine family amino acids and nucleic acids, were significantly up-regulated GO terms in Li 2 mutant fibers. It has been shown that ethylene induces glutamine synthetase activity in Hevea brasiliensis latex cells [45]. Higher expression of ethylene biosynthetic genes correlates with higher transcript activity of glutamine synthetase in Li 2 mutant fibers. Levels of nitrogen transport amino acids, glutamate, glutamine, aspartate, and asparagine, were significantly perturbed in Li 2 elongating fibers. Glutamine is a critical donor for nucleotides synthesis and required as substrate for three enzymes involved in the de novo synthesis of purine nucleotides and two enzymes involved in the de novo synthesis of pyrimidine nucleotides [46]. The low level of detected glutamine, despite high induction of genes encoding glutamine biosynthetic enzymes, can be explained by its higher demand for the nucleotides biosynthesis in Li 2 elongating fibers.
It is known that nitrate assimilation is closely integrated with changes in organic carbon metabolism. During nitrate assimilation carbohydrate synthesis is decreased and more carbon entered into organic acid metabolism [44]. Therefore higher accumulation of organic acids (2-ketoglutarate, succinate, and malate) in Li 2 mutant fibers suggests higher nitrate assimilation. Organic acids have two distinct functions during nitrate assimilation: malate acts as a counter-anion and prevents alkalinization during nitrate assimilation [47]; and 2-ketoglutarate is the primary carbon acceptor for ammonium in the GOGAT pathway [44]. Plants can sense their nitrogen status and regulate the uptake and reduction of nitrate adequately. Significantly higher accumulation of GABA was determined in Li 2 mutant fiber. GABA is a non-protein amino acid that accumulates rapidly in plant tissues under a variety of stresses and is known as a signaling factor in many organisms. There have been a number of suggestions regarding the role of GABA in regulation of nitrogen metabolism. GABA affects growth and development of Arabidopsis seedlings differently depending on the concentration of inorganic nitrogen in the growth medium. Root growth was stimulated by the addition of GABA at low nitrate concentrations, whereas high nitrate concentrations inhibited root elongation [48]. A signaling role of GABA was suggested due to the disruptive effect of GABA metabolism on plant development. Transgenic plants overexpressing glutamate decarboxylase have significantly reduced levels of glutamate with extremely high GABA and exhibit severe morphological abnormalities, such as short stems, in which cortex parenchyma cells fail to elongate [49]. Further evidence for a signaling role of GABA in plants comes from analysis of Arabidopsis pop2 mutants, which are impaired in the first step of GABA degradation. Flowers of pop2 mutants with low levels of GABA (200 uM) displayed normal guidance, while increases in GABA to 100-fold above that level caused severe defects in guidance in vivo and decreased pollen tube growth in vitro[50]. A more recent study determined an additional growth inhibition effect of exogenous GABA application on primary root and dark-grown hypocotyls in pop2 mutants due to cell elongation defects [51]. Notably, in all examples, alterations in GABA levels were found to have an effect on cell elongation. The higher accumulation of GABA in Li 2 mutant fibers suggests involvement of GABA in fiber elongation process. It is still unclear which factor initiated inhibition of elongation in Li 2 fibers and how GABA is related to this process. Consequently, further investigation is required to clearly elucidate the role of GABA in cotton fiber elongation.
Transcriptional activation of GO terms related to DNA conformation change, DNA biosynthesis and cell cycle in mutant fibers suggests that S-phase replication process is more active in Li 2 fibers. However, our evaluation of field grown Li 2 fibers at different developmental stages did not reveal any visible multicellular fibers. Multicellular fibers are rare events and have been reported only in cotton ovule cultures grown in the absence of exogenous hormones. Adding the indole-3-acetic acid (IAA) to the medium stimulate fibers to expand as single cells [52]. We did not determine significant changes in transcript levels of genes involved in IAA biosynthesis between NILs, however, auxin transporters were significantly down-regulated in Li 2 fibers (Additional file 7). Higher accumulation of serotonin observed in mutant fibers is interesting since serotonin acts as a natural auxin inhibitor in plants. More specifically, high doses of serotonin repressed lateral root growth, primary root growth, and root hair development in Arabidopsis [53]. Therefore, serotonin may be one of the factors indirectly repressing the elongation process in Li 2 mutant fibers.
Several other observations from our analyses were also interesting. A higher activation of genes involved in stress-response processes suggests elevated levels of reactive oxygen species (ROS) in Li 2 mutant fibers. ROS can be generated during diverse biological and cellular reactions and act either positively for biological activity or negatively resulting in toxicity. The involvement of ROS for cell wall extension is well documented [54–57], although regulation of ROS homeostasis is necessary for proper cell elongation [58, 59]. In our previous report, based on transcriptional regulation of the list of genes involved in the ROS production and repair of oxidative damage, we concluded that ROS homeostasis is compromised in Li 2 mutant fibers [10]. Additionally there is a massive induction of phenylpropanoid genes in Li 2 mutant fibers and accumulation of p-coumaric acid, which is an early precursor for different branches in phenylpropanoid pathway (Additional file 7, Figure 4). There are a number of reports observing higher induction of flavonoid genes in shorter fiber cotton species [59–61]. Previous studies demonstrated that flavonoids accumulation act as negative regulators of auxin transport [62–66]. Indeed, transcriptional activity of auxin transporters was reduced significantly in Li 2 mutant fibers. However, flavonoids are not specific regulators of auxin transporters since the major role of flavonoids is on auxin or auxin oxidative products themselves [67]. A primary role of flavonoids is scavenging ROS, which suggests the activation of phenylpropanoid genes in Li 2 mutant fibers is in response to elevated levels of ROS.
Recent studies also indicated that ROS play a critical role in signal transduction and cell cycle regulation [68]. It was noted that in synchronized cells the production of ROS increases during the cell cycle, with peak levels occurring in the G2/M phase [69, 70]. The regulation of cell cycle itself is unusual in cotton fibers [71] and DNA content relative to cell cycle status has been explored in developing Gossypium hirsutum fibers [71, 72]. A 25% increase in DNA content in 3 and 5 DPA fibers relative to DOA fibers was observed at entry into the S-phase of the cell cycle [72]. In another study, it was determined that no endoreduplication occurred and there was no increase in genome size, although there was an apparent increase in S-phase cells as fibers developed and matured. Also, the low level of expression of genes associated with cell cycle progression suggested that S-phase arrest occurs in developing cotton fibers [71]. In our study we observed in Li 2 mutant fibers higher transcript activities of genes related to replication as well as induction of ROS responding genes. There are two conflicting possibilities regarding interactions between ROS and cell cycle in Li 2 mutant elongating fibers: (1) genes related to S-phase replication are activated in response to ROS or, (2) the level of ROS increased due to compromised cell cycle. Although without careful evaluation of DNA content in Li 2 mutant fibers it would be too early to make conclusions.
Strict down-regulation of GO terms associated with cell wall extension biological processes and cellular components were observed in Li 2 mutant fibers. Transcriptional activity of genes related to carbohydrate metabolism was reduced in mutant fibers and coincided with a significant reduction of all detected sugars. It was previously demonstrated that nucleotide sugar metabolism plays a central role in cotton fiber elongation. Comparative proteomics studies of developing fibers of WT compared to fuzzless-lintless mutant plants revealed that nucleotide sugar metabolism was the most significantly up-regulated biochemical process during fiber elongation [36]. Glc-6-P along with multiple genes encoding sugar interconversion enzymes and sugar transporters were significantly down-regulated suggesting that biosynthesis of sugar nucleotides is reduced in developing Li 2 mutant fiber cells. GO terms associated with cellular components, such as cytoskeleton and Golgi apparatus, were among down-regulated biological processes in Li 2 mutant fibers. The importance of actin cytoskeleton in fiber elongation was reported earlier. Down-regulation of GhACT1 in cotton disrupted the actin cytoskeleton network in fibers that resulted in inhibition of fiber elongation [73]. Biosynthesis of non-cellulosic polysaccharides is known to take place in Golgi organelle [74–76]. The matrix polysaccharides are dominant constituents in cell walls of growing cotton fibers [77]. The active biosynthesis of matrix polysaccharides along with increased activity of cell wall loosening enzymes has been considered to be associated with cell wall extension [39, 77–80]. Our evaluation of transcript levels of genes encoding polysaccharide biosynthesis and cell wall loosening enzymes determined significant transcript reduction for both classes of enzymes in Li 2 mutant elongating fibers. Therefore, biosynthesis and modifications of matrix polysaccharides are reduced in mutant fiber.
Conclusion
This report provides the first comprehensive analysis of metabolite and transcript changes in response to Li 2 mutation in elongating fibers. PCA of GC-MS data separated mutant fiber samples from WT fiber samples at the elongation stage, indicated alterations in the metabolome of the mutant line as a result of the Li 2 mutation. Increased amounts of TCA organic acids and induction of GO terms related to nitrogen compound metabolic processes, concurrent with the down regulation of carbohydrate metabolism, suggested redirection of carbon flow into nitrogen metabolism in Li 2 mutant fibers. A number of factors associated with cell elongation found in this study will facilitate further research in understanding metabolic processes of cotton fiber elongation.
Abbreviations
DOA:

Day of anthesis
DPA:

Days post-anthesis
GABA:

Gamma-aminobutyric acid
GO:

Gene ontology
NIL:

Near-isogenic line
ROS:

Reactive oxygen species
RT-qPCR:

Reverse transcription quantitative polymerase chain reaction.
Declarations
Acknowledgements
This research was funded by United States Department of Agriculture-Agricultural Research Service project number 6435-21000-016-00D. Mention of trade names or commercial products in this publication is solely for the purpose of providing specific information and does not imply recommendation or endorsement by the U.S. Department of Agriculture.
Authors' Affiliations
(1)
Cotton Fiber Bioscience Research Unit, USDA-ARS, Southern Regional Research Center, New Orleans, USA
(2)
Cotton Chemistry & Utilization Research Unit, USDA-ARS, Southern Regional Research Center, New Orleans, USA
(3)
Crop Genetics Research Unit, USDA-ARS, Stoneville, USA
(4)
Food Processing and Sensory Quality Research Unit, USDA-ARS, Southern Regional Research Center, New Orleans, USA
Copyright
© Naoumkina et al; licensee BioMed Central Ltd. 2013
This article is published under license to BioMed Central Ltd. This is an Open Access article distributed under the terms of the Creative Commons Attribution License (http://creativecommons.org/licenses/by/2.0), which permits unrestricted use, distribution, and reproduction in any medium, provided the original work is properly cited.