Research article

Open Access
Sequencing platform and library preparation choices impact viral metagenomes
Received: 4 February 2013
Accepted: 2 May 2013
Published: 10 May 2013
Abstract
Background
Microbes drive the biogeochemistry that fuels the planet. Microbial viruses modulate their hosts directly through mortality and horizontal gene transfer, and indirectly by re-programming host metabolisms during infection. However, our ability to study these virus-host interactions is limited by methods that are low-throughput and heavily reliant upon the subset of organisms that are in culture. One way forward are culture-independent metagenomic approaches, but these novel methods are rarely rigorously tested, especially for studies of environmental viruses, air microbiomes, extreme environment microbiology and other areas with constrained sample amounts. Here we perform replicated experiments to evaluate Roche 454, Illumina HiSeq, and Ion Torrent PGM sequencing and library preparation protocols on virus metagenomes generated from as little as 10pg of DNA.
Results
Using %G + C content to compare metagenomes, we find that (i) metagenomes are highly replicable, (ii) some treatment effects are minimal, e.g., sequencing technology choice has 6-fold less impact than varying input DNA amount, and (iii) when restricted to a limited DNA concentration (<1μg), changing the amount of amplification produces little variation. These trends were also observed when examining the metagenomes for gene function and assembly performance, although the latter more closely aligned to sequencing effort and read length than preparation steps tested. Among Illumina library preparation options, transposon-based libraries diverged from all others and adaptor ligation was a critical step for optimizing sequencing yields.
Conclusions
These data guide researchers in generating systematic, comparative datasets to understand complex ecosystems, and suggest that neither varied amplification nor sequencing platforms will deter such efforts.
Keywords
Library Preparation
Sequencing Platform
Protein Cluster
Fosmid Library
Deep Chlorophyll Maximum
Background
Advances in sequencing technologies have revolutionized the life sciences. For example, ecology and evolution can now be examined across the tree of life [1], and at resolutions ranging from broad analyses (e.g., BGI's 10,000 Microbial Genomes Project, http://ldl.genomics.cn/page/M-research.jsp) to focused investigation of population structure within particular species [2]. These analyses, however, center on genomes as the unit of interest and represent a "bottom-up approach" to exploring the diversity of life [3].
Concurrently, metagenomics provides a "top-down approach" for studying complex microbial assemblages in nature [3]. Recent reviews cover next generation sequencing applications [4–6], but rarely acknowledge the factors that generate quantitative data needed for metagenomics. For example, sequence quality evaluated across benchtop systems did not consider library preparation [7], and recommendations of amplification-free protocols that require >2 μg of DNA to minimize biases [8] are not meaningful for DNA-limited applications. There are also numerous sequencing platform options, though microbial metagenomes generated across commonly-used sequencing platforms only minimally differ in taxonomic distributions or contig assembly quality [9].
Some fields, such as viral ecology or microbial ecology of permafrost soils or the atmosphere, are routinely DNA-limited (<1 ng) and thus require optimization and quantitation assessment at each step in the metagenomic sample-to-sequence pipeline [10]. Towards this end, empirical data are now available to guide researchers in concentrating and purifying viruses [11, 12] prior to DNA extraction. Once DNA is extracted, small yields require amplification to obtain enough material for sequencing. While whole genome amplification was an attractive option, it is now documented to result in non-quantitative metagenomes due to both stochastic [13] and systematic biases [14]. In contrast, linker-amplification-based libraries [15–17] provide a nearly quantitative alternative, even from sub-nanogram amounts of DNA [15]. Together these advances allowed the compilation of the first large-scale, systematically prepared comparative metagenomic dataset for quantitative viral ecology [18] with new tools and analytical platforms now emerging to handle such datasets [19, 20]. Beyond viral ecology, these studies provide a roadmap for generating quantitative metagenomic datasets from any low (<100 ng) input DNA samples.
Here we expand upon these efforts to focus on the final steps in viral metagenomic sequencing (overview in Figure
1
, and sequencing statistics summarized in Table
1
). The first experiment evaluates co-varied input DNA and amplification cycle amounts, as well as sequencing platform choice on the resulting metagenomes. These data were derived from DNA extracted from a 1,080L Biosphere 2 Ocean viral concentrate and included small-insert metagenomes prepared from varied low-input DNA amounts (10 pg—100 ng) and amplification conditions for commonly used sequencing platforms (Illumina HiSeq2000, herein 'Illumina' and Roche 454 Titanium, herein '454'). Additionally, these low-input samples were complemented by standard input DNA(≥1,000ng) small-insert metagenomes to compare three sequencing platforms (Illumina, 454, Ion Torrent) and limited large-insert clone library Sanger end-sequencing (8,000ng fosmid library). The second experiment focuses on Illumina sequencing only. Here, viral DNA derived from two separate ocean samples (Tara Oceans [
21
] stations 41 and 109) was used to examine the effect of amplification conditions (e.g., cycle number) and input DNA amount independently, as well as compare standard Illumina libraries to transposon-based Nextera libraries [
22
].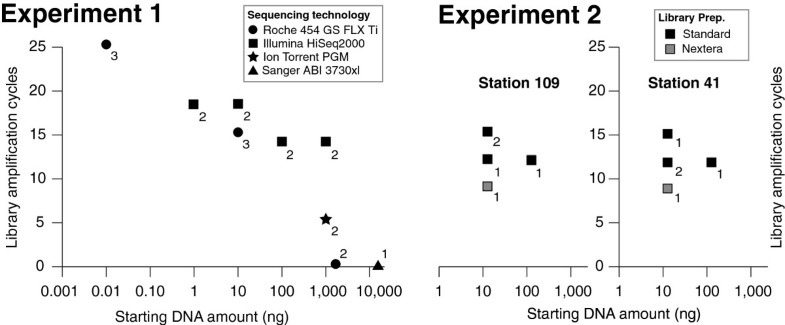 Table 1
Summary statistics for all metagenomic libraries used in analysis
DNA source

Technology

Starting DNA (ng)

Library amplification (# cycles)

Replicates

Raw reads (millions)

Raw quality +/-SD (PHRED)

Raw length (bp)

Failed QC +/- SD (%)

Experiment 1

Biosphere 2 Ocean

Illumina HiSeq 2000

1,000

14

2

65.5, 51.8

34.2 +/- 0.0

100 PE

29.9 +/- 0.5

100

14

2

6.7, 0.3

33.8 +/- 0.2

100 PE

28.3 +/- 0.2 *

10

18

2

2.5, 0

32

100 PE

31.9 *

1

18

2

0, 0

0

0

0

Roche 454 GS FLX

1,500

0

2

0.30, 0.38

32.5 +/- 0.7

408 +/- 11

15.4 +/- 0.4

10

15 (LA)

3

0.91, 0.90, 0.85

32.8 +/- 0.8

377 +/- 15

31.5 +/- 4.0

0.01

25 (LA)

3

Ion Torrent PGM 316 chip

1,000

5

2

2.3, 2.4

16.3 +/- 0.2

105 +/- 5

40.3 +/- 7.6

ABI 3730xl

8,000

0

1

0.7

44.6

603

7.9

Experiment 2

Tara Oceans Station 41

Illumina HiSeq 2000

10

9 (N)

1

20.3

34.8

101 PE

36.3

10

12

2

18.6, 31.3

34.2 +/- 0.2

101 PE

36.2 +/- 0.9

10

15

1

15.4

34.3

101 PE

35.7

100

12

1

17.7

34.6

101 PE

35.0

Tara Oceans Station 109

Illumina HiSeq 2000

10

9 (N)

1

2.6

34.9

101 PE

35.4

10

12

1

20.4

34.9

101 PE

34.3

10

15

2

28.6, 16.2

34.4 +/- 0.5

101 PE

33.6 +/- 0.6

100

12

1

16.7

34.8

101 PE

34.3
Results
Experiment 1: The impact of input DNA, amplification, and sequencing platform on metagenomes
Experiment 2: The independent effects of input DNA and library amplification on Illumina-sequenced metagenomes
Low input DNA library success improved with optimization
In contrast to Experiment 1, all 10 Experiment 2 Illumina libraries (eight 10ng and two 100ng libraries) were successful. Replicate libraries did not cluster together consistently, but this reflected the extremely minimal variance across the replicates rather than poor replication (Figure
4
, note reduced axis scales relative to Figure
2
).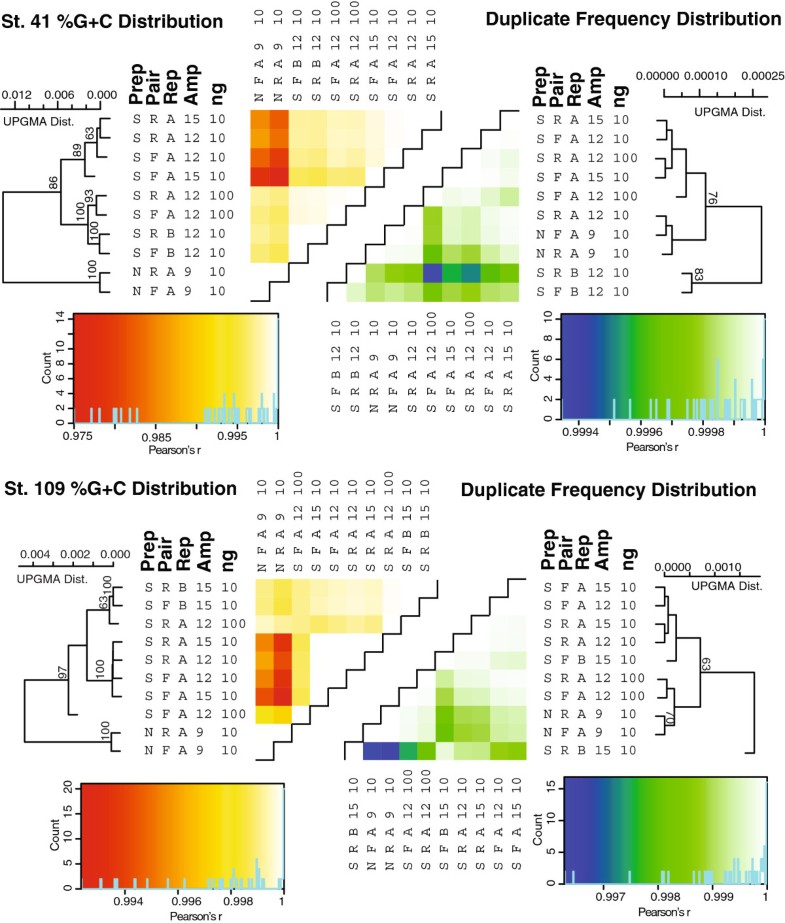 Transposon-based library preparation slightly impacts %G + C
In both Tara Oceans station 41 and 109 datasets, the amount of input DNA (10 or 100 ng) and amplification (12 or 15 cycles) resulted in less variation than was observed in replicate library preparations (Figure
4
). The only exception was transposon-based libraries, which diverged from the relatively invariant standard Illumina libraries. For all samples, duplicate frequencies varied as much between as within treatments (Figure
4
) and much less duplication was observed in Experiment 2 than 1. The dendrogram topology observed in pairwise %G + C analyses was recovered in analyses of function (Figure
5
A), but not assembly (Figure
5
B), where the transposon-based treatment for the Station 109 sample produced many fewer reads than other metagenomes.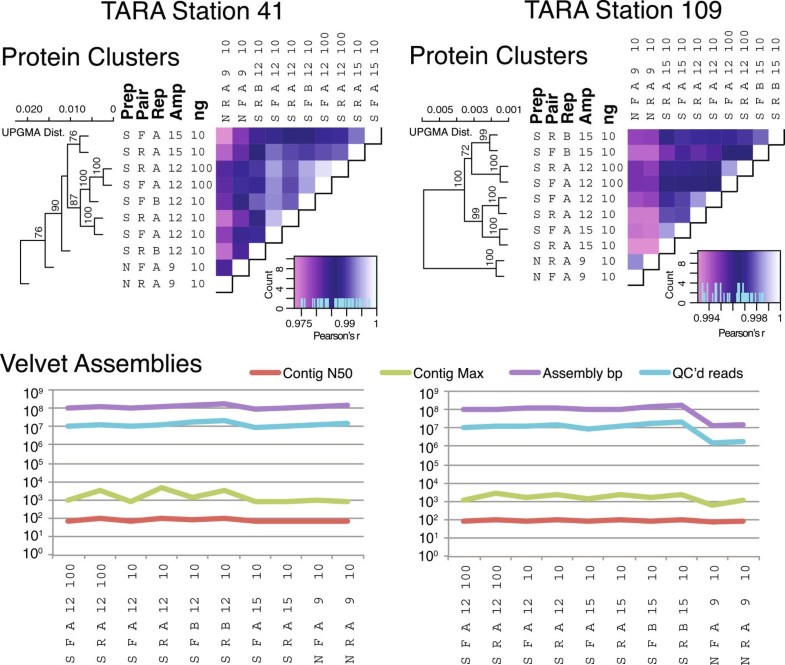 Discussion
Replication is fundamental to rigorous experimental design [25], but it is only now becoming financially possible for metagenomic studies [26, 27]. Here we examined replicate metagenomes across varied DNA input amounts, library preparation procedures, and sequencing platforms.
Conclusions
As we strive for systematic and quantitative analyses of complex environments, a thorough understanding of empirically-documented biases in methods is critical. Here we demonstrate that while sequencing platform choice and degree of amplification have little impact on resulting metagenomes, presence of amplification and starting DNA amounts do influence library success and composition. Our findings are critical both for the interpretation of systematic comparisons of DNA-limited community metagenomes, as well as for novel methods of studying virus-host interactions [40–42] that generate small amounts of DNA. Notably, however, high replicability observed here might have been aided by diluting the initial concentrated DNA sample, and potential inhibitors, to obtain 'low input DNA' samples. Consideration should be made of the impact of inhibitors on low input DNA samples, particularly when amplification steps are needed for sample preparation.
Given current findings, unamplified libraries are best when DNA is not limiting (>2 ug) [43] while sequencing platform choice minimally impacts quantitative representation in the resulting metagenomes. When DNA is limiting, as in viral community samples or microbial communities of permafrost soils or air samples, specific recommendations for quantitative metagenomics are as follows. Low input DNA (1—100 ng) libraries can utilize either a linker-amplified protocol [15] optimized for the appropriate sequencing technology of choice [10] or, for Illumina sequencing, standard library preparations where adaptor:template ratios are carefully controlled. For samples with ultra-low DNA yields (<1 ng), it is best not to risk failure in standard library preparations and to use instead a sequencing technology optimized linker-amplified protocol. Future research directions include developing a mechanistic understanding of the non-intuitive, but replicable differences in linker-amplified metagenomes, as well as improving understanding of polymerase impacts and developing empirical datasets for a broader range of %G + C samples.
Methods
Source DNAs and sample preparation details
Experimental protocol availability
All detailed protocols are listed by name, and are documented and available at http://eebweb.arizona.edu/Faculty/mbsulli/protocols.htm.
Briefly, FeCl-precipitated viral concentrates were obtained from 0.2μm filtered seawater collected from the man-made Biosphere 2 Ocean in December 2010, as well as Stations 41 (Indian Ocean, 14°34.572 N 70°1 E, deep chlorophyll maximum) and 109 (south Pacific Ocean, 1°58.286 N 84°26.772 W, deep chlorophyll maximum) of the Tara Oceans expedition on March 30th, 2010, and May 12th, 2011, respectively. The viral concentrate from the former was purified using both CsCl and DNase, while only DNAse was used for the latter.
DNA Source for B2O metagenomes (Biosphere 2 Ocean)
The B2 Ocean environment is host to a stable microbial community, as measurements of microbial phyletic frequencies are consistent across samples taken a year apart (Additional file 2). FeCl precipitation [12] was used to concentrate viruses from 1,080L of 0.2 μm filtered seawater, which were then DNase I treated [11] to remove free DNA, cesium chloride purified to remove microbial contaminants (dsDNA viral band was pulled 1.4—1.52 g/ml [11]), and further concentrated to 4 mL using an Amicon 30KDa filter. The final yield was 1.26 × 1012 SYBR-stained virus particles. DNA was extracted using the Wizard Prep DNA Purification system (Promega, cat# A7211 and A7181).
DNA Source for TARA metagenomes
20—60L seawater was collected and filtered for two TARA Oceans [21] stations using the protocol described above. These samples yielded 690 ng (station 41) and 950 ng (station 109) of DNA, using the Wizard Prep DNA Purification system. Starting DNA amounts of 10 and 100 ng were used in Illumina sequencing library construction as described in the Genoscope protocol (Genoscope Illumina protocol).
454 Library Prep (Sullivan lab)
The linker amplification protocol was used to generate amplicon libraries for 454 sequencing, as well as amplification-free libraries, as previously described [15]. Briefly, genomic DNA was Covaris-sheared, unidirectionally ligated to an adaptor, and amplified using adaptor-specific primers using 15 to 25 amplification cycles, depending on the starting DNA amount (a description of the amount of cycling and relationship to input DNA were documented previously [15]). Following the addition of barcodes, sequencing libraries were ligated to 454-specific adaptors.
Fosmid Library Prep (Hallam lab)
8μg of B2O viral DNA was used in large-insert fosmid library construction using the Epicentre CopyControl Fosmid Library Production Kit (CCFOS110) as previously described [44]. A total of 17 384-well plates of clones were picked, and 384 fosmids were sequenced bi-directionally with Sanger sequencing.
Ion Torrent Library Prep (University of Arizona Genomics Core)
2μg of B2O viral DNA was used for sequencing library preparation following the Ion Fragment Library Kit User Guide (Rev July 2011), loaded onto beads, emPCR-ed, then sequenced using the 316 chip on the Ion Torrent PGM.
Illumina Library Prep for B2O metagenomes (Emory Genomics Core)
DNA samples were Covaris-sheared and size-selected to 300—600bp using SPRI Size Selection chemistry, enrichment amplified using Phusion DNA polymerase according to starting amount of DNA (14—18 cycles), and paired end sequenced. Two libraries starting with 1ng of DNA failed to amplify to sufficient amounts, even with the use of a carrier DNA protocol (Emory carrier DNA protocol). One 10 ng library experienced the same problem, and was not sequenced. The libraries were multiplexed on two sequencing lanes, with one replicate of each starting amount library present together on each lane.
Illumina Library Prep for TARA metagenomes (Genoscope)
DNA samples were Covaris-sheared and size selected to 160—180bp, amplified according to starting amount of DNA (9—15 cycles) and paired-end sequenced. Several modifications of the standard Illumina protocol [32] were introduced in order to minimize losses of ultra-low DNA amounts. The low-fragment-size shearing settings, coupled with Ampure beads to remove very short fragments, ensured the recovery of appropriately sized fragments without the need for gel sizing. The Pfx Platinum polymerase was used to increase amplification efficiency and thus decrease the number of total library amplification cycles. During ligation, proper adaptor ratios were chosen to correspond to 2—3 fold more adaptor ends than fragment ends in the working ligation reaction (Genoscope Illumina protocol). Transposon-based Nextera libraries were prepared per manufacturer's instructions using the Illumina compatible Nextera DNA Sample Prep Kit (Epicentre Biotechnologies, cat#GA09115).
Declarations
Acknowledgements
We thank B. Poulos, N. Solonenko, A. Gregory, and C. Decker for technical assistance, as well as TMPL members and two anonymous reviewers for comments on the manuscript. Funding for this particular study was provided by BIO5, Biosphere 2 and the Gordon and Betty Moore Foundation to MBS. We thank the coordinators and members of the Tara Oceans consortium (http://www.embl.de/tara_oceans/start/) for organizing sampling and data analysis. We thank the commitment of the following people and sponsors who made this singular expedition possible: CNRS, EMBL, Genoscope/CEA, VIB, Stazione Zoologica Anton Dohrn, UNIMIB, ANR (projects POSEIDON/ANR-09-BLAN-0348, BIOMARKS/ANR-08-BDVA-003, PROMETHEUS/ANR-09-GENM-031, and TARA-GIRUS/ANR-09-PCS-GENM-218), EU FP7 (MicroB3/No.287589), FWO, BIO5, Biosphere 2, agne`s b., the Veolia Environment Foundation, Region Bretagne, World Courier, Illumina, Cap L'Orient, the EDF Foundation EDF Diversiterre, FRB, the Prince Albert II de Monaco Foundation, Etienne Bourgois, the Tara schooner and its captain and crew. Tara Oceans would not exist without continuous support from 23 institutes (http://oceans.taraexpeditions.org). This article is contribution number 0005 of the Tara Oceans Expedition 2009–2012.
Authors' Affiliations
(1)
Department of Ecology and Evolutionary Biology, University of Arizona, Tucson, USA
(2)
Department of Molecular and Cellular Biology, University of Arizona, Tucson, USA
(3)
CEA, DSV, IG, Evry, France
(4)
Department of Microbiology and Immunology, University of British Columbia, Vancouver, Canada
(5)
Department of Civil and Environmental Engineering, Georgia Institute of Technology, Atlanta, USA
(6)
Austalian Center for Ecogenomics, University of Queensland, Brisbane, Australia
Copyright
© Solonenko et al.; licensee BioMed Central Ltd. 2013
This article is published under license to BioMed Central Ltd. This is an Open Access article distributed under the terms of the Creative Commons Attribution License (http://creativecommons.org/licenses/by/2.0), which permits unrestricted use, distribution, and reproduction in any medium, provided the original work is properly cited.