Research article

Open Access
Transcriptomic and phylogenetic analysis of a bacterial cell cycle reveals strong associations between gene co-expression and evolution
Received: 26 December 2012
Accepted: 13 May 2013
Published: 5 July 2013
Abstract
Background
The genetic network involved in the bacterial cell cycle is poorly understood even though it underpins the remarkable ability of bacteria to proliferate. How such network evolves is even less clear. The major aims of this work were to identify and examine the genes and pathways that are differentially expressed during the Caulobacter crescentus cell cycle, and to analyze the evolutionary features of the cell cycle network.
Results
We used deep RNA sequencing to obtain high coverage RNA-Seq data of five C. crescentus cell cycle stages, each with three biological replicates. We found that 1,586 genes (over a third of the genome) display significant differential expression between stages. This gene list, which contains many genes previously unknown for their cell cycle regulation, includes almost half of the genes involved in primary metabolism, suggesting that these "house-keeping" genes are not constitutively transcribed during the cell cycle, as often assumed. Gene and module co-expression clustering reveal co-regulated pathways and suggest functionally coupled genes. In addition, an evolutionary analysis of the cell cycle network shows a high correlation between co-expression and co-evolution. Most co-expression modules have strong phylogenetic signals, with broadly conserved genes and clade-specific genes predominating different substructures of the cell cycle co-expression network. We also found that conserved genes tend to determine the expression profile of their module.
Conclusion
We describe the first phylogenetic and single-nucleotide-resolution transcriptomic analysis of a bacterial cell cycle network. In addition, the study suggests how evolution has shaped this network and provides direct biological network support that selective pressure is not on individual genes but rather on the relationship between genes, which highlights the importance of integrating phylogenetic analysis into biological network studies.
Keywords
Cell cycle phylogenomics
Caulobacter crescentus
Co-expression network
Functional modules
Selective pressure
Background
Advances in next-generation sequencing methodologies have significantly reduced the time and cost constraints of determining genome-wide expression levels of various organisms, including bacteria. These technologies present major advantages over hybridization-based microarrays [1, 2]. Along with high throughput, they allow single-nucleotide resolution as well as quantification of absolute RNA abundance. These benefits combined with strand-specificity and greater dynamic range in gene expression measurement have provided great insight into the transcriptional landscape of various bacteria under different growth conditions [2]. However, no deep RNA sequencing (RNA-Seq) studies have so far reported a transcriptome analysis of a bacterial cell cycle, which would provide an important step toward understanding the genetic pathways involved in bacterial multiplication.
The ease of obtaining synchronized cell populations of the Gram-negative bacterium
Caulobacter crescentus
through a physical method [
3
] has made this organism a prominent bacterial model for analyzing the cell cycle [
4
]. The cell cycle of
C. crescentus
has also generated interest because of its inherent association with a developmental process [
5
,
6
]. Each division produces two distinct daughter cells: a flagellated and piliated "swarmer" (SW) progeny and a slightly longer, stalk-containing "stalked" (ST) progeny (Figure
1
). SW cells, which can be isolated from an asynchronous culture using a simple gradient centrifugation method [
3
], are in G1 phase as they cannot replicate their single chromosome until they grow to a similar size to their ST siblings [
7
]. Following flagellum ejection and pili retraction, DNA replication initiates and a polar stalk develops to produce a ST cell (Figure
1
). After some growth, cell constriction is initiated and a new flagellum is built at the pole opposite to the stalk. Completion of cytokinesis followed by cell separation results in the production of the SW and ST progeny. The SW cell then reiterates the aforementioned cell cycle whereas the ST cell skips the G1 phase and initiates the S phase immediately.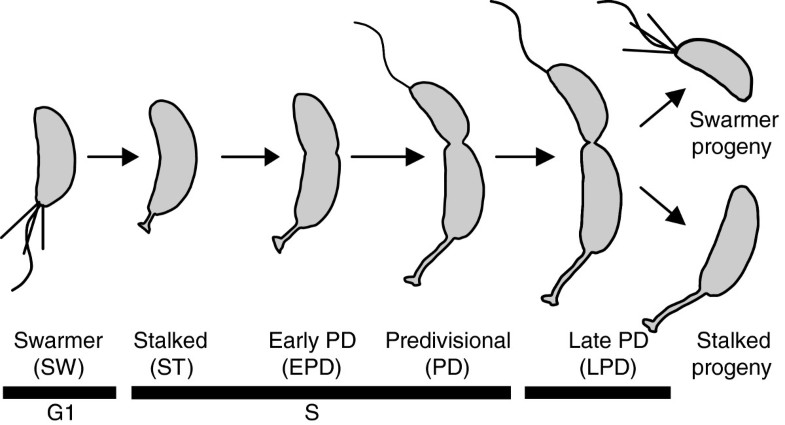 Decades of single-gene studies in C. crescentus have uncovered regulatory components and molecular mechanisms that govern the cell cycle and the spatial and temporal biogenesis of different organelles and molecular machineries. Following the resolution of the C. crescentus genome [8, 9], a variety of "omics" and modeling studies have been undertaken to understand the C. crescentus cell cycle at a system level [10–17]. Important studies have led the way to understanding the transcriptional cascades generated by the oscillatory expression of cell cycle master regulators [10, 12, 18–20].
In this work, we took advantage of the benefits of RNA-Seq to provide absolute measures of gene expression during the C. crescentus cell cycle, using biological replicates for each cell cycle stage. We uncovered novel properties of gene expression and regulation, identified over 1,500 cell cycle-regulated genes, and organized them into a co-expression network. Furthermore, we expanded phylogenomics [21] to co-expression network study by comparing network and gene evolutionary properties, and discovered strong correlations between co-expression and evolution.
Conclusion
In this work, we leveraged the CV analysis of biological replicates to refine our expression measurements and to correct systematic biases associated with GC-rich genomes. Using this strategy, we identified three global patterns of gene expression that appear to be under distinct regulatory constraints. By integrating two popular tools, WGCNA and baySeq, we generated a list of CCR genes and identified previously unknown relationships between these CCR genes. Through phylogenetic analysis of expression network modules, we found a correlation between stronger co-expression and broader conservation of genes. By investigating the evolutionary profiles of the modules and their MPD/MNTD coordinates, we found that most (64%) modules with strong tree-level clustering were dominated by widely conserved genes, and that 11 modules with strong tip-level clustering were dominated by clade-specific genes. In total, this accounted for 79% of the 76 modules, which argues that evolutionary profiles are highly related to gene co-expressions and that evolution has shaped the cell cycle expression network. This further implies that selective pressure is not on single genes but rather on the relationships between genes (i.e., the biological network), emphasizing the value of including phylogenetic analysis to the study of gene co-expression networks.
Availability of supporting data
Abbreviations
CCR:

Cell cycle-regulated
PI:

Persistence index
CV:

Coefficient of variation
SW:

Swarmer
ST:

Stalked
EPD:

Early predivisional
PD:

Predivisional
LPD:

Late predivisional
SAM:

S-adenosylmethionine
MPD:

Mean pairwise distance
MNTD:

Mean nearest taxon distance.
Declarations
Acknowledgements
We thank Brian Ondov and Anjana Varadarajan for advice on the RNA mapping method. We are also grateful to Life Technologies for assistance with SOLiD sequencing. We thank Professor Antoine Danchin and the Jacobs-Wagner lab members for valuable input and for critical reading of the manuscript. This work was in part funded the National Institutes of Health (GM065835 to C. J.-W.). C. J.-W. is an investigator of the Howard Hughes Medical Institute.
Authors' Affiliations
(1)
Department of Molecular, Cellular and Developmental Biology, Yale University, New Haven, USA
(2)
Department of Molecular Biophysics and Biochemistry, Yale University, New Haven, USA
(3)
School of Biology, Georgia Institute of Technology, Atlanta, USA
(4)
Howard Hughes Medical Institute, Yale University, New Haven, USA
(5)
Program in Computational Biology and Bioinformatics, Yale University, New Haven, USA
(6)
Department of Microbial Pathogenesis, Yale School of Medicine, New Haven, USA
Copyright
© Fang et al.; licensee BioMed Central Ltd. 2013
This article is published under license to BioMed Central Ltd. This is an Open Access article distributed under the terms of the Creative Commons Attribution License (http://creativecommons.org/licenses/by/2.0), which permits unrestricted use, distribution, and reproduction in any medium, provided the original work is properly cited.