Research article

Open Access
Global transcriptional response of Caulobacter crescentus to iron availability
José F da Silva Neto

1, 3

Email author

,

Rogério F Lourenço

2 and

Marilis V Marques

1
Received: 20 April 2013
Accepted: 9 August 2013
Published: 13 August 2013
Abstract
Background
In the alpha subclass of proteobacteria iron homeostasis is controlled by diverse iron responsive regulators. Caulobacter crescentus, an important freshwater α-proteobacterium, uses the ferric uptake repressor (Fur) for such purpose. However, the impact of the iron availability on the C. crescentus transcriptome and an overall perspective of the regulatory networks involved remain unknown.
Results
In this work we report the identification of iron-responsive and Fur-regulated genes in C. crescentus using microarray-based global transcriptional analyses. We identified 42 genes that were strongly upregulated both by mutation of fur and by iron limitation condition. Among them, there are genes involved in iron uptake (four TonB-dependent receptor gene clusters, and feoAB), riboflavin biosynthesis and genes encoding hypothetical proteins. Most of these genes are associated with predicted Fur binding sites, implicating them as direct targets of Fur-mediated repression. These data were validated by β-galactosidase and EMSA assays for two operons encoding putative transporters. The role of Fur as a positive regulator is also evident, given that 27 genes were downregulated both by mutation of fur and under low-iron condition. As expected, this group includes many genes involved in energy metabolism, mostly iron-using enzymes. Surprisingly, included in this group are also TonB-dependent receptors genes and the genes fixK, fixT and ftrB encoding an oxygen signaling network required for growth during hypoxia. Bioinformatics analyses suggest that positive regulation by Fur is mainly indirect. In addition to the Fur modulon, iron limitation altered expression of 113 more genes, including induction of genes involved in Fe-S cluster assembly, oxidative stress and heat shock response, as well as repression of genes implicated in amino acid metabolism, chemotaxis and motility.
Conclusions
Using a global transcriptional approach, we determined the C. crescentus iron stimulon. Many but not all of iron responsive genes were directly or indirectly controlled by Fur. The iron limitation stimulon overlaps with other regulatory systems, such as the RpoH and FixK regulons. Altogether, our results showed that adaptation of C. crescentus to iron limitation not only involves increasing the transcription of iron-acquisition systems and decreasing the production of iron-using proteins, but also includes novel genes and regulatory mechanisms.
Keywords
Caulobacter crescentus
Iron stimulon
Fur regulon
Transcriptome
Iron homeostasis
TonB-dependent receptor
Background
Iron is an essential micronutrient required for almost all organisms, functioning as a cofactor for proteins that are involved in a number of fundamental metabolic and enzymatic functions. Despite its high abundance, iron is a limiting nutrient in most biological systems due to its poor solubility under physiological conditions or because it is tightly sequestered by high-affinity proteins, such as transferrin and lactoferrin in eukaryotic hosts [1, 2]. On the other hand, high iron levels can generate toxic hydroxyl radicals by the Fenton reaction [3]. Thus, organisms have evolved multiple strategies to maintain accurate control over intracellular iron levels.
In most bacteria, iron homeostasis is mediated by Fur (ferric uptake regulator), an iron-sensing repressor protein, that controls the expression of genes involved in iron uptake, storage and usage. Under iron sufficiency, Fe2+-Fur (holo-Fur) binds at operator sites (Fur boxes) in the promoters of multiple iron-responsive genes, and represses their transcription [4]. In a few bacterial species, Fur seems to have a broader scope of regulation, acting also as a direct transcriptional activator [5–7] or as an apo-regulator (apo-Fur) [8, 9]. However, the most common Fur-mediated activation mechanism occurs indirectly via small regulatory RNAs (sRNA), such as RyhB in Escherichia coli[10], PrrF1 and PrrF2 in Pseudomonas aeruginosa[11], NrrF in Neisseria meningitidis[12] and FsrA in Bacillus subtilis[13]. In all these cases, the sRNAs inhibit the production of non-essential iron-using proteins under iron limitation, allowing relocation of the intracellular iron for essential proteins [14].
The Fur protein is the most widely found and best-studied iron-responsive regulator in bacteria from diverse taxonomic groups, such as subdivisions γ, β, δ and ϵ of proteobacteria and bacilli [4]. However, in α-proteobacteria iron regulation is still little studied and appears to be mediated by regulators different from Fur. Direct experimental data, available mostly to Rhizobiales, indicate that RirA and Irr are the master regulators of iron homeostasis while a Fur-like protein, named Mur, regulates only a manganese transporter [15, 16]. It has been suggested, based on bioinformatics and phylogenetic analyses, that RirA and Irr emerged as the main iron regulators in the common ancestor of the Rhizobiales and Rhodobacterales, whereas in more basal lineages of α-proteobacteria (Caulobacterales, Rhodospirillales and Sphingomonadales), Fur remained as the global iron regulator [17]. This in silico prediction was recently confirmed by experimental data for at least two α-proteobacteria, Caulobacter crescentus[6] and the magnetotactic bacterium Magnetospirillum gryphiswaldense[18, 19].
We have previously demonstrated, using an in silico approach combined with experimental data, that Fur controls iron homeostasis in C. crescentus by regulating many iron-responsive genes, and protect this freshwater oligotrophic bacterium from oxidative stress [6]. However, the response of C. crescentus to iron limitation and a comprehensive investigation of its Fur regulon remain to be determined on a global scale. In this work, we performed DNA microarray analysis to determine the transcriptional response of C. crescentus to iron availability, using wild-type cells growing under iron-replete versus iron-limiting conditions. We also used transcriptional profiling, comparing wild-type versus fur-mutant strains, to find novel members of the C. crescentus Fur regulon.
Conclusions
Using DNA microarray analyses, we have defined the global transcriptional response of
Caulobacter crescentus
to iron availability, providing an overview of the physiological strategies that this oligotrophic α-proteobacterium employs for survival in iron limiting conditions (Figure
4
). Our data reveal that the iron stimulon in
C. crescentus
is larger than the Fur regulon previously identified [
6
], involving a more complex regulatory network. Among the responses mediated by Fur it is worth pointing out the upregulation of genes involved in iron acquisition systems and biosynthesis of riboflavin in iron limiting condition, as well as the downregulation of genes encoding many iron-using enzymes involved in energy metabolism (Figure
4
). Fur binding site prediction suggests that Fur acts mainly as a direct transcriptional repressor, whereas positive regulation could be mediated either directly by Fur in a few cases or indirectly for most genes. In many cases this indirect effect was provoked by downregulation of the hypoxia regulator FixK, causing decreased expression of FixK-activated genes in iron limitation condition (Figure
4
). Other genes could be indirectly activated by Fur via an unidentified iron-responsive sRNA. While the Fe
2+
-Fur mediated repression of some genes encoding TonB-dependent receptors confirmed our previous data [
6
], the Fe
2+
-Fur mediated activation of many other TonB-dependent receptors putatively associated with sugar transport was unexpected. Fur-independent regulation of
C. crescentus
iron-responsive genes was also observed, indicating an overlap with other regulatory pathways (Figure
4
). It is worth mentioning that iron limitation caused upregulation of the heat shock sigma factor RpoH with consequent activation of its regulon, and upregulation of the IscR regulon, whose genes are involved in Fe-S cluster biogenesis. Since most of these iron-responsive genes identified in this work have not been experimentally investigated in
C. crescentus
, they are good targets for future studies.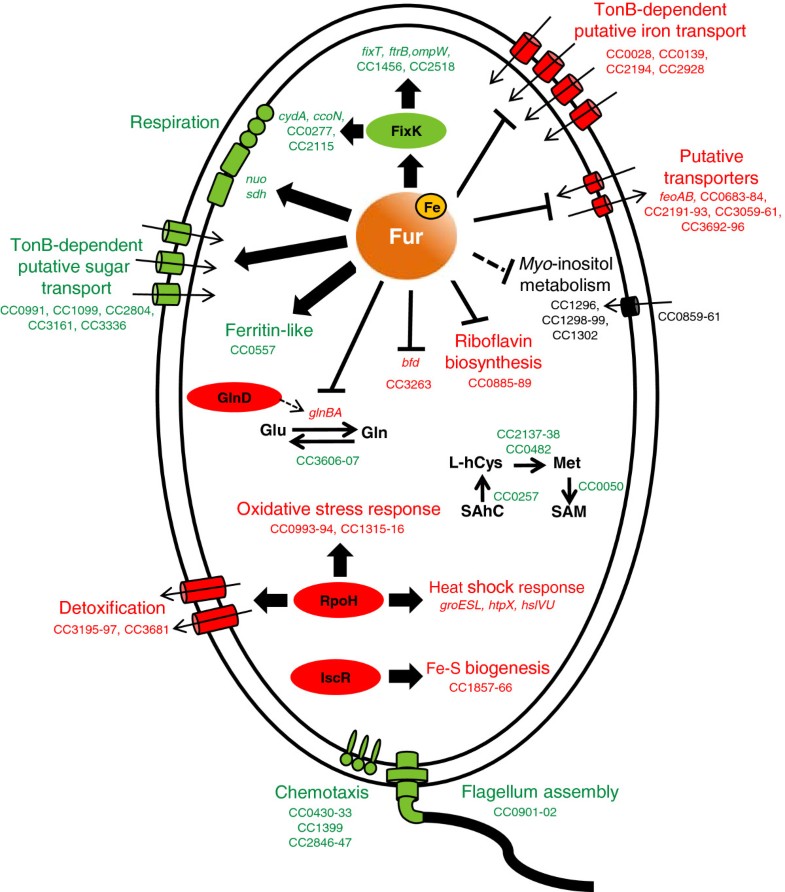 Declarations
Acknowledgements
We are grateful to Michael T. Laub for making the C. crescentus DNA microarray slides available and Carla Rosenberg lab for assistance with the microarray scanning. This work was supported by grant 470663/2011-1 from Conselho Nacional de Desenvolvimento Científico e Tecnológico (CNPq). During the course of this work, JFSN and RFL were supported by postdoctoral fellowships, grants 2007/56306-0 and 2008/52874-6, from São Paulo Research Foundation (FAPESP). MVM is partly supported by CNPq.
Authors' Affiliations
(1)
Departamento de Microbiologia, Instituto de Ciências Biomédicas, Universidade de São Paulo, São Paulo, Brazil
(2)
Departamento de Bioquímica, Instituto de Química, Universidade de São Paulo, São Paulo, Brazil
(3)
Departamento de Biologia Celular e Molecular e Bioagentes Patogênicos, Faculdade de Medicina de Ribeirão Preto, Universidade de São Paulo, Ribeirão Preto, Brazil
Copyright
© da Silva Neto et al.; licensee BioMed Central Ltd. 2013
This article is published under license to BioMed Central Ltd. This is an Open Access article distributed under the terms of the Creative Commons Attribution License (http://creativecommons.org/licenses/by/2.0), which permits unrestricted use, distribution, and reproduction in any medium, provided the original work is properly cited.