Research article
Open Access
Identification of phenylpropanoid biosynthetic genes and phenylpropanoid accumulation by transcriptome analysis of Lycium chinense
Received: 31 August 2013
Accepted: 13 November 2013
Published: 19 November 2013
Abstract
Background
Lycium chinense is well known in traditional Chinese herbal medicine for its medicinal value and composition, which have been widely studied for decades. However, further research on Lycium chinense is limited due to the lack of transcriptome and genomic information.
Results
The transcriptome of L. chinense was constructed by using an Illumina HiSeq 2000 sequencing platform. All 56,526 unigenes with an average length of 611 nt and an N50 equaling 848 nt were generated from 58,192,350 total raw reads after filtering and assembly. Unigenes were assembled by BLAST similarity searches and annotated with Gene Ontology (GO) and Kyoto Encyclopedia of Genes and Genomes (KEGG) orthology identifiers. Using these transcriptome data, the majority of genes that are associated with phenylpropanoid biosynthesis in L. chinense were identified. In addition, phenylpropanoid biosynthesis-related gene expression and compound content in different organs were analyzed. We found that most phenylpropanoid genes were highly expressed in the red fruits, leaves, and flowers. An important phenylpropanoid, chlorogenic acid, was also found to be extremely abundant in leaves.
Conclusions
Using Illumina sequencing technology, we have identified the function of novel homologous genes that regulate metabolic pathways in Lycium chinense.
Keywords
Illumina sequencing Lycium chinense PhenylpropanoidsChlorogenic acid
Background
Plant phenylpropanoids are a group of phenylalanine-derived physiologically active secondary metabolites, such as lignins, flavonols, isoflavonoids, and anthocyanins [1]. They perform a vast array of important functions; for example, lignins reinforce specialized cell walls [2], flavonoids and isoflavonoids are involved in UV filtration [3, 4] and symbiotic nitrogen fixation [5], and anthocyanins can protect plants against damaging photo-oxidative effects and UV irradiation [6]. Phenylpropanoids also have many beneficial functions for human health including anticancer [7] and anti-inflammatory properties [8].
Phenylpropanoid biosynthesis starts with the formation of the aromatic amino acid phenylalanine. Phenylalanine ammonia lyase (PAL) catalyzes the phenylalanine into cinnamic acid. Cinnamate 4-hydroxylase (C4L) and 4-coumarate-CoA ligase (4CL) then catalyze the conversion of cinnamic acid to p-coumaroyl-CoA, which is the precursor for many phenylpropanoid products. Anthocyanins, flavonols and isoflaconoids are synthesized from p-coumaroyl-CoA through a complex phenylpropanoid pathway (Figure
1
).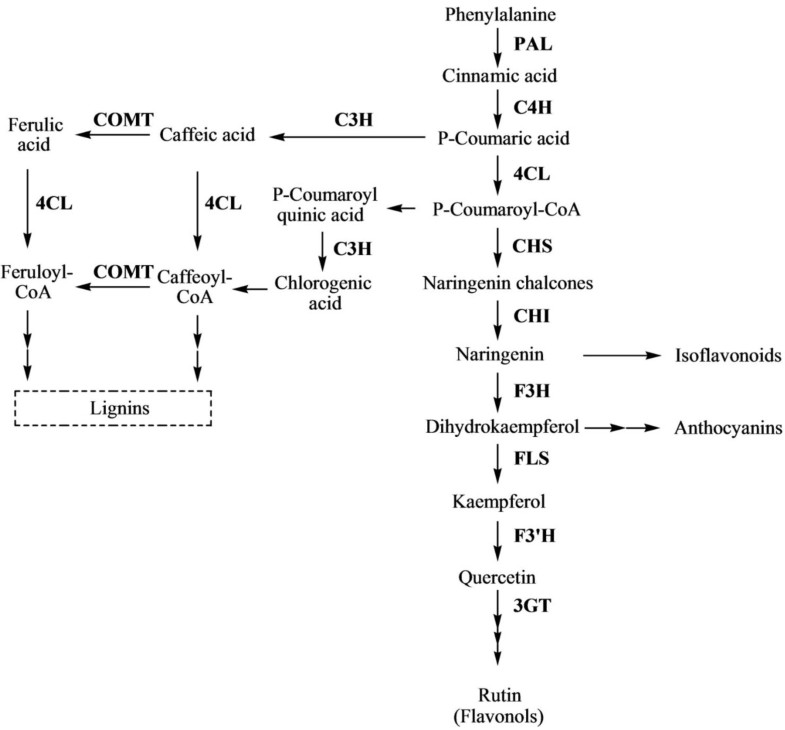 Lycium chinense, which is a member of the Solanaceae family, is a famous traditional Chinese herbal medicine that has a large variety of benefits, including anti-inflammatory effects [9], immunomodulating activity [10], anti-cancer properties [11], ability to reduce blood glucose and lipid levels [12], and anti-aging properties [13]. Researchers have isolated different secondary metabolites from L. chinense, such as alkaloids [14], carotenoids [15], lignans [16], and betaine [17]. Partial sequences of specific genes have also been cloned in order to evaluate gene expression during the plant's development and to investigate the relationship of different genes in various plants [18, 19].
In recent years, next-generation sequencing (NGS) technologies such as 454 and Illumina platforms have been widely used in gene sequencing, most notably, in human genome sequencing [20, 21]. Compared with traditional gene cloning, NGS technology has high efficiency (whole-genome sequencing), fast run times (ranging from hours to days) and high accuracy [20, 22]. Among the different types of NGS technology, the Illumina Hiseq system has been widely used [23–25], owing to its high throughput, accuracy, and low costs.
The purpose of the current study was to investigate the phenylpropanoid biosynthetic pathway in L. chinense. Several full-length cDNAs encoding PAL, C4H, 4CL, CHS, C3H, and COMT, and partial-length cDNAs encoding CHI, F3H, FLS, F3'H, and 3GT were identified and isolated. In addition, the relationship between the transcription levels of phenylpropanoid biosynthetic genes and phenylpropanoid accumulation were analyzed in different organs of L. chinense. To our knowledge, this study is the first to utilize transcriptome sequencing to investigate phenylpropanoid biosynthetic correlative gene expression in different organs of L. chinense.
Conclusions
In this study, we developed a rapid and cost-effective method for transcriptome analysis of Lycium chinense using Illumina sequencing technology. Using the annotation, we found many transcripts that encode for putative genes that are involved in phenylpropanoid biosynthesis. But not all genes were found, that mostly because the sample which used for RNA sequencing was not the stage that all genes were expressed. To extensively study the genes related the biosynthesis of secondary metabolites, we have plan to use other tissues of L.chinense for RNA sequencing in future. We also compared gene expression in different organs. We noticed that most phenylproanoid genes were highly expressed in the leaves, flowers, and red fruits. Our compound analysis indicated that a number of phenylpropanoids were present in the leaves and flowers of L. chinense, such as chlorogenic acid, caffeic acid, and rutin.
Methods
Plant material and RNA extraction
Plant materials were collected from Lycium chinense cutting seedling grown outdoor at an experimental farm at Chungnam National University for 1 year (Daejeon, Korea). Whole plantlets induced from the twig segment of L. chinen se were used for transcriptome analysis [37]. Different organs from the mature plant, including the roots, stems, leaves, flowers, and fruits from two different stages of maturation (green fruits and red fruits), were excised. All samples were immediately frozen in liquid nitrogen and then stored at -80°C and/or freeze-dried for RNA isolation and/or high-performance liquid chromatography (HPLC) analysis. The L. chinen se samples were ground into powder in a mortar with liquid nitrogen, and total RNA was isolated separately using the RNeasy Plant Mini kit (Qiagen, Valencia, CA).
Illumina sequencing
Beads with Oligo (dT) were used to isolate poly (A) mRNA after total RNA was extracted. Fragmentation buffer was then added to digest the mRNA into short fragments. Using these short fragments as templates, random hexamer primers was used to synthesize the first-strand cDNA. The second-strand cDNA was then synthesized using buffer, dNTPs, RNase H, and DNA polymerase I. Short fragments were purified with a QiaQuick PCR extraction kit and resolved with EB buffer for end reparation and addition of poly (A). Following this, the short fragments were connected with sequencing adapters and analyzed by agarose gel electrophoresis in order to select suitable fragments for amplification by PCR. The resulting cDNA library was then sequenced using an Illumina HiSeq™ 2000 system. Illumina Sequencing was performed at the Beijing Genomics Institute (BGI) genomic Center in Shenzhen, China (http://www.genomics.cn).
Reads filtration and assembly
Image data output from the sequencer was transformed by base calling into sequence data, also called raw data or raw reads. Before the assembly, the raw reads contain filtered reads and have adapters, a proportion of unknown nucleotides larger than 5% (N ≥ 5%), duplication sequences, and low quality bases (more than 20% nucleotides with quality value ≤ 10), which negatively affect the subsequent bioinformatics analysis. Therefore, dirty raw reads were removed. The clean reads were then assembled using Trinity software (release-20120608) [38]. Trinity first combines reads with a certain length of overlap to form longer fragments, which are called contigs. The reads are then mapped back to the contigs. Finally, Trinity connects the contigs and gets sequences that cannot be extended on either end. Such sequences are defined as unigenes. Unigenes from each sample's assembly can be used in further processes of sequence splicing and redundancy removal with sequence clustering software in order to acquire non-redundant unigenes that are as long as possible. The sequencing data from this study were deposited in the NCBI Sequence Read Archive (SRA, http://www.ncbi.nlm.nih.gov/Traces/sra/) under accession number SRR886280.
Unigene function annotation
Information was obtained regarding functional annotation, including protein functional annotation, COG functional annotation, and GO functional annotation of unigenes. Unigene sequences were first submitted to protein databases for alignment and comparison by BLASTX algorithms with a significant threshold of E-value ≤ 10-5, like nr, SWISS-PROT, KEGG, and COG. In addition, unigenes were aligned by Blastn to nucleotide databases nt (E-value ≤ 10-5), retrieving proteins with the highest sequence similarity with the given unigenes along with their protein functional annotations. In addition, the orientation of Illumina sequences that could not be obtained directly from sequencing were derived from BLAST annotations (ftp://ftp.ncbi.nih.gov/blast/executables/blast+/LATEST/). For other sequences not involved in the BLAST search, we used the ESTScan program (version 3.0.2, http://www.ch.embnet.org/software/ESTScan2.html) to predict for "CDS" and orientation. With nr annotation, the Blast2GO program (version 2.5.0, http://blast2go.com/b2ghome) was used to classify unigenes to GO terms such as molecular function, biological processes, and cellular components [39]. After obtaining GO annotations for all unigenes, WEGO software [40] was used to perform GO function classification for all unigenes and to analyze the distribution of L. chinen se gene functions at the macro level. Using the KEGG pathway database and nr annotation on KEGG, we could cluster multiple unigenes to the same GO terms and the same KEGG pathway [41].
Identifying sequences of phenylpropanoids genes
Genes in the phenylpropanoid biosynthesis pathway were identified using Illumina sequencing data. They were searched for using a functional annotation file based on the candidate gene name. Following this, each search sequence was further performed by using the BLAST program in the National Center for Biotechnology Information GenBank database (http://www.ncbi.nlm.nih.gov/BLAST).
cDNA synthesis and real-time PCR
After total RNA of different organs were extracted, the quality and concentration of different total extracted RNA were evaluated by 1% agarose gel electrophoresis and spectrophotometric analysis, respectively. For first-strand cDNA synthesis, 1 μg of high-quality total RNA was used for reverse transcription (RT) with a ReverTra Ace-kit (Toyobo Co. Ltd., Osaka, Japan). A 20-fold dilution of 20 μL of the resulting cDNA was used as a template for quantitative real-time PCR.
Based on the sequences of LcPAL, LcC4H, Lc4CL, LcCHS, LcCHI, LcF3H, LcFLS, LcF3'H, Lc3GT, LcC3H and LcCOMT, real-time PCR primers were designed by the Primer 3 website (http://frodo.wi.mit.edu/primer3/) (Additional file 2). The expression of these genes was calculated by relative quantification method with rhe L.chinense Actin housekeeping gene, which was also isolated through NGS sequences (data not shown), as a reference. For quantification of the standard, PCR products amplified from cDNA were purified, and the concentration of the products was measured in order to calculate the number of cDNA copies. Real-time PCR reaction were performed in a 20 μL reaction mixture including 5 μL of template cDNA, 10 μL of 1 × SYBR Green Real-time PCR Master Mix (Toyobo, Osaka, Japan), 0.5 μL of each primer (10 μL) and DEPC-treated water. Thermal cycling conditions were as follows: 95°C for 5 min and 40 cycles of 95°C for 15 s, 56°C for 15 s, and 72°C for 20 s. The PCR reactions were performed on a CFX96 Real-Time system (Bio-Rad Laboratories, Hercules, CA). PCR products were analyzed with the Bio-Rad CFX Manager 2.0 software. Three replications for each sample were used for the real-time PCR analysis. Values were expressed as means ± SDs.
High performance liquid chromatography analysis
Different organs of L. chinense were freeze-dried at -80°C at 48 h, and then ground into a fine powder using a mortar and pestle. Phenylpropanoids were released from the L.chinense samples (0.02 g) by adding 3 mL of methanol containing 0.1% ascorbic acid (w/v) at 60°C for 1 h. After centrifuging (3000 rpm) the extract, the supernatant was filtered with a 0.22 μm Acrodisc syringe filter (Pall Corp.; Port Washington, NY), and then analyzed by HPLC. The phenylpropanoids were separated on C18 column (250 × 4.6 mm, 5 μm; RStech, Daejeon, Korea) by an Agilent 1100 HPLC system (Agilent Technologies France, Massy, France) that was equipped with a photodiode array detector. The mobile phase consisted of methanol, water and 0.2% acetic acid, and the column was maintained at 30°C. The flow rate was maintained at 1.0 mL/min, the injection volume was 20 μL, and the detection wavelength was 280 nm. The concentrations of phenylpropanoid compounds were determined by using a standard curve. All samples were analyzed in triplicate. Values were expressed as means ± SDs.
Declarations
Acknowledgement
This work was carried out with the support of "Cooperative Research Program for Agriculture Science & Technology Development (Project No. PJ906938)" Rural Development Administration, Republic of Korea, and "National High Technology Research and Development Program of China (2011AA100202)".
Authors' Affiliations
(1)
Department of Crop Science, Chungnam National University, Yuseong-gu, Korea
(2)
Green Bio Research Center, Cabbage Genomics Assisted Breeding Supporting Center, Korea Research Institute of Bioscience and Biotechnology (KRIBB), Daejeon, Korea
(3)
National Institute of Horticultural and Herbal Science, RDA, Eumseong, Korea
(4)
State Key Laboratory of Forest Genetics and Tree Breeding, Northeast Forestry University, Harbin, China
Copyright
© Zhao et al.; licensee BioMed Central Ltd. 2013
This article is published under license to BioMed Central Ltd. This is an open access article distributed under the terms of the Creative Commons Attribution License (http://creativecommons.org/licenses/by/2.0), which permits unrestricted use, distribution, and reproduction in any medium, provided the original work is properly cited.