Research article

Open Access
Discovery of MLL1 binding units, their localization to CpG Islands, and their potential function in mitotic chromatin
Received: 2 August 2013
Accepted: 16 December 2013
Published: 28 December 2013
Abstract
Background
Mixed Lineage Leukemia 1 (MLL1) is a mammalian ortholog of the Drosophila Trithorax. In Drosophila, Trithorax complexes transmit the memory of active genes to daughter cells through interactions with Trithorax Response Elements (TREs). However, despite their functional importance, nothing is known about sequence features that may act as TREs in mammalian genomic DNA.
Results
By analyzing results of reported DNA binding assays, we identified several CpG rich motifs as potential MLL1 binding units (defined as morphemes). We find that these morphemes are dispersed within a relatively large collection of human promoter sequences and appear densely packed near transcription start sites of protein-coding genes. Genome wide analyses localized frequent morpheme occurrences to CpG islands. In the human HOX loci, the morphemes are spread across CpG islands and in some cases tail into the surrounding shores and shelves of the islands. By analyzing results of chromatin immunoprecipitation assays, we found a connection between morpheme occurrences, CpG islands, and chromatin segments reported to be associated with MLL1. Furthermore, we found a correspondence of reported MLL1-driven "bookmarked" regions in chromatin to frequent occurrences of MLL1 morphemes in CpG islands.
Conclusion
Our results implicate the MLL1 morphemes in sequence-features that define the mammalian TREs and provide a novel function for CpG islands. Apparently, our findings offer the first evidence for existence of potential TREs in mammalian genomic DNA and the first evidence for a connection between CpG islands and gene-bookmarking by MLL1 to transmit the memory of highly active genes during mitosis. Our results further suggest a role for overlapping morphemes in producing closely packed and multiple MLL1 binding events in genomic DNA so that MLL1 molecules could interact and reside simultaneously on extended potential transcriptional maintenance elements in human chromosomes to transmit the memory of highly active genes during mitosis.
Keywords
Cis-elements
Chromatin structure
Codes in DNA
CGG repeats
CpG islands
FMR1
HOXA
HOXB
HOXC
HOXD
MLL
MLL1
Gene bookmarking
Gene regulation
Human genome
Mammalian genomes
Regulatory codes
Trithorax response elements
TREs
Mitosis
Cell division
Background
The DNA in human chromosomes is relatively long [1]. In addition to protein-coding genes, the genome includes numerous sequence features including gene deserts [2], a multitude of long noncoding RNAs with little or no protein-coding capacity [3], and many islands of CpG-rich sequences [4]. CpG Islands (GIs) include G-tracts and numerous nonmethylated CpGs [4]. CpG-richness is a remarkable feature since, generally, bulk genomic DNA is depleted of CpG, owing to selective deamination of 5-meC [5, 6]. CGIs vary in size and CpG content [6–8]. In close proximity (~2 kb) to CGIs, there are regions (known as shores) that contain a lower CpG density than the values computationally selected to define the position of CpG islands [9, 10]. Sequences (~2 kb) that flank the shores are referred to as shelves [11]. Sequences beyond the shelves are described as open sea [11]. Both shores and shelves appear to contribute to developmental and regulatory processes that control CpG methylation patterns in chromosomes leading to gene repression [12].
Gene repression and activation are regulated by proteins that interact with DNA, by enzymes that modify the core histones in nucleosomes and by proteins that bind modified residues in histones [13]. Core-histone modifications include methylation (me), acetylation (ac), phosphorylation (P), and ubiquitination (ub) [14]. A conserved domain (SET) catalyzes methylation of H3K4 (lysine 4 in histone H3) producing H3K4me3 [15]. Trimethylated H3K4 is associated with active or transcriptionally poised chromatin states [16]. In mammalian cells, H3K4 trimethylation involves several enzymes that include SETD1A, SET1DB, and members of MLL family. MLL family members are comprised of MLL1, MLL2, MLL3, and MLL4 [15, 17]. In the literature, the human MLL1 is also referred to as MLL, ALL-1, and MLLT1; its official symbol is KMT2A. In our studies, we refer to human KMT2B as MLL2, to KMT2C as MLL3, and to KMT2D as MLL4.
Earlier studies discovered the MLL1 gene through its involvement in chromosome translocations that cause acute leukemia [18, 19]. Translocations often produce abnormal proteins consisting of the amino-terminus of MLL1 fused in frame to the carboxyl terminus of another protein [20]. The normal form of MLL1 is relatively large and contains several domains: a plant homeodomain, a bromo domain, a transactivation domain, a SET domain, and a cysteine-rich CXXC domain [21]. The CXXC domain is known as MT since it shows sequence similarity to DNA methyltransferases [22, 23]. A similar domain exists in MLL2 and CXXC1 (also known as CGBP and CFP1). Even though the MT domain in MLL1 and CXXC1 binds non-methylated CpG containing sequences [24–26], swapping experiments have shown that CXXC domains have specific and nonredundant activities that impact downstream regulatory functions [27]. Colony forming ability and leukemogenicity of a fusion protein (MLL-AF9) was abrogated when the MLL-derived segment was replaced with the DNA binding domain of CXXC1 [27]. Furthermore, even though MLL1 and MLL2 displayed almost indistinguishable DNA-binding properties, their corresponding MT-domains guided the proteins to largely non-overlapping gene repertoires [25].
Evidence supports central roles for native forms of MLL1 in mechanisms that preserve "the memory" of highly active genes during cell division and at specific stages in embryonic development [28–31]. In Drosophila, two groups of proteins support heritable memory systems that maintain the transcriptional state of target genes [32, 33]. Trithorax Group (TrxG) binds TrxG Response Elements (TREs) to maintain active states [32]. Polycomb Group (PcG) perpetuates repressed states through PcG Response Elements (PREs) [32, 33]. In Drosophila, related DNA sequence elements are thought to contribute to the recruitment of both TrxG and PcG complexes to chromatin [32]. Mammalian PcG proteins consist of two groups: Polycomb Repressive Complexes 1 and 2 (PRC1 and PRC2), see [34] and references therein. PRC1 catalyzes mono-ubiquitylation of histone H2A; PRC2 methylates lysine 27 in histone H3 producing H3K27me2/me3 [16, 35]. The PRC2 complex includes EZH2, EED, and SUZ12 [36]. EZH2 is the enzymatic component of the PRC2 complex and produces the repressive H3K27me3 marks in nucleosomes [16, 35]. Interestingly, emerging data indicate that the PRC2 complex is recruited to chromatin by CpG islands [34].
Syndromic manifestations support the opposing functions that MLL1 and EZH2 play in embryonic development. Mutations in the EZH2 gene cause autosomal dominant Weaver syndrome characterized by generalized overgrowth, advanced bone age, marked macrocephaly, hypertelorism, and characteristic facial features [37, 38]. De novo mutations in the MLL1 gene cause Wiedemann-Steiner syndrome [39–41]. Symptoms vary and may include delayed growth and development, asymmetry of the face, hypotonia, and intellectual disability [39–41]. Mutations often produce frame-shifts removing downstream domains. Studies of Mll1 knockout mice support a central role for MLL1 in regulating developmental pathways [28–30]. Mll1 heterozygous (+/-) mice displayed retarded growth, haematopoietic abnormalities, and bidirectional homeotic transformations of the axial skeleton as well as sternal malformations [28]. Mll1 deficiency (-/-) was embryonic lethal [28]. In mice, Mll1 was required for maintaining gene expression early in embryogenesis [42], necessary for correct development of multiple tissues, and essential for successful skeletal and neural, and craniofacial development [28, 42].
Protein networks that include MLL1 drive coordinated patterns of gene expression (Figure
1
). These networks are organized as hubs that receive and transmit information to activate, upregulate, downregulate, or repress the expression of a given gene [
13
]. Components in molecular circuitries include multiprotein complexes that are relatively large and highly dynamic [
13
]. Depending on environmental milieu, MLL1 associates directly or indirectly with numerous regulatory proteins including MEN1, RBBP5, WDR5, ASH2L, HCF1, LEDGF, and CXXC1 (Figure
1
). In protein networks, MLL1, HCF1, and CXXC1 also communicate with large and dynamic protein complexes that repress transcription (Figure
1
). CXXC1 binds non-methylated CpG [
26
,
43
] and interacts with H3K4 methyltransferases known as SET1A/ SETD1A and SET1B/ SETD1B (Figure
1
). These enzymes play a more widespread role in H3K4 trimethylation than do MLL1 complexes in mammalian cells [
17
]. These and related findings indicate that in addition to H3K4 methylation, MLL1 performs histone methyltransferase-independent functions [
31
].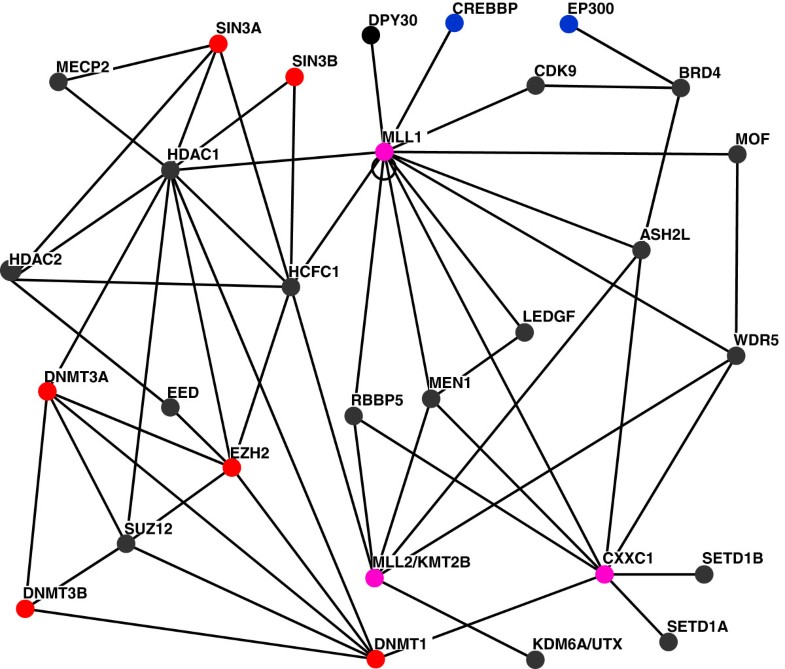 As the main component in trithorax-based regulation networks, MLL1 plays a central role in preserving transcriptional memory during mitosis [31]. Analyses of synchronized human cells identified a globally rearranged pattern of MLL1 occupancy during mitosis in a manner favoring genes that were highly transcribed during the interphase stage of cell-cycle [31]. However, how MLL1 bookmarks genes to maintain transcriptional memory has not been addressed. The finding that gene-bookmarking by MLL1 is largely independent of the methylation status of H3K4 on mitotic chromosomes [31] provokes the question of whether interactions of MLL1 with genomic DNA may play a role in bookmarking events that preserve the memory of highly transcribed genes at the onset of mitosis. To explore this question, we have analyzed data concerning interactions of MLL1 with DNA and chromatin. We show that DNA sequences that bind the MLL1 MT-domain can be described as minimal units or morphemes: the smallest 'words' in DNA that selectively bind the MT-domain in MLL1. We find that the MLL1 morphemes occur in chromatin segments that are bookmarked by MLL1 during mitosis. Furthermore, we show that frequent morpheme occurrences map to genomic sequences that correspond to CGIs. Collectively, our results suggest that CGIs include TREs that bind MLL1 to maintain the memory of highly active genes at the onset of mitosis.
Conclusions
Annotation of the human genome has involved numerous experimental and computational strategies to identify and describe DNA sequences that are important to cellular functions. However, despite cutting-edge advances, we lack a complete understanding of the function of CpG islands, which were discovered some time ago [4, 5]. Results of our analysis provide suggestive evidence for specific sequence motifs in CGIs that may function in the recruitment of MLL1 to mitotic chromatin. We show that various combinations of MLL1 morphemes occur in chromatin regions bookmarked by MLL1 during mitosis [31]. Thus, our results implicate the MLL1 morphemes in sequence-features that define the mammalian TREs. Our results also suggest a role for overlapping morphemes in producing multiple MLL1 binding events, linking MLL1 molecules so that they would reside simultaneously on different maintenance elements in chromosomes, as previously proposed [81].
Our findings also may explain why CGIs often extend to include promoter, exonic, and intronic sequences of genes. By binding CGIs, MLL1 might preserve and maintain an open chromatin configuration to regulate gene expression and to facilitate rapid gene activation upon mitotic exit. Association of MLL1 with CGIs agrees with a global role for MLL1 in regulation of transcription [47].
Apparently, our findings provide the first evidence for the existence of potential TREs in mammalian genomic DNA and the first evidence for a connection between CGIs and gene-bookmarking by MLL1 to transmit the memory of highly active chromatin states during cell-division. Because of the strong connection of TREs and PREs in Drosophila[32], we speculate that the MLL1 morphemes may play a dual role: (1) contribute directly to the recruitment of mammalian TrxG complexes to chromatin and (2) contribute indirectly, or directly, to the recruitment of PRC2 complexes to chromatin to repress transcription. This possibility is consistent with the finding that the mammalian PRC2 repressive complex binds CGIs [34] and our discovery of frequent occurrences of MLL1 morphemes in CpG islands.
Methods
Identification of MLL1 morphemes and their localization in human genomic DNA
We identified the MLL1 binding units by analyzing results of reported SELEX- and PCR-based assays. These assays were conducted to determine the DNA binding properties of the MLL1 MT-domain [24]. In our analyses, we included counting schemes to assess the number of CpGs and to identify nucleotides that appeared between CpG dinucleotides in each cloned inserts.
To count genomic occurrences of MLL1 morphemes, we downloaded nucleotide sequences of CGIs and human chromosomes from the human genome browser at UCSC [83]. A Perl script was written to determine occurrences of each morpheme in downloaded sequences and to create outputs displaying the results. We followed various counting schemes. We found including or omitting morpheme overlaps gave about the same number of counts (variation among procedures was less than 10%).
To localize genomic positions of MLL1 morphemes, we retrieved genomic DNA (Hg19) from the Genome Browser at UCSC [83]. Sequence analyses involved scanning the human genome for morpheme occurrences, using Perl scripts [50]. Similarly, we developed script to create outputs (bed files) to display the position of MLL1 morphemes on the Genome Browser at UCSC [50]. Tools offered by the browser facilitated examining genomic maps in context of landmarks, including the position of genes, CGIs, and chromatin modification patterns [83, 84].
Studies of promoter sequences of human genes
To analyze promoter sequences of POLII genes, we obtained the accession number of human cDNAs from the UCSC database [83]. Heather Trumbower (at UCSC) wrote queries and retrieved the accession number of 44,338 cDNAs, organized according to their position in human chromosomes. To reduce sequence-redundancy, we selected one cDNA per gene. Subsequently, we computationally removed cDNAs that appeared to be incomplete. Accession numbers of remaining cDNAs were uploaded on the table browser at UCSC to obtain the nucleotide sequence of corresponding promoters: -500 to transcription start site. Since the human genome may contain multiple copies of a given gene [85], we chose one promoter to represent redundant genes.
Afterwards, we followed previously described methods [49, 50, 86] to create a database for retrieving information about the final set (15,906) of promoters. The database (RF_data_06) tracked the number of occurrences as well as the position of all possible 9-mers in POLII promoters, with respect to TSSs. For statistical evaluations, the database included counts of 9-mers in total human genomic DNA and in repetitive DNA sequences [49]. For promoter analyses, we queried RF_data_06 to obtain counts for a given subsequence (i.e. CGCG, CGNCG, CGNNCG, and MLL1 morphemes) at each nucleotide position (-500 to -1).
Statistical evaluation
For statistical evaluation, we followed a previously described approach [49]. Briefly, Regnier and Szpankowski have shown that occurrences of words in a randomly generated text (based on either Bernoulli or Markov model) are normally distributed around a mean [87]. We used their findings to perform statistical derivations based on the principle of large deviations [49].
We chose the following notations: L G length of total genomic DNA, L E total length of CGIs, and L F length of regions that do not correspond to CGIs. Thus, LF = LG - LE
Subsequently, we created a motif table (w1, …, w M ), consisting of MLL1 morphemes to identify elements that matched sequences in L E and L G
For 1 ≤ i ≤ M, we denote by Ei, Fi, and Gi, respectively, the frequency of the ith element (wi) in L E , L F , and L G
Since LE is significantly shorter than LG as an approximation we assume |LE| < |LF| ≈ |LG|
Quantities of interest are total counts normalized with respect to length of analyzed sequences:
We made two additional justifiable approximations: fi ≈ gi and fi ≈ p(wi)
Since |LG| is very large, within the margin of error, fi approximates the probability of occurrence of morpheme wi in genomic DNA.
As previously [49], we aimed to determine a threshold αth so that we could assign statistical significance to cases in which ei > αfi (or ei > αgi). Evaluations require comparing empirical data to a reference model. For reference, we chose a probabilistic model assuming that the genome is generated by a memoryless or Markov source. In this model, ei and fi become random variables.
As detailed above, we simplified the analysis by assuming that fi = p(wi) is a constant. Subsequently, we determine whether for a given β, the event ei > αfi is statistically significant provided that the probability of ei > αfi is smaller than β. That is, P(ei > αfi) < β (the chance of randomness that generates the event ei > αfi is very small). We set β = 10-50 to compute the αth threshold.
From [
87
], we knew that Ei values should be normally distributed around a mean
When E
i
does not deviate more than
Where, N(μ, σ2) denotes the normal distribution with mean μ and variance σ2
When E
i
deviates from another probabilistic law would govern the Ei behavior: namely, the large deviations law [
56
]. Previously Regnier and Szpankowski [
87
] proved
Where, I(δ) is a complicated function of δ that depends on moment generation functions [
88
]. To compute threshold α = 1 + δ > 1, we estimate δ from
That equation translates into P(Ei > (1 + δ)LEp(wi)) < β which is clearly within the large deviations domain.
For the analyses, we need to apply Eq. (
1
). However, numerical computations of the large deviation function I(δ) are rather cumbersome. Therefore, we followed approximations, noting that a good bound was needed only for the large deviation probability. Ignoring overlapping morphemes, E
i
would be a sum of Bernoulli independent random variables. If that case, the following bound can be found (cf. for example, Ref. [
88
]):
To be rigorous and take into account overlapping morphemes, we must somewhat relax equation (
2
). Referring to Azuma's inequality (cf. Ref. [
56
]), we obtain:
Abbreviations
CGIs:

CpG islands
H3K4:

Lysine 4 on histone H3
PcG:

Polycomb group
POLII:

RNA polymerase II
PRC1:

Polycomb repressive complexes 1
PRC2:

Polycomb repressive complexes 2
PREs:

Polycomb response elements
TREs:

Trithorax response elements
TSSs:

Transcription start sites
TrxG:

Trithorax group
UCSC:

University of California Santa Cruz.
Declarations
Acknowledgements
We thank Heather Trumbower for retrieving from the UCSC genome browser a listing of human protein coding genes. We thank Arnold Stein for helpful discussions and for his critical review of the manuscript.
Authors' Affiliations
(1)
Department of Chemistry, Purdue University, West Lafayette, USA
Copyright
© Bina et al.; licensee BioMed Central Ltd. 2013
This article is published under license to BioMed Central Ltd. This is an open access article distributed under the terms of the Creative Commons Attribution License (http://creativecommons.org/licenses/by/2.0), which permits unrestricted use, distribution, and reproduction in any medium, provided the original work is properly cited.