Residue correlation networks in nuclear receptors reflect functional specialization and the formation of the nematode-specific P-box
Marcelo Querino Lima Afonso

1,

Leonardo Henrique França de Lima

2 and

Lucas Bleicher

1

Email author
BMC Genomics
2013
14(Suppl 6):S1
Published: 25 October 2013
Abstract
Background
Nuclear receptors (NRs) are transcription factors which bind small hormones, whose evolutionary history and the presence of different functional surfaces makes them an interesting target for a correlation based analysis.
Results
Correlation analysis of ligand binding domains shows that correlated residue subsets arise from the differences between functional sites in different nuclear receptor subfamilies. For the DNA binding domain, particularly, the analysis shows that the main source of correlation comes from residues that regulate hormone response element specificity, and one of the conserved residue sub-sets arises due to the presence of an unusual sequence for the DNA binding motif known as P-box in nematodes, suggesting the existence of different DBD-DNA specificities in nuclear receptors.
Conclusions
We conclude that DNA specificity and functional surface specialization has independently driven nuclear receptor evolution, and suggest possible binding modes for the class of divergent nuclear receptors in nematodes.
Keywords
Androgen ReceptorNuclear ReceptorLigand Binding DomainMajor GrooveCorrelation Network
Background
The large family of nuclear receptors (NRs) comprise regulatory transcription factors that are activated by specific ligands (usually small lipophilic molecules) and regulate a wide range of biological processes in metazoa, and the association of many of them to human diseases make them a current major drug target[1]. The overall architecture of NRs consists of an N-terminal region (A/B domain), a DNA binding domain (DBD, or C domain), a molecular hinge (D domain), a ligand binding domain (LBD) and a C-terminal region (F domain). Given the functional importance of the LBD (where hormone binding is responsible for the structural changes and recruitment of other proteins for transcription initiation) and the DBD (which selectively binds to the DNA sequence known as the hormone response element, or HRE), they are the most conserved domains and are easily alignable (the DBD being the most conserved region). On the other hand, all other domains are highly variable in size and sequence (being even absent in some cases). There are also NRs lacking LBDs (as Knirps) or DBDs (as DAX-1, which has regulatory function by heterodimerization). More recently, nuclear receptors containing two DBDs have also been identified from the flatworm parasite Schistosoma mansoni and database mining have detected this architecture not only in other platyhelminthes but also in mollusks and arthropods [2]. Such studies are possible due to the increasingly high availability of NR sequences - the current PFAM [3] release lists 4842 DBDs and 4622 LBDs from and 511 and 481 species, respectively. For both domains, more than 90% of the available sequences come from nematoda, chordata and arthropoda.
Phylogenetic analysis divide nuclear receptors in six classes, named NR1-NR6, plus a seventh class (NR0) for the unusual nuclear receptors lacking either the DBD or LBD. Nuclear receptors may also be referred to as Type I-IV: Type I receptors, comprising the NR3 subfamily, are cytosolic and ligand binding causes its transport to the nucleus after dissociation from heat shock proteins and homodimerization. Type II receptors, which correspond to the NR1 class, are kept in the nucleus, usually binding to DNA as heterodimers (RXR is the usual heterodimerization partner). They are inactivated by co-repressors in the absence of ligands, which, when present, cause the dissociation from co-repressors and co-activator recruiting. Type III receptors (NR2) are similar to Type I, the difference relying on the HRE sequence (Type I receptors bind to inversed repeats, while Type III bind to direct repeats). Finally, Type IV receptors are able to bind to DNA as monomers also, and are not restricted to a single class in the NR1-NR6 nomenclature.
The Caenorhabditis elegans (C.elegans) nematode is a particularly interesting model organism for the study of nuclear receptor evolution, due to the fact that its number of predicted NRs is above 300, 75% of them possibly representing functional genes [4]. This is the highest number of NR genes ever found in a single species to date, being considerably higher than the amount found in Drosophila (~20) and even in humans (~50). The Caenorhabditis briggsae species, which also has available sequences, presents such a high amount of potential nuclear receptor genes as well. Although abundant, most C. elegans NR genes are difficult to be grouped in the NR1-NR6 system, which characterize a distinct event of proliferation and diversification for those receptors, probably from a series of duplications of a HNF4 ancestor, an orphan receptor [5]. From all known C. elegans nuclear receptors, only seven have well described functions [4].
Protein families can be usually identified by well conserved motifs. In the case of nuclear receptors, DBDs can be easily detected by the presence of two highly conserved C4 zinc finger motifs, while LBDs contain a twenty residue long "signature motif" that stabilizes its canonical fold [6]. Aside from positional conservation, which can define such motifs or detect family-wide functional important residues (such as those involved in catalysis in the case of enzymes), another useful way of studying protein families is looking for correlations - i.e., the fact that a given residue in a certain position in a multiple sequence alignment (MSA) increases or decreases the chance of observing another residue in another position. Quantitatively measuring such correlations was made possible due to the availability of a sufficient number of sequences from a given protein family, and many studies based on correlated mutations have appeared, especially during the nineties, following the seminal article of Göbel and co-authors in 1994 [7]. This was followed by other correlation metrics such as mutual information[8], statistical coupling analysis[9], explicit likelihood [10], etc. Statistical coupling analysis have been applied to the study of LBDs [11], while the alignable portions of full-length NRs were studied by mutual information [12], which resulted in successfully reporting residues that connect the functionally important surfaces in nuclear receptors [11] and a set of three residues in the dimer interface that uniquely identify nuclear receptors [12]. We have previously observed that further analysis of correlated positions in a multiple sequence analysis may reveal class-determining patterns - specifically, residues involved in metal selectivity and oligomeric state in Fe/Mn-Superoxide Dismutases [13], while Halabi et al. independently detected the existence of "sectors" in protein family multiple sequence analysis that may also evolve independently and be responsible for different functions [14]. A new methodology was proposed in order to extract this additionally available and potentially useful information from correlation analysis [15] - specifically, we adopted the independent calculation of residue-specific correlation (which also enables calculation of the usually overlooked cases of anti-correlation), so that different class-determining groups are not masked by their potential presence in the same position in a multiple sequence alignment, which would be a limitation for metrics that report interpositional correlation (possibly followed by a clustering procedure) only. A correlation network where nodes are residue-position pairs (as in D48, E93 or K93) and connections are (anti-)correlation scores (e.g. a positive link between D48 and K93 means the presence of one of those residues significantly increases the odds of finding the other, while a negative link means they are unlikely to be simultaneously present in a given protein) is built and subsequently decomposed (using, for example, techniques from community structure analysis [16–18]) in order to detect residue groups (with their type explicitly reported) that may be related to a class-specific function or characteristic [15]. The presence of well-defined functional surfaces, very different modes of action and a remarkable evolutionary history [19] led us to believe that correlation network decomposition could provide useful residue-specific information about the evolution and function of nuclear receptors.
Results and discussion
Ligand binding domains
Although nuclear receptor ligand binding domains have already been studied using correlation analysis [11], new insights can still be found when residue-specific metrics are used. The calculation and subsequent decomposition of the overall correlation network in LBDs resulted in four communities (a community in a network is a set of nodes which are well connected between themselves but not to the rest of the network; in a residue correlation network it consists of a set of residues which tend to appear simultaneously in a sub-set of a protein family). The first one consists of positions Ala283, Glu307, Phe289, Leu301, Pro287 and Gln297 (hRXRα numbering). Glu307 is close to the hormone binding site and all human nuclear receptors have an acidic residue in that position except for the steroid receptors and the two NRs lacking a DBD, DAX1 and SHP. The other residues in this community are close to the co-activator binding interface and also present in most human nuclear receptors.
The same is not true for the second community, consisting of residues Phe353, Gly288, Arg312 and Arg380 - whose individual frequencies are among 22-36% among all receptors. With residues (Gly288, Arg380) that are in contact with those in the co-activator binding site and also other two which are closer to the hormone binding site (Arg312, Phe353), they are not common to most human nuclear receptors, but actually present in specific NRs, possibly due to being involved in ligand specificity: in RAR, for example, a mutation in Arg272 (equivalent to position 312 in hRXRα numbering) affects ligand binding and causes resistance to all-trans retinoic acid [20], while in VDR the equivalent Arg274 is related to vitamin D binding, which turns undetectable upon its mutation to alanine [21]. Another class-specific characteristic related to residues in this second community is found for Arg380: it is involved in a salt bridge which is specific for Class II nuclear receptors [22] - in the case of RARα, for example, the equivalent Arg339 binds to Asp267. In this receptor, residue Phe312 (position 353 in RXRα), is involved in retinoic acid expulsion [23].
The third community presents residues Lys371, Leu276, Trp282 and Trp305, which are present in about one half of all receptors in our final alignment. Positive residues in position 371 are found in a buried salt bridge that is present in some NRs (in RXRα, the charged pair is Arg371 and Glu239), while a leucine in position 354 (equivalent for 276 in RXRα) may be part of the binding site to the metastasis tumor-associated 1estrogen receptor repressor [24]. In silico studies [25] suggested that the two tryptophans may be an important part of the estrogen receptor region that could bind polyproline-II containing proteins (which could result in the activation of mitogen activated protein kinases). These two tryptophans are extremely high correlated: the presence of a tryptophan in position 305 raises the frequency of tryptophans in position 282 from 50.5% to 84.5% (p < 10-40), in agreement with a possible important role for such residues as suggested by Jacquot et al. [25].
Finally there is a two-residue community consisting of Lys302 and Leu369, present individually in about 40% of the NR sequences. The role of these two residues has been well characterized for VDR. Using VDR numbering, Lys264 is crucial for ligand-dependent transactivation [26], while the mutation of Leu332 severely impairs its function, with all functions (ligand binding, heterodimerisation and gene transactivation ) abolished when Leu325 is also mutated [27].
DNA binding domains
The correlation pattern among DBD residues is shown in Figure
1
. Three sets are distinctly recognized from the figure: the first containing residues F147, R153, A154, A156 and A157, the second containing residues D140, Y147, G154, K156, and a third containing residues E153, G157, Q188 (hRXRα numbering used throughout the text unless noted). It is also visible from the network that subset 1 antagonizes the other two. Therefore, proteins containing the residues in this subset usually will not present the residues listed in the other two, in most cases due simply to different residue options in the same position (i.e., the presence of Phe147, Arg153, Ala154, Ala156 and Ala157 automatically means Tyr147, Glu153, Gly154, Lys156 and Gly157 are not allowed), but also by an apparent transitivity for Asp140 and Gln188. The 153-158 stretch can be directly mapped to a very important functional motif in DNA binding domains: the
P-box
, at the C-terminal region of the recognition helix (H-A), which directly interacts with DNA and is responsible for
half-site
specificity (Figure
2
). P-boxes in human nuclear receptors usually have a C
E
153
G
154
C
K
156
G
157
or similar sequence (hRXRα numbering), except for the 3-ketosteroid class receptors (glucocorticoids, mineralocorticoids, progesterone and androgen receptors), which present a C
G
153
S
154
C
K
156
V
157
(or similar) sequence. The two cysteines in those sequences are strictly conserved in all DBDs, since they are necessary to bind zinc in the first of the two zinc fingers in this domain. Positions 2, 3 and 6 in the motifs shown above (respectively, 153, 154 and 157 on hRXRα) are called the 1
st
, 2
nd
and 3
rd
P-box positions, and site directed mutagenesis has shown that these three positions act concertedly to discriminate between half-sites on the HREs that differ in sequence at the third and fourth base pairs (AG
NN
CA,
N
being any nucleotide), such that substitutions at one position may alter the functionality of the others [
28
–
30
]. One of such studies, using the β isoform of the human thyroid receptor (hTRβ), has demonstrated that, in order to bind with high affinity to everted repeat sequences containing the AGGNCA hormone response element motif (TRevPal), a glutamate is required in the first P-box position, and also a glycine or alanine in the second one [
29
]. Beyond this, the topological context of the HRE neighborhood seems to influence the recognition mediated by these three positions. For example, in a similar study with hTRβ, the nature of the flanking sequence between the two half-sites (that does not make any direct contact with the P-box) showed itself influence on the lability of 1
st
, 2
nd
and 3
rd
P-box positions (with the more dramatic effects for the first one and only subtle effects for the 3
rd
position) at the recognition of AGGNCA half-sites [
30
].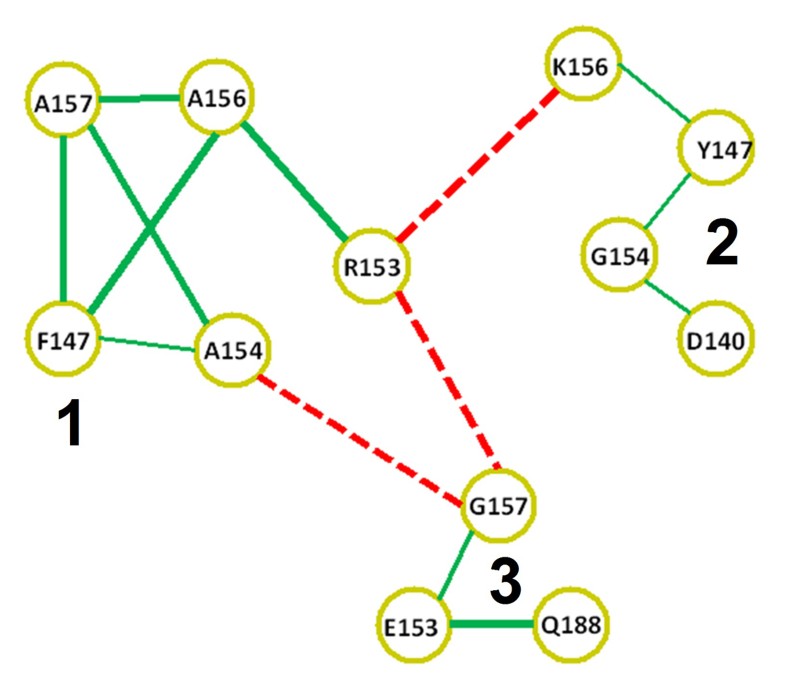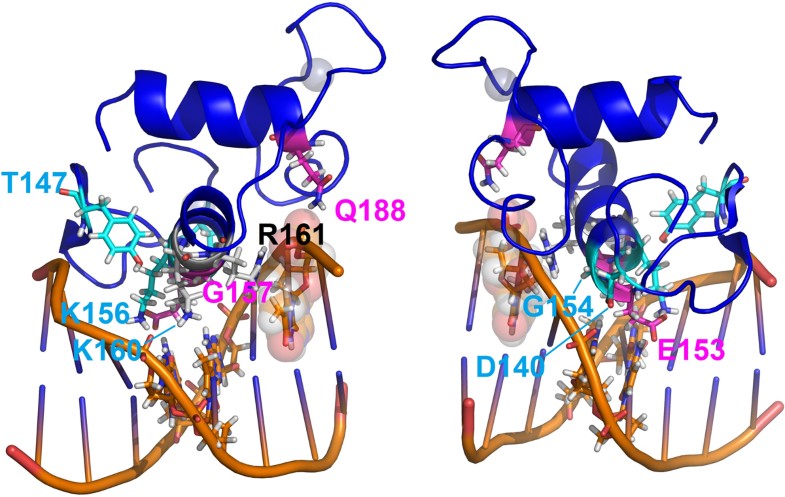 The residues in group 3 also includes Gln188, which lies on another motif known as Distal Box or simply D-box, a region in the second zinc finger which is perpendicular to the P-box and mediates dimerization. Community 2 includes also Tyr147, at the β-hairpin on the vicinity of the first zinc finger and making important contacts with the major groove backbone; and D140, at the first zinc finger, facing the DNA backbone at the 3' side, as Q188 (but, in opposition to this same residue, at a significant distance of 5-7 Å of the cited backbone). Our structural analysis points to an apparent more controversial role for this residue along the DBD evolution - the apparent nature of the correlations found at the 3 sets of the DBD correlated analysis are detailed at the next topics.
Conclusions
The correlation analysis of nuclear receptors presented here made possible the discussion of many residue-specific features in this protein family that could not be easily achieved from methods using just positional conservation. While LBDs were previously analyzed by such methods, the residue-specific approach revealed a much detailed picture for the relations between the different functional surfaces and class-specific residues. For DBDs, there is a strong clade-specific element in the correlation analysis, which, when analyzed in the light of the many structures of DNA bound DBDs, opens interesting possibilities for the understanding of hormone response elements specificity. We expect that such effort will be helpful in understanding the functional evolution of NRs, as well as to broaden the knowledge on the mechanisms of specific protein:DNA co-adaptation, an also on the molecular evolution of nuclear receptors.
Methods
Multiple sequence alignments of DNA binding domains (DBDs) were downloaded from the PFAM database (PFAM Code: PF00105). To avoid the presence of fragments or too divergent sequences, a minimum alignment coverage of 80% and minimum identity of 15% were imposed to all sequences, using human RXR-α as reference sequence. In order to reduce phylogenetic bias, an identity cutoff of 80% was applied. These procedures reduced the alignment size from 3702 to 508 sequences. Pairwise correlation scores were calculated for all residue+position pairs which were present on at least 25% of the sequences (minimum sub-alignment size was calculated as described in [37]). The correlation score was measured using -log(P) for correlation and log(P) for anti-correlation, where P is the p-value corresponding to the binomial probability of observing the corresponding frequency shift [15]. Twelve residue-position pairs can be arranged in a network where a connection is added where a significant correlation or anticorrelation (minimum score = 10, Δf = 0.30, see [15] for details) is present. The resulting network is seen in Figure 1.
Ligand binding domain sequences were obtained from the PFAM database (PFAM code: PF00104), and given their higher variability when compared to DBDs, were filtered using 50% alignment coverage, but the same values for minimum (15%) and maximum (80%) identity. The final alignment consisted of 1042 sequences, with correlations being calculated with a cutoff score of 10, minimum alignment size of 20% and Δf = 0.30. The resulting network was considerably larger (49 nodes, 61 connections) than the one found for DBDs, requiring the use of heuristics for network decomposition by community detection [16–18]. Nineteen residue-position pairs were successfully grouped into four communities, while the remaining thirty residues remained isolated (due to presenting anti-correlation connections only). Software used for conservation and correlation calculations is available to academics under request.
Protein figures were prepared using PyMol (Delano Scientific), which was also used for manual amino acid substitutions in protein models. The DNA major axis was calculated using Curves [38]. Canonical B-form models for DNA half sites (used at Figure 8) were built using Coot[39] and the DBD was manually aligned in the complex form's position at such models using Pymol (http://www.pymol.org).
Supporting information
The final alignments for DBDs and LBDs are included as supporting files in PFAM format. A list of the proteins with available three dimensional structures is also provided.
Declarations
Acknowledgements
LB acknowledges Fapemig (grant APQ-01840-11) for financial support.
Declarations
Publication for this article has been funded by the Brazilian funding agency Conselho de Aperfeiçoamento de Pessoal de Ensino Superior (Capes).
This article has been published as part of BMC Genomics Volume 14 Supplement 6, 2013: Proceedings of the International Conference of the Brazilian Association for Bioinformatics and Computational Biology (X-meeting 2012). The full contents of the supplement are available online at http://www.biomedcentral.com/bmcgenomics/supplements/14/S6.
Authors' Affiliations
(1)
Universidade Federal de Minas Gerais, Belo Horizonte, Brazil
(2)
Universidade Federal de São João del-Rei, Sete Lagoas, Brazil
Copyright
© Lima Afonso et al.; licensee BioMed Central Ltd. 2013
This article is published under license to BioMed Central Ltd. This is an open access article distributed under the terms of the Creative Commons Attribution License (http://creativecommons.org/licenses/by/2.0), which permits unrestricted use, distribution, and reproduction in any medium, provided the original work is properly cited.