Research article

Open Access
A gene-derived SNP-based high resolution linkage map of carrot including the location of QTL conditioning root and leaf anthocyanin pigmentation
Received: 11 September 2014
Accepted: 11 December 2014
Published: 16 December 2014
Abstract
Background
Purple carrots accumulate large quantities of anthocyanins in their roots and leaves. These flavonoid pigments possess antioxidant activity and are implicated in providing health benefits. Informative, saturated linkage maps associated with well characterized populations segregating for anthocyanin pigmentation have not been developed. To investigate the genetic architecture conditioning anthocyanin pigmentation we scored root color visually, quantified root anthocyanin pigments by high performance liquid chromatography in segregating F2, F3 and F4 generations of a mapping population, mapped quantitative trait loci (QTL) onto a dense gene-derived single nucleotide polymorphism (SNP)-based linkage map, and performed comparative trait mapping with two unrelated populations.
Results
Root pigmentation, scored visually as presence or absence of purple coloration, segregated in a pattern consistent with a two gene model in an F2, and progeny testing of F3-F4 families confirmed the proposed genetic model. Purple petiole pigmentation was conditioned by a single dominant gene that co-segregates with one of the genes conditioning root pigmentation. Root total pigment estimate (RTPE) was scored as the percentage of the root with purple color.
All five anthocyanin glycosides previously reported in carrot, as well as RTPE, varied quantitatively in the F2 population. For the purpose of QTL analysis, a high resolution gene-derived SNP-based linkage map of carrot was constructed with 894 markers covering 635.1 cM with a 1.3 cM map resolution. A total of 15 significant QTL for all anthocyanin pigments and for RTPE mapped to six chromosomes. Eight QTL with the largest phenotypic effects mapped to two regions of chromosome 3 with co-localized QTL for several anthocyanin glycosides and for RTPE. A single dominant gene conditioning anthocyanin acylation was identified and mapped.
Comparative mapping with two other carrot populations segregating for purple color indicated that carrot anthocyanin pigmentation is controlled by at least three genes, in contrast to monogenic control reported previously.
Conclusions
This study generated the first high resolution gene-derived SNP-based linkage map in the Apiaceae. Two regions of chromosome 3 with co-localized QTL for all anthocyanin pigments and for RTPE, largely condition anthocyanin accumulation in carrot roots and leaves. Loci controlling root and petiole anthocyanin pigmentation differ across diverse carrot genetic backgrounds.
Keywords
Carrot
Anthocyanins
QTL mapping
Linkage map
Single nucleotide polymorphism
Background
Anthocyanins, a subclass of water-soluble colored flavonoids, provide red, blue and purple pigmentation to different organs of a wide range of higher plants [1]. These plant pigments play important roles, such as attraction of pollinators and seed dispersers and, given their antioxidant properties, protection against ultraviolet (UV) and high intensity light, drought, wounding, cold temperatures and phytopathogen attack [2–5]. In addition, the consumption of anthocyanin-rich fruits and vegetables is implicated to confer a number of health-related benefits, including protection against oxidative stress, coronary heart disease, inflammation, some types of cancer and other age-related diseases [6]. However, the health effects of dietary anthocyanins depend on amounts consumed and on their bioavailability. Previous studies suggest that the bioavailability and excretion of anthocyanins and other polyphenols is highly influenced by their chemical structure [7], including the nature of the sugar conjugate, the phenolic aglycone and acylation.
Anthocyanins are synthesized via the flavonoid pathway, a late branch of the shikimic acid pathway [8]. Although the biosynthetic pathways in different anthocyanin-containing species share a majority of common reactions, there are important differences between the types of anthocyanins produced and accumulated by each species. For example, bilberry (Vaccinium myrtillus) fruits accumulate a balanced mixture of five major anthocyanin aglycones (delphinidin, petunidin, cyanidin, peonidin and malvidin) and lack pelargonidin [9], whereas snapdragon and maize are incapable of producing delphinidin [10] and carrot (Daucus carota) almost exclusively accumulates cyanidin derivatives [11, 12] . Regardless of the species, two classes of genes are involved in anthocyanin biosynthesis: structural genes encoding the enzymes that directly participate in the formation of anthocyanin pigments, and regulatory genes that control the transcription of structural genes. Many of the genes involved in anthocyanin biosynthesis, both structural and regulatory, have been identified and characterized for several model species, such as petunia (Petunia hybrida), snapdragon (Antirrhinum majus) and maize (Zea mays), and both regulatory and structural genes vary widely across species [3]. Consequently, information regarding the genetic control of anthocyanin biosynthesis may not be reliably extrapolated across species.
The genetics underlying anthocyanin pigmentation has been most extensively studied in flowers, fruit and leaves. Only a few reports of genetic control of anthocyanin biosynthesis are published for underground organs –tubers, bulbs and storage roots [13–18].
Anthocyanins may undergo a series of chemical modifications including glycosylation, acylation and methylation. These changes are usually performed by glycosyl-, acyl- and methyl-transferase enzymes, respectively. Several studies have indicated that these modifications produce enormous chemical diversity (reviewed by Pojer et al. [19]) which influence anthocyanin stability and bioavailability. For example, clinical human feeding studies using raw and cooked purple carrots revealed that, compared to the anthocyanins in carrots consumed, the percentage recovery of non-acylated anthocyanins in serum was significantly greater than acylated anthocyanins, suggesting that acylation reduces anthocyanin bioavailability [11, 20–22]. Conversely, acylated anthocyanins are more stable than non-acylated anthocyanins, providing the former with an advantage for their use as colorants in the food industry [19, 21, 23]. Despite their importance, the genetic factors controlling these chemical modifications are still relatively unexplored.
Carrot is a species that can accumulate large quantities of anthocyanins in its storage roots (up to 17–18 mg/100 g fresh weight) [
12
]. Purple or "black" carrots accumulate almost exclusively cyanidin glycosides, both acylated and non-acylated, with five cyanidin pigments reported in most studies [
11
,
24
] (Table
1
). Substantial variation in anthocyanin profiles and in total anthocyanin concentration, and low amounts of derivatives of anthocyanidins other than cyanidin, have been reported among carrot cultivars [
12
]. In addition, tissue distribution of root purple pigmentation varies greatly across carrot genotypes, ranging from a few pigmented cell layers in the periderm to a completely- and intensively-colored root (Figure
1
). The significance of dietary anthocyanins in human health and the extensive natural variation for the above traits has attracted the attention of carrot breeders. Current breeding programs in purple carrot aim at increasing total anthocyanin content as well as achieving favorable ratios of acylated
versus
non-acylated anthocyanins depending on the end-market purpose, with a preference for high content of acylated anthocyanins for their use as food colorants, but conversely, high level of non-acylated forms for increasing bioavailability and nutraceutical value.
Table 1
Carrot cyanidin derivatives with approximate HPLC retention times and molecular masses
| Compound | Abbreviation | RT | MW |
| --- | --- | --- | --- |
| Cy-3-(2"-xylose-6-glucose-galactoside) | Cy3XGG | 14.0 | 743 |
| Cy-3-(2"-xylose-galactoside) | Cy3XG | 15.1 | 581 |
| Cy-3-(2"-xylose-6"-sinapoyl-glucose-galactoside) | Cy3XSGG | 15.4 | 949 |
| Cy-3-(2"-xylose-6"-feruloyl-glucose-galactoside | Cy3XFGG | 16.0 | 919 |
| Cy-3-(2"-xylose-6"-(4-coumuroyl)glucose-galactoside) | Cy3XCGG | 16.4 | 889 |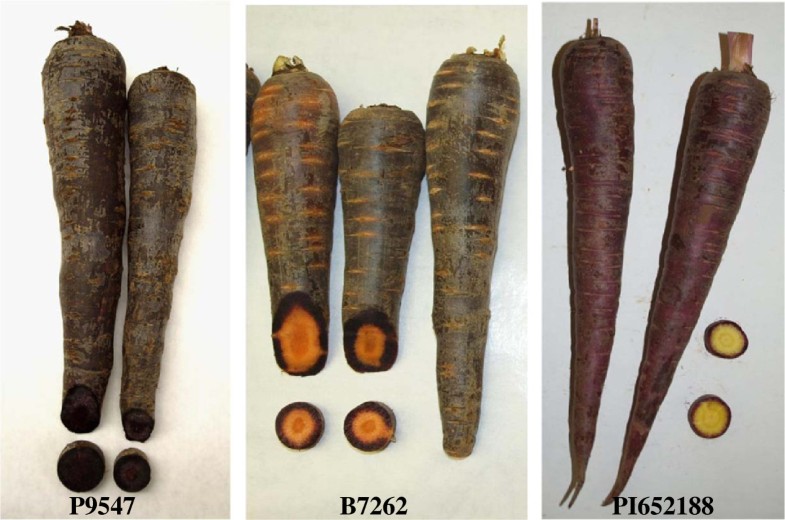 To date, a single dominant gene controlling anthocyanin accumulation in carrot roots, P 1 , has been described [17]. Recently, P 1 was genetically mapped, as were several anthocyanin biosynthetic genes (five structural and three regulatory genes), but no tight linkage was found between P 1 and any of the candidate structural genes evaluated [18]. However, the five structural genes (CHS 1 , DFR 1 , F3H, LDOX 2 , PAL 3 ) were expressed differentially and in decreasing order among those listed when comparing solid-purple (purple in phloem and xylem), purple orange (purple phloem and orange xylem) and orange carrots, with transcript accumulation coinciding with anthocyanin accumulation. These studies suggested a coordinated regulatory control of anthocyanin biosynthesis in the carrot root, but the molecular and biochemical basis of genetic factors controlling the presence vs. absence of carrot root anthocyanin pigmentation remain unknown. Furthermore, very little is known about the genetics of anthocyanin accumulation in carrot organs and tissues other than the tap root. Variable expression of purple pigmentation in leaves, nodes and flowers was reported but not genetically characterized, and a simply inherited dominant locus controlling purple versus green pigmentation in petioles, P 2 , was also described [17] and linkage between P 1 and P 2 was suggested but not mapped.
Phenotypic evaluations of P 1 and P 2 in previous studies of carrot were performed on the basis of visually scoring for presence or absence of purple color in the root and petiole, without providing a quantitative measurement on the extent of purple pigmentation in these organs. In addition to presence or absence of pigmentation, anthocyanin biosynthetic genes can also modify the profile of pigments and tissue-specific accumulation [3, 25] and to date, few studies in carrot have explored these factors affecting the relative accumulation of different anthocyanin pigments in purple-colored tissues. One exception is a study of variation in pigment profiles of four commercial carrot cultivars which found more than 10-fold variation in total anthocyanin content and significant variation in percentage cyanidin-3-(2'-xylose-galactoside) and cyanidin-3-(2'-xylose-6'-sinapoyl-glucose-galactoside) relative to the most abundant compound they found, cyanidin-3-(2'-xylose-6'-feruloyl-glucose-galactoside [12]. Understanding the genetic architecture conditioning both pigment concentration and the relative accumulation of different anthocyanin glycosides in the carrot root would be of great value for carrot breeding and genetics. Furthermore, since mapping of P 1 was performed in a single genetic background, comparative analysis of the loci controlling anthocyanin pigmentation across diverse carrot backgrounds would be of interest, considering the broad variation for phenotype, genotype and geographical origin observed among purple carrot genetic stocks [17].
High density linkage maps constructed with informative sequence-based markers, such as SNPs and SSRs, are essential for fine mapping of QTL, comparative analysis of synteny, searching for candidate genes, facilitating genome sequence assembly, and for marker assisted breeding. The majority of the carrot maps constructed to date were unsaturated and used anonymous dominant markers, such as amplified fragment length polymorphisms and randomly amplified polymorphic DNAs, although in some cases a few codominant SSR or restriction fragment length polymorphisms markers were included [18, 26–32]. A DArT map with the highest map resolution (1.1 cM) achieved to date in carrot was recently reported by Grzebelus et al. [33]. However, the anonymous and dominant nature of DArT markers do not allow straight forward comparative map analysis or identification of candidate genes associated with QTL.
In the current study, we developed a SNP-based linkage map with an unprecedented high map resolution in entire Apiaceae family, using a carrot population segregating for anthocyanin pigmentation in root and leaves. Through detailed phenotyping including HPLC analysis we detected and mapped significant QTL for the different root anthocyanin glycosides. Their map position relative to the position of a large-effect QTL for root pigment content revealed two regions on chromosome 3 largely conditioning purple root pigmentation and anthocyanin acylation, respectively. In addition, linkage mapping of the locus controlling purple pigmentation in leaves was performed, with its position being tightly linked to one of the QTL for root anthocyanins. A similar genetic control for purple pigmentation was found in an unrelated (Chinese) genetic background. Finally, we mapped the genetic loci controlling both root and petiole purple pigmentation in three unrelated carrot backgrounds and discovered that root and petiole anthocyanin pigmentation in diverse genetic backgrounds mapped to not only P 1 but also other loci.
Conclusions
An informative high resolution SNP-based genetic map of carrot was constructed and used for detection and mapping of root anthocyanin QTL. In population 70349, the mapping of 15 QTL across 6 carrot chromosomes suggests a more complex regulation for this trait than previously described in a previously unstudied genetic background, with many genes probably influencing pigment biosynthesis, compound modification and/or accumulation. Of particular interest, a 12 cM region of chromosome 3 harboring co-localized QTL with largest phenotypic effect for root total pigment content (RTPE) and four anthocyanin glycosides, as well as the simply-inherited gene P 3 , which was largely responsible for the genetic control of anthocyanin pigmentation in both roots and petioles. In addition, quantitative data analysis for each anthocyanin compound provided the opportunity to identify a large effect QTL and a simply-inherited gene, Raa1, that was also on chromosome 3 and associated with anthocyanin acylation. Comparative map analysis revealed that neither of these chromosome regions that were associated with anthocyanin pigmentation and acylation, respectively, corresponded to the P 1 gene initially reported for root purple pigmentation.
The present study increases the current knowledge on the genetic control for this complex trait in carrot. These data, together with the molecular resources generated herein (e.g. the high-resolution SNP map and the development of markers in common across different linkage maps) and the upcoming carrot genome sequence will facilitate cloning of the genetic factors controlling both anthocyanin accumulation and acylation. Characterization of such genes will have a positive impact on carrot breeding programs aiming at increasing pigment concentration and anthocyanin profiles, depending on the end-market use.
Abbreviations
CHs:

Chromosomes
Cy3XGG:

Cy-3-(2"-xylose-6-glucose-galactoside)
Cy3XG:

Cy-3-(2"-xylose-galactoside)
Cy3XSGG:

Cy-3-(2"-xylose-6"-sinapoyl-glucose-galactoside)
Cy3XFGG:

Cy-3-(2"-xylose-6"-feruloyl-glucose-galactoside
Cy3XCGG:

Cy-3-(2"-xylose-6"-(4-coumuroyl)glucose-galactoside)
DArT:

Diversity arrays technology
HPLC:

High-performance liquid chromatography
QTL:

Quantitative trait loci
RT:

Retention time
RTPE:

Root total pigment estimate
SNP:

Single nucleotide polymorphism
SSR:

Simple sequence repeat.
Declarations
Acknowledgements
The authors acknowledge Anne E. Atkins for valuable assistance on plant phenotyping and marker evaluation. This work was supported by the Agricultural Research Service, United States Department of Agriculture.
Authors' Affiliations
(1)
Department of Horticulture, University of Wisconsin-Madison, Madison, USA
(2)
CONICET, Facultad de Ciencias Agrarias – Universidad Nacional de Cuyo, and INTA E.E.A. La Consulta, Mendoza, Argentina
(3)
Department of Agricultural Biotechnology, Faculty of Agriculture, Yuzuncu Yil University, Van, Turkey
(4)
USDA-Agricultural Research Service, Vegetable Crops Unit, University of Wisconsin-Madison, Madison, USA
Copyright
© Cavagnaro et al.; licensee BioMed Central. 2014
This article is published under license to BioMed Central Ltd. This is an Open Access article distributed under the terms of the Creative Commons Attribution License (http://creativecommons.org/licenses/by/4.0), which permits unrestricted use, distribution, and reproduction in any medium, provided the original work is properly credited. The Creative Commons Public Domain Dedication waiver (http://creativecommons.org/publicdomain/zero/1.0/) applies to the data made available in this article, unless otherwise stated.