Research article

Open Access
Transcriptomic and proteomic dynamics in the metabolism of a diazotrophic cyanobacterium, Cyanothece sp. PCC 7822 during a diurnal light–dark cycle
Received: 7 August 2014
Accepted: 16 December 2014
Published: 29 December 2014
Abstract
Background
Cyanothece sp. PCC 7822 is an excellent cyanobacterial model organism with great potential to be applied as a biocatalyst for the production of high value compounds. Like other unicellular diazotrophic cyanobacterial species, it has a tightly regulated metabolism synchronized to the light–dark cycle. Utilizing transcriptomic and proteomic methods, we quantified the relationships between transcription and translation underlying central and secondary metabolism in response to nitrogen free, 12 hour light and 12 hour dark conditions.
Results
By combining mass-spectrometry based proteomics and RNA-sequencing transcriptomics, we quantitatively measured a total of 6766 mRNAs and 1322 proteins at four time points across a 24 hour light–dark cycle. Photosynthesis, nitrogen fixation, and carbon storage relevant genes were expressed during the preceding light or dark period, concurrent with measured nitrogenase activity in the late light period. We describe many instances of disparity in peak mRNA and protein abundances, and strong correlation of light dependent expression of both antisense and CRISPR-related gene expression. The proteins for nitrogenase and the pentose phosphate pathway were highest in the dark, whereas those for glycolysis and the TCA cycle were more prominent in the light. Interestingly, one copy of the psbA gene encoding the photosystem II (PSII) reaction center protein D1 (psbA4) was highly upregulated only in the dark. This protein likely cannot catalyze O2 evolution and so may be used by the cell to keep PSII intact during N2 fixation. The CRISPR elements were found exclusively at the ends of the large plasmid and we speculate that their presence is crucial to the maintenance of this plasmid.
Conclusions
This investigation of parallel transcriptional and translational activity within Cyanothece sp. PCC 7822 provided quantitative information on expression levels of metabolic pathways relevant to engineering efforts. The identification of expression patterns for both mRNA and protein affords a basis for improving biofuel production in this strain and for further genetic manipulations. Expression analysis of the genes encoded on the 6 plasmids provided insight into the possible acquisition and maintenance of some of these extra-chromosomal elements.
Keywords
Cyanothece
Cyanobacteria
RNA-Seq
N2 fixation
Proteomics
Butanol
CRISPR
Background
The interest in utilizing cyanobacterial systems for producing biofuels is increasing as our understanding of metabolism in these photosynthetic microorganisms improves. The ability to utilize carbon acquired from the atmosphere as feedstock along with energy provided by light to produce valuable chemicals and fuels (e.g. ethanol, butanol, hydrogen gas, and fatty acid methyl esters) is even more appealing in diazotrophic strains, since they can grow in the absence of combined nitrogen. Members of the unicellular genus Cyanothece have strong diurnal and circadian cycling of central metabolic processes and the development of a stable genetic manipulation system has been successful in the strain Cyanothece sp. PCC 7822 (herein Cyanothece 7822) [1, 2]. In general, members of Cyanothece have well-defined rhythms when grown under N2-fixing conditions, using light/dark or continuous light illumination [3]. During the light phase of growth, light energy is utilized in photosynthesis to secure and store CO2 in intracellular carbohydrate granules. During the dark period, photosynthesis shuts down and respiration utilizes the glucose stored in carbohydrate granules to produce energy and to consume intracellular oxygen. This enables the O2-sensitive nitrogenase to function properly during the dark period. The nitrogenase enzymes allow the cell to fix atmospheric nitrogen, a process which also releases high levels of hydrogen gas [4].
Cyanothece sp. ATCC 51142 (herein Cyanothece 51142) has been studied in great detail and was the first of these unicellular diazotrophs to be sequenced. The high coordination and diurnal oscillations of main metabolic processes such as respiration, photosynthesis, and nitrogen fixation allowed for keen insights into the robust metabolisms of this strain. These characteristics led to a series of transcriptional studies [5–8] and improvements in hydrogen production [4, 9]. With the advancement of technology, proteomic studies were performed which unveiled a network of interacting protein systems that play off of each other, one system setting up the cellular environment for the next [10–15]. The work described in Aryal et al. [10] was the first to involve proteomics in Cyanothece 51142, in addition to transcriptomics, and demonstrated that many fewer proteins cycled than did transcripts. That study, and a proteomics comparison between Cyanothece 51142 and Cyanothece 7822 [14], indicated that both strains have a higher level of the nitrogenase, respiration and glycogen degradation enzymes in the dark than in the light. Thus, protein cycling throughout the day and night is of functional significance.
Research into Cyanothece 51142 continues, but mutant generation is problematic due to high levels of illegitimate recombination that prevents stable homologous recombination efforts. Due to this, the utility of Cyanothece 51142 as a biological chassis is limited. Min and Sherman [1] overcame this hurdle in Cyanothece 7822 with the first demonstration of stable genetic modification. This study showcased the difficulty of obtaining stable mutants in most Cyanothece strains and how to improve transformation efficiency by introducing linear, single-stranded, oligonucleotides carrying the desired mutations flanked by fragments homologous to a chromosomal insertion site. More recently, Zhang et al. [2] provided another example of stable genetic modification in Cyanothece 7822 with the generation of a hupL mutant. This mutant led to the unexpected finding that inactivating the uptake hydrogenase in Cyanothece 7822 lowered H2 evolution and nitrogenase activity, thus demonstrating the importance of HupLS in protecting nitrogenase from O2 toxicity.
Transcriptional and proteomic studies on Cyanothece 7822 thus far have compared the metabolic capabilities of Cyanothece 7822 with the other Cyanothece genus members. Recent work by Aryal et al. [14] reported the protein and transcript abundances in Cyanothece 51142 and 7822 under 8 conditions, including nitrogen depletion and mixotrophy. Another study has compared the proteomic expression of five Cyanothece strains in order to determine the metabolic capabilities within the Cyanothece strains [13]. These initial studies have shown that, although the two Cyanothece strains contain quite similar proteomes, they exhibit different protein abundances. These differences suggest the presence of varied cellular strategies in response to altered environmental conditions.
In this study, we utilized transcriptomic and proteomic methods to quantify the relationship between transcription and translation underlying central and secondary metabolism in response to nitrogen fixation at four time points across a 24 h period consisting of 12 hour light and 12 hour dark. We identified dynamic relationships between transcription and translation, suggesting that there are many levels of regulation in addition to that at the transcriptional level. Our results provide a better understanding of metabolism of Cyanothece 7822 in light and dark conditions and how the metabolic partitioning can be of importance for biofuel production.
Discussion
Comparison between Cyanothece strains
A number of proteomic studies have now been performed on a series of Cyanothece strains, including the best studied, Cyanothece 51142. An intensive proteomic study of Cyanothece 51142 was performed [10], followed by a more detailed analysis of those proteins differentially expressed on cells grown under 15 different conditions [12]. This later study identified some 250 proteins (5% of the predicted ORFs) that were differentially expressed. Their results for cells grown under nitrogen-fixing conditions were similar to what was found here for Cyanothece 7822. One significant difference was that Cyanothece 51142 proteins from genes encoding nitrogen-fixing and photosynthesis proteins were more highly synchronized to either the dark or light, respectively. On the other hand, the results for proteins involved in central metabolism were similar in both organisms.
A number of other cyanobacteria have been analyzed using RNA Seq including Synechococcus sp. PCC 7002 [34], Anabaena sp. PCC 7120 [35], Microcysits aeruginosa LE-3 [36] and Prochlorococcus MED4 [24]. The Prochlorococcus study was fundamentally the most similar to the current study, as it also analyzed proteomic data and obtained samples throughout a light–dark cycle. Prochlorococcus is the ocean's most abundant primary producer and must always live according to the natural diel cycle. Analysis of transcriptional patterns demonstrated a substantial amount of light (or dark) induced mRNA, but the protein levels sometimes differed sharply from that of the mRNA. Waldbauer et al. [24] analyzed time courses of paired mRNA-protein abundances for 312 proteins every 2 h that represents about 16% of the 1955 ORFs in the genome. This is similar to the overall percentage from Cyanothece 7822 that we studied. In the case of both Cyanothece strains analyzed in detail, the closest convergence for mRNA and protein were for the nitrogenase cluster in the night—this seems to be critical, since the Nif complex is readily degraded by O2 that is most prevalent in the light.
Future potential for study in Cyanothece 7822
Another benefit of having paired mRNA and protein data is the ability to understand better the relationship of transcription and translation of metabolic pathways that generate intermediates for various targeted products. For example,
Cyanothece
7822 has potential to be engineered for butanol production.
Cyanothece
7822 possesses at least two pathways for butanol production (Figure
8
), via isoleucine biosynthesis and via the crotonyl-CoA pathway. Isoleucine synthesis in
Cyanothece
7822 is similar to that in
Cyanothece
51142 and occurs through an alternate citramalate pathway similar to anaerobic bacteria and archaea [
37
]. Citramalate is generated through a condensation reaction of pyruvate and acetyl-CoA catalyzed by CimA then to 2-ketobutyrate and eventually isoleucine. The catalytic actions of the native LeuABCD that convert 2-ketobutyrate to 2-ketovalerate, along with the additional actions of a heterologous 2-ketoacid-decarboxylase (KdcA) and a dehydrogenation reaction, would theoretically allow butanol production. Generating butanol via the crotonyl-CoA pathway would require inhibition of PHB synthesis along with the introduction of two heterologous genes, 3-hydroxybutyryl dehydrogenase (
crt
) and trans-2-enoyl-CoA reductase (
ter
). Since
Cyanothece
is missing these last two genes in the biosynthesis pathway, as well as a 2-keto decarboxylase, it is proposed that the introduction of these 3 genes into
Cyanothece
7822 would result in the phototrophic production of butanol. This is similar to genetic manipulations in
Synechococcus elongatus
PCC 7942 that led to the production of butanol [
38
] and isobutyraldehyde [
39
]. In both these pathways, a variety of comparative patterns can be seen, including in-phase and anti-phase. These results indicate that many different relationships occur between sense and antisense transcription and translation in
Cyanothece
7822 and that targeting this strain to produce a specific metabolite will require in depth analysis of expression patterns, paying careful attention to the interplay between sense and antisense transcription and their relationship to translation levels.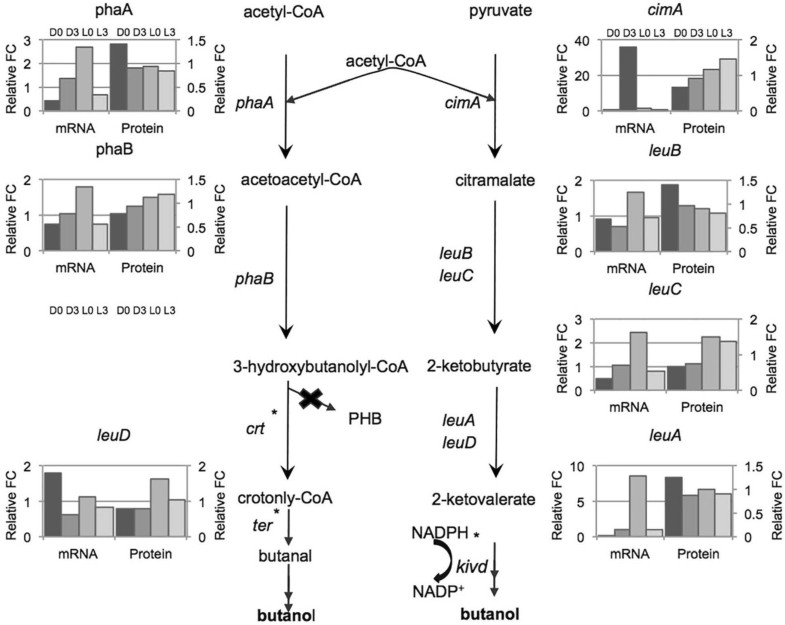 While techniques to genetically modify Cyanothece 7822 to carry out these modifications exist, advancements in commandeering the cas9 CRISPR enzyme for genome editing in bacteria could provide an alternative, and possibly, more efficient method [40, 41]. Cyanothece 7822 has a cluster of CRISPR genes on the extra-chromosomal plasmids. These genes display high levels of transcription, yet of the 23 genes annotated as being involved in CRISPR activities that are transcriptionally active, only one was observed in the protein population. While it is unclear what role these active genes are playing in the cell, their activity suggests that the introduction of cas9-based editing tools may be a viable new option that should be pursued further. In addition, it is notable that CRISPR-like genes are located on the ends of the large plasmid, a fact that allows the speculation that the pressure for maintenance of these extra-chromosomal plasmids is connected to their presumptive anti-viral activity. The reason for the complexity of the Cyanothece genomes [3] is unknown, but the possibility of horizontal gene transfer of DNA elements, followed by stabilization, is one possibility. The importance of specific gene functions on these introduced elements can be the reason that they have been preserved. We need to study gene expression in Cyanothece 7822 under many different conditions in order to test this general hypothesis and know exactly how these extra chromosomal elements are providing a benefit for the cell and it will be interesting to see if cyanophage that infect any of the Cyanothece strains can be identified in the future.
Conclusions
An understanding of bacterial complexity requires the analysis of the full complement of proteins and the way they are regulated. We have begun this process in Cyanothece 7822 by analyzing transcription and translation across a 24 h diurnal period under nitrogen-fixing conditions. Overall, the results indicate that: (1) RNA Seq and microarray data provide similar information on mRNA transcription, although RNA Seq provides more coverage and higher sensitivity; (2) Although we can obtain complete coverage at the mRNA level, the number of proteins identified represents about 25% of all possible gene products; (3) Differential expression at the mRNA and protein level can follow the same general pattern or can be quite different. Strongly up- or down-regulated genes at the transcriptional level are no guarantee that the proteins will behave similarly; (4) Nonetheless, many proteins involved in key metabolic functions demonstrated expression to a greater extent in either the light or the dark, depending upon the need for that function. The dynamic range of the protein levels under these conditions is typically far less than that shown at the messenger RNA level, implying that statements relating to absolute levels of induction/repression at the transcriptional level may not be important at the protein level.
Methods
Cell cultivation
Cyanothece 7822 was grown in modified BG-11 medium [16] with the nitrate removed. For the RNA-seq analysis, cultures were grown in 100 ml volumes in 250 ml Erlenmeyer flasks at 30°C with shaking at 125 rpm and 30–40 μmol photons m-2 s-1 of light from cool white fluorescent bulbs; or 2. For the microarray analysis, cultures were grown in airlift bioreactors (6-liter BioFlo 3000; New Brunswick Scientific, Edison, NJ) illuminated by two light-emitting-diode panels using alternating arrays of orange (640 nm) and red (680 nm) light, providing an intensity of ∼ 100 μmol photons m-2 s-1 at 30°C. Experimental conditions consisted of 12-h light-12-h dark cycles for 3 to 4 days. Stock cultures grown in continuous light were used to inoculate experimental flasks at a density of approximately 1 × 106 cells ml-1. For all RNA and protein collection cellular material was cooled to ~4°C with a refrigerated centrifuge and the material was stored on ice.
Extraction and processing of mRNA
For RNA-Seq analysis, cellular material from each time point was cooled on ice to limit metabolic changes, kept at 4°C, and transported to the Environmental Molecular Sciences Laboratory at Pacific Northwest National Labs in Richland, WA. The RNA was extracted using Invitrogen TRIzol® Reagent (cat#15596018), followed by genomic DNA removal and cleaning using the Qiagen RNase-Free DNase Set kit (cat#79254) and the Qiagen Mini RNeasy™ kit (cat#74104). The Agilent 2100 Bioanalyzer was used to assess the integrity of the RNA samples. Only RNA samples having RNA Integrity Number ≥ 8 were used for RNA Seq. Deep RNA sequencing was performed on the 5500xl SOLiD™ sequencing platform (Life Technologies). Applied Biosystems SOLiD™ Total RNA-Seq kit (cat# 4445374) was used to generate the template cDNA library following the manufacturer recommended protocol. Briefly, the mRNA was fragmented using chemical hydrolysis followed by ligation with strand-specific adapters and reverse transcription to generate cDNA. Fragments of cDNA between 150 to 250 bp were subsequently isolated by electrophoresis in 6% urea-TBE acrylamide gel. The gel-isolated cDNA fragments went through 15 amplification cycles to produce enough templates for the SOLiD™ EZ Bead™ system (Life Technologies), which was used to perform emulsion clonal bead amplification to generate a template bead library for ligation-base sequencing using the SOLiD™ 5500xl instruments. Samples were analyzed at the Environmental Molecular Sciences Laboratory (EMSL) at Pacific Northwest National Laboratory (Richland, WA, USA). At times, cells were transported at 4°C and briefly thawed at room temperature prior to analysis.
For microarray analysis, RNA was extracted immediately after harvesting cells at each time point (D0, D4, L0 and L4) using Tri-Reagent® (Sigma-Aldrich cat#T9424) according to the manufacturer's protocol. Samples were resuspended in Tri-Reagent and washed with glass beads at temperature below 0°C followed by phase separation using 1-bromo-3-chloropropane. The time points were slightly different than in the RNA-Seq experiment, but we have shown that there is very little difference in expression levels between 3 and 4 h in either the light or dark in Cyanothece 7822. RNA was precipitated with isopropanol, and RNA clean-up kit-5 columns from Zymo Research Corporation (Orange, CA) were used to remove contamination. The hybridization control consisted of a mixed sample that contained equal amounts of RNA from each time point. Four biological and two technical replicates were included in analysis. For each microarray, 7 μg RNA was used (3.5 μg sample plus 3.5 μg control). Total RNA was labeled with either cyanine-5 or cyanine-3 by using a ULS RNA fluorescent-labeling kit from Kreatech Biotechnology (Amsterdam, The Netherlands) according to the manufacturer's protocol. The labeled material was passed through Zymo RNA clean-up kit-5 columns (Zymo Research Corporation, Orange, CA) to remove unincorporated label and eluted in 15 to 20 μl of RNase-free water. The concentration of labeled total RNA and label incorporation was determined on a Nanodrop-1000 spectrophotometer (Wilmington, DE). All of the labeling and post labeling procedures were conducted in an ozone-free enclosure to ensure the integrity of the label. The microarray platform consisted of 6538 ORFs based upon the Cyanothece genome sequence. The 60-mers appropriate for each gene were determined by MoGene and hybridization; scanning, and initial data analysis was conducted at MoGene (St. Louis, MO).
Generation of RNA Seq data-files
The 50-base short read sequences produced by the 5500XL SOLiD™ sequencers were mapped to the Cyanothece 7822 reference genome (http://www.ncbi.nlm.nih.gov/genome/) using the default settings in the Life Technologies software provided for the SOLiD sequencers (LifeScope ver. 2.5 for the SOLiD 5500xl). LifeScope Whole Transcriptome analysis generated the following files: 1) a BAM file containing the sequence of every mapped read and its mapped location; 2) pairs of *.wig files (one for each strand on the chromosome) with the mapped counts at each base position; and 3) a gene counts file, with base counts summed to a single value across the entire gene length and RPKM values given for each gene.
Semiquantitative RT-PCR
RNA was treated with DNase I (Invitrogen, Carlsbad, CA) for 1 h at 37°C and followed by DNase I treatment for 30 minutes at 37°C. Reverse transcription (RT) was performed by using Superscript II (Invitrogen, Carlsbad, CA) with random primers following the manufacturer's instructions. PCR was carried out at 94°C for 1 min, 30 cycles of 94°C for 30 s and 53°C for 30 s, and 72°C for 30 s to amplify regions of the genes hoxH, hupL nifD, psbA, and rpnB. PCR was carried out to amplify regions of the genes for rnpB (22 cycles), hoxH (32 cycles), hupL (28 cycles), nifD (32 cycles), and psbA (30 cycles). The rpnB transcript abundance was used as a control, since results from the microarray analysis indicated that the transcript level for this gene was unchanged under these growth conditions across each time point. The primers for each transcript were as follows: rnpBF 5'-CGTGAGGATAGTGCCACAGA-3', rnpBR5'- AAACGGGACCGGTAAAAGAC-3', hoxHF 5'-GCTGAAGCCGGAATTAACAA-3', hoxHR 5'-ATTTGTAGCGGCATTTGTCC-3', hupLF 5'-AACGGTAAACCGATCAAACG-3', hupLR 5'-CGGATGGGTCTTGATATTGG-3', nifDF 5'-ATTTCCAAGAACGCGACATC-3', nifDR 5'-TCACGAACAGCATCGTTAGC-3', psbAF 5'-CCCACCCTTCTGACAGCTAC-3', psbAR 5'-CTAACTGGTAAGGGCCACCA-3'.
Protein sample preparation
Cell suspensions were centrifuged for 30 min at 1000 × g at 4°C, reduced to 0.5 mL volume, and then washed at 4°C with 2 mL of NH4HCO3, pH 7.8, three times. To the final pelleted cells, 0.5 mL of lysis buffer (8 M Urea in NH4HCO3, pH 7.8) was added and they were homogenized for 5 min using a Qiagen TissueRuptor followed by a BCA assay (Pierce) to determine protein concentration. Protein samples were incubated in 8 M Urea, 5 mM dithiothreitol at 56°C for 45 min with shaking at 800 rpm in Thermomixer R (Eppendorf). Alkylation was performed with 20 mM iodoacetamide at 37°C in dark with shaking (800 rpm in Thermomixer) followed by and 8 fold dilution with nanopure water containing 1 mM CaCl2. Tryptic digest with Sequencing Grade Modified Trypsin (Promega) was performed at 1:50 enzyme‒to‒substrate ratio for 4 h at 37°C. The digested samples were then acidified with 10% trifluoroacetic acid to ~ pH 3 and 5% acetonitrile was added to the digested samples prior to desalting. SPE C-18 columns (SUPELCO Discovery) were used for clean-up of the resultant peptide mixture, and samples were concentrated down using the SpeedVac SC250 Express (ThermoSavant) followed by BCA assay to determine final peptide concentration.
iTRAQ labeling and HPLC fractionation
Isobaric labeling of captured peptides to achieve relative quantification using four-plex iTRAQ™ reagents was performed according to the manufacturer's instructions (AB Sciex, Foster City, CA). For iTRAQ™ labeling, 30 μg of peptide for each time point was resuspended in 10.0 μL of dissolution Buffer (500 mM triethylammonium bicarbonate) mixed with the individual iTRAQ™ reagent and incubated at RT for 1 h. The reaction was stopped and unreacted iTRAQ reagents were hydrolyzed by adding 150 μL of H2O and incubation at RT for 30 min. Contents of each iTRAQ reagent-labeled sample was then pooled, followed by concentration down to 100 μL prior to HPLC fractionation.
Labeled peptide samples were separated at flow rate at 0.5 mL/min on a reverse phase Waters XBridge C18 column (250 mm × 4.6 mm column containing 5-μm particles, and a 4.6 mm × 20 mm guard column) using an Agilent 1200 HPLC System equipped with a quaternary pump, degasser, diode array detector, Peltier-cooled auto-sampler and fraction collector (both set at 4°C). 120 μg of labeled tryptic peptides was suspended in buffer A (10 mM triethylammonium bicarbonate, pH 7.5) and loaded onto the column. After the sample loading, the C18 column was washed for 35 min with solvent A, before applying the LC gradient. The LC gradient started with a linear increase of solvent A to 10% B (10 mM triethylammonium bicarbonate, pH 7.5, 90% acetonitrile) for 10 min, then linearly increased to 20% B at 15 min, 30 min to 30 % B, 15 min to 35% B, 10 min to 45% B and another 10 min to 100% solvent B. Using an automated fraction collector, 96 fractions were collected for each sample, lyophilized and reconstituted into 12 fractions prior to LC-MS/MS analysis. These 12 final fractions were concatenated by combining each 8 fractions that were 12 fractions apart.
LC-MS/MS analysis
All iTRAQ™-labeled fractions were analyzed by LC–MS/MS. Each sample was loaded onto a homemade 65 cm × 75 mm i.d. reversed-phase capillary column using 3-mm C18 particles (Phenomenex, Torrance, CA, USA). The HPLC system consisted of a custom configuration of 100-ml Isco Model 100DM syringe pumps (Isco, Lincoln, NE, USA), two-position Valco valves (Valco Instruments Co., Houston, TX, USA), and a PAL autosampler (Leap Technologies, Carrboro, NC, USA) that allowed fully automated sample analysis across four HPLC columns [42]. The system was operated at a constant pressure of 10,000 psi over 3 h with an exponential gradient starting with 100% of mobile phase A (0.1% (v/v) formic acid in water) to 60% (v/v) of mobile phase B (0.1% (v/v) formic acid in acetonitrile). MS analysis was performed on a Thermo Scientific LTQ-Orbitrap Velos mass spectrometer (Thermo Scientific, San Jose, CA, USA) coupled with an electrospray ionization interface using home-made 150-mm o.d. × 20-mm i.d. chemically etched electrospray emitters [43]. Full MS spectra were recorded at resolution of 100 K (m/z 400) over the range of m/z 400–2000 with an automated gain control (AGC) value of 1 × 106. MS/MS was performed in the data-dependent mode with an AGC target value of 3 × 104. The most abundant 10 parent ions were selected for MS/MS using high-energy collision dissociation with a normalized collision energy setting of 45. Precursor ion activation was performed with an isolation width of 2 Da, a minimal intensity of 500 counts, and an activation time of 10 ms.
Data analysis
LC–MS/MS raw data were converted into data files using Bioworks Cluster 3.2 (Thermo Fisher Scientific, Cambridge, MA, USA), and MSGF+ algorithm [44] was used to search MS/MS spectra against the Cyanothece 7822 sequence (NCBI 2011-02-28). The key search parameters used were 20 ppm tolerance for precursor ion masses, partial tryptic search, dynamic oxidation of methionine (15.9949 Da), static IAA alkylation on cysteine (57.0215 Da), and static iTRAQ modification of lysine and N-termini (+144.1021 Da). The decoy data base searching methodology [45, 46] was used to control the false discovery rate at the unique peptide level to ~0.1% [47]. For quantification purposes, peptide reporter ion intensities were captured across all channels and compared by calculating the summed peptide intensity protein ratio between L3, D0, and D3 versus L0. Protein values with a correlation of >0.5 between biological replicates were retained. Certain proteins, such as RbcLS, with a correlation of 0.46 were included in our analysis. These highly abundant proteins fluctuated among our biological replicates, but always had the same periodicity and were important for the overall analysis. Protein values were then central tendency normalized using the program DAnTE [48] for direct comparison against mRNA values.
Abbreviations
PHB:

Polyhydroxybutyrate.
Declarations
Acknowledgements
Part of this research was performed at the Environmental Molecular Sciences Laboratory (EMSL). EMSL is a U.S. Department of Energy (DOE) Office of Biological and Environmental Research national scientific user facility on the Pacific Northwest National Laboratory (PNNL) campus. PNNL is a multiprogram national laboratory operated by Battelle for the DOE under contract DE-AC05-76RL01830. This work was supported by a grant from the Office of Science (BER), U. S. Department of Energy to Drs. Pakrasi and Sherman.
Authors' Affiliations
(1)
Department of Biological Sciences, Purdue University, West Lafayette, USA
(2)
Environmental Molecular Sciences Laboratory, Pacific Northwest National Laboratory, Richland, USA
(3)
Biological Sciences Division, Pacific Northwest National Laboratory, Richland, USA
(4)
Bioinformatics Core, Purdue University, West Lafayette, USA
Copyright
© Welkie et al.; licensee BioMed Central. 2014
This article is published under license to BioMed Central Ltd. This is an Open Access article distributed under the terms of the Creative Commons Attribution License (http://creativecommons.org/licenses/by/4.0), which permits unrestricted use, distribution, and reproduction in any medium, provided the original work is properly credited. The Creative Commons Public Domain Dedication waiver (http://creativecommons.org/publicdomain/zero/1.0/) applies to the data made available in this article, unless otherwise stated.