Research article
Open Access
The Arabidopsis Kinome: phylogeny and evolutionary insights into functional diversification
Received: 23 March 2014
Accepted: 25 June 2014
Published: 1 July 2014
Abstract
Background
Protein kinases constitute a particularly large protein family in Arabidopsis with important functions in cellular signal transduction networks. At the same time Arabidopsis is a model plant with high frequencies of gene duplications. Here, we have conducted a systematic analysis of the Arabidopsis kinase complement, the kinome, with particular focus on gene duplication events. We matched Arabidopsis proteins to a Hidden-Markov Model of eukaryotic kinases and computed a phylogeny of 942 Arabidopsis protein kinase domains and mapped their origin by gene duplication.
Results
The phylogeny showed two major clades of receptor kinases and soluble kinases, each of which was divided into functional subclades. Based on this phylogeny, association of yet uncharacterized kinases to families was possible which extended functional annotation of unknowns. Classification of gene duplications within these protein kinases revealed that representatives of cytosolic subfamilies showed a tendency to maintain segmentally duplicated genes, while some subfamilies of the receptor kinases were enriched for tandem duplicates. Although functional diversification is observed throughout most subfamilies, some instances of functional conservation among genes transposed from the same ancestor were observed. In general, a significant enrichment of essential genes was found among genes encoding for protein kinases.
Conclusions
The inferred phylogeny allowed classification and annotation of yet uncharacterized kinases. The prediction and analysis of syntenic blocks and duplication events within gene families of interest can be used to link functional biology to insights from an evolutionary viewpoint. The approach undertaken here can be applied to any gene family in any organism with an annotated genome.
Keywords
Hide Markov ModelDuplication EventKinase FamilyTandem DuplicationSegmental Duplication
Background
Protein kinases constitute a protein family with functions in cellular signal transduction pathways. In the model plant Arabidopsis thaliana, about 4% of the genes encode protein kinases, which can be referred to collectively as the kinome [1]. These different protein kinases can be subdivided into several families according to their function, structure, and phylogenetic relationships. Roughly 60% of all protein kinases belong to the large superfamily of receptor kinases (RLK), including the large family of transmembrane leucine-rich-repeat (LRR) receptor kinases. Also the so-called receptor-like cytoplasmic kinases (RLCK), which lack extracellular and trans-membrane domains are part of the receptor kinase clade. The clade of soluble kinases consists of the most prominent families, namely the cyclin-dependent kinases (CDK) involved in cell-cyle regulation, the mitogen-activated protein kinases (MAPK, MAPKK, MAPKKK), which constitute transmission cascades for responses to extracellular stimuli, the AGC kinases, and the kinases decoding calcium signals (CDPK-SnRK superfamily). Although mechanisms leading to expansion of the receptor-like kinases in Arabidopsis were suggested [2], a comprehensive analysis of the entire Arabidopsis kinome with respect to gene duplication patterns has not been carried out so far.
Gene duplication events present an important mechanism for the generation of evolutionary novelties [3], and at least six different types of duplications including tandem duplications, whole-genome and segmental duplications, as well as transpositions can be distinguished [4]. For example, duplication events may affect local genes by single-gene duplications, blocks of genes on chromosomes by segmental duplications, or entire genomes through whole-genome duplications. Each mechanism of duplication results in potentially changed expression context of a gene or leads to genetic and functional redundancies. However, due to the reduction of selective pressure on redundant gene copies in duplicated regions, duplicates may be lost or pseudogenized. The term 'syntenic region' is widely used in the context of gene duplication analysis and evolutionary history of genes and genomes. In classical genetics, synteny refers to the colocalization of genes or genomic regions on the same chromosome [5]. The concept of collinearity on the other hand refers to a conserved gene order between the ancestral and the potentially duplicated genomic region and may thus be used to infer synteny in the context of gene duplications [5–7].
Several models for the retention and loss of duplicated genes have been proposed and it is believed that at least in plants, genes are retained or lost in a biased manner with respect to their mode of duplication and functional context [8–10]. Plants, especially angiosperms, are known for their high frequency of chromosomal and whole-genome duplications. Arabidopsis thaliana alone has experienced at least two recent whole genome duplication events in the period between its divergence from Carica papaya (∼72 million years ago) and Arabidopsis lyrata (∼10 million years ago) commonly referred to as α and β duplication events, respectively. In addition, there was an ancient paleohexaploidy event shared between all rosids [6]. As a consequence, the expansion and functional diversification of gene families was largely shaped by gene duplication events and a number of studies have reported their impact on the evolution of resistance genes [11] and various other large gene families [6, 9].
In this study, the freely available MCScanX toolkit [7] was used to detect collinear regions in Arabidopsis thaliana and classify duplicated kinase genes according to their most likely mode of generation. Classifications were further refined by the MCScanX-transposed extension using Arabidopsis lyrata and Populus trichocarpa as outgroups. To gain insight into patterns of retention and loss of duplications within protein kinase families, inferred syntenic regions were mapped onto a phylogeny of 940 kinases and then linked to gene expression data, family gene annotations and loss-of-function phenotypes. Besides assembly and phylogenetic evaluation of the Arabidopsis kinome, our study provides insights into the functional diversification among the protein kinases in the context of gene duplications.
Discussion
This study aimed at investigating the role of gene duplication events in the serine-threonine-tyrosine kinase complement of Arabidopsis thaliana. We constructed a phylogeny of eukaryotic kinase families and undertook efforts to link gene duplication events to functional diversification or conservation based on gene expression data.
Kinome phylogeny
The phylogeny of Arabidopsis kinase subfamilies has been intensely studied for individual kinase families, especially for CDPKs [40], MAP-Kinases [56], or lectin receptor kinases [57], and members of the large family of receptor kinases [58]. Recent genome wide and species wide approaches in classification and annotation of eukaryotic protein kinases were based on Hidden Markov Model profiles [59, 60]. For plants, the most comprehensive classification can be found in the Eukaryotic Kinase and Phosphatase Database (EKPD) [59]. Overall, in our study a total of 111 Arabidopsis kinases listed in EKPD were not part of our phylogeny (Additional file 7). In contrast to EKPD, here kinase domains we also filtered for a minimum of 70% sequence coverage of the HMM representing the kinase domain, assuming that kinases with less than 70% coverage of the whole HMM kinase domain would not function as kinases. 94 proteins with an annotated kinase domain were excluded on this basis. Their kinase domains showed large gaps in the sequence covering conserved regions of the model kinase domain, with occasionally even half of the domain missing. Thus, especially the 50 excluded members of the receptor kinase group may have functionally degenerated kinase domains. In particular, 26 members of the atypical kinases were excluded, which show high similarities to prokaryotic kinases and are particularly abundant in plastid and mitochondrial location [30]. Another 17 kinases listed in EKPD did not match the HMM profile we used as template. Two plastidial yet uncharacterized kinases matching our HMM profile of an eukaryotic kinase were not classified as kinase in EKPD. Therefore, family-specific HMM models, as already used in EKPD, will be valuable in annotation of all kinases in Arabidopsis and eukaryotes in general. Histidine-receptor kinases [32] which originate from bacterial two-component signalling were neither considered in EKPD nor here. In total we included 940 kinases with eukaryotic kinase domain in the analysis, out of which only 553 kinases have yet been functionally characterized, and for 298 out of these kinases we have some regulatory information [15]. Based on the phylogeny, we were able to newly annotate 77 soluble kinases and 108 receptor like kinases (Additional file 1) and assign them to an existing subfamily. Thus, the phylogeny in itself provided an important contribution in definition and classification of protein kinases with unknown function.
Determination of syntenic regions and family based enrichment
Due to the complex history of duplication events especially in plants, the identification of syntenic regions within and between genomes is a nontrivial task, and conclusions drawn from publicly available datasets may underlie controversial assumptions related to the particular organism under study. To aid such analyses, several recent efforts were made to automate and generalize the process of detecting and evaluating syntenic genome regions. In addition, integrative web-based resources, for example the comparative genomic system platform (CoGe) [5], provide interactive frameworks for query and visualization of syntenic regions within and between genomes. Thus, we focused on the recently published MCScanX utility [7] and based our analysis on the comparison of Arabidopsis thaliana against itself, as well as comparisons of close (Arabidopsis lyrata) and distant (poplar) relatives.
To determine enrichments for specific types of duplication events in different kinase families, a ratio-based approach (observed/expected) and an enrichment analysis was used. The ratio-based approach showed that tandem duplication ratios tended to be considerably higher than segmental duplication ratios. However, since the detection of subfamily characteristics depends on relative differences between subfamilies, this only marginally affected the conclusions drawn from the analysis. It is important to note that the ratio-based analysis is in general not redundant to the enrichment analysis, since enrichment analysis incorporates the family size parameter. For example, the LRR_clade_3 shows only minor deviations from the median ratios in the boxplot but is found significantly enriched for tandem duplicates (p < 0.001) by Fisher's exact test and Chi-square residuals.
An interesting observation was that the kinases analyzed here constituted 3.4% of the total genome, but made up 4.5% of all duplicated genes suggesting higher frequencies of duplicated genes in that gene family. This is in line with the observation that kinases are significantly under-represented among single-copy genes [55]. Thus, duplications among kinases showed a tendency to be retained and gave rise to functional diversification.
Functional diversification and conservation
As expected, the coexpression analysis revealed a tendency for segmental duplicates to remain in the same expression context as the ancestral gene, while tandem duplications showed a higher tendency for divergent expression patterns. To put this into a more general context, the distribution of coexpression values for duplication pairs was correlated over all expression sets and plotted for all gene pairs encoding for kinases originating from WGD/segmental, tandem, proximal, transposed duplications and random gene pairs (Figure
6
). Random pairs of genes encoding for kinases showed highest frequency of correlation values around zero, while distributions of coexpression correlation for pairs originating from different duplication events were found to be rather flat to bimodal, lacking such a peak. Kinases with segmental and tandem duplications showed maximum correlation values for coexpression. Among genes with proximal duplications we found high frequencies for uncorrelated kinase gene expressions. This confirmed our observation of the tendency for conserved expression patterns within kinase families with high frequencies of segmental duplications (Figure
4
). Our findings are also in line with previous studies [
7
] where several duplication mechanisms were ranked by their potential of introducing functionally divergent duplicates in
Arabidopsis
. There, transposed duplications revealed highest diversification followed by dispersed duplications, tandem duplications and considered segmental duplications as the mechanism with most conserved functions. Thus, clusters of coexpressed genes and phylogenetically related genes preferentially result from segmental duplications. Within the kinases, transposed duplications also lead to a maximum of uncorrelated gene expressions (Figure
6
). However, some members of the RLCK 9 subfamily pose a deviation from these global patterns, suggesting a finer grained analysis of subfamilies to be worthwhile. A complete overview of the different duplication events in the kinase families is presented in Additional file
8
. The genomic sequences of these kinases would offer additional information such as exon-intron structure and the possibility of testing hypotheses in terms of selective pressures and evolutionary rates, which was beyond the scope of this work.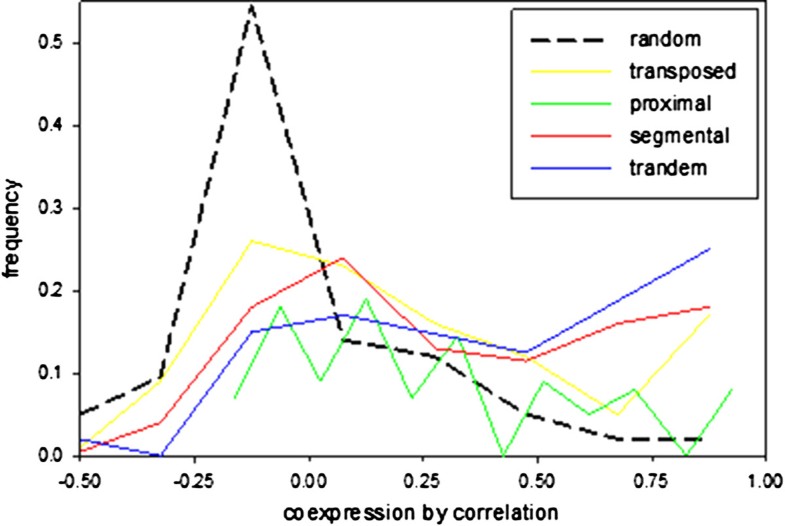 A tendency for frequent dispersed duplications and associated diversification in gene expression was observed particularly for some of the receptor kinase families. This large kinase subclade was also found to be especially affected by strong diversification through single nucleotide polymorphisms [61, 62]. Since receptor kinases have roles in pathogen defense, self-incompatibility and various developmental processes [63], functional diversification of this gene family allows rapid adaptations to specific environmental conditions. In contrast, some of the soluble kinase families, such as RLCK, MAP-Kinase and SnRK families showed a tendency to be duplicated as a result of segmental duplications and associated functional conservation based on gene coexpression. This is in line with findings that cytoplasmic proteins and proteins involved in cellular metabolism are also less frequently affected by phospho-specific nucleotide polymorphisms [62].
Conclusions
The prediction and analysis of syntenic blocks and duplication events within gene families of interest can be used to link knowledge from functional biology and proteomics to insights from an evolutionary viewpoint. In our study, the kinome of Arabidopsis thaliana was analysed with respect to characteristic patterns of various types of gene duplication modes in combination with subcellular localization, gene expression, and phenotypic data. Summarizing the findings, cytosolic protein kinases and receptor-like protein kinases exhibit different frequencies in the retention of genes duplicated through segmental and tandem duplications, respectively and resulted in different degrees of functional diversification. The phylogeny allowed classification and annotation of yet uncharacterized kinases. The approach undertaken here can be applied to any gene family in any organism with an annotated genome.
Availability of supporting data
Supplementary material is available as additional files through BioMed Central. The original tree file of the phylogeny has been submitted to Dryad (http://datadryad.org) and is available under the reference number doi: 10.5061/dryad.pq7d7.
Declarations
Acknowledgement
MZ, GS, RB and WXS were funded by the Max-Planck Society and SH was funded by the University of Potsdam.
Authors' Affiliations
(1)
Max Planck Institute of Molecular Plant Physiology, Golm, Germany
(2)
Bioinformatics, Institute of Biochemistry and Biology, University of Potsdam, Golm, Germany
(3)
Department of Plant Systems Biology, University of Hohenheim, Stuttgart, Germany
Copyright
© Zulawski et al.; licensee BioMed Central Ltd. 2014
This article is published under license to BioMed Central Ltd. This is an Open Access article distributed under the terms of the Creative Commons Attribution License (http://creativecommons.org/licenses/by/4.0), which permits unrestricted use, distribution, and reproduction in any medium, provided the original work is properly credited. The Creative Commons Public Domain Dedication waiver (http://creativecommons.org/publicdomain/zero/1.0/) applies to the data made available in this article, unless otherwise stated.