Methodology article
Open Access
Metabolic pathways for the whole community
Received: 14 January 2014
Accepted: 8 July 2014
Published: 22 July 2014
Abstract
Background
A convergence of high-throughput sequencing and computational power is transforming biology into information science. Despite these technological advances, converting bits and bytes of sequence information into meaningful insights remains a challenging enterprise. Biological systems operate on multiple hierarchical levels from genomes to biomes. Holistic understanding of biological systems requires agile software tools that permit comparative analyses across multiple information levels (DNA, RNA, protein, and metabolites) to identify emergent properties, diagnose system states, or predict responses to environmental change.
Results
Here we adopt the MetaPathways annotation and analysis pipeline and Pathway Tools to construct environmental pathway/genome databases (ePGDBs) that describe microbial community metabolism using MetaCyc, a highly curated database of metabolic pathways and components covering all domains of life. We evaluate Pathway Tools' performance on three datasets with different complexity and coding potential, including simulated metagenomes, a symbiotic system, and the Hawaii Ocean Time-series. We define accuracy and sensitivity relationships between read length, coverage and pathway recovery and evaluate the impact of taxonomic pruning on ePGDB construction and interpretation. Resulting ePGDBs provide interactive metabolic maps, predict emergent metabolic pathways associated with biosynthesis and energy production and differentiate between genomic potential and phenotypic expression across defined environmental gradients.
Conclusions
This multi-tiered analysis provides the user community with specific operating guidelines, performance metrics and prediction hazards for more reliable ePGDB construction and interpretation. Moreover, it demonstrates the power of Pathway Tools in predicting metabolic interactions in natural and engineered ecosystems.
Keywords
Enzyme CommissionLower Common Ancestor AlgorithmPathway ToolTaxonomic RangePathway Recovery
Background
Community interactions between uncultivated microorganisms give rise to dynamic metabolic networks integral to ecosystem function and global scale biogeochemical cycles [1]. Metagenomics bridges the "cultivation gap" through plurality or single-cell sequencing by providing direct and quantitative insight into microbial community structure and function [2, 3]. Although, new technologies are rapidly expanding our capacity to chart microbial sequence space, persistent computational and analytical bottlenecks impede comparative analyses across multiple information levels (DNA, RNA, protein and metabolites) [4, 5]. This in turn limits our ability to convert the genetic potential and phenotypic expression of microbial communities into predictive insights and technological or therapeutic innovations.
Functional genes operate within the structure of metabolic pathways and reactions that define metabolic networks. Despite this fact, few metagenomic studies use pathway-centric approaches to predict microbial community interaction networks based on known biochemical rules. Recently, algorithms for pathway prediction and metabolic flux have been developed for environmental sequence information including the Human Microbiome Project Unified Metabolic Analysis Network (HUMAnN) and Predicted Relative Metabolic Turnover (PRMT). HUMAnN uses an integer optimization algorithm that conservatively computes a parsimonious minimum set of reactions along KEGG pathways based on pathway presence, absence or completion [6, 7]. PRMT infers metabolic flux based on normalized enzyme activity counts mapped to KEGG pathways across multiple metagenomes [8]. Because KEGG pathways are coarse and do not discriminate between pathway variants, both modes of analysis have limited metabolic resolution [9]. Moreover, neither HUMAnN nor PRMT provides a coherent structure for exploring and interpreting predicted KEGG pathways.
One alternative to HUMAnN and PRMT is Pathway Tools, a production-quality software environment supporting metabolic inference and flux balance analysis based on the MetaCyc database of metabolic pathways and enzymes representing all domains of life [10–13]. Unlike KEGG or SEED subsystems, MetaCyc emphasizes smaller, evolutionarily conserved or co-regulated units of metabolism and contains the largest collection (over 2000) of experimentally validated metabolic pathways. Extensively commented pathway descriptions, literature citations, and enzyme properties combined within a pathway/genome database (PGDB) provide a coherent structure for exploring and interpreting predicted pathways. Although initially conceived for cellular organisms, recent development of the MetaPathways pipeline extends the PGDB concept to environmental sequence information enabling pathway-centric insights into microbial community structure and function [14, 15].
Here we provide essential guidelines for generating and interpreting ePGDBs inspired by the multi-tiered structure of BioCyc [
16
] (Figure
1
). We begin with genome and metagenome simulations to assess performance on datasets manifesting different read length, coverage and taxonomic diversity and we develop a weighted taxonomic distance to evaluate concordance between pathways predicted using environmental sequence information and reference pathways in the MetayCyc database. Given these metrics, we demonstrate Pathway Tools' power to predict emergent metabolism in simulated metagenomes and a previously characterized symbiotic system [
17
]. Finally, we generate ePGDBs using coupled metagenomic and metatranscriptomic datasets from the Hawaii Ocean Time-series (HOT) to compare and contrast genetic potential and phenotypic expression along defined environmental gradients in the ocean [
18
–
20
].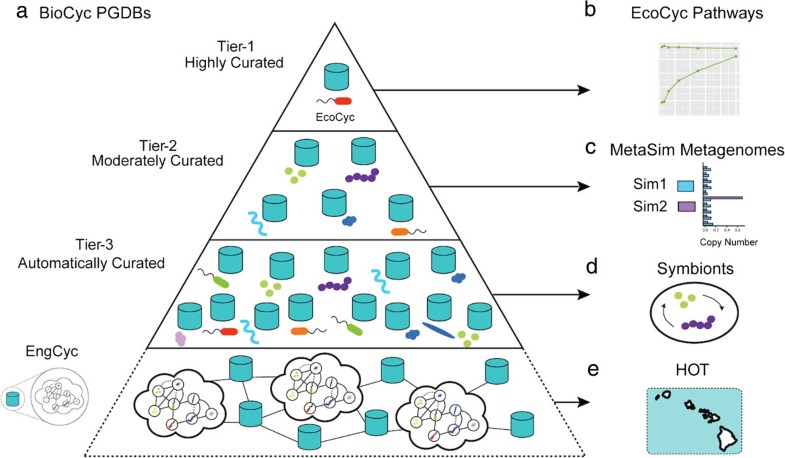 Conclusions
While advances in high throughput sequencing technologies are rapidly giving rise to tens of thousands of environmental datasets, the computational and analytic powers needed to organize, interpret and mobilize these datasets have lagged behind. Conventional BLAST-based annotation methods combined with gene-centric analyses tend to overlook the network properties of microbial communities driving ecological and biogeochemical interactions. We argue that pathway-centric analyses via the MetaPathways pipeline and Pathway Tools provides the scientific user community with an end-to-end solution for comparing ePGDBs constructed from environmental sequence information revealing known and novel network properties. As with any automated analysis, this method is no replacement for manual curation. Indeed, we have highlighted specific instances where taxonomic range, idiosyncratic annotation, multifunctional enzymes, regulatory functions, and reversible enzymatic forms predicted by Pathway Tools result in interpretive hazards that require expert knowledge to resolve.
Continued development efforts are needed to improve on existing features and add new functionality to both the MetaPathways pipeline and Pathway Tools. Specifically, improved import features amenable to categorical metadata e.g., taxonomic origin, location, depth, etc., need to be integrated with Pathway Tools 'groups', a feature that enables users to integrate external data and group pathways and objects within Pathway Tools. The 'groups' feature in turn needs to be better integrated into the 'omics' viewer allowing for improved pathway navigation and page summaries within the Pathway Tools browser. Tooltip enhancements that summarize the categorical data mentioned above could further enhance the browsing experience. Current ePGDBs are constructed using concatenated CDS sequences and improved viewing features are needed that map coverage and noncoding sequence information onto complete contigs. Finally, the PathoLogic algorithm should be improved to incorporate the described prediction hazards and WTD into its calculations. Specifically, one can imagine tree-based algorithmic improvements to PathoLogic akin to the WTD described here that integrate taxonomic information with enzyme or pathway directionality.
Despite current limitations, ePGDBs provide an interactive and holistic data structure in which to investigate distributed metabolism and differentiate between microbial community metabolic potential and phenotypic expression. Thus, ePGBDs provide a functional blueprint of microbial community metabolism that can be harnessed to engineer microbial consortia with defined emergent properties. These properties can in turn be transferred to industrial strains or modeled using MetaFlux to improve process performance [13]. Although the set-difference and visual inspection methods used to identify distributed metabolic pathways described here do not scale for big datasets, future algorithmic improvements will enable comparisons of reference genomes and metagenomes in large numbers. Indeed, splitting the proverbial "reaction arrows" for each step in a given metabolic pathway into taxonomic bins provides a basis for integer optimization methods that compute "distribution" scores and a baseline for monitoring changes in the reaction network associated with environmental change or even human health status. Looking forward, we envision an open source collection of ePGDBs, called EngCyc analogous to BioCyc [16], which can be queried and compared online revealing the network properties of microbial communities in natural and engineered ecosystems on a truly global scale.
Methods
Metabolic pathway analysis
Environmental PGDBs were constructed from public datsets using MetaPathways (http://github.com/hallamlab/MetaPathways/) [14] with default parameter settings: open reading frame (ORF) detection by Prodigal (minimum length 60 amino acids), functional annotation by BLAST (e-value 1e-5, blast-score ratio 0.4) against protein databases KEGG [37], COG [38], MetaCyc [11] (version 16.0), and RefSeq [39] (Downloaded August 2012), and pathway prediction via the PathoLogic algorithm with taxonomic pruning disabled. Predicted pathways and associated annotated CDS sequences were extracted from created ePGDBs using the utility script extract_pathway_table_from_pgdb.pl included with MetaPathways.
Pathway prediction on simulated data
Simulated sequencing experiments were performed using MetaSim [22] with the parameter settings: Long read: clone size 36000 bp, Gaussian error, mean read length 700 bp, standard deviation 100 bp; Short read: Gaussian error, mean 160 bp, standard deviation 40 bp) against the E. coli K12 MG1655 complete nucleotide genome (GenBank: NC_000913) at a series of fractional levels (1/32, 1/16, 1/8, 1/4, 1/2, 1/1) of the total combined length of starting component genomes (Gm). Pathways were predicted using the MetaPathways pipeline, as described above, against each of the resulting sequence sets (Additional file 1: Tables S3 and S4). A classification performance analysis was performed; True positives (TP) were pathways found in both the simulated sample pathways (test set) and the complete gold standard E. coli genome. True negatives (TN) were pathways not predicted in the test set or gold standard. False positives (FP) were pathways found in the test set but not in the gold standard. Finally, false negatives (FN) were pathways found in the gold standard but not in the test set. Multiple summary statistics for the resulting confusion tables (Sensitivity (Recall), Specificity, Precision, Accuracy, F-measure, and Matthew's Correlation Coefficient (MCC)) were calculated. A summary of these performance statistics is provided in the supplement (Additional file 1: Note S1: 'A Note on Confusion Table Statistics').
Simulated metagenomes: Sim1, Sim2
Simulated sequencing experiments of metagenomes Sim1 and Sim2 were generated and analyzed as described above for E. coli. To minimize name-mapping problems, we used prokaryotic genomes from the tier-2 BioCyc database collection [21]. The Sim1 metagenome was composed of ten tier-2 BioCyc genomes (Additional file 1: Table S2) in equal copy number, while Sim2 was composed of the Caulobacter cresentus NA1000 genome in 20-fold excess relative to other genomes (Additional file 1: Figure S1). A classification performance analysis was performed as described above with the set of 646 pathways predicted from the complete tier-2 genomes used to derive Sim1 and Sim2 representing the gold standard (Additional file 1: Tables S5-S8).
Simulated metagenomes: HOT (25 m)
A 25 m metagenome from the Hawaii ocean time series was sub-sampled with replacement to different fractional levels (1/20, 1/10, 3/20, 1/5, 2/5, 3/5, 4/5, and 1/1) and pathways were predicted as described above. Similarly, a classification performance analysis was performed with the set of 864 pathways predicted from the complete 454 run representing the gold standard (Additional file 1: Tables S7 and S8).
Taxonomic pruning experiments
The full-Gm simulated sequencing samples for Sim1 and Sim2, both short and long read lengths, and the full-Gm HOT (25 m) sample, had their pathways predicted with the above method, but with taxonomic pruning enabled using the taxonomic lineage parameter set to "Unclassified sequences". The number of predicted pathways were tabulated and compared with the pathways previously predicted with taxonomic pruning disabled. As simple set analysis showed that within a sample the pruned pathways were a strict subset of the "no-pruning" ones, and the reduction in pathways was calculated (Additional file 1: Table S9).
Weighted taxonomic distance
For each predicted pathway in the HOT dataset, a weighted taxonomic distance (WTD) distance was calculated using the WTD algorithm (Additional file 1: Supplementary Note 2). First, the lowest common ancestor algorithm (LCA) was applied to a pathway's RefSeq CDS sequences. The WTD algorithm calculates a weighted distance D between the observed LCA taxonomy x obs and the pathway's expected taxonomic range(s) x exp  ∈ TR(MetaCyc)(p), where TR(MetaCyc)(p) is the set of taxonomic range(s) for a given pathway p on the NCBI Taxonomy Database hierarchy.
This WTD algorithm takes as input
p
and
x
obs
, and calculates a weighted taxonomic distance for each
x
exp
on nodes in the connecting path
P
(
x
exp
, 
x
obs
), as
where ea,b is an edge between nodes a and b in the path and d(a) is the depth of node a. If x exp descends from the expected taxonomic range x obs , then the WTD is assigned a positive value and WTD for paths descending outside this range are assigned a negative value. After calculating the WTDs for all pairs x exp , x obs , the WTD algorithm first attempts to return the minimum non-negative distance e.g., WTD corresponding to the closest x exp where x obs is a descendant of x exp , and returns the maximum negative score e.g., closest to zero if all observed and expected taxonomies diverge. For each dataset, predicted pathways were assigned to a "Disagreement Class" based on the following criteria: (i) pathways with positive WTD were given the "None" class, (ii) pathways with distances greater than the median of negative WTDs were given the "Low" class, (iii) pathways within the 2nd quartile were given the "Medium" class, and (iv) pathways in the lower quartile were given the "High" disagreement class (Additional file 1: Figure S2). The expected taxonomic ranges of each pathway where then collapsed into the higher taxonomic levels: "root", "cellular organisms", "prokaryotes", "archaea", "bacteria", "eukaryotes", "animals", "fungi", "plants", and "other", as defined on the NCBI Taxonomy Database hierarchy and pathway frequencies and disagreement classes were summarized for each sample (Additional file 1: Figure S3).
Distributed metabolic pathway prediction
Four genomes of similar size and complexity from the tier-2 dataset were combined in a pairwise manner: Aurantimonas manganoxydans SI85-9A (GenBank: NZ_AAPJ00000000.1), Bacillus subtilis subtilis 168 (GenBank: AL009126.3), Caulobacter crescentus NA1000 (GenBank: CP001340.1), and Helicobacter pylori 26695 (GenBank: AE000511.1), abbreviated by the first character of their proper names, A, B, C, and H, respectively. The six pair-wise and four original genomes were analyzed as described above for E. coli (Additional file 1: Table S10). Pathways predicted in the combined PGDBs were considered candidates for distributed metabolism if they were absent from PGDBs for individual genomes (i.e., found in A and B combined, but not in either A or B individually) (Additional file 1: Table S11 and Additional file 2). Candidate pathways were manually inspected and deemed 'plausible' if there was sufficient coverage, i.e., 75% of reactions in a pathway had associated CDS sequences from both taxa (Additional file 1: Figure S4).
Similarly, the Candidatus Moranella endobia and Candidatus Tremblaya princeps genomes (GenBank: NC-015735 and NC-015736) were downloaded from NCBI and analyzed as described above for E. coli. Resulting PGDBs for individual and combined genomes were manually inspected for amino acid biosynthetic pathways described in McCutcheon and Dohlen [17] (Additional file 1: Figure S5).
Hawaii ocean time-series
Unassembled metagenomic and transcriptomic pyrosequences from the Hawaii Ocean Time-series (10 m, 75 m, 110 m, and 500 m) were obtained from the NCBI Sequence Read Archive (SRA Accession: SRX007372, SRX007369, SRX007370, SRX007371, SRX016893, SRX016897, SRX156384, SRX156385) and run through the MetaPathways pipeline using default settings (Additional file 3). To avoid spurious predictions, only pathways with more than ten mapped CDS sequences in an individual sample were used in downstream analysis. The pathways with nine or fewer mapped CDS sequences represent the lower quartile of pathway annotations (Figure 4a, Additional file 4). Pathway CDS counts for each sample were normalized to the total number of unannotated ORFs in each dataset. Count data was then converted to percentages providing relative ORF abundance for each pathway (Additional file 5), along with their weighted taxonomic distances and sample-wise disagreement classes (Additional file 6). Relative CDS abundance of the top-40 pathways from DNA and RNA datasets were compared (Additional file 1: Figure S8). In addition, pathways predicted in the DNA and RNA datasets were compared at each depth interval to provide sample-wise fractions for each depth e.g., DNA-only, DNA-RNA, and RNA-only (Figure 4c). Given the small number of pathways in the RNA-only sets no set-difference analysis was needed (Additional file 1: Figure S6). The DNA-only sets were declined and tabulated at various levels of the MetaCyc pathway hierarchy (Additional file 1: Figure S7). A final four-way set analysis was performed on the DNA-only and DNA-RNA pathways at each depth (Figure 4d, Additional files 7 and 8). DNA-RNA set-difference subsets with more than 5 predicted pathways were compared in detail (Additional file 1: Figures S9-S14). All data transformations, set operations, and comparisons were performed in the R statistical environment (http://www.r-project.org), and visualized using the ggplot graphical package (http://ggplot2.org) and d3.js graphical library (http://d3js.org/).
Availability of supporting data
The ten full-length genomes used to create simulated metagenomes can be downloaded from GenBank under accession numbers AE008687-AE008690, NZ_AAPJ00000000.1, AL009126.3, AE005673, CP001340.1, AE000511.1, AE000516, AL123456, NC_007604.1, AE003852, and AE003853.
The symbiotic Candidatus Moranella endobia and Candidatus Tremblaya princeps genomes can be downloaded from GenBank under accession numbers NC-015735 and NC-015736). The Hawaii Ocean Time series datasets can be downloaded from the NCBI Sequence Read Archive under accession numbers SRX007372, SRX007369, SRX007370, SRX007371, SRX016893, SRX016897, SRX156384, SRX156385.
Declarations
Acknowledgements
This work was carried out under the auspices of Genome Canada, Genome British Columbia, Genome Alberta, the Natural Science and Engineering Research Council (NSERC) of Canada, the Canadian Foundation for Innovation (CFI) and the Canadian Institute for Advanced Research (CIFAR) through grants awarded to SJH. The Western Canadian Research Grid (WestGrid) provided access to high-performance computing resources. KMK was supported by the Tula Foundation funded Centre for Microbial Diversity and Evolution (CMDE). NWH was supported by a four year doctoral fellowship (4YF) administered through the UBC Graduate Program in Bioinformatics. We would like to thank Suzanne Paley, Ron Caspi, and Quang Ong of SRI International for their patience, technical support, and lucid discussions on the function of Pathway Tools and the PathoLogic algorithm, Antoine Pagé for his participation in preliminary performance evaluations and all members of the Hallam Lab for helpful comments along the way.
Authors' Affiliations
(1)
Graduate Program in Bioinformatics, University of British Columbia, Genome Sciences Centre, Vancouver, Canada
(2)
Department of Microbiology & Immunology, University of British Columbia, Vancouver, Canada
(3)
Biomedical Informatics Training Program, Stanford University, MSOB, Stanford, USA
(4)
Bioinformatics Research Group, SRI International, Menlo Park, USA
Copyright
© Hanson et al.; licensee BioMed Central Ltd. 2014
This article is published under license to BioMed Central Ltd. This is an Open Access article distributed under the terms of the Creative Commons Attribution License (http://creativecommons.org/licenses/by/2.0), which permits unrestricted use, distribution, and reproduction in any medium, provided the original work is properly credited. The Creative Commons Public Domain Dedication waiver (http://creativecommons.org/publicdomain/zero/1.0/) applies to the data made available in this article, unless otherwise stated.