Methodology article
Open Access
Analysis of stranded information using an automated procedure for strand specific RNA sequencing
Benjamín Sigurgeirsson

1,

Olof Emanuelsson

1 and

Joakim Lundeberg

1

Email author
Received: 25 February 2014
Accepted: 10 July 2014
Published: 28 July 2014
Abstract
Background
Strand specific RNA sequencing is rapidly replacing conventional cDNA sequencing as an approach for assessing information about the transcriptome. Alongside improved laboratory protocols the development of bioinformatical tools is steadily progressing. In the current procedure the Illumina TruSeq library preparation kit is used, along with additional reagents, to make stranded libraries in an automated fashion which are then sequenced on Illumina HiSeq 2000. By the use of freely available bioinformatical tools we show, through quality metrics, that the protocol is robust and reproducible. We further highlight the practicality of strand specific libraries by comparing expression of strand specific libraries to non-stranded libraries, by looking at known antisense transcription of pseudogenes and by identifying novel transcription. Furthermore, two ribosomal depletion kits, RiboMinus and RiboZero, are compared and two sequence aligners, Tophat2 and STAR, are also compared.
Results
The, non-stranded, Illumina TruSeq kit can be adapted to generate strand specific libraries and can be used to access detailed information on the transcriptome. The RiboZero kit is very effective in removing ribosomal RNA from total RNA and the STAR aligner produces high mapping yield in a short time. Strand specific data gives more detailed and correct results than does non-stranded data as we show when estimating expression values and in assembling transcripts. Even well annotated genomes need improvements and corrections which can be achieved using strand specific data.
Conclusions
Researchers in the field should strive to use strand specific data; it allows for more confidence in the data analysis and is less likely to lead to false conclusions. If faced with analysing non-stranded data, researchers should be well aware of the caveats of that approach.
Keywords
RNA sequencingStrand specificityRibosomal depletionBioinformaticsAntisense RNA
Background
The transcriptome has long been studied by reverse transcribing single stranded RNA into double stranded cDNA and assessed with assays such as PCR [1, 2], microarrays [3, 4] or massively parrallel sequencing [5, 6]. By assessing gene expression through cDNA the strand information of the RNA is lost. With the advent of many strand specific RNA library preparation protocols increasing number of RNA sequencing experiments are generating stranded RNA sequencing data [7–9]. Without strand information it is difficult to determine correct gene expression from overlapping genes; i.e. genes that have the same location in the genome, at least partly, but are transcribed from opposite strands. Knowing the strand information of the cDNA is essential to determine from which of the overlapping genes the RNA originates from. Such overlapping genes in mammalian genomes, while not frequent, are more common than previously thought [10, 11] and they are widespread in genomes of other species, especially those with small and compact genomes [12].
Increasing exploration of the transcriptome has led to discoveries of multitude of various RNA species [13]. Of particular interest with regards to strand information is antisense RNA (asRNA) which is a transcribed RNA that is complementary, i.e. on the opposite strand, to another gene, usually a protein coding gene. Thus by definition all antisense genes are overlapping genes. The most straightforward regulatory function of asRNA is its ability to hybridize to its existing sense mRNA and hinder translation of that particular mRNA molecule. This, however, is just one function of many and asRNA encompasses many different types of RNA [14]. A relatively newly discovered feature of asRNA is the antisense transcription of pseudogenes [15, 16]. Pseudogenes, evolutionary remnants of gene duplication, were long thought to be silent and non-functional. Still, while prokaryotes rapidly lose pseudogenes from their genomes, complex multicellular animals like mammals often retain their pseudogenes, suggesting evolutionary conservation and thus function. Evidence is now mounting towards various regulatory functions of pseudogenes [17].
A handful of protocols have been published which retain the strand information of the RNA with varying degree of success and labor intensity. In 2009 Parkhomchuk et al. [7] published a strand specific library protocol which has since become popular among such protocols being both relatively simple and effective. The protocol is called dUTP second strand marking method, or dUTP method for short, and consists of using dUTPs instead of dTTPs during the synthesis of the second strand in the cDNA synthesis step during sample preparation. Then prior to PCR amplification the uracil in the second strand is degraded using Uracil-N-Glycosylase (UNG). With the second strand partly degraded only the first strand is amplified in the subsequent PCR. This particular strand specific protocol was evaluated as superior in terms of simplicity and data quality in a benchmark study of strand specific protocols [18].
In the current study we modulate specific steps in a scalable transcriptome preparation method [19] to combine the strand specific dUTP method [7] and the Illumina TruSeq RNA sample preparation kit (# RS-122-2001) into an automated strand specific RNA sequencing protocol. By preparing libraries from different cancer cell lines we show that the stranded protocol is reproducible and compares well to its non-stranded counterpart [19] and requires little extra hands on time in sample preparation. From our sequencing data we compare the performance of two sequence aligners; Star [20] and Tophat2 [21]. In contrast to the published method [19] we use ribosomal depletion instead of poly adenylation selection to enrich RNA and here we evaluate two ribosomal depletion kits; RiboMinus (Ambion®;) and RiboZero Gold (Epicentre). We then highlight some advantages of stranded libraries by performing a differential expression analysis between strand specific and non-stranded libraries and note how this procedure can be used to probe the annotation of the genome. In conclusion, we turn our attention to high coverage strand specific data to further explore stranded features of the transcriptome; we validate the antisense transcription of the pseudogene PTENP1 which has been shown to be involved in the regulatory network of the expression of the gene PTEN [16], and we report novel transcription in the U2OS cell line.
Conclusions
The Illumina TruSeq library preparation kit can, with modifications, be used to make strand specific libraries. The RiboZero kit is excellent in removing rRNA molecules from total RNA and the Star aligner is ideal for big datasets and/or when time is a factor in the analysis and we show that quality trimming can improve mapping efficiency. There is a good selection of freely available bioinformatical tools for RNA sequencing analysis many of which have an option to indicate whether the data is strand specific or non-stranded. Thus there is, computationally, not much difference in analysing strand specific data compared to analysing non-stranded data. Furthermore, none of these tools are specialized for handling strand specific data nor are any of them at a disadvantage when applied to strand specific data. However, data from strand specific libraries is more reliable than data from unstranded libraries and can correctly evaluate the expression of asRNA and other overlapping genes as well as the direction of intronic reads. The annotation of the human genome is comparatively thorough and correct but still in need for verification, correction and improvement, all of which can be achieved with strand specific RNA sequencing.
Methods
For many of the different analysis we use various freely available command line tools. The command line for selected tools is given in Additional file 14.
Ethics approval statement
The study uses three well established cancer cell lines available from certified providers; U251 (Professor Bengt Westermark, Uppsala University), A431 (DSMZ) and U2OS (ATCC-LGC). The cell lines were cultured as suggested by the providers and as previously described [28].
Experimental design
For the evaluation of the protocol 15 libraries were used whose attributes are showed in Table
2
. Libraries 1-2, 3-5 and 6-15 were made from RNA from the cell lines A431, U251 and U2OS respectively. The RNA for libraries 1-11 was enriched with RiboMinus (Ambion®;) while RNA for libraries 12-15 was enriched with RiboZero (Epicentre). Libraries 1-8 and 12-15 were prepared in a strand specific manner while libraries 9-11 were prepared in a non-stranded manner.From these libraries the data was explored in distinct steps as outlined in Figure
6
. Briefly, all the libraries were sequenced on Illumina HiSeq 2000 generating 100 bp paired end reads. The reads were then quality trimmed before being mapped to the genome. After mapping, the data from the human cell lines were analyzed through various quality control metrics before being further explored by differential expression analsysis, verifying antisense transcription of PTENP1 and identifying novel transcription in the U2OS cell line.
Table 2
Libraries used and their attributes
| Library no. | Library ID | RNA source | RNA enrichment | Library type |
| --- | --- | --- | --- | --- |
| Library 1 | A431_RMSS_R1 | A431 cell line | RiboMinus | Strand specific |
| Library 2 | A431_RMSS_R2 | A431 cell line | RiboMinus | Strand specific |
| Library 3 | U251_RMSS_R1 | U251 cell line | RiboMinus | Strand specific |
| Library 4 | U251_RMSS_R2 | U251 cell line | RiboMinus | Strand specific |
| Library 5 | U251_RMSS_R3 | U251 cell line | RiboMinus | Strand specific |
| Library 6 | U2OS_RMSS_R1 | U2OS cell line | RiboMinus | Strand specific |
| Library 7 | U2OS_RMSS_R2 | U2OS cell line | RiboMinus | Strand specific |
| Library 8 | U2OS_RMSS_R3 | U2OS cell line | RiboMinus | Strand specific |
| Library 9 | U2OS_RMNS_R1 | U2OS cell line | RiboMinus | Non-strand specific |
| Library 10 | U2OS_RMNS_R2 | U2OS cell line | RiboMinus | Non-strand specific |
| Library 11 | U2OS_RMNS_R3 | U2OS cell line | RiboMinus | Non-strand specific |
| Library 12 | U2OS_RZSS_R1 | U2OS cell line | RiboZero | Strand specific |
| Library 13 | U2OS_RZSS_R2 | U2OS cell line | RiboZero | Strand specific |
| Library 14 | U2OS_RZSS_R3 | U2OS cell line | RiboZero | Strand specific |
| Library 15 | U2OS_RZSS_R4 | U2OS cell line | RiboZero | Strand specific |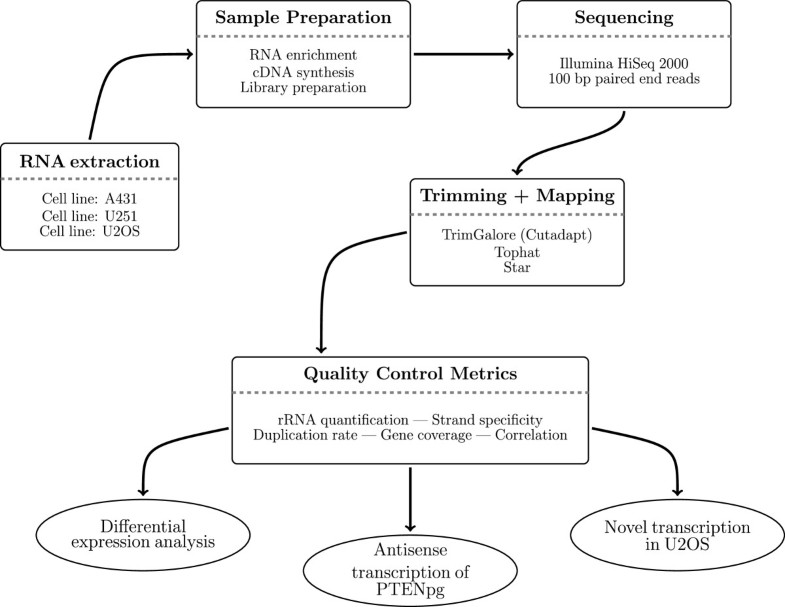 Sample preparation
The cell lines A431 (skin carcinoma), U251 (brain glioblastoma) and U2OS (bone osteosarcoma) were cultivated, grown and harvested as described earlier [28]. The RNA was extracted using the RNeasy Mini Kit (Qiagen) according to the manufacturer's protocol. Quality of RNA samples was assessed using BioAnalyzer 2100 and a Qubit quantification fluorometer. All RNA samples used were of high quality (RIN > 9) and with a concentration between 400 ng/ μl and 800 ng/ μl. Libraries were constructed as explained above and shown in Table 2. The amount of input material for all libraries was 2 μg of total RNA.
The library preparation protocol
The automation was set up on a Magnatrix TM 1200 Biomagnetic Workstation (NorDiag ASA, Oslo, Norway) which is equipped with a 12 tip head and is capable of running custom made scripts. The robot features an in tip magnet processing and a Peltier unit (4-95 C) where the reactions were performed.
Our automatic strand specific RNA sequencing library preparation protocol is an adaptation of the dUTP second strand marking protocol utilizing the automation of the Illumina TruSeq protocol along with purification steps using CA beads. The details of the dUTP protocol have been described previously in [7, 18] and the automation of the Illumina TruSeq protocol along with the carboxyl acid (CA) purification steps are described in [19, 22].
Briefly, the steps of our strand specific protocol are: first strand cDNA synthesis; CA purification; second strand synthesized using dUTPs instead of dTTPs; end reapair, A-tailing and adaptor ligation; second strand digestion with UNG; PCR amplification; and CA purification. A flow diagram, highlighting the main differences between the non-stranded and strand specific protocols, is shown in Additional file 1.
Clustering and sequencing
The clustering was performed on a cBot cluster generation system using a HiSeq paired-end read cluster generation kit according to the manufacturer's instructions. All libraries were sequenced on an Illumina HiSeq 2000 as paired-end reads to 100 bp. Base conversion was done using Illumina's OLB v1.9.
Trimming and mapping
The raw sequencing data were processed through a quality trimming process before being mapped to the genome. The reads were mapped to the GRCh37.72 primary assembly of the human genome (ensembl.org) using both Tophat2 v2.0.4 [21], and STAR v2.3.1o [20] and their results and performance compared (see Results). To evaluate the effects of trimming on mapping the reads were mapped both before and after trimming. When reads mapped to multiple locations only the primary hits were retained.
For the quality and adapter removal the utility program Trim Galore! [29] was used. Trim Galore! is a wrapper script that makes use of the trimming tool cutadapt [30]. Possible adapter sequences, based on the Illumina TruSeq Adapter index sequences, were removed from the reads. The reads were then quality trimmed, with a quality threshold of 20 on the Phred scale, and if either read from a pair was shorter than 20 bp after trimming that pair was removed from the analysis.
Quality Control Metrics
Selected scripts from the quality control package RSeQC [31] were used to assess quality metrics from the data; split_bam.py for ribosomal quantification, infer_experiment.py for strand specificity and geneBody_coverage.py for gene coverage. The duplication rate was quantified using MarkDuplicates from Picard [32].
To count read expression the program htseq-count [23] was used. It uses a gene transfer format (GTF) annotation file, downloaded from the Ensembl database (version GRCh37.72), as a reference and and assigns reads to a feature (a gene), or labels them as matching to no feature or as ambiguous if it matches more than one feature and it cannot determine which one it is. Genes that have fewer number of reads than the total number of assigned reads divided by one million were labeled as lowly expressed. If a gene had zero or low expression in both datasets being compared, such as in correlation and differential expression analysis, that gene was omitted from that comparison. This filtering step was included to try and reduce false positives in the comparisons [33]
Differential expression - strand specific vs. non-stranded data
For the differential expression (DE) analysis the filtered output from htseq-count was used as an input for the R package DESeq [24]. Prior to counting, all samples in the DE analysis were downsampled to 4.5 million sequences to ensure equal amount of reads in all libraries being compared. The downsampling was carried out using DownsampleSam from Picard tools [32]. All genes with a p-value of 0.05 or below after Benjamini-Hochberg ajdustment were labeled as differentially expressed genes (DEGs). Using the annotation from the Ensembl database the DEGs were categorized into protein coding genes and non-coding genes. The IGV genome browser [34] was used for visualization of selected DEGs.
Transcriptome assembly - strand specific vs. non-stranded data
The assembly was carried out using Cufflinks [25] to generate two kinds of assemblies; raw assembly and novel assembly. For the raw assembly all mapped reads were used and no reference annotation was used to guide the assembly. All parameters were kept at default values except for the stranded libraries the parameter '–library-type' was set to 'fr-firststrand'. After the assembly the assemblies within each group were merged using Cuffmerge.
For the novel assembly the mapped reads were split, using split_bam.py from RSeQC [31], into two bam files; the reads that matched the annotations and the ones that did not match the annotation. Then only those reads that did not match the annotation were used as input for Cufflinks. To further ensure the assembly of novel transcripts the current annotation was masked from the assembly using the '-M' option.
Antisense transcription of PTENP1
The IGV genome browser was used to visualize the coverage of the PTENP1 locus along with annotations from RefSeq and Ensembl. From the raw assembly from group 5 new annotation for the PTENP1 asRNA was constucted. This new annotation was then used to evaluate its isoform expression.
Novel annotation in U2OS
Htseq-count was used to determine the expression of the novel assembly from library group 5. Then the coverage plots of the highest expressed 'novel' genes were investigated using the IGV browser. Many of the alleged 'novel' genes turned out to be intronic transcripts wrongly assembled as exons and others overlapped current annotation. Manual searching, however, revealed potentially novel expression with a selected few represented in this study.
Availability of supporting data
Declarations
Acknowledgements
This work was supported by the Swedish Research Council (VR); Swedish e-Science Research Center (SeRC) the Knut and Alice Wallenberg Foundation and Science for Life Laboratories, National Genomics Infrastructure (NGI), Sweden. The computations were performed on resources provided by SNIC through Uppsala Multidisciplinary Center for Advanced Computational Science (UPPMAX).
The authors would like to thank Daniel Edsgärd and Johan Reimegård for valuable discussions during the process of the study and Mikael Huss for proofreading and feedback during the later stages of the manuscript.
Authors' Affiliations
(1)
Science for Life Laboratory, School of Biotechnology, Royal Institute of Technology (KTH), SolnaStockholm, Sweden
Copyright
© Sigurgeirsson et al.; licensee BioMed Central Ltd. 2014
This article is published under license to BioMed Central Ltd. This is an Open Access article distributed under the terms of the Creative Commons Attribution License (http://creativecommons.org/licenses/by/4.0), which permits unrestricted use, distribution, and reproduction in any medium, provided the original work is properly credited. The Creative Commons Public Domain Dedication waiver (http://creativecommons.org/publicdomain/zero/1.0/) applies to the data made available in this article, unless otherwise stated.