Research article

Open Access
Transcriptome of the inflorescence meristems of the biofuel plant Jatropha curcas treated with cytokinin
Received: 21 June 2014
Accepted: 29 October 2014
Published: 17 November 2014
Abstract
Background
Jatropha curcas, whose seed content is approximately 30–40% oil, is an ideal feedstock for producing biodiesel and bio-jet fuels. However, Jatropha plants have a low number of female flowers, which results in low seed yield that cannot meet the needs of the biofuel industry. Thus, increasing the number of female flowers is critical for the improvement of Jatropha seed yield. Our previous findings showed that cytokinin treatment can increase the flower number and female to male ratio and also induce bisexual flowers in Jatropha. The mechanisms underlying the influence of cytokinin on Jatropha flower development and sex determination, however, have not been clarified.
Results
This study examined the transcriptional levels of genes involved in the response to cytokinin in Jatropha inflorescence meristems at different time points after cytokinin treatment by 454 sequencing, which gave rise to a total of 294.6 Mb of transcript sequences. Up-regulated and down-regulated annotated and novel genes were identified, and the expression levels of the genes of interest were confirmed by qRT-PCR. The identified transcripts include those encoding genes involved in the biosynthesis, metabolism, and signaling of cytokinin and other plant hormones, flower development and cell division, which may be related to phenotypic changes of Jatropha in response to cytokinin treatment. Our analysis indicated that Jatropha orthologs of the floral organ identity genes known as ABCE model genes, JcAP1,2, JcPI, JcAG, and JcSEP1,2,3, were all significantly repressed, with an exception of one B-function gene JcAP3 that was shown to be up-regulated by BA treatment, indicating different mechanisms to be involved in the floral organ development of unisexual flowers of Jatropha and bisexual flowers of Arabidopsis. Several cell division-related genes, including JcCycA3;2, JcCycD3;1, JcCycD3;2 and JcTSO1, were up-regulated, which may contribute to the increased flower number after cytokinin treatment.
Conclusions
This study presents the first report of global expression patterns of cytokinin-regulated transcripts in Jatropha inflorescence meristems. This report laid the foundation for further mechanistic studies on Jatropha and other non-model plants responding to cytokinin. Moreover, the identification of functional candidate genes will be useful for generating superior varieties of high-yielding transgenic Jatropha.
Keywords
Biofuel
Physic nut
Cytokinin
454 Sequencing
Flower
Cell division
Background
The ever-decreasing crude oil reserves are insufficient to satisfy the increasing demand for petroleum as a transportation and heating fuel, and petroleum consumption also pollutes the environment. Liquid biofuels from plants and microalgae may help solve these problems. Jatropha curcas (hereafter referred to as Jatropha), a perennial deciduous shrub belonging to the family Euphorbiaceae whose seed content is approximately 30–40% oil, is an ideal feedstock for producing biodiesel and bio-jet fuels [1–3]. Because the quality parameters of Jatropha biodiesel are within the European EN 14214 specification and the emission parameters of sulfur and particulate matter are 80% lower than those of mineral diesel [4], Jatropha is emerging as a potential biofuel plant.
However, currently the seed yield of Jatropha is poor and insufficient for the biodiesel industry [5, 6]. Recently, researchers reported that applying plant growth regulators to Jatropha can improve seed yield [7–9]. Our previous study found that applying benzyladenine (BA, a synthetic cytokinin) to the inflorescence meristems of Jatropha significantly increased the flower number and the female to male flower ratio, which contributed to an increase in seed yield [10]. Cytokinin is involved in plant development and growth and can be used to regulate many aspects of plant development in both practical and theoretical studies [8–16]. Endogenous levels of cytokinin content increased in Polianthes tuberosa and Litchi chinensis when they began to flower [17, 18]. In Arabidopsis, cytokinin treatment correlated with early flowering [19, 20]. Transgenic Arabidopsis plants overexpressing CYTOKININ OXIDASE (CKX), which degrades cytokinins, flowered late [21]. These studies indicated that cytokinin stimulates flowering in these plants. Additionally, cytokinin increased the flower number in Arabidopsis[13] and induced an aberrant floral phenotype including an increased number of flower organs [12, 22]. Exogenous cytokinin application and accumulation of endogenous cytokinin increased the flower number in several species [10, 13, 23–25]. In addition, the flower sex of Vitis vinifera[26, 27], Luffa cylindrical[28], Momordica charantia[29] and Pinus densiflora[30] was also affected by exogenous cytokinins.
It is not economically viable to improve Jatropha seed yield by exogenous application of BA in large scale plantation. Generating transgenic Jatropha plants with increased female and/or bisexual flower number is critical for improving seed yield. The initial step of transgenic Jatropha study is to identify functional genes. Therefore, the identification of genes involved in flower development following BA treatment and the characterization of their expression profiles are two important prerequisites. Currently, next-generation sequencing technologies make it relatively inexpensive to study the transcriptome of a particular organism or tissue to gain insight into biological processes. In Cucumis stativus, the transcriptomes of flowers of different sexes were sequenced to determine the molecular mechanisms of plant sex determination [31]. To study the genetic control of Fagopyrum floral development, the floral transcriptomes of two species that have the ability to self-pollinate, in contrast to the common Fagopyrum, were characterized [32]. The floral transcriptome was also sequenced to evaluate self-incompatibility in Ziziphus celata, a highly endangered plant [33]. Recently, transcriptome analysis was used to investigate global expression patterns of phytohormone-regulated transcripts in tomato leaves and roots [34, 35]. Therefore, transcriptome sequencing is a proven strategy for expression profiling of genes involved in various processes in plants.
Although the Jatropha genome has been sequenced by a combination of the conventional Sanger method and next-generation multiplex sequencing methods [36, 37], most of the molecular studies on Jatropha have focused on lipid metabolism in seeds. Global analysis of gene expression profiles in developing and germinating seeds were performed to assess differential gene expression and to discover genes involved in lipid metabolism [38–45]. For high-throughput discovery of novel Jatropha genes, de novo assembly and transcriptome analysis of different tissues of Jatropha were performed [46]. However, molecular studies on flower development and/or flower developmental responses to phytohormone treatment in Jatropha are scarce.
Given that BA increased flower number and the female to male ratio and induced bisexual flowers in Jatropha[10], we conducted a time course study of gene expression profiles in inflorescence meristems of Jatropha exposed to BA. One 454 sequencing run was performed that generated a total of 294.6 Mb of transcript sequences. Differentially expressed genes involved in the biosynthesis, metabolism, and signaling of cytokinin and other plant hormones, flower development and cell division, which may be related to the phenotypic changes of Jatropha in response to cytokinin treatment, were further analyzed.
We expect that characterization of the transcriptome of Jatropha inflorescence meristems treated with BA will contribute not only to genetic engineering and breeding of Jatropha but will also provide insight into the mechanism of how cytokinin affects the flower development of Jatropha and other non-model plants.
Conclusions
In this study, a time-course experiment was conducted to characterize activated and repressed genes in the inflorescence meristems of Jatropha following cytokinin treatment using transcriptome sequencing by a 454 GS FLX Titanium instrument. This approach produced 703,755 high-quality reads ranging from 100 bp to 790 bp, with an average length of 364 bp (Table 1). Up-regulated and down-regulated annotated and novel genes were identified (Figure 3, Additional file 3: Table S2), resulting in an unprecedented view of the regulatory activities of cytokinin in Jatropha inflorescence meristems.
Abundant physiological data suggest that plant hormones interact with each other to regulate various aspects of development [132–135]. In this study, the cytokinin signaling pathway was found to crosstalk with other signals, mainly through pathways converging on or through transcriptional factors or other signaling components. For example, interactions with GA can occur through induction of the negative regulators JcGID1 and JcRGL1. The expression profiles of genes involved in other hormone signaling pathways indicated that: 1) there are multiple agonistic and antagonistic effects between cytokinin and auxin; 2) cytokinin may reduce plant responsiveness to GA and ABA by repressing GA and ABA metabolism- and signaling-related genes and 3) cytokinin may act synergistically with ethylene and BR in controlling Jatropha inflorescence meristem development.
Exogenous BA treatments resulted in different phenotypic changes between
Jatropha
(Additional file
1
: Figure S1, [
10
]) and
Arabidopsis
[
22
,
115
]. And the response of ABCE model genes to CK in
Jatropha
(Figure
7
) was also different from that of
Arabidopsis
[
116
]. Our analysis also indicates the increased total flower number per inflorescence of
Jatropha
after BA treatment (Figure
1
, Additional file
1
: Figure S1) resulted from the enhanced inflorescence branching, which was demonstrated by the occurrence of the fifth order branching in BA-treated inflorescences, whereas only the fourth order branching was found in control inflorescences (Figure
9
, Additional file
4
: Table S3). Therefore the up-regulation of genes related to cell division, especially
JcCycD3
and
JcTSO1
, likely contributed to the increased flower number per inflorescence after BA treatment in
Jatropha
. BA-induced expression of
JcCycD3
and
JcTSO1
caused production of more cells in the inflorescence meristems, which leads to an increase in size of inflorescence meristems and therefore an enhanced inflorescence branching, and results in more flowers. This hypothesis is supported by a recent study showing that the elevated CK levels in the reproductive SAM of rice resulted in increased meristem activity, enhanced panicle branching, and a consequent increase of grain number [
136
]. The functions of
JcCycD3
and
JcTSO1
will be further analyzed using transgenic
Jatropha
plants.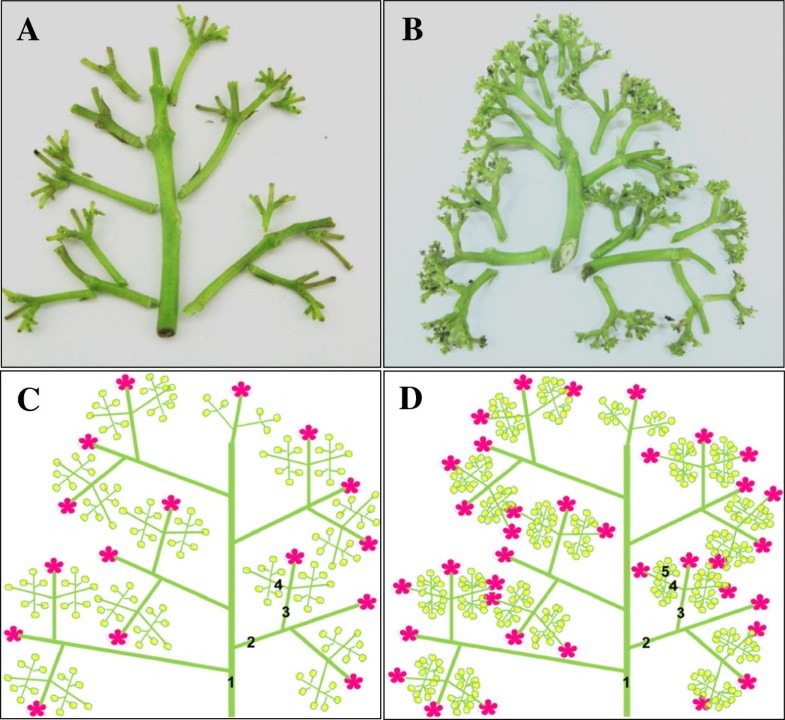 Like most of the published reports of RNA-seq data [31, 32, 137, 138], due to the high cost of 454 sequencing at the commencement of this study, only a single biological replicate was included for transcriptome analysis, which prevented proper statistical testing on identification of differential expressed genes. Nonetheless, different transcript abundance of the annotated genes in control and BA-treated inflorescences revealed by 454 sequencing in this study provide a valuable data source for selecting putative BA-regulated Jatropha genes for further verification by qRT-PCR with sufficient biological replicates. In this study, we did each qRT-PCR experiment with three biological and three technical replicates per biological replicate. Our results, as shown in Figures 4, 5, 6, 7 and 8, indicated a high correlation of expression levels between 454 sequencing data and qRT-PCR, but the congruence of statistically significant differential expression revealed by the two approaches was low. This observation is consistent with previous work showing lack of congruence between 454 sequencing and qRT-PCR results regarding genes predicted as significantly differential expression [139].
To our knowledge, this is the first report on the transcriptional regulation and identification of genes that are differentially expressed in the inflorescence meristems of Jatropha exposed to cytokinin. We have identified a set of cytokinin-regulated genes in Jatropha inflorescence meristems through expression profiling. Some of them correspond to previously identified genes in Arabidopsis, and others show different expression patterns from their Arabidopsis orthologs. Further analyses of these genes with different expression patterns are needed to elucidate their roles in the cytokinin responses of Jatropha inflorescence meristems. Although transcriptional analysis is only an initial step and does not identify functional relevance as it may or may not relate to changes in the level and/or activity of the corresponding proteins, the potential cytokinin-responsive transcripts identified in this study will provide a good starting point for investigations into the molecular mechanisms of Jatropha responses to cytokinin.
Declarations
Acknowledgments
We thank Dr. Changning Liu for helping in sequence data submission. This work was supported by funding from the Top Science and Technology Talents Scheme of Yunnan Province (2009CI123), the Natural Science Foundation of Yunnan Province (2011FA034), the National Natural Science Foundation of China (31370595) and the CAS 135 program (XTBG-T02) awarded to Z.-F. Xu. The authors gratefully acknowledge the Central Laboratory of the Xishuangbanna Tropical Botanical Garden for providing research facilities.
Authors' Affiliations
(1)
Key Laboratory of Tropical Plant Resources and Sustainable Use, Xishuangbanna Tropical Botanical Garden, Chinese Academy of Sciences, Yunnan, People's Republic of China
(2)
School of Life Sciences, University of Science and Technology of China, Hefei, People's Republic of China
Copyright
© Pan et al.; licensee BioMed Central Ltd. 2014
This article is published under license to BioMed Central Ltd. This is an Open Access article distributed under the terms of the Creative Commons Attribution License (http://creativecommons.org/licenses/by/4.0), which permits unrestricted use, distribution, and reproduction in any medium, provided the original work is properly credited. The Creative Commons Public Domain Dedication waiver (http://creativecommons.org/publicdomain/zero/1.0/) applies to the data made available in this article, unless otherwise stated.