Research article

Open Access
Genome sequencing of Sporisorium scitamineum provides insights into the pathogenic mechanisms of sugarcane smut
Received: 10 May 2014
Accepted: 4 November 2014
Published: 19 November 2014
The Erratum to this article has been published in BMC Genomics 2015 16:244
Abstract
Background
Sugarcane smut can cause losses in cane yield and sugar content that range from 30% to total crop failure. Losses tend to increase with the passage of years. Sporisorium scitamineum is the fungus that causes sugarcane smut. This fungus has the potential to infect all sugarcane species unless a species is resistant to biotrophic fungal pathogens. However, it remains unclear how the fungus breaks through the cell walls of sugarcane and causes the formation of black or gray whip-like structures on the sugarcane plants.
Results
Here, we report the first high-quality genome sequence of S. scitamineum assembled de novo with a contig N50 of 41 kb, a scaffold N50 of 884 kb and genome size 19.8 Mb, containing an estimated 6,636 genes. This phytopathogen can utilize a wide range of carbon and nitrogen sources. A reduced set of genes encoding plant cell wall hydrolytic enzymes leads to its biotrophic lifestyle, in which damage to the host should be minimized. As a bipolar mating fungus, a and b loci are linked and the mating-type locus segregates as a single locus. The S. scitamineum genome has only 6 G protein-coupled receptors (GPCRs) grouped into five classes, which are responsible for transducing extracellular signals into intracellular responses, however, the genome is without any PTH11-like GPCR. There are 192 virulence associated genes in the genome of S. scitamineum, among which 31 expressed in all the stages, which mainly encode for energy metabolism and redox of short-chain compound related enzymes. Sixty-eight candidates for secreted effector proteins (CSEPs) were found in the genome of S. scitamineum, and 32 of them expressed in the different stages of sugarcane infection, which are probably involved in infection and/or triggering defense responses. There are two non-ribosomal peptide synthetase (NRPS) gene clusters that are involved in the generation of ferrichrome and ferrichrome A, while the terpenes gene cluster is composed of three unknown function genes and seven biosynthesis related genes.
Conclusions
As a destructive pathogen to sugar industry, the S. scitamineum genome will facilitate future research on the genomic basis and the pathogenic mechanisms of sugarcane smut.
Keywords
Sporisorium scitamineum, Sugarcane smut
Pathogenic mechanisms, G-protein coupled receptors, Carbohydrate degrading enzymes, Biotrophic properties, Candidates for secreted effector proteins, Secondary metabolic pathways
Background
Sugarcane belongs to the Saccharum genus of the Poaceae family (also called Gramineae or true grasses), an economically important seed plant family that includes maize, wheat, rice, sorghum, and many other forage crops. Sugarcane is the world's largest crop. In 2012, the Food and Agriculture Organization estimates that it was cultivated in 101 countries, on approximately 26.1 million hectares, and with a worldwide harvest of 1.83 billion tons. The 10-year trend for sugarcane production has been upward. Sugarcane is not only a cash crop, but it can also be used as livestock fodder. The main product of sugarcane is sucrose, which accounts for 80% of all sugar produced in the world and 92% of that in China. It is also used as raw material in human food industries (molasses, rum, bagasse etc.) and is fermented to produce sugarcane ethanol. Sugarcane ethanol represents 40% of the world's total ethanol fuel.
The increasing world demand for sugar and sugarcane ethanol keeps driving the development of sugarcane agriculture. The average yield of cane stalk is 60-70 tons per hectare per year. However, this figure can vary between 30 and 180 tons per hectare depending on knowledge and crop management approaches. During the production period, a sugarcane crop is sensitive to several biotic and abiotic factors, including 'sugarcane smut' which is a disease caused by the fungus Sporisorium scitamineum. Sugarcane smut has been an increasing large problem in almost all countries where sugarcane is grown. It was first reported in 1877 in the Natal region of South Africa [1]. Sugarcane smut can cause substantial losses in cane yield and sugar content in susceptible varieties. Losses can range from 30% to total crop failure, and the disease even leads to variety elimination due to susceptibility to this fungus [2].
The smuts are multicellular fungi-in spite of the unicellular yeast phase, which are characterized by their large numbers of dark, thick-walled and dust-like teliospores. Ustilago, Sporisorium and Macalpinomyces are the three genera of smut fungi (subphylum Ustilaginomycotina). These three genera are comprised of approximately 530 described species that all infect grasses [3]. Compared to the ambiguous position of Macalpinomyces, previous studies have demonstrated that Ustilago and Sporisorium together form a monophyletic group with the Ustilaginomycotina [4, 5]. The close relationship between Ustilago and Sporisorium can also be evidenced by the misclassification of S. scitamineum as U. scitaminea. Generally, Ustilago infects all aerial parts of the plant and rapidly forms galls or tumors filled with spores. In contrast, Sporisorium infects young seedlings, remains asymptomatic, and grows systemically until the emergence of mass of sooty spores.
S. scitamineum,
previously known as
U. scitaminea,
is a basidiomycete and the causal agent of the sugarcane smut disease. It is among the most important phytopathogenic fungi in sugarcane and has significant impact on sugarcane production. This pathogen results in thin stalks, stunted plant growth, and an outgrowth of fungus of the stalk on the cane known as culmicolous [
2
] (Figure
1
). The infected plants have increased tillering that results in more slender and much weaker leaves. The most recognizable characteristic of this disease is a black or gray outgrowth of a whip-like structure that is referred to as a "smut whip" [
1
] (Figure
1
). These structures emerge from the terminal bud or from the lateral shoots of infected stalks and are composed of both plant and fungal tissues (Figure
1
). Within these whip-like structures are millions of teliospores that are responsible for the quick dissemination of the disease. Teliospores germinate and undergo meiosis to form four haploid basidiospores. However, haploid cells are not infective and only the dikaryotic hyphae formed by fusion of compatible sporidia can infect the host. It is assumed that developing varieties of sugarcane resistant to sugarcane smut is the only economical method for control of this disease and the best course of action for management. During the selection process of sugarcane breeding, breeders have to abandon the development of a cross combination once smut disease appears in any of the progeny.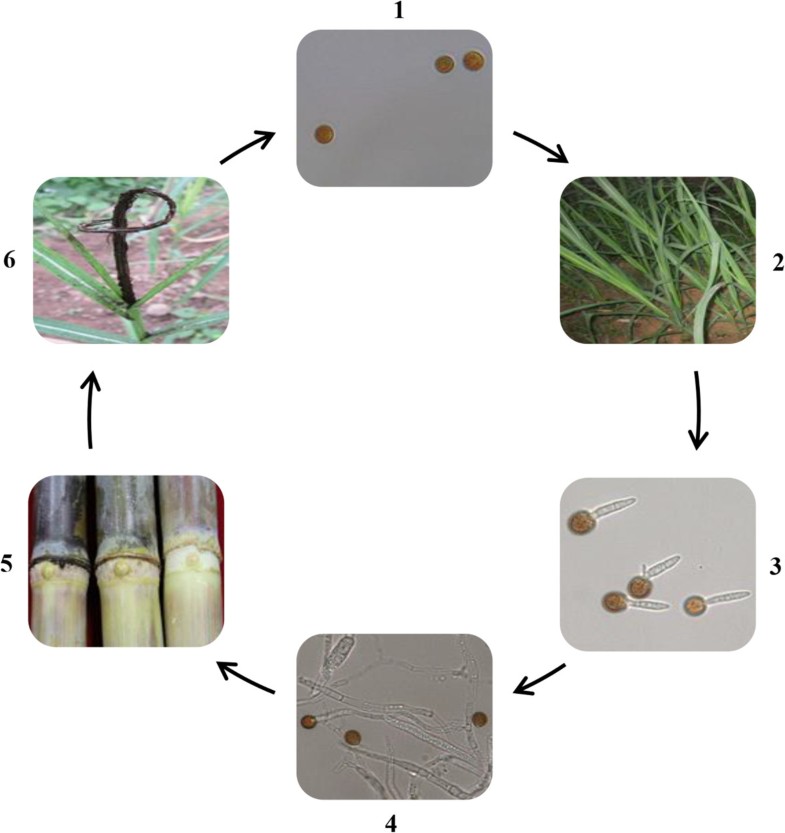 Despite the high worldwide losses in cane yield and sucrose caused by S. scitamineum, a limited amount of information is available about its genome structure and pathogenic mechanisms. A better understanding of the mechanisms of smut fungus-sugarcane interactions is necessary for the development and deployment of more effective and durable resistant cultivars. However, sugarcane smut fungi are biotrophic pathogens that cannot be cultured on artificial media. Most of their life stages, including urediniospores that are commonly used for aetiological and evolutionary biology studies, are dikaryotic. Therefore, it is extremely difficult to conduct molecular studies and functional characterizations of genes in sugarcane smut fungus. Besides its biological features, the genome is especially interesting because this is the first fungus important to the sugarcane industry to be completely sequenced. The insights from the three sequenced genomes of the biotrophic fungal plant pathogens, Ustilago maydis [6] and Sporisorium reilianum [7] in maize and Ustilago hordei [8] in barley, have highlighted the power of comparative genomics of closely related species for identification of virulence determinants and will no doubt facilitate the elucidation of the pathogenic mechanisms of sugarcane smut.
In the present study, we investigate the pathogenic mechanisms of sugarcane smut by sequencing, assembling, and annotating the genome of the smut fungus S. scitamineum. A comparative genomics study with the three related fungi U. maydis, S. reilianum and U. hordei was also conducted. This is the first high-quality genome sequence of S. scitamineum and is also the first reported genome of sugarcane fungi. This study may serve as a model for studying the pathogenic mechanisms in sugarcane, and this study provides knowledge for improving the sugar yield in sugarcane agriculture.
Conclusions
Although sugarcane smut was first reported in 1877, little is known about its pathogenic mechanisms. The S. scitamineum genome sequence and our comparative analysis with the genome sequences of U. maydis, S. reilianum and U. hordei have shed new light on the pathogenic mechanisms of this fungus and have provided insights into aspects of genome evolution, biotrophy features, carbohydrate degrading enzymes and secondary metabolic pathways likely to be common to all smut fungi. These results represent the initial step in realizing the full potential of these genomes. As a result of the genome analysis, efforts are underway to validate the function of all these potential pathogenicity determinants, especially the virulence associated genes. However, the genome sequence of S. scitamineum provides only a first glimpse into the genomic basis of pathogenic mechanisms of sugarcane smut. These efforts and ongoing sequencing projects for additional sugarcane fungi will provide extraordinary opportunities for comparative analyses that will expand our understanding of the interaction between sugarcane and fungi in this agriculturally and industrially important crop. Further sequencing of S. scitamineum isolates from different geographical locations or different host varieties will lead to comprehensive population genetic analysis.
Methods
Ethics statement
No specific permissions are required for these locations/activities. The field studies do not involve endangered or protected species and are conducted in accordance with local legislation.
Strain, growth condition, and genomic DNA and RNA isolation
Smut infected whips were collected from sugarcane cultivar "ROC"22 maintained at the Key Laboratory of Sugarcane Biology and Genetic Breeding, Ministry of Agriculture (Fuzhou, China). Teliospores were mixed, sealed in plastic bags and then stored at 4°C. These samples were subjected to gradient dilution with sterile water and then plated onto potato dextrose agar (PDA) medium which contained 100 μg/mL streptomycin (Sangon Biological Engineering Technology & Services Co., Ltd, Shanghai, China). Plates were incubated in the dark at 28°C for 5 d. Single colonies were transferred onto the new PDA medium and cultured at 28°C for 7 d. A single colony named SmutA (haploid) was transferred into potato dextrose water (PDW) medium with 100 μg/mL streptomycin and incubated at 28°C, 200 rpm for 5 d. DNA from fungal hyphae was extracted using the SDS method and eluted with sterile water containing 100 μg/mL RNase A. The DNA sample was quantified by the NanoVue Plus Spectrophotometer (GE Healthcare, NJ, USA) using the absorbance at 260 nm and 280 nm. The DNA was submitted to genome sequencing at BGI-Shenzhen (Shenzhen, China). For fungal elicitor preparation, the SmutA was also transferred into potato dextrose water (PDW) medium with 100 μg/mL streptomycin and incubated at 28°C, 200 rpm for 15 d.
A smut spore suspension containing 5 × 106 spores/mL in 0.01% (v/v) Tween-20 was needle-inoculated on to buds of sugarcane cultivar "ROC"22 to create the treatment group. All the inoculated buds were then cultured in an incubator at 28°C ±0.5°C in the condition of 12 h light/12 h dark. Five phenotypically normal buds were then collected at each of the time points of 0, 12, 24, 48, 96 and 120 h. Samples were immediately frozen in liquid nitrogen and stored at –80°C. Total RNA of these inoculated buds was isolated using the TRIzol® reagent according to the manufacturer's instructions (Life Technologies Co. Ltd., CA, USA). Dried RNA samples were dissolved in diethylpyrocarbonate-treated water. RNA quality was assessed on 1.0% denaturing agarose gels, and the quantity was verified using the NanoVue Plus Spectrophotometer (GE Healthcare, NJ, USA) and the Agilent 2100 Bioanalyzer (Agilent Technologies Co. Ltd., CA, USA). The total RNA of "ROC"22 after pathogen inoculation for 0, 12, 24, 48, 96 and 120 h were subjected to an analysis of expression pattern of each gene by Real-time quantitative PCR (RT-qPCR).
Genome sequencing and assembly
From the genomic DNA of S. scitamineum, 170 bp and 500 bp PCR-free as well as 6 kb and 10 kb DNA sequencing libraries were constructed. A total of 6,316 Mb was generated by the IlluminaHiseq™ 2000 at BGI-Shenzhen (Shenzhen, China). To ensure the accuracy of assembly, reads with 20 low-quality (≤Q2) bases, 5.5% Ns, or 15 bp overlap between adapter and duplications were filtered. The short reads from the four libraries were assembled by SOAPdenovo 1.04 [36] with optimal assembly acquired with the key parameter K = 55.
Comparative genome analysis
Gene clustering was conducted with OrthoMCL [37] by setting the main inflation value as 1.5 and other parameters at default setting. Gene clustering was done for four smut fungi including S. scitamineum, U. maydis, U. hordei and S. reilianum for gene family analysis. After clustering, we generated multiple alignments of protein sequences for each gene family using MUSCLE [34] and converted the protein alignments to CDS alignments.
The single-copy core genes of those four fungi and the outgroup species (Aspergillus nidulans) were identified using OrthoMCL [37]. After the core-gene identification, we constructed the multiple alignments with MUSCLE [38]. The subprogram phyml of TreeBeST (http://treesoft.sourceforge.net/treebest.shtml) was used to construct a phylogenetic tree with default parameters and 1,000 bootstrap samples.
Gene prediction and annotation
To predict genes in the assembled genome, both homology-based and de novo methods were used. For the homology-based prediction, proteins of U. maydis strain 521 were mapped onto the assembled genome using Genewise [39]. For de novo prediction, Augustus software program [40] was employed using appropriate parameters. Data from these complementary analyses were merged to produce a non-redundant reference gene set using GLEAN (http://glean-gene.sourceforge.net/).
Repeat sequences were identified by Repeat Masker version 3.3.0 with Repbase version 18.05, and the following parameters: -–nolow –no_is –norna -s –engine wublast –parallel 1 –lib lib; Repeat Protein Mask was also used with parameters: -noLowSimple, -pvalue = 1e-4 [41]. Non-coding RNA was predicted by rRNAmmer 1.2, tRNAscan-SE 1.23, and Rfam 10.1.
The protein-encoding genes were annotated through BLASTp searches in the SwissProt (2012-06), GO (release: 1.419), COG (release: 20090331), KEGG (release: 59), and NR (2013-09-04) databases, at the threshold of e-value ≤ 1 × e-5. The best hit was filtered using a 50% identity cut-off value.
To identify proteins involved in carbohydrate metabolism, we used the Carbohydrate Active Enzymes (CAZy) database (http://www.cazy.org/). Pathogenicity and virulence associated genes were identified using the PHI-base database (http://www.phibase.org/). The PHI-base database catalogs experimentally verified pathogenicity, virulence, and effector genes from fungal, oomycete, and bacterial pathogens which infect animal, plant, fungal and insect hosts. Putative secondary metabolites (PKS and NRPS) were identified by using antiSMASH [42]. Cytochrome P450s were identified by the Cytochrome P450 Database (http://drnelson.uthsc.edu/CytochromeP450.html).
Effector protein
The secreted proteins (effectors) of S. scitamineum were analyzed using several prediction algorithms. TargetP 1.1 (http://www.cbs.dtu.dk/services/TargetP/) was used to predict the cleavage sites of the predicted presequences with the "Perform cleavage site predictions" option. SignalP 4.0 (http://www.cbs.dtu.dk/services/SignalP-4.0/) was used to perform signal peptide cleavage site prediction. Transmembrane helices in the proteins were predicted using TMHMM 2.0 (http://www.cbs.dtu.dk/services/TMHMM-2.0/). The proteins that contained signal peptide cleavage sites and no transmembrane helices were selected as effectors. The proteins with lengths less than 200 amino acids or Cysteine content less than 1.5% were removed and the candidate effectors were obtained. CSEP clustering was conducted with OrthoMCL [37] by setting the main inflation value at 1.5 and other parameters at default values. GPCRs sequences were evaluated for seven transmembrane regions by Phobius [43] and TMHMM 2.0 with default settings.
Fungal elicitor preparation and GC-MS detection
The fungal elicitor includes two parts, that from supernatant (cell-free extracts) and the part from precipitation. For the elicitor preparation from cell-free extracts, 100 ml of the 15 d culturing liquid medium containing SmutA was filtered with four pieces of gauze, centrifuged at 3,000 rpm for 20 min, filtered with a 0.22 μm filter (Merck-Millipore, Tullagreen, Carrigtwohill, Co. Cork, IRL), and kept at 4°C until use [44]. For the elicitor preparation from the precipitation, 100 ml of the 15 d culturing liquid medium containing SmutA was centrifuged at 5,000 g for 10 min. Mycelia were then harvested, washed in distilled water, dried with filter paper, weighted, and then ground to a fine powder in liquid nitrogen. The powder was suspended with 25 ml of 10 mM Tris-HCl (pH 8.8). Following 5,000 g centrifugation for 10 min at 4°C, 20 ml of 80% (v/v) methanol was used to suspend the pellet, and the mixture was shaken for 4 h at 38°C. After a further centrifugation at 5,000 g for 20 min at 4°C, the pellet from the mixture was suspended once with 5 ml methanol and dried under nitrogen air flow. The dried pellet was washed with 10 ml of 10 mM phosphate buffer (pH 6.8) again, re-suspended with 25 ml of the same buffer and the mixture was autoclaved for 20 min at 120°C. Finally, the mixture was centrifuged at 10,000 g for 20 min at 4°C and the clear supernatant was collected and kept at 4°C until use [45].
For detection analysis, the cell-free extracts and the extracts from the precipitation were dried at -80°C with a freeze vacuum drier and then dissolved with 10 ml HPLC/spectro-methanol. These samples were analyzed by a GC-MS analyzer (Agilent 7890A-5975C). The column was a DB-5ms elastic quartz capillary column (30 m × 250 μm × 0.25 μm). The carrier gas was helium at a flow rate of 1 ml/min and the injection volume was 1μl. The column temperature program was 50°C for 2 min, which ramped from 50°C to 250°C at 6°C /min, and held at 250°C for 150 min. In the mass spectroscopy, the ion source temperature was 230°C, and the ionization mode was EI (70 eV). The constituents were identified and compared with the NIST08 standard MS database.
Carbon and nitrogen source utilization
For determining the growth profiles on different carbon and nitrogen substrate, we modified the Czapek for use as basal medium by supplementing 3.0% agar with 0.2% NaNO3, 0.1% KH2PO4, 0.05% MgSO4•7H2O, 0.05% KCl, 0.01% FeSO4•7H2O and 3.0% sucrose [46]. The original pH was adjusted to 6.5 unless otherwise indicated. All the chemicals or reagents were purchased from China National Medicines Corporation Ltd. (Shanghai, China). All the chemicals used in the present study were AR grade or equivalent in purity. Millipore water was used for preparation of all media. For strain growth, fungus cake with Φ = 5 mm was inoculated onto the medium flat plate and the culture was incubated at 28°C in a thermostat incubator for seven days, and then photographed. PDA was set as the internal control medium. Three replicates were conducted.
In carbon utilization experiments, the basal medium was supplemented with 90 mM of the carbon source that had equivalent carbon content to that of sucrose. Eight types of carbon substrates, including glucose, maltose, fructose, lactose, soluble starch, D-mannitol, D-mannose, and D-galactose were added separately at a final concentration of 5.0 mg/mL. In nitrogen utilization studies, the basal medium was adjusted with 24 mM of the nitrogen source that had equivalent nitrogen content to that of sodium nitrate. Twenty-two kinds of nitrogen substrate, including ammonium sulphate, ammonium acetate, leucine, tryptophan, isoleucine, threonine, cysteine, phenylalanine, histidine, aspartate, asparagine, glutamine, arginine, glutamate, glycine, lysine, serine, valine, alanine, proline, tyrosine, and ethionine were added separately in the medium at a final concentration of 10.0 μM.
Gene expression
The method of RT-qPCR followed the instructions of the SYBR Green Master (ROX) (Roche, China) on a 7500 Real-time PCR system (Applied Biosystems, USA). The GAPDH gene (Forward primer: CACGGCCACTGGAAGCA; Reverse primer: TCCTCAGGGTTCCTGATGCC) was chosen as the internal control of the RT-qPCR. According to the sequence of each target gene of SmutA, a pair of specific primers was designed using the Primer Premier 5.0 software [47]. RT-qPCR was carried out with the FastStart Universal SYBR Green Master (ROX) in a 20 μL volume containing 10.0 μL FastStart Universal SYBR Green PCR Master (ROX), 0.5 μM of each primer, and a 1.0 μL template (5 × diluted cDNA). RT-qPCR with distilled water as the template was performed as a negative control. The RT-qPCR reaction conditions were held at 50°C for 2 min, 95°C for 10 min, 40 cycles of 95°C for 15 s, and 60°C for 1 min [47]. When the reaction was complete, the melting curve was analyzed. Each RT-qPCR was repeated three times. The 2-△△Ct method was adopted to analyze the RT-qPCR results [47, 48]. The primer information of candidate virulent factors is listed in the Additional file 1: Table S10.
Data access
All data contributing to this genome initiative has been deposited at the NCBI under BioProject PRJNA240344; the genome accession number is [JFOL00000000]. The genome version described in this paper is the first version and the accession number is [JFOL01000000].
Declarations
Acknowledgements
This work was funded by the National Natural Science Foundation of China (31101196 and 31340060), the Program for New Century Excellent Talents in Fujian Province University (JA14095), the earmarked fund from the Modern Agriculture Technology of China (CARS-20) and Research Funds for Distinguished Young Scientists in Fujian Provincial Department of Education (JA13090). We appreciate all ideas and constructive criticism from the reviewers.
Authors' Affiliations
(1)
Key Laboratory of Sugarcane Biology and Genetic Breeding, Ministry of Agriculture, Fujian Agriculture and Forestry University, Fuzhou, China
(2)
BGI-Shenzhen, Yantian District, Shenzhen, China
(3)
College of Life Science, Fujian Agriculture and Forestry University, Fuzhou, China
Copyright
© Que et al.; licensee BioMed Central Ltd. 2014
This article is published under license to BioMed Central Ltd. This is an Open Access article distributed under the terms of the Creative Commons Attribution License (http://creativecommons.org/licenses/by/4.0), which permits unrestricted use, distribution, and reproduction in any medium, provided the original work is properly credited. The Creative Commons Public Domain Dedication waiver (http://creativecommons.org/publicdomain/zero/1.0/) applies to the data made available in this article, unless otherwise stated.