Chromatin Interaction Analysis with Paired-End Tag (ChIA-PET) sequencing technology and application
BMC Genomics
2014
15(Suppl 12):S11
Published: 19 December 2014
Abstract
Background
Long-range chromatin interactions play an important role in transcription regulation. Chromatin Interaction Analysis with Paired-End-Tag sequencing (ChIA-PET) is an emerging technology that has unique advantages in chromatin interaction analysis, and thus provides insight into the study of transcription regulation.
Results
This article introduces the experimental protocol and data analysis process of ChIA-PET, as well as discusses some applications using this technology. It also unveils the direction of future studies based on this technology.
Conclusions
Overall we show that ChIA-PET is the cornerstone to explore the three-dimensional (3D) chromatin structure, and certainly will lead the forthcoming wave of 3D genomics studies.
Keywords
Transcription RegulationChromatin InteractionLuciferase Reporter Gene AssayDistal Regulatory ElementNonlinear Optimization Model
Background
Transcription regulation is a complex yet well-organized process in eukaryotes, in which chromatin interactions play a critical role and thus serve to regulate gene expression as well as further influence other cellular activities. Many technologies have been developed to study the binding of transcription factors (TF) for transcription regulation, such as chromatin immunoprecipitation (ChIP) microarray (ChIP-chip) [
1
], ChIP-PET [
2
] and ChIP-Seq [
3
], but they are unable to determine the target genes of the distal TF binding sites. Another challenge is to define whether such distal binding sites are functional, i.e. physically proximal to target gene promoters via chromosome loops or attracting RNA polymerase II complex for gene transcription. Therefore, identification of genome-wide distal chromatin interactions that lead the regulatory elements to their target genes may provide novel insights into the study of transcription regulation. Chromosome conformation capture (3C) [
4
] and its derivatives, 4C [
5
,
6
] and 5C [
7
] can reveal long-range chromatin interactions involved in transcription regulation, but these techniques are limited either because they are low-throughout, such as 3C, or they can't map interacting regions with high resolution in the whole genome [
8
] (Figure
1
). In this case, it is desired to have a method capable of analyzing chromatin interactions on genome level with high throughput and high resolution.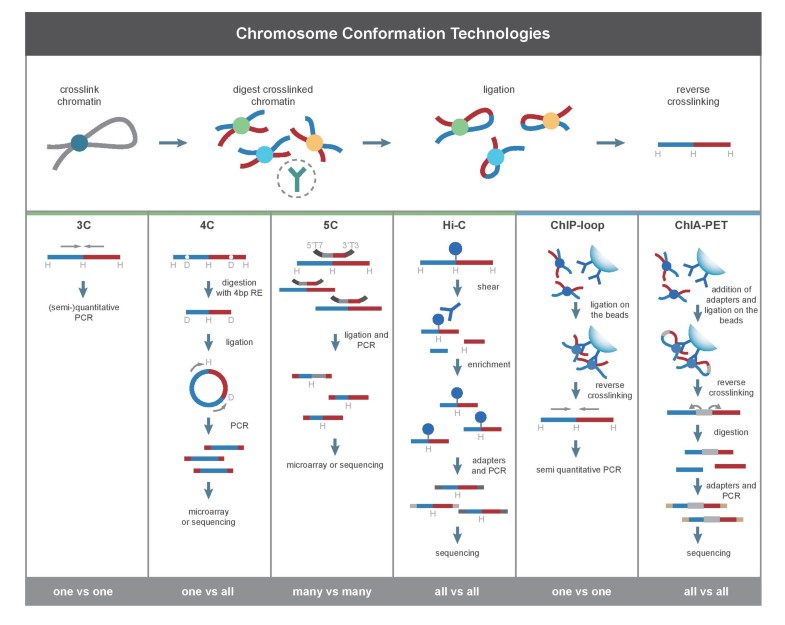 Chromatin Interaction Analysis with Paired-End-Tag sequencing (ChIA-PET) method [9] fits these demands. It is an unbiased, genome-wide, high-throughput and de novo method. Compared with Hi-C [10], another emerging method for chromatin interactions at a global scale, ChIA-PET is better at its higher resolution associated with a protein of interest for functional study, and lays a solid foundation for studying long-range chromatin interactions in a three-dimensional (3D) manner, as well as provides a more reliable way to determine TF binding sites and identify chromatin interactions.
Till now, ChIA-PET has been successfully applied to human MCF7 cells [9], human cancer cells [11], human T cells [12], mouse embryonic stem cells [13–15], mouse neural progenitor cells [15], and mouse B cells [16], and other cells [17–19], referring to Additional file 1 Table 1 for the available list of ChIA-PET applications by our best knowledge. Li et al. [11] has identified three kinds of interactions, named enhancer-promoter, enhancer-enhancer and promoter-promoter interactions, and demonstrated that over 40% of enhancers don't regulate their nearest promoters. Sandhu et al. [20] has proposed the concept of "chromatin interaction networks", showing the phenomenon that human genome converges to a scale-free and hierarchical network, through which functions are enriched in the so-called "chromatin communities". This work unveiled the chromatin interactions in high order architectures; these architectures may act as transition from linear map to 3D/4D genome studies. Several protein associated interactions like ER-α, RNA polymerase II (RNAPII), CTCF and SMCIA have been studied to investigate how remote regulators interact with their target promoters.
In this paper, we will introduce the experimental protocol and data analysis procedure of ChIA-PET technology in comparison with other genome methods for chromosome conformation studies, and discuss the applications of ChIA-PET technology on different proteins and human/ mouse cells.
Experimental process
Compared with other 3C-derived technologies, ChIA-PET protocol is a complex process. It can be summarized into three parts: wet-lab experiments (Figure
2
), data analysis (dry-lab experiments, Figure
3
) and experimental verification.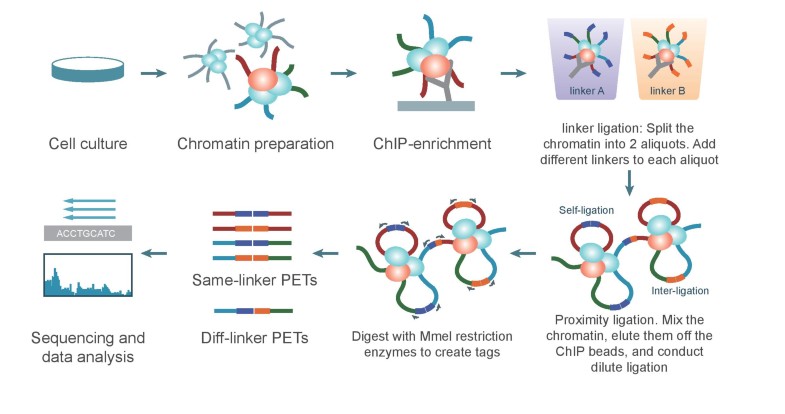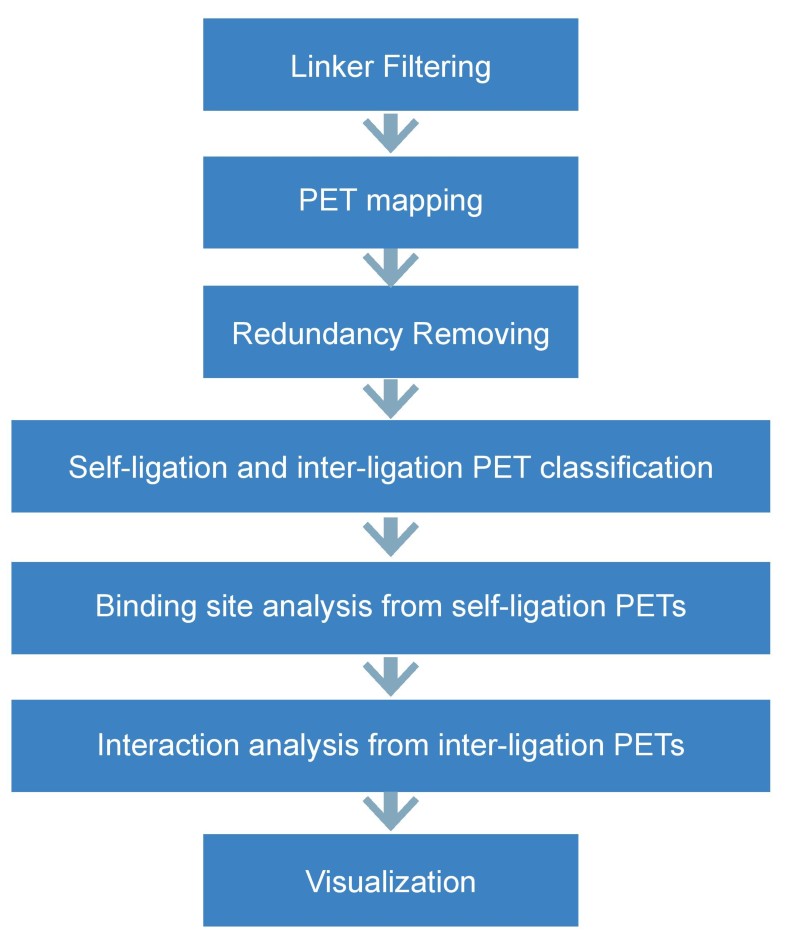 First, the ChIA-PET wet lab complies with the ChIP experiment [21]. Like ChIP-Seq experiment, formaldehyde is used to crosslink DNA-protein complexes in the nucleus and followed by breaking the complexes into fragments with sonication. Then, ChIP is used to enrich DNA fragments bound by a protein of interest. Next, DNA fragments in ChIP-enriched chromatin complexes are ligated with two different half-linker oligonucleotides in two aliquots. Then, the two aliquots are mixed and proximal half-linkers would be ligated with each other. After reverse crosslinking, the proteins in the complexes are digested and the DNA fragments are extracted. After digestion with restriction enzyme MmeI, DNA fragments form paired-end tags (PETs) constructs, in "tag-linker-tag" order. Eventually, the PETs are taken to sequencing with new-generation sequencing facilities, like Illumina Hi-Seq2500. The sequence reads are aligned to the reference genome and further analyses are performed to reveal long-range interactions between functional elements. During the whole experiments, the quality of DNA that is enriched by ChIP is the critical part. And the essence of ChIA-PET is the linker's design. The linkers not only have MmeI restriction site that could cut 20 bp outward, but also have barcodes to estimate the noise caused by random ligation.
The results of pair-end sequencing are stored in two fastq files, which can be processed with ChIA-PET Tool [22] or other methods [23]. Generally, there are seven steps in ChIA-PET data processing (Figure 3): 1) linker filtering, 2) PET mapping, 3) redundancy removing, 4) self-ligation and inter-ligation PET classification, 5) binding site analysis with self-ligation PETs, 6) chromatin interaction analysis with inter-ligation PETs, and 7) visualization of the chromatin interaction data. In the first step, linkers will be aligned to the reference half-linker nucleotide sequences. There are two kinds of half-linkers, named as A and B, which have the same nucleotides, except the barcodes. Therefore, PETs are classified into two categories based on the linker compositions: same linkers (AA or BB) and different linkers (AB or BA). Then linkers are excluded from the raw reads and the remaining DNA fragments are kept for further analysis. After linker filtering, the short DNA sequences are aligned to reference genome using BWA [24], Bowtie [25], BatMis [26], or other mapping tools. With SAMtools [27] and BEDtools [28], the redundant and low quality mapping sequences are filtered out. Next, PETs can be divided into self-ligation PETs and inter-ligation PETs. Self-ligation PETs refer to the reads from individual DNA fragments looping through their both ends and are mapped to genome within a short distance on the same chromosome. Inter-ligation PETs refer to the reads from different DNA fragments, and are generally with both tags mapped in different chromosomes or in long distance in the same chromosome. While self-ligation PETs are used to figure out protein binding sites on the genome, inter-ligation PETs can predict the chromatin interactions by clustering. Then we also have to make sure the interaction clusters between two anchors really exist or just occur by chance. Li et al. [22] used Fisher's exact test based on hypergeometric distribution to quantify the interaction frequency. Recently, Paulsen et al. [23] proposed a new statistical model based upon non-central hypergeometric distribution, which takes genome distance-dependent relationships into account for p-value estimation. Finally, ChIA-PET browser can be built to report data and visualize binding sites as well as interaction clusters.
The interactions obtained by data processing require validation with wet-lab experiment. The interactions between DNA elements in short genomic distance can be validated through 3C experiment. As for DNA fragments in long-range interactions (two anchors located in different chromosomes or in the same chromosome with more than 1 million base pair away), we could use microscope technique like DNA Fluorescence in situ hybridization (DNA-FISH) [29] to directly observe the location of interaction anchors and relative spatial distance in the nucleus.
Applications of ChIA-PET technology
Discussion and perspectives
ChIA-PET has been successfully applied for transcription regulation analysis in a number of studies and different chromatin interaction models have been identified. Still, there are spaces to improve the ChIA-PET protocol and analysis pipeline - to make the protocol more concise and easy to conduct, and the data analysis process more automatic and customizable.
As for the method development, the followings are several aspects to be considered.
1)

Reduce the number of cells required for ChIA-PET experiments. Currently, tens of millions of cells are required in the ChIA-PET experiments. This is fine for many man-made cell lines, which could be cultured in the laboratory for more cells. However, in many real applications, like tissues from patients, there are only limited numbers of cells. To make ChIA-PET applicable to such real situations, we need to reduce the number of cells required in the experiment.

2)

Make the DNA fragments longer. In the current ChIA-PET protocol, restriction enzyme MmeI is used to digest the ligated DNAs to prepare the DNA constructs, and only 20 nucleotides from the DNA fragments are kept for further analysis, which is quite short, especially for the genome with high repetitive sequence. We need to make the DNA fragment longer for more specific mapping of the reads to the reference genome.

3)

Improve the comprehensiveness of the current pipeline for ChIA-PET data processing. Currently, the ChIA-PET Tool can perform the fundamental process of the ChIA-PET data. Methods for more comprehensive analysis of ChIA-PET data are not publically available. This hinders the application of ChIA-PET.

4)

3D genome structure reconstruction. At present, interaction data generated by ChIA-PET and Hi-C are mainly exhibited through 2D graphs, which is far away from 3D visualization. We need to reconstruct the 3D structure of the genome inside the nucleus to demonstrate the chromatin interactions in the real spatial manner[38].

5)

Large-scale validation of chromatin interactions and verification of their functions. Resolution of DNA-FISH needs to be enhanced to get more precise result. Observation of exquisite structure of the whole genome is still a long-term task, considering cell is in a dynamic state. Tens of thousands of chromatin interactions have already been reported by ChIA-PET, but only tens to hundreds have been validated with DNA-FISH and much more needs to be done. In addition, the functions of such interactions need to be examined one by one, with different technologies. The recent progress in genome editing technology CRISPR/Cas9 makes it a promising choice for such a task.

6)

The field of transcription regulation focuses on the exploration of relationships between DNA, RNA and protein separately. We need new methods to demonstrate how these factors work together to regulate gene transcription, not just with partial information.
In addition to ChIA-PET method development, Hi-C method and applications have shown some interesting progress. Gavrilov et al. [39] discussed variability of chromosome contacts between individual cells and suggested in-gel selection of contacting genome fragments. Thévenin et al. [40] show using Hi-C contact map that chromosomal segments close in the 3D space of the nucleus tend to contain genes - members of the same functional group. It is expected that the combination of low-resolution structure from Hi-C and high-resolution structure from ChIA-PET will inspire more insights about chromatin structures and their functions in biology.
In the near future, we hope the development of the new technologies will fulfill all the mentioned considerations and lead to novel insights about the mechanism for gene transcription regulation.
Funding
GL was supported by the Fundamental Research Funds for the Central Universities [2662014PY001]. KEV and NAK were supported by the RSF grant 14-24-00123.
Abbreviations
ChIP-PET:

Chromatin ImmunoPrecipitation - Paired-End Tag
ChIA-Seq:

Chromatin ImmunoPrecipitation with sequencing
ChIA-PET:

Chromatin Interaction Analysis with Paired-End Tag sequencing
RNAPII:

RNA Polymerase II.
Declarations
Acknowledgements
We thank to anonymous reviewers for critical remarks, A. Spitsina for technical assistance and Mr. Jianxin Li for the graphical assistance.
Declarations
Publication of this article has been funded by the Russian Science Foundation (RSF 14-24-00123).
This article has been published as part of BMC Genomics Volume 15 Supplement 12, 2014: Selected articles from the IX International Conference on the Bioinformatics of Genome Regulation and Structure\Systems Biology (BGRS\SB-2014): Genomics. The full contents of the supplement are available online at http://www.biomedcentral.com/bmcgenomics/supplements/15/S12.
Authors' Affiliations
(1)
National Key Laboratory of Crop Genetic Improvement, College of Informatics, Huazhong Agricultural University, Wuhan, China
(2)
Institute of Cytology and Genetics SB RAS, Novosibirsk, Russia
(3)
Novosibirsk State University, Novosibirsk, Russia
(4)
The Jackson Laboratory for Genomic Medicine, Farmington, USA
Copyright
© Li et al.; licensee BioMed Central Ltd. 2014
This article is published under license to BioMed Central Ltd. This is an Open Access article distributed under the terms of the Creative Commons Attribution License (http://creativecommons.org/licenses/by/4.0), which permits unrestricted use, distribution, and reproduction in any medium, provided the original work is properly cited. The Creative Commons Public Domain Dedication waiver (http://creativecommons.org/publicdomain/zero/1.0/) applies to the data made available in this article, unless otherwise stated.