NET-GE: a novel NETwork-based Gene Enrichment for detecting biological processes associated to Mendelian diseases
BMC Genomics
2015
16(Suppl 8):S6
Abstract
Background
Enrichment analysis is a widely applied procedure for shedding light on the molecular mechanisms and functions at the basis of phenotypes, for enlarging the dataset of possibly related genes/proteins and for helping interpretation and prioritization of newly determined variations. Several standard and Network-based enrichment methods are available. Both approaches rely on the annotations that characterize the genes/proteins included in the input set; network based ones also include in different ways physical and functional relationships among different genes or proteins that can be extracted from the available biological networks of interactions.
Results
Here we describe a novel procedure based on the extraction from the STRING interactome of sub-networks connecting proteins that share the same Gene Ontology(GO) terms for Biological Process (BP). Enrichment analysis is performed by mapping the protein set to be analyzed on the sub-networks, and then by collecting the corresponding annotations. We test the ability of our enrichment method in finding annotation terms disregarded by other enrichment methods available. We benchmarked 244 sets of proteins associated to different Mendelian diseases, according to the OMIM web resource. In 143 cases (58%), the network-based procedure extracts GO terms neglected by the standard method, and in 86 cases (35%), some of the newly enriched GO terms are not included in the set of annotations characterizing the input proteins. We present in detail six cases where our network-based enrichment provides an insight into the biological basis of the diseases, outperforming other freely available network-based methods.
Conclusions
Considering a set of proteins in the context of their interaction network can help in better defining their functions. Our novel method exploits the information contained in the STRING database for building the minimal connecting network containing all the proteins annotated with the same GO term. The enrichment procedure is performed considering the GO-specific network modules and, when tested on the OMIM-derived benchmark sets, it is able to extract enrichment terms neglected by other methods. Our procedure is effective even when the size of the input protein set is small, requiring at least two input proteins.
Keywords
Network-based enrichment
OMIM
Gene prioritization
Background
Next Generation Sequencing (NGS) technologies enable the discovery of large sets of genetic variations characterizing the individual variability. One common problem is to dig out variations potentially related to different phenotypes, including susceptibility to diseases. A widely adopted procedure relies on the extraction of functional information from sets of genes or proteins already associated to the phenotype under investigation: this procedure allows extending the set of genes or proteins potentially associated to the phenotype and can therefore be useful for prioritizing large sets of experimental variations detected with NGS experiments. Functional association is routinely performed by means of statistical enrichment analysis over a gene/protein set of interest (see [1] for a comprehensive review of different approaches). Standard enrichment methods treat each gene/protein as an isolated object and completely neglect the different types of relations among molecules. However, the analysis of genes and proteins in the context of their physical interaction networks, gene regulatory networks, metabolic and signaling pathways can help in extracting new biological information (see [2] for a comprehensive review on the applications of interaction networks to the study of human diseases).
Several approaches exploiting the interaction networks for functional association analysis (network-based enrichment analysis) have emerged in the last few years [3]. These network-based methods can be broadly classified into two main classes: A) methods that use the topology of the interaction network to infer how much similar distinct sets of gene/proteins are (among them, EnrichNET [4], PWEA [5], THINKBack [6], NetPEA [7], PathNet [8], NetGSA [9], SANTA [10], SPIA [11], JEPETTO [12], PathwayExpress[13], DEGraph [14]); B) methods that identify functionally-related modules in interaction networks and then infer protein/gene biological roles from such modules (among them, FunMod [15], PINA [16], MetaCORE [17]). In both classes, graph-theoretic measures and graph properties(such as shortest paths, degree, etc) are commonly used to extract information from the interaction network. Most methods deal with pathway enrichment analysis, some of them with both pathway and Gene Ontology (GO) terms. Among the publicly available tools that perform GO enrichment analysis, EnrichNet [4] and PINA [16] are two of the most cited methods, representative of the A and B classes above, respectively.
PINA (Protein Interaction Network Analysis) is a web resource based on the integration of six protein-protein interaction databases (IntAct [18], MINT [19], BioGRID [20], DIP [21], HPRD [22] and MIPS MPact [23]). The core of PINA consists of a computational pre-analysis of the molecular interaction network aiming at identifying clusters of densely interconnected nodes, which are likely to represent sets of functionally related proteins. Each cluster is annotated, through a standard enrichment analysis, with terms derived from different biological databases (KEGG [24], PFAM [25], GO [26]). Given an input dataset of genes/proteins, they are mapped on the pre-computed clusters and the overrepresented clusters are identified by means of a hypergeometric enrichment test. The input dataset is then characterized by the significantly enriched annotations of the overrepresented clusters. EnrichNet is a web platform for enrichment analysis based on a network integrating different information: molecular interactions (STRING [27]), cellular pathways (KEGG [24], BioCarta [28], WikiPathways [29], REACTOME [30], PID [31]), biological annotations (GO [26], InterPro [32]) and tissue-specific gene expression data. EnrichNet introduces i) a network-based distance between sets of proteins, computed by means of a random walk with a restart procedure; ii) a statistical framework for assessing the significance of distance between two protein sets. These measures allow comparing an input protein set with all the sets of proteins that share the same annotation term on the network. Given an input set, its network-based distances are computed and the annotations corresponding with significantly close sets are retained.
Here we introduce a method for enrichment analysis that implements a novel computational strategy designed to mine and extract information from publicly available interactomics datasets. Our method falls within class B and, similarly to PINA, it is based on a preprocessing phase aimed at identifying interconnected and compact modules in a molecular interaction network. However, differently from all the other approaches in class B, the modules found by our method are function-specific by construction, since they are built starting from seed sets collecting all the proteins related to a specific biological annotation. We make use of graph-theoretic and information-theoretic measures to extend the seed sets into connected subgraphs of a molecular interaction network. Each subgraph represents a compact and function specific module in the interaction network. Our enrichment pipeline consists of two independent analyses: a standard enrichment and a network-based enrichment. The network-based analysis is performed by mapping an input set of proteins into the pre-computed network modules and by collecting the corresponding annotations for an enrichment test. The network-based enrichment allows the detection of statistical associations not directly inferable from the annotations of the starting protein set, and thus not detectable through the standard enrichment. Here, we test the ability of our network-based approach to detect novel biological associations for sets of proteins related to 244 different Mendelian diseases that are associated to two or more proteins, according to the Online Catalog of Human Genes and Genetic Disorders of Mendelian Inheritance in Man (OMIM) [33].
Results
The annotation pipeline retrieves enriched GO BP terms computed with a standard and a network-based procedure. Both are performed with Bonferroni-corrected Fisher tests, considering a significance level of 5%. We benchmarked on the OMIM-derived benchmark set the level of annotation added by the network-based method from both a quantitative and qualitative point of view. The quantitative analysis highlights the ability of the network-based method in recovering new enriched functions. The qualitative analysis focuses on six cases for which the newly enriched terms add new biological insights, as confirmed by previously published experimental data.
Quantitative analysis on OMIM diseases
For assessing the power of the network-based enrichment, we focus uniquely on GO BP terms that are not enriched by the standard method (filtering out also all the terms that are ancestors of terms enriched by the standard method). Results are listed in Table
1
. In eleven cases out of 244 (5%), neither the standard enrichment nor the network-based enrichment retrieve significantly overrepresented BP term (first row in Table
1
). In 143 cases (58%) the network-based enrichment detects more terms than the standard one (last two rows in Table
1
). The average number of these terms is 38 per disease. Moreover, in 86 cases (35%) the network-based procedure is able to enrich terms that were not included in the sets of annotations characterizing the input protein set (last row in Table
1
). The average number of these new terms is 17. It is also worth noticing that the network-based enrichment returns significant terms in 7 cases out of the 18 where the standard method fails to provide any result (data not shown). 30% of the annotations refer to GO terms that are associated to less than 100 proteins in the human proteome, describing quite specific functions. Terms that are more common are less frequently enriched, mainly owing to the Bonferroni-corrected Fisher test that we applied (see Figure
3
). Network-based methods introduce a bias towards terms associated to the most connected nodes (see in our case Figure 1S, Additional file
2
). We find that the bias is also present in the case of the standard enrichment procedure that does not make use of the network information (Figure 1S).
Table 1
Functional annotation of 244 OMIM diseases with our pipeline.
| Annotation* | OMIM diseases° |
| --- | --- |
| No significant GO BP terms extracted by SE and NET-GE | 11 (5%) |
| Same significant terms extracted by SE and NET-GE | 90 (37%) |
| NET-GE enriches more terms already included in the annotation of the input proteins | 57 (23%) |
| NET-GE adds new terms not included in the annotation of the input proteins | 86 (35%) |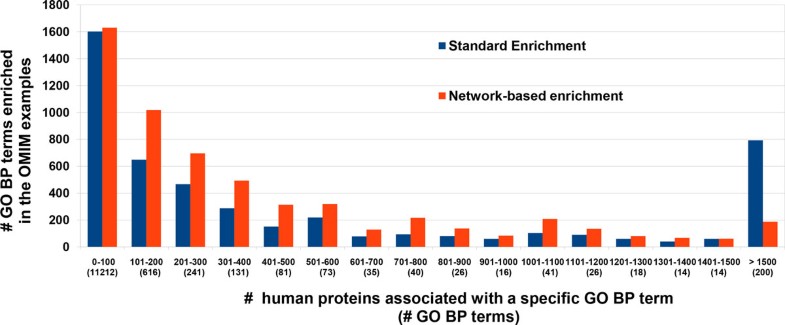 Qualitative analysis on OMIM diseases
The newly enriched terms that are absent in the original annotations of the input genes are likely to gain new knowledge on the disease at hand. We focus the qualitative analysis on them and we detail here six case studies for which experimental validations are available for the annotations derived with our method. For all the reported cases, PINA does not return any significant association. EnrichNet enriches only terms that are already included in the annotations of the input proteins. However EnrichNet is best suited to analyze sets including at least 10 proteins, while in our case studies, four out of six cases consist of input sets comprising two to four proteins.
Conclusions
We describe a novel computational method, NET-GE, for enrichment analysis, which exploits the information contained into molecular interaction networks. Given a set of input proteins, our method can detect functional associations not directly inferable from the annotations of the starting protein set, and thus not detectable through a standard enrichment. The method has been benchmarked on a set of 244 different Mendelian diseases associated to more than two proteins, as reported in the OMIM database. The lists of enriched terms for the benchmark examples are available in Additional file 3. NET-GE is able to enrich terms neglected by the standard method and, in a considerable amount of cases, the terms are not even included in the annotation of the input set. For some diseases, it is possible to prove that new enrichment terms are coherent with the experimental information available for the diseases. Therefore, we propose our novel network-based enrichment as a procedure helping in formulating new hypotheses on the biological processes underlying a particular phenotype for which a pool of associated proteins is known. Enriched GO-terms can suggest pools of new proteins potentially associated to the phenotype at hand and can therefore help the prioritization of new variants to be discovered with sequencing techniques. One of the advantages of our method, with respect to other similar ones, is its ability to extract new information even from very small sets of input proteins. In the current version, the network-based method makes use of the STRING network of physical interactions and analyzes only the GO BP annotations. However, the method is quite general and it does not rely on such specific interaction network and biological annotations. For future development, we plan to extend it to different networks and different biological annotations.
Declarations
Acknowledgements
We acknowledge the following grants involved in publication of this work: PRIN 2010-2011 project 20108XYHJS (to P.L.M.) (Italian MIUR); COST BMBS Action TD1101 and BM1405 (European Union RTD Framework Program to R.C.); PON projects PON01_02249 and PAN Lab PONa3_00166 (Italian Miur to R.C. and P.L.M.); FARB-UNIBO 2012 (to R.C.).
This article has been published as part of BMC Genomics Volume 16 Supplement 8, 2015: VarI-SIG 2014: Identification and annotation of genetic variants in the context of structure, function and disease. The full contents of the supplement are available online at http://www.biomedcentral.com/bmcgenomics/supplements/16/S8.
Authors' Affiliations
(1)
Bologna Biocomputing Group, University of Bologna, Italy
(2)
Department of Computer Science and Engineering, University of Bologna, Italy
(3)
Department of Biology, University of Bologna, Italy
Copyright
© Di Lena et al.; licensee BioMed Central Ltd. 2015
This article is published under license to BioMed Central Ltd. This is an Open Access article distributed under the terms of the Creative Commons Attribution License (http://creativecommons.org/licenses/by/4.0), which permits unrestricted use, distribution, and reproduction in any medium, provided the original work is properly cited. The Creative Commons Public Domain Dedication waiver (http://creativecommons.org/publicdomain/zero/1.0/) applies to the data made available in this article, unless otherwise stated.