Research article
Open Access
Identification and comparative analysis of components from the signal recognition particle in protozoa and fungi
Received: 25 September 2003
Accepted: 13 January 2004
Published: 13 January 2004
Abstract
Background
The signal recognition particle (SRP) is a ribonucleoprotein complex responsible for targeting proteins to the ER membrane. The SRP of metazoans is well characterized and composed of an RNA molecule and six polypeptides. The particle is organized into the S and Alu domains. The Alu domain has a translational arrest function and consists of the SRP9 and SRP14 proteins bound to the terminal regions of the SRP RNA. So far, our understanding of the SRP and its evolution in lower eukaryotes such as protozoa and yeasts has been limited. However, genome sequences of such organisms have recently become available, and we have now analyzed this information with respect to genes encoding SRP components.
Results
A number of SRP RNA and SRP protein genes were identified by an analysis of genomes of protozoa and fungi. The sequences and secondary structures of the Alu portion of the RNA were found to be highly variable. Furthermore, proteins SRP9/14 appeared to be absent in certain species. Comparative analysis of the SRP RNAs from different Saccharomyces species resulted in models which contain features shared between all SRP RNAs, but also a new secondary structure element in SRP RNA helix 5. Protein SRP21, previously thought to be present only in Saccharomyces, was shown to be a constituent of additional fungal genomes. Furthermore, SRP21 was found to be related to metazoan and plant SRP9, suggesting that the two proteins are functionally related.
Conclusions
Analysis of a number of not previously annotated SRP components show that the SRP Alu domain is subject to a more rapid evolution than the other parts of the molecule. For instance, the RNA portion is highly variable and the protein SRP9 seems to have evolved into the SRP21 protein in fungi. In addition, we identified a secondary structure element in the Sacccharomyces RNA that has been inserted close to the Alu region. Together, these results provide important clues as to the structure, function and evolution of SRP.
Keywords
SRP protozoa fungi RNA
Background
The mammalian signal recognition particle (SRP) plays a critical role in targeting of proteins to the ER membrane. SRP first binds the N-terminal signal sequence of the nascent chain as it appears on the surface of translating ribosomes. As a result, protein synthesis is arrested and the ribosome-nascent chain-SRP complex is targeted to the ER membrane through interaction with the SRP receptor [1]. In a series of events that are accompanied by GTP hydrolysis, the SRP is released, protein synthesis is resumed and translocation of the secretory protein is initiated.
The mammalian SRP is composed of six polypeptides named SRP9, SRP14, SRP19, SRP54, SRP68 and SRP72 which form a complex with a single RNA molecule (originally referred to as 7SL RNA) of approximately 300 nucleotide residues. The S domain (Fig.
1
) of SRP is responsible for signal sequence recognition and contains the central region of SRP RNA and proteins SRP19, SRP54, SRP68 and SRP72. SRP54 is a highly conserved protein which is responsible for signal sequence binding and it interacts with the helix 8 region of the RNA. The Alu domain of the SRP (Fig.
1
) functions in translational arrest and is composed of proteins SRP9/14 bound to the terminal regions of SRP RNA [
2
,
3
]. High-resolution three-dimensional structures of the Alu domain and critical parts of the S domain were obtained recently [
4
–
7
] and provided considerable insight into structure and function of the mammalian SRP.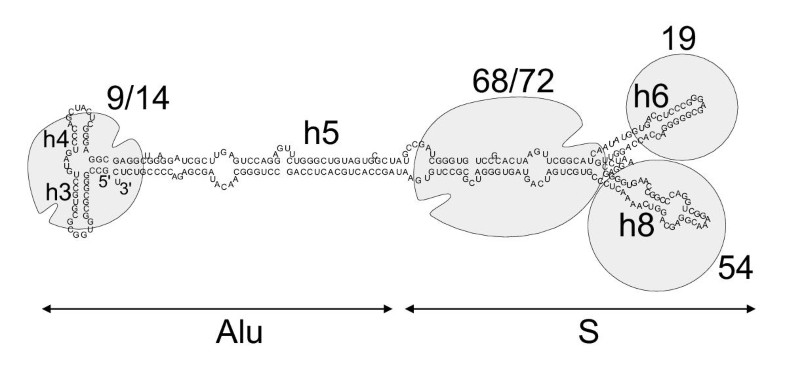 Components of the SRP have been identified in all three domains of life [8]. The genomes of the Archaea were shown to contain SRP RNAs which closely resemble the sequences and secondary structures of the SRP RNAs of metazoans, but only two SRP protein genes (SRP19 and SRP54) could be identified [9]. The bacterial SRP consists of protein SRP54 (referred to as Ffh) and a 4.5S RNA which corresponds in large part to SRP RNA helix 8 of mammalian SRP. Significantly larger bacterial SRP RNAs (6S RNAs) which contain an Alu-like region are present in a restricted number of taxa such as Bacillus [8]. A rationale for the high level of conservation of SRP54 and SRP RNA helix 8 in every SRP has been provided by the high-resolution structure of the E. coli SRP which suggested that the signal peptide binds within a hydrophobic groove formed by the M-domain of SRP54 as well as to SRP RNA [10].
Our understanding of the SRP components of the lower eukaryotes has suffered from a lack of data required for comparative sequence analysis. In addition, the greater diversity of this phylogenetic group has made it difficult to identify the SRP RNAs and SRP proteins even after the genome sequences became available. For instance, despite the detailed biochemical characterization of the yeast S. cerevisiae SRP [11], an understanding of its structure has been hampered by the fact that yeast SRP RNA is nearly twice as long (519 nucleotide residues) with no obvious homology to other known SRP RNA sequences [12].
Here we report an analysis of protozoan and fungal genomes to identify several not previously annotated SRP components. We have been able to identify several novel SRP RNAs and compare their two-dimensional structures. The analysis has lead us to propose that protein SRP21 of S. cerevisiae is a homolog of SRP9 and thus might form a heterodimer with SRP14 which binds to the Alu domain. These studies provide not only inroads into the comprehensive molecular characterization of the SRP but also clues as to the early evolution and origin of SRP and its Alu domain.
Results and discussion
In aiming to produce a comprehensive inventory of SRP components in protozoa and fungi we considered Euglenozoans (
Entosiphon
,
Trypanosoma
, and
Leishmania),
Alveolata (
Plasmodium
,
Eimeria
,
Theileria
),
Chlamydomonas
,
Giardia
,
Entamoeba
and
Encephalitozoon
. Complete genome sequences and preliminary gene annotation were available for
P. falciparum
http://www.plasmodb.org
,
C. reinhardtii
http://genome.jgi-psf.org/chlre1/chlre1.home.html
, and
Encephalitozoon cuniculi
[
13
]. Significant portions of the other genomes had been sequenced as indicated in Table
1
. For
Entosiphon
only a very limited amount of sequence data was available. A schematic phylogenetic tree involving the organisms discussed here is shown in Fig.
2
. An overview of the results of our inventory of SRP RNA and proteins in protozoa and fungi is shown in Table
1
. A significant number of these were not previously annotated.
Table 1
Overview of inventory of SRP in protozoa and fungi. SRP RNAs and proteins were predicted as described in the text. Symbols are as follows: +) subunit found, -) subunit not found and genome complete, *) previously reported subunit, M) multiple SRP RNA-like sequences were found and P) only partial RNA sequence found. Empty cells are instances where subunit has not been found and where there is no complete genome assembly and preliminary gene annotation.
| Taxonomic group | Organism | Genome size (MB) | Genome sequence data available in this work (MB) | SRP RNA | SRP9/21 | SRP14 | SRP19 | SRP54 | SRP68 | SRP72 |
| --- | --- | --- | --- | --- | --- | --- | --- | --- | --- | --- |
| Euglenozoa | Leishmania major | 34 | 43.7 | +* | | | + | + | + | + |
| | Trypanosoma cruzi | ? | 43.0 | P | | | + | + | + | + |
| Alveolata | Plasmodium falciparum | 23 | 23.1 | + | +* | + | +* | +* | + | - |
| | Theileria annulata | 10 | 8.5 | + | | | + | + | + | |
| | Eimeria tenella | 60 | 52.3 | + | | + | | + | + | |
| Viridiplantae | Chlamydomonas reinhardtii | 95? | 97.3 | M | + | + | - | + | + | + |
| Diplomonadida | Giardia lamblia | 12 | 120 | | | | | + | + | + |
| Entamoebidae | Entamoeba histolytica | 20 | 86.7 | | | | + | | + | + |
| Fungi-Microsporidia | Encephalitozoon cuniculi | 2.5 | 2.5 | + | - | - | + | + | - | - |
| Fungi-Ascomycota | S. pombe | 14 | 14 | +* | +* | +* | +* | +* | +* | +* |
| | Neurospora crassa | 40 | 38 | +* | + | + | + | + | + | + |
| | Aspergillus nidulans | 28 | 30 | + | | | | + | + | + |
| | Candida albicans | 16 | 17.8 | +* | + | | + | + | + | + |
| | Saccharomyces | 12 | 12 | +* | +* | +* | +* | +* | +* | +* |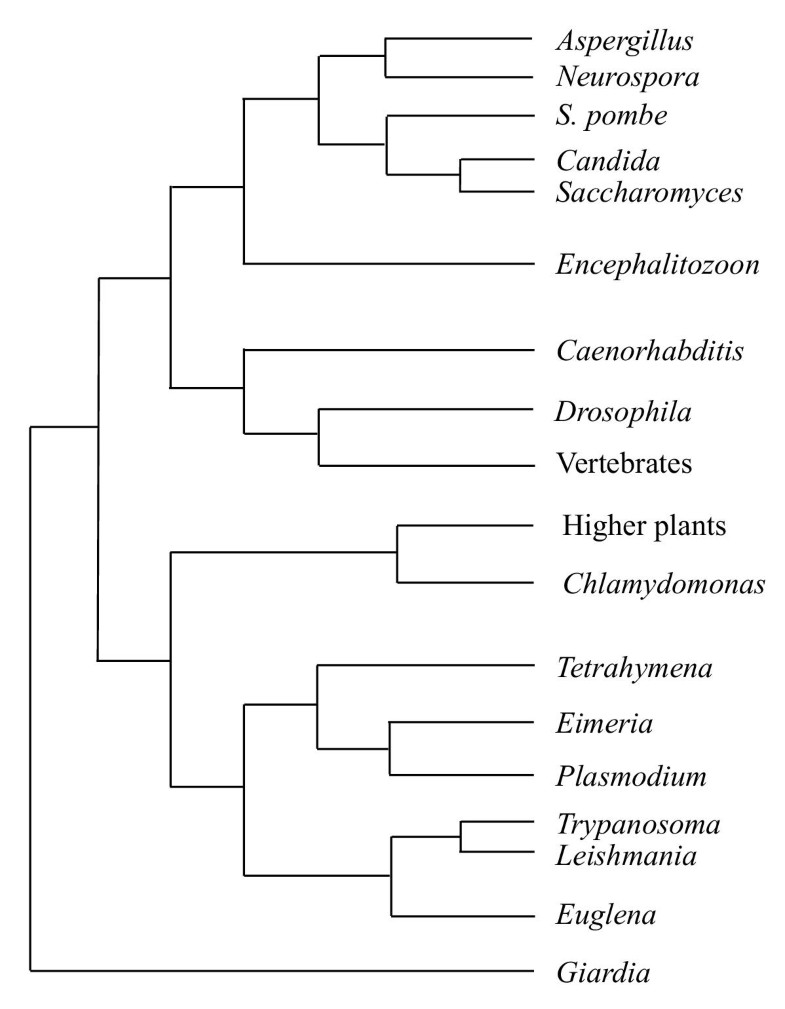 Conclusions
In the process of identifying and analyzing numerous SRP RNAs in protozoa and fungi we have demonstrated that the RNA portion of the Alu domain is highly variable both in sequence and secondary structure. Although the RNAs possess a conserved UGUNR motif, other parts of the Alu domain show a large degree of variation. One striking example of the plasticity of Alu is apparent in the Alveolates where the Plasmodium Alu domain is distinct from all other members of that group. Furthermore, in fungi the Alu domain is a simple hairpin motif as compared to all other species where the Alu domain is more elaborate. We have also identified secondary structure element insertions in the Sacccharomyces SRP RNAs towards the terminal regions which could be considered as expansions of the Alu domain.
The Alu associated SRP9 and SRP14 proteins appear to have been subject to rapid evolution as well. One example is the evolution of the fungal SRP21 protein. Using sensitive profile-based searches, we have presented evidence that SRP21 is homologous to the metazoan SRP9. In addition, it seems that SRP9 and SRP14 are missing in some protozoa and fungi, and it is known from previous studies that the Bacillus type eubacteria are missing these proteins and sequence analysis has so far failed to reveal archaebacterial homologs. Based on these findings it is tempting to speculate that the ancestral Alu domain was built solely from RNA, and proteins SRP9/14 were added to adjust Alu function in subsequent evolutionary events.
Methods
Identification of SRP RNA sequences and prediction of RNA secondary structure
SRP RNA genes were predicted as described previously [14] by applying a combination of pattern searches using rnabob http://www.genetics.wustl.edu/eddy/software/#rnabob and COVE [15]. The rnabob searches made use of descriptors based on consensus features of the helix 8 region of the RNA. The search pattern was typically (XX) YYAGR (NNN) GRRA (N'N'N') AGCAR (X'X') or minor variations of it, where X pairs with X' and N with N'. RNA secondary structure predictions were carried out by COVE and MFOLD [16] and were complemented by analysis of compensatory base changes [36]. Saccharomyces RNAs were first aligned with CLUSTALW [37] using a gap extension penalty of 0, and this alignment was manually edited to be consistent with observations from MFOLD predictions to assure that bases involved in the formation of helices were properly aligned.
Identification and analysis of SRP protein sequences
The program 'sixpack' of the EMBOSS package [38] was used to obtain all possible translation products of genome sequences. PROFILESEARCH was part of the GCG package (Wisconsin package version 10.2, Genetics Computer Group (GCG), Madison, Wisc.). Hmmer package, developed by S. Eddy, was obtained from http://hmmer.wustl.edu/. Genscan was downloaded from http://genes.mit.edu/GENSCANinfo.html and GlimmerM from http://www.tigr.org/software/glimmerm/. Protein secondary structure was predicted using PSIPRED [33, 34] and SAM-T02 [35].
All predicted RNA and protein sequences, secondary structures and multiple alignments are shown in a web supplement at http://bio.lundberg.gu.se/srp03/.
Declarations
Acknowledgements
This work was supported by NIH grant GM49034 to C.Z. and the EU grant QLK3-CT-200-00082 to TS.
Authors' Affiliations
(1)
Department of Medical Biochemistry, Goteborg University, Goteborg, Sweden
(2)
Department of Molecular Biology, The University of Texas Health Science Center at Tyler, Tyler, U.S.A
Copyright
© Rosenblad et al; licensee BioMed Central Ltd. 2004
This article is published under license to BioMed Central Ltd. This is an Open Access article: verbatim copying and redistribution of this article are permitted in all media for any purpose, provided this notice is preserved along with the article's original URL.