Research article

Open Access
Protein kinases of the human malaria parasite Plasmodium falciparum: the kinome of a divergent eukaryote
Received: 05 July 2004
Accepted: 12 October 2004
Published: 12 October 2004
Abstract
Background
Malaria, caused by the parasitic protist Plasmodium falciparum, represents a major public health problem in the developing world. The P. falciparum genome has been sequenced, which provides new opportunities for the identification of novel drug targets. Eukaryotic protein kinases (ePKs) form a large family of enzymes with crucial roles in most cellular processes; hence malarial ePKS represent potential drug targets. We report an exhaustive analysis of the P. falciparum genomic database (PlasmoDB) aimed at identifying and classifying all ePKs in this organism.
Results
Using a variety of bioinformatics tools, we identified 65 malarial ePK sequences and constructed a phylogenetic tree to position these sequences relative to the seven established ePK groups. Predominant features of the tree were: (i) that several malarial sequences did not cluster within any of the known ePK groups; (ii) that the CMGC group, whose members are usually involved in the control of cell proliferation, had the highest number of malarial ePKs; and (iii) that no malarial ePK clustered with the tyrosine kinase (TyrK) or STE groups, pointing to the absence of three-component MAPK modules in the parasite. A novel family of 20 ePK-related sequences was identified and called FIKK, on the basis of a conserved amino acid motif. The FIKK family seems restricted to Apicomplexa, with 20 members in P. falciparum and just one member in some other Apicomplexan species.
Conclusion
The considerable phylogenetic distance between Apicomplexa and other Eukaryotes is reflected by profound divergences between the kinome of malaria parasites and that of yeast or mammalian cells.
Keywords
Malarial Enzyme
Falciparum Genome
Atypical Protein Kinase
Eukaryotic Protein Kinase
Human Protein Kinase
Background
Modulation of protein phosphorylation through the antagonistic effects of protein kinases and protein phosphatases is a major regulatory mechanism of most cellular processes. Dysregulation of protein phosphorylation in human cells plays a major role in many diseases such as cancers and neurodegenerative disorders [1]. This has prompted the search for drugs targeting protein kinases, an endeavour which led in 2002 to the commercialisation of Gleevec, the first protein kinase inhibitor used as a drug for human disease [2]. Additional molecules targeting protein kinases are in clinical trial [3, 4], and significant developments in this field are expected in the next few years. Some of the most devastating infectious diseases are caused by protists such as malaria parasites and trypanosomatids: hence, about half the global population lives in malarious areas, with 10% of the world population contracting the disease each year, which results in 1–3 million annual deaths. The essential role played by eukaryotic protein kinases (ePKs) in crucial cellular functions makes them attractive potential targets for drugs against such eukaryotic infectious agents [5].
Malaria parasites have a complex life cycle. Infection of human beings by Plasmodium falciparum, the species responsible for the lethal form of human malaria, begins with the bite of an infected Anopheles mosquito, which delivers sporozoites into the bloodstream. These cells establish an infection inside hepatocytes, where they undergo an intense multiplication generating several thousand merozoites, a process called exo-erythrocytic schizogony. The merozoites invade erythrocytes, where they also undergo schizogony, the process that is responsible for malaria pathogenesis. Some merozoites, however, arrest the cell cycle and differentiate into male or female gametocytes, which are infective to the mosquito. Once ingested by the insect, the gametocytes develop into gametes (which for the male cells involves three rapid rounds of cell division) and fuse into a zygote. Further development in the mosquito involves a process of sporogony, producing sporozoites that accumulate in the salivary glands and are now ready to infect a new human host (see http://www.malaria.org for information on malaria).
The observation that many parasitic ePKs display profound structural and functional divergences from their counterparts in their vertebrate hosts [5–7] suggests that specific inhibition is an attainable goal. The availability of PlasmoDB, a genomic database for Plasmodium falciparum [8], now permits a systematic analysis of the entire complement of ePKs encoded in the genome (the "kinome") of this pathogen, an important milestone both in our understanding of Plasmodium biology and in the definition of potential novel drug targets.
Prior to the genomic era, the initial classification system of Hanks and Quinn [9] distributed ePKs into four major groups:
• the cyclic-nucleotide- and calcium/phospholipid-dependent kinases (the AGC group);
• the CMGC group, constituted of the cyclin-dependent- (CDK), mitogen-activated- (MAPK), glycogen-synthase- (GSK) and CDK-like kinases;
• the calmodulin-dependent kinases (CaMK), and
• the tyrosine kinases (TyrK).
ePKs that did not clearly fit into any of these groups were placed into the OPK ("other protein kinases") group. The primary structure of all enzymes in these groups conform to the model described by Hanks, in which the catalytic domain is subdivided into eleven subdomains, which can be aligned across all groups. In addition to the "typical" ePKs, several enzymes possessing protein kinase activity, but which are unrelated (or only distantly related) to ePKs at the primary structure level, have been identified and termed "atypical protein kinases" (aPKs). These include phosphatidyl-inositol 3' kinase (PI3K), DNA-dependent protein kinase, and members of pyruvate dehydrogenase kinase family.
Exhaustive analyses of the kinome of some model organisms have now been published. The kinome of S. cerevisiae contains 115 ePKs [10], and the genomes of D. melanogaster, C. elegans and H. sapiens comprise 239, 454 and 510–520 ePK-coding genes, respectively [11–14]. On the basis of this wealth of new data, three additional major ePK groups were recognized (reviewed in [15]:
• the casein kinase 1 (CK1) group;
• the STE group, which includes many enzymes functioning in MAPK pathways, although the MAPKs themselves belong to the CMGC group (STE stands for "sterile", referring to the fact that enzymes belonging to this group were first identified in genetic analysis of yeast sterile mutants);
• the tyrosine kinase-like (TKL) group, which, as its name indicates, includes enzymes that are related to those in the TyrK group, although they are serine-threonine protein kinases.
Furthermore, a description of the 369 non-receptor serine/threonine protein kinases of the plant Arabidopsis thaliana has recently been published [16]. Comparative examination of this and previously available kinomes has demonstrated that members of all major ePK groups can be found in yeast, worms, insects, mammals and plants, with the exception of TyrKs, which are not found in yeast. That most TyrKs function in hormone-response receptor-linked pathways suggests that this family arose as an adaptation to the needs for intercellular communication in multicellular organisms. It has however been reported recently that a few unicellular eukaryotes (Chlamydomonoas, Entamoeba and Phytophtora) possess putative TyrK family members [17]. Despite the fact that most serine-threonine ePKs groups are found in all eukaryotes, indicating that their appearance occurred early in evolution, each of the kinomes has nevertheless its specificities. A striking feature in this respect is the considerable extension of some ePK families in some organisms but not in others. For example, yeast and Drosophila have 4 and 10 members of the casein kinase 1 (CK1) group respectively, whereas the C. elegans genome encodes 85 CK1-related genes.
With the exception of the plant
A. thaliana
, all eukaryotes whose kinome has been characterised, from yeast to man, belong to the Opisthokonta phylogenetic group. As depicted in Fig.
1
, this lineage represents only one small branch of the eukaryotic tree. Several eukaryotes of high medical importance, such as malaria parasites (Alveolates) or trypanosomes (Discicristates), belong to phylogenetic groups that are vastly distant from both the Opisthokonta and Planta branches [
18
]. This is reflected by many profound peculiarities in their basic biology (see [
5
] for a review). Divergences from model eukaryotes can also be expected not only at the level of individual protein kinases of these organisms (as has been previously documented in a number of instances – see [
5
,
6
] for reviews), but at the level of their kinome as well. As is documented below, our analysis of the
P. falciparum
kinome confirms this prediction.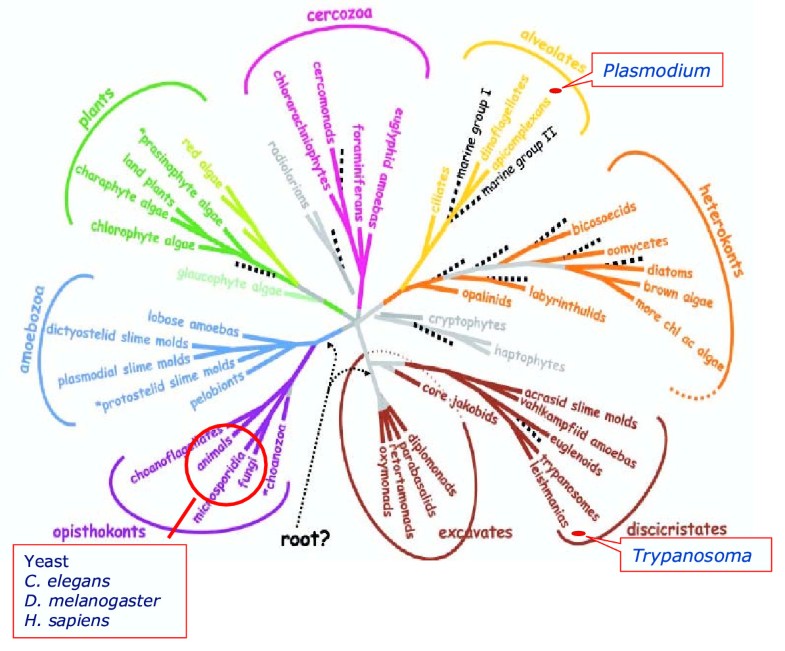 Conclusion
This study has allowed us to classify the 65 typical ePKs encoded by the P. falciparum genome, and to establish the presence of a novel group of ePK-related genes, the FIKK family, which, from analysis of currently available databases, appears to be specific to Apicomplexa and considerably extended in P. falciparum. The number of genes encoding protein kinases is somewhat smaller than expected from analogy with other organisms. We cannot exclude that our study, which is based on sequence similarity with ePKs, may have missed genes encoding proteins with protein kinase activity, but with a primary structure that would be too divergent from that of known ePKs to be identified. Nevertheless, it is hoped that the present study will facilitate investigations into the regulation of many pathways and processes operating during growth and development of the parasite. In addition to the FIKKs, several malarial ePKs belong to "orphan" groups, as they do not cluster clearly with established ePK groups as defined in model organisms. Furthermore, our analysis provides evidence that elements which are usually found in eukaryotes are absent or dramatically modified in malaria parasites. Such elements include MAPK pathway components and PKC, for example. These important divergences between the malarial and human kinomes reflects the vast phylogenetic distance between Apicomplexans and Opisthokonta, and strengthen our expectations that specific interference with essential functions of the parasite can be achieved through the use of protein kinase inhibitors.
Methods
Identification of ePK genes in the P. falciparum genome
The set of predicted peptides of the Plasmodium falciparum genome 3D7 [78] was downloaded from PlasmoDB [8]. A Hidden Markov Model search [79] of the predicted proteins encoded by the genome was carried out using a eukaryotic protein kinase profile downloaded from the Pfam database [80]. In addition, PlasmoDB was searched for proteins carrying a Gene Ontology molecular function assignment [81] of 'protein kinase activity' (GO:0004672). This allowed us to constitute an initial list of 108 sequences. After inspection, 15 were removed that had high e-value (>0.01), low HMM scores (<-110) and visibly lacked a protein kinase domain. The remaining 93 sequences were aligned using our own Hidden Markov Model, trained on a complete set of human protein kinases, to check for the presence of the key kinase motifs. In addition, the genomic context of each putative kinase gene was examined to check for missing exons using GeneDB http://www.genedb.org and Artemis [82]. Eight proteins, the first four of which have a PlasmoDB enzyme assignment to EC2.7.1 (phosphotransferases), lacked sufficient similarity to typical eukaryotic protein kinases to be aligned meaningfully across the kinase domain. These sequences were: PF13_0166, PFC0945w, PFE0170c, PFI1275w, MAL7P1.127, MAL7P1.132, PF11_0079 and PF14_0264; they were removed from further analysis. A further 20 sequences constituted the FIKK family (see below). This set of closely related, but atypical, sequences was analysed separately. The remaining 65 sequences represent the complement of typical protein kinases in P. falciparum. Although the Hidden Markov Model used for the alignment is based on an extensive training set, the alignment did require some manual optimisation. This is partly because of the extreme diversity of the gene family and partly because many predicted proteins from P. falciparum contain large repetitive insertions (Hidden Markov Model-based alignment protocols would be expected to cope better in these circumstances than other common methods). A full alignment of the kinase domains is shown in Additional file 1. Once a definitive set of the 65 sequences representing typical ePKs had been assembled, a phylogenetic tree was produced using Phylip [83], with the Protdist and Fitch algorithms. Human protein kinases were added to the alignment in order to improve the visualization of the main groups of protein kinases among the P. falciparum sequences. Only gap-free conserved regions of the alignment were used for the construction of the tree (164 amino acid positions). Bootstrap values supporting the branches of the tree are rather low; this is to be expected given the diversity of the protein kinase family.
Declarations
Acknowledgements
This work was made possible by the availability of the P. falciparum genome database PlasmoDB. We are indebted to all members of the team which contributed to the development of this database, which is proving an invaluable tool for molecular research on malaria. We thank the authors of the Le Roch et al. and Bozdech et al. microarray studies for making their raw data available for compilation on the PlasmoDB website. Financial support for the Plasmodium Genome Consortium was provided by the Burroughs Wellcome Fund, the Wellcome Trust, the National Institutes of Health (NIAID) and the U.S. Department of Defense, Military Infectious Diseases Research Program. Financial Support for PlasmoDB was provided by the Burroughs Wellcome Fund.
Work in the C.D. laboratory is supported by the UNDP/World Bank/WHO Special Program for Research and Training in Tropical Diseases (TDR), by the French Ministère de la Défense (Délégation Générale pour l'Armement [DGA]), by the French-South African joint program on Science and Technology, and by INSERM. L.E. is the recipient of a studentship awarded by the French Délégation Générale pour l'Armement (DGA).
We are grateful to A. Schneider and O. Puijalon (Institut Pasteur, Paris) for freely discussing their data on the R45 antigen/FIKK family prior to publication, to O. Billker (Imperial College, London) for critical reading of the manuscript, and to T. Monteil for help with the FIKK RT-PCR experiments.
Authors' Affiliations
(1)
Wellcome Centre for Molecular Parasitology, University of Glasgow, GlasgowScotland, UK
(2)
INSERM U609, Wellcome Centre for Molecular Parasitology, University of Glasgow, GlasgowScotland, UK
(3)
Division of Advanced Technologies, Abbott Laboratories, Abbott Park, USA
Copyright
© Ward et al; licensee BioMed Central Ltd. 2004
This article is published under license to BioMed Central Ltd. This is an open-access article distributed under the terms of the Creative Commons Attribution License (http://creativecommons.org/licenses/by/2.0), which permits unrestricted use, distribution, and reproduction in any medium, provided the original work is properly cited.