AgBase: a functional genomics resource for agriculture
Received: 18 April 2006
Accepted: 08 September 2006
Published: 08 September 2006
Abstract
Background
Many agricultural species and their pathogens have sequenced genomes and more are in progress. Agricultural species provide food, fiber, xenotransplant tissues, biopharmaceuticals and biomedical models. Moreover, many agricultural microorganisms are human zoonoses. However, systems biology from functional genomics data is hindered in agricultural species because agricultural genome sequences have relatively poor structural and functional annotation and agricultural research communities are smaller with limited funding compared to many model organism communities.
Description
To facilitate systems biology in these traditionally agricultural species we have established "AgBase", a curated, web-accessible, public resource http://www.agbase.msstate.edu for structural and functional annotation of agricultural genomes. The AgBase database includes a suite of computational tools to use GO annotations. We use standardized nomenclature following the Human Genome Organization Gene Nomenclature guidelines and are currently functionally annotating chicken, cow and sheep gene products using the Gene Ontology (GO). The computational tools we have developed accept and batch process data derived from different public databases (with different accession codes), return all existing GO annotations, provide a list of products without GO annotation, identify potential orthologs, model functional genomics data using GO and assist proteomics analysis of ESTs and EST assemblies. Our journal database helps prevent redundant manual GO curation. We encourage and publicly acknowledge GO annotations from researchers and provide a service for researchers interested in GO and analysis of functional genomics data.
Conclusion
The AgBase database is the first database dedicated to functional genomics and systems biology analysis for agriculturally important species and their pathogens. We use experimental data to improve structural annotation of genomes and to functionally characterize gene products. AgBase is also directly relevant for researchers in fields as diverse as agricultural production, cancer biology, biopharmaceuticals, human health and evolutionary biology. Moreover, the experimental methods and bioinformatics tools we provide are widely applicable to many other species including model organisms.
Keywords
Gene Ontology
Functional Annotation
Structural Annotation
Functional Genomic Data
Agricultural Species
Background
The genomes of agriculturally important organisms are sequenced [
1
–
3
] or being sequenced [
4
,
5
] not only due to their economic importance but also because many are biomedical models [
6
–
10
] or zoonotic pathogens and bioterrorism agents [
11
]. However, after genome sequencing it is critical to identify and demarcate the functional elements in the genome (structural annotation) and to link these genomic elements to biological function (functional annotation). Current genome assemblies have several thousands of gaps, causing bad gene model predictions due to missing exons and splice sites. Statistics for the chicken and cow genomes compared with the human, mouse and rat genomes (Table
1
) reveal fundamental problems in genomic structural and functional annotation in livestock genomes. Livestock genomes will always have low build numbers compared with model organisms such as human and mouse and yet they have comparable numbers of genes (UniGene). A relatively large proportion of these genes in these species are electronically predicted. Another problem is that, compared to human and mouse, the chicken and cow have 10-fold fewer ESTs to aid in structural annotation and functional analysis. These statistics, combined with smaller funding bases and resources for manual genome structural annotation, suggest that the human and mouse paradigm for genome structural annotation is unlikely to be successful for agricultural species [
12
].
Table 1
Comparison of human, mouse, rat, chicken and bovine genome statistics.
| Species | Genome Build | Genes (UniGene) | ESTs |
| --- | --- | --- | --- |
| H. sapiens | 36.1 | 86 803 | 7 741 746 |
| M. musculus | 36.1 | 67 096 | 4 719 380 |
| R. norvegicus | 3.4 | 51 564 | 871 147 |
| G. gallus | 1.1 | 30 470 | 588 288 |
| B. taurus | 2.1 | 41 986 | 1 039 059 |
| Species | No. Proteins (NRPD) | No. Proteins (UniProtKB) | % 'Predicted' Proteins |
| H. sapiens | 299 863 | 73 932 | 5.9 |
| M. musculus | 184 110 | 61 537 | 15.5 |
| R. norvegicus | 52 857 | 14 885 | 29.9 |
| G. gallus | 29 763 | 7 291 | 47.9 |
| B. taurus | 52 425 | 10 059 | 57.1 |
| Species | All GO Associations | Non-IEA Associations | % IEA Associations |
| H. sapiens | 266 785 | 50 612 | 81 |
| M. musculus | 327 082 | 517 032 | 60.2 |
| R. norvegicus | 73 783 | 10 285 | 86.1 |
| G. gallus | 29 963 | 3 058 | 89.8 |
| B. taurus | 39 832 | 9 484 | 76.2 |
For functional annotation, the GO is the
de facto
standard and its use for modeling microarray and other functional genomics data is growing exponentially [
13
]. However, this growth in the use of GO is not seen in agricultural species (Figure
1
) because of poor GO annotation (Table
1
). Gramene [
14
] and TIGR [
15
] provide annotations for grasses and microbes, respectively, but most GO annotations for other agriculturally important species are provided by the European Bioinformatics Institute Gene Ontology Annotation project (EBI-GOA) [
16
]. EBI-GOA annotates proteins in the UniProt Knowledgebase (UniProtKB) only. However, agricultural species have an order of magnitude fewer entries in UniProtKB than human and mouse. Many proteins in agricultural species are still only electronically predicted and reside in the UniProt Archive (UniParc) database, which EBI-GOA does not annotate. Moreover, most GO annotations that do exist for agricultural proteins are "inferred from electronic annotation" (IEA). IEA is usually only applied to broad GO terms and results in very general superficial GO functional information. More detailed functional annotations require expert human curation of experimental evidence, typically from peer-reviewed literature. The rat genome (22) is an interesting example of what can be achieved in GO annotation through a community's concerted effort. The rat genome was published only 8 months prior to the chicken genome. Like the chicken, but unlike human and mouse, rat has relatively few proteins in the UniProtKB and a high proportion of "predicted" proteins in UniParc. However, there are twice as many GO annotations for rat than currently exist for chicken and fewer of these annotations are IEA. Consequently, there is a concomitant growth in rat publications using GO to model microarray and other functional genomics data (Figure
1
).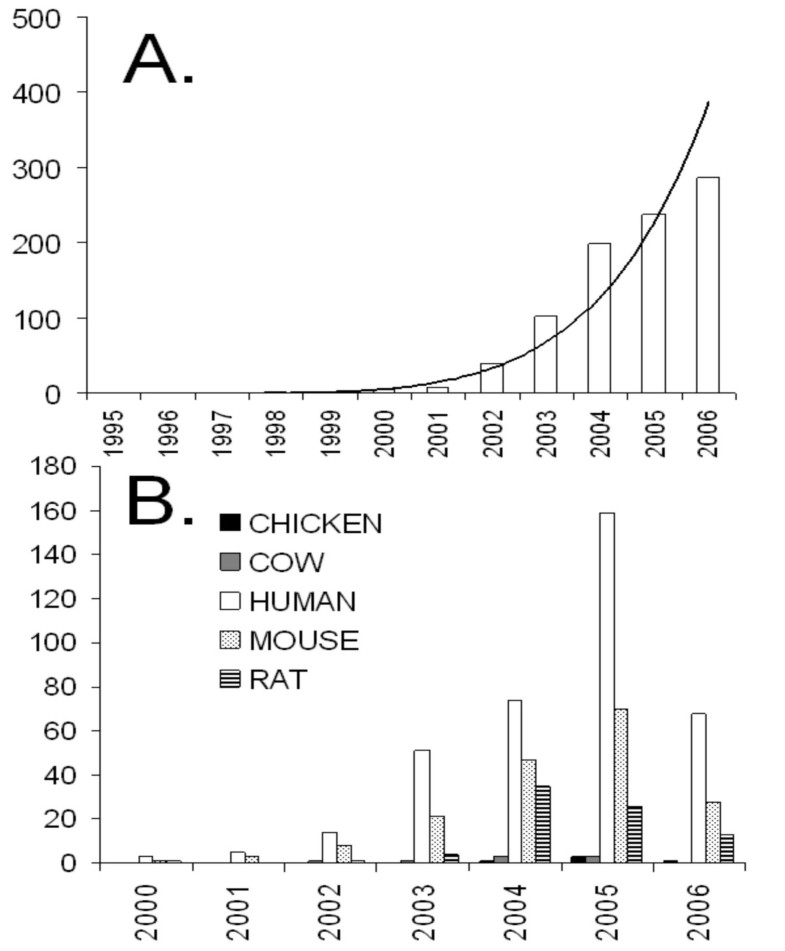 The current state of agricultural genome annotation hinders its utility for systems biology modeling of microarray and other functional genomics datasets. To fully utilize agricultural genome sequence data requires further, computationally accessible, structural and functional annotation. Here we describe "AgBase", a unified resource dedicated to enabling genome-wide structural and functional annotation and modeling of microarray and other functional genomics data in agricultural species. AgBase integrates structural and functional annotations and provides tools in an easy-to-use pipeline, allowing agricultural and biomedical researchers to rapidly and effectively model and derive biological significance from microarray and other functional genomics datasets.
Construction and content
The AgBase server is a dual Xeon 3.0 processor with a 800 Mhz FSB, 4 GB of Ram and five 146 GB hard drives in a RAID-5 configuration. The operating system is Windows 2000 Server. AgBase has a dedicated tape backup system with a total storage capacity of 3.2 TB native and 6.4 TB compressed. The backup software is Veritas Netback. A full backup is done each weekend, an archive backup once a month, and incremental backups nightly.
AgBase is implemented using the mySQL 4.1 database management system, NCBI Blast, and scripts written in Perl CGI. The schema is a protein centric design that is an adaptation of the Chado schema with extensions to accommodate storage of expressed peptide sequence tags (ePSTs). The entity relationship (ER) model for primary objects in the database for each protein is given as supplementary data [see Additional file 1]. A separate schema is implemented for ePST data. Data that is generated in-house includes AgBase GO annotations, the AgBase gene association files and ePSTs. External data that is integrated into the database includes the Gene Ontology, the UniProt database, EBI-GOA and the NCBI Entrez Taxonomy.
The GO annotations are generated by manual curation of the literature and by sequence similarity (GO evidence code ISS) using the GOanna tool followed by manual inspection of the alignments that are produced. AgBase biocurators are trained in a GO curation course that is held periodically. All literature-based AgBase GO annotations are quality checked to GO Consortium standards. The ePSTs are generated using a proteogenomic mapping pipeline implemented in Perl. The pipeline integrates information from experimental proteomics experiments and annotated genomes. Results are visualized using the Apollo genome browser to allow curation by scientists. Each ePST is quality checked by AgBase Biocurators. The generation of ePSTs is discussed in the experimental structural annotation section below.
Users can access protein information by protein name, gene name, GO term, taxon, a variety of accession numbers, or via BLAST searches. The AgBase tools also access the AgBase database. AgBase is updated from external sources every three months and locally generated data is loaded as it is generated. Gene association files of gene products annotated by AgBase are accessible in a tab-delimited format to facilitate data exchange.
We have purposely followed the paradigm of multi-species databases suggested by Stein [17] and the Reactome database [18] and are currently focused on plants and animals whose genomes are, or will be, sequenced and microbial pathogens and parasites that have significant economic impact on agricultural production and zoonotic disease. AgBase has four main aims (discussed in detail below): (1) to provide experimentally derived structural annotations of agricultural genomes; (2) to provide highly curated, GO functional annotations; (3) to promote the use of standardized nomenclature in agricultural species; (4) to develop computational pipelines for processing and using structural and functional annotations.
Utility
The AgBase database is intended as a resource to assist functional genomics in agricultural species and the tools provided support analysis of large scale datasets. To this end, we provide both experimentally derived structural annotation and functional data in a unified resource. While agriculturally important organisms may have other resources that provide structural annotation or GO annotations, AgBase is unique because (1) the structural data provided is experimentally derived; (2) the structural and functional data is provided from a unified resource; and (3) tools for analysis of this data are freely available via AgBase. The AgBase interface allows users to search for information in several ways. The Text Search performs an exact substring search on the selected database. To facilitate data sharing, searching based on commonly used accession numbers and identifiers is supported in addition to BLAST searches. Multiple query searches are also available.
Conclusion
We have improved the structural annotation of agriculturally important genomes by experimentally confirming 8,704 predicted proteins in chicken and cow (PRIDE submissions numbers pending) and 723 ePSTs from chicken and P. multocida. In our first nine months (04/22/05–03/20/06) we have provided 5,762 new GO annotations to 759 proteins from five different species. While most of our GO annotations are ISS (97%), we have also manually curated 42 PubMed references. We have developed a suite of tools to associate GO annotation with experimental data and to provide higher-order summaries of the data, and a tool to aid EST analysis. Users external to MSU account for more than one third of the hits recorded at the AgBase website.
Availability and requirements
Access to the AgBase databases is via http://www.agbase.msstate.edu/ and access to data is unrestricted. The tools we have developed are either freely available online at AgBase or by contacting us via the link provided at the AgBase website. The help pages provide information about how to use these tools or technical support can be obtained directly by contacting us. AgBase is an on-going project and interaction with the user community is vital for its success. We encourage the submission of data, correction of errors, and suggestions for making AgBase of greater use, including ideas for new computational tools. Our biocurators make every effort to maintain data integrity by linking data with researchers, references and methods.
Declarations
Acknowledgements
We would like to thank MGI and EBI-GOA for their continued help and support with the Gene Ontology aspects of this manuscript. Financial support for our projects has come from the USDA NRI, MSU Office of Research (MAFES contribution number J-10924), MSU Bagley College of Engineering, MSU College of College of Veterinary Medicine and the MSU Life Science and Biotechnology institute. The authors thank T. Pechan, D. Kunec, B. van den Berg, A.M. Cooksey, A. Shack, C. Doffitt, and E. Dimmer for help with preparing the manuscript.
Authors' Affiliations
(1)
Department of Basic Sciences, College of Veterinary Medicine, Mississippi State University, Mississippi State, USA
(2)
Department of Computer Science and Engineering, Bagley College of Engineering, Mississippi State University, USA
(3)
European Bioinformatics Institute, Hinxton, UK
(4)
Mouse Genome Informatics, The Jackson Laboratory, Bar Harbor, USA
(5)
USDA ARS Corn Host Plant Resistance Research Unit, Mississippi State University, USA
(6)
Department of Biochemistry and Molecular Biology, Mississippi State University, USA
(7)
Institute for Digital Biology, Mississippi State University, USA
Copyright
© McCarthy et al; licensee BioMed Central Ltd. 2006
This article is published under license to BioMed Central Ltd. This is an Open Access article distributed under the terms of the Creative Commons Attribution License (http://creativecommons.org/licenses/by/2.0), which permits unrestricted use, distribution, and reproduction in any medium, provided the original work is properly cited.