Research article

Open Access
Phylogenomic analysis of the GIY-YIG nuclease superfamily
Stanislaw Dunin-Horkawicz

1,

Marcin Feder

1 and

Janusz M Bujnicki

1

Email author
Received: 29 January 2006
Accepted: 28 April 2006
Published: 28 April 2006
Abstract
Background
The GIY-YIG domain was initially identified in homing endonucleases and later in other selfish mobile genetic elements (including restriction enzymes and non-LTR retrotransposons) and in enzymes involved in DNA repair and recombination. However, to date no systematic search for novel members of the GIY-YIG superfamily or comparative analysis of these enzymes has been reported.
Results
We carried out database searches to identify all members of known GIY-YIG nuclease families. Multiple sequence alignments together with predicted secondary structures of identified families were represented as Hidden Markov Models (HMM) and compared by the HHsearch method to the uncharacterized protein families gathered in the COG, KOG, and PFAM databases. This analysis allowed for extending the GIY-YIG superfamily to include members of COG3680 and a number of proteins not classified in COGs and to predict that these proteins may function as nucleases, potentially involved in DNA recombination and/or repair. Finally, all old and new members of the GIY-YIG superfamily were compared and analyzed to infer the phylogenetic tree.
Conclusion
An evolutionary classification of the GIY-YIG superfamily is presented for the very first time, along with the structural annotation of all (sub)families. It provides a comprehensive picture of sequence-structure-function relationships in this superfamily of nucleases, which will help to design experiments to study the mechanism of action of known members (especially the uncharacterized ones) and will facilitate the prediction of function for the newly discovered ones.
Keywords
Nucleotide Excision Repair
Nuclease Domain
Vertical Descent
Profile HMMs
Chilo Iridescent Virus
Background
The GIY-YIG superfamily groups together nucleases characterized by the presence of a domain of typically ~100 aa, with two short motifs "GIY" and "YIG" in the N-terminal part, followed by an Arg residue in the center and a Glu residue in the C-terminal part [1]. The GIY-YIG domain has been originally identified in a group of homing endonucleases (HEases). 'Homing' is a gene conversion process that occurs in Eukaryota, Archaea, Bacteria, and viruses, where a mobile sequence (a group I, group II, or archaeal intron or an intein) is copied and inserted into a cognate allele. It is initiated by a double-strand cut in the target allele, catalyzed by a HEase encoded within the mobile element (reviews: [2, 3]). Unlike transposases, HEases do not recognize their mobile DNA, only recognize and cleave the DNA that possesses a non-interrupted target site. HEases are polyphyletic and belong to at least three structurally unrelated superfamilies of nucleases: GIY-YIG, ββα Me (including HNH and His-Cys box families), and LAGLIDADG (review: [4]).
Despite completely different structures and modes of interaction with the target DNA, they are all characterized by an extended binding site, conferred by long loops or additional domains, which allows them to recognize extremely long targets (even > 40bp). HEases, however, do not have stringently-defined recognition sequences and they usually tolerate single or even multiple base changes, which allows them for invading different alleles in the same genome and perhaps in other genomes [4]. The structure of I-TevI HEase was determined in two parts by X-ray crystallography. The C-terminal DNA-binding domain exhibits an unusually extended structure containing a Zn-finger, a minor groove-binding α-helix and a helix-turn-helix motif [5]. The N-terminal GIY-YIG domain was found to exhibit a unique three-dimensional fold comprising three β-strands surrounded by three α-helices [6], in a good agreement with our earlier prediction [7].
To date, members of the GIY-YIG superfamily have been found only in group I introns, and not in group II or archaeal introns or in inteins. However, they have been also identified as free-standing open reading frames (ORFs) in Bacteria and viruses [1]. Nucleases of the Seg family that are encoded in intragenic regions of T4 phage act in a similar way to their intron-encoded relatives. In mixed infections with the related phage T2 that lacks seg genes, they mediate "intronless homing", resulting in replacement of non-homologus T2 DNA with their self DNA [8]. On the other hand, endonuclease II of phage T4 (Endo II), another member of the GIY-YIG superfamily, is used by the phage to degrade the bacterial DNA, which allows reutilization of the bases for synthesis of the phage DNA [9]. Normal T4 DNA is protected from degradation by modification (hydroxymethylation and glucosylation) of cytosine residues. This process is very similar to the modus operandi of restrictrion-modification (RM) systems, which comprise a restriction endonuclease (REase) that degrades foreign DNA by cleaving specific target sites and a methyltransferase (MTase) that modifies bases in the targets in the self DNA to render them resistant to cleavage (reviews: [10–12]). The amino acid sequences of REases are extremely diverse, which makes them very difficult targets for phylogenetic classification [13]. Those REases, whose structures have been determined by crystallography, were found to belong to the PD-(D/E)XK superfamily of nucleases, completely unrelated to all superfamilies of HEases. However, we have recently found a small subgroup comprising just three closely related REases which belong to the GIY-YIG superfamily [14]. The GIY-YIG nuclease domain has been also found in a large protein encoded by Penelope-like non-LTR retroelements that also includes a reverse transcriptase domain [15]. It probably cleaves the target DNA to initiate reverse transcription and integration by a mechanism used by other non-LTR retrotransposons and group II introns [16].
In addition to the variety of opportunistic mobile genetic elements, the GIY-YIG domain has been found in enzymes involved in housekeeping processes. It is present in the bacterial UvrC family of nucleases, which participate in the nucleotide excision repair (NER) pathway by incising the damaged DNA strand on both sides of the damage [17]. The N-terminally located GIY-YIG domain is involved in cleavage on the 3' side, while an unrelated, C-terminally located domain is involved in the cleavage on the 5' side [18]. Recently, a crystal structure of the N-terminal domain of UvrC has been solved [19], revealing essentially the same three-dimensional fold as in the case of I-TevI [6], but with an additional helix at the C-terminus and different packing of helices against the central β-sheet. The GIY-YIG domain has been also identified in Cho, another endonuclease involved in NER in E. coli, which is capable of making the 3' incisions only, but is able to efficiently incise damaged DNA presenting bulky lesions that are poor targets for the N-terminal domain of UvrC, and allow the C-terminal domain of UvrC to complete the repair by making the 5' cut [20]. A GIY-YIG domain related to that in Cho has been identified in Mycobacteria, where it is fused to the homolog of ε 3' exonuclease, a proof-reading subunit of the DNA polymerase III holoenzyme. It was proposed that the exonuclease domain would digest the damaged DNA strand from the incision made by the GIY-YIG domain in the 3' direction through the lesion, to leave a 2' OH end as a primer for repair synthesis [21]. The GIY-YIG nuclease domain is also present in the Slx1 protein, a subunit of a eukaryotic yeast heterodimeric structure-specific endonuclease that is involved in the maintenance of rDNA copy number by stimulation of recombination of arrested replication forks via single-strand cleavage on the 3' side of the junctions [22, 23]. A family of prokaryotic homologs of Slx1 have been also identified and predicted to be involved in DNA repair [24].
As outlined above, the GIY-YIG domain has been implicated in a variety of cellular processes involving DNA cleavage, from self-propagation with or without introns, to restriction of foreign DNA, to DNA repair and maintenance of genome stability. However, to date the phylogenetic history of GIY-YIG nucleases has not been studied and it is not clear how and when they got involved in these processes and how they should be classified in terms other than phenotypic (i.e. function). Besides, a detailed sequence and structural analysis of the GIY-YIG superfamily has not been made and it is not known if the current catalogue of members is complete or if there are many more potential members among the uncharacterized proteins in the databases. Therefore, we decided to carry out a systematic search for new potential members of the GIY-YIG superfamily, followed by comparative analysis aiming at the first comprehensive evolutionary classification of these important enzymes.
Results and discussion
Identification of new candidate GIY-YIG nuclease families with profile HHMs searches
In order to carry out a systematic search for new GIY-YIG nucleases, we prepared a set of multiple sequence alignments corresponding to previously identified families: UvrC, Slx-1, I-TevI, Penelope element, and REases. For each family we generated a profile HMM that included the sequences and predicted secondary structure (see Methods). These profile HMMs were compared with HHsearch [25] to a database of profile HMMs corresponding to multiple sequence alignments obtained from the COG, KOG, and PFAM databases, also with predicted secondary structures (see Methods for details). Based on the results of the HMM-HMM comparison, and in particular the list of "hits" with significant P-value (< 0.0001) and scores (>15.0), we generated a preliminary list of candidate GIY-YIG subfamilies. The preliminary candidates were validated by reciprocal HHsearches against the database comprising both the initial query profile HMMs as well as all the other COG, KOG, and PFAM profile HMMs. If a region of sequence that initially seemed to be similar to GIY-YIG enzymes displayed significant similarity to some other family, unrelated to GIY-YIG enzymes, then a given family was regarded as a false positive and was not further analyzed. Each candidate family, for which the relationship to known GIY-YIG sequences was confirmed by reciprocal searches, was also analyzed by fold-recognition (FR) methods to evaluate its compatibility with the known GIY-YIG structures (or detect cases, where some other, unrelated structure appeared to be a better template). Finally, comparative models were built for the parts of the sequence aligned by the FR methods to the template structures and the sequence conservation was analyzed in the structural context to detect potential active site residues (see below). Ultimately, our analysis revealed that COG1833 annotated as "uncharacterized ancient conserved region, predicted EndoIII-related endonuclease" and COG3680 annotated as "uncharacterized bacterial conserved region" are related to the GIY-YIG nucleases. The presence of the GIY-YIG domain in members of COG1833 had been already described [17]. However, to our best knowledge, its identification in COG3680 has not yet been reported in the literature.
Alignment and preliminary classification of the GIY-YIG superfamily
In order to identify further new members of the GIY-YIG superfamily, which might have not been included in the COG or PFAM databases, we have carried out PSI-BLAST searches starting with representative sequences of all families (including COG1833 and COG3680). Searches were initially run with a stringent e-value threshold of 1e-35 until convergence (to obtain confident alignments and more robust profiles) and later the threshold was relaxed to the value corresponding to 0.01 times the score of the first false positive and searches were continued until convergence. All sequences retrieved from all the PSI-BLAST runs were pooled together. After removing the duplicated entries, different isoforms of the same gene and a few obvious false positives, the final database of known and putative GIY-YIG members comprised 765 sequences from all major phylogenetic taxons: Bacteria, Archaea, Eukaryota, as well as viruses and Eukaryotic organelles. All these sequences were aligned using MUSCLE [26] to confirm the presence of a bona fide GIY-YIG motif and other characteristic features of this superfamily, and to define the boundaries of the nuclease domain. In the case of families known to include additional domains or long extensions of unknown structure, these regions were removed prior to the alignment. The initial alignment of the GIY-YIG domains was obtained automatically and subsequently refined by hand, based on the superposition of structures available for representatives of different families, analysis of alignments between different profile-HMMs and alignments proposed by FR methods during the first stage of this analysis (see above). For problematic sequences that would not align well with any particular family we carried out additional FR analyses and built comparative models (see Methods).
Based on the multiple sequence alignment we attempted to infer the phylogenetic tree of the GIY-YIG superfamily using the Neighbor Joining and Maximum Likelihood methods and several alternative models of evolution, with and without correction for mutational saturation (see Methods). Similar analyzes were carried out for the dataset reduced to 100 representatives from all major families (data not shown). Unfortunately, none of the trees we obtained could be considered as reliable according to the Shimodaira-Hasegawa test or the bootstrap criterion (data not shown). Although most families were found to produce monophyletic branches, COG3680 exhibited a tendency to split into two or more parts that grouped together with different families. Besides, the mutual position of different branches was found to vary significantly between trees calculated with slightly different parameters. Likewise, no stable trees could be obtained from the subsection of the alignment limited to the conserved motifs, e.g. absolutely reliable regions, perhaps due to the insufficient number of compared positions (data not shown).
Because no unique tree could be inferred based on the information contained in the multiple sequence alignment of the GIY-YIG domains, we decided to carry out a more "fuzzy" classification based on the clustering of pairwise sequence similarities, using CLANS [27]. We have experimentally found that the P-value thresholds of 10-3 (for the full-length sequences) and 10-2 (for the GIY-YIG domains) produced qualitatively best results. More stringent values caused disconnection of the most diverged sequences, while more permissive values caused over-compaction of the whole dataset into a single cluster with only a few outliers.
The clustering reproduced all the groupings corresponding to the originally defined COGs, but also revealed additional interesting relationships. In particular, all analyzes reproduced a "supercluster" comprising the UvrC/Cho group (Bacteria and some Archaea) and HEases related to I-TevI and their relatives (viruses, Bacteria, and organelles), surrounded by well-resolved and weakly interconnected clusters corresponding to the families of Slx-1 (Eukaryota, and their orthologs from Archaea and Bacteria, as well as viruses), REases (Proteobacteria and Deinococcus), COG1833 (Archaea and Proteobacteria), and COG3680 (Bacteria and Eukaryota). Interestingly, proteins from the Penelope elements (Eukaryota), which by themselves form a small dense cluster, are connected to the HEase cluster by a dispersed "cloud" of strongly diverged sequences.
Evolutionary relationships between and within GIY-YIG families
Evolutionary origin and phylogenetic history of GIY-YIG nucleases
Based on the results of phylogenetic analyses for individual families as well as comparison of genomic distributions (Figure 6), we propose that the Last Universal Common Ancestor of all contemporary life forms (LUCA) contained at least two paralogous copies of the GIY-YIG superfamily nuclease, one related to Slx1 and the other to the ancestor of UvrC and possibly COG1833 and COG3680. The Slx1 family is represented in all three Domains of Life and the relationships between its members inferred from a phylogenetic tree (data not shown) suggest strong conservation and vertical descent from a common ancestral nuclease, with only a few obvious exceptions, where additional copies were generated by duplications and spread by horizontal gene transfers, often accompanied by fusions with additional domains involved in various aspects of nucleic acid metabolism (e.g. repair or methylation). On the other hand, the UvrC, COG1833, and COG3680 families are typical for Bacteria, Archaea, and Eukaryota, respectively. The distribution of UvrC members in Archaea, COG1833 members in Bacteria, and COG3680 members in Bacteria is irregular. They are restricted to only a few lineages, which often share a similar environment or life style (e.g. extremophily or pathogenesis), which strongly suggest acquisition by horizontal gene transfer. However, when the phylogenetic tree of the whole UvrC+ group is corrected for these obvious horizontal gene transfers, its topology exhibits good agreement with the species' tree (data not shown) arguing for a vertical descent from a common ancestor. Thus, we propose that the UvrC, COG1833, and COG3680 families are members of one orthologous lineage (hereafter termed the UvrC+ lineage) that acquired different auxiliary domains after (or during) the emergence of the three Domains of Life.
The hypothesis of ancient paralogy between the Slx1 and UvrC+ lineages is supported by sequence comparisons. First, the characteristic Asn residue in the C-terminal part of the GIY-YIG domain is completely absent in Slx1, but appears in nearly all members of the UvrC+ lineage, with the exception of COG1833, where it is replaced by a His-Cys-rich cluster. Second, the results of the CLANS analyses reveal evidently stronger clustering of COG1833 and COG3680 families with the UvrC family rather than with Slx1 (Figures 3 and 4). The orthologous groups corresponding to Slx1 and UvrC families were predicted to be present in LUCA by Ouzounis and coworkers [53]. On the other hand, neither Slx1 nor UvrC were found among the COGs predicted to be present in LUCA by Mirkin, Koonin and co-workers [54]. The discrepancy of these results is unclear to us, especially with respect to Slx1, whose common presence in all three domains very strongly suggests its presence in LUCA. With respect to UvrC, COG1833, and COG3680 families, neither of these analyses tested the possibility of an orthologous relationship between these lineages, hence their results are not directly comparable to ours. We favor the scenario, in which the ancestor of the postulated UvrC+ cluster was present in the LUCA as implied by the inference made by Ouzounis and coworkers [53], and gave rise to COG1833, and COG3680 by a vertical descent (Figure 7). In this scenario, the lack of COG1833 and COG3680 members from some Archaea and non-Metazoans can be explained by gene loss. However, we cannot exclude an alternative scenario, in which members of COG1833 and COG3680 were introduced to Archaea and Metazoa by horizontal transfer of a UvrC-like gene from Bacteria. In this scenario, the Slx1-UvrC+ duplication could have occurred either in LUCA or in the branch leading from the LUCA to the last common ancestor of Bacteria.
According to CLANS, the selfish members of the GIY-YIG superfamily from the REase and HEase clusters have also evolved from the UvrC+ lineage rather than from Slx1. However, their mutual relationship is unclear. REases from the GIY-YIG superfamily do not contain additional domains, but rather insertions and terminal extensions of the common core that increase the size of the nuclease domain and presumably build the scaffold for the DNA-binding site that recognizes short sequences with very high specificity [12, 14]. However, they associate with DNA MTases, which protect the host genome from the cleavage of the target sites. On the other hand, the GIY-YIG domains in HEases are inherently non-specific and require fusions with multiple DNA-binding modules [31] to recognize their long targets. It is tantalizing to consider HEases as another type of RM systems, where "modification" that protects the DNA against the multiple rounds of cleavage is not the reversible methylation, as in the case of "classical" RM systems, but an irreversible insertion of the self DNA into the target site. It is possible that the small family of GIY-YIG REases evolved from HEases by reduction of the target site and association with the MTase of similar specificity. The possible close relationship of these two groups of GIY-YIG nucleases will be confirmed when the crystal structure of a GIY-YIG REase is determined, enabling quantitative assessment of the evolutionary distance by comparison of atomic coordinates, similarly to the study previously carried out for the nucleases from the PD-(D/E)xK superfamily [55, 56].
Thus far, only a few structures of GIY-YIG nucleases have been determined, precluding structure-based calculation of the tree for the whole superfamily. Nonetheless, the existing data allow for comparison between the UvrC/I-TevI and Slx1-like varieties. The three-dimensional structures of bacterial members of the Slx1 family solved by the Nuclear Magnetic Resonance (NMR) (1ywl, and 1zg2 in the PDB) reveal considerable divergence from the structures of UvrC (1yd0, 1ycz) and I-TevI (1lk0/1mk0). In particular, the C-terminus, which contains the Asn residue we propose to be specific for the UvrC+ lineage, exhibits different conformations in Slx1 compared to UvrC and I-TevI (Figure 8). This result supports our sequence-based prediction that HEases and UvrC nucleases belong to a single lineage and are paralogous to Slx1. In this context it is noteworthy that the prokaryotic members of the Slx1 family typically lack any auxiliary domains and in general represent the minimal variant of the GIY-YIG domain. Therefore, we propose that the "standalone" Slx1-like domains represent the ancestral form of the GIY-YIG nuclease, from which the paralogous UvrC+ copy was derived and C-terminally extended to include the Asn residue (Figure 7). The structural similarity of the GIY-YIG fold to proteins such as the ribosomal protein L9 or the N-terminal domain of RNase HI [7] suggests that the ancestral GIY-YIG nuclease could have evolved from an ancient generic nucleic acid-binding (perhaps RNA-binding) domain. This scenario is similar to the putative origin of the LAGLIDADG fold, believed to have evolved from another nucleic acid-binding domain [57, 58].
We hope that the results of our analyses described in this work will help to elucidate the function of the so far uncharacterized members of COG1833 and COG3680. They may be involved in NER in Archaea and Eukaryota, like their postulated Bacterial orthologs from the UvrC/Cho family, and they may exhibit different substrate specificities, in analogy to the functional divergence between UvrC and Cho. Alternatively, they could have been recruited to completely different processes. It is unlikely that COG3680 is essential for NER in Eukaryota, in which the major nucleases (XPG/Rad2 and ERCC1-XPF/Rad10-Rad1 for the 3' and 5' incision, respectively) have been determined (review: [59]). However, they could be involved in some specialized pathway of repair, e.g. in a loose analogy to Cho, which functionally substitutes for the N-terminal domain UvrC in making the 3' incisions near bulky lesions that are poor targets for UvrC. It will be interesting to study the role of COG1833 members in Archaea, both in species that also possess the "Bacteria-like" UvrABC system (such as Halobacteriales and Methanosarcinales) and in those, which lack this system (such as M. jannaschii). It is noteworthy that none of the fully sequenced Archaeal genomes contain UvrA or UvrB in the absence of UvrC, suggesting that members of COG1833, if involved in NER, must have different partners. On the other hand, the fusion of COG1833 with Exonuclease III in M. jannaschii suggests that these proteins may be involved in BER and that this pathway could be responsible for the repair of damages normally removed by NER in Bacteria and Eukaryota and those Archaea, which possess the classical UvrABC system.
The functional hypotheses listed above are based on the criterion of "guilt by association" [60], which states that domain fusions are often indicative of functional links. In addition to the experimentally verified functional connections, e.g. in the UvrC nuclease and in the Penelope elements, the recurring fusions with the RFM MTase and at least some fusions with the domains commonly involved in DNA repair (the most prevalent type of domains fused to the GIY-YIG nuclease) are significant and indicative of some functional associations. However, many fusions of the GIY-YIG domain with other domains may result from the extraordinary evolutionary mobility of the GIY-YIG domain and its ability to invade new loci rather than from the prefereed physical linkage with functional partners. In particular, the single instances of fusions of the GIY-YIG domain of the Slx1 family with the SPOUT MTase, as well as the unique insertion of the GIY-YIG domain into the HsdR subunit may not be necessarily functionally relevant. It will be interesting to determine if, in addition to the previously described selfish HEases and REases, other members of the GIY-YIG superfamily may function as molecular parasites.
It must be noted that throughout the evolution, the GIY-YIG domain was less successful than several other nuclease superfamilies in spreading to new loci, parasitizing different organisms, and adopting different functions. In particular, it was less successful than the PD-(D/E)XK domain in the formation of REases, which requires to recognize short sequences with very high specificity, and less successful than the LAGLIDADG domain in the formation of HEases that cleave within very long, degenerate sequences. This probably reflects the apparent poor potential of the GIY-YIG domain to form stable dimers or to develop peripheral elements that could be efficiently used either to form multiple contacts to the few recognized base pairs (as observed in most of REases from the PD-(D/E)XK superfamily) or to extend the protein-DNA interface to include contacts to multiple base pairs via the major grove (as in HEases from the LAGLIDADG superfamily). However, the GIY-YIG domain has been quite successful in formation of monomeric nucleases that utilize additional domains to recognize the DNA targets. This collection of domains can range from extremely simple DNA-binding elements (as in the case of I-TevI) to modules with independent enzymatic activities (as in the case of UvrC or the Penelope elements). With this respect, the GIY-YIG domain resembles the HNH domain, which is rarely found as a standalone nuclease and typically associates with different domains [61]. However, the HNH nuclease has been dramatically more successful than GIY-YIG both in formation of DNA structure-specific Holliday junction resolvases and recombinases, as well as DNA sequence-specific REases [62]. Thus, among the afore-mentioned nuclease superfamilies, GIY-YIG perhaps should be regarded as the least favorable template for the development of new functions.
Summary
Our analysis reports identification of new members and extensive sequence analyses of the GIY-YIG superfamily. Based on the analysis of genomic distribution, patterns of domain fusions and phylogenetic considerations for individual families, we propose an evolutionary scenario that explains the emergence and development of the major branches of the GIY-YIG superfamily. All newly identified members are predicted to be nucleases and we suggest that most of them target DNA. The predictions reported in this article (in particular based on associations with protein domains with other functions) will facilitate the search for the possible substrates. The clustering of all members into well-defined subfamilies and detailed analysis of features characteristic for these subfamilies will help to select representatives for the experimental determination of function and structure and will facilitate the classification of novel members identified in the future. In particular, we propose to determine the possible function of members of COG1833 and COG3680 in the context of nucleotide or base excision repair, and to study the potential link of the bacterial members of COG3680 with pathogenicity.
Methods
Sequence database searches
A set of known members of the GIY-YIG superfamily (I-TevI GI: 6094464, UvrC from
Borrelia burgdorferi
GI: 2688360, Slx-1 from
Saccharomyces cerevisiae
GI: 6319705, ORF1 from the Penelope element of Drosophila virilis GI:15559194 were used as seeds in PSI-BLAST [
63
] searches of the non-redundant (nr) database and the publicly available complete and incomplete genome sequences at the NCBI [
64
]. For each sequence, the search was carried out in two versions: "conservative", with the expectation (e) value threshold for the retrieval of related sequences set to 10
-6
and the maximum number of iterations set to 6, and "aggressive", with the e-value threshold of 10
-2
and the maximum number of iterations set to 12. The final blast (blunt-end master-slave) alignments together with the predicted secondary structure were used to generate a set of query profile HMMs using HHmake from the HHsearch package [
25
]. The profile HHMs corresponding to all COG, KOG [
65
] and Pfam [
66
] entries were downloaded from the home site of HHsearch (the Department of Developmental Biology, MPI. Comparison of the profile HMMs (sequence+structure) was carried out using HHsearch [
25
], with default parameters. For the analysis of particular families, full-length sequences were retrieved and realigned using MUSCLE [
26
]. Manual adjustments were introduced into the multiple sequence alignment (MSA) based on the BLAST pairwise comparisons, secondary structure prediction, and results of the fold-recognition analyses (see below).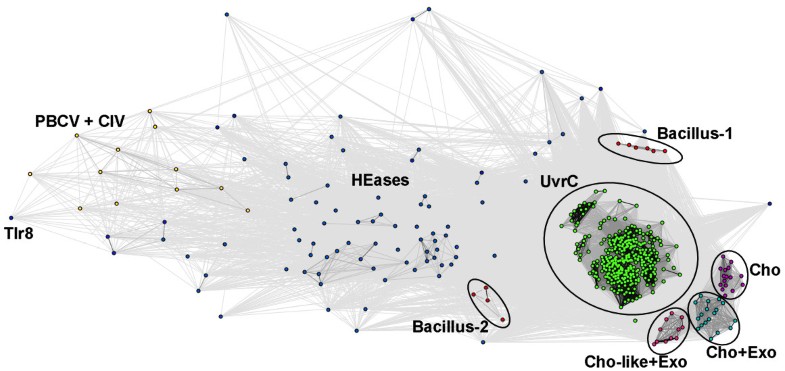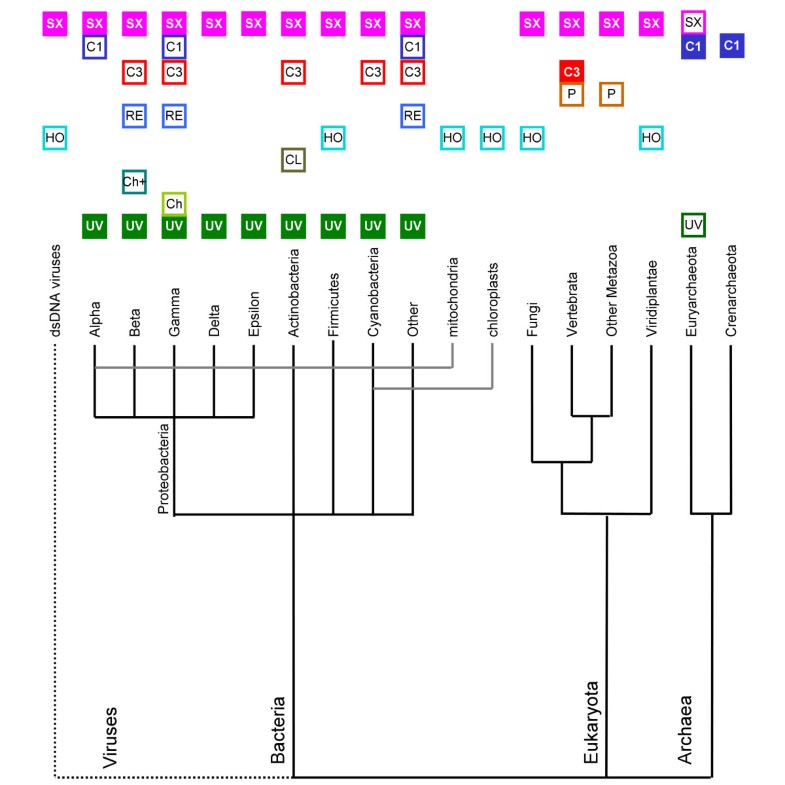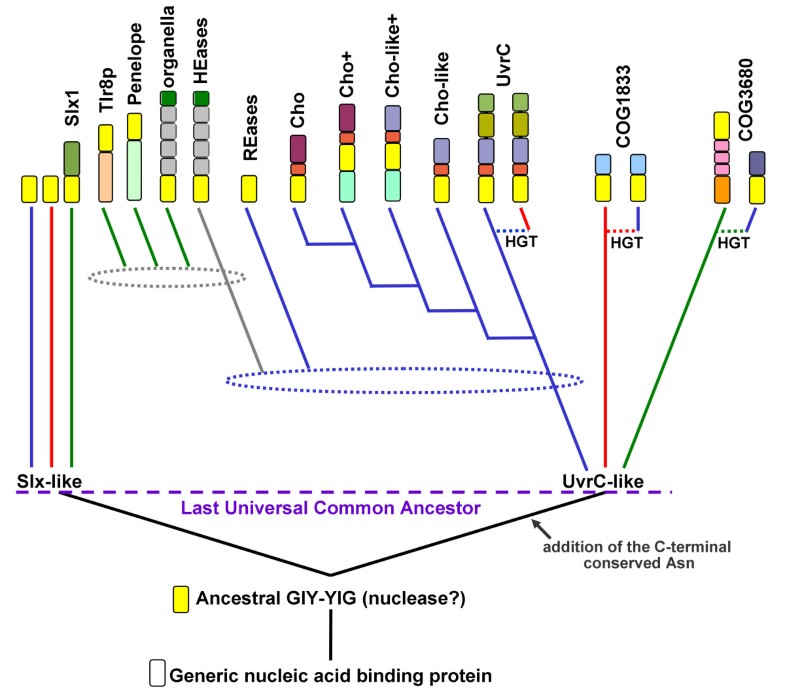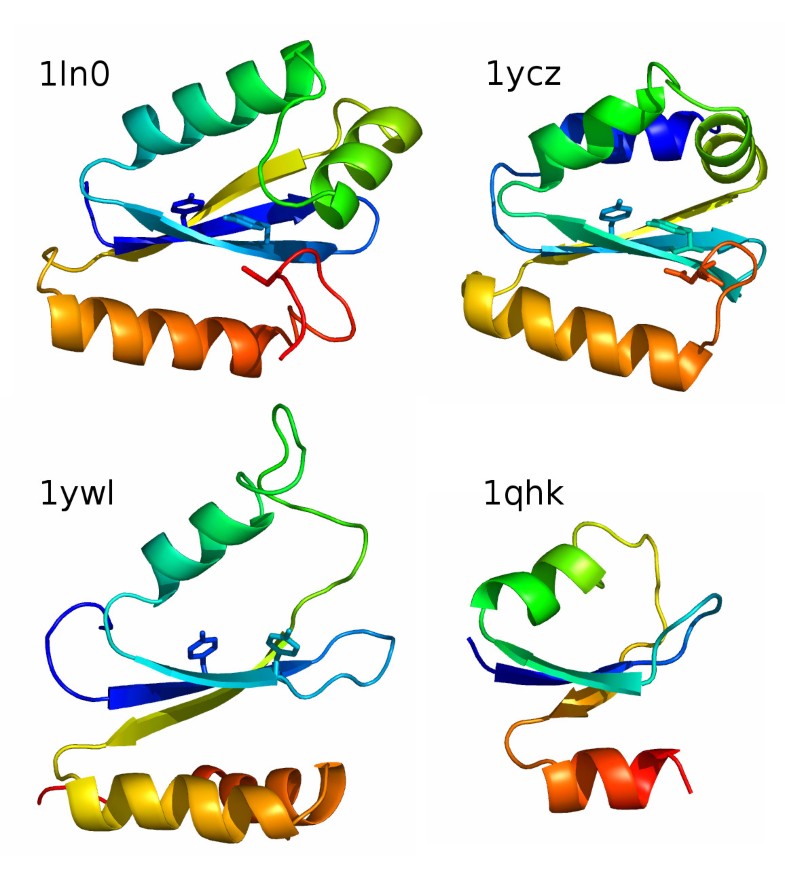 Sequence clustering
To visualize pairwise similarities between and within protein families we used CLANS (CLuster ANalysis of Sequences), a Java utility that applies version of the Fruchterman-Reingold graph layout algorithm [27]. CLANS uses the P-values of high-scoring segment pairs (HSPs) obtained from an N × N BLAST search, to compute attractive and repulsive forces between each sequence pair in a user-defined dataset. The three-dimensional representation of sequence families is achieved by randomly seeding the sequences in space, and then moving them within this environment according to the force vectors resulting from all pairwise interactions, until convergence.
Protein structure prediction
Secondary structure prediction and tertiary fold-recognition was carried out via the GeneSilico meta-server gateway [67]. Secondary structure was predicted using PSIPRED [68], PROFsec [69], PROF [70], SABLE [71], JNET [72], JUFO [73], and SAM-T02 [74]. Solvent accessibility for the individual residues was predicted with SABLE [71] and JPRED [72]. The fold-recognition analysis (attempt to match the query sequence to known protein structures) was carried out using FFAS03 [75], SAM-T02 [74], 3DPSSM [76], BIOINBGU [77], FUGUE [78], mGenThreader [79], and SPARKS [80]. Fold-recognition alignments reported by these methods were compared, evaluated, and ranked by the Pcons server [81]. The ultimate validation of fold-recognition results was accomplished by evaluation of the resulting three-dimensional models. Briefly, fold-recognition alignments to the structures of selected templates were used as a starting point for homology modeling using the "FRankenstein's Monster" approach [82], comprising cycles of model building, evaluation, realignment in poorly scored regions and merging of best scoring fragments. The final models were evaluated and analyzed using COLRADO3D [83]. The modeling protocol was essentially identical to that published in [84].
Abbreviations
aa:

amino acid(s)
bp:

base pair(s)
nt:

nucleotide
e:

expectation
BER:

base excision repair
NER:

nucleotide excision ropair REase, restriction endonuclease
ORF:

product of an open reading frame
GI:

NCBI identification number
Declarations
Acknowledgements
We thank Iwona Cymerman for critical reading of the manuscript and for useful discussions. This analysis was partially funded by the NIH (Fogarty International Center grant R03 TW007163-01). SDH was additionally supported by the NIH (grant 1R21CA97899-01A from the NCI). JMB was also supported by the EMBO/HHMI Young Investigator Award. MF is a recipient of a scholarship from the Postgraduate School of Molecular Medicine at the Medical University of Warsaw.
Authors' Affiliations
(1)
Laboratory of Bioinformatics and Protein Engineering, International Institute of Molecular and Cell Biology, Warsaw, Poland
Copyright
© Dunin-Horkawicz et al; licensee BioMed Central Ltd. 2006
This article is published under license to BioMed Central Ltd. This is an Open Access article distributed under the terms of the Creative Commons Attribution License (http://creativecommons.org/licenses/by/2.0), which permits unrestricted use, distribution, and reproduction in any medium, provided the original work is properly cited.