Research article

Open Access
A multi-treatment experimental system to examine photosynthetic differentiation in the maize leaf
Received: 14 September 2006
Accepted: 09 January 2007
Published: 09 January 2007
Abstract
Background
The establishment of C4 photosynthesis in maize is associated with differential accumulation of gene transcripts and proteins between bundle sheath and mesophyll photosynthetic cell types. We have physically separated photosynthetic cell types in the leaf blade to characterize differences in gene expression by microarray analysis. Additional control treatments were used to account for transcriptional changes induced by cell preparation treatments. To analyse these data, we have developed a statistical model to compare gene expression values derived from multiple, partially confounded, treatment groups.
Results
Differential gene expression in the leaves of wild-type maize seedlings was characterized using the latest release of a maize long-oligonucleotide microarray produced by the Maize Array Project consortium. The complete data set is available through the project web site. Data is also available at the NCBI GEO website, series record GSE3890. Data was analysed with and without consideration of cell preparation associated stress.
Conclusion
Empirical comparison of the two analyses suggested that consideration of stress helped to reduce the false identification of stress responsive transcripts as cell-type enriched. Using our model including a stress term, we identified 8% of features as differentially expressed between bundle sheath and mesophyll cell types under control of false discovery rate of 5%. An estimate of the overall proportion of differentially accumulating transcripts (1-π0) suggested that as many as 18% of the genes may be differentially expressed between B and M. The analytical model presented here is generally applicable to gene expression data and demonstrates the use of statistical elimination of confounding effects such as stress in the context of microarray analysis. We discuss the implications of the high degree of differential transcript accumulation observed with regard to both the establishment and engineering of the C4 syndrome.
Keywords
Stress Model
Bundle Sheath
False Discovery Rate Control
Candidate Gene List
Bundle Sheath Strand
Background
Photosynthesis in the majority of plants occurs in a single photosynthetic cell type (C3 photosynthesis) [1]. Within the chloroplasts, the enzyme ribulose-1, 5-bisphosphate carboxylase/oxygenase (Rubisco) fixes atmospheric carbon by addition of CO2 and water to the five-carbon sugar ribulose-1, 5-bisphosphate (RuBP). Rubisco will also catalyze the oxidation of RuBP in a process known as photorespiration that does not fix carbon [2]. The reduction in efficiency associated with photorespiration and the energetic costs of recycling its products has been estimated to limit the performance of C3 photosynthesis by as much as 30% in hot arid conditions [3]. A number of taxa utilize a two-step carbon fixation process, known as C4 photosynthesis, to limit the impact of photorespiration upon photosynthetic performance [4]. Plants that utilize C4 photosynthesis appear to be at a particular fitness advantage under conditions of limited water availability, high temperature and high irradiance light [5]. Interestingly, some of the most promising grasses for biofuel production are C4 grasses, including Miscanthus × giganteus (Giant Miscanthus), Panicum virgatum (switchgrass), Zea mays (maize), Sorghum bicolor (sorghum) and Saccharum officinarum (sugarcane).
In C
4
plants, Rubisco accumulation is spatially restricted to CO
2
-rich sites within the leaf so that the carboxylase reaction is favoured over photorespiration. In maize, Rubisco accumulation is restricted to thick-walled bundle sheath (B) cells that surround the leaf veins (Figure
1A
). Carbon is initially fixed in adjacent mesophyll (M) cells and subsequently transported, by a multi-enzyme carbon shuttle, into the B, where decarboxylation elevates local CO
2
levels and generates an environment for efficient Rubisco function (Figure
1B
).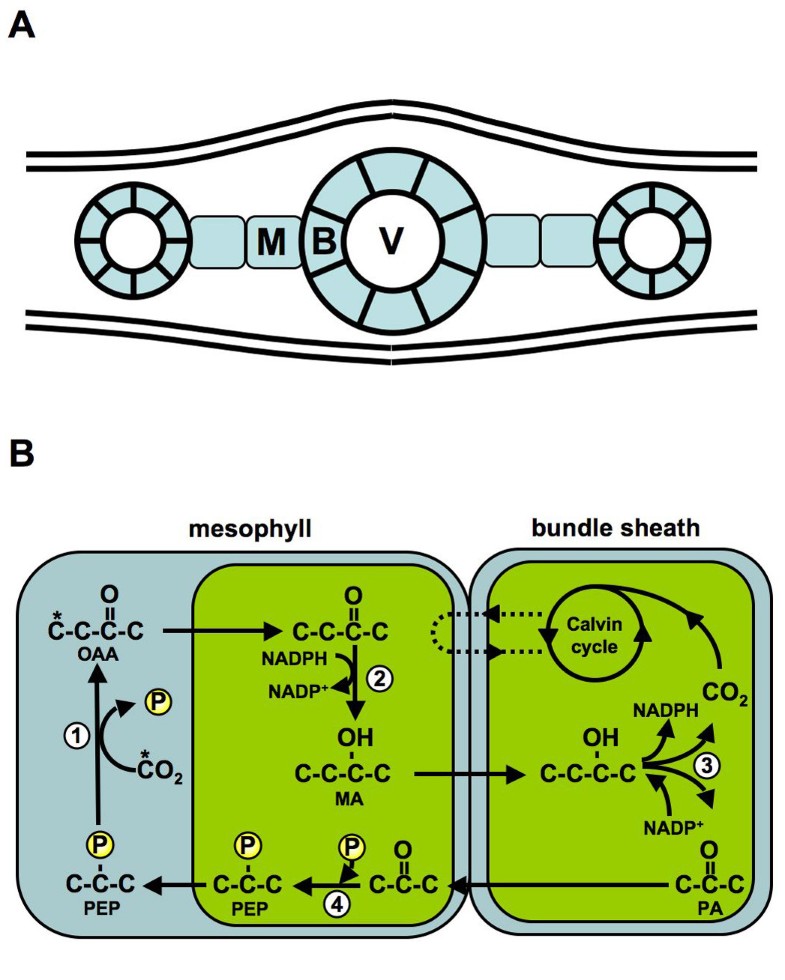 Cell-type specific differences in morphology and physiology are fundamental to C4 photosynthesis [1, 6]. Detailed analysis of B and M differentiation in maize has shown that Rubisco, enzymes of a C4 carbon shuttle and components of the light-harvesting machinery accumulate to different levels in B and M cells [7]. B cell chloroplasts are predominately agranal and do not accumulate key components of the water oxidizing complex of photosystem II (PSII) [8, 9]. Consequently, a number of processes requiring chemical reduction, including portions of Calvin cycle [10, 11], synthesis of antioxidants [12] and nitrogen assimilation [13] are localized to the M cells. Despite detailed understanding of certain metabolic pathways utilized in C4 photosynthesis, the molecular mechanisms governing cell differentiation and the full extent of metabolic partitioning are still to be fully characterized. Promoter fusion, methylation assays and transient expression studies have identified a number of cis acting elements in the promoter sequences of C4-related genes [14–17]. Much less is known about trans acting factors that may drive the C4differentiation process [18, 19]. Genetic approaches have resulted in the isolation of maize mutants characterized by B cell-specific defects, but these mutants have not directly identified regulators of cell-specific development [20–22].
Many biochemical and molecular studies of C4 photosynthetic cell types have made use of techniques for isolation of separated cells. Typically, B cells have been isolated as vascular strands by mechanical disruption and M cells isolated as protoplasts by enzymatic digestion [23, 24]. Therefore, different isolation protocols complicate the identification of differences between the two cell types. This is especially true when comparing the accumulation of RNA transcripts because changes can occur rapidly in response to the stresses of protoplast preparation [25]. When small numbers of genes have been analyzed, additional treatments have been used to control for the effect of these stresses (e.g. [22]). In contrast, previous multi-gene profiling studies of C4 cell types have not accounted for such effects in the initial analysis [26–28]. Following preliminary two-sample microarray experiments, we were especially concerned with the problem of mistakenly identifying stress-induced transcripts as M enriched (Sawers et al., unpublished observations).
In order to control for a stress effect associated with M cell isolation, total leaf and stressed total leaf samples were included in analysis. In general, microarray experiments are based on paired comparisons [29]. Multiple paired comparisons may be linked, as in a time course, or may be cross-referenced, as in a clustering analysis [29]. In the case of the isolated C4 cell types, the situation is somewhat different in that cell type and effects of the separation protocol are partially confounded between treatments. To formally describe this relationship, we have developed an analytical model to describe C4 gene expression and to allow elimination of the stress effect resulting from protoplast isolation. Using this approach, we have identified 1,280 features in the Maize Array Project oligonucleotide array that are predicted to be B or M enriched. We also present an analysis of the same data without consideration of the stress effect. Comparison of these two analyses demonstrates the importance of considering the stress effect and the application of a statistical modelling approach to control confounding factors in microarray experiments.
Conclusion
Differential gene expression was examined in separated B and M cell types from maize leaf blade tissue. To control for stress effects generated during the isolation process we developed a model that includes a stress term and compare the results of the analysis with a model lacking the stress term. These results suggest that gene expression changes are induced during the M cell isolation process and that this confounding effect can be reduced using the stress model. Our analysis indicates that 8% of features detected on the maize long-oligonucleotide microarray produced by the Maize Array Project consortium and up to 18% of genes expressed in the leaf transcriptome are differentially expressed between B and M cell types.
Declarations
Acknowledgements
We would like to acknowledge Paul Debbie (CGEP, Boyce Thompson Institute) for technical assistance with microarray analysis and Drs. Rob Alba, Wojciech Majeran, Klaas van Wijk and Qi Sun for helpful discussions. We want to thank Dr. Chong Wang for discussions about this data set and help with the REML calculation. We would also like to thank Sarah Covshoff for helpful comments on the manuscript, Nicole Markelz for contributing the image of maize B strands and M cell protoplasts and the Maize Array Project for providing the oligonucleotide arrays. This work was supported by a National Science Foundation grant to T.P.B. (DBI- 0211935).
Authors' Affiliations
(1)
Boyce Thompson Institute, Cornell University, Ithaca, USA
(2)
Department of Biological Statistics and Computational Biology, Cornell University, Ithaca, USA
(3)
Department of Mathematics and Department of Statistics, Cornell University, Ithaca, USA
(4)
Department of Plant Molecular Biology, Biophore, University of Lausanne, Lausanne, Switzerland
(5)
Department of Statistics, Iowa State University, Ames, USA
Copyright
© Sawers et al; licensee BioMed Central Ltd. 2007
This article is published under license to BioMed Central Ltd. This is an Open Access article distributed under the terms of the Creative Commons Attribution License (http://creativecommons.org/licenses/by/2.0), which permits unrestricted use, distribution, and reproduction in any medium, provided the original work is properly cited.