Research article

Open Access
Highly asymmetric rice genomes
Received: 06 January 2007
Accepted: 08 June 2007
Published: 08 June 2007
Abstract
Background
Individuals in the same species are assumed to share the same genomic set. However, it is not unusual to find an orthologous gene only in small subset of the species, and recent genomic studies suggest that structural rearrangements are very frequent between genomes in the same species. Two recently sequenced rice genomes Oryza sativa L. var. Nipponbare and O. sativa L. var. 93-11 provide an opportunity to systematically investigate the extent of the gene repertoire polymorphism, even though the genomic data of 93-11 derived from whole-short-gun sequencing is not yet as complete as that of Nipponbare.
Results
We compared gene contents and the genomic locations between two rice genomes. Our conservative estimates suggest that at least 10% of the genes in the genomes were either under presence/absence polymorphism (5.2%) or asymmetrically located between genomes (4.7%). The proportion of these "asymmetric genes" varied largely among gene groups, in which disease resistance (R) genes and the RLK kinase gene group had 11.6 and 7.8 times higher proportion of asymmetric genes than housekeeping genes (Myb and MADS). The significant difference in the proportion of asymmetric genes among gene groups suggests that natural selection is responsible for maintaining genomic asymmetry. On the other hand, the nucleotide diversity in 17 R genes under presence/absence polymorphism was generally low (average nucleotide diversity = 0.0051).
Conclusion
The genomic symmetry was disrupted by 10% of asymmetric genes, which could cause genetic variation through more unequal crossing over, because these genes had no allelic counterparts to pair and then they were free to pair with homologues at non-allelic loci, during meiosis in heterozygotes. It might be a consequence of diversifying selection that increased the structural divergence among genomes, and of purifying selection that decreased nucleotide divergence in each R gene locus.
Keywords
Gene Group
Rice Genome
Rice Line
Asymmetric Gene
Average Nucleotide Diversity
Background
One usually expects that a gene found in an individual can be found in the others in the same species [
1
]. This expectation is based on an assumption of "stable" or "symmetric" genome structure within species. In human, for example, nucleotide sequences are highly identical among haplotypes [
2
]. However, recent genomic comparisons revealed that chromosomal rearrangements are quite common even within species [
3
]. Such rearrangements include insertion/deletion (indel), duplication and transposition. Some of the rearrangements contain more than 100 kb DNA [
4
]. Large rearrangements can produce either paralogous gene copies or indel polymorphisms of gene copy numbers. We define such genes as "asymmetric genes", which are located in insertion DNA, either present only in one genome (presence/absence, or P/A genes. Red genes in Figure
1
) or located on different regions between genomes compared (asymmetrically located, or AL genes. Magenta genes in Figure
1
). The mobilization of gene fragments from one location of the genome to another by Helitrons and the tandem gene amplifications following the whole-genome-duplication event are revealed to be general mechanisms for the insertion of noncollinear gene sequences in maize [
5
,
6
].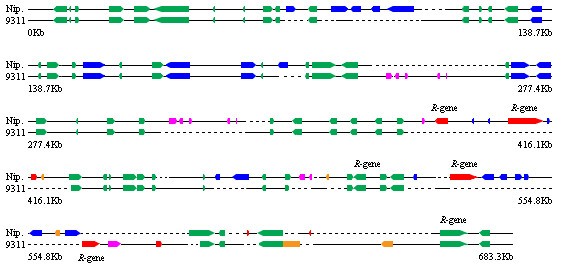 While mechanisms of these rearrangements have been extensively studied (e.g., [7, 8]), little is known about the biological significance of asymmetric genes on genome evolution. Comparative studies on human genomes reveal a high level of variations in gene copy number and the resulting loss of gene products often cause genetic disease [4, 9], indicating an evolutionary importance of asymmetric genes. In plants, indels of disease resistance (R) genes result in resistant and susceptible phenotypes to the infection of pathogens [10, 11], and are subject to natural selection [12, 13]. In addition, there are lines of evidence that indels play an important role in phenotypes of individuals in several ways, including an altered gene expression [14, 15] and a noncollinearity in heterosis [1]. Gene duplication is another source of genetic variation [3, 4]. A gene duplicated through a Helitron in some inbred lines of maize has been found to have an intact coding sequence, which is likely expressed conditionally [16]. These studies suggest that the asymmetrically existed or located genes may be an important molecular basis of many inheritable phenomena.
Yu et al. [17] found a relatively low proportion of P/A genes (2.2–3.3%) and a high proportion of intergenic nucleotide sequences that could not be aligned between two rice genomes, whereas Morgante et al. [18] found that 20% of genes are not shared between two inbred lines in maize. These results indicated that the proportion and the composition of asymmetric genes varied among species. A part of the reason, however, might be a different level of criteria used for detecting the asymmetric genes.
In this study, we comprehensively addressed the genomic asymmetry between two rice genomes, Oryza sativa L. var. Nipponbare and O. sativa L. var. 93-11, including both P/A and AL genes. The comparison of whole-genome sequences provided new insights into this issue. To investigate the proportion of asymmetric genes among intraspecific genomes, we systematically compared gene contents and locations between the two rice genomes. Furthermore, the proportions of asymmetric genes in four gene groups (R genes, the RLK kinase gene group, and two house-keeping gene groups, Myb and MADS) were examined to understand the evolution of asymmetric genes.
Discussion
Estimation and significance of asymmetric genes in plant
Our manual alignments of sequences allowed us to estimate 5.2% P/A (including P/Ad) and 4.7% AL genes between two rice genomes. These must be underestimations because of our conservative methods. Our analysis on the chromosome 10 provided a good example, in which 9.5% P/A genes (4.5% of P/A and 5.0% of P/Ad) were identified, and AL genes could be more than 10%. The 3.5% AL genes identified in different chromosomes did not include the AL genes on the same chromosome (5.2%; 67 in Nipponbare and 75 in 93-11, data not shown) and the undetermined genes (3.1%; 86 these genes in Table 2, in which no counterpart could be identified in current database). Though some of these AL genes could not be precisely determined by current sequence data, there was a good reason to assume that the majority of them were asymmetric genes. Therefore, the total percentage of AL genes could be > 10%.
The significant proportion of asymmetric genes identified in this study was well consistent with the results from previous studies. For example, the percentage of P/A genes (4.5%) was close to that of P/A genes identified by Yu et al. (5.5%; [17]), and our results for the proportion of asymmetric genes (13.0%) and asymmetric DNA (> 20%) was comparable to the higher proportion (25%) of asymmetric DNA indicated between these two genomes [17]. The 2.1 and 2.2 Mb map-based BAC cloning sequences between rice cultivar GLA4 and Nipponbare revealed a 20.6% of indels (> 1 kb) and 12.5% asymmetric genes in indels. The dramatic structural differences between maize inbred lines were also found in the bz [1] and z1C genomic region [15]. Although the DNA-sequence noncollinearity in these regions has been attributed to retrotransposon insertions due to the gain of pseudogenes from another donor site in the genome [35, 36], the genome-wide survey suggested that there are up to 10,000 P/A genes in maize genomes [18]. Furthermore, large variations in genome size were evident within many species. For example, DNA content varied up to 10% among Arabidopsis populations [37], 12% between soybean lines [38], and 50% between maize lines [39]. In the alignable rice genome sequences, the total size of DNA segments slightly varied at 1.0% (34.66 vs. 34.46 Mb) or 5.6% (2.245 vs. 2.125 Mb) between Nipponbare and 93-11 or GLA4. However the PAG ranged from 11.8% to 20.6% between rice genomes. These results indicated that the high PAG within species was common in plants.
It was obvious that single nucleotide polymorphisms (SNPs) were important in genetic variation [40]. However, the proportion of SNP in a genome was much smaller than PAG. For example in the homologous sequences of Nipponbare and GLA4, PAG was 53 times higher than the proportion of SNP (0.39%; [25]) in the same region. Although it did not necessarily reflect a relative biological importance of SNPs to PAG, PAG could contribute to unpaired homologous chromosome segments in meiosis in heterozygotes, and hence to genomic reorganizations that had large impacts on genomic evolution [41]. This was a similar effect to 'hybrid-dysfunction' at the level of chromosomal rearrangement [42]. The estimated number of asymmetric genes in total (3703) was remarkably large among rice genomes, and the number among maize genomes was probably even larger [18, 39]. Our analyses on the gene groups suggested that the asymmetric genes were affected by natural selection, and were probably playing important roles in many inheritable phenomena, such as heterosis, inbreed depression, and disease resistance [1, 10, 11].
The noncollinearity of z1C gene cluster among maize inbred lines provides a good example. The same genomic interval containing this gene cluster among lines significantly lost their gene collinearity and also differed in the regulation of each remaining gene set [5, 14, 15]. The alteration of expression patterns led to an effect of "overdominance" which could contribute to a heterosis phenomenon. Given the fact that chromosomes could consist of intervals of haplotypes that are highly diverged, endless breeding opportunities could be predicted, because of their linear arrangement along a chromosome and their expression potential in hybrid combinations [5, 14, 15]. The altered gene expression in hybrids by such noncollinearity could promote neofunctionalization.
Maintenance of asymmetric genes
The high proportion of asymmetric genes in genomes could be simply driven by the random genetic drift. Thus, the presence/absence polymorphism itself could be only a transit stage. If this was the case, the origin of the polymorphism must be relatively young [43]. In this scenario, evolutionary rates of asymmetric genes must be similar among different gene groups. On the other hand, if the polymorphism was maintained by diversifying selection, as suggested in R genes in Arabidopsis [12, 13], the origin of the polymorphism must be old and the evolutionary rate could be different among gene groups. The age of the polymorphism in P/A genes could be estimated by examining the level of nucleotide diversity among rice lines relative to the level of genetic divergence between species [44]. The nucleotide diversities in the 17 P/A-R genes was generally low (π = 0–0.048, average 0.0051). The low genetic diversities for majority of the observed genes indicated that these genes were either young or under purifying selection. If the P/A-R genes were duplicated relatively recently, similar paralogs should be found in the genomes. However, no similar paralogs for any P/A-R genes were found based on a conserved NBS region in R-genes either in Nipponbare or in 93-11 (data not shown), indicating that young duplications cannot explain the abundance of P/A-R genes. The old P/A-R genes with low nucleotide diversity might be a consequence of diversifying selection that preferred a large numbers of diverse P/A-R genes for plant-pathogen interaction, and of purifying selection that suppressed nucleotide diversities by functional constraint on each P/A-R genes. Rpm1, the first discovered P/A-R gene in Arabidopsis [10], was a good example. This gene was genetically almost identical between populations, but still appeared to be under presence/absence polymorphism in distantly-related species [44]. Due to its highly conserved sequence and ancient origin, Rpm1 was believed to be under purifying selection on gene itself and under balancing selection to maintain a stable frequency among populations [12, 44].
Evolutionary dynamics of asymmetric genes
Ceaseless insertion, deletion, translocation and unequal recombination will contribute to the increase of asymmetric DNA. Any of these genomic rearrangements will create higher-level of intraspecific violations of genetic collinearity [5]. The asymmetric DNA may have a self-enhancing mechanism by generating instability in a heterozygote because the free DNA has higher chances to pair selectively with homologues at non-allelic loci (or paralogs). A higher rate of unequal crossing-over could be the consequence. In a heterozygote such as the hybrid between Nipponbare and 93-11, there are 55.7% of R genes that has no orthologous alleles to pair with during meiosis, and the high rate of unpaired DNA would increase the asymmetric DNA through the high-frequency unequal crossing-over. The other factors, such as inbreeding, fixation and gene loss, and purifying selection, may also contribute to the genomic symmetry. On the other hand, the genomic asymmetry must be balanced with genetic stability. Although it is no doubt that vast majority of symmetric alleles are the basis of stable inheritance, the asymmetric architecture of genomes should also be a core of genetic variation and genomic evolution. The ratio of symmetric to asymmetric DNA in genomes may reflect the balance between stable inheritance and variation required for the species.
Methods
Alignment of genomic sequences
In the database of 93-11 genome [20], the large pieces of sequences available as of October 2004 were the contig 1–10000, ranging from 8–60 kb in length [45]. To obtain the contigs with full ranges in sizes of > 8 kb, we chose 2400 contigs with the number of 1–240 in last three digits. Each of the selected contigs was subjected to BLASTN search (e value threshold < 0.10) against Nipponbare genome. The contigs with no hit in the Blast search were excluded to avoid any possible misassembly, as we could not determine their locations. The rest of the contigs was aligned with their Nipponbare counterparts manually by Sequencher 4.1 (Gene Codes Corp., Ann Arbor MI). When an indel (> 1 kb) was present in an alignment, Clustal X [46] was used to exclude any alignment error. When the end sequence of a contig could not align with its Nipponbare sequence, it was excluded to avoid any possible misassembly in 93-11. 2.1 Mb and 2.2 Mb map-based BAC cloning sequences in GenBank for rice cultivar GLA4 [25] and Nipponbare, respectively, were also used to exclude any other misassembly.
Gene annotation and data analysis
Genes in insertion sequences were identified based on the annotation of TIGR or BGIs. All non-TE genes were examined in the local repeat database, based on Oryza Repeat Database [47], using BLASTN searches as described by Bennetzen et al. [23] to detect any TE sequences in the coding region of genes. After removing the TE-related genes, the association of genes were performed using GOst [48] to find out their ontologies. The CDS of each predicted gene in inserts was searched for homologues in the local database of whole Nipponbare and 93-11 genomic sequences using BLASTN (e value threshold < 0.10).
Identification of asymmetric genes on chromosome 10
Two methods were used to identify the asymmetric genes on chromosome 10. In the first method, all non-TE genes on chromosome 10 (annotated by TIGR; [22]) and complete sequences in this chromosome of Nipponbare [19] and 93-11 [20] were included into our local database on August 2005. Each CDS of these genes was used for cross-blast searches (e value threshold < 0.10) in the local sequence database of Nipponbare and 93-11. If a gene in a genome had sequence counterparts (> 20% in length in total) for its CDS in another genome, this gene was determined to have an allele in another genome. If no counterparts (or < 20% in length in total) were found in another genome or in chromosome 10 of another genome, this gene was identified as an asymmetric gene. Then all asymmetric genes were subjected to the Blast search against all genomic sequences (including syngenta database) to find out whether the gene was a P/A, P/Ad or AL gene by its copies in either one or both of these genomes.
In the second method, the complete sequences of chromosome 10 in Nipponbare (22.68 Mb covering 96.6% of euchromatic regions; [21]) and 93-11 (20.7 Mb) were aligned by BLASTZ [24]. This program is designed for identifying orthologous regions and for alignments of long genomic sequences. We used the same scoring matrix as the one used for pairwise alignments of human and chimpanzee [24]. To minimize false-positive alignments, only alignments with > 300 bp were maintained and any > 300 bp non-alignable region remained as gap. The search for asymmetric genes focused on the non-alignable regions. Two overlapping strategies were used for cross-search. First we tried to identify the true insertions (> 1 kb) in both genomes. If the sequences flanking an insertion of Nipponbare matched an unbroken sequence of 93-11 and the filling DNA (the non-alignable region) in 93-11 was < 1 kb, or vice versa, an insertion was defined (Table S3). The other non-alignable regions (> 1 kb in both genomes) could not be determined as insertions (named as non-alignable regions). Second, all the CDS of genes in insertions and non-alignable regions were subjected to the Blast search (e value threshold < 0.10) against the whole genome sequences of Nipponbare (both IRGSP and syngenta database) and 93-11. If no counterpart in blast search was found, or the total length of counterparts was < 50% of the CDS and the nucleotide similarity of entire counterpart gene was < 60%, it was assigned as a P/A gene. The P/Ad or AL was determined by their copies in either or both of these genomes by the same criteria as used for P/A genes.
Identification of four gene groups
NBS-LRR (nucleotide-binding site-leucine-rich repeat) genes, a common type of R genes [27], were chosen to represent the most polymorphic R-group [26]. The genes encoding a cytoplasmic serine/threonine (ser/thr) protein kinase, a single-pass transmembrane domain and an extracellular leucine-rich repeat domain were defined as RLK gene group [49]. MADS and Myb genes contained either MADS-box or Myb domain, both of which were DNA binding domains [30, 31]. The same methods as Yang et al. [50] were employed to identify the R genes in genomes of rice cultivars, Nipponbare and 93-11. Each R gene with its flanking sequences was subjected to the Blast search against genomic sequences of both 93-11 and Nipponbare to find out all the possible homologues (< 30% nucleotide diversity) and to locate their physical positions in chromosomes. Homologous sequences were manually aligned by Sequencher v.4.1. The methods employed to identify genes in the groups of RLK, Myb and MADS were as described in Shiu and Bleecker [49], Davidson et al. [30], and Parenicova et al. [31].
Identification of gene clusters and gene families
We defined a clustered gene if two or more homologous genes resided within 80 kb. A criterion, < 30% of nucleotide diversity, was used to define homologues within a family. Each asymmetric gene was subjected to the Blast search against the local database of Nipponbare and 93-11 to find all possible homologues. If more than one homologue were found in Nipponbare or 93-11, the homologues were designated as genes in a multi-gene family.
Plant materials
Eighteen lines of world-wide O. sativa, two ecotypes of wild rice O. rufipogon (S03005 and S01169) and two related species (O. officinalis and O. meyeriana) were chosen to detect the presence/absence of R genes among these populations. The rice lines were obtained from USDA, National Plant Germplasm System, USA and Dr. Cailin Wang in Institute of Food Crops, Jiangsu Academy of Agricultural Sciences, China, and wild rice and related species from Dr. Dajian Pan in National Guangzhou Wild-Rice Conservation, China.
Genotyping and sequencing
All the lines were genotyped by a PCR method. The primer pairs were designed to amplify ~700 bp fragments in the LRR region (Table S4). We investigated the presence/absence of 17 P/A genes (11 in 93-11 and 6 in Nipponbare) using 14 allelic (symmetric) genes (8 in single gene and 6 in multigene families) as positive controls, which were randomly chosen from the genes presented in both Nipponbare and 93-11. Three housekeeping genes were also selected as another positive control. To obtain reliable results, the PCR products were sequenced to verify the expected genes amplified (GenBank: EF533726-EF533871). In cases of null PCR products, we repeated the PCR reactions two more times with one at 5°C lower annealing temperature (45–50°C); if no PCR products were obtained again, we repeated the PCR reaction once more using a newly designed primer pair for the genes. For the gene -3, -6, -11, -18 and -19 (Table 3), we used conserved regions based on the sequence information from various rice strains because their average nucleotide diversities (π in Table 3) were > 0.01. We believed that these efforts maximized excluding false PCR results due to heterogenic sequences.
Declarations
Acknowledgements
We thank Dr. M. Long (University of Chicago) and Dr. J. Peng (Colorado State University) for their helpful comments. This study was supported by NSFC (30470924, 30570987 and 30470122), SRFDP, 111 Project and SUR grant from IBM and to D. T. or JQ. C.
Authors' Affiliations
(1)
State Key Laboratory of Pharmaceutical Biotechnology, Department of Biology, Nanjing University, Nanjing, China
(2)
Department of Zoology, Oregon State University, Corvallis, USA
Copyright
© Ding et al; licensee BioMed Central Ltd. 2007
This article is published under license to BioMed Central Ltd. This is an Open Access article distributed under the terms of the Creative Commons Attribution License (http://creativecommons.org/licenses/by/2.0), which permits unrestricted use, distribution, and reproduction in any medium, provided the original work is properly cited.