Research article

Open Access
Systematic identification of stem-loop containing sequence families in bacterial genomes
Received: 14 June 2007
Accepted: 17 January 2008
Published: 17 January 2008
Abstract
Background
Analysis of non-coding sequences in several bacterial genomes brought to the identification of families of repeated sequences, able to fold as secondary structures. These sequences have often been claimed to be transcribed and fulfill a functional role. A previous systematic analysis of a representative set of 40 bacterial genomes produced a large collection of sequences, potentially able to fold as stem-loop structures (SLS). Computational analysis of these sequences was carried out by searching for families of repetitive nucleic acid elements sharing a common secondary structure.
Results
The initial clustering procedure identified clusters of similar sequences in 29 genomes, corresponding to about 1% of the whole population. Sequences selected in this way have a substantially higher aptitude to fold into a stable secondary structure than the initial set. Removal of redundancies and regrouping of the selected sequences resulted in a final set of 92 families, defined by HMM analysis. 25 of them include all well-known SLS containing repeats and others reported in literature, but not analyzed in detail. The remaining 67 families have not been previously described. Two thirds of the families share a common predicted secondary structure and are located within intergenic regions.
Conclusion
Systematic analysis of 40 bacterial genomes revealed a large number of repeated sequence families, including known and novel ones. Their predicted structure and genomic location suggest that, even in compact bacterial genomes, a relatively large fraction of the genome consists of non-protein-coding sequences, possibly functioning at the RNA level.
Keywords
Secondary Structure
Hide Markov Model
Bacterial Genome
Sequence Family
Original Search
Background
The availability of a massive amount of sequence data stimulated in-depth analyses on the organization of bacterial genomes [1–6]. Although less prominent than in eukaryotic genomes, sequence repeats are found in most bacterial species. According to their sizes, sequence repeats may be roughly classified into two main classes. Large repeats (0.8–2 kb) are mostly insertion sequences (IS), and encode proteins mediating their genomic mobility. The terminal inverted repeats (TIRs) and the nature of their gene products allow sorting ISs into specific classes [7, 8]. Smaller repeats (50–300 bp) make up a much less defined and more variegate set of genomic sequences. Some of them contain palindromic sequences, demonstrated or proposed to be structured as stem-loops able to function as regulatory elements at DNA or RNA level. For example, E. coli PU-BIME elements have been shown to interact with the DNA gyrase [9] and the integration host factor protein [10], but also to function as mRNA stabilizers [11] and transcriptional attenuators [12]. Similarly, palindromic sequence repeats have been shown to function as mRNA stability determinants in Neisseriae [13–15] and Yersiniae [16, 17].
Following these observations, and given the current availability of a large number of sequenced bacterial genomes, a systematic analysis of stem-loop containing repeated sequences appeared of interest. In a previous article [18], high stability stem-loop structures (SLS) were studied within a representative set of bacterial genomes and some of them were shown to have strong similarity with each other. Here we extend this study to detect all families of SLS containing sequences in the same bacterial set. To this aim, a pipeline, combining sequence clustering and Hidden Markov Model (HMM) based searches, was developed. This strategy led to the definition of a large number of sequence families, sharing sequence similarity and, in most cases, a common predicted secondary structure.
Discussion
In a previous study, a systematic analysis of putative SLSs found in bacterial genomes showed that they tend to be more abundant and stable than those randomly formed in shuffled sequences of comparable size and base composition [18]. This observation led to the hypothesis that, along with SLSs stochastically formed because of sequence composition, a sizeable quota is possibly the result of selective pressure, due to the need to preserve a biological function. SLS-containing secondary structures are known to play a relevant role in several aspects of gene expression and its regulation. Structured RNAs are a functional component of enzymes like RNAse P [38], or contribute to the formation of regulatory cis-acting regions such as riboswitches [39], thermosensors [40], transcriptional attenuators and terminators [41, 42]. Palindromic RNA sequence repeats may also influence mRNA stability [11].
In this work, we describe a systematic procedure, schematically depicted in Figure
4
, to identify and classify families of repeated sequences, characterized by a shared secondary structure, in the genomes of a representative set of bacteria, most of which of medical interest. To this aim, SLS containing sequences were first clustered by sequence similarity and subsequently evaluated for their potential to form secondary structures. In most analyzed genomes, a fraction of SLSs could be grouped into clusters, containing at least 7 non-overlapping elements. No clusters were found in 11 of the 40 analyzed genomes.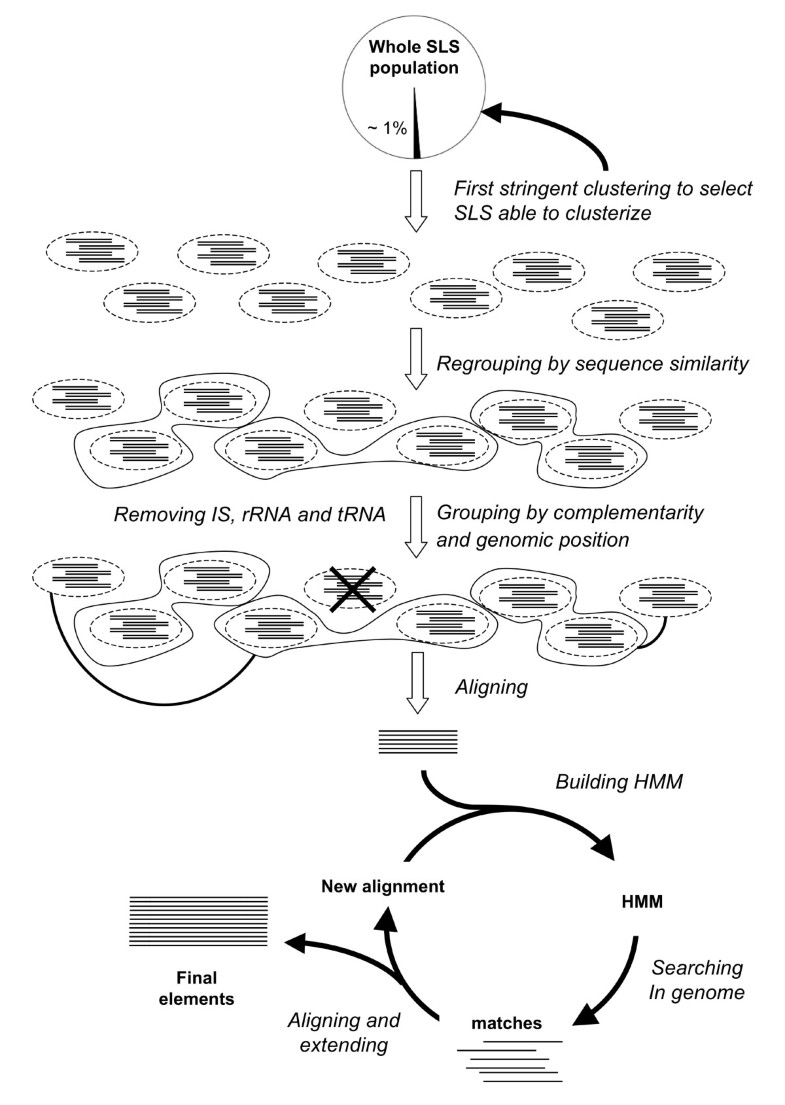 Clustering by sequence similarity resulted in selection of 523 clusters corresponding to just above 28,000 SLSs, about 1% of the whole SLS population: this figure may vary quite a lot in specific species, being sensibly larger, up to 6%, in N. meningitidis, and substantially lower in B. subtilis and P. multocida, where less than 0.1% of the SLSs fall within clusters. Clustering ended up by selecting a subset of SLSs different from the original population and characterized by a much higher probability of non-random folding (see Figure 1), indicating that selection based on sequence similarity was very effective in enriching for structured regions.
Various refinement steps produced the final set of 137 clusters, reported in Table 2. Although mature rRNA and tRNA genes were initially masked within the searched genomic sequences, some clusters were identified, which correspond to unmasked parts of ribosomal RNA precursor genes (Table 2). Similarly, some clusters correspond to SLSs contained within ISs, which escaped the initial filtering for various reasons. Removal of these two subsets and other redundancies reduced the number of identified families to 92.
Notwithstanding the starting population of SLS containing sequences, within these families regions sharing primary structure similarity, but not a common SLS, might, in principle, still be found, and 35 families with no recognizable shared secondary structure, were indeed identified. Most of these sequences are, not surprisingly, found within coding regions, where the formation of secondary structures is expected to be limited by the translation machinery. However, some of these families coincide with intergenic sequence repeats, such as the S. pneumoniae BOX and P. putida REP sequences unable to form structures compatible with the originally searched ones.
Families sharing common secondary structures
Most identified families, 57 out of 92, are predicted by RNAz to share a common secondary structure. This group includes well-known intergenic families, such as the E. coli PU-BIME and ERIC repeats, and their homologues in other species, as well as a number of less known families, most of which described in isolated reports, but not characterized in detail (see Table 3). Practically all intergenic repeats, previously shown or predicted to fold into a RNA secondary structure, have been found. The only exceptions are the S. pneumoniae RUP and the R. conorii RPE-6 repeats, which, although identified by the pipeline, do not fall into this group, because RNAz could not predict a shared secondary structure better than the defined threshold.
For known families, the sequence boundaries, as predicted by the pipeline, are essentially coincident with those previously reported in literature. Specific discrepancies were found only in two families. In the N. meningitidis NEMIS elements, the present search identified the central 46 bp core, but failed to extend the similarity to either the partial 108 or the complete 158 bp repeats described by Mazzone et al. [13]. Similarly, for the S. pneumoniae RUP family, only 63 bases were detected out of the complete 108 bp elements [26].
Known and novel families
In well characterized genomes, such as those of enterobacteria, practically all known families have been detected, along with a few new ones. In E. coli, the known PU-BIME, ERIC and BoxC families were recognized and feature shared secondary structures, while the only new one identified, the Eco-1 family, is predicted as unable to fold. PU-BIME repeats were also detected in S. typhi as two related variants (a full size and a shorter one, only the former predicted to fold) and in S. typhimurium, along with two novel families, Sal-1 and Sal-2 (Table 3). For both of them RNAz could predict a shared secondary structure of the complex type.
As expected, ERIC sequences were detected not only in E. coli, but also in Y. pestis and V. cholerae [16, 31]: Y. pestis repeats are predicted to fold with a structure closely similar to the E. coli elements. In contrast, ERIC sequences detected in V. cholerae are not predicted to fold, being 20 bp shorter than both E. coli and Y. pestis homologues, because of selective erosion of their TIRs. Yersiniae ERIC sequences have been shown to regulate the level of expression of neighboring genes by folding into RNA harpins [16]. V. cholerae ERIC, being unable to fold, may thus not function as RNA stability determinants.
Most potentially structured new families have been found in species less analyzed experimentally or whose genome was more recently sequenced, such as pseudomonaceae, bordetellae, mycobacteria.
For both novel and known families, the predicted common secondary structure is often a stem-loop (see Sta-1 and ERIC in Figure 2). In a fraction of cases, however, RNAz analysis proposes different structures. Some families feature a double hairpin (see EFA-1 and Pae-1 in Figure 2) and others feature a complex structure containing a SLS (not shown).
Genomic localization
Genomic localization highlights the preferential tendency of repeated sequences with a predicted common secondary structure to lie within intergenic regions; this is true for both known and novel ones. In contrast, families found within coding sequences (CDSs) of genomes are often not structured. This is in agreement with the results of RANDFOLD analysis: most (19 out of 27) intergenic families with aligned SLSs (Table 4) are enriched in highly structured SLSs, while this is true for only one genic family, Myp-2. These observations support the overall hypothesis that many of these sequence families fold in a secondary structure at the RNA level, particularly those located in intergenic regions, where the translation machinery is not expected to interfere with secondary structure formation.
Three novel intergenic structured families, Hin-1 in H. influenzae, Nem-4 in N. meningitidis and Pam-1 in P. multocida are composed of similar sequences, characterized by the repetition of short, abundant oligonucleotides, known as DUS [36]. The recurrence, at specific short distances, of this basic oligonucleotide module, shorter than the searched pattern, produces a conserved SLS larger than the required threshold. It is possible that these sequences function as transcriptional terminators, and it has been recently reported that terminator hairpins are indeed frequently formed by closely spaced, complementary instances of exogenous DNA uptake signal sequences [43].
Some novel structured families are located within CDSs. They often contain repetitive motifs of one or a few coding regions, such as Lac-1 in L. johnsonii, Pae-3 in P. aeruginosa and Efa-2 in E. faecalis. Interestingly, the Cod-2 family defines a very small repeat, found within various CDSs, encoding different peptides in different frames. Cod-2 repeats resemble repetitive sequence elements found by Claverie and coworkers in protein coding genes of R. conorii [44]. Five genic families found in M. pneumoniae are part of large (1.5–5.4 kb), possibly mobile repeated DNA sequences having coding capacity [45].
About one third of the identified families are found to be "unstructured". These sequences were not the object of the original search; a possible explanation of their detection is the incidental presence of SLSs within large repeated sequences. Most such families fall within CDSs (see Table 4, and Myt-10 in Figure 3 as an example). Ten of them are contributed by only two genomes: M. tuberculosis and M. pneumoniae. Other unstructured families are clustered within the same CDS (Bor-3 and Bor-6 in B. bronchiseptica) or are dispersed within multiple CDSs, sharing a common protein domain (Bor-4 and Bor-5 in B. bronchiseptica, Pae-2 and Ppu-3 in P. aeruginosa and P. putida, respectively).
Conclusion
A systematic analysis of 40 bacterial genomes is presented, aimed to identify repeated sequence families, sharing a common predicted secondary structure. This procedure identified practically all already described families meeting these constraints, as well as a larger number of novel, undescribed nucleic acid repeats.
About two thirds of the families shared a predicted conserved secondary structure, often a stem-loop based one. Interestingly, these families are mostly composed by elements located within intergenic regions. This localization reflects the hypothesis that RNA folding, within these regions, is more likely to occur, not being affected by the translation machinery.
The identification of repetitive sequence families, able to fold into secondary structures and preferentially located within intergenic regions, reinforces the notion that also in prokaryotic genomes, typically more compact than eukaryotic ones, a relatively large fraction, not coding for proteins, is likely to play a biological role, by encoding functional RNAs.
Conflicts of interests
The author(s) declare that they have no competing interests.
Abbreviations used
bp:

Base pair
CDS:

Coding sequence
CRISPR:

Clustered regularly interspaced short palindromic repeats
DUS:

DNA uptake sequence
HMM:

Hidden Markov Model
IS:

Insertion sequence
MCL:

Markov Clustering algorithm
MFE:

Minimum folding energy
MIRU:

Mycobacterial interspersed repeated unit
nt:

nucleotide
SCR:

SLS-containing region
SLS:

Stem-loop-structure
TIR:

Terminal inverted repeat.
Declarations
Acknowledgements
We wish to thank Angelo Boccia for suggestions and useful discussions, Tommaso Russo for critically reading the manuscript. Informatic support by Gianluca Busiello is also acknowledged. This work has been supported by Ministero dell'Istruzione dell'Universita' e della Ricerca (MIUR) under the PON2004 (SCoPE), FIRB (LITBIO), PRIN 2005 and BioinfoGRID European Projects.
Authors' Affiliations
(1)
CEINGE Biotecnologie Avanzate scarl, Napoli, Italy
(2)
S.E.M.M. – European School of Molecular Medicine, Naples site, Italy
(3)
DBBM Dipartimento di Biochimica e Biotecnologie Mediche, Universita' di Napoli FEDERICO II, Napoli, Italy
(4)
DBPCM Dipartimento di Biologia e Patologia Cellulare e Molecolare, Universita' di Napoli FEDERICO II, Napoli, Italy
Copyright
© Cozzuto et al; licensee BioMed Central Ltd. 2008
This article is published under license to BioMed Central Ltd. This is an Open Access article distributed under the terms of the Creative Commons Attribution License (http://creativecommons.org/licenses/by/2.0), which permits unrestricted use, distribution, and reproduction in any medium, provided the original work is properly cited.