Research article

Open Access
Annotation and analysis of a large cuticular protein family with the R&R Consensus in Anopheles gambiae
Received: 08 August 2007
Accepted: 18 January 2008
Published: 18 January 2008
Abstract
Background
The most abundant family of insect cuticular proteins, the CPR family, is recognized by the R&R Consensus, a domain of about 64 amino acids that binds to chitin and is present throughout arthropods. Several species have now been shown to have more than 100 CPR genes, inviting speculation as to the functional importance of this large number and diversity.
Results
We have identified 156 genes in Anopheles gambiae that code for putative cuticular proteins in this CPR family, over 1% of the total number of predicted genes in this species. Annotation was verified using several criteria including identification of TATA boxes, INRs, and DPEs plus support from proteomic and gene expression analyses. Two previously recognized CPR classes, RR-1 and RR-2, form separate, well-supported clades with the exception of a small set of genes with long branches whose relationships are poorly resolved. Several of these outliers have clear orthologs in other species. Although both clades are under purifying selection, the RR-1 variant of the R&R Consensus is evolving at twice the rate of the RR-2 variant and is structurally more labile. In contrast, the regions flanking the R&R Consensus have diversified in amino-acid composition to a much greater extent in RR-2 genes compared with RR-1 genes. Many genes are found in compact tandem arrays that may include similar or dissimilar genes but always include just one of the two classes. Tandem arrays of RR-2 genes frequently contain subsets of genes coding for highly similar proteins (sequence clusters). Properties of the proteins indicated that each cluster may serve a distinct function in the cuticle.
Conclusion
The complete annotation of this large gene family provides insight on the mechanisms of gene family evolution and clues about the need for so many CPR genes. These data also should assist annotation of other Anopheles genes.
Keywords
Tandem ArraySequence ClusterRace ProductCuticular ProteinConsensus Region
Background
Arthropod cuticle consists predominantly of chitin fibers embedded in a protein matrix [
1
]. While chitin is a simple polymer of N-acetylglucosamine, there is a large number of cuticular proteins (see [
2
,
3
] for review). The vast majority of cuticular protein sequences presently available belong to a family with the R&R Consensus, first identified by Rebers and Riddiford [
4
]. An extended version of the original Consensus has been shown to bind to chitin [
5
,
6
], and the conformation it may adopt has been modeled [
7
,
8
]. Throughout this paper, we will use the term, R&R Consensus, to refer to the extended Consensus and CPR to refer to the family of genes/proteins with this Consensus. The Consensus, with about 64 amino acids, almost always begins near a triad of aromatic residues (Y/F-x-Y/F/W-x-Y/F) and terminates shortly after a uniformly conserved G-F/Y (Figure
1
).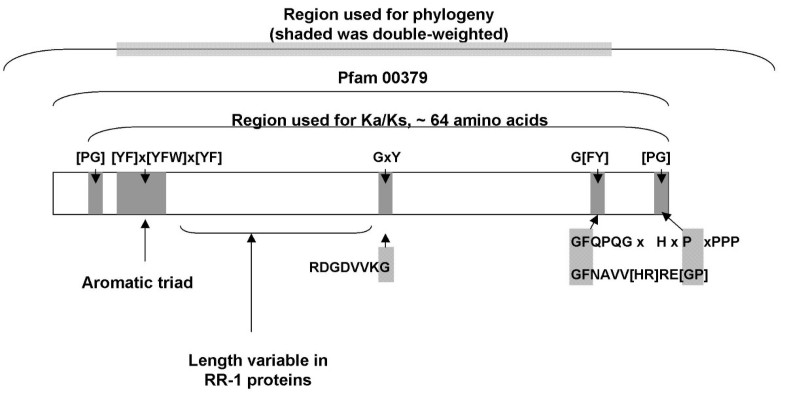 While the R&R Consensus is conserved across arthropods, its location within a cuticular protein and the nature of the regions that flank it are highly variable. Understanding of the role of these proteins in forming the insect exoskeleton and other cuticular structures will be facilitated by defining all of the cuticular proteins of a single species. Accounts of the cuticular proteins with the R&R Consensus have now been published for 28 proteins from Apis mellifera [9] and for 101 from Drosophila melanogaster [10]. Also 102 CPR proteins have been identified in the genome of Tribolium castaneum (Beeman and Willis, unpublished observations). These annotations depended in large part on computerized genome annotation and were not systematically verified at the mRNA or protein level.
In the present study, we have carried out an exhaustive manual annotation of the CPR family of An. gambiae based on the whole genome sequence of the PEST strain [11]. These annotations are being facilitated and verified by a proteomics analysis of cuticles [[12], He unpublished observations] and accompanied by an analysis of gene expression with real-time RT-PCR [13]. In addition, ambiguous gene models have been confirmed or revised by sequencing RT-PCR or RACE products. This work has identified 156 genes coding for CPR proteins. Hence over 1% of the genes of An. gambiae are devoted to just this one family of cuticular proteins.
An investigation of cuticular proteins in An. gambiae carried out prior to whole genome sequencing was particularly informative for the present annotation study. Dotson et al. [14] sequenced a 17.4 kb insert in a genomic library constructed from the Sua strain. This region had three CPR genes that were at least 98% identical in their coding regions, yet differed in 5' and 3' UTRs as well as their introns. Hence, the lesson learned was that virtually identical genes can reside in compact tandem arrays, yet can be recognized as distinct and not an assembly artefact because of the differences in the non-coding regions associated with them.
CPR proteins can be divided into groups according to which variant of the extended R&R Consensus they possess. Two major groups have been named RR-1 and RR-2 while a third group (RR-3) has been identified but from only a small number of sequences [15, 16]. It is unclear whether RR-3s are an evolutionarily distinct group; for the present analysis we include RR-3 genes within the RR-1 class. A Hidden Markov Model can be employed at the cuticle DB web server [17] to assign proteins as RR-1 or RR-2 [10]. Our analysis confirms that the bulk of RR-1 and RR-2 proteins form non-overlapping clades in An. gambiae, separated by a small set of long-branch RR-1, RR-2, and RR-3 proteins that are probably an artificial group. In addition to assembling information that supports annotation, we have analyzed the structure of these clades, examined patterns of molecular evolution, compared the amino acid composition of the different proteins and identified characteristics of each group. We now have further appreciation of the complexity of the insect cuticle and clues about the need for so many CPR genes.
Conclusion
We have identified 156 genes containing the R&R Consensus in the genome sequence of An. gambiae; many have been confirmed experimentally. Phylogenetic analysis of these genes reveals three broad groups, the core RR-1 and RR-2 groups plus an intermediate, long-branched group that is probably artificial. The RR-2 class is dominated by sets of highly similar genes that we have termed sequence clusters. The RR-1 class of the R&R Consensus has a higher evolutionary rate than the RR-2 class, whereas the latter group has a greater diversity of amino-acid composition in the flanking sequences. The multiplicity of almost identical genes within sequences clusters suggests that their amplification may serve to allow massive protein synthesis during the brief periods of cuticle secretion. In addition, and perhaps most importantly, differences among sequence clusters, the rarity of pseudogenes, and the presence of good orthologs for several single-copy genes all indicate that the distinct CPR proteins serve important and unique roles in the cuticle.
Methods
Annotation of sequences
Prior to the availability of sequences from completely sequenced insect genomes, there were 98 insect cuticular proteins sequences available that had the R&R Consensus. Where corresponding genes were known, they were generally simple, with rarely more than two exons. The first intron frequently interrupted the region coding for the signal peptide. The second exon also began in a relatively conserved position close to or interrupting the nucleotides that coded for an aromatic triad near the N-terminus of the extended Consensus [3]. This triad is Y/F-x-Y/F/W-x-Y/F. These simple and consistent features guided the annotation of the An. gambiae genome. We also used the information from [14] that genes that coded for nearly identical proteins would differ in their 5' and 3' UTRs.
We investigated all gene predictions that contained the pfam00379 motif by searching the Ensembl Anopheles Web Site [41] with IPR000618 Additional sequences were identified when our proteomics project [12] turned up peptides indicative of belonging to a previously unannotated protein with the R&R Consensus. Additional BLAST searches and dot-matrix plots were also employed to confirm that we had identified all genes.
We examined each candidate gene to identify essential or common gene features, namely a TATA box, INR [24], signal peptide (identified by SignalP [19, 42], R&R Consensus sequence, and poly-adenylation site (AATAAA or rarely AATACA). These were manually identified, guided whenever possible by ESTs available via BLAST searching [18]. The program Splice Predictor [43] was used to guide identification of splice sites. In a few cases, putative orthologs in other species provided valuable clues. For a few of the more difficult sequences, we used 5' or 3' RACE or RT-PCR to verify/complete the sequence. (See Additional File 7 for primers used). Such experimental work was, of necessity, done with the G3 strain as the PEST strain used for the whole genome sequencing no longer exists. Once sequences were annotated we used SPIDEY [44] to locate the coordinates on the appropriate contig. We present only positions that correspond to the coding sequence itself.
A summary of all annotated genes, their properties, and the nature of supporting evidence is given in Figure 2 and Additional Files 1, 2, 3. Genes in these tables are ordered by their appearance on chromosome arms. We were advised not to use chromosome bands for names as had been done for some of the D. melanogaster genes coding for cuticular proteins [10], so we settled for naming them simply as CPR#. When the genes are discussed in the context of genes in other species, their complete name should be AgamCPR#. Genes were named in the order in which they were annotated; so many names were added out of numerical order. We have provided the VectorBase stable identifiers that begin with AGAP in Additional File 1. A few genes that are incorrect are noted. CPR150–156 were not available when the naming occurred and no Ensembl gene names exist for these.
Definitive gene names, sequences (both cDNA and protein), plus contig locations were submitted to Ensembl and can be found at [45]. Protein sequences are also available at cuticleDB [17, 46].
cDNA cloning
For genes with ambiguous predictions, RT-PCR or RACE (rapid amplification of cDNA ends) was performed. RNA isolation and RT-PCR procedures were described before [13, 47]. All RACE products except for 3' RACE of CPR140 and CPR152 were obtained with the GeneRacer® kit (Invitrogen) using their SuperScript III reverse transcriptase. The 5' RACE product should reach the transcription start site. All PCR products were amplified with tag primers and/or gene specific primers listed in Additional File 7 by LA Taq or Ex Taq (TaKaRa) and cloned in pGEM-T Easy (Promega) or pCR4-TOPO (Invitrogen) plasmid vectors. For CPR140 and CPR152 3' RACE, first strand cDNA was synthesized by SuperScript III reverse transcriptase (Invitrogen) with an oligo dT-anchor primer (5'-GACCACGCGTATCGATGTCGACT23-3'), a modified version of the primer from the Roche RACE kit. A PCR anchor primer (5'-GACCACGCGTATCGATGTCGAC-3') and gene-specific primers were used with these two cDNAs. These modifications were necessary because the 3' RACE primers provided by Invitrogen frequently amplified incorrect regions of the An. gambiae genome by priming at both ends of a sequence. All other gene-specific primers used are given in Additional File 7.
Phylogenetics and sequence analysis
The R&R Consensus was aligned with ClustalW using gap penalties of 10 to open and 5 to extend. The alignment was then manually adjusted to ensure consistency with pfam00379, particularly at the edges of the alignment, and to ensure that alignments among sets of highly similar genes were not distorted by the global optimum. The MEGA3 program [48] was used to calculate genetic distances using the JTT exchangeability matrix [49]. The distance measure is the expected fraction of accepted mutations scaled such that a distance of 1.0 is equivalent to 100 iterations of the JTT matrix. All distances were computed with pairwise deletion of indels.
All annotated An. gambiae CPR genes and all annotated Ae. aegypti RR-2 genes listed in Cornman and Willis (MS in preparation) were submitted to the MEME server [50, 51] with the extended R&R Consensus and signal peptide removed. We placed no restriction on the number of motifs per sequence but limited the size to 5 – 25 amino acids per motif. We investigated the stability of the MEME-identified motifs by submitting haphazard subsamples of CPR genes from mosquito as well as other insect CPR genes. This was to ensure that the same motif definition was recovered when background sequence probabilities were modulated in this way.
The model of nucleotide evolution for SLAC analysis was chosen independently for each run using the DataMonkey model-selection tool [37]. Selected codons were assessed using a Bonferroni-corrected alpha of 0.05. Pairwise Ka/Ks ratios were calculated using the method of Nei and Gojobori [52] as implemented by the program DnaSP [53]. The program codeml of the PAML package [38] was used to assess the likelihood of sequential pairs of evolutionary models described by Yang et al. [54]. For each pair of models, the model with the fewest parameters was considered the null hypothesis and was rejected if the alternative model had a significantly higher likelihood by the chi-squared test suggested by Yang et al. [54].
List of abbreviations used
CPR:

cuticular protein(s) with the R&R Consensus
DPE:

downstream promoter element
EST:

expressed sequence tag
INR:

initiator element
Ka/Ks:

ratio of nonsynonymous to synonymous substitutions
PCA:

principal components analysis
qPCR:

quantitative polymerase chain reaction with DNA template
qRT-PCR:

quantitative reverse transcriptase PCR
RACE:

rapid amplification of cDNA ends
R&R Consensus:

Rebers and Riddiford Consensus
RR-1:

RR-2, two classes of CPR proteins
UTR:

untranslated region of an mRNA
SLAC:

single-likely-ancestor counting method.
Declarations
Acknowledgements
The authors appreciate the help Maureen E. Hillenmeyer and Frank Collins (Notre Dame) provided with the initial stages of annotation and thank Kathryn Cambell (FlyBase) for input on the genes on 2L. Christos Louis (Institute of Molecular Biology and Biotechnology, Crete) gave guidance on naming genes, and Martin Hammond provided help with moving data to ENSEMBL. Nora Besansky (Notre Dame) shared insight into the importance of the 2La inversion. Hugh Robertson (Univ. of Illinois) provided helpful comments on an early draft of the MS. This work was supported by a grant from the National Institutes of Health (AI55624) to JHW.
Authors' Affiliations
(1)
Department of Cellular Biology, University of Georgia, Athens, USA
(2)
The Key Laboratory of Sericulture, Southwest University, Chongqing, PR China
Copyright
© Cornman et al; licensee BioMed Central Ltd. 2008
This article is published under license to BioMed Central Ltd. This is an Open Access article distributed under the terms of the Creative Commons Attribution License (http://creativecommons.org/licenses/by/2.0), which permits unrestricted use, distribution, and reproduction in any medium, provided the original work is properly cited.