Research article
Open Access
Comparative analysis of the Photorhabdus luminescens and the Yersinia enterocolitica genomes: uncovering candidate genes involved in insect pathogenicity
Received: 28 September 2007
Accepted: 25 January 2008
Published: 25 January 2008
Abstract
Background
Photorhabdus luminescens and Yersinia enterocolitica are both enteric bacteria which are associated with insects. P. luminescens lives in symbiosis with soil nematodes and is highly pathogenic towards insects but not to humans. In contrast, Y. enterocolitica is widely found in the environment and mainly known to cause gastroenteritis in men, but has only recently been shown to be also toxic for insects. It is expected that both pathogens share an overlap of genetic determinants that play a role within the insect host.
Results
A selective genome comparison was applied. Proteins belonging to the class of two-component regulatory systems, quorum sensing, universal stress proteins, and c-di-GMP signalling have been analysed. The interorganismic synopsis of selected regulatory systems uncovered common and distinct signalling mechanisms of both pathogens used for perception of signals within the insect host. Particularly, a new class of LuxR-like regulators was identified, which might be involved in detecting insect-specific molecules. In addition, the genetic overlap unravelled a two-component system that is unique for the genera Photorhabdus and Yersinia and is therefore suggested to play a major role in the pathogen-insect relationship. Our analysis also highlights factors of both pathogens that are expressed at low temperatures as encountered in insects in contrast to higher (body) temperature, providing evidence that temperature is a yet under-investigated environmental signal for bacterial adaptation to various hosts. Common degradative metabolic pathways are described that might be used to explore nutrients within the insect gut or hemolymph, thus enabling the proliferation of P. luminescens and Y. enterocolitica in their invertebrate hosts. A strikingly higher number of genes encoding insecticidal toxins and other virulence factors in P. luminescens compared to Y. enterocolitica correlates with the higher virulence of P. luminescens towards insects, and suggests a putative broader insect host spectrum of this pathogen.
Conclusion
A set of factors shared by the two pathogens was identified including those that are involved in the host infection process, in persistence within the insect, or in host exploitation. Some of them might have been selected during the association with insects and then adapted to pathogenesis in mammalian hosts.
Keywords
Insect HostUniversal Stress ProteinInsecticidal ToxinEnterocolitica StrainPhotorhabdus Luminescens
Background
Pathogenicity as well as symbiosis plays a key role in the interaction of bacteria with their hosts including invertebrates. Despite the relevance of this relationship for the evolution of bacterial pathogenicity, few studies have addressed this subject at the genomic level. We therefore decided to perform a comparative study of the genomes of Photorhabdus luminescens and Yersinia enterocolitica. The former bacterium is a representative of pathogens highly virulent towards insects, but apathogenic against men. Y. enterocolitica, an example of a primarily human pathogen, also confers toxicity to insects, but is less toxic towards these hosts than P. luminescens.
Members of the genus Yersinia are primarily considered as mammalian pathogens. However, Y. pestis, a blood-borne pathogen and the etiological agent of human plague, has long been known to be transmitted by insects, specifically by rat fleas. Y. enterocolitica strains have been isolated from flies that are assumed to play an important role in food contamination by this pathogen [1–3], and Y. pseudotuberculosis strains were recovered from fly larvae isolated in the wild [4]. More recent data strongly support the idea that yersiniae are capable to interact with insects. Loci encoding the insecticidal toxin complexes (Tc) have been identified in the genomes of Y. pestis KIM [5], Y. pseudotuberculosis [6], and Y. enterocolitica [7]. Y. pseudotuberculosis, in contrast to Y. pestis, has been shown to be orally toxic to flea [8]. This toxicity revealed to be independent of tc genes, suggesting that loss of one or more insect gut toxins is a critical step in the change of the Y. pestis lifestyle compared with the Y. pseudotuberculosis and thus in evolution of flea-borne transmission [8]. While Y. enterocolitica and Y. pseudotuberculosis have diverged within the last 200 million years, Y. pestis has emerged from Y. pseudotuberculosis only 1,500–20,000 years ago [9]. Bacterial lysates both of Y. enterocolitica and Y. pseudotuberculosis are toxic for Manduca sexta neonates, and significant levels of natively or heterologously expressed toxins were observed in both species at 15°C, but not at mammalian body temperature [7, 10]. Furthermore, Y. pseudotuberculosis and Y. enterocolitica have been demonstrated to adhere to and invade cultivated insect cells [10]. Thus, the interaction of Y. enterocolitica with insects is an important link in the ecological range of bacteria-host interactions extending from entomopathogenic to humanpathogenic bacteria.
In contrast,
Photorhabdus luminescens
is predominantly an insect pathogenic enterobacterium which maintains a mutualistic interaction with heterorhabditid nematodes, and can infect a wide range of insects [
11
,
12
]. Interestingly, another
Photorhabdus
species,
P. asymbiotica
, has been described as a human pathogen. It was isolated from human clinical specimens where the cells caused locally invasive soft tissue infections [
13
,
14
]. It is assumed that these strains are associated with spiders, because spider bites where attended with
Photorhabdus
human infections [
15
]. However, bacteria of the species
P. luminescens
are exclusively known to be associated with nematodes and insects. Generally, the bacteria colonise the gut of the infective juvenile stage of the nematode
Heterorhabditis bacteriophora
. Upon entering an insect host, the nematodes release the bacteria by regurgiation directly into the insect hemocoel, the open circulatory system of the insect. Once inside the hemocoel, the bacteria replicate rapidly and establish a lethal septemica in the host by the production of virulence factors such as the insecticidal toxin complexes that kill the insect within 48 hours. Bioconversion of the insect's body by
P. luminescens
produces a rich food source for the bacteria as well as for the nematodes. Nematode reproduction is supported by the bacteria, probably by providing essential nutrients that are required for efficient nematode proliferation [
16
]. Further properties of
P. luminescens
are the production of many antimicrobial substances to defend the insect cadaver from bacterial competitors, and glowing due to bacterial luciferase production. When the insect cadaver is depleted, the nematodes and bacteria reassociate and emerge from the carcass in search of a new insect host (Fig.
1
, right circle)[
17
,
18
].
Photorhabdus
species exist in two forms, designated as primary and secondary phenotypic colony variants, which differ in morphological and physiological traits. Primary variants are found to produce extracellular protease, extracellular lipase, intracellular protein crystals CipA and CipB, antibiotics, and are bioluminescent. Secondary variants lack protease, lipase and antibiotic activity, and bioluminescence is strongly decreased. They also differ in colony morphology, pigmentation, dye adsorption, metabolism, and the ability to support growth and reproduction of the nematodes. It is assumed that primary variants correspond to the nematode-associated form, and secondary variants to the insect-associated form of the bacteria [
19
,
20
]. Therefore,
P. luminescens
serves as an ideal model to study the switch from a symbiotic state with nematodes to one in which the bacterium is pathogenic to insects [
21
,
22
].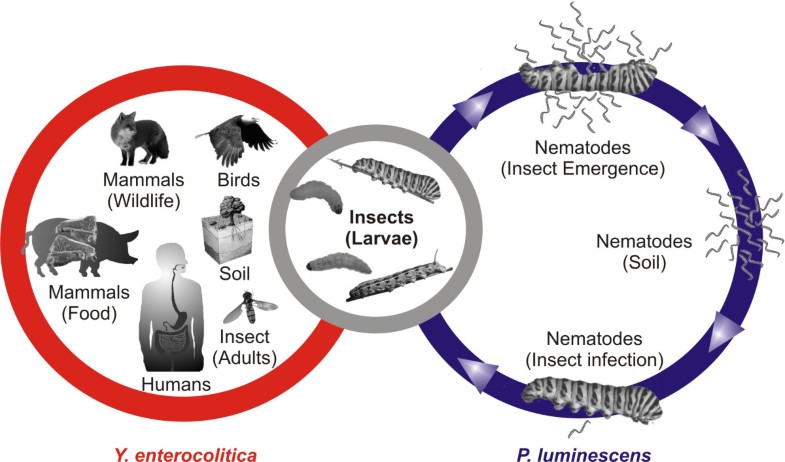 In the following comparative genome analysis, we examined the extent to which P. luminescens and Y. enterocolitica share factors that are probably attributed to insect association. We identified genes and the corresponding proteins involved in signalling, regulation, pathogenicity, as well as in metabolism, and suggest their possible function during colonization and infection of non-mammals. The results obtained not only improve our understanding of the biology of both pathogens, but also reveal some implications on the evolution of invertebrate and vertebrate virulence factors.
Results and Discussion
The genomes of P. luminescens ssp. laumondii TT01 and Y. enterocolitica 8081 have completely been sequenced. The genome of the latter strain has a size of ~4.6 Mbp and encodes 4037 putative proteins [23]. Its genome size is exceeded by the ~5.7 Mbp genome of P. luminescens encoding 4839 putative proteins [24]. To uncover candidate genes which are involved in insect pathogenicity, a total of 424 (P. luminescens) and 386 (Y. enterocolitica) genes and proteins predicted to belong to one of the functional categories described in the text were analysed for their presence or absence in both organisms, and for their degree of similarity. House-keeping genes and genes of unknown function were not considered. The set of shared genes or proteins, respectively, indicates mechanisms of regulation, virulence and metabolic pathways similar for both pathogens, and moreover unraveled novel candidate genes/proteins which presumably are involved in insect association and/or pathogenicity. Proteins which are solely present in either one of the organisms suggest a distinct function of these factors, or different strategies followed by the two pathogens during their life cycles.
Conclusion
The comparison of Y. enterocolitica and P. luminescens at the genomic level performed here provides the database for a better understanding of the genetic basis for their distinct behaviour towards invertebrates and mammals. Y. enterocolitica is expected to switch between two pathogenicity phases against insects and mammalians, while the genome of P. luminescens must contain the modulators and regulators necessary to change the bacterium from a state of symbiosis with nematodes to pathogenicity against insects, and also from symbiosis-proficient primary variants to symbiosis-deficient secondary variants [17]. Those adaptational processes must be precisely regulated by the bacteria. It was assumed that there are parallels in the regulation of pathogenicity in mammals and insect pathogens [41, 123]. However, molecular components of the regulatory networks controlling pathogenicity and mutualism have recently been demonstrated to be very different between P. luminescens and X. nematophilus with similar life cycles [124]. Dissecting the genomes of Y. enterocolitica and P. luminescens for putative key regulators, we identified factor groups (AI-2, PAS-4/LuxR like receptors) possibly involved in pathogen-insect association only, those with members contributing to either insect or mammalian pathogenicity (QS, TKS, Usp), and c-di-GMP signalling probably not involved in regulation of activities against insects. Certainly, the question whether fundamental differences in regulatory networks reflect how each of these two bacteria specifically interacts with either the insect or the human host remains to be addressed in more detail.
Bioconversion of its insect hosts is an important stage in the lifecycle of P. luminescens. This fact might explain the high number of antibacterial factors directed against possible competitors that are going to colonize the same insect cadaver or that are already present in the insect gut flora [17]. However, no corresponding determinants were identified in the genome of Y. enterocolitica. Moreover, P. luminescens is pathogenic to a variety of insect larvae, and a dose of <5 colony-forming units directly injected into the blood system is sufficient to kill within 48–72 h [124]. In contrast, only highly concentrated protein extracts of Y. enterocolitica are toxic for M. sexta [7], and a low insect larvae mortality has been observed following injection of approximately 3.5 × 106 Y. enterocolitica cells into the hemolymph (T. M. Fuchs, unpublished data). This data strongly suggests that Y. enterocolitica, similar to Y. pestis, has developed a strategy to infect and proliferate in insects, and use these organisms rather as transmission vectors than as pure nutrient source.
Summarizing, Y. enterocolitica and P. luminescens have evolved partially different and partially similar and therefore probably conserved mechanisms to detect and to react on the insect host. Up to the present time, we are far away from understanding the complexity of bacteria-invertebrate interactions. With the genome comparison carried out here, however, we uncovered several genes which are promising candidate genes involved in insect association and pathogenicity, and therefore created a promising basis for future experimental work.
Methods
Accession numbers of the genome of Y. enterocolitica strain 8081v are AM286415 and AM286416 (plasmid), of the insecticidal toxin genes AJ920332, and of the genome of P. luminescens subsp. laumondii strain TT01 BX470251. For gene annotation, functional assignments and BLAST analysis, we used the server of the Sanger Institute and the Pasteur Institute. Genome comparison was performed using the ACT software [125], and the GECO comparative genome analysis software [126]. For protein domain analysis, we used the CDART [127], SMART [128] and Pfam [129] algorithms on the NCBI web server. Proteins containing special protein domains were identified by performing a BLAST search of the domain sequence on the genomes of the respective organisms. The threshold for the consideration of protein homologies was a significance value of <10-04 and an identity on the amino acid level of >22% in the BLAST analysis.
Abbreviations
TCS:

two-component system
TPS:

two partner secretion
T2SS:

type-II secretion system
T3SS:

type-III secretion system
T6SS:

type-VI secretion system
Declarations
Acknowledgements
The authors thank Torsten Hain for support with the GECO analysis tool, and Siegfried Scherer, Heinrich Jung, and Roy Gross for critical reading of the manuscript. We apologize to those whose research articles are not cited here.
Authors' Affiliations
(1)
Ludwig-Maximilians-Universität München, Department Biologie I, Bereich Mikrobiologie, München, Germany
(2)
Zentralinstitut für Ernährungs- und Lebensmittelforschung (ZIEL), Abteilung Mikrobiologie, Technische Universität München, Freising, Germany
Copyright
© Heermann and Fuchs; licensee BioMed Central Ltd. 2008
This article is published under license to BioMed Central Ltd. This is an Open Access article distributed under the terms of the Creative Commons Attribution License (http://creativecommons.org/licenses/by/2.0), which permits unrestricted use, distribution, and reproduction in any medium, provided the original work is properly cited.