Research article

Open Access
qRT-PCR evaluation of the transcriptional response of zebra mussel to heavy metals
Received: 5 February 2015
Accepted: 23 April 2015
Published: 6 May 2015
Abstract
Background
The transcriptional response of adult zebra mussels (Dreissena polymorpha) to heavy metals (mercury, copper, and cadmium) was analyzed by quantitative Real-Time Polymerase Chain Reaction (qRT-PCR) to study the coordinated regulation of different metal-, oxidative stress- and xenobiotic defence-related genes in gills and digestive gland. Regulatory network analyses allowed the comparison of this response between different species and taxa.
Results
Chemometric analyses allowed identifying the effects of these metals clearly separating control and treated samples of both tissues. Interactions between the different genes, either in the same or between both tissues, were analysed to identify correlations and to propose stress-related genes' regulatory networks. These networks were finally compared with existing data from human, mouse, zebrafish, Drosophila and the roundworm to evaluate their mechanistically-known response to metals (and to stressors in general) with the correlations observed in the still poorly-known, invasive zebra mussel.
Conclusions
Our analyses found a general conservation of regulation genes and of their interactions among the different considered species, and may serve as a guide to extrapolate regulatory data from model species to lesser-known environmentally (or medically) relevant species.
Keywords
qRT-PCR
Chemometric analysis
Dreissena polymorpha
Metal exposure
Gene networks
Oxidative stress pathways
Transcriptional regulation
Background
The survival of organisms to the ever-changing environmental conditions depends on their capacity to cope with the multiple stressors they are exposed to. The coordinated activation of different stress mechanisms is a fundamental element of the overall response to pollutants and to other potentially deleterious external inputs [1]. On the very roots of these coordinated responses lies an intricate network of regulatory elements at genetic level, adapting the cell metabolism first to survive to the sudden external changes and afterwards to acclimate to the new, and often unfavourable, conditions. DNA microarrays (and ultimately, high-throughput sequencing) are the standard instrumental technique to monitor changes in gene expression of essentially all genes [2]. There has been an increasing interest in the literature on chemometric data pre-treatment and data analysis methods dealing with microarray data [3,4]. However, other instrumental techniques can also monitor gene expression variations in multiple samples. One of these techniques is the quantitative Real-Time Polymerase Chain Reaction (qRT-PCR) that allows detecting and quantifying target DNA molecules [5]. The main advantage of this method is that it allows quantitation of changes in mRNA levels (usually related to gene expression variations) in a very wide range of values (>107-folds), resulting in assays with very high sensibility, selectivity, and reproducibility [5,6]. In addition, high-throughput systems allow analysing hundreds of transcripts for many samples simultaneously, which allow obtaining a large quantity of data in a single experiment. Different studies using qRT-PCR have appeared in the recent years in the literature, studying the response of different organisms at the gene expression level in so diverse research fields such as drug discovery, cancer research, environmental assays [7-11]. However, the analysis of qRT-PCR data by means of chemometric methods has not yet received the same attention as the analysis of DNA microarrays data, and only a small number of studies about this topic can be found in the literature [12-14].
In this work, variations in the gene expression of the zebra mussel (Dreissena polymorpha) associated with environmental stresses, such as the presence of pollutants, are investigated by means of chemometric analysis of qRT-PCR data. This freshwater mussel species has been selected due to its invasive character, which brought it to expand from its natural geographic distribution in the Caspian and Black seas to a real worldwide distribution in the last few decades [15]. In some places, this expansion has led to large infestations with significant economic and environmental consequences [15]. One of these colonisations has occurred in the Ebro river basin (North East Spain) where it has become a danger to native species [16]. Zebra mussel is the only freshwater bivalve that can be legally collected for environmental monitoring. This circumstance, together with the known ability of the zebra mussel to bioaccumulate contaminants, has increased the interest of this species as a sentinel notably for biomonitoring purposes and quality control of water ecosystems [17-23].
As a training dataset, we used previously reported qRT-PCR data from gills and digestive glands of adult zebra mussels exposed to different heavy metals concentrations (copper, cadmium and mercury) [22]. Several multivariate data analysis approaches have been tested with the final goal of monitoring and distinguishing between effects caused by heavy metals and exposure time, and with the goal of identifying the genes most affected by the investigated pollutants. Finally, biological interpretation has been obtained from a comparison with genetic and regulatory networks in different model species.
Results
Figure
1
shows the mean-centred data matrix composed of 40 samples and 18 genes. The visual representation of this data matrix did not show any feature easy to be interpreted. For instance, the heat map representation of the data (Figure
1
a) did not allow gathering any relevant information about possible relationships between genes and samples directly. Therefore, different multivariate data analysis methods were tested to investigate relationships between genes and samples.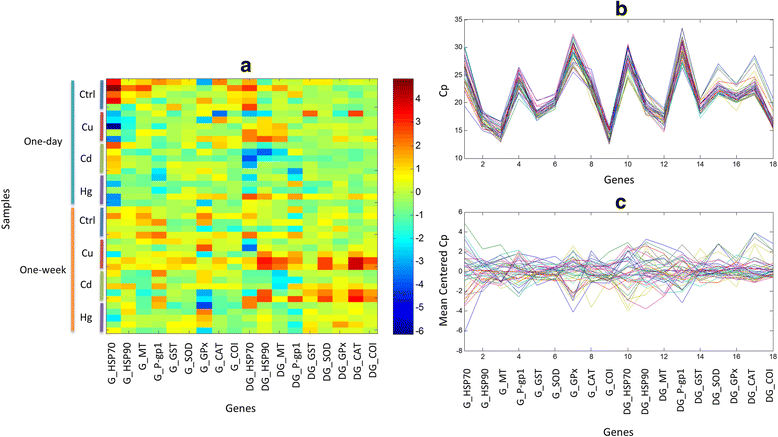 Discussion
Phylogenetic analysis of co-regulated genes
Genetic and regulatory interactions between stress genes in
D. polymorpha
(Figures
2
and
3
) were also explored in different model species using the respective putative orthologs (Table
2
). While some uncertainties are unavoidable when adscribing orthologs for genes from
D. polymorpha
in other species, some of the co-regulatory interactions shown in Figures
2
and
3
were also seen in phylogenetic distant species (Figure
8
).
Table 2
D. polymorpha stress genes' homologs in reference model species
D. polymorpha

H. sapiens

M. musculus

D. rerio

C. elegans

D. melanogaster

Gene name

GB reference

Gene name

GB reference

Gene name

GB reference

Gene name

GB reference

Gene name

GB reference

Gene name

GB reference

MT

U67347

MT2A

NC_000016.10

mt2

NC_000074.6

mt2

NC_007129.6

mtl-1

NC_003283.10

MtnA

NT_033777.3

HSP70

EF526096

HSPA8

AAH07276.2

Hspa8

AAI06170.1

hsp70-4

AAH56709.1

HSP-1

NP_503068.1

hsp70Bb

AAW34352.1

HSP90

GU433881

HSP90AA1

NC_000014.9

Hsp90aa1

AAA37868.1

hsp90aa1.2

AAI54424.1

DAF-21

NP_506626.1

Hsp83

AAB46685.1

GST

EF194203

GSTP1

AAC13869.1

GSTP1

NP_038569.1

gstp2

NP_001018349.1

GST-1

NP_499006.1

GstS1

NP_725653.1

SOD

AY377970

SOD1

NP_000445.1

SOD1

NP_035564.1

sod1

NP_571369.1

SOD-1

NP_001021956.1

Sod

NP_476735.1

GPx

DQ459994

GPX3

NP_002075.2

GPX3

AFP27210.1

gpx3

NP_001131027.1

GPX-3

NP_509616.1

CG13074

NP_648835.1

CAT

EF681763

Cat

AAB59522.1

cat

AAA66054.1

cat

AAF89686.1

CTL-2

NP_001022473.1

cat

NP_536731.1

COI

AM749000

Coi

AEH94123.1

CoI

AAX19525.1

coi

AFG23394.1

cco-1

NP_006961.1

mt:CoI

ADG46971.1

P-gp1

AJ506742

ABCB5alpha

AAW31629.1

Abcb1b

NP_035205.1

abcb4

NP_001108055.1

PGP-1

NP_502413.1

Mdr49

NP_001163132.1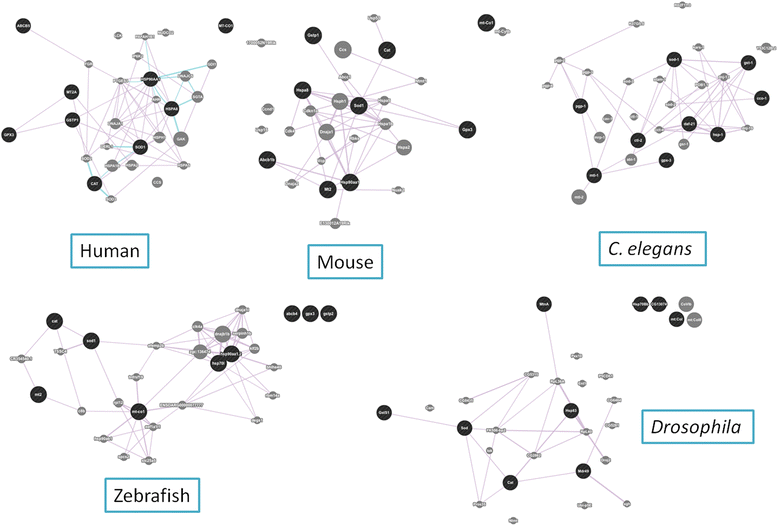 For example, GST-SOD and GST-CAT co-expression seem to be quasi-universal, at least within Metazoans, as well as the interactions between HSP90 and HSP70 (Figure
9
). Conversely, co-expression between MT and HSP90 was only found in two species (mouse and
C. elegans
), whereas COI and P-gp1 genetic interaction with other stress genes was rarely (if ever) observed in the other species (Figure
9
). Given the wide evolutionary gap between
D. polymorpha
and vertebrates or
D. melanogaster
and
C. elegans
, the existence of common co-expression patterns indicates that the correlation analyses were able to define deeply rooted regulatory networks among Metazoans. GST, SOD, and CAT are part of the cellular defence mechanism against oxidative stress, although they act at very different levels [
25
,
26
]. Similarly, HSP90 and HSP70 share the heat-shock responsive element (also found in some metallothionein genes, [
27
,
25
]), so its co-expression may well be mediated by this particular regulatory network. The mechanisms for the co-expression of COI (an essential mitochondrial component required for cellular respiration) and the components of the oxidative stress cluster seems to be a unique of
Dreissena
, and may indicate a subjacent defence mechanism not characterized yet. The same apply to the correlation between Pgp-1 and SOD, only observed in gills (Figure
9
). The possible meaning of these observations will be only understood as our knowledge of the defence mechanisms in molluscs increases. Our results suggest some mechanism(s) linking the presence of stress agents (in this case, heavy metals) to at least four levels of cellular defence: 1) Out flux of the exogenous agent (Pgp-1); 2) Chelation and neutralization of divalent metals (MT); 3) Heat-shock response (HSP70 and HSP90), probably related to the presence of denatured proteins; and 4) Oxidative stress defence (GST, SOD, CAT). The ASCA analysis suggests a temporal gradation of these mechanisms, being HSP90 and Pgp-1 expression more related to the early response (one-day, Figure
6
b-6c), and MT and HSP70 associated to the chronic exposure (Figure
6
b-6c). At this point, it should be considered that longer exposure times imply two independent and somewhat contradictory mechanisms. In the first place, tissue damage may accumulate over time, increasing the toxic effects. At the same time, acclimation processes occur, by which cells (and tissues) compensate the presence of the toxicant and reduce its effective toxicity. These two opposite effects may well be the reason for the negative, quasi-linear correlation of PC1 and PC2 scores in Figure
5
b. The fact that the correlation analyses were able to identify these different defence modules and following a co-expression pattern similar to, or at least compatible with, those already known for reference model species demonstrate the utility of these statistical methods to explore regulatory networks in species, like
D. polymorpha
, for which very little genetic information is available.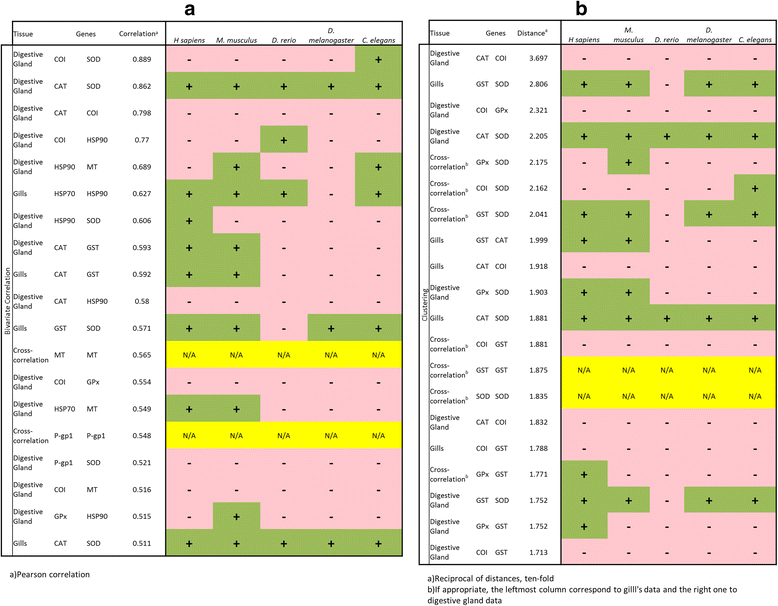 Agent- and tissue-specificity of the stress response
While a direct evaluation of the severity of the toxic effects is not possible with the current data, clustering of the different samples shows that mercury-treated samples were closer to controls than Cd- or Cu-treated ones, suggesting that these two heavy metals were more toxic to D. polymorpha than mercury. This conclusion was also drawn from the preliminary analysis of this data [22] as well as from a transcriptomic analysis of D. polymorpha populations along a pollution gradient in the Ebro River (Spain, [23]). The pattern of response seemed to differ for the two analyzed tissues as shown in Figures 2 and 3. However, expression of two genes (Pgp-1 and MT) appeared to be highly coordinated in both tissues (Figures 2 and 3, see also [22]). It is important to note that these two genes directly interact with the toxic agent (extruding it out of the cell in the first case, and chelating it in the second case), whereas the other mechanisms are compensating potentially deleterious alterations in the cell components (oxidation, denatured proteins). Therefore, it is not unrealistic to think that Pgp-1 and MT expression reflected the effective concentration of the metals in both tissues (bound to be relatively similar), whereas expression of the other genes would depend upon the extent of these internal damages, which very likely differ for both cell types.
Conclusions
In this work, the application of different chemometric methods allowed the extraction of relevant information from qRT-PCR data. Results from different methods appeared to be complementary focusing on various data features. Information provided by gene network diagrams can make rather easy the interpretation of the possible correlations between investigated genes.
Chemometric results showed that genes were clustered according to the type of tissue, and separation of samples was achieved according to their time evolution (one-day versus one-week treatment) and heavy metal treatment. It is remarkable the conservation of at least some of the regulatory networks within Metazoans, and the ability of the presented method to define these genetic interactions using only a limited number of experiments and conditions in species, such as D. polymorpha, for which very little genetic information is available.
Declarations
Acknowledgements
This work has been supported by the European Research Council under the European Union's Seventh Framework Programme (FP/2007-2013)/ERC Grant Agreement n. 320737. Recognition from the Catalan government (grant 2014SGR1106) is acknowledged. We acknowledge support of the publication fee by the CSIC Open Access Publication Support Initiative through its Unit of Information Resources for Research (URICI). JJ acknowledges a CSIC JAE-Doc contract cofounded by the FSE.
Authors' Affiliations
(1)
Department of Environmental Chemistry, IDAEA-CSIC, Barcelona, Spain
Copyright
© Jaumot et al.; licensee BioMed Central. 2015
This is an Open Access article distributed under the terms of the Creative Commons Attribution License (http://creativecommons.org/licenses/by/4.0), which permits unrestricted use, distribution, and reproduction in any medium, provided the original work is properly credited. The Creative Commons Public Domain Dedication waiver (http://creativecommons.org/publicdomain/zero/1.0/) applies to the data made available in this article, unless otherwise stated.