Research article
Open Access
Tumor characterization and stratification by integrated molecular profiles reveals essential pan-cancer features
Received: 2 January 2015
Accepted: 5 June 2015
Published: 7 July 2015
Abstract
Background
Identification of tumor heterogeneity and genomic similarities across different cancer types is essential to the design of effective stratified treatments and for the discovery of treatments that can be extended to different types of tumors. However, systematic investigations on comprehensive molecular profiles have not been fully explored to achieve this goal.
Results
Here, we performed a network-based integrative pan-cancer genomic analysis on >3000 samples from 12 cancer types to uncover novel stratifications among tumors. Our study not only revealed recurrently reported cross-cancer similarities, but also identified novel ones. The macro-scale stratification demonstrates strong clinical relevance and reveals consistent risk tendency among cancer types. The micro-scale stratification shows essential pan-cancer heterogeneity with subgroup-specific gene network characteristics and biological functions.
Conclusions
In summary, our comprehensive network-based pan-cancer stratification provides valuable information about inter- and intra- cancer stratification for patient clinical assessments and therapeutic strategies.
Keywords
Cancer TypeHuman Papilloma VirusPIK3CA MutationHuman Papilloma Virus InfectionCopy Number Gain
Background
Cancer largely results from various molecular aberrations comprising somatic mutational events such as single nucleotide mutations, copy number changes and DNA methylations [1–3]. In addition, cancer is viewed as a wildly heterogeneous disease, consisting of different subtypes with diverse molecular implementations of oncogenesis and therapeutic responses. Many organ-specific cancers have established definitions of molecular subtypes on the basis of genomic, transcriptomic, and epigenomic characterizations [1–3], indicating diverse molecular oncogenic processes and clinical outcomes. The molecular-defined intrinsic breast cancer subtypes (luminal A, luminal B, HER2-enriched, basal-like, and normal-like) are typical examples, since they have been reported to be associated with distinct phenotype outcomes and have different chemotherapy responses and respective stratified therapy [4–8]. Similarly, endometrial cancers have also been classified into four categories (POLE ultramutated, microsatellite instability hypermutated, copy-number low, and serous-like) through a comprehensive, multiplatform analysis [9], and glioblastoma multiformae was stratified into four distinct molecular subtypes (proneural, neural, classical, and mesenchymal) based on the CpG island methylation phenotype [1]. Different tumor subtypes of the same organ reflect diverse molecular oncogenic processes and various clinical outcomes, which imply that they should be treated as different cancers for treatment design in some sense [10].
Key genomic similarities shared by subgroups of patients across cancer types would present an opportunity to design tumor treatment strategies among tumors regardless of tissue or organ of origin and enable the extension of effective treatments from one cancer type to another [11]. For example, the molecular commonalities between basal-like breast tumors with high-grade serous ovarian tumors indicate a related etiology and similar therapeutic opportunities [12]. However, the current tumor heterogeneity is mostly defined for tumors of the same organ without considering the potential cross-cancer benefits. Thus, deciphering tumor heterogeneity for all cancers based on their genomic characteristics is an urgent issue.
In the past, insufficiency of high quality genomic datasets of a large number of patients across different tumor types has impeded such investigations. With great advancement in high-throughput sequencing technologies and comprehensive efforts of systematic cancer genomics projects (e.g., the Cancer Genome Atlas pan-cancer project [11]), studies on molecular aberrations of cancer patients have increased unprecedentedly in scale and accessibility, enabling large-scale integrative cross-cancer analysis [13]. Very recently, Hoadley et al. conducted a comprehensive integrative analysis using data from six independent omics platforms on 3,527 specimens from 12 cancer types and reported a unified classification into 11 major subtypes (originally, there were 13 classes and 2 classes only had 3 samples and 6 samples respectively) [14].
Cancer has long been considered as a disease of combinations of functionally related alterations at the network level. In recent years, the molecular network as a simple but efficient presentation of complex interactions and regulatory relationships between molecules has been adopted comprehensively for understanding system-level properties of complex disease. However, Hoadley et al. only adopted very limited information on pathways and failed to employ a large-scale molecular interaction network [14]. In contrast, we believe that aggregating genomic characterizations of patients using gene networks would contribute to identifying subgroups of patients with similar molecular-network patterns affected by diverse genetic alterations.
In this study, we adopted a network-based stratification (NBS) approach [15] to integrate key genetic and epigenetic features of 3299 tumor samples from 12 cancer types [16] to uncover novel pan-cancer heterogeneity. We found that our pan-cancer stratification is predictive of clinical outcomes, and different cancer patients falling into the same subgroup show consistent survival tendency or grade/stage severity. We identified subgroup-specific genomic alterations and networks that are responsible for distinguishing each subgroup. These subgroup networks demonstrate specific genomic characteristics and biological functions. In summary, our cross-cancer stratifications not only revealed most recurrently reported cross-cancer similarities, but also novel patient groupings, implying valuable messages for patient clinical assessments and therapeutic strategies.
Discussion
In this paper, we adopted a network framework to integrate the alteration profile of 12 cancer types to reveal essential pan-cancer heterogeneity among diverse cancers. Without considering the primary tumor organ information, all tumors were clustered into pan-cancer subgroups, which allowed us to discover important cross-cancer commonalities. In a recent study, Ciriello et al. [16] revealed two major classes, the M class (dominated by mutation) and the C class (dominated by CNAs), and further derived a hierarchical classification of patients based on the binary event data by repeating the algorithm on each newly identified class. However, this process affects the identification of tumor heterogeneity and ignores the cross-cancer similarities embodied in pathways and networks. Our network-based stratification can conquer these limitations of the sparsity of the discrete binary data and the lack of information on neighboring genes.
More recently, Hoadley
et al
. identified 11 major pan-cancer classes by integrating the data of six platforms. However, these classes are highly correlated to the cancer tissue of origin, revealing limited features shared by diverse cancers. In contrast, our stratifications uncover distinct cross-cancer similarities and significant clinical relevance (Figs
2
and
3
, Fig
7
and in Additional file
1
: Figure S13). Hoadley
et al
. clustered the combined hard membership matrices of unsupervised clustering results from all data platforms to get the final classification, which ignores the distinct diversity of each data and oversimplifies the underlying clustering features. Moreover, Hoadley
et al
. did not make full use of the effect of mutated genes on their neighboring genes through large-scale biological networks.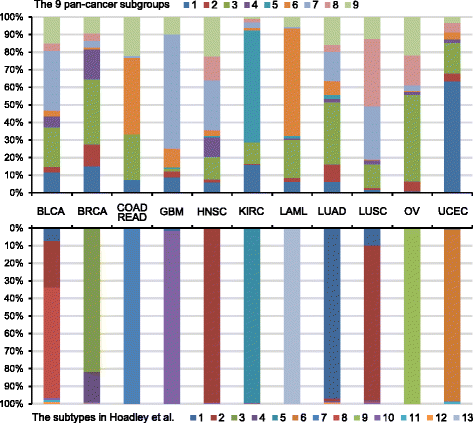 Specifically, among the 11 classes identified by Hoadley et al., five show near one-to-one relationships with tissue of origin, while only one subgroup was found in our PC9 subgroups (KIRC specific subgroup-5; in Additional file 1: Figure S13). This repeated finding further confirms the highly exclusive molecular characteristics of KIRC compared to others. We also clustered BRCA luminal tumors and basal-like tumors into two separate classes (subgroup-3 and subgroup-4) as done by Hoadley et al., emphasising the intrinsic divergence of this tumor (in Additional file 1: Figure S13). The most important cross-cancer class in Hoadley et al. [14] is the squamous-like subtype, which consists of LUSC, BLCA, and some BLCA. Similar observations in our work can be found in subgroup-7 with additional enriched GBM samples (in Additional file 1: Figure S13). Both studies reported the loss of CDKN2A in this patient cohort; however, our subgroup-7 was characterized by the copy number deletion on chromosome 9p21 with nearly 100 % frequency. We also found that the loss of IFNA family genes in this group may be related to the virus infection in carcinogenesis of these tumors. Our results revealed the known cross-cancer similarities between basal-like and serous OV, however, which was failed to be clustered together in Hoadley et al. [12, 14] (in Additional file 1: Figure S13). In addition, our study reveals more cross-cancer similarities that were not reported in Hoadley et al. such as the hypermethylation of MGMT and other genetic characteristics shared by subsets of LAML and UCEC in subgroup-6 and the 100 % copy number gain on chromosome 3q26 in fractional OV, LUSC, and HNSC in subgroup-8 (in Additional file 1: Figure S13).
Finally, in order to evaluate the robustness of our classification to obtain the 9 pan-cancer subgroups, we performed random subsamplings of the samples and reclassified the reduced dataset into 9 classes with the same calculation procedure. The results demonstrate that our pan-cancer stratification is a robust grouping system that can uncover very consistent patient assignments (in Additional file 1: Figure S14 ).
Conclusions
In summary, our comprehensive network-based stratification of 12 cancer types reveals essential pan-cancer heterogeneity among diverse cancers without considering the primary tumor organ information. The uncovered similarities among cancers of different organs suggest important cross-cancer commonalities. These commonalities not only cover most of the recurrently reported cross-cancer similarities, but also identify several novel potential ones. The macro-scale pan-cancer subgroups demonstrate strong clinical relevance and reveal consistent clinical risk tendency among cancer types. The micro-scale stratification shows essential pan-cancer heterogeneity with subgroup-specific genomic network characteristics and molecular implementations of oncogenesis. We believe that the pan-cancer subgroups defined here are promising stratifications of tumors for deciphering the underlying mechanisms of cancer deeply. With the rapid accumulation of cancer genomics data, this pan-cancer subgrouping procedure can be adopted for a more comprehensive understanding of the pan-cancer heterogeneity. Moreover, it is known that mutations in the same gene can lead to different consequences depending on which domain interface is altered [43–45]. How to integrate such information into the pan-caner stratifications is of great interest and worth exploring in further study.
Declarations
Acknowledgements
The authors thank Profs Chris Sander and Giovanni Ciriello for providing us the selected functional events (SFEs) data and Prof Trey Ideker for providing us the NBS package.
Authors' Affiliations
(1)
National Center for Mathematics and Interdisciplinary Sciences, Academy of Mathematics and Systems Science, Chinese Academy of Sciences, Beijing, China
Copyright
© Liu and Zhang. 2015
This is an Open Access article distributed under the terms of the Creative Commons Attribution License (http://creativecommons.org/licenses/by/4.0), which permits unrestricted use, distribution, and reproduction in any medium, provided the original work is properly credited. The Creative Commons Public Domain Dedication waiver (http://creativecommons.org/publicdomain/zero/1.0/) applies to the data made available in this article, unless otherwise stated.