Methodology article
Open Access
RiTE database: a resource database for genus-wide rice genomics and evolutionary biology
Received: 11 March 2015
Accepted: 9 July 2015
Published: 22 July 2015
Abstract
Background
Comparative evolutionary analysis of whole genomes requires not only accurate annotation of gene space, but also proper annotation of the repetitive fraction which is often the largest component of most if not all genomes larger than 50 kb in size.
Results
Here we present the Rice TE database (RiTE-db) - a genus-wide collection of transposable elements and repeated sequences across 11 diploid species of the genus Oryza and the closely-related out-group Leersia perrieri. The database consists of more than 170,000 entries divided into three main types: (i) a classified and curated set of publicly-available repeated sequences, (ii) a set of consensus assemblies of highly-repetitive sequences obtained from genome sequencing surveys of 12 species; and (iii) a set of full-length TEs, identified and extracted from 12 whole genome assemblies.
Conclusions
This is the first report of a repeat dataset that spans the majority of repeat variability within an entire genus, and one that includes complete elements as well as unassembled repeats. The database allows sequence browsing, downloading, and similarity searches. Because of the strategy adopted, the RiTE-db opens a new path to unprecedented direct comparative studies that span the entire nuclear repeat content of 15 million years of Oryza diversity.
Keywords
Rice Oryza Transposable elementsRepeatsGenomeRiTE-db
Background
Since the advent of second generation sequencing (SGS) technologies, the scientific community has been inundated with hundreds of genome assemblies of varying quality. Assembly quality has a significant impact on genome annotation and all subsequent downstream analyses. In addition to the annotation of gene space, a detailed annotation of repeated sequences and transposable elements (TEs) (e.g. presence/absence, types, and location) is critical for understanding the biology of a genome, as well as an important tool for the improvement of high-quality genome assemblies. The adoption of exhaustive repeat libraries developed directly from the genome under investigation is important for minimizing false negatives in the annotation. False negatives arise due to repeat/TE sequence diversification across taxa which can hamper the identification of distinctive repeat features (i.e. lineage specific sequences) of the species.
The fastest and most common way to annotate the repetitive fraction of a genome assembly is to create repeat libraries derived from a set of previously identified representative repetitive sequences and screen the target genome using homology-based searches. Unfortunately, this method loses power when the target genome is distantly related to the species used to develop the repeat library. The use of repeat libraries of one species to detect repeats from a related species (that diverged e.g. 10 million years ago) is highly problematic as it is known that intergenic space is rapidly evolving for the high turnover rates of transposable elements and repetitive sequence. In the last decade, numerous software tools have been developed to identify complete TEs based on structural features [1, 2]. Such tools are useful for the identification of full-length (FL) and low-copy TEs, but are not suited for quantifying high-copy number TEs – especially when investigating SGS assemblies. Conversely, de novo methods such as Piler [3] and RepeatModeler (http://www.repeatmasker.org/RepeatModeler.html) have been developed to identify repeats in genome assemblies based on the number of times a sequence motif appears in an input file. Other tools, such as ReAS and RepeatExplorer (RE) [4, 5] apply the same principle but importantly do not rely on a genome assembly to isolate the repeat fraction. Unlike ReAS, RE is designed to use SGS data as input, thereby producing a more granular representation of a genome at lower cost and with higher resolution.
Unfortunately, high-copy number repeats and transposable elements are not well represented in most genome assemblies. This is because most current genome assemblies have been generated using short-read chemistry (e.g. Illumina): highly repetitive sequences and transposable elements pose significant problems to assembly algorithms. As a result, repeat annotation of most SGS assemblies leads to skewed representations of the actual native repeat content. Therefore the use of software tools such as ReAS and RE can lead to a more accurate and complete representation of the repeat content of a given genome.
The majority of available repeat data for plants is derived from a few crops and model species. However, the development of specific repeat libraries for new genome projects is now becoming a routine. The dissemination of repeat libraries organized in databases is a common mechanism used to provide informative and convenient access to repeat and TE sequences. Most repeat databases contain repeat libraries from a single to a few genome assembly projects (e.g. [6–8], http://maizetedb.org), or can span the whole spectrum of organisms (http://www.girinst.org).
In rice (Oryza sativa), for example, efforts to annotate and distribute rice repeats have led to both generic (http://plantrepeats.plantbiology.msu.edu/) and more specialized databases [9]. Rice has been extensively used as a model species to investigate many aspects of plant biology. In 2005 the International Rice Genome Project published what is still considered the highest quality genome assembly of any crop plant (i.e. BAC-by-BAC, Sanger sequenced, < 1/10,000 base error rate across most of the genome [10]). Since 2005 the International Oryza Map Alignment Project (IOMAP) has generated a large set of genomic resources aimed at exploiting the wild relatives of rice for basic research and crop improvement [11, 12]. This work is targeted towards the generation of a total of 11 highly quality genome assemblies that have been annotated for gene and repeat space (IOMAP, in preparation).
Here we present the Rice TE database (RiTE-db), a comprehensive repeat dataset developed with sequence data from 11 Oryza species and the outgroup Leersia perrieri. Our aim is to provide a complete and detailed annotation of TEs and repeated sequences as a resource to the plant and evolutionary biology communities.
Methods
RiTE-db is set up on a Linux-Apache-MySQL-Perl (LAMP) system. We use JavaScript libraries including jQuery (1.10.2), jQueryUI (1.10.4) and some additional plugins to perform dynamic web services. We provided keyword and sequence-based BLAST search functions. In the current version, RiTE-db contains 265,549 TE and repeat sequence entries from 11 Oryza and one outgroup species. Users can retrieve data with auto-search options by selecting preloaded keywords from database type, species, repeat code and element type, and then download the search results for local use. Users can also use the search result to construct a customized database for remote BLAST searches. The 265,549 entries included in the database resulted from different sources, each detailed separately below. The RiTE-db source code is available upon request.
Results and Discussion
RiTE-db contains both published and original data, and is centered on the characterization and public distribution of new repeat sequences from previously uncharacterized and unpublished
Oryza
genome assemblies (Table
1
). It is composed of three data sets derived from: 1) the Plant Repeat Database (PReDa), 2)
de novo
repeat assemblies; and 3) full-length (FL) transposable elements (Fig.
1
). PReDa is an in house database mostly composed of plant repeats gathered from publicly-available sources. Its role is to represent the current diversity of available plant repeat collections, compensating for the contingent absence of specific repeats from one source, and was used for the characterization of new repeats.
De novo
repeat libraries were developed using RE [
5
] from raw Illumina data (Table
1
), and the output sequences were manually curated and characterized. FL elements were identified using structure-based methods from sequence assemblies of the 11
Oryza
and the outgroup species (Table
1
). Complete insertions were characterized for the following six TE orders: (i) canonical LTR-RTs of the
Copia
and
Gypsy
superfamilies, (ii) terminal repeat retrotransposons in miniature (TRIM), (iii) short interspersed nuclear elements (
SINE
), (iv)
MULE
DNA transposons, (v) non-autonomous DNA transposons (NA-DNAT), and (vi)
Helitrons
. Redundancy was removed from the database by retaining only a single representative of a set of highly similar sequences (
i.e.
> 90 % similarity across the entire length the sequence). All three data sets will be the subject of periodic updates and curation to improve the quality of the sequences.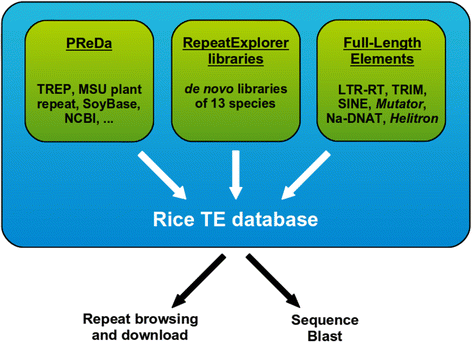 Sequence classification was based on the published system of Wicker et al. [14], with the addition of new codes for other superfamilies and non-TE repeated sequences, such as ribosomal DNA and structural repeats (Additional file 1: Table S1). Of the numerous families of DNA transposons in grass genomes, most are small non-autonomous elements often referred to as miniature inverted-repeat transposable elements (MITEs). However, this term is not useful for systematic classification, because the term MITE includes short transposons from several different superfamilies. Thus we classified NA-DNATs based on conserved sequence motifs in their TIRs and assigned them to corresponding superfamilies. A fourth letter (m) was added to NA-DNAT sequence codes to highlight their non-autonomous nature. The DTX code (that specifies for Class II elements, DNA transposons, uncharacterized superfamily) was assigned to non-autonomous DNA transposons that could not be assigned to a specific superfamily. Similarly, for sequences whose complete classification was not possible, the character X at the corresponding code position was used to denote classification ambiguity. Ribosomal DNA and tRNA sequences were assigned to BRN and BTN codes, respectively. Structural repeats, such as centromeric, telomeric, tandem repeat and low complexity sequences were classified with a code starting with S (Additional file 1: Table S1). Additional file 1: Tables S2 and S3 describe the amount of sequence belonging to different repeat classes in the PReDa and RE datasets, with the individual contribution of each species shown for the latter dataset.
The web-based interface developed for RiTE-db allows one to search, browse, visualize, and retrieve sequences (Fig.
2
), and perform BLAST searches against them (Fig.
3
). Users can conduct searches on the basis of the different criteria used to describe sequence features such as: sequence identifier, element type (from PReDa, RE, or FL), repeat code, and species. The hierarchical structure of sequence classification and species taxonomy features was exploited to retrieve multiple subclasses in a single data base query (
i.e.
selecting Class I, all LTR and non-LTR retrotransposons will be retrieved). A set of checkboxes for each category allows for easy selection of one or more features to conduct searches (Fig.
2a
). Selected entries can be then be visualized (Fig.
2b
), downloaded (Fig. 2c), or used as a dynamic BLAST database for the custom queries (Fig.
3
).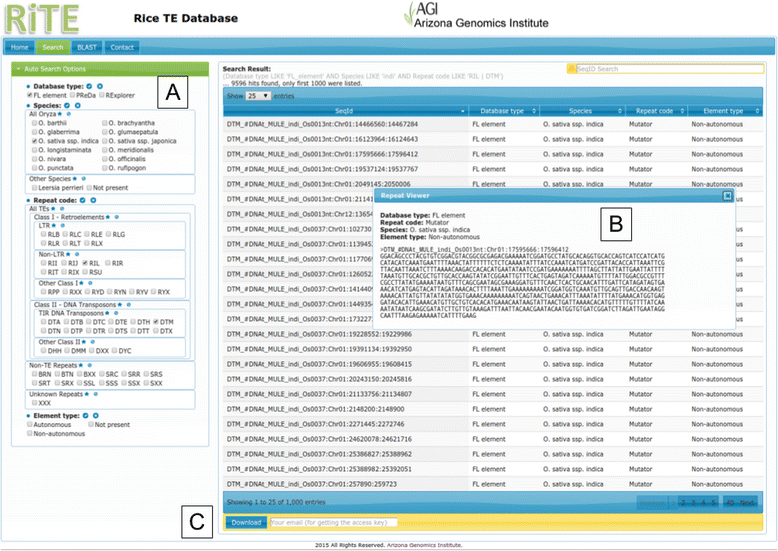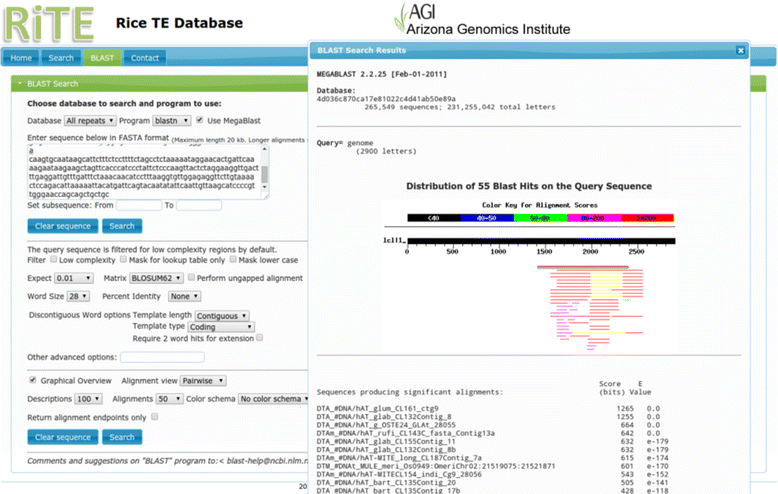 Conclusions
Rice is the most important food crop in the world. The development of higher yielding and more nutritious and sustainable varieties will play a key food security role as the world population increases to 10 billion in less than 35 years. To help meet this need, the International Oryza Map Alignment Project (IOMAP) developed a large array of genomic resources that can be used to interrogate the genus Oryza (i.e. 23 species, 11 genome types, 3.6-fold genome size variation, world-wide distribution, 17 MY of evolutionary divergence) for the identification and harnessing of agriculturally important genes and variation not currently present in modern rice varieties (reviewed in [25]). These resources include a new set of full genome assemblies from eight Oryza species ([11, 12] and IOMAP et al. unpublished), and a single outgroup species Leersia perrieri, bringing the total number of full Oryza genome sequences to 11. In order to understand and compare the functional and evolutionary diversity of this novel 12 genome data set, our consortia used two genome annotation pipelines for both gene and repeat space annotation, the latter of which is the subject of the development of the Rice TE database (RiTE-db).
The added value of a custom repeat collection comes from the isolation of target sequences by exploiting all of their fundamental features – i.e. existing in a high copy number, possessing typical sequence motifs, and/or encoding for specific domains. The de novo and assembly-independent approach guaranteed isolation of all repeated sequences regardless of their inclusion in the assembly. The complete elements – displaying specific signatures and isolated from the genome assemblies – enabled the identification of recently transposed or divergent elements, including those present at a single copy. The combination of approaches adopted provided a systematic and uniform survey of repeats across the Oryza, allowing for direct comparison across species. Extensive efforts were put in cross-validating all datasets by manual curation to minimize the mis-classification of individual entries or the presence of any other type of sequence different than the one described in the entry (nested TEs, captured gene fragments). Because of how it was conceived, this dataset has its optimal return on genomics research conducted within Oryza species. For the investigation of the repeat complement in species outside of this genus, we suggest to use the present method as a template for the production of new and more customized datasets. Given the general conservation of sequence features across plant TEs, most of the methods adopted here can be applied to other plant species with minor modifications. More details are available in the Supplementary Information.
We developed three complementary libraries to which we applied a widely adopted method to classify, handle, and use the data. Distinctions of RiTE-db include that it does not reduce all repeats to a consensus sequence and it spans the breadth of a whole genus. The specificity of the three letter-based classification system adopted [14] allows the user to recognize precisely and associate immediately any transposable element or repeated sequence to a corresponding superfamily. In this study, we expanded the Wicker et al. system to incorporate a new set of codes for non-TE repeats and non-autonomous DNATs. This allowed for the incorporation of new types of repeats into the database and to encode information about element transposition capacity.
With this database, we expand the amount of repeat data currently available for the Oryza genus in a more curated and uniform manner. For example, RepBase, the most common and complete repeat collection of repetitive sequences (http://www.girinst.org), does not encompass this perspective. Out of 580 RepBase entries (v. 19.04) belonging to the Oryza genus, only nine come from species other than O. sativa (i.e. four from O. australiensis, two from O. glaberrima, two from O. longistaminata, and one from O. rufipogon). Besides re-annotating the four published genomes (i.e. O. sativa ssp. japonica and indica, O. glaberrima, and O. brachyantha), our RiTE-db includes tens of thousands TEs and repetitive sequences for nine new species, where each entry is characterized and classified. The presence of full-length elements is another important step towards building a complete catalog of TEs in a genus. The availability and free circulation of RiTE-db will enable the community to keep pace with the continuous generation of genomic data [26, 27], providing high-quality annotation of any new Oryza genome. The breadth and comprehensiveness of RiTE-db was deliberately conceived to help develop Hidden Markov Models of repeated sequences, since scanning genomes with these profiles allows for the identification more ancient or diverged repetitive sequences [28].
We present the Rice TE database (a.k.a. RiTE-db), the first example of a repeat database spanning the breadth of an entire biological genus. The methods used to identify and catalog Oryza repeats have been applied consistently across all 12 species, making these datasets directly comparable. The complementarity of the strategies adopted – the detection of all highly repeated sequences and all complete TEs – guarantees the comprehensiveness required for high quality genome annotation. In the future, we envisage the addition of more complete elements from other superfamilies, covering all major plant TE classes. These contributions will support the effort to unlock mechanisms of genome evolution – such as structural or regulatory variations – between species, towards the ultimate goal of linking genetic variation to functional biology and crop improvement.
Declarations
Acknowledgement
We are grateful to Dr. Ning Jiang for helpful discussion in MULE analyses and to Ann Danowitz for her help in proofreading the manuscript.
Funding
This work was supported by the National Science Foundation Plant Genome Award (grant number 1026200) to RAW & SAJ; and both the Bud Antle and AXA Endowed Chairs to RAW.
Authors' Affiliations
(1)
Arizona Genomics Institute, BIO5 Institute and School of Plant Sciences, University of Arizona, Tucson, United States
(2)
International Rice Research Institute, Genetic Resource Center, Los Baños, Philippines
(3)
Laboratoire Génome et Développement des Plantes and CNRS and Laboratoire Génome et Développements des Plantes, Université de Perpignan Via Domitia, Perpignan, France
(4)
Center for Applied Genetic Technologies, University of Georgia, Athens, United States
(5)
Department of Biological Sciences, Wayne State University, Detroit, United States
(6)
Department of Agriculture, Food, and Environment, University of Pisa, Pisa, Italy
(7)
Institute of Life Sciences, Pisa, Italy
(8)
School of Life Sciences, Heriot-Watt University, Edinburgh, Scotland
(9)
Institute of Plant Biology, University of Zürich, Zürich, Switzerland
(10)
Plant Genetics Laboratory, National Institute of Genetics, Mishima, Japan
(11)
State Key Laboratory of Plant Genomics, Institute of Genetics and Developmental Biology Chinese Academy of Sciences, Beijing, China
(12)
Plant Genomics and Breeding Center, Federal University of Pelotas, Pelotas-RS, Brazil
(13)
National Center for Gene Research and Institute of Plant Physiology and Ecology, Shanghai Institutes of Biological Sciences, Chinese Academy of Sciences, Beijing, China
(14)
Queensland Alliance for Agriculture and Food Innovation, University of Queensland, Brisbane, Australia
(15)
Institute of Plant and Microbial Biology, Academia Sinica, Taipei, Taiwan
(16)
State Key Laboratory of Genetic Resources and Evolution, Kunming Institute of Zoology, Chinese Academy of Sciences and University of Chinese Academy of Sciences, Kunming, China
Copyright
© Copetti et al. 2015
This is an Open Access article distributed under the terms of the Creative Commons Attribution License (http://creativecommons.org/licenses/by/4.0), which permits unrestricted use, distribution, and reproduction in any medium, provided the original work is properly credited. The Creative Commons Public Domain Dedication waiver (http://creativecommons.org/publicdomain/zero/1.0/) applies to the data made available in this article, unless otherwise stated.