Research article

Open Access
Transcriptome analysis of the white pine blister rust pathogen Cronartium ribicola: de novo assembly, expression profiling, and identification of candidate effectors
Received: 9 March 2015
Accepted: 18 August 2015
Published: 4 September 2015
Abstract
Background
The fungus Cronartium ribicola (Cri) is an economically and ecologically important forest pathogen that causes white pine blister rust (WPBR) disease on five-needle pines. To cause stem cankers and kill white pine trees the fungus elaborates a life cycle with five stages of spore development on five-needle pines and the alternate host Ribes plants. To increase our understanding of molecular WP-BR interactions, here we report genome-wide transcriptional profile analysis of C. ribicola using RNA-seq.
Results
cDNA libraries were constructed from aeciospore, urediniospore, and western white pine (Pinus monticola) tissues post Cri infection. Over 200 million RNA-seq 100-bp paired-end (PE) reads from rust fungal spores were de novo assembled and a reference transcriptome was generated with 17,880 transcripts that were expressed from 13,629 unigenes. A total of 734 unique proteins were predicted as a part of the Cri secretome from complete open reading frames (ORFs), and 41 % of them were Cronartium-specific. This study further identified a repertoire of candidate effectors and other pathogenicity determinants. Differentially expressed genes (DEGs) were identified to gain an understanding of molecular events important during the WPBR fungus life cycle by comparing Cri transcriptomes at different infection stages. Large-scale changes of in planta gene expression profiles were observed, revealing that multiple fungal biosynthetic pathways were enhanced during mycelium growth inside infected pine stem tissues. Conversely, many fungal genes that were up-regulated at the urediniospore stage appeared to be signalling components and transporters. The secreted fungal protein genes that were up-regulated in pine needle tissues during early infection were primarily associated with cell wall modifications, possibly to mask the rust pathogen from plant defenses.
Conclusion
This comprehensive transcriptome profiling substantially improves our current understanding of molecular WP-BR interactions. The repertoire of candidate effectors and other putative pathogenicity determinants identified here are valuable for future functional analysis of Cri virulence and pathogenicity.
Keywords
Cronartium ribicola EffectorPathogenicityRNA-seqTranscriptome profiling
Background
White pine blister rust (WPBR) caused by Cronartium ribicola (Cri) is a devastating fungal disease of five-needle pines (subgenus Strobus) around world. Since the early 20th century, when it was accidently introduced into North America, WPBR has spread over the continent where native five-needle pine species were distributed, with severe ecological and economic damages. WPBR has decreased western white pine (WWP, Pinus monticola) populations up to 90 %, and also seriously disturbed forest ecosystems of other native five-needle pines. Breeding programs for selection of genetic resistance to WPBR have been undertaken in sugar pine (P. lambertiana), WWP (P. monticola), eastern white pine (P. strobus), whitebark pine (P. albicaulis), limber pine (P. flexilis) and others with significant progress [1]. Both major gene resistance (MGR) and quantitative disease resistance have been discovered and utilized in the five-needle pine breeding and conservation programs. MGR has been reported in four five-needle pine species: P. lambertiana, P. monticola, P. strobiformis, and P. flexilis [2]; and it is characterized by hypersensitive response (HR)-like reactions in the pine needles infected by C. ribicola [3]. This reaction is characterized by a rapid induction of host cell death and subsequent localized tissue necrosis, which prevents spread of the rust mycelium to vascular stem tissue. However, Cri virulent races (vcr1 and vcr2) have arisen and the corresponding breakdown of MGR have been documented in regions where resistant P. lambertiana and P. monticola are planted [4]. Therefore, WPBR is still the major constraint to re-plantation of five-needle pines for the forest industry and restoration of ecosystems in western North America.
C. ribicola
is an obligate biotrophic fungus and requires an alternate host plant (mainly
Ribes
species) for completion of its life cycle (Fig.
1
) [
5
]. In spring (or summer for high elevation species like whitebark pine) aeciospores are released from stem cankers of susceptible five-needle pines and dispersed by air onto
Ribes
plants. Aeciospores germinate on
Ribes
leaves to initiate the asexual stage of infection, which involves mycelium growth in
Ribes
leaf tissue, sporulation to produce urediniospores, and repeated infection of nearby
Ribes
by urediniospores throughout the summer season. In late summer or early fall, telia begin to grow and produce rows of teliospores. As the weather becomes wet and cooler, teliospores germinate in place and produce basidia, where basidiospores are developed, dispersed via air movement and subsequently to infect pine host. The germinated basidiospore enters pine needles through stomata, and hyphae then grow along vascular tissues into the branch and stem. The mycelium continues to spread in the bark tissues of susceptible five-needle pines, resulting in a swollen canker in the next spring or summer.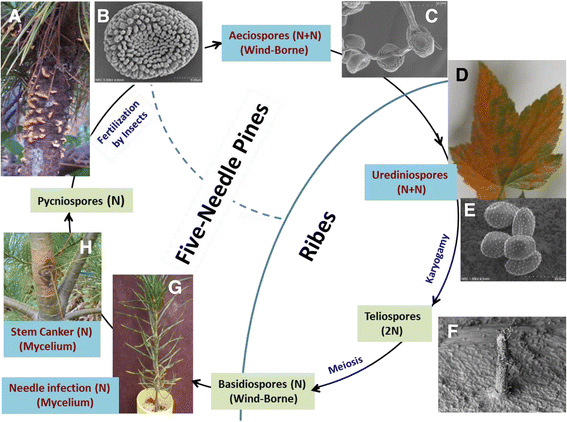 During the initial infection stage by basidiospores, a typical haustorium-pine cell interface was observed in the WPBR pathosystem [6]. Haustorially expressed secreted proteins (HESPs), including effectors, are proposed to play key roles in manipulating the immune responses of host cells [7]. Effectors are microbial and pest secreted molecules that alter host-cell processes or structures to generally promote their own lifestyle. Effector functions are as diverse as suppressing immune responses to enhancing access to nutrients [8]. There are at least four avirulence (Avr) effectors (avcr1 to avcr4) and two virulence effectors (vcr1 and vcr2) in C. ribicola [2, 4]. However, the molecular identities of these Cri effectors are unknown, and as is how they reprogram biological processes to facilitate rust pathogen growth and to mitigate host defenses in five-needle pines. Virulence effectors overcome plant immunity by modifying host metabolism to support pathogen growth and spread, which is termed as effector-triggered susceptibility (ETS). Avr effectors are recognized by specific host receptors encoded by plant resistance (R) genes to activate a host defense response termed as effector-triggered immunity (ETI) [8]. Some Avr effectors translocate into plant cells where their activity is recognized for re-programming plant transcription, metabolism, and defense during pathogen infection [9]. The virulence effectors play a crucial role in virulent fungal races overcoming plant MGR by escaping ETI.
Next generation sequencing technologies and bioinformatics have rapidly advanced in recent years. Genome sequences of four rust fungal species have been reported: Melampsora larici-populina (Mpl), M. lini (Mli), Puccinia graminis f.sp. tritici (Pgt), and P. striiformis f.sp. tritici (Pst) [10–13]. Based on bioinformatic analyses and gene expression studies of the infected host tissues or haustoria, 8 to12% of the predicted proteomes of these rust fungi corresponds to secreted proteins as candidate effectors. RNA-seq has become an instrumental assay for the analysis of multiple aspects of fungal transcriptomes, such as transcriptional profiling [14–17], identification of putative virulence genes [18], secretome analysis [19, 20], gene models and alternative transcript splicing [21], and structural gene annotations [22]. These genomic studies provide valuable research resources and tools in understanding the dynamics of plant-rust pathogen interactions.
To provide genomic insight into in planta transcriptome profiles of the WPBR pathosystem, we performed de novo sequencing of the Cri transcriptome using RNA-seq analysis during infection of WWP and the alternate host, Ribes. We assessed Cri transcriptomes and predicted 734 secreted proteins. Global gene expression profiling allowed us to characterize transcript expression of genes that have putative key roles during biotrophic infection and mycelial growth inside host tissues. In particular, identification of candidate effectors provides novel insights into molecular WP-BR interactions, which until now have been poorly understood. This first large-scale genomics resource of the WPBR pathosystem provides the relevant sequences and gene regulation information for gene discovery, functional and population genomics, comparative analyses, and future efforts to annotate its genome. This resource permits the study of this rust fungus at the genome level as well as providing data for researchers working with other Cronartium species.
Conclusion
De novo sequencing of the Cri transcriptome has been employed to identify Cri proteins involved in compatible WP-BR infections. Global expression profiling of the Cri transcriptome, secretome, and effectorome provides novel insights into the molecular pathogenicity of this important forest biotrophic fungus. RNA-seq analysis revealed DEGs at an early infection stage in the needles and at a later infection stage in pine stem cankers. A significant portion of the identified DEGs were catalogued as candidate effectors, especially those predicted to be secreted proteins. These candidate effectors potentially function in modification of the host cell wall to suppress plant defenses, allowing the rust pathogen to colonize susceptible needle tissues. Up-regulation of other rust fungal proteins in the infected stem indicates that the rust fungus has well adapted to the mycelium growth habitat by actively producing enzymes for biosyntheses of various cellular components. These findings support the existing biotrophic pathogenesis model for the WPBR pathosystem, and present a suite of putative effectors potentially functioning at various stages of the rust life cycle, as well as information regarding the differential use of unique members of complex gene families.
Because a high number of genes are Cronartium-specific and expressed as hypothetical proteins during the disease process, further research is needed to fully understand their involvement in pathogenicity. A future study may focus on identifying variants of Cri candidate effectors by global comparison of transcriptomes between avcr and vcr races. As more genetic lineages among populations of this rust fungus are identified, more races will be sequenced to explore association of non-synonymous or functional SNPs of the candidate effectors with virulence levels. Potential pathogenic importance of candidate effectors may be dissected by evolution and association genetics analyses, which will narrow down the number of candidates for functional verification to determine which ones play a key role in resistant or susceptible responses of five-needle pines. Characterization of Cri effectors will allow a more comprehensive understanding of how rust fungal effectors are recognized by R proteins in white pines. With candidate R genes identified in WWP [23], a final characterization of molecular determinants in disease development will provide effective management tools for operational application in breeding programs of five-needle pines as well as for rating of rust hazard in forest ecosystems.
Methods
Fungal and plant materials
C. ribicola aeciospores were collected from infected WWP stems before blisters were broken from Coombs, Vancouver Island, British Columbia, Canada in May 2013, and they were used to inoculate black currant (Ribes nigrum, cultivar Ben Nevis). When urediniospores began to develop, rust samples (including urediniospores as well as mycelium) were collected from Ribes leaf surfaces. Infected stems showing disease symptoms of discoloured bark tissues were collected from 20-month-old susceptible (cr2/cr2) WWP seedlings ~14 months post C. ribicola infection as described previously [23]. All rust isolates were avirulent (avcr2) and each sample was harvested with three biological repeats using liquid nitrogen and stored at −80 °C before RNA extraction.
RNA-seq analysis and de novo transcriptome assembly
Total RNAs were extracted from rust samples and infected host tissues following a protocol described previously [56]. Messenger RNA (mRNA) was separated using an RNA-seq sample preparation kit (Illumina). cDNA libraries were constructed with specific 6-bp nucleotide bar-coding tags. Tagged cDNA libraries were pooled in equal ratios and used for 100-bp PE sequencing on the Illumina HiSeq2000 instrument (Illumina, San Diego, CA, USA) at the National Research Council of Canada (Saskatoon, Canada). The raw Illumina RNA-seq 100-bp PE sequences of C. ribicola spores were deposited in the NCBI SRA under accession number SRR1583557-1583540, SRR1583545, and SRR1583552.
Raw reads were first trimmed using Trimmomatic with default settings at ILLUMINACLIP:TruSeq3-PE.fa:2:30:10 LEADING:3 TRAILING:3 SLIDINGWINDOW:4:15 MINLEN:36 [66]. As infected white pine tissues contained both host and rust fungal transcriptomes and rust samples (aeciospores and urediniospores) contained only fungal transcriptomes, their RNA-seq reads were assembled separately. We used the trimmed reads from six cDNA libraries of aeciospores and urediniospores to generate a preliminary assembly by de novo assembly using Trinity (version: trinityrnaseq_r2013-02-25) with default k-mer length of 25 [67]. Following a preliminary assembly of RNA-seq reads, contigs were designated as consensus transcriptome sequences if they shared at least one unique mapping read in each of three biological repeats for each sample, and a foreign contamination screen was used to filter bacterial-, animal-, or plant-like sequences from the dataset using the NCBI BLAST pipeline at a cut-off of 100 nt and 98 % identity. The resulting transcript dataset was considered as a Cri reference transcriptome for further analysis, and it has been deposited at DDBJ/EMBL/GenBank under accession GBSG01000000 and the BioProject ID PRJNA261951.
To verify de novo assembly quality, putative open reading frames (ORFs) were identified within transcripts by TransDecoder, which is integrated into Trinity, at minimum protein length of 50. Reciprocal BLASTp analysis was performed among the proteomes of C. ribicola and other rust fungal species: Mlp with16,399 proteins [11], Mli with 26,443 proteins [13], Pgt with 20,534 proteins [11], and Pst with 18,023 proteins [10, 12]. Gene annotation was performed using BLAST2GO [68]. Gene names and gene ontology (GO) terms were assigned to the Cri genes based on their homologies to the available databases (NCBI-nr, PIR, KEGG, and GO).
Prediction of secreted proteins
Complete ORFs were scanned for signal peptides using signalP v4.1 at a D-cut-off value of 0.36 [69]. The resulting peptides then were scanned for transmembrane helices and mitochondria-targeted sequence using the TMHMM program v2.0 [70] and TargetP v1.1 [71], respectively. To find candidate effectors from partial ORFs, the Cri proteome was used as a query for BLASTp against the Cri secreted proteins predicted from complete ORFs, a dataset of candidate effectors of Mpl, Mli, Pst and Pgt [13], and the pathogen-host interaction database (PHI-base v3.2) containing experimentally verified pathogenicity, virulence and effectors from fungal, oomycete, and bacterial pathogens [28]. Putative CAZymes were identified by BLAST against CAZyDB (3/22/2013) using the dbCAN v3.0 HMM-based CAZy annotation server [25]. A Pfam search was performed using on-line service from The European Bioinformatics Institute (EMBL-EBI) at gathering threshold with a cut-off of e-3 and dom of e-3. Assignment of gene families was performed by BLASTp against OrthoMCL proteins at a cut-off of e-5, and 50 % match using OrthoMCL-5 [72]. Similarly, proteins involved in membrane transport were investigated by a BLASTp search against predicted polypeptides in the Transporter Classification Database [27].
Global gene expression analysis
Transcriptome profiles were compared at four stages of the Cri life cycle: aeciospores, urediniospores, infected needles (4 dpi) of six-months-old P. monticola seedlings, and cankered stems (~14 months post basidiospore infection) of 20-month-old P. monticola seedlings. RNA-seq reads from infected pine stems were used to identify in planta differentially expressed genes (DEGs) by comparison with RNA-seq reads from aeciospores and urediniospores. Trimmed reads from each sample were mapped to the Cri reference transcriptome and only sequence pairs (fragments) were counted in read mapping with a minimum length fraction of 0.9 and a minimum similarity fraction of 0.9 and expression values were calculated as FPKM (Fragments Per Kilobase of exon per Million fragments mapped) using CLC Genomics Workbench 5.5 (CLC bio, QIAgen, Aarhus, Denmark). Gene expression values (FPKM) were normalized with parameters: normalization method = scaling, scaling method = mean, trimming = 5 %, normalized data = original expression values. Statistical analysis was performed with parameters: statistical test = t-test, variances = homogeneous, comparisons = all pairs, use pairing = no, data to analyze = normalized expression values, add FDR correction p-values = yes. Transcripts with normalized fold change > ±2 at p <0.05 after adjustment with false discovery rate (FDR) were extracted as up- or down-regulated DEGs.
RNA-seq data of Cri-infected P. monticola primary needles at 4 dpi was generated in a previous study [56] and here used to investigate rust fungal gene expression in compatible (cr2/cr2 vs. avcr2) and incompatible (Cr2/- vs. avcr2) interactions. Statistical analysis was same as above except that a Z-test was used as described previously [56]. Hierarchical clustering and heatmap production for the expression profiles were performed using the gplots heatmap.2 package in R 3.1.2 [73] with the data stripped of records where the normalized expression values were all zero (0). Cluster agglomeration was performed using Manhattan distance and intracluster distance set to complete.
Quantitative reverse-transcriptase PCR (qRT-PCR) analysis
To confirm gene expression levels measured by FPKM fold change in RNA-seq analysis, 21 DEGs from RNA-seq analysis were selected due to their putative roles in virulence or pathogenicity for qRT-PCR analysis. Primers were designed using Primer3 software, and α-tubulin was used as an internal control. Three biological replicates and two technical replicates were run on an Applied Biosystems 7500 Fast Real-time PCR System (Life Technologies). Healthy P. monticola tissues, no reverse-transcriptase and water samples were run as controls for each primer pair.
Expression Suite Software v1.0.3 (Life Technologies) was used to analyze relative expression levels of each gene with aeciospore samples as the reference. Relative quantification (RQ) was calculated as 2-ΔΔCt. Student t tests were used to analyze the significance of transcript differences between two samples. Correlation and regression analyses were performed to compare fold changes of transcripts measured by qRT-PCR and RNA-seq analyses with ANOVA tests for statistical significance.
Availability of supporting data
All sequencing data generated in this study is available from the SRA-Archive (http://www.ncbi.nlm.nih.gov/sra) under the study accession SRP031625. Illumina raw sequences were deposited in the NCBI GenBank under accession number SRR1583557-1583540, SRR1583545, and SRR1583552. A Cronartium ribicola reference transcriptome was deposited at DDBJ/EMBL/GenBank under accession GBSG01000000.
All other supporting data are included as additional files.
Declarations
Acknowledgement
We are grateful to Aimin Guan, Gary Zhang, and Hao Chen for computer programming and bioinformatic analyses; Gary Roke, Rich Hunt, Angelia Kegley and colleagues at DGRC for sample collection; Terry Holmes and Gary Roke for microscopy work. This research was supported partly by PFC-CFS DG's fund, CFS-A base fund, and the CFS-GRDI fund awarded to J.-J.L.
Open Access This article is distributed under the terms of the Creative Commons Attribution 4.0 International License (http://creativecommons.org/licenses/by/4.0/), which permits unrestricted use, distribution, and reproduction in any medium, provided you give appropriate credit to the original author(s) and the source, provide a link to the Creative Commons license, and indicate if changes were made. The Creative Commons Public Domain Dedication waiver (http://creativecommons.org/publicdomain/zero/1.0/) applies to the data made available in this article, unless otherwise stated.
Authors' Affiliations
(1)
Pacific Forestry Centre, Canadian Forest Service, Natural Resources Canada, Victoria, Canada
(2)
USDA Forest Service, Dorena Genetic Resource Center, Cottage Grove, USA