Research article

Open Access
Crowdsourced direct-to-consumer genomic analysis of a family quartet
Received: 8 January 2015
Accepted: 3 October 2015
Published: 7 November 2015
Abstract
Background
We describe the pioneering experience of a Spanish family pursuing the goal of understanding their own personal genetic data to the fullest possible extent using Direct to Consumer (DTC) tests. With full informed consent from the Corpas family, all genotype, exome and metagenome data from members of this family, are publicly available under a public domain Creative Commons 0 (CC0) license waiver. All scientists or companies analysing these data ("the Corpasome") were invited to return results to the family.
Methods
We released 5 genotypes, 4 exomes, 1 metagenome from the Corpas family via a blog and figshare under a public domain license, inviting scientists to join the crowdsourcing efforts to analyse the genomes in return for coauthorship or acknowldgement in derived papers. Resulting analysis data were compiled via social media and direct email.
Results
Here we present the results of our investigations, combining the crowdsourced contributions and our own efforts. Four companies offering annotations for genomic variants were applied to four family exomes: BIOBASE, Ingenuity, Diploid, and GeneTalk. Starting from a common VCF file and after selecting for significant results from company reports, we find no overlap among described annotations. We additionally report on a gut microbiome analysis of a member of the Corpas family.
Conclusions
This study presents an analysis of a diverse set of tools and methods offered by four DTC companies. The striking discordance of the results mirrors previous findings with respect to DTC analysis of SNP chip data, and highlights the difficulties of using DTC data for preventive medical care. To our knowledge, the data and analysis results from our crowdsourced study represent the most comprehensive exome and analysis for a family quartet using solely DTC data generation to date.
Keywords
CrowdsourcingPersonal genomesParticipatory medicineSNPsExome analysisMicrobiomeFamily genomesDirect-to-consumerGenetic testingGenomics
Background
Direct-to-consumer (DTC) genetic testing has made it possible for the general public to access personal genomics information. A new sector has thus arisen in the biotechnological industry capitalising on selling genomic tests directly to the public, circumventing the need for consulting with a clinician before taking a test. This has encouraged the growth of P4 medicine (personalised, predictive, preventive and participatory) [1–3] whereby patients can take control of their own health and may be empowered to understand potential health problems even before symptoms arise. The Personal Genomes Project [4] also supports participation of healthy individuals in genomics research by providing a robust framework for sharing their data publicly with a unique consent process. The rapid development of the field, initially fuelled by companies such as 23andMe, deCODE Genetics, and Navigenics, has enabled sharing of data and development of methods for personal genomics analysis. However, this has come at the price of ever increasing demands on the breadth of knowledge and skills needed to interpret genetic risks and the consequent burden on DTC providers to keep up to date with scientific research. The value of DTC predictions has recently been questioned by the FDA, which has prohibited 23andMe from providing clinically related inferences based on their customers' genotype. DTC providers cannot offer all available methods and scientific insights for any given set of genetic markers. This can be particularly frustrating for users who may want to explore further the raw data from which DTC predictions are made or simply apply third party tools to the analysis of their personal genomes themselves.
The power of family-based genomic analysis has been established [5–8]. DTC companies currently offer very limited support for genetic analyses involving more than one individual, e.g., whole families [5, 9]. Privacy considerations present additional challenges in family analyses, since different individuals of a family may have different comfort levels about sharing some or all of their personal genetic risks and data. In addition, this type of information might have consequences for offspring and children. Since members of a same family share much of their genetic sequence (and hence information), decisions made by one individual may affect the whole family. Hence, family-based personal genomics analyses may necessitate the re-evaluation of pre-established notions of identity and privacy, and of data ownership.
Here we present the personal genomics analysis of a set of exomes from a family (the Corpas family), and a microbiome analysis of an individual of this family. We build from our crowdsourcing on the previously published analysis of five samples of the Corpas family using 23andMe SNP chips [5]. We use DTC genetic testing with the goal of exploring the process of participatory medicine performed at the family level with current technology. One of the family members is a scientist – the bioinformatician leading this study (Manuel Corpas). After discussing privacy issues, the family made a group decision to make their personal genomics data publicly accessible and shareable. The family made their genome data available under a Creative Commons 0 (CC0) license waiver, with the underlying assumption that, by making their genomic data freely available, the chances of receiving analysis results from scientists and companies would be increased. Publicly sharing personal genomes has been reported as one of the driving factors for participants in open data projects for DTC genetic testing (e.g., openSNP [10]). They thus started a crowdsourcing project [11] to attract the attention of potential collaborators who might be able to analyse the data and return results that could complement their existing knowledge about their personal genomes. To emulate the principles of participatory medicine, the current study was designed to follow these principles: 1) all experiments must be carried out with private funds and as a private effort (i.e., using no public grant money, donations); 2) all individuals involved need to provide informed consent; 3) analyses are to be carried out by combining results from personal investigation and crowdsourcing efforts and 4) whenever possible, advice is to be taken from professional genetic counsellors and clinicians should any predicted risk require it. Once consent was provided, saliva samples were extracted using free sample Oragene kits and shipped to the Beijing Genomics Institute (BGI) at Shenzhen, China, for sequencing. With very limited financial resources and the simple proposition of sharing personal genomics data widely on the Internet, different sets of raw data and results were posted through blogging and social networks, describing the shared data, and reporting how results affected the family [12].
All the personal genome data were made available via figShare [1] with a public domain license (CC0), which means that companies and scientists can use the data without having to acknowledge or return any results to the family. This decision to put the personal genomics data in the public domain sped the process of adoption and collection of data by third parties, motivating several companies and scientists to contribute to the analysis. The companies included Oxford Gene Technology, InSilico Genomics, Diploid Genomics, BIOBASE, Orion Integrated Biosciences, and GeneTalk. Qiagen Ingenuity variant analysis was performed by a contributing scientist. Scientists or students who joined the crowdsourcing project at different stages added the remaining contributions. The combined crowdsourcing analyses have allowed the family to compile results from many different genome and metagenome tools.
The exomes have been used in a variety of tutorials, some of them in the USA, e.g., National Institute of Allergy and Infectious Disease, and some others in Europe, such as the Clinical Genomics module at the University of Navarra's, MSc course in Biomedical Research taught by M.C. or an exome analysis module developed by P.N.R. for the bioinformatics curriculum at the Free University of Berlin. Some of the results from research assignment in taught courses have been fed back to the family, constituting new research additions (e.g., section on hair colour by N.T.).
In this article we present the experiences, results and a discussion of this whole process, which has been ongoing since 2009. In a previous publication [
5
] we presented findings and results derived from the analysis of the 23andMe genotypes from five members of the Corpas family using only SNP chip data as well as one exome and comparing extracted SNPs with SNPedia annotations. We now extend the study and analysis to the personal exomes of four members of the family and a metagenome of one of them (sadly the missing fifth exome was not to be performed due to the demise of a family member). We call members of this family Mother, Father, Aunt, Daughter and Son (Fig.
1
). We contextualise the exome sequence analysis for the quartet comparing 23andMe SNP chip data with exome-derived variations, extending SNP chip data analyses with new methodologies to provide the most complete possible overview of genotype-phenotype associations making use of all crowdsourced results to date. In addition, we also delve into the ethical hurdles and barriers encountered by the family and the lead scientist of this work, who is also a member of the family.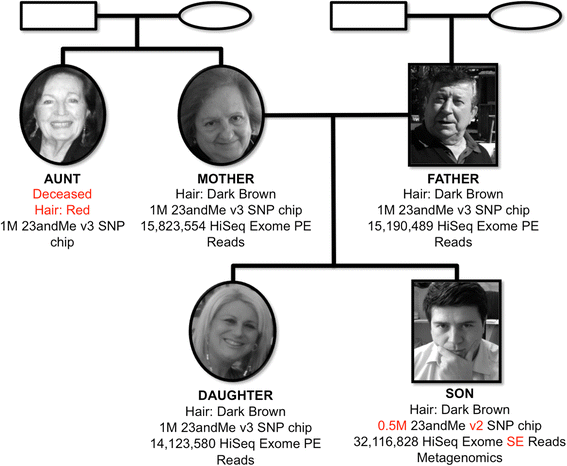 Discussion
We have presented the results of the crowdsourcing of the analysis of a genomic dataset for a family. The current lack of whole-family personal genomics data available for public use has been a significant factor in the success of this family's crowdsourcing enterprise, attracting the attention of scientists and companies to contribute results. We have contributions from scientists who wanted to carry out an experiment to analyse a cohort of individuals or test data for development of new tools (SNPedia tools [7], Ingenuity analyses) or for demonstrating new products to prospective customers and clients (InSilicoDB, BIOBASE Genome Trax, Orion Integrated Biosciences Inc., GeneTalk, and Diploid Genome Interpretation).
The main goal of this family study has been to explore the utility of DTC genomic analysis in a family setting with a data derived from personal genotypes, exomes and metagenomes. In order to achieve this objective, many obstacles had to be dealt with (e.g., finding a sequencing provider, shipping samples, establishing the appropriate ethical framework to perform and publish the analyses). We expect this study to pave the way for other families who might wish to actively engage in participatory medicine and share their experiences.
Some individuals have already made their genome sequences public (e.g., Personal Genome Project) and many more individuals have done so with their 23andMe data (e.g., Genomes Unzipped). The Corpas family decided to take the unprecedented move of publishing their exome and microbiome data and analyses on the Internet under a CC0 license waiver, the least restrictive type of license. To our knowledge, this is the first reported family to engage independently in genomic citizen science by publishing their identities and personal genomes on the Internet. This does not mean that the family encourages everybody to follow this example; the family does request, however, other researchers and the general public not to censure this decision. This has allowed them to explore their personal genomes to an extent it would have been impossible at this time otherwise.
It has been argued that individuals have more control due to participatory nature of research enabled by having access to personal genomic data. However, it might be also the case that by letting individuals share their data and accept more responsibility about potential consequences, they lose their control on their data and results they might receive. In addition, posting data in such an identified way would make personal genomic data sharing an irreversible decision in nature, given the fact that withdrawing yet shared data from the web is not a feasible option.
In order to satisfy established ethical conventions by the community, ethical research and advice were sought to create the appropriate framework in which to share and report data and findings. Although the Internet and private test providers rendered the personal genomic data sharing a plausible practice, it is hard to perceive that this is immediately translated to more power to individuals. There are significant limitations on controllability of data which has to be taken into consideration while promoting participant-centric approaches to research. Participant centric research and in this case personal data sharing is often coupled with presuming a higher level of responsibility and awareness for the participants. Publicly sharing data will put third parties' access to data under no limit whatsoever. As a result, third party researchers are not obliged to sign any contract or abide by "terms and conditions" that normally set in other research settings. This might raise concerns that in case of any harmful uses by third party researchers, there are no grounds for making researchers legally responsible. To this end, it is imperative to assure those who engage in such initiatives are sufficiently informed about implications and prepared to embrace the associated risks. It is not the objective of this research to ignore current practice and established ethical procedures in the data sharing of personal genomes (see NIH's elements of informed consent [32] and the Global Alliance for Genomics and Health [33]).
A primary objective was to probe the extent to which DTC genetic testing can provide meaningful results to people who decide to purchase those tests privately. By lowering the barriers for scientists and companies to access these data, the family could increase the chances of successfully crowdsourcing their analysis and receiving results back. These data have been used for testing and educational purposes.
The health care implications of the exome and metagenome data obtained in our study are at best uncertain. It was remarkable that there was no overlap of the sets of variants reported as significant by the four DTC analysis providers. This is reminiscent of recent reports on the low concordance of DTC analysis of SNP-based testing, with substantial differences in the predicted disease risks [34–36]. The lack of concordance between the results of the DTC analyses of the Family's exomes illustrates the difficulties in using this kind of analysis for participatory medicine at present, and it is not clear if any of the findings have relevance for the clinical care of the family at present. A further limitation of our study is the fact that for economic reasons, whole exome sequencing was performed at a relatively low average coverage of about 30×. It has been noted that different bioinformatic pipelines lead to different sets of called variants [37]. We were limited to one pipeline provided online by InSilicoDB [9], and did not explore the effects of different computational analysis strategies, since this would not normally be available in a DTC context.
We note that our results were not intended to compare the ability of the DTC companies to identify disease-causing mutations in the setting of human genetics or oncology, which are the primary use cases for exome sequencing. We provide the same starting point, a VCF file, and the same starting end, the predicted phenotypes based on SNP variations from the VCF file. The analyses that were conducted at a particular point in time will have their own software versions and configurations. It is thus almost impossible to have a 100 % reproducibility of results due to the difficulty posed by the various formats presented from the different providers and the dynamics of the evolution of methods or the businesses themselves.
The metagenomic analysis of Son's fecal microbiome did not identify any actionable findings. The most abundant bacterium in the sample, Faecalibacterium prausnitzii, is thought to be protective [38], but there is currently no accepted analysis strategy that would allow one to make certain conclusions about the medical relevance of the results.
Conclusion
In this study we have confined ourselves to the evidence given by DTC companies and applied different software for interpretation. One of our main aims was to simulate what it will be for a family of the future to analyse their personal genomes privately. At current costs, however, this type of analysis could hardly be afforded by most families globally as genetic testing and counselling would have been too expensive. This may change in the future as the cost of analysis drops.
We have shown the extent to which private efforts in participatory medicine can enhance knowledge or a family of committed members wishing to analyse their personal genomes. We have also shown how current technologies allow entire families to engage in participatory research with the help of the Internet without having to consult a clinician beforehand. While carefully pondering risks and seeking appropriate ethical framework, the Corpas family decided to publish all their genetic data on the Internet to crowdsource their analysis. It is our belief that the risks of unintended uses of this family's genomic data have far been outweighed by the amount of information received from the contributors to the crowdsourcing of data analysis. The results of the analysis provided an explanation for the "surprising" hair colour of Son's children, and indicated the possibility that Father may be an intermediate metaboliser of the antiplatelet medication clopidogrel (if there were an indication for this medication, an alternate medication such as prasugrel might be considered).
Combining the results of four providers, we have offered an initial survey into the amount of knowledge that can be gathered by a family using solely DTC means. Results from the DTC providers vary widely between them and no consensus seems to come up in terms of actionable knowledge derived from the analyses. In spite of the limited amount of information gained, this study offers an initial survey on what is possible for any ordinary family to learn about their own personal exomes with current sequencing technology.
Endnote
1Contrary to the evidence, Aunt's 23andMe report predicts a decreased risk for Melanoma based on two SNPs (rs1805007 and rs1805008) located in MC1R.
Declarations
Acknowledgements
We are grateful to Swarna Reddy for contributing the Analysis of Ingenuity software, Anna Middleton (Sanger Institute) for her expert comments on genetic counselling and Mahsa Shabani (Centre for Biomedical Ethics and Law, KU Leuven) for her legal advice on the use of consent forms. We thank Mark Hahnel (founder of figShare) to allow upload of the whole dataset there for free. We thank Darren Heavens and Mario Caccamo for their help in sending the faecal sample to BGI Hong Kong. We thank Ingenuity staff, Mr. Kerry White and Dr. Sohela Shah for the access and assistance with variant analysis. WAVG is partially funded by the Department of Homeland Security Center of Excellence for Emerging and Zoonotic Animal Disease (CEEZAD) under cooperative agreement number 2010-ST-061-AG0001-02.
Disclaimers
1) All the experiments, data and findings are the result of private efforts.
2) Individuals involved have provided informed consent to share their data and analysis results.
3) M.C.'s current or past employers do not endorse any findings, methods or conclusions, directly or indirectly related to this study.
Open AccessThis article is distributed under the terms of the Creative Commons Attribution 4.0 International License (http://creativecommons.org/licenses/by/4.0/), which permits unrestricted use, distribution, and reproduction in any medium, provided you give appropriate credit to the original author(s) and the source, provide a link to the Creative Commons license, and indicate if changes were made. The Creative Commons Public Domain Dedication waiver (http://creativecommons.org/publicdomain/zero/1.0/) applies to the data made available in this article, unless otherwise stated.
Authors' Affiliations
(1)
The Genome Analysis Centre, Norwich Research Park, Norwich, UK
(2)
Orion Integrated Biosciences Inc., Larchmont, USA
(3)
Universidad de Navarra, Grupo de Fisiología del Estrés en Plantas (Dpto. de Biología Ambiental), Pamplona, Spain
(4)
Department for Applied Bioinformatics, Institute for Cell Biology and Neuroscience, Goethe University, Frankfurt am Main, Germany
(5)
InSilico Genomics S.A., Brussels, Belgium
(6)
Institute for Medical Genetics and Human Genetics, Charité Universitätsmedizin Berlin, Berlin, Germany
(7)
Department of Mathematical Sciences, University of Essex, Colchester, UK
(8)
SNPedia, River Road Bio, LLC, Maryland, USA
(9)
Facultad de Ciencias Químicas, Universidad Complutense de Madrid, Madrid, Spain
(10)
DNADigest, Windsor House, Station Court, Cambridge, UK
(11)
Oxford Gene Technology, Oxfordshire, UK
(12)
GeneTalk, Berlin, Germany
(13)
BIOBASE, Wolfenbuettel, Germany
(14)
Diploid Genomics, Leuven, Belgium
(16)
Department of Public Health and Primary Care, Catholic University of Leuven, Leuven, Belgium
(17)
The Institute for Systems Biology, Seattle, USA
(18)
Berlin Brandenburg Center for Regenerative Therapies, Charité Universitätsmedizin Berlin, Berlin, Germany
(19)
Institut de Recherches Interdisciplinaires et de Developpements en Intelligence Artificielle, the Computer and Decision Engineering Department, Universite Libre de Bruxelles, Bruxelles, Belguim