Research article
Open Access
The genomic landscape of ribosomal peptides containing thiazole and oxazole heterocycles
Received: 14 April 2015
Accepted: 3 October 2015
Published: 13 October 2015
Abstract
Background
Ribosomally synthesized and post-translationally modified peptides (RiPPs) are a burgeoning class of natural products with diverse activity that share a similar origin and common features in their biosynthetic pathways. The precursor peptides of these natural products are ribosomally produced, upon which a combination of modification enzymes installs diverse functional groups. This genetically encoded peptide-based strategy allows for rapid diversification of these natural products by mutation in the precursor genes merged with unique combinations of modification enzymes. Thiazole/oxazole-modified microcins (TOMMs) are a class of RiPPs defined by the presence of heterocycles derived from cysteine, serine, and threonine residues in the precursor peptide. TOMMs encompass a number of different families, including but not limited to the linear azol(in)e-containing peptides (streptolysin S, microcin B17, and plantazolicin), cyanobactins, thiopeptides, and bottromycins. Although many TOMMs have been explored, the increased availability of genome sequences has illuminated several unexplored TOMM producers.
Methods
All YcaO domain-containing proteins (D protein) and the surrounding genomic regions were were obtained from the European Molecular Biology Laboratory (EMBL) and the European Bioinformatics Institute (EBI). MultiGeneBlast was used to group gene clusters contain a D protein. A number of techniques were used to identify TOMM biosynthetic gene clusters from the D protein containing gene clusters. Precursor peptides from these gene clusters were also identified. Both sequence similarity and phylogenetic analysis were used to classify the 20 diverse TOMM clusters identified.
Results
Given the remarkable structural and functional diversity displayed by known TOMMs, a comprehensive bioinformatic study to catalog and classify the entire RiPP class was undertaken. Here we report the bioinformatic characterization of nearly 1,500 TOMM gene clusters from genomes in the European Molecular Biology Laboratory (EMBL) and the European Bioinformatics Institute (EBI) sequence repository. Genome mining suggests a complex diversification of modification enzymes and precursor peptides to create more than 20 distinct families of TOMMs, nine of which have not heretofore been described. Many of the identified TOMM families have an abundance of diverse precursor peptide sequences as well as unfamiliar combinations of modification enzymes, signifying a potential wealth of novel natural products on known and unknown biosynthetic scaffolds. Phylogenetic analysis suggests a widespread distribution of TOMMs across multiple phyla; however, producers of similar TOMMs are generally found in the same phylum with few exceptions.
Conclusions
The comprehensive genome mining study described herein has uncovered a myriad of unique TOMM biosynthetic clusters and provides an atlas to guide future discovery efforts. These biosynthetic gene clusters are predicted to produce diverse final products, and the identification of additional combinations of modification enzymes could expand the potential of combinatorial natural product biosynthesis.
Keywords
Genome miningThiazoleOxazoleRibosomal peptidePost-translational modificationNatural productsSecondary metabolites
Background
Recently, genome mining has revealed the tremendous sequence diversity of a pharmaceutically relevant family of natural products, the ribosomally synthesized and post-translationally modified peptides (RiPPs) [
1
]. The gene clusters for these natural products have been discovered in all three domains of life, and their structural diversity continues to expand as more knowledge accumulates regarding these natural products and their biosynthesis. RiPPs populate a diverse chemical and genetic landscape, including, but not limited to, lanthipeptides, thiazole/oxazole-modified microcins (TOMMs), lasso peptides, and linaridins [
1
]. The ribosomal origin of the starting material unites this otherwise disparate group of natural products. While the genes for most precursor peptides are located near to those for the modification enzymes within the genome, there are examples of precursors located elsewhere (e.g. heterocycloanthracins [
2
] and prochlorosins [
3
,
4
]). With few exceptions, the
C
-terminal portion of the precursor peptide (often referred to as the core region) is post-translationally modified while the
N
-terminal portion (leader region) harbors binding motifs that recruit the modification enzymes. Common core modifications include heterocycles, dehydrated amino acids, methylations, acetylations, backbone crosslinks, and many others [
1
]. A number of these modifications restrict the conformational flexibility of the peptide, which plays a part in endowing the final product with a specific activity. Following the enzymatic processing of the core, the unmodified leader region is typically removed by a protease, resulting in either the fully mature product or a substrate for further modifications (Fig.
1a
) [
5
]. Certain RiPPs swap the functions of the
N
- and
C
-terminal regions (e.g. bottromycins), while others have co-opted macrocyclization enzymes to excise the leader peptide (e.g. cyanobactins and thiopeptides) [
1
]. Regardless, the RiPP biosynthetic strategy is capable of producing structurally diverse compounds with minimal genetic space because the ribosome is utilized to synthesize the majority of the natural product scaffold. Furthermore, natural product variation can be expanded with the simple mutation of the core peptide, or addition and deletion of modification enzymes, leading to a variety of structures and bioactivities within the class. The particular combinations of precursor sequence and modification enzymes ultimately define the classes of RiPPs, and bioinformatics can readily identify and classify RiPP gene clusters using homology to these common enzymes [
6
].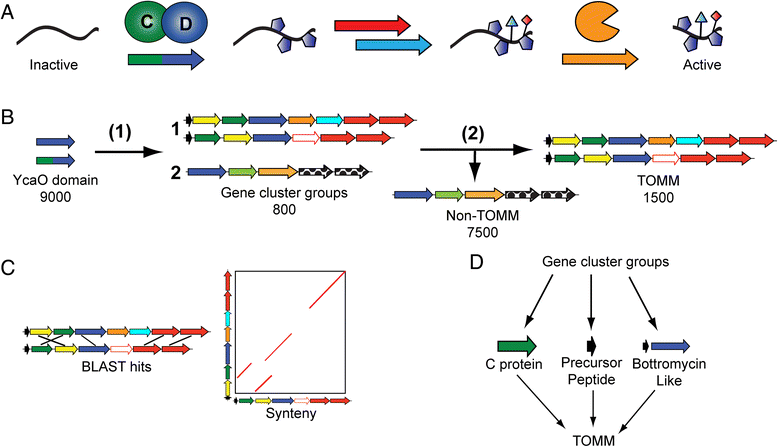 TOMMs are a large subclass of RiPPs encompassing a wide array of structures and bioactivities that are defined by the presence of azole and azoline heterocycles derived from Cys, Ser, Thr residues in the precursor peptide [1, 7]. Examples of studied TOMMs include microcin B17 (DNA gyrase inhibitor), streptolysin S (cytolysin), plantazolicin (antibacterial), cyanobactins (anticancer, antimalarial, and others), and the thiopeptides (translation inhibitors) (Additional file 1: Figure S1) [1]. The hallmark of a TOMM gene cluster is the presence of a cyclodehydratase that installs azoline heterocycles onto a precursor peptide in an ATP-dependent matter [8]. In some cases, a locally-encoded dehydrogenase then oxidizes the azoline to the corresponding azole heterocycle [7]. TOMM biosynthetic clusters regularly encode ancillary modification enzymes that increase structural complexity.
Given the structural and functional diversity of previously explored TOMMs, a fundamental understanding of the synthetic capabilities of bacteria and archaea to produce these natural products is desirable. Here we have analyzed sequences from the European Molecular Biology Laboratory (EMBL) and the European Bioinformatics Institute (EBI) sequence databases to view the distribution, evolution and structural potential of TOMMs. Nearly 1,500 biosynthetic gene clusters were identified, many of which appear to encode novel natural products. Additionally, some gene clusters contain heretofore-undescribed combinations of ancillary modification enzymes, potentially expanding the chemical complexity of TOMMs. Furthermore, precursor peptides from both characterized and uncharacterized families were analyzed to identify common motifs. This study defines the genomic landscape of TOMM natural products.
Conclusion
This study characterized a newly-constructed database to analyze the genomic complexity of TOMM natural product gene clusters. An in-depth analysis of TOMM clusters was used to identify nine heretofore-unrecognized TOMM families, as well as identify the predominant accessory enzymes that bestow additional structural diversity. Precursor peptides were also identified and analyzed to assess sequence diversity within each class. This study revealed the diversity of TOMM clusters as well as the phylogenetic distribution of clusters in both bacteria and archaea. With the geometric expansion in the rate of genome sequencing, it is expected that TOMM cluster diversity will increase as well, providing a large and growing source of new enzymes and natural products with potential medical or industrial implications.
Methods
All YcaO domain-containing proteins (InterPro IPR003776, D protein) were obtained from InterPro on October 28th, 2014. An attempt was made to include all YcaO domain-containing proteins that have been sequenced, but many protein sequences from NCBI were not correlated with genomes or were not added to UniProtKB and therefore were not included in the characterization. UniProtKB was chosen over GenBank because proteins and protein families are regularly curated and duplicates removed.
Biosynthetic gene cluster discovery and comparison
10-kb genomic regions on either side of the YcaO domain-containing proteins were obtained from NCBI, and predicted protein sequences were used as annotated. Genome regions were clustered using MultiGeneBlast, a program also employed by antiSMASH [50, 51]. The database used was created from all of the genomic regions obtained from NCBI. 100 BLAST hits were mapped with a synteny conservation hit weight of 0.5 and a BLAST hit weight of 0.5. The minimal BLAST sequence coverage was 25 and the minimal percent identity for BLAST hits was 30 %. Genomic regions with a MultiGeneBlast score above 10 were grouped into families. This score was chosen after running a small subset of known TOMMs using a variety of thresholds, where a threshold of 10 was capable of separating known compounds.
To identify TOMM biosynthetic gene clusters, profile Hidden Markov Models (pHMMs) and the program HMMER [52] were used to identify C proteins from TOMM clusters. TIGR03603 and TIGR03882 were used to identify C proteins and CD fusion proteins, respectively. New pHMMs were created to identify short CD fusions similar to those in the haloazolisin clusters. Precursor peptides were identified as described below. Genomic regions were considered TOMMs if any members of the families identified with MultiGeneBlast contained a C or CD fusion protein identified with the pHMMs, the genomic region contained a precursor peptide (described below), or the genomic regions clustered with known bottromycin producers [1] (a TOMM with no identifiable C protein and a non-canonical precursor peptide).
Sequence similarity networks
The D proteins from all of the identified TOMM gene clusters were used to make the D-only sequence similarity networks. Similarity was evaluated using an all-vs-all BLAST with an e-value cutoff of 10−54. To create the network with all of the TOMM proteins, proteins were predicted from NCBI gene annotations. All proteins within the genomic region were submitted to the Enzyme Function Initiative – Enzyme Similarity Tool (enzymefunction.org) for analysis [53]. The similarity was calculated at an e-value of 10−30 with a representative node cluster of 100 %. For visual clarity, all clusters containing fewer than 5 members were omitted from the all-protein networks (Fig. 5 and Additional files 5 and 6: Figures S5 and S6). Both networks were visualized with Cytoscape (cytoscape.org) using the organic layout [54].
Precursor sequence discovery
Precursor peptides were identified using two methods. In one, the NCBI-annotated genes from all of the genomic regions surrounding a YcaO domain-containing protein were analyzed, and any genes smaller than 450 bp were considered precursor peptides if the residues in the C-terminal half of the encoded product were at least 45 % Cys, Ser, or Thr. Because gene annotation programs often have difficulty annotating small open reading frames, the second method determined all possible open reading frames in each genomic region. Any potential protein under 150 amino acids with at least 65 % of the residues in the C-terminal half being Cys, Ser, or Thr were considered precursor peptides. Duplicates were removed. The values of 45 % and 65 % were identified using a small dataset including thiopeptide, thermoacidophisin, cytolysin, and hakacin producers. The full dataset was also run under various percentages of Ser, Cys, Thr, Gly, identifying the best threshold to decrease the number of false-positives. Precursor peptides vary in both sequence and length, and therefore, it is likely that many precursor peptides remained unidentified using this stringent method. Furthermore, any precursor peptides encoded elsewhere in the genome would be left unannotated with this analysis, as is the case with many HCA precursor peptides.
Phylogenetic analysis
D protein sequences were obtained from UniProt, and 16S rRNA sequences were obtained from SILVA [55] by searching for the organism name from UniProt. All phylogenetic analysis was done using Molecular Evolutionary Genetics Analysis (MEGA) [56]. Sequences were aligned using MUSCLE [57, 58] with all standard parameters. Maximum likelihood phylogenetic trees were created in MEGA using the standard parameters.
Availabilty of supporting data
Abbreviations
TOMM:

Thiazole/oxazole-modified microcin
HMM:

Hidden Markov Model
pHMM:

Profile Hidden Markov Model
RiPP:

Ribosomally synthesized and post-translationally modified peptide
SLS:

Streptolysin S
MccB17:

Microcin B17
NHLP:

Nitrile hydratase containing leader peptide
EMBL:

European Molecular Biology Laboratory
EBI:

European Bioinformatics Institute
HCA:

Heterocycloanthracin
PZN:

Plantazolicin
MEGA:

Molecular Evolutionary Genetics Analysis
MUSCLE:

Multiple Sequence Comparison by Log-Expectation
Declarations
Acknowledgements
We thank K. Whalen for running the Enzyme Similarity Tool for the protein network. We are grateful to J. Melby and C. Deane for critically editing the manuscript.
Funding
This work was supported in part by a NIH Director's New Innovator Award Program (DP2 OD008463 to DAM), the David and Lucile Packard Fellowship for Science and Engineering (to DAM), and JRD was supported by a fellowship from the Institute for Genomic Biology.
Open AccessThis article is distributed under the terms of the Creative Commons Attribution 4.0 International License (http://creativecommons.org/licenses/by/4.0/), which permits unrestricted use, distribution, and reproduction in any medium, provided you give appropriate credit to the original author(s) and the source, provide a link to the Creative Commons license, and indicate if changes were made. The Creative Commons Public Domain Dedication waiver (http://creativecommons.org/publicdomain/zero/1.0/) applies to the data made available in this article, unless otherwise stated.
Authors' Affiliations
(1)
Department of Microbiology, University of Illinois at Urbana-Champaign, Urbana, USA
(2)
Institute for Genomic Biology, University of Illinois at Urbana-Champaign, Urbana, USA
(3)
Department of Chemistry, University of Illinois at Urbana-Champaign, Urbana, USA