Research article

Open Access
Lifespan of restriction-modification systems critically affects avoidance of their recognition sites in host genomes
Received: 2 October 2015
Accepted: 11 December 2015
Published: 21 December 2015
Abstract
Background
Avoidance of palindromic recognition sites of Type II restriction-modification (R-M) systems was shown for many R-M systems in dozens of prokaryotic genomes. However the phenomenon has not been investigated systematically for all presently available genomes and annotated R-M systems. We have studied all known recognition sites in thousands of prokaryotic genomes and found factors that influence their avoidance.
Results
Only Type II R-M systems consisting of independently acting endonuclease and methyltransferase (called 'orthodox' here) cause avoidance of their sites, both palindromic and asymmetric, in corresponding prokaryotic genomes; the avoidance takes place for ~ 50 % of 1774 studied cases. It is known that prokaryotes can acquire and lose R-M systems. Thus it is possible to talk about the lifespan of an R-M system in a genome. We have shown that the recognition site avoidance correlates with the lifespan of R-M systems. The sites of orthodox R-M systems that are encoded in host genomes for a long time are avoided more often (up to 100 % in certain cohorts) than the sites of recently acquired ones. We also found cases of site avoidance in absence of the corresponding R-M systems in the genome. An analysis of closely related bacteria shows that such avoidance can be a trace of lost R-M systems. Sites of Type I, IIС/G, IIM, III, and IV R-M systems are not avoided in vast majority of cases.
Conclusions
The avoidance of orthodox Type II R-M system recognition sites in prokaryotic genomes is a widespread phenomenon. Presence of an R-M system without an underrepresentation of its site may indicate that the R-M system was acquired recently. At the same time, a significant underrepresentation of a site may be a sign of presence of the corresponding R-M system in this organism or in its ancestors for a long time. The drastic difference between site avoidance for orthodox Type II R-M systems and R-M systems of other types can be explained by a higher rate of specificity changes or a less self-toxicity of the latter.
Keywords
Restriction-modification systems
Site avoidance
Methylation
Restriction endonuclease
Prokaryotic genome
Background
Restriction-modification (R-M) systems were discovered and characterized as bacterial systems defending cells from an invasion of foreign DNA, e.g., phage DNA [1, 2]. R-M systems are divided into four types (I–IV) [3]. Classical R-M systems of Types I–III include a DNA methyltransferase (MTase) and a restriction endonuclease (REase) [4]. MTase methylates specific DNA sequences (recognition sites) in the host genome. REase recognizes the same unmethylated site and cleaves the DNA. As a result, the methylated host DNA remains intact whilst any foreign DNA with unmethylated recognition sites is cleaved. In contrast to classical R-M systems, methyl-directed ones of Type IV and IIM include only REases, which cleave modified (e.g., methylated) sites preventing attacks of phages that have acquired modifications of the genomic DNA as an antirestriction strategy [5].
Besides defence from phages, R-M systems may participate in: (i) containment of the horizontal gene transfer [6] and maintenance of bacterial or archaeal population structure [7, 8], (ii) the regulation of gene expression by site methylation [9–11], (iii) modulation of the genome recombination [12].
R-M systems are widely spread among prokaryotes: they have been found or predicted with computational methods in the vast majority of bacterial and archaeal genomes [13]. Besides prokaryotes, R-M systems were found in Chlorella viruses [14–16] and a few other eukaryotic viruses [17, 18].
Acquirement and loss of an R-M system is a routine event in the evolution of most bacteria and archaea. A bacterium can occasionally acquire an R-M system with a new specificity by the horizontal gene transfer [19–21] or by the alteration of the DNA recognition domain of an existing R-M system by an intragenomic recombination [22–24] or point mutations [10]. A large number of corrupted R-M system genes in REBASE [25] testify in favor of a rather frequent loss of R-M systems. It allows us to talk about their lifespan in bacteria. R-M system gain and loss is observed even on the level of strains of the same species, strains often carry different sets of R-M systems. Well studied examples are Neisseria meningitidis [6], Streptococcus pneumoniae [7], Helicobacter pylori [26].
R-M system recognition site avoidance is one of numerous antirestriction strategies of phages [4]. The avoidance was revealed in many phage genomes [27, 28]. A similar effect was found in prokaryotic genomes. Karlin and co-workers [29] supposed that the underrepresentation of short palindromes in prokaryotic genomes is associated with a selection aimed at reducing the number of restriction sites. It was shown that some palindromes are the most underrepresented "words" among all possible "words" of certain length in a genome. The known sites of R-M systems were often found among the most underrepresented palindromes [30–33]. The avoidance of R-M system sites was explained by occasional failure of site methylation resulting in DNA cleavage at this site. In the light of recent data on the modulation of gene expression by R-M systems [10], it is possible that unfavorable methylation of particular sites could also provoke their removal.
In this work we study recognition site underrepresentation for thousands of R-M systems in thousands of prokaryotic genomes. All data on cleavage sites of REases were obtained from REBASE [25]. Underrepresentation of the sites was estimated in those genomes that encode corresponding R-M systems. Such site-genome pairs are called 'actual pairs'. We found two factors, R-M system type and its lifespan, that seem to be the most essential and can basically explain statistical data on site underrepresentation.
Discussion
The avoidance of palindromic restriction sites in prokaryotic genomes was demonstrated earlier for several dozens of R-M systems [29, 30, 32]. Here we present, for the first time, the results of a full-scale analysis of the phenomenon. Importantly, the current amount of R-M systems with annotated restriction sites exceeds 3500 in REBASE. Thus we were able to study the avoidance of restriction sites directly and systematically, no matter how long are they, are they degenerate or not, palindromes or not. This is in contrast to the previous works, where restriction sites were selected from the lists of avoided non-degenerate palindromes [29, 30, 32, 33] or words of certain length [31, 52].
Methods of site avoidance detection and estimation can significantly influence the results of the analysis [53]. All of them are based on the comparison of the number of occurrences of an examined word in a genome with the statistically expected number of its occurrences. Various methods for the estimation of an expected number of word occurrences were used in literature. Simpler methods consider base composition only [46], more sophisticated ones take into account a number of occurrences in a genome of certain subwords of the word [42, 43, 54]. Elhai [53] compared these methods applied to E. coli genome and concluded that the results of different methods can greatly vary from each other, and Karlin's method [42] is more reliable.
We have additional arguments to use Karlin's method in our work. This method takes into account frequencies of all subwords including degenerate ones. This approach seems to be appropriate for studying R-M system recognition sites because half of them are degenerate. Higher precision of Karlin's method in comparison with the commonly used method based on maximal order Markov model [43] is indirectly confirmed by less variance of the expected to observed number ratio for the former (Additional file 5: Figure S2).
As a measure of site underrepresentation (or overrepresentation) we used the ratio Kr of the observed number of sites to the expected one according to Karlin's model. We presume that the ratio is a better measure of selection pressure than used in a number of works [30, 32] p-value because the latter significantly depends on genome size. At last, it is not possible to compute p-value for the deviation of the observed number of sites from the expected one according to Karlin's method because, as far as we know, no mathematical results on this subject were published.
Like in previous works, we consider R-M site avoidance (i.e., a selection in favour of decreasing the number of sites) in the case of site underrepresentation, i.e., if the Kr value is less than a threshold. Certainly, the threshold choice influences the fraction of underrepresented sites in the cohort of site-genome pairs under our study. The usage of control datasets allowed us to substantiate the choice and also to estimate the fraction of false positives among the cohort of underrepresented sites.
Our approach can not detect site avoidance for the R-M systems recently transferred into host genome or changed their specificity, because the Kr value clearly depends on selection pressure as well as on the lifespan of an R-M system.
We found the avoidance for the sites of orthodox Type II R-M systems approximately in half of the cases. No avoidance was observed for non-orthodox sites, i.e., the sites of Type I, Type III and Type IIC/G and methyl-directed Type IIM and Type IV, except of the GATC site of Type IIM R-M systems and CAGAG of Type III R-M systems.
Site avoidance in prokaryotic genomes for orthodox R-M systems agrees with our expectations and results of previous works [29, 30, 32]. This effect was attributed to cleavage of prokaryotic DNA by restriction endonucleases due to incomplete methylation of DNA sites [30–32]. On the other hand, genome methylation by methyltransferases from R-M systems can affect gene expression [9, 37]. Thus it is likely that selection is addressed primarily against recognition sites, methylation of which is unfavorable for bacteria.
The absence of site underrepresentation is surprising for non-orthodox non-methyl-directed R-M systems. Indeed, all types of R-M systems (except methyl-directed ones) are well known to be toxic for unmethylated foreign DNA [28]. So a similar self-toxicity could be expected for all types of R-M systems.
We hypothesize that both less self-toxicity and shorter lifespan of non-orthodox R-M systems contribute to the failure to detect site underrepresentation. First, restriction endonucleases from non-orthodox R-M systems become active only in complex with cognate MTases. Thus in the case of MTase failure (such as a loss of its ability to recognize sites or to form an active endonuclease complex) the only consequence is the loss of defence function. In contrast, REases and MTases of orthodox Type II R-M systems act independently from each other. Thus MTase failure results in cleavage of the prokaryotic DNA by the corresponding REase. It makes the orthodox Type II R-M systems more toxic for a prokaryotic host. We conclude that non-orthodox R-M systems could be considered less self-toxic.
Second, non-orthodox R-M systems utilize the same DNA recognition domain for both endonuclease and DNA methyltransferase complexes. Therefore, the change of their recognition sequences is due to mutations in the single DNA recognition domain. Consequently, an active R-M system is retained [55, 56]. Mechanisms for frequent and even programmed (leading to phase variation) specificity changes were shown for Type I and III R-M systems [7, 11]. Fast recognition site evolution of Type IIC/G and Type IV genes was also shown [23, 41]. In contrast, orthodox Type II R-M systems require two simultaneous concordant mutations in two different genes (REase and MTase) for coordinated change of their specificity. Thus, specificity changes seem to be much rarer for orthodox R-M systems than for all others. As a result, selection has more time to eliminate the sites of orthodox R-M systems than of non-orthodox ones.
In the attempt to explain the drastic difference of site underrepresentation among orthodox R-M systems we examined the role of site features, their palindromicity, length and degeneracy, because the sites of R-M systems of different types can be distinguished by these parameters.
In our dataset 90 % sites of orthodox R-M systems are palindromes. Considering palindromic and non-palindromic sites of orthodox R-M systems separately, we found that among 161 non-palindromic sites of orthodox R-M systems the percentage of the avoided sites is almost the same as among palindromic ones. Note that Kr thresholds were chosen separately for palindromic and non-palindromic sites because palindromic sequences are more underrepresented than non-palindromic ones, regardless of the existence of active R-M systems in genomes (see Fig. 4).
We found that orthodox R-M system sites of a half of actual site-genome pairs are underrepresented in the corresponding genomes. Hence sites of the other half of pairs are not underrepresented.
Most likely the majority of non-underrepresented sites of actual site-genome pairs are the sites of recently acquired R-M systems. A lot of time is required for the site underrepresentation to become detectable. A smaller fraction of underrepresented sites of R-M systems in horizontally transferred regions (as compared to the 'old' ones) was shown in the work [46].
In this work we demonstrated that the frequency of underrepresentation for orthodox R-M system sites in the datasets presumably enriched with recently acquired R-M systems (Fig. 5) is two-three times lower. Especially demonstrative is the 100 % site avoidance detected in the group of 4–6 bp length palindromic sites of the orthodox R-M systems that are chromosome-encoded in the majority of strains of a species. It is likely that in these cases the R-M systems were at least in the common ancestor of strains and thus lifespan of these R-M systems is rather long. This observation confirms that a significant part of non-underrepresented sites of the orthodox R-M systems could be the sites of recently acquired R-M systems. There should be a certain caution in the interpretation of this data as the number of cases in the group with 100 % site avoidance is only 45.
Some other reasons for non-underrepresentation of orthodox R-M system sites should also be taken into account. It is well known that REases differ in their efficiency, therefore selection pressure against the sites may vary significantly. For example, BbrIII is about 200 times more effective than BbrI [57]. Besides, self-toxicity may depend on specific properties of sites distribution in a genome. In several cases, REases efficiency can depend on the number of restriction-modification sites, for example Ecl18kI, EcoRII, etc. are more active when DNA possesses several restriction sites [58, 59]. For several REases such efficiency depends on the site context [60–63] or peculiarities of sites distribution between DNA chains [28].
We also found a large amount of cases when a site is avoided in a particular genome while an R-M system with this site is not encoded in this genome. In many cases such system is encoded in a closely related genome, and we may assume that the R-M system was recently lost by the organism. These data confirm that some underrepresented sites are the vestiges of lost R-M systems (this statement was supposed earlier, see, for example, [32]). We speculate that the majority of underrepresented sites could be traces of lost orthodox R-M systems.
Based on our data we propose the following model of R-M system effect on the number of its site in a bacterial or archaeal genome (Fig.
7
).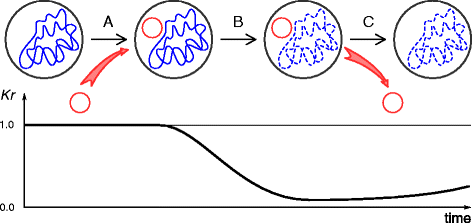 Acquiring a new R-M system a bacterium gets the effective defense tool against bacteriophages. Due to this advantage the R-M system spreads fast in the bacterial population. At the same time the R-M system self-toxicity results in the decrease of the restriction site number in the host genome. The same process of restriction sites elimination may occur in phage genomes, probably in parallel with obtaining or adjusting other antirestriction mechanisms.
Long term bacterium – phage – R-M system coevolution and arms race result in their mutual adaptation. As soon as the phage has adapted to the R-M system, this system does not defend the bacterium anymore and becomes useless [28]. The lifetime of useless genes in bacterial genomes is relatively short [64, 65]. Thus the genes of the R-M system that has become ineffective would soon be corrupted and lost. However, the R-M system recognition site avoidance would remain in the bacterial genome for a long time.
The decrease of the number of R-M system recognition site occurrences in a genome requires a huge amount of generations. A restoration of site occurrence number after a loss of an R-M system is an even longer process. Its duration is likely to be similar to the time of the base composition restitution of horizontally transferred genes. Lawrence and Ochman estimated this time to be on the order of magnitude of hundred million years [66].
It is of special interest to analyze the outliers with specific features among restriction sites. The GATC site is the only underrepresented site among the sites of methyl-directed R-M systems. GATC is known to be the recognition site of a number of IIM REases (so-called DpnI-like) as well as of many orthodox Type II R-M systems. This site is underrepresented in most genomes (38 of 42) where corresponding methyl-directed R-M systems are encoded. Surprisingly, GATC avoidance in a genome carrying Type IIM R-M system is often accomplished with the presence of GATC-recognizing orthodox Type II R-M system genes in other strains of the same species (Streptococcus pneumoniae, Neisseria meningitidis, Eubacterium rectale) or genus (Moraxella catarrhalis, Sulfurospirillum deleyianum).
For example, in S. pneumoniae there are strains encoding DpnII-like R-M systems, which cleave unmethylated GATC and methylate their own DNA, as well as strains encoding Type IIM DpnI-like R-M systems, which cleave methylated GATC [67]. Such complementary DpnI/DpnII-like systems can defend mixed bacterial population from phage attacks more effectively [68, 69].
However, such systems might prevent DNA exchange between strains with the different methylation status of GATC. To facilitate horizontal gene transfer, genomes of S. pneumoniae with Type II DpnII-like R-M system encode an additional methyltransferase, which methylates GATC in the single-strand DNA and thus prevents degradation of the acquired unmethylated DNA [70, 71].
We suppose that the GATC avoidance also facilitates DNA exchange between the strains with different methylation status of GATC.
The avoidance of GATC site can be also associated with activity of the methyl-directed mismatch repair system. Unmethylated GATC is target for the MutH nicking enzyme [72]. The toxicity of MutH for enterophage DNA with unmethylated GATC was shown [73]. All strains with the GATC-recognizing Type IIM R-M systems are dam- and therefore mismatch repair system might be the reason of GATC avoidance.
The other outlier is CTAG site which is the most avoided 4 bp palindrome in the bacterial genomes [29]. In our data it is underrepresented in 55.4 % of all site-genome pairs of prokaryotic control dataset while only 0.9 % of bacteria are known to have the R-M system with such specificity. The CTAG avoidance was explained by its structural role in DNA [29] (note, that the central dinucleotide TA is underrepresented in almost all genomes of all branches of life [31, 74]). Also it could be explained by the VSP repair system that is likely to turn CTAG into CCAG after A to G transition [29, 75, 76]. Furthermore CTAG is often the target site for insertion sequences [77] and can be under negative selection to prevent their expansion in a genome. Thus underrepresentation of CTAG can hardly be attributed exclusively to influence of orthodox Type II R-M systems.
Conclusions
The phenomenon of restriction sites avoidance was discovered earlier for palindromic sites of Type II R-M systems. We showed that, with respect to the site avoidance, the R-M systems have to be divided into 'orthodox', which are Type II R-M systems except IIG and IIM subtypes, and the remaining, 'non-orthodox' ones. The sites of orthodox R-M systems are underrepresented in about 50 % of bacterial genomes encoding corresponding R-M system genes while site underrepresentation practically was not detected for non-orthodox R-M system sites. Many of non-underrepresented orthodox R-M system sites are likely to be the sites of recently acquired R-M systems.
As to non-orthodox R-M systems the absence of recognition site underrepresentation may be explained by a significantly shorter lifespan in bacteria due to efficient mechanisms of specificity changes, or less self-toxicity of such R-M systems. Indeed, methyltransferase corruption may prevent DNA cleavage because endonuclease complex in these group of R-M systems includes methyltransferase subunit.
Our data confirms also that underrepresented sites that are not sites of any orthodox R-M system encoded in a prokaryotic genome often are restriction sites of lost R-M systems. The underrepresentation of sites may be considered as a specific kind of traces of orthodox R-M system activity in a bacterial cell.
Systematic study of site avoidance shed light on R-M system evolution, mobility and interaction with host genomes.
Abbreviations
R-M system:

restriction-modification system
MTase:

DNA methyltransferase
REase:

restriction endonuclease
Declarations
Acknowledgements
We are grateful to Dr. M. Roytberg for reading the text and suggestions how to improve it and to Prof. M.Gelfand for useful discussions.
This work was partially funded by Russian Foundation for Basic Research grant 14-04-91350 (R-M system analysis) and partially by Russian Scientific Foundation grant 14-50-00029 (programming).
Open AccessThis article is distributed under the terms of the Creative Commons Attribution 4.0 International License (http://creativecommons.org/licenses/by/4.0/), which permits unrestricted use, distribution, and reproduction in any medium, provided you give appropriate credit to the original author(s) and the source, provide a link to the Creative Commons license, and indicate if changes were made. The Creative Commons Public Domain Dedication waiver (http://creativecommons.org/publicdomain/zero/1.0/) applies to the data made available in this article, unless otherwise stated.
Authors' Affiliations
(1)
Faculty of Bioengineering and Bioinformatics, Lomonosov Moscow State University, Moscow, Russia
(2)
Belozersky Institute of Physico-Chemical Biology, Lomonosov Moscow State University, Moscow, Russia
(3)
Gamaleya Center of Epidemiology and Microbiology, Moscow, Russia
(4)
Institute of Agricultural Biotechnology, the Russian Academy of Sciences, Moscow, Russia
(5)
Scientific Research Institute for System Studies, the Russian Academy of Science (NIISI RAS), Moscow, Russia