Research article

Open Access
Evidence-based green algal genomics reveals marine diversity and ancestral characteristics of land plants
Received: 21 November 2015
Accepted: 11 March 2016
Published: 31 March 2016
Abstract
Background
Prasinophytes are widespread marine green algae that are related to plants. Cellular abundance of the prasinophyte Micromonas has reportedly increased in the Arctic due to climate-induced changes. Thus, studies of these unicellular eukaryotes are important for marine ecology and for understanding Viridiplantae evolution and diversification.
Results
We generated evidence-based Micromonas gene models using proteomics and RNA-Seq to improve prasinophyte genomic resources. First, sequences of four chromosomes in the 22 Mb Micromonas pusilla (CCMP1545) genome were finished. Comparison with the finished 21 Mb genome of Micromonas commoda (RCC299; named herein) shows they share ≤8,141 of ~10,000 protein-encoding genes, depending on the analysis method. Unlike RCC299 and other sequenced eukaryotes, CCMP1545 has two abundant repetitive intron types and a high percent (26 %) GC splice donors. Micromonas has more genus-specific protein families (19 %) than other genome sequenced prasinophytes (11 %). Comparative analyses using predicted proteomes from other prasinophytes reveal proteins likely related to scale formation and ancestral photosynthesis. Our studies also indicate that peptidoglycan (PG) biosynthesis enzymes have been lost in multiple independent events in select prasinophytes and plants. However, CCMP1545, polar Micromonas CCMP2099 and prasinophytes from other classes retain the entire PG pathway, like moss and glaucophyte algae. Surprisingly, multiple vascular plants also have the PG pathway, except the Penicillin-Binding Protein, and share a unique bi-domain protein potentially associated with the pathway. Alongside Micromonas experiments using antibiotics that halt bacterial PG biosynthesis, the findings highlight unrecognized phylogenetic complexity in PG-pathway retention and implicate a role in chloroplast structure or division in several extant Viridiplantae lineages.
Conclusions
Extensive differences in gene loss and architecture between related prasinophytes underscore their divergence. PG biosynthesis genes from the cyanobacterial endosymbiont that became the plastid, have been selectively retained in multiple plants and algae, implying a biological function. Our studies provide robust genomic resources for emerging model algae, advancing knowledge of marine phytoplankton and plant evolution.
Keywords
GreenCut
Archaeplastida evolution
Viridiplantae
Introner Elements
RNA sequencing
Proteomics
Evidence-based gene models
Peptidoglycan
PPASP
Background
Marine photosynthetic plankton are responsible for approximately half of global carbon fixation [
1
]. Prasinophytes are a major lineage of unicellular green algae that can contribute significantly to marine primary production [
2
–
4
]. In the oceans, prasinophyte genera within Class II are particularly widespread. These algae include the picoplanktonic (<2 μm cell diameter) genera
Bathycoccus
,
Micromonas
and
Ostreococcus
which have small genomes (12–22 Mb) and less gene family expansion than observed in other Viridiplantae groups (Fig.
1
), specifically chlorophyte algae and streptophytes [
5
]. Like chlorophytes, prasinophytes provide insights into ancestral Viridiplantae gene families. For example, key transcription factors formerly considered innovations in vascular plants are present in
Micromonas
although absent from model chlorophytes, such as
Chlamydomonas reinhardtii
and non-vascular plants like
Physcomitrella patens
(moss) [
6
].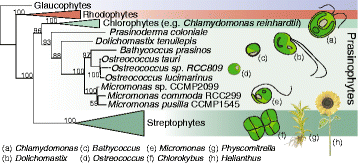 The first described eukaryotic picoplankter was Chromulina pusilla [7], later renamed Micromonas pusilla. Micromonas forms at least seven phylogenetically distinct clades, six of which have cultured representatives [8–10]. These clades appear to often co-exist in mid- to low- latitude systems [10, 11], with the exception of Micromonas Clade E2 which is found in polar environments but not lower latitude surface oceans [9]. Abundance of the latter has reportedly increased in the Canadian Arctic in association with climate induced changes [2]. Like Micromonas, the genus Bathycoccus is also found from tropical to polar systems, but is much less phylogenetically diverse [12, 13]. Their sister genus Ostreococcus is found only in mid- and low- latitude waters and has several established clades with distinct environmental distributions [14, 15].
Morphologically the three genera have marked differences. All have a single chloroplast and lack visible cell walls. Unlike Bathycoccus and other known prasinophytes, Micromonas and Ostreococcus do not have scales [16]. Additionally, Bathycoccus and Ostreococcus are non-motile while Micromonas has a flagellum (like most prasinophytes) and is larger than the former two taxa. Genomes have been sequenced for Micromonas species representing Clades D (Micromonas pusilla CCMP1545) and A (Micromonas RCC299) [6]. In addition, three Ostreococcus and one Bathycoccus species have completely sequenced genomes [17–19], while targeted Bathycoccus metagenomes have been sequenced from coastal Chile [13] and the tropical Atlantic Ocean [13, 20]. The Micromonas nuclear genomes are 22 Mb (CCMP1545) and 21 Mb (RCC299), while the genomes of Bathycoccus prasinos (15 Mb) and various Ostreococcus (~13 Mb) are smaller [6, 17–19]. Genomes of all three genera contain two chromosomes with lower GC% than the overall average (e.g., 51 % versus the overall average of 64–66 % in Micromonas). The larger low-GC region (LGC) is a proposed sex chromosome, while the other is much smaller and has few recognizable genes [6, 17, 19]. The RCC299 genome sequence is gapless, with telomere to telomere sequenced chromosomes [6]. In contrast the CCMP1545 genome was published as a high quality draft genome (Sanger sequenced) in 21 scaffolds representing 19 chromosomes.
To further develop genomic resources for Class II prasinophytes (the Mamiellophyceae), we finished sequences from four CCMP1545 chromosomes and developed new gene models for both CCMP1545 and RCC299 using evidence-based methods, including directional Illumina RNA-Seq and Liquid Chromatography Tandem Mass Spectrometry (LC-MS/MS) proteomics. Analyses of these datasets revealed characteristics of gene architecture, novel repetitive introns and deviations in splice donor sequence. We also analyzed the predicted proteome of polar Clade E2 isolate CCMP2099 and generated genomic information for a more basal Class II prasinophyte by growing and sequencing the transcriptome of Dolichomastix tenuilepis. Our comparative studies identified proteins that are likely involved in scale formation and features of the land plant ancestor as well as essential components of photosynthesis. Among these is the presence of a bacterial-like peptidoglycan pathway that has been retained in lineages from across the Archaeplastida supergroup (Fig. 1), but selectively lost in multiple independent events. Our studies highlight the complementarity of two evolutionary distinct green algal groups, represented by Micromonas and Chlamydomonas, for investigating plant systems and provide new insights into the development of the green lineage.
Conclusions
The plant lineage as a whole contributes hugely to the uptake of atmospheric CO2 and food resources in the ocean and land. Our studies reveal a high level of diversity in Class II prasinophytes. Micromonas pusilla (represented by CCMP1545 and other Clade D strains) and Micromonas commoda (represented by RCC299, Clade A) have large differences in their genomic organization, each having repetitive intron families (IE) not present in the other [6, 9, 30], and CCMP1545 alone having a high fraction of GC splice donors. Protein families are often not shared between these and/or with other Class II prasinophytes such as the polar Micromonas species and particularly Ostreococcus and Bathycoccus, the more diminutive genome-sequenced genera. Our comparative genome analyses provide candidate genes for future studies on structural and niche defining aspects of these taxa. Perhaps most surprising is that two of the three Micromonas species analyzed, as well as D. tenuilepis, have the complete peptidoglycan biosynthesis pathway, including the penicillin binding protein responsible for the final crosslinking step. Likewise, in multiple land plants and other prasinophyte algae this pathway is maintained nearly in its entirety (as characterized in bacteria), although previously known only in P. patens and largely lacking in A. thaliana and other plants. Together with the GreenCut2, AGreenCut2 and CGreenCut2 protein sets, our evidence-based comparative analyses provide a springboard for investigation of key aspects of photosynthesis, requirements for plant adaptation to a terrestrial environment and adaptive processes in marine green algae.
Methods
CCMP1545 genome sequence improvement
At the time of initial publication the CCMP1545 genome sequence had ~215 kb of unknown sequence. To perform genome improvement, the CCMP1545 whole genome shotgun assembly was broken down into scaffolds and each scaffold piece reassembled with phrap. These scaffold pieces were then analyzed for GC content and the four scaffolds with the lowest GC content (scaffolds 2, 3, 18 and 19) were selected for genome improvement using a Phred/Phrap/Consed-based pipeline [74]. Initially all low quality regions and gaps were targeted with computationally selected sequencing reactions completed with 4:1 BigDye terminator: dGTP chemistry (Applied Biosystems, Foster City, CA). These automated rounds included walking on plasmid subclones using custom primers. Following completion of the automated rounds, a trained finisher manually inspected each assembly. Further reactions were then manually selected to improve the genome. These reactions included additional custom primer walks on plasmid subclones and fosmids. Smaller repeats in the sequence were resolved by transposon-hopping 8 kb plasmid clones. Fosmid clones were shotgun sequenced and finished to fill large gaps and resolve larger repeats.
Each assembly was validated by an independent quality assessment. This examination included a visual examination of subclone paired ends and visual inspection of high quality discrepancies and all remaining low quality areas. The four improved scaffolds are telomere to telomere, consist of 4,888,335 base pairs of improved sequence with no gaps and estimated error rate of less than 1 error in 100,000 base pairs.
Culturing for transcriptomics
Axenic clonal derivatives of Micromonas sp. RCC299 (deposited at the National Center for Marine Algae and Microbiota, NCMA, as CCMP2709) and M. pusilla CCMP1545 were grown in sterile polystyrene culture flasks (BD Biosciences, Franklin Lakes, NJ) in artificial seawater (see http://www.mbari.org/resources-worden-lab/) amended with K (RCC299) [75] or L1 (CCMP1545) [76] media nutrients. Cells were grown at 21 °C under 220 μEinsteins m−2 s−1 photosynthetically active radiation (PAR) on a 14 h/10 h light/dark cycle. Cell concentrations, side-angle light scatter (SSC) and chlorophyll fluorescence (Red) were monitored using a Beckman Coulter Epics XL4 or BD Accuri C6 Flow Cytometer (BD Biosciences, San Jose, CA) flow cytometer. Fluorescent polystyrene beads (Polysciences, Inc., Warrington, PA) were used as a standard for instrument performance and to assess day to day variability as well as normalization of cellular characteristics (SSC and Red). Cultures were maintained in mid-exponential growth for at least 10 generations. Cells were harvested for RNA 8 h (RCC299) or 5 h (CCMP1545) after the onset of light.
Dolichomastix tenuilepis CCMP3274 and Micromonas sp. CCMP2099 cultures were obtained from the NCMA (West Boothbay Harbor ME, USA) and grown as previously described [24]. Briefly, CCMP2099 growth was monitored using flow cytometry as above while CCMP3274 growth was monitored by fluorometry (TD-700, Turner Designs, Sunnyvale, CA, USA). After at least five transfers in mid-exponential growth phase cells were harvested for RNA two hours before and after the onset of light.
Electron microscopy
Cells were grown as above, fixed using 1 % EM Grade glutaraldehyde for 1 h, and further processed according to methods outlined in [77]. Ultrathin (80 nm) sections were cut from the resulting epoxy blocks using an ultramicrotome (Leica) and mounted on 200 mesh copper grids (Ted Pella Inc). Sections were stained for 5 min with 2 % uranyl acetate (aqueous) and 1 min in Sato lead [78]. Sections were imaged using a JEOL 1200 transmission electron microscope operating at 80 kV.
Proteomics
Proteins from harvested cells (1.6 × 108 – 2.7 × 108) were extracted from whole cell (global), soluble, and insoluble lysate fractions according to established protocols [79–81], with modifications. Briefly, global and soluble fraction proteins were denatured using 8 M urea (final concentration), reduced with fresh dithiotreitol (DTT) at 5 mM (final concentration) and incubated at 60 °C for 30 min. Proteins in the insoluble fraction were suspended in 50 mM NH4HCO3 (pH 7.8) containing 8 M urea and 1 % CHAPS, fresh DTT solution was added to a final concentration of 5 mM, and incubated as above. Following incubation, an alkylation step was performed by adding a volume of 0.5 M iodoacetamide (IAM) to each fraction (40 mM, final concentration) with an additional incubation for 1 h at 37 °C in the dark. Sequencing-grade trypsin (Roche, Indianapolis, IN) was used for digestion at 1:50 unit-to-protein, and peptides desalted using a strong cation-exchange (SCX), C-18 SPE column (Supelco, St. Louis, MO) following established protocols [80]. Extract protein and peptide concentrations were determined using a BCA assay (Pierce Chemical Co., Rockfort, IL). Two chromatography approaches were used to maximize peptide separation and proteome coverage. First, peptides from the global, soluble, and insoluble lysis fractions were further fractionated off-line (LC not coupled to the mass spectrometer) using reversed-phase, high pH chromatography as previously described [82]. Secondly, a two dimensional on-line (coupled) LC separation was used where the first dimension consisted of a SCX column and the second dimension consisted of a reversed-phase separation column. Additional details concerning this 2D on-line chromatography approach have been previously published [83, 84]. All columns were manufactured in-house by slurry packing media into fused silica (Polymicro Technologies Inc., Phoenix, AZ) using a 0.5-cm sol–gel frit for media retention [85].
Tandem mass spectra were generated using both ThermoFinnigan LTQ and LTQ Orbitrap Velos mass spectrometers (Thermo Scientific, San Jose, CA) according to established protocols [86]. For both instruments, separated peptides were ionized (positive) using an electrospray ionization interface (manufactured in-house; no sheath gas or make-up liquid was used) that consisted of chemically etched electrospray emitters [87] (150 mm o.d. 20 mm i.d). Mass spectrometers were operated using a heated capillary temperature and spray voltage of 200 °C and 2.2 kV, respectively. Data was acquired for 100 min (~1500 min for the coupled 2D-LC), beginning ~60 min after sample injection (~10 min into gradient). Mass spectra (AGC 1x106) were collected from 400–2000 m/z at a resolution of 100 k followed by data dependent ion trap MS/MS spectra (AGC 3x104) of the six most abundant ions (ten most abundant ions for LTQ Orbitrap Velos) using a collision energy of 35 %. A dynamic exclusion time of 60 s was used to discriminate against previously analyzed ions (A dynamic exclusion time of 180 s was used for the LTQ Orbitrap Velos).
Mass spectrometric data were subjected to sequence analysis using the SEQUEST algorithm ([88], ThermoElectron, San Jose, Ca. version 27 (rev. 12)) which compares MS/MS spectra to a sequence repository, specifically the collection of all gene models derived from the genome in [6], described elsewhere. Briefly, SEQUEST input files were created using in-house parent isotope correction algorithm DeconMSn ([89], omics.pnl.gov), a parent mass tolerance of ±3 Da was employed to capture remaining de-isotoping errors, a static modification was applied to all Cysteine residues to reflect alkylation with iodoacetamide (+57.0215 Da), and no proteolytic enzyme was specified. The output from this analysis was then rescored using the MSGF spectral probability algorithm [90]. A subset of the full dataset was analyzed using a target-decoy approach, whereby all sequences are combined with their reverse complement in a single search file, allowing false discovery rates (FDR) to be assessed at given quality level cutoffs [91]. It was observed that an MSGF spectral probability E-value ≤ 10−10 provided an FDR of <1 %, and this value was used to filter subsequent data.
RNA extraction, sequencing and transcriptome assembly
Cultures were filtered onto 0.8 μm Supor filters (PALL Life Sciences, Ann Arbor, MI) under −5 mmHg pressure. Filters were placed in sterile bead beating tubes, flash frozen in liquid N2 and stored at −80 °C. RNA was extracted using the TotallyRNA kit (Life Technologies, Grand Island NY, USA). Initially, ~200 μl of autoclaved glass beads (Biospec Products, Bartlesville OK, USA) and 1 ml lysis buffer from the kit were added to the cell pellet or filter. Samples were then bead beat for 1 min. The rest of the extraction followed the manufacturer's instructions. Genomic DNA contamination was removed using the TurboDNA-free kit (Life Technologies) following manufacturer's instructions. RNA integrity was evaluated on a bioanalyzer (Agilent, Santa Clara CA, USA) and quantity determined on a QuBit (Life Technologies).
For CCMP1545 and RCC299 RNA-Seq, polyA RNA was isolated from 5 μg total RNA using the Dynabeads mRNA isolation kit (Invitrogen). The isolation procedure was repeated to ensure the sample was depleted of rRNA. Purified RNA was then fragmented using RNA Fragmentation Reagents (Ambion) at 70 °C for 3 min, targeting fragments ranging from 200 to 300 bp. Fragmented RNA was then purified using Ampure XP beads (Agencourt). Reverse transcription was performed using SuperScript II Reverse Transcription (Invitrogen) with an initial annealing of random hexamer (Fermentas) at 65 °C for 5 min, followed by an incubation of 42 °C for 50 min and an inactivation step at 70 °C for 10 min. CDNA was then purified with Ampure XP beads, followed by second strand synthesis using dNTP mix with dTTP replaced by dUTP. Reactions were performed at 16 °C for 1 h. Double stranded cDNA fragments were purified and selected for targeted fragments (200–300 bp) using Ampure XP beads. The ds cDNA were then blunt-ended, A-tailed, and ligated with library adaptors using the Kapa Library Amplification Kit (Kapa Biosystems). Adaptor-ligated DNA was purified using Ampure XP beads. Digestion of dUTP was performed using AmpErase UNG (Applied Biosystems) to remove second strand cDNA. Digested cDNA was again cleaned up with Ampure XP beads, followed by amplification by 10 cycles PCR using the Kapa Library Amplification Kit (Kapa Biosystems). The final library was cleaned with Ampure XP beads. Sequencing was done on the Illumina HighSeq platform generating 326 M paired end reads of 150 bp each.
Library construction and sequencing were different for CCMP2099 and D. tenuilepis and also included an assembly step, as described [24]. Like the libraries generated for CCMP1545 and RCC299 a poly-A selection step was employed. We used all predicted proteins as blastp queries against the NCBI nr database and against a database of translated prasinophyte transcriptomes [39] in order to identify potential contamination in the assemblies. CCMP2099 had no hits to bacteria that were superior to those to prasinophytes, and of 10,965 proteins unique to D. tenuilepis, 132 had best blast hits (E-value cutoff 10−10) with non-photosynthetic bacteria suggesting the bulk of data comes from the alga rather than potential bacterial contaminants in the culture. Likewise, only one full-length 18S rRNA gene sequence each was present in the CCMP2099 and the D. tenuilepis transcriptomes (and these matched the published 18S sequences) as were single variants of cytochrome c and actin in each. This indicates that only sequences from the target organism were present in the assembled transcripts.
CCMP1545 and RCC299 short read alignment and processing
The 326 M paired-end reads generated for each strain were randomly subsampled to 21,751,585 and 22,372,188 paired-end reads and aligned to the CCMP1545v3 and RCC299v3 genome assemblies, respectively. This was performed using Tophat version 1.4.0 [25] with parameters -r 27 --mate-std-dev 100 --max-intron-length 25000 --min-intron-length 20 --solexa1.3-quals --library-type fr-firststrand. In CCMP1545, 16,549 splice junctions were confirmed by more than 10 reads and 10,999 were confirmed in RCC299.
The Tophat associated program Cufflinks [92] merges blocks of overlapping reads into transfrags, but we found that the algorithm tends to concatenate genes when they are closely spaced in the genome. Instead, we used Tophat's intensity bed track output to determine which strand was most transcribed. Nucleotides with less than 10 covering reads were considered not transcribed. Neighboring transcribed loci (transfrags) were merged into spliced transfrags if a Tophat junction existed between them on the same strand. Alternative splicing occurs, but is not common in Micromonas, making these collections of 14,084 (CCMP1545) and 12,659 (RCC299) spliced and unspliced transfrags a reasonable approximation of the transcriptome. Genome-free transcriptomes were also generated using Trinity [93] (version trinityrnaseq_r2012-06-08), with settings --seqType fq --SS_lib_type RF --CPU 10 --JM 50G. This program also has trouble with densely populated genomes, in this case leading to a fragmented transcriptome. The resulting assemblies (51,118 for CCMP1545, 47,719 for RCC299) were aligned to the respective genomes using Blat [94]. Despite the fragmentation, Trinity transcripts often aligned across gaps in the CCMP1545 genome, filling in missing nucleotides. Seventeen genes in the final CCMP1545 gene set were based on Trinity transfrags.
To determine whether a predicted gene was expressed, we used Cufflinks with the parameters described above, but added the gene models using the -G parameter. Any transcripts with FPKM < 2000 (out of a total range between 0 and 5.8e + 8) were considered not transcribed.
Evidence-based modeling of the CCMP1545 and RCC299 gene sets
JGI allgenes sets are non-redundant combinations of gene models created by several gene predictors and can be downloaded from http://genome.jgi.doe.gov/. These gene models were 5′ and 3′ extended where possible by the transfrags, and ORFs were repositioned accordingly. These extended gene models then went through a second round of extension and ORF prediction.
All gene models were then scored based on intron evidence (+20 if all introns in a gene model were confirmed by ESTs or Tophat junctions, +5 if some introns were confirmed, −5 if none were, +20 for every intron that overlapped an introner element), peptide evidence (+1 for every MS peptide found in the gene model ORF if the peptide could only be mapped to one genomic location, otherwise +1/number of locations), previous manual annotation (+10000), full cDNA overlap (+20 if both the forward and reverse ESTs of a cDNA overlapped the gene model) and completeness (+5 per UTR if EST or transfrag derived UTRs were present in the gene model). Overlapping gene models were then grouped into loci, and for every locus the highest scoring combination(s) of non-overlapping genes was selected.
Gene merges and breaks still occurred in this highest scoring gene set, therefore we created tracks for a local installation of the UCSC genome browser [95] to display all gene models and the transfrag, junction, peptide and EST evidence and visually scanned the whole genome to confirm and correct the gene set. At this stage, Trinity transcripts were used to merge genes across gaps and sometimes to infer the missing nucleotide and amino acid sequences.
Introner element identification
CCMP1545 directional Sanger sequenced ESTs (available at http://genome.jgi.doe.gov/MicpuC3/MicpuC3.download.html) were aligned to the genome using Blat. Of 28,686 ESTs, 17,708 were single exon. Multi-exon ESTs were oriented based on their splice donor and acceptor sequences (G[TC]/AG and AT/AN). Eight hundred twenty-six ESTs for which the transcribed strand could not be determined were discarded. Of the remaining 10,978 ESTs, nonredundant introns of 500 nt or shorter were selected (4,403 introns) and their (reading strand) sequences clustered using Blastclust version 2.2.21 (available through http://www.ncbi.nlm.nih.gov/IEB/ToolBox) with settings- S 80 -L 0.80 -p F. This resulted in three groups of 966, 72, and 66 introns, respectively. All three groups were subjected to the meme motif finder [96] (the meme suite version 4.6.1) with parameters -dna -mod zoops -nmotifs 6 -minsites 10 -maxsize 200000. Introner element positions were determined using fimo [97] (part of the meme suite) at --output-pthresh 1e-10 with the seven selected meme motifs on the CCMP1545 genome. The motifs detect different parts of the introner elements, therefore hits were concatenated if they occurred within 50 nt of each other. Splice donor consensus sequences and logos for IE containing and non-IE containing introns were also created using meme on a random subsample of 500 sequences for each group using the fasta-subsample script in the meme suite. Meme parameters were -dna -mod oops -nmotifs 1 -w 12. For IE identification in RCC299 predicted introns (from gene models described in this paper) were clustered as described for CCMP1545, resulting in a single group of 41 introns. Meme identified a 50 nucleotide motif that was subsequently used on the RCC299 genome sequence to identify 164 ABC-IE.
Protein clustering and gene family assignment
Refseq protein sets for O. tauri and O. lucimarinus, were downloaded from Genbank. O. RCC809 proteins were obtained from JGI (http://genome.jgi.doe.gov/OstRCC809_2/OstRCC809_2.download.html) and B. prasinos Bban7 proteins from https://bioinformatics.psb.ugent.be/gdb/bathycoccus/RELEASE_15jul2011. M. sp. CCMP2099 and D. tenuilepis proteins were based on translation of short read contigs [24] using ESTScan v3.0.3 [98] with default settings and a training set consisting of all RefSeq mRNA entries under the Bacillariophyta classification. Peptides shorter than 30 aa were removed from the results.
For creating multiple species ortholog sets, we used OrthoMCL [34] according to the user manual, with the E-value cutoff set to 10−15. PercentMatchCutoff was set to 60 in the comparison of RCC299 and CCMP1545. Duplicate genes (30 in CCMP1545 and 21 in RCC299) were removed before analysis. For all other OrthoMCL analyses percentMatchCutoff was set to 30 to allow for the greater evolutionary distance between organisms. The same OrthoMCL parameters were used to create GreenCut2 families from proteins that were downloaded from JGI and TAIR by following URLs for every gene listed in Supplemental File 2 of [73]. To find prasinophyte orthologs, the individual GreenCut2 proteins were used for reciprocal best blastp (E-value cutoff 10−5) against prasinophyte protein sets. A GreenCut2 gene family was counted as present when at least one of the family members had a reciprocal best hit with a protein from the species under consideration. The transcriptome based protein sets of M. sp. CCMP2099 and D. tenuilepis contain 452 and 435 of the CGreenCut2, or 88 and 84 %, respectively. It is possible that GreenCut2 genes are more highly expressed than the average gene. This would lead to better transcript coverage, which then could result in an overrepresentation of GreenCut2 proteins in our transcriptome-based sets. Indeed, in our CCMP1545 and RCC299 short read samples, only 4 % of GreenCut2 genes were found in the 10 % of genes with the lowest expression. This indicates that the transcriptome based protein sets lack at least 12 and 16 % of the proteomes, respectively.
Functional annotation and pathway finding
Interproscan v5 [21] was used with default settings and including the PANTHER protein set [99] to functionally annotate the predicted proteins of CCMP1545, RCC299, CCMP2099 and D. tenuilepis. TargetP was used to predict subcellular localization of peptidoglycan pathway and A. thaliana GreenCut2 proteins [100]. For CCMP1545 and RCC299 additional functional annotations were performed using the JGI Annotation Pipeline [101] in addition to manual annotations. For these two taxa the final genome builds, model sets and functional annotations are available on public genome browsers at portals at http://genome.jgi.doe.gov/Micromonas_pusilla/ and http://genome.jgi.doe.gov/Micromonas_commoda/.
Phytozome gene families
P. patens PG pathway proteins [58, 60] were blasted (score cutoff 10−15) against the Viridiplantae ancestor node in Phytozome version 11 at https://phytozome.jgi.doe.gov/pz/portal.html. Phytozome gene families were found for all PG pathway proteins except PBP. One family (#63999465) contained the PBP transpeptidase domain (Pfam 00905) but not the transglycosylase domain (Pfam 00912) necessary for full PBP function. When more than five but less than all nine of the biosynthesis pathway proteins were found in an organism, tblastn (E-value ≤10−15) was attempted against the genome with the missing proteins as queries.
To find additional shared orthologs in the organisms that contained the full PG pathway, species information for all Phytozome v9.1 gene families were downloaded and filtered to remove families that contained taxa with only the four PG core genes and those containing fewer than eight species. This analysis was done with Phytozome v9.1 gene families instead of Phytozome v11 because v11 gene clusters are not available for download. The v9.1 gene clusters are available for download from Phytozome in the file: "global_analysis/families/cluster_members_Viridiplantae_3437.tsv". Of the remaining 26 gene families, 19 were PG pathway proteins, one was a galactosyltransferase, one contained the NB-ARC domain and five contained a LysM protein.
The five LysM domain families were all subsets of family #38874692, comprising 14 proteins from 10 organisms. The proteins were scanned using TMHMM [102] and 13 were found to have N-terminal transmembrane domains. These 13 proteins were then used as input to the meme motif finder [96] with parameters -protein -mod zoops -nmotifs 2 -minsites 10 -maxsites 24 -minw 18 -maxw 25. Two motifs were found, one of which overlapped the LysM domain and the other matching the transmembrane regions. The meme suite program fimo [97] was used to match the two motifs against all Phytozome version 9.1 proteins using --output-pthresh 1e-10. Proteins were retained only when they contained both domains, resulting in a total of 14 proteins from 10 organisms, all of which contained the full PG pathway. This gene family is present as #63760547 in Phytozome 11, containing 18 genes in 13 organisms, all containing the full PG pathway. Fimo was run separately against databases of Micromonas, D. tenuilepis, and red algal proteins [39], but no matches were found.
Phylogenetic reconstructions
Archaeplastida plastid sequences used in [103] were amended with additional prasinophyte and streptophyte homologs from GenBank, the Chloroplast Genome Database (CpBase, http://chloroplast.ocean.washington.edu/) and the Marine Microbial Eukaryote Transcriptome Sequencing Project [39]. Sixteen conserved plastid-encoded proteins were present in the partial chloroplast genome sequence from CCMP1545 (rpoC2, rpo1B, rpoC1, psaA, psbA, psaB, psbF, psbL, rpl14, rpl16, rps11, rps18, rps19, rps3, rps7, and rps8) and this subset was used to infer relationships across a total of 45 Archaeplastida taxa. First, protein sequences were aligned with MAFFT [104], the alignments were refined with the ED program implemented in MUST and regions of unambiguous alignment eliminated [105], as were positions having gaps. Absent proteins were treated as missing data. The individual protein alignments were then concatenated to a single alignment comprising 5,286 amino acid positions and analyzed using Maximum Likelihood (ML) methods (under the cpREV + G model and 5 rate categories, [106]) in PhyML [107]. Node support was computed with 1000 bootstrap replicates. The tree was rooted with the glaucophyte Cyanophora paradoxa as outgroup for display purposes.
For peptidoglycan protein reconstructions, amino acid sequences were retrieved from Phytozome 11 for streptophytes and MMETSP for prasinophytes and the glaucophyte. Besides the PPASP dataset, 2 examples of PG pathway proteins present throughout the Viridiplantae (MURE) or distributed in only some clades (MURA) were used to illustrate their evolutionary histories. Sequences were aligned with MAFFT and positions selected by Gblocks with default parameters [108]. The ML trees were built with FastTree [109] using the standard implementation GTR + CAT with 20-parameter gamma optimisation and a mix of nearest-neighbor interchanges and sub-tree-prune-regraft for the topology search. ML tree branch supports were analysed using Shimodaira–Hasegawa test values with 1000 replicates.
Antibiotic experiments and coulter counter size measurements
RCC299 and CCMP1545 were grown under a 14 h/10 h light/dark cycle in L1 media in artificial seawater (as above) at 220 μE m−2 s−1 PAR. Both strains were maintained in light-acclimated, mid-exponential growth before experiment initiation. Two days before the experiment start cultures of each species were split into duplicates A and B. Ten mM Penicillin G (final concentration, i.e., 6000 Units ml−1) and 10 mM Fosfomycin (Sigma-Aldrich) were added 1 h after lights on (at T0). At each time point cells were fixed in 0.25 % glutaraldehyde (final concentration) for 30 min in the dark and frozen in liquid N2. Cells were measured using an Influx flow cytometer (BD Biosciences) and analyzed using Winlist (version 7.1, Verity Software House). Forward angle light scatter (FALS) and SSC were normalized using 0.75 μm diameter YG beads (Polysciences Inc.) and chlorophyll fluorescence (692 ± 40 nm band pass) was normalized to 2 μm diameter Polychromatic Red beads (Polysciences, Inc.).
To measure RCC299 for the morphological description, >10,000 cells from a mid-exponential phase, axenic culture were measured live on a Coulter Multisizer II approximately midway through the light period. Cells were grown on a 14 h/10 h light/dark cycle in K medium in artificial seawater maintained in mid-exponential growth for >10 generations after acclimatization to 21 °C and 90 μmol photons m2 sec−1 PAR.
Abbreviations
Aa:

amino acid
bp:

base pairs
COP:

convergent overlapping pair
IE:

introner element
kb:

kilobases
LC-MS:

liquid chromatography tandem mass spectrometry
LGC:

low-GC region
nt:

nucleotides
ORF:

open reading frame
PBP:

penicillin binding protein
PG:

peptidoglycan
PPASP:

peptidoglycan pathway associated Streptophyte protein
RSI:

regular spliceosomal intron
SLR:

Sel-1 like repeat
Declarations
Acknowledgements
We thank D McRose, S Yan and M Cuvelier for assistance with growing algae. We thank N Turland for guidance on the International Code of Nomenclature (http://www.iapt-taxon.org/nomen/main.php) protocol for species naming and N Simon for proof reading it. We are deeply grateful to V Jimenez for leading manual annotation efforts and J-H Lee, C-J Choi, J Guo, M Gutowska, C Poirier and S Wilken for contributions. We also thank the anonymous reviewers for comments on the manuscript. Electron microscopic imaging was supported by an award from the National Institute of General Medical Sciences (GM103412) to MH Ellisman. Proteomics were performed in the EMSL, a DOE/BER national scientific user facility located at PNNL and operated for the DOE by Battelle under Contract DE-AC05-76RLO1830. Additional support was provided by BER as part of the Pan-omics Program. Portal construction for release of Wlab models was supported by the Office of Science of the U.S. Department of Energy under Contract No. DE-AC02-05CH11231 to the U.S. Department of Energy Joint Genome Institute. Major support also came from a JGI Technology Development Grant, the David and Lucile Packard Foundation, the Gordon and Betty Moore Foundation (GBMF3788) and NSF (IOS0843119) grants to AZW. Primary funding was by DOE-DE-SC0004765 (to AZW, SJC and RDS).
Data deposition
The ribosomal RNA operon sequence from RCC299 was deposited under the accession KU612123. RNA-Seq data has been deposited in the SRA under BioProject accessions PRJNA309330 (CCMP1545) and PRJNA309331 (RCC299). LC-MS/MS peptide data has been deposited in the MASSIVE database under accession MSV000079483. The new gene model sets can be downloaded at http://genome.jgi.doe.gov/Micromonas_pusilla/ and http://genome.jgi.doe.gov/Micromonas_commoda/.
Open AccessThis article is distributed under the terms of the Creative Commons Attribution 4.0 International License (http://creativecommons.org/licenses/by/4.0/), which permits unrestricted use, distribution, and reproduction in any medium, provided you give appropriate credit to the original author(s) and the source, provide a link to the Creative Commons license, and indicate if changes were made. The Creative Commons Public Domain Dedication waiver (http://creativecommons.org/publicdomain/zero/1.0/) applies to the data made available in this article, unless otherwise stated.
Authors' Affiliations
(1)
Monterey Bay Aquarium Research Institute, Moss Landing, USA
(2)
Biological Sciences Division, Pacific Northwest National Laboratory, Richland, USA
(3)
U.S. Department of Energy (DOE) Joint Genome Institute (JGI), Walnut Creek, USA
(4)
Hudson Alpha, Huntsville, USA
(5)
Integrated Microbial Biodiversity Program, Canadian Institute for Advanced Research, Toronto, Canada
(6)
Now at: Ronald and Maxine Linde Center for Global Environmental Science, California Institute of Technology, Pasadena, USA
(7)
Center for Research in Biological Systems and the National Center for Microscopy and Imaging Research, University of California, San Diego, USA