Research article

Open Access
Transcription factors in microalgae: genome-wide prediction and comparative analysis
Received: 31 October 2015
Accepted: 5 April 2016
Published: 11 April 2016
Abstract
Background
Studying transcription factors, which are some of the key players in gene expression, is of outstanding interest for the investigation of the evolutionary history of organisms through lineage-specific features. In this study we performed the first genome-wide TF identification and comparison between haptophytes and other algal lineages.
Results
For TF identification and classification, we created a comprehensive pipeline using a combination of BLAST, HMMER and InterProScan software. The accuracy evaluation of the pipeline shows its applicability for every alga, plant and cyanobacterium, with very good PPV and sensitivity. This pipeline allowed us to identify and classified the transcription factor complement of the three haptophytes Tisochrysis lutea, Emiliania huxleyi and Pavlova sp.; the two stramenopiles Phaeodactylum tricornutum and Nannochloropsis gaditana; the chlorophyte Chlamydomonas reinhardtii and the rhodophyte Porphyridium purpureum. By using T. lutea and Porphyridium purpureum, this work extends the variety of species included in such comparative studies, allowing the detection and detailed study of lineage-specific features, such as the presence of TF families specific to the green lineage in Porphyridium purpureum, haptophytes and stramenopiles. Our comprehensive pipeline also allowed us to identify fungal and cyanobacterial TF families in the algal nuclear genomes.
Conclusions
This study provides examples illustrating the complex evolutionary history of algae, some of which support the involvement of a green alga in haptophyte and stramenopile evolution.
Keywords
AlgaeEndosymbiotic gene transferHaptophytesPrediction pipelineStramenopiles Tisochrysis lutea Transcription factors
Background
In every living organism, developmental, morphological and physiological mechanisms, such as those allowing acclimation to environmental changes, are the result of genome expression modulation. One level of this modulation is related to gene expression, in which transcription factors are among the key players [1]. These regulators can be divided into two groups: transcription factors (TFs) and transcriptional regulators (TRs). These groups interact with each other and affect gene transcription. TFs are characterized by a DNA binding domain (DBD), an oligomerization domain (allowing interaction with other TFs, as well as with other transcriptional regulators) and a transcription regulation domain (allowing control of gene expression). These proteins (also called trans-factors) control the expression of multiple target genes by binding to specific DNA motifs in their promotor regions. TRs interact with TFs or with chromatin allowing genes to be transcribed either (1) facilitating the recruitment of the basal transcription machinery, or (2) modifying chromatin structure, making genes more accessible [2].
TFs are classified according to their DBD [3]. Most TFs have only one DBD, which can be present in one or multiple copies in the same sequence. However, some TFs can have several DBD types in their sequence [4].
Since the first study on the identification of TFs in four archaeal genomes [5], the increase in the number of sequenced genomes facilitates putative TF identification in unrelated taxa through in silico studies [6–10]. Such taxonomically diverse data allows comparative analyses between different species or lineages [6, 7, 9–13] and understanding of the evolutionary aspects through TFs [11, 14, 15]. This kind of study can reveal taxonomic characteristics (i.e., the specificity and expansion of TF families) of the TF complement of different organisms. In silico analysis of FTs performed on Arabidopsis thaliana (A. thaliana) showed that 45 % of TFs are plant specific. Moreover, a plant-specific expansion of the MYB superfamily was demonstrated (190 copies in the A. thaliana genome compared with 6 and 10 in Drosophila melanogaster and Saccharomyces cerevisiae, respectively) [6]. Another example of such lineage-specific expansion of a TF family is the retinoic acid receptors in the nematode Caenorhabditis elegans. Using the AnimalTFDB database, 239 putative TFs belonging to this family were identified, whereas in other animals, such as Tetraodon nigroviridis, this TF family is only represented by 19 members [10].
Among microalgae, TF complement comparative studies have been undertaken for stramenopiles [9] and to investigate the evolutionary history of both red and green algae among photosynthetic organisms [11, 15]. Microalgae arose from the endosymbiosis of a photosynthetic eukaryote, related to today's cyanobacteria, by a primitive eukaryotic heterotroph. Glaucophyta, Rhodophyta and Chlorophyta all originated from this primary endosymbiosis [16, 17]. A series of secondary and tertiary endosymbioses would have then led to the diversity of microalgae observed today [18, 19]. Haptophytes would have appeared, as would stramenopiles, from the secondary endosymbiosis of both a green and a red alga by a heterotrophic eukaryote [19, 20]. Haptophytes are one of the key players in the evolutionary history of photosynthetic organisms [21] and are widely distributed among the photosynthetic unicellular eukaryotes in today's oceans. However, in silico comparative studies in haptophytes are limited because few data are available.
Here, we conducted the first genome-wide identification and comparison of the TF complement in haptophytes using an optimized and automated pipeline. This analysis pipeline combines research for similarities with known TFs and protein domains using a large database containing plant, fungal, mammal and cyanobacterial TFs. Using our pipeline, we performed the in silico identification of the TF complement in three haptophytes (Tisochrysis lutea, Emiliania huxleyi and Pavlova sp) and two stramenopiles (the eustigmatophycea, Nannochloropsis gaditana and the diatom Phaeodactylum tricornutum), which are close organism groups [19, 22], as well as in the green alga Chlamydomonas reinhardtii and the red alga Porphyridium purpureum. We focused on the identification of the main families of TFs found in these microalgal species and compared their respective abundance in each. Moreover, the present study identified, for the first time, the presence of cyanobacterial TFs in each of the microalgal genomes studied.
Conclusion
Using a pipeline with very good sensitivity and PPV for both plant and cyanobacterial TFs, we undertook the first genome-wide identification of TFs in haptophytes, coupled with a comparison of TF content between haptophytes and other algal lineages. The identification highlighted the presence of cyanobacterial TFs in algal nuclear genomes, which is likely to originate from either an EGT or an HGT. Moreover, members of the Fungal TRF family were identified in
T. lutea
,
Pavlov
asp,
E. huxleyi
,
P. tricornutum
and
N. gaditana
. The presence of fungal type TFs in algal genomes also illustrates the complex evolutionary history of these organisms. This comparison study confirms and extends lineage-specific features highlighted between haptophytes and stramenopiles by previous work [9] and extends the panel of genomes used for this comparison (Fig.
6
). In order to investigate the evolutionary history of organisms and genome-wide studies, some gaps need to be filled and the red algae are one of them. In this kind of study, the only two red algae used are the two extremophiles
G. sulfuraria
and
C. merolae
. The extreme environmental pressures they face make these two algae peculiar cases that should not be considered representative of the red lineage. Here, we used mesophilic species
P. purpureum
. Availability of genomic data from haptophytes is also lacking. In this study, we provide the first genomic data of
T. lutea
. The characteristics revealed include some clues consistent with the hypothesis of an endosymbiosis of green and red algae in the evolutionary history of haptophytes and stramenopiles [19]. Therefore, this work provides a basis to better understand gene regulation in
T. lutea,
which is a species of ecological interest as part of haptophytes, a diverse and often ecologically dominant group in the planktonic photic realm [
121
].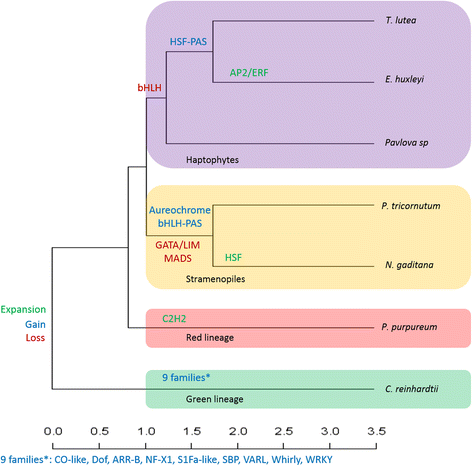 Methods
Identification and classification of transcription factors
The TF identification and classification pipeline was calibrated with the model plant A. Thaliana (TAIR 10). Overall, the pipeline uses two strategies: (1) a similarity research with BLAST software against a self-built database of known TFs from algae, A. thaliana, Saccharomyces cerevisiae and cyanobacteria; (2) identification of TF DBDs with InterProScan and HMMER software. The compilation of software results allowed us to obtain a putative list of TFs (Fig. 1).
Availability of data and material
The datasets supporting the conclusions of this article are included within the article (and its additional files).
Abbreviations
DBD:

DNA binding domain
EGT:

endosymbiotic gene transfer
HGT:

horizontal gene transfer
HMM:

Hidden Markov Model
TFs:

transcription factor
TRs:

transcriptional regulators
Declarations
Acknowledgment
The authors are grateful to the anonymous reviewers for their critical comments, which have greatly improved the manuscript. Thanks to Ms Deborah McCombie for the English reviewing of the manuscript. This work was supported by the French region of Pays de la Loire and the French Research Institute for Exploitation of the Sea (IFREMER).
Open AccessThis article is distributed under the terms of the Creative Commons Attribution 4.0 International License (http://creativecommons.org/licenses/by/4.0/), which permits unrestricted use, distribution, and reproduction in any medium, provided you give appropriate credit to the original author(s) and the source, provide a link to the Creative Commons license, and indicate if changes were made. The Creative Commons Public Domain Dedication waiver (http://creativecommons.org/publicdomain/zero/1.0/) applies to the data made available in this article, unless otherwise stated.
Authors' Affiliations
(1)
IFREMER, Physiology and Biotechnology of Algae Laboratory, Nantes, France
(2)
MicroMar, Mer Molécules Santé, IUML - FR 3473 CNRS, University of Le Mans, Le Mans, France
Copyright
© Thiriet-Rupert et al. 2016