Research article
Open Access
Ribosome quality control is a central protection mechanism for yeast exposed to deoxynivalenol and trichothecin
Received: 22 January 2016
Accepted: 10 May 2016
Published: 1 June 2016
Abstract
Background
The trichothecene mycotoxins deoxynivalenol (DON) and trichothecin (TTC) are inhibitors of eukaryotic protein synthesis. Their effect on cellular homeostasis is poorly understood. We report a systematic functional investigation of the effect of DON and TTC on the yeast Saccharomyces cerevisiae using genetic array, network and microarray analysis. To focus the genetic analysis on intracellular consequences of toxin action we eliminated the PDR5 gene coding for a potent pleiotropic drug efflux protein potentially confounding results. We therefore used a knockout library with a pdr5Δ strain background.
Results
DON or TTC treatment creates a fitness bottleneck connected to ribosome efficiency. Genes isolated by systematic genetic array analysis as contributing to toxin resistance function in ribosome quality control, translation fidelity, and in transcription. Mutants in the E3 ligase Hel2, involved in ribosome quality control, and several members of the Rpd3 histone deacetylase complex were highly sensitive to DON. DON and TTC have similar genetic profiles despite their different toxic potency. Network analysis shows a coherent and tight network of genetic interactions among the DON and TTC resistance conferring gene products. The networks exhibited topological properties commonly associated with efficient processing of information. Many sensitive mutants have a "slow growth" gene expression signature. DON-exposed yeast cells increase transcripts of ribosomal protein and histone genes indicating an internal signal for growth enhancement.
Conclusions
The combination of gene expression profiling and analysis of mutants reveals cellular pathways which become bottlenecks under DON and TTC stress. These are generally directly or indirectly connected to ribosome biosynthesis such as the general secretory pathway, cytoskeleton, cell cycle delay, ribosome synthesis and translation quality control. Gene expression profiling points to an increased demand of ribosomal components and does not reveal activation of stress pathways. Our analysis highlights ribosome quality control and a contribution of a histone deacetylase complex as main sources of resistance against DON and TTC.
Keywords
MycotoxinsFusariumTrichothecenesSynthetic genetic arrayRibosomeRSC complexTranslation quality controlDeoxynivalenolYeast
Background
Trichothecene mycotoxins are toxic sesquiterpenoid secondary metabolites produced by mostly plant pathogenic fungi of the genera Trichothecium, Myrothecium, Trichoderma, and Fusarium [1]. Deoxynivalenol (DON), accumulates in infected small grain cereals and is a virulence factor of F. graminearum in the course of Fusarium head blight (FHB) disease, potentially causing health problems to humans and animals [2]. Trichothecin (TTC) is produced by the grape dry rot pathogen Trichothecium roseum and can be found in red wine [3]. TTC may have mainly antagonistic activity against competing fungi and is more toxic to yeast, presumably due to higher membrane permeability caused by a hydrophobic side chain (isocrotonyl-ester). The primary mode of action of both DON and TTC is inhibition of eukaryotic protein synthesis [4, 5]. Depending on the organism, cell type, exposure and trichothecene derivative exposure can cause a variety of phenotypes. In wheat, DON is a virulence factor for F. graminearum required for fungal spread [6] and is produced in the early stages during the host-pathogen interaction [7]. In animals, trichothecenes cause pleiotropic systemic effects ranging from feed refusal to immune suppression [8]. In mammalian cells, DON induces activation of double-stranded RNA-associated protein kinase (PKR), recruits and induces Map kinases (p38, JNK) which in turn activate their downstream targets, and promotes degradation of 28S rRNA [9]. Prolonged DON exposure triggers apoptosis and rRNA cleavage [2]. In plants, trichothecenes modulate abiotic stress signalling and lead to the induction of oxidative stress and cell death [10].
The plant-fungal interaction is complicated with trichothecenes apparently playing several roles in a biological arms race. Genetic analysis of Fusarium-host interaction and trichothecene effects is up to now most thoroughly developed for wheat, barley and maize. In wheat over 100 quantitative trait loci (QTLs) have been described to contribute to resistance [11]. Qfhs.ndsu-3BS, is strongly contributing to Fusarium spreading and toxin resistance [12–14] and contains the (yet unidentified) Fhb1 resistance gene(s). It is likely that inhibition of protein synthesis by DON is not the only factor interfering with plant cellular physiology. DON is required for efficient infection of wheat. F. graminearum tri5 mutants which are unable to produce DON are prevented from spreading to the next spikelet, however are infectious. Metabolomic studies suggested that trichothecenes and especially DON are not only inhibiting protein biosynthesis but also directly repress plant resistance mechanisms [15, 16]. Another layer of complexity of the fungus-toxin-host system is introduced by the multiple ways of toxin biotransformation. In wheat, glucosylation and glutathione conjugation are major routes of DON biotransformation [17, 18]. The overall role of toxin production for the fungal life cycle is not clear. Plant pathogenic fungi like Fusarium are saprophytes during large parts of the year and trichothecenes might protect infected grains against feeders, thus perhaps improving survival of F. graminearum spores and grains. Trichothecene metabolites may also provide protection against fungivores such as mites and insects [19]. Furthermore, they could play a role in the competition with other microbes co-occurring in soil and plant debris or provide protection against mycoparasitic fungi. Nevertheless, the effect of trichothecenes on cells and animals usually not involved in the plant versus fungal warfare is of economic significance. In experimental animal models, acute DON poisoning causes emesis, whereas chronic low-dose exposure elicits anorexia, growth retardation, immunotoxicity as well as impaired reproduction and development resulting from maternal intoxication. Pathophysiologic effects associated with DON include altered neuroendocrine signalling, proinflammatory gene induction, disruption of the growth hormone axis, and altered gut integrity [10].
Despite investigative efforts, the systemic effect of trichothecene toxicity is not well-understood and there is a gap in our knowledge about general mechanisms that can protect cells against trichothecene toxins. Here we investigate the impact of DON and TTC on the simple eukaryotic model organism Saccharomyces cerevisiae. Yeast genetics pointed early to the molecular targets of trichothecene toxicity and showed inhibition of eukaryotic translation by targeting the yeast ribosomal protein L3 [20, 21]. The yeast deletion collection is a perfect tool to study effects of drugs in a systematic genetics analysis [22–25] and has even been used for a yeast genetics experiment in space [26]. Two genetic survey studies have been reported identifying yeast mutants resistant and hypersensitive to TTC [27, 28]. These studies both suggested that TTC sensitivity is connected to mitochondrial dysfunction and the resulting intracellular oxidative stress. To gain insights into the DON defence response of a simple eukaryotic cell we screened the yeast deletion collection for sensitive strains and performed gene expression profiling. The DON sensitivity of yeast was increased in our screen by elimination of the drug efflux ABC transporter Pdr5. Interestingly, PDR5 has not been listed as gene involved in TTC resistance in a previous study [28]. Pdr5 contributes highly to yeast DON and TTC resistance and is controlled by the status of the mitochondria [29]. Thus elimination of this pathway should reveal intracellular hotspots for general trichothecene resistance. Yeast genes isolated here in a background lacking Pdr5 point to cytoplasmic efficiency and rRNA synthesis as rate limiting for fitness in the presence of DON and TTC.
Results and discussion
To define the impact of DON on cellular processes we screened the yeast deletion library for mutants exhibiting sensitivity to DON and TTC. A previous study analysed yeast deletion mutants treated with TTC [
28
]. Such a screen has not been reported for DON due to its low toxicity in yeast. To focus on specific intracellular mechanisms conferring resistance we tried to reduce drug efflux. Our initial observations suggested a major role of the ABC-type drug efflux pump Pdr5 and that this protein is necessary and sufficient to confer resistance to the trichothecenes DON and TTC. In yeast,
PDR5
and numerous ABC transporters and pleiotropic drug resistance genes are regulated by the transcription factors Pdr1 and Pdr3 [
30
]. Deletion of both genes (
pdr1 pdr3
) leads to higher TTC and DON sensitivity and deletion of
PDR5
causes an even stronger toxin sensitivity phenotype (Fig.
1a
). Trichothecene resistance can be restored in a
pdr1 pdr3
double mutant by constitutive high
ADH1
promoter driven expression of
PDR5
alone (Fig.
1a
). A gain of function allele of Pdr1 (
PDR1-3)
leads to overexpression of
PDR5
and other drug resistance genes [
31
] and causes increased resistance to high concentrations of TTC. Deleting
PDR5
in the dominant
PDR1-3
background leads to toxin sensitivity, indicating that other genes upregulated by
PDR1-3
do not play a major role (Fig.
1b
). As expected, a deletion of
PDR5
did also confer higher sensitivity against DON in the strain background of the knock out collection (Fig.
1c
). Elimination of the
PDR5
gene from the collection was an important step to lower the required DON concentration. A further advantage of the absence of
PDR5
from the knockout collection is that we avoid those mutants which are DON/TTC sensitive due to changed
PDR5
expression. Expression of
PDR5
is not constitutive [
32
] and subject to retrograde signaling [
29
]. A conserved mechanism is increasing the expression of the transcription factor Pdr3 in yeast leading to enhanced Pdr5 expression. Similarly, in the related yeast
Candida glabrata
CgPdr1 induces the Pdr5 homolog Cdr1 [
33
]. Importantly, DON exposure increases
PDR1
and
PDR3
expression [
34
]. Thus, one difference of our study to previous ones is the insensitivity of our
PDR5
deleted mutant collection to variations of Pdr5 levels.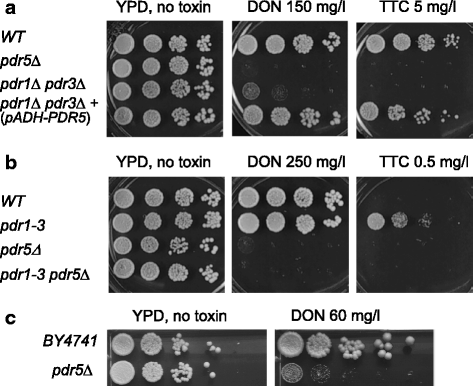 The library of double mutants was generated using the SGA protocol [
35
]. The query strain carrying the
PDR5
gene knockout was mated with the strains of the yeast deletion collection. The diploid strains were selected and then sporulated. The desired haploid double mutant segregants were obtained by counter selection against the diploid and other meiotic products [
35
]. The initial screen for sensitive double mutants of this library was performed with 70 mg/l DON and 0.3 mg/l TTC on solid rich medium and followed by a subsequent rescreening. We identified a total of 248 strains of which 92 were DON sensitive and 197 TTC sensitive (Additional file
1
: Table S1 and Additional file
2
: Data S1). The 35 deletion strains most sensitive to both DON and TTC are listed in Table
1
(Additional file
3
: Data S2). A previous study [
28
] identified 121 strains sensitive to TTC with 23 overlapping strains reported here (Additional file
4
: Data S3). The overlap of identified strains is significant (p ~ 5 · 10
−10
). Many of the mutants found in both studies have also been isolated in many different screens [
22
,
36
]. In order to focus on genes involved specifically in toxin response we marked the notoriously isolated multidrug sensitive mutants in our analysis (e.g. Table
1
; MDR). These belong to the CCR4-NOT complex (
CCR4, POP2, VMS1
), cytoskeleton and endocytosis (
RVS161, RVS167, SAC6, VRP1, SLA1
), vacuole (
VMA8, VMA11, VMA13, VMA22
), the cell wall integrity pathway (
SLT2, BCK1
),
URE2
encoding a prion, the sterol desaturase encoded by
ERG3
affecting membrane permeability, the chromatin remodelling complex subunit Snf2, as well as a number of other genes (
LSM1, BUB1, DBF2, MCH5
).
Table 1
Selected deletion strains sensitive to both TTC and DON
| I | YORF | NAME | DON | Tcin | Term | Function | MDR |
| --- | --- | --- | --- | --- | --- | --- | --- |
| 5 | YMR078C | CTF18 | 3 | 3 | DNA damage | Subunit of a complex with Ctf8p | |
| 6 | YOR299W | BUD7 | 3 | 4 | Golgi | Member of the ChAPs family | |
| 7 | YEL036C | ANP1 | 3 | 2 | Golgi | Subunit of the alpha-1,6 mannosyltransferase complex | 2 |
| 8 | YPR051W | MAK3 | 3 | 2 | Golgi | Catalytic subunit N-terminal acetyltransferase | |
| 9 | YOR147W | MDM32 | 4 | 4 | Mitochondria | Mitochondrial inner membrane protein | |
| 10 | YOR178C | GAC1 | 4 | 4 | PP1 | Regulatory subunit for Glc7p type-1 protein Pase (PP1) | |
| 11 | YCL045C | EMC1 | 2 | 4 | Folding | Member of conserved ER membrane complex | |
| 12 | YIL084C | SDS3 | 3 | 4 | Rpd3 HDAC | Component of the Rpd3L histone deacetylase complex | |
| 13 | YOL004W | SIN3 | 3 | 4 | Rpd3 HDAC | Component of both the Rpd3S and Rpd3L HDAC | 5 |
| 14 | YPL139C | UME1 | 3 | 3 | Rpd3 HDAC | Component of both the Rpd3S and Rpd3L HDAC | |
| 16 | YOR043W | WHI2 | 3 | 3 | Stress | Required for activation of the general stress response | |
| 17 | YGL025C | PGD1 | 3 | 3 | Transcription | Subunit of the RNA polymerase II mediator complex | 1 |
| 18 | YOR039W | CKB2 | 3 | 2 | Transcription | Beta' regulatory subunit of casein kinase 2 (CK2) | |
| 19 | YEL007W | MIT1 | 3 | 2 | Transcription | Transcriptional regulator of pseudohyphal growth | |
| 20 | YOR298C-A | MBF1 | 2 | 4 | Transcription | Transcriptional coactivator | 3 |
| 21 | YJL115W | ASF1 | 2 | 3 | Transcription | Nucleosome assembly factor | 4 |
| 22 | YJL176C | SWI3 | 2 | 3 | Transcription | Subunit of the SWI/SNF chromatin remodeling complex | 1 |
| 23 | YER064C | VHR2 | 2 | 3 | Transcription | Non-essential nuclear protein | |
| 24 | YLR418C | CDC73 | 2 | 1 | Transcription | Component of the Paf1p complex | |
| 25 | YMR116C | ASC1 | 4 | 4 | Translation | G-protein beta subunit | 3 |
| 26 | YDR266C | HEL2 | 4 | 4 | Translation | RING finger ubiquitin ligase (E3) | |
| 29 | YGR271W | SLH1 | 3 | 4 | Translation | Putative RNA helicase related to Ski2p | |
| 30 | YML034W | SRC1 | 3 | 4 | Translation | Inner nuclear membrane protein | |
| 31 | YIR001C | SGN1 | 2 | 4 | Translation | Cytoplasmic RNA-binding protein | |
| 32 | YDR049W | VMS1 | 2 | 4 | Translation | Component of the CCR4-NOT transcriptional complex | 3 |
| 33 | YML111W | BUL2 | 4 | 3 | Ubiquitin | Component of the Rsp5p E3-ubiquitin ligase complex | |
| 34 | YEL013W | VAC8 | 4 | 3 | Vacuole | Vacuolar membrane protein | 5 |
| 35 | YCL048W | SPS22 | 3 | 2 | Various | Protein of unknown function | |
| 1 | YDR388W | RVS167 | 4 | 4 | Cytoskeleton | Actin-associated protein | 7 |
| 2 | YDR129C | SAC6 | 4 | 4 | Cytoskeleton | Fimbrin, actin-bundling protein | 10 |
| 3 | YLR337C | VRP1 | 4 | 4 | Cytoskeleton | Verprolin, proline-rich actin-associated protein | 7 |
| 4 | YBL007C | SLA1 | 2 | 4 | Cytoskeleton | Cytoskeletal protein binding protein | 7 |
| 15 | YLR056W | ERG3 | 3 | 4 | Stress | C-5 sterol desaturase | 12 |
| 27 | YAL021C | CCR4 | 4 | 4 | Translation | Component of the CCR4-NOT complex | 12 |
| 28 | YNR052C | POP2 | 4 | 4 | Translation | Component of the CCR4-NOT complex | 10 |
To isolate the resistance promoting processes we functionally categorized the genes (Additional file
2
: Data S1). Assuming that TTC and DON are primarily targeting the yeast cytoplasmic ribosome in a very similar if not identical mode of action, we supposed that a cumulative functional analysis of the obtained genes might be useful. Gene ontology (GO) annotation of all 248 identified genes as well as the 35 most sensitive mutants using the 4780 non-essential genes as background set (
http://go.princeton.edu/cgi-bin/LAGO
) yielded a few significant GO terms. These are including the Rpd3 histone deacetylase complex and transcription from RNA polymerase I and II promoter. Because of the few significant GO terms we manually categorized the identified genes according to their cellular function into the major aspects chromatin metabolism and transcription, amino acid synthesis, cell wall, mitochondrial functions, ion metabolism, protein folding and transport, and RNA metabolism (transport, translation, ribosome biogenesis) (Fig.
2a
). Overall the proportion of DON and TTC sensitive mutants in these groups is very similar, indicating that both drugs have a similar effect on yeast physiology. Among the 35 mutants most sensitive to TTC and DON, 60 % of the respective genes are involved in transcription and translation (Fig.
2b
, Table
1
).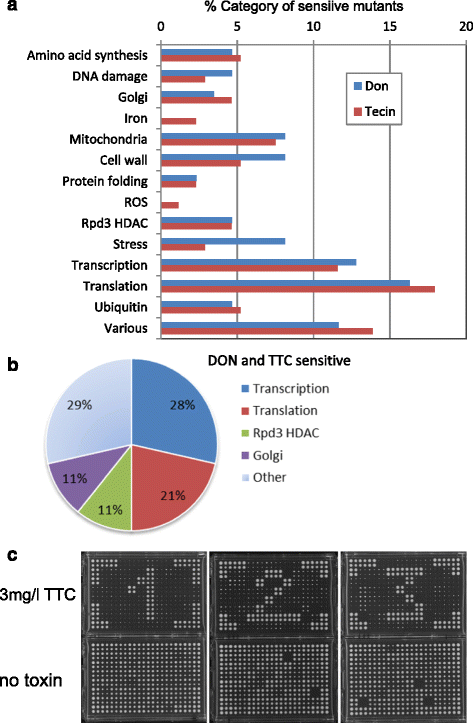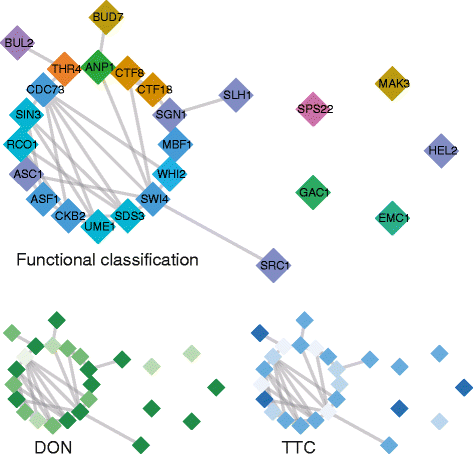 Conclusion
Yeast loss of function mutants isolated here as DON or TTC sensitive collectively point to cytoplasmic translation, ribosomal efficiency and rRNA synthesis as rate limiting for fitness in the presence of these toxins. Transcriptome analysis of DON treated cells shows an increase of the transcript level of many genes encoding ribosomal protein genes and histones. This perhaps suggests that cells are preparing to enhance biosynthesis. The connector between these observations is the fact that regulation of ribosome synthesis is closely tied to regulation of cell growth rate. Synthesis of ribosomes requires a substantial proportion of the cellular biosynthetic activity. For example, synthesis of rRNA by RNA polymerase I is the major transcriptional activity of the cell, accounting for 60 % of total transcription in rapidly growing yeast cells to allow for the production of ribosomes in rapidly growing cells [80]. Yeast cells are optimizing their growth corresponding to available nutrients [80]. DON and TTC treatment is impairing the 80S ribosome and thus reducing the biosynthetic capacity of yeast cells. In this respect, our observation of increased levels of transcripts coding for ribosomal genes and histones makes sense from a yeast perspective. Relatively lower translation fidelity in presence of DON or TTC would call for increased synthesis of ribosomes to provide the appropriate biosynthetic capacity to utilize the available nutrients. Our result that overexpression of Hel2 increased resistance to DON is suggesting that ribosome fidelity is a primary bottle neck of fitness. Asc1 and Hel2 are both involved in ribosome quality control and facilitate co-translational protein ubiquitination, translation termination and possibly RNA cleavage [68]. Mutants in genes functioning at later stages of ribosome quality control such as RKR1 and RQC1 deletion mutants were not sensitive to TTC and DON suggesting that Asc1/Hel2 is sufficient to resolve the DON/TTC induced translation problem. Network analysis of the isolated mutants indicates a tight network, containing the Rpd3 histone deacetylase complex, centred on core intracellular processes. The overall genetic interaction networks of DON or TTC sensitive strains allowed the conclusion that a common mechanism is involved. We believe this is a cytoplasmic mechanism. Earlier work suggested a primarily mitochondrial component of Trichothecene toxicity. Microarray analysis of yeast exposed to T2 toxin showed induced oxidative stress and indications point to an effect on mitochondria [81, 82]. Similarly, a critical role of mitochondria for TTC toxicity was shown [27, 28]. Our data do not support an effect of DON and TTC on mitochondria. This may be partly rooted in the absence of Pdr5. The efflux pump might reduce the cytoplasmic pool of toxin but mitochondria might trap a substantial amount. Thus, in the pdr5 mutant the cytoplasmic concentration might be higher and lead preferably to inhibition of cytoplasmic ribosomes. Further differences to published microarrays are also most probably treatment related [34].
The perturbation of growth promoting activities leads in many cases to reduced synthesis of components of the translation machinery [79]. Many mutants isolated here evoke a growth delay [79] also caused by adverse external parameters and many types of internal malfunctions. The pattern characterizes a reduction of ribosome synthesis and glycolysis. It is tempting to speculate that the tendency of many mutants to reduce cytoplasmic translation is exacerbated by additional inhibition by the trichothecene toxins. The response mechanisms of higher eukaryotes cells are of course much more complicated [83]. Our results might provide a useful background of functional genomics to contrast against and to highlight specific responses of plant and animal cells. A recent gene expression study of DON treated wheat demonstrated induction of amino acid biosynthesis genes and the expression of an E3 ligase in response to Fusarium [84]. Transcriptome analysis of TTC-induced expression in barley identified specific responses including ubiquitination related protein genes [85]. Notably, we identify the E3 ligase Hel2 involved in early translational quality control as possible functional analogue of the wheat Fhb1 QTL. Moreover, Hel2 was also picked in the previous screen for TTC sensitive strains [28]. Thus our study pinpoints cytoplasmic translation as the primary target of DON and TTC and we therefore suggest mechanisms enhancing translation or recovery of stalled ribosomes as main source of trichothecene resistance.
Methods
Yeast strains used in this study are listed in Additional file 16: Table S2. The strain FY1679-28C (MATa ura3-52 leu2Δ1 his3Δ200 trp1Δ63) and the derived double mutant pdr1Δ pdr3Δ have been described [86]. YZGA280 was generated by transformation of FY1679-28C with the pdr5Δ::hisG-URA3-hisG disruption plasmid pYM31 [87] followed by counter selection with 5-fluoro-orotic acid (pdr5Δ::hisG). YZGA260 was generated by transformation of the pdr1Δ pdr3Δ mutant with plasmid pYAK7 [18] leading to ADH1 promoter mediated overexpression of an N-terminally c-Myc-tagged Pdr5 protein. The pdr5::hisG disruption was also introduced into the previously described [87] near isogenic strains YALA-B1 and YALA-G4 (containing PDR1-3) to generate strains YZGA276 (pdr5Δ) and YZGA278(PDR1-3, pdr5Δ). YZGN1 (pdr5Δ::loxP-his5 + -loxP, pdr10Δ::hisG, pdr15Δ::loxP-NatMX-loxP, ayt1Δ::URA3) was constructed by replacing the TRP1 gene at the PDR5 locus with pUG27 derived loxP-his5+-loxP cassette [88] in strain YZGA515 (pdr5Δ::TRP1, pdr10Δ::hisG, pdr15Δ::loxP-KanMX-loxP, ayt1Δ::URA3) [18] and the derivative YZGN1 hel2Δ::kanMX. The synthetic genetic array analysis was performed according to the published protocol [35]. The query strain Y7092 pdr5Δ:: NatMX was constructed according to [35]. To introduce the pdr5Δ mutant allele, the ordered S.cerevisiae EUROSCARF mutant library was mated with the query strain Y7092 pdr5Δ:: NatMX. Diploid cells carrying resistance cassettes and presumably the corresponding deletion mutations were selected on kanamycin (200 mg/l) and nourseothricin (100 mg/l). The selected diploids were pinned on sporulation media supplemented with 50 mg/l of kanamycin. After 10 days at room temperature haploid segregants were selected for growth on medium containing kanamycin (200 mg/l) and lacking histidine and, followed by transfer of the resulting colonies to medium supplemented with kanamycin, nourseothricin (100 mg/l) and canavanine (50 mg/l) and lacking histidine for 3 to 5 days at 30 °C. The resulting haploid screening collection was stored at−80 °C and selected after thawing. Solid pinning was done with a ROTOR HDA (Singer Inc, GB). For screening the density was increased to 384 strains per plate and pinning was done as dilution pinning with 4 successive touches of the medium surface. Plates contained 70 to 130 mg/l DON and 3 mg/l TTC. Strains of interest were thawed, grown on YPD plates at 30 °C and then transferred to SC-His media containing kanamycin (200 mg/l) for 3 days at 30 °C. The selection of was performed on SC-His media supplemented with kanamycin (200 mg/l), nourseothricin and canavanine (50 mg/l) for 3 days. Growth rates were determined in triplicate in 96 well format in YPD. OD600 values of growth curves measured in 30 min intervals were fitted with grofit(R) to obtain μ/h values.
DON (purity >98 %) was produced and purified according to Altpeter and Posselt [89]. TTC was isolated form potato dextrose broth cultures of the Trichothecium roseum strain MA 3581 (obtained from the Austrian Center of Biological Resources) by preparative HPLC as described [90].
Network analysis: To create the DON and TTC responsive networks we used the genes that were found in our screen to be reacting to treatment with either DON or TTC as seeds. In order to filter out unspecific, general toxicity-related genes we removed genes that have been found as responsive to MDR at a score higher than 3 [36]. Interactions from the intermediate stringency level yeast genetic interaction network [38] were selected if both interaction partners were within the set of remaining seeds. The corresponding networks were then visualized using Cytoscape [91] and topological properties were calculated using the igraph, RBGL, and QuACN packages in R [92–95]. The information-theoretic distance measure was calculated by the infoTheoreticGCM method (parameter: coeff="exp") as provided by the QuACN package [94]. For analyzing the topological properties the largest connected component of the respective selected networks was selected. To compare the observed topological properties against random characteristics we inferred B = 1000 networks using the same number of seed genes, but replacing the actual seeds by randomly sampled genes from the genetic interaction network universe for each run.
Microarray analysis: RNA quality was checked on RNA 6000 Nano chips using a Bioanalyzer 2100 (Agilent Technologies, Palo Alto, CA, USA). Agilent's Low Input Quick Amp Labeling Kit, one-color was used to generate fluorescent cRNA. The amplified cyanine 3-labeled cRNA samples were then purified using SV Total RNA Isolation System (Promega) and hybridized to Agilent Yeast (V2) Gene Expression Microarrays 8x15K. Microarray slides were washed and scanned with an Agilent Scanner, according to the standard protocol of the manufacturer. Information from probe features was extracted from microarray scan images using the Agilent Feature Extraction software v10.7.3. Further analyses were performed using Bioconductor [96], an open source software for the analysis of genomic data rooted in the statistical computing environment R. The raw intensities were imported into Bioconductor and further processed with the limma [97] package. Quality Controls were performed using the arrayQualityMetrics package [98]. To reduce the effects of outliers, the outlier array #4 was removed. Data was background corrected using the normexp method of limma, with an offset of 32 to stabilize low intensity variances. Normalization between arrays was performed using the quantile method, duplicate probes were averaged and a linear model was fitted. P-values were adjusted for multiple testing using the Benjamini & Hochberg method. Differences were calculated from raw intensity data followed by log transformation and normalization with cluster3 [99]. Microarray data have been deposited at GEO with the accession number GSE75462. Data from large scale expression analysis were obtained from http://deleteome.holstegelab.nl/ [79]. Visualization of cluster analysis was done with TreeView (http://jtreeview.sourceforge.net).
Availability of supporting data
Abbreviations
DON:

deoxynivalenol
GO:

Gene ontology
pol:

polymerase
TTC:

thrichothecin
Declarations
Acknowledgements
We thank Herman Bürstmayr, Joseph Strauss, Wolfgang Schweiger, Gerald Siegwart and Christa Gregori-Schüller for discussions, Gerhard H. Braus and Oliver Valerius for strains, Gerhard Niederacher for technical assistance.
Funding
Design of the study, data collection and interpretation of data and writing the manuscript was supported by the Austrian Science Fund (FWF) grant P23355-B12 (to CS), and the Herzfelder foundation (to CS), data collection and analysis was further supported by the special research project F37 (F3706, F3708; to GA).
Authors' contributions
KGK performed network and microarray analysis, ZJ carried out the genetic screen, WG analysed the microarrays, RB performed sensitivity tests and expression measurements, EK analysed data and performed sensitivity tests, MS contributed sensitivity tests, KM contributed to network analysis, ML provided substances, AG participated in the design of the study, CS conceived of the study, analysed the data, and participated in its design and coordination. The manuscript was drafted by CS with contributions of all other authors. All authors have read and approved the final version of the manuscript.
Competing interests
The authors declare that they have no competing financial interests.
Open AccessThis article is distributed under the terms of the Creative Commons Attribution 4.0 International License (http://creativecommons.org/licenses/by/4.0/), which permits unrestricted use, distribution, and reproduction in any medium, provided you give appropriate credit to the original author(s) and the source, provide a link to the Creative Commons license, and indicate if changes were made. The Creative Commons Public Domain Dedication waiver (http://creativecommons.org/publicdomain/zero/1.0/) applies to the data made available in this article, unless otherwise stated.
Authors' Affiliations
(1)
Department of Applied Genetics and Cell Biology, UFT-Campus Tulln-Konrad, University of Natural Resources and Life Sciences, Vienna (BOKU), Tulln an der Donau, Austria
(2)
Plant Genome and Systems Biology, Helmholtz Zentrum München, Neuherberg, Germany
(3)
University of Natural Resources and Life Sciences, Vienna (BOKU), Institute for Biotechnology in Plant Production, Tulln an der Donau, Austria