Research article
Open Access
Transcriptomic profiling of Melon necrotic spot virus-infected melon plants revealed virus strain and plant cultivar-specific alterations
Received: 10 November 2015
Accepted: 25 May 2016
Published: 7 June 2016
Abstract
Background
Viruses are among the most destructive and difficult to control plant pathogens. Melon (Cucumis melo L.) has become the model species for the agriculturally important Cucurbitaceae family. Approaches that take advantage of recently developed genomic tools in melon have been extremely useful for understanding viral pathogenesis and can contribute to the identification of target genes for breeding new resistant cultivars. In this work, we have used a recently described melon microarray for transcriptome profiling of two melon cultivars infected with two strains of Melon necrotic spot virus (MNSV) that only differ on their 3′-untranslated regions.
Results
Melon plant tissues from the cultivars Tendral or Planters Jumbo were locally infected with either MNSV-Mα5 or MNSV-Mα5/3'264 and analysed in a time-course experiment. Principal component and hierarchical clustering analyses identified treatment (healthy vs. infected) and sampling date (3 vs. 5 dpi) as the primary and secondary variables, respectively. Out of 7566 and 7074 genes deregulated by MNSV-Mα5 and MNSV-Mα5/3'264, 1851 and 1356, respectively, were strain-specific. Likewise, MNSV-Mα5/3'264 specifically deregulated 2925 and 1618 genes in Tendral and Planters Jumbo, respectively. The GO categories that were significantly affected were clearly different for the different virus/host combinations. Grouping genes according to their patterns of expression allowed for the identification of two groups that were specifically deregulated by MNSV-Mα5/3'264 with respect to MNSV-Mα5 in Tendral, and one group that was antagonistically regulated in Planters Jumbo vs. Tendral after MNSV-Mα5/3'264 infection. Genes in these three groups belonged to diverse functional classes, and no obvious regulatory commonalities were identified. When data on MNSV-Mα5/Tendral infections were compared to equivalent data on cucumber mosaic virus or watermelon mosaic virus infections, cytokinin-O-glucosyltransferase2 was identified as the only gene that was deregulated by all three viruses, with infection dynamics correlating with the amplitude of transcriptome remodeling.
Conclusions
Strain-specific changes, as well as cultivar-specific changes, were identified by profiling the transcriptomes of plants from two melon cultivars infected with two MNSV strains. No obvious regulatory features shared among deregulated genes have been identified, pointing toward regulation through differential functional pathways.
Keywords
MNSVCMVCucurbits Cytokinin-O-glucosyltransferase ResistanceWMV
Background
Viruses change the physiology and metabolism of infected plants, and can directly or indirectly influence the host's gene expression patterns [1–4]. High-throughput technologies such as expressed sequence tags (ESTs), microarrays and next-generation sequencing, have made possible the simultaneous analysis of functional data for many genes and the study of the plant's transcriptomic remodelling in response to virus infections [5]. In the past few years, DNA microarrays have become popular tools for comparative high-throughput gene expression analysis, and microarray platforms have become available for both model and non-model crop species. Melon (Cucumis melo L.), in addition to its agronomic importance, has biological features that make it an interesting experimental model, favouring the development of a growing number of genetic and molecular tools for this species, including large ESTs collections [6, 7], TILLING platforms [8, 9] and the sequencing of its genome [10]. More specifically, EST sequencing has allowed the development of a melon-specific microarray [11], which has been used for transcriptomic profiling of Cucumber mosaic virus (CMV), Watermelon mosaic virus (WMV) and Monosporacus cannonballus-infected plants [11–13]. In this work, we have used the melon microarray to profile the melon transcriptome after infection with Melon necrotic spot virus (MNSV).
MNSV (genus Carmovirus, family Tombusviridae) is endemic in cucurbit crops worldwide, often causing significant economic losses due to epidemic outbreaks. The MNSV genome is composed of a 4.3Kb, single-stranded positive-sense RNA containing at least five open reading frames (ORFs) [14] which are flanked by two untranslated regions (UTRs) at their 5′ and 3′ termini. The 3′ ORF encodes the capsid protein (CP) which has a structural role, is necessary for vascular transport of the virus, plays a role in suppression of RNA silencing [15] and is involved in virus transmission [16]. It also contains a double gene block (DGB), typical of carmoviruses, consisting of two small, centrally located ORFs, which encode two consecutive 7 kDa proteins (p7A and p7B) involved in the cell-to-cell movement of the virus [15, 17]. The 5′ ORF can either encode a 29 kDa protein (p29) ending in an amber codon, or a larger 89 kDa gene product (p89) if it is read-through, which contains the RNA-dependent RNA polymerase (RdRp) domain. The p29 and p89 proteins are involved in viral replication [14, 15], which takes place in virus-altered mitochondria [18]. The 3′-UTR of genomic MNSV RNAs, which are identical to those of sub-genomic RNAs, has been shown to contain sequences that act as cap-independent translational enhancers (3′-CITEs) [19, 20]. Depending on the specific nature of these 3′-CITEs, MNSV can infect N. benthamiana and the otherwise resistant melon plants that carry the recessive eIF4E 228L allele at the nsv locus [20–22]. Interestingly, 3′-CITEs exhibit a modular nature, as they can be exchanged among viral strains or even viral species through recombination [19, 23].
In this work, we have used two MNSV strains that only differed in their 3-UTRs, namely, MNSV-Mα5 and a chimera with its 3′-UTR from MNSV-264 (MNSV-Mα5/3'264) for infection profiling. MNSV-264 is a strain that is able to break the resistance controlled by nsv [21, 23]. The characterization of melon cultivar-specific responses was also investigated, and two melon cultivars were used for this purpose. These were: cv. Tendral, which is fully susceptible to MNSV, and cv. Planters Jumbo, which is homozygous for the recessive eIF4E 228L resistance allele and is therefore resistant to most MNSV isolates but not to those carrying the MNSV-264 3′-CITE [21], as is the case for MNSV-Mα5/3'264 [23]. Locally-infected tissues were analysed in a time-course experiment and the melon microarray [11] was used for describing differential alterations of the melon transcriptome associated with: (i) the presence of one or another 3′-UTR in the MNSV RNA, (ii) the melon genotype and (iii) the type of plant tissue infected.
Results
Identification of the main sources of variability
Once the data from each sample were normalized, biological variability and sample grouping were analyzed using principal component analysis (PCA) (Fig.
1a and b
). Biological replicates from infected tissues, either from cotyledons (Fig.
1a
) or leaves (Fig.
1b
), always grouped together. The first component of variance separated cotyledon samples by treatment (healthy
vs.
infected) and the second one by time after infection (3
vs.
5 dpi). Interestingly, Tendral cotyledon or leaf samples inoculated with MNSV-Mα5 separated from their healthy controls to a greater degree than the rest of the infected
vs.
healthy pairs (Fig.
1a and b
); in contrast, Tendral leaf samples inoculated with MNSV-Mα5/3'264 separated to a lesser degree from their healthy controls than the other pairs (Fig.
1b
). A hierarchical clustering analysis was also performed (Fig.
1c and d
), and the results showed that once again, the cotyledon samples clustered primarily by treatment (healthy
vs.
infected) and then by time after infection (3
vs.
5 dpi). Among cotyledon samples, clustering varied for 3 and 5 dpi, with Tendral samples infected with the two viral isolates becoming more distinct with time (Fig.
1a
and
1c
). In the case of the inoculated leaves, the differentiation between infected and non-infected samples was less clear as compared to the cotyledon samples, especially for Tendral leaves inoculated with MNSV-Mα5/3'264. As for cotyledons, Tendral leaves inoculated with MNSV-Mα5 showed the greatest differentiation as compared to the controls (Fig.
1b
and
1d
), suggesting greater transcriptomic changes in this cultivar by MNSV-Mα5 than in the other cases.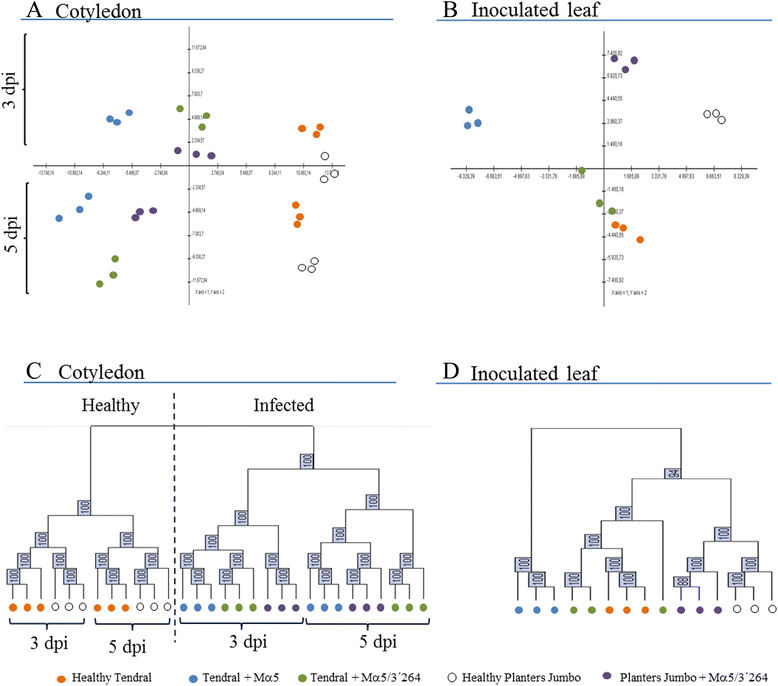 According to these results, MNSV-Mα5 induced faster and more marked changes in Tendral as compared to MNSV-Mα5/3'264, an effect that could also be seen in inoculated leaves. Among cultivars, the course of the infection resulted in greater differentiation among the samples of the different cultivars inoculated with the same virus.
Transcriptomic remodeling in inoculated cotyledons
Comparison of transcriptomic changes induced by MNSV in directly-inoculated leaves vs cotyledons
Transcriptomic changes induced by MNSV in directly-inoculated leaves were analyzed and compared to changes in cotyledons. Sampling of the directly-infected leaves was carried out when the lesions were visible, in this case at 5 dpi. For the identification of the differentially-expressed genes, the SAM algorithm was used [
27
]. In Tendral inoculated with MNSV-Mα5, 731 deregulated genes were identified, while MNSV-Mα5/3'264 only deregulated 16 genes in Tendral and 224 genes in Planters Jumbo (Fig.
11a
). The magnitude of the genetic deregulation in each tissue was correlated with the accumulation of MNSV as quantified by RT-qPCR, according to which the accumulation of the viral RNA in leaves was much lower than in cotyledons even at 3 dpi (Fig.
11b
). A functional analysis of the deregulated genes in leaves identified many statistically significant GO categories that were mostly represented in cotyledons as well (Additional file
6
). The direct comparison with the genes deregulated by MNSV-Mα5 in cotyledons at 3 dpi showed that more than 85 % of the genes were shared by both tissues (Fig.
11c
). Likewise, the functional analysis of both lists of MNSV-Mα5-deregulated genes in both tissues identified various shared terms. Among the over-represented GO terms linked to cellular components, the endoplasmic reticulum lumen was important (Fig.
12
). Altogether, MNSV induced a transcriptomic response in leaves that was of lesser magnitude as compared to that in cotyledons, or probably of slower progression, but which essentially involved the deregulation of the same processes in both tissues.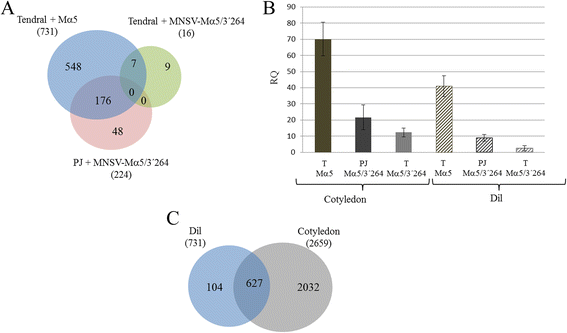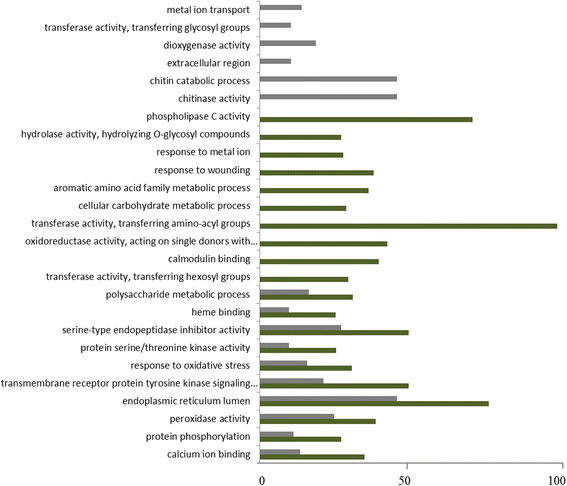 Discussion
In this work, we have compared transcriptomic profiles of melon plants from two different cultivars infected with two different strains of MNSV. Melon cultivars differed on their alleles at the nsv locus, which encodes the eIF4E gene that controls susceptibility to most MNSV strains. The viral strains differed on their 3′-UTRs, which have been shown to control translational efficiency of MNSV RNAs and, hence, resistance-breaking capabilities.
Conclusions
By comparing transcriptomic profiles of plants from the same cultivar infected with each of the two viral strains, we have shown that there are common but also strain-specific changes, the latter referring to a variety of genes with very different functions that were affected. No obvious regulatory features shared among deregulated genes were identified. Similarly, by comparing transcriptomic profiles of plants from each of the two cultivars infected with the same viral strain, common but also cultivar-specific changes were identified. Again, no obvious features among deregulated genes arose, but our analysis suggested the launching of different basal defense responses resulting in differential involvement of hormonal and stress response processes. An important methodological aspect emerging from this work is the influence of infection dynamics in transcriptome profiling. When comparing different viruses or viral strains, observations done at single time points could be significantly influenced by different infection dynamics. Biologically relevant data can be obtained by performing observations at different time points and comparing expression patterns as a function of time.
Declarations
Acknowledgements
We thank Mari Carmen Montesinos and Blanca Gosalvez for their excellent technical assistance. M. Fon (mariogfon@gmail.com) edited the manuscript.
Funding
This work was supported by grants AGL2012-37390 and PCIN-2013-043 (Ministerio de Economía y Competitividad, Spain)
Authors' contributions
CGA performed the experiments. CGA, LP and JC analysed the data. MASP and MAA conceived the study. CGA, MASP and MAA wrote the manuscript. All authors read and approved the final manuscript.
Competing interests
The authors declare that they have no competing interests.
Consent for publication
Not applicable.
Ethics approval and consent to participate
Not applicable
Open AccessThis article is distributed under the terms of the Creative Commons Attribution 4.0 International License (http://creativecommons.org/licenses/by/4.0/), which permits unrestricted use, distribution, and reproduction in any medium, provided you give appropriate credit to the original author(s) and the source, provide a link to the Creative Commons license, and indicate if changes were made. The Creative Commons Public Domain Dedication waiver (http://creativecommons.org/publicdomain/zero/1.0/) applies to the data made available in this article, unless otherwise stated.
Authors' Affiliations
(1)
Departamento de Biología del Estrés y Patología Vegetal, Centro de Edafología y Biología Aplicada del Segura (CEBAS) – CSIC, Espinardo, Spain
(2)
Instituto de Conservación y Mejora de la Agrodiversidad Valenciana (COMAV) – UPV, Valencia, Spain
(3)
Centre for Research in Agricultural Genomics CRAG, CSIC-IRTA-UAB-UB, Barcelona, Spain