Network-based bioinformatics analysis of spatio-temporal RNA-Seq data reveals transcriptional programs underpinning normal and aberrant retinal development
BMC Genomics
2016
17(Suppl 5):495
Published: 31 August 2016
Abstract
Background
The retina as a model system with extensive information on genes involved in development/maintenance is of great value for investigations employing deep sequencing to capture transcriptome change over time. This in turn could enable us to find patterns in gene expression across time to reveal transition in biological processes.
Methods
We developed a bioinformatics pipeline to categorize genes based on their differential expression and their alternative splicing status across time by binning genes based on their transcriptional kinetics. Genes within same bins were then leveraged to query gene annotation databases to discover molecular programs employed by the developing retina.
Results
Using our pipeline on RNA-Seq data obtained from fractionated (nucleus/cytoplasm) developing retina at embryonic day (E) 16 and postnatal day (P) 0, we captured high-resolution as in the difference between the cytoplasm and the nucleus at the same developmental time. We found de novo transcription of genes whose transcripts were exclusively found in the nuclear transcriptome at P0. Further analysis showed that these genes enriched for functions that are known to be executed during postnatal development, thus showing that the P0 nuclear transcriptome is temporally ahead of that of its cytoplasm. We extended our strategy to perform temporal analysis comparing P0 data to either P21-Nrl-wildtype (WT) or P21-Nrl-knockout (KO) retinae, which predicted that the KO retina would have compromised vasculature. Indeed, histological manifestation of vasodilation has been reported at a later time point (P60).
Conclusions
Thus, our approach was predictive of a phenotype before it presented histologically. Our strategy can be extended to investigating the development and/or disease progression of other tissue types.
Keywords
RetinaCytoplasmic ExtractRetinal DevelopmentDAVID AnalysisTranscription Kinetic
Background
The retina has been the most accessible part of the developing central nervous system with a wealth of information on detailed birth order of its cell types and on many genes involved in executing specific programs such as cell cycle regulation, cell fate determination, and neuronal differentiation. However, a comprehensive gene regulatory network is still not achieved as gene-centric approach can only go so far. To address this issue, transcriptome capture to identify co-transcriptionally regulated genes across retinal development has previously been attempted and was of great value [1]. However, these efforts were hampered by the lack of depth of the captured transcriptome and lack of fractionation to gain higher resolution. Another concern was that at any given time the retina consists of different cell types with varied transcriptomes, which renders finding meaning from co-transcriptionally regulated genes difficult. We wanted to investigate whether higher depth of the captured transcriptome through RNA-Seq with minimal cross-compartment (nucleus-cytoplasm) normalization could resolve this issue.
Here we report analysis of RNA-Seq data from cytoplasmic and nuclear transcriptome of the developing retina. We show that combinatorial use of RNA-Seq with our custom bioinformatics strategy reveals the precise order of gene activation and transitions in processes during retinal development. Transition in gene expression was validated and resolved at the isoform level through our custom microarray. Importantly, we show proof of principle by extending our methodology to analyze RNA-Seq data from P21-Nrl-WT and KO retinae. Our approach which focuses on understanding the temporal progression in gene expression during normal/aberrant development can be extended to development and disease progression of other tissues.
Methods
Animal procedures
All experiments used CD1 mice from Charles River Laboratory, MA. All mice procedures were compliant with the protocols approved by the University of Connecticut's Institutional Animal Care and Use Committee (IACUC).
RNA fractionation
Retinae were dissected from E16 embryos and P0 pups followed by fractionation protocol as described previously [2]. Once the fractions were obtained, Trizol (Invitrogen, CA, cat # 15596-026) was used as per the manufacturer's instructions.
Library preparation for deep sequencing
After the total RNA was prepared from the two fractions, ribosomal RNA (rRNA) was removed using Ribozero Ribosomal RNA removal kit (Epicenter, WI, cat # RZH1046) by following the manufacturer's instructions. The removal of rRNA was confirmed by gel electrophoresis and was used for RNA-Seq library preparation. RNA-Seq library was prepared using Script-seq mRNA seq library preparation kit (Cambio, UK, cat # SS10906). The library was deep sequenced in multiple runs using Illumina Hi-Seq 2000 platform at the University of Connecticut Health Center Deep sequencing core facility. P21 Nrl- WT and KO RNA-Seq data was shared with us by Dr. Anand Swaroop; National Eye Institute [3].
RNA-Seq analysis
CD1 reference creation
The transcriptome captured by deep sequencing was obtained as short paired-end reads. We analyzed the RNA-Seq data from each sample through riboPicker [
4
], an algorithm to identify reads derived from rRNA, which showed minimal (0.02–0.34 %) rRNA reads (Table
1
). Next, reads were mapped to the mouse genome and the transcriptome to create a reference. The mouse genome sequence (mm10, NCBI build 38) was downloaded from UCSC database [
5
,
6
] together with the GTF for the Ensembl transcript library (release 68) (
http://genome.ucsc.edu
). The paired-end reads from E16 cytoplasmic extract (CE), P0CE and P0 nuclear extract (NE) were mapped separately to the mm10 genome and the transcript sequences extracted according to the Ensembl transcript library coordinates. Mapping was done using bowtie [
7
] and allowed for three mismatches in seed-length of 30 bases. For each sample, the two sets of read alignments (genome and transcriptome) were merged together using the HardMerge tool from the NGSTools suite [
8
]. HardMerge discards reads that align at multiple locations in the genome or transcriptome as well as reads that align uniquely to each but at discordant locations. This initial mapping was used to perform mismatch analysis with another tool in the NGSTools suite (Additional file
1
: Figure S1). Accordingly, the first 6 and last 32 bases from each read were trimmed. The trimmed reads (62 bp) were remapped using the aforementioned mapping parameters to the genome and transcriptome, and were once again merged using the HardMerge rules. Since the RNA-Seq was performed on retinal RNA extracted from CD1 strain mice, the resulting alignments from all three samples were pooled together and used to call Single Nucleotide Variations (SNVs) using SNVQ [
8
]. A CD1 reference genome sequence was created by modifying the mm10 reference to reflect the inferred SNVs. Transcript sequences were extracted from this CD1 genome based on Ensembl 68 annotations.
Table 1
Read mapping statistics and rRNA levels in the E16CE, P0CE, and P0NE samples
| Sample | Percentage of transcriptome mapped read pairs | Percentage of rRNA reads | # mapped bases in Gb |
| --- | --- | --- | --- |
| E16CE | 61.26 % | 0.34 % | 7.54 |
| P0CE | 52.85 % | 0.19 % | 7.69 |
| P0NE | 25.42 % | 0.03 % | 4.02 |
Gene expression analysis
E16CE, P0CE and P0NE reads were mapped against the CD1 Ensembl 68 transcriptome reference. The P21 WT and KO single end reads were mapped against the C57BL6 reference transcriptome based on Ensembl version 68. Mapping was done using bowtie and allowed for one mismatch in an alignment seed of 30 bases. Gene expression levels were estimated using IsoEM [9], an expectation-maximization algorithm that estimates isoform frequency from single and paired RNA-Seq reads. IsoEM exploits read disambiguation information provided by the distribution of insert sizes generated during sequencing library preparation, and takes advantage of base quality scores, strand, and read pairing information. Isoform expression is reported as Fragment per Kilobase per million mapped reads (FPKM) units and gene expression is the sum of FPKM of its constituent isoforms. For gene differential expression, two methods were run, GFOLD [10] and Fisher's exact test with house-keeping gene normalization as in [11]. Gapdh was used as the housekeeping gene for this analysis. Genes were called differentially expressed if they showed ≥2 fold expression in one sample by both methods. GFOLD was run on the CD1 transcriptome aligned reads, with default parameters and a p-value of 0.01. Fisher's exact test was run on estimated number of reads mapped per kilobase of gene length (calculated from IsoEM estimated FPKM values). Similar to GFOLD, a p-value of 0.01 was used for Fisher's exact test.
Binning strategy
Samples were analyzed in pairs, and genes were classified based on their expression levels (expressed vs. not expressed), differential gene expression status, and the number of expressed isoforms. 1 FPKM was set as threshold for expression. Genes were then classified into one of the following bins (Fig.
1
) based on yes/no calls. Firstly, genes with expression level less than 1 FPKM in both compared samples are placed in the not expressed (No_Ex) bin (Fig.
1i
). The rest of the genes, which were expressed in at least one sample, were further categorized into the following bins (Fig.
1
ii). Genes expressed exclusively in one sample were placed in one of the ONLY bins (Fig.
1
iii). Differential expression calls were made for genes expressed in both samples (Fig.
1
iv). If a gene passed GFOLD and Fisher's test, then it was placed in the over represented (OR) bin. Genes, which did not pass both or either of these tests, were placed in the non-differentially represented (non_DR) bin. Bins of expressed genes were subcategorized based on the alternative splicing status of the genes. This categorization included single and multiple isoform bins (SI, MI). There were genes with multiple isoforms that were individually below threshold, but the sum of FPKM values of these isoforms is above threshold. These were placed in the multiple isoforms below threshold (MIBT) bin. Similarly, genes expressed with multiple isoforms where only one isoform was above threshold were placed in the multiple isoforms one above threshold (MOAT) bin.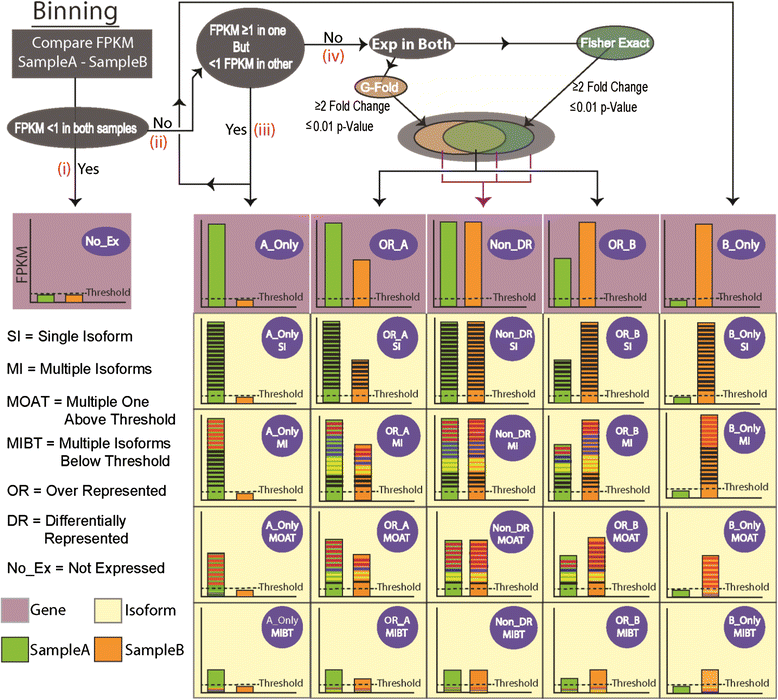 Functional annotation analysis
Genes belonging to each bin were analyzed for enrichment of individual GO terms to find whether co-transcriptionally regulated genes had overlapping functions using the Database for Annotation, Visualization and Integrated Discovery, DAVID (Fig.
2a
-
i
) [
12
,
13
]. Default parameters (≤0.05 Benjamini score) were used for all analyses. The gene lists enriching for GO terms were run through another online tool called GeneMANIA to identify potential partners [
14
]. First, we took the gene list underlying a biological process identified by DAVID and used it as bait in GeneMANIA (Fig.
2c
-II), which identified potential partners for genes from the primary list. The potential partners identified by GeneMANIA are based on published literature and publicly available databases, which could introduce a partner that is relevant in another tissue, but might not be expressed in the retina. To eliminate such genes, we selected only those genes that were expressed in our RNA-Seq data. Subsequently, this short list of genes was added to the primary list to generate a secondary list, which was used again as bait in GeneMANIA. This process was repeated until convergence, which was reached after three iterations (Fig.
2c
-II).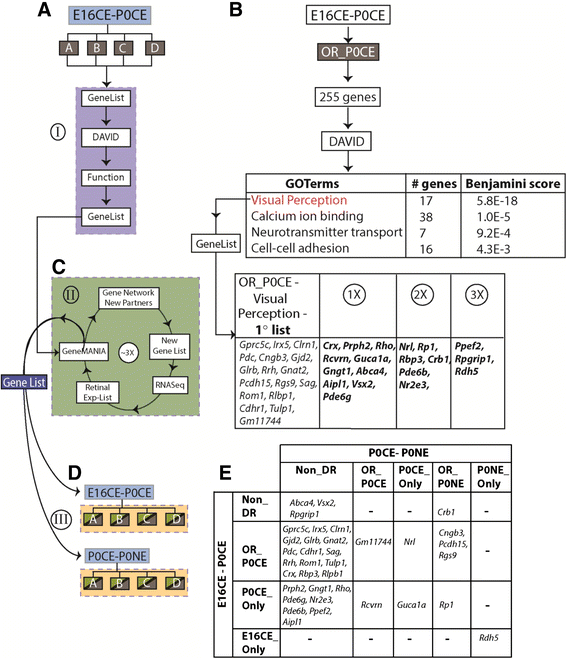 Microarray design
We designed a custom Affymetrix microarray to en masse interrogate the presence/absence of unique exon/exon junctions in isoforms expressed in the RNA-Seq data. After mapping the RNA-Seq reads from the three samples (E16-CE, P0-CE and P0-NE) to the Ensembl 68 transcripts and running IsoEM to estimate the FPKM values for each of the three samples, genes expressed in any of the three samples were selected. Exon-exon junctions that are unique among expressed transcripts in genes that have more than one expressed transcript were selected (junctions with flanking sequences of length ≤12 bases were eliminated). As a result, we included probes for 28,574 unique junctions from 11,923 transcripts on the custom Affymetrix chip.
Custom affymetrix data analysis
Cytoplasmic RNA (1 μg) was prepared from retinae harvested from E12, E16, E18 embryos and P0, P4, P10 and P25 and processed at Yale Center for Genome Analysis. Expression levels of probe targets were computed from the raw intensity values using the Robust Multichip Average (RMA) algorithm [15, 16], which was performed with the affy R package [17]. Subsequently, the data were processed through Gene Expression Similarity Investigation Suite (Genesis) (v1.7.6) for k-means clustering [18]. Here, we ran 500 iterations to generate a total of 10 clusters that fell into three categories based on expression kinetics. These trends were defined as embryonic, postnatal, and embryonic + postnatal. The gene lists belonging to each cluster were separately analyzed for functional enrichment using DAVID.
Discussion
Amongst the co-transcriptionally regulated genes identified by our binning strategy, genes that remained transcriptionally unaltered employed a higher degree of alternative splicing than those undergoing dynamic regulation. This suggests that during development the major transcription initiations and terminations might lay down the foundation, while the proteome diversity generated through alternative splicing might be engaged in resolving the finer details, such as neuronal subtype specification and terminal differentiation. Another advantage of the binning strategy was that the large transcriptome data was quantized, allowing us to interrogate the dataset for genes with established expression kinetics. The purpose of this was to challenge the binned data generated based on the 1 FPKM threshold for known gene expression patterns (Fig. 3a-b).
Once the dataset was validated, the status of genes in various bins in the E16CE-P0CE comparison was interrogated in the P0CE-P0NE comparison, which revealed dynamic transitions in the transcription kinetics in the same developmental stage. For example, the 632 genes in E16CE_only bin in the E16CE-P0CE comparison bifurcate into No_Ex and P0NE-Only bins in the P0CE-P0NE comparison (Fig.
3e
). This suggests that while some genes will remain off, some are re-initiated and predicts that these transcripts will appear in the CE of the next developmental stage. This was confirmed by our quantitative PCR analysis for
Nr2e3, Nrl
and
Rho
across postnatal retinal development [
2
]. The presence of transcripts for 1084 protein coding genes in the P0NE_Only bin suggested that we had captured
de novo
transcription of genes that might be required for the next developmental program. For example,
Ces5a
is a ~36 kb gene that has FPKM below threshold in E16CE and P0CE, but has FPKM of 161 in P0NE. This value is much higher than FPKM of genes such as
Nr2e3
(35.4 FPKM),
Nrl
(6.1 FPKM) and
Gngt2
(22 FPKM) (Table
5
). This indicates that expression of
Ces5a
is more than physiologically equivalent, yet it is not observed in P0CE where it could be translated. One possibility is that there is an active regulation of its export, although this warrants further investigation.
Table 5
An example of a "P0NE_Only" gene, Ces5a, whose FPKM unit in P0NE is comparable to those of other genes with known established expression kinetics (Nrl, Nr2e3, Gngt2)
| Genes | E16CE FPKM | P0CE FPKM | P0NE FPKM |
| --- | --- | --- | --- |
| Ces5a | 0.073539 | 0.420057 | 161.0296 |
| Nrl | 0.558403 | 15.88869 | 6.104338 |
| Nr2e3 | 0.008781 | 28.08 | 35.45415 |
| Gngt2 | 10.06518 | 91.92727 | 22.08052 |
The intrinsic value of identifying co-transcriptionally regulated genes is the expectation that they might reveal the biological processes being executed by the developing retina. Our bioinformatics pipeline can deconstruct the order of activation of specific genes engaged in executing a specific biological process so that one can begin to generate gene regulatory networks underlying retinal development. A key feature of our pipeline is the use of GeneMANIA to find potential partners of the core set of genes from a specific bin that enrich for a function in our DAVID analysis (Fig. 2c). A priori, one would predict a progressive increase in the number of genes with sequential application of the GeneMANIA part of the pipeline (Fig. 2c). However, we observed that there was quick convergence in the number of partner genes (Fig. 2c, Right). This suggests that leveraging RNA-Seq data to remove genes that were not expressed in the retina enriched for those genes relevant to retinal development and function at the time point under investigation.
Next we applied our analysis pipeline to find co-transcriptionally regulated genes in the P0 and P21-Nrl-WT comparison and the P0 and P21-Nrl-KO comparison (Additional file 1: Figure S4, Additional file 5: Table S4). One of the salient features of this analysis was that temporal analysis was more informative than static comparison. One explanation is that temporal analysis created bins that were developmentally regulated, which through DAVID analysis revealed changes in biological processes. For example, there is no cell cycle occurring at P21 so the majority of the cell cycle genes should be inactivated. Indeed, we observe cell cycle in the P0_Only bin in both P0 vs P21-Nrl-WT and P0 vs. P21-Nrl-KO analysis (Additional file 3: Table S2.3, S2.4). These genes in static analysis would show up as not expressed. Similarly, genes in P21_Only bin enriched for functions such as ion channel activity, ion transport, visual perception, synapse, voltage-gated ion channel activity, neurotransmission and others (Additional file 3: Table S2.3, S2.4). This was as expected as the retina is fully functional at P21 compared to P0. The advantage of our strategy is that it allowed us to understand the progression in gene expression kinetics in normal development and leverage that to understand how this progression deviates in the knockout retina. When P21_Only bin (either P21WT_Only or P21KO_Only) was analyzed through DAVID, we found many functions that were common to both sets of comparison, except examination of the number of genes underlying these functions revealed that there were subtle differences between the two bins (P21WT_only and P21KO_Only) (Additional file 3: Table S2.3, S2.4). This suggested that while many of the functions remain unaltered in the KO, there are subtle changes in the manner in which they might be executed. For example, "visual perception" showed up in the P0 vs. P21-Nrl-WT and P0 vs. P21-Nrl-KO comparisons in the P21_Only bins (Fig. 6). There were 24 genes underlying enrichment of this function in the WT comparison (Fig. 6), while there were 22 genes in KO comparison (Fig. 6). Upon comparing the gene identities from both sets, subtle differences emerged that allowed us to find the biological meaning from change in a single gene such as the rod photoreceptor-specific gene, Gnat1, that was absent in the Nrl-KO retina, which lack rod photoreceptors [48]. Finding Gnat1 through temporal analysis raises the question whether it would have been found in static analysis. While Gnat1 was present in the P21WT_Only bin in static analysis, the rest of the genes that would normally be part of the GO term "visual perception" were in the Non_DR bin. Thus, without a priori knowledge one would not find this specific gene out of the entire list of genes in the P21WT_Only. Temporal analysis combined with our gene expression and binning strategy followed by our custom bioinformatics pipeline was able to find these subtle changes, which in case of static analysis was not possible (Additional file 1: Figure S4). While one could find these subtle changes in the static analysis by looking at specific genes, it requires a priori knowledge. The advantage of doing whole transcriptome analysis is that one could find patterns computationally, which can be leveraged to obtain new insights without the need for a priori knowledge. For example, GO terms such as potassium channel complex, sodium channel activity, synaptic vesicle, calcium ion transport and regulation of blood pressure regulation (Additional file 3: Table S2.4) were enriched by genes in the P21_Only bin in P0 vs. P21-Nrl-KO comparison, but were absent in the WT comparison. This finding suggests that there are specific anomalies in the Nrl-KO retina. Given that in the Nrl-KO retina, the majority of the rod photoreceptors have converted to cone photoreceptors, changes in ion transport and synaptogenesis are to be expected [53, 54]. However, regulation of blood pressure seemed out of place for the Nrl-KO retina. Indeed, closer examination of the genes underlying this function revealed the need to examine vasodilation in the Nrl-KO retina. Notably, previous reports showed that the Nrl-KO retina develops dilated retinal blood vessels and leakage at P60 [52]. Thus, this confirmed the prediction made through shifts in the molecular signatures identified by our temporal analysis. Importantly, our analysis predicted an outcome based on gene expression pattern changes occurring between P0 to P21 that manifests at P60.
Conclusions
In summary, we were able to extract shifts in biological processes (Fig. 4a) governed by precise changes in gene expression through our unique RNA-Seq data acquisition/analysis platform. Importantly, it showed that the nuclear transcriptome was temporally shifted ahead of the cytoplasmic transcriptome at a developmental timepoint (Fig. 4c). Overlapping these discoveries with those made by extending our strategy to P21-Nrl-WT and KO analysis was most fruitful when ∆/time was extracted. This strategy identified perturbation in the molecular signature that enabled prediction of a phenotype that would manifest histologically at a later time (Fig. 4b). Indeed, this strategy would be effective toward deconstructing the progression of molecular changes during aberrant development or the progression of pathogenesis of the retinal diseases and can be extended to other tissues.
Declarations
Acknowledgements
We would like to acknowledge the deep sequencing core facility at the University of Connecticut Health Center and the Yale Center for Genome Analysis. We would also like to thank Dr. Anand Swaroop from the National Eye Institute for sharing the P21-Nrl-WT and P21-Nrl-KO RNA-Seq data.
Funding
This work was supported by P30 from the National Institute of Neurological Disorders and Stroke (5P30NS069266 to R.N.K) and K99-R00 from the National Eye Institute (4R00EY019547 to R.N.K) and Agriculture and Food Research Initiative Competitive Grant from the National Institute of Food and Agriculture (2011-67016-30331 to I.I.M) and award from National Science Foundation and a Collaborative Research Grant from Life Technologies (IIS-0916948 to I.I.M). The Physiology and Neurobiology Department at the University of Connecticut will defray the cost of publication through the corresponding author of this manuscript.
Availability of data and materials
The sequencing data can be obtained by contacting RNK at rahul.kanadia@uconn.edu.
Authors' contributions
RNK designed the experiment. DKPK, AB, MB, AO, CL, RNK performed the experiments. IIM and SA developed the bioinformatics pipeline used for the analysis. DKPK, SA, RNK analyzed the data. DKPK, RNK and SA prepared the manuscript. All authors read and approved the final manuscript.
Competing interests
The authors declare that they have no competing interests.
Consent for publication
Not applicable.
Ethics approval and consent to participate
Not applicable.
Open AccessThis article is distributed under the terms of the Creative Commons Attribution 4.0 International License (http://creativecommons.org/licenses/by/4.0/), which permits unrestricted use, distribution, and reproduction in any medium, provided you give appropriate credit to the original author(s) and the source, provide a link to the Creative Commons license, and indicate if changes were made. The Creative Commons Public Domain Dedication waiver (http://creativecommons.org/publicdomain/zero/1.0/) applies to the data made available in this article, unless otherwise stated.
Authors' Affiliations
(1)
Department of Physiology and Neurobiology, University of Connecticut, Storrs, USA
(2)
Department of Computer Science and Engineering, University of Connecticut, Storrs, USA
(3)
Utrecht University, Utrecht, The Netherlands