Research article
Open Access
Extent of pre-translational regulation for the control of nucleocytoplasmic protein localization
Received: 16 January 2016
Accepted: 22 June 2016
Published: 24 June 2016
Abstract
Background
Appropriate protein subcellular localization is essential for proper cellular function. Central to the regulation of protein localization are protein targeting motifs, stretches of amino acids serving as guides for protein entry in a specific cellular compartment. While the use of protein targeting motifs is modulated in a post-translational manner, mainly by protein conformational changes and post-translational modifications, the presence of these motifs in proteins can also be regulated in a pre-translational manner. Here, we investigate the extent of pre-translational regulation of the main signals controlling nucleo-cytoplasmic traffic: the nuclear localization signal (NLS) and the nuclear export signal (NES).
Results
Motif databases and manual curation of the literature allowed the identification of 175 experimentally validated NLSs and 120 experimentally validated NESs in human. Following mapping onto annotated transcripts, these motifs were found to be modular, most (73 % for NLS and 88 % for NES) being encoded entirely in only one exon. The presence of a majority of these motifs is regulated in an alternative manner at the transcript level (61 % for NLS and 72 % for NES) while the remaining motifs are present in all coding isoforms of their encoding gene. NLSs and NESs are pre-translationally regulated using four main mechanisms: alternative transcription/translation initiation, alternative translation termination, alternative splicing of the exon encoding the motif and frameshift, the first two being by far the most prevalent mechanisms. Quantitative analysis of the presence of these motifs using RNA-seq data indicates that inclusion of these motifs can be regulated in a tissue-specific and a combinatorial manner, can be altered in disease states in a directed way and that alternative inclusion of these motifs is often used by proteins with diverse interactors and roles in diverse pathways, such as kinases.
Conclusions
The pre-translational regulation of the inclusion of protein targeting motifs is a prominent and tightly-regulated mechanism that adds another layer in the control of protein subcellular localization.
Keywords
Protein targeting motifsNuclear localization signalNuclear export sequenceAlternative splicingPre-translational regulationProtein subcellular localizationRNA-seqTissue-specific regulation
Background
Protein subcellular localization requires tight and timely regulation, to ensure proper environment and interaction partners, and ultimately function [1]. Localization regulation is achieved through diverse mechanisms which can act sequentially, combinatorially or competitively, the integration of which determines the localization distribution of proteins in the cell. In addition, protein localization is often dynamic, and mechanisms exist to allow translocation of proteins to respond to diverse changes in the cell and its environment.
Protein targeting motifs have been identified for all main eukaryotic cellular compartments and represent a highly prevalent mechanism regulating protein localization [2–5]. Targeting motifs typically involve short linear sequences of 3 to 30 amino acids, often found at protein ends or in accessible and/or disordered regions [6, 7]. The first targeting motifs that were described, over thirty years ago, were the signal peptide and the nuclear localization signal (NLS), specifying respectively entry into the secretory pathway through the endoplasmic reticulum, and targeting to the nucleus [8, 9]. In addition to targeting motifs, post-translational modifications (PTMs) are also often involved, either to modulate the accessibility of targeting motifs [10], to serve as a sorting signal [11, 12], or to anchor proteins in membranes by the addition of lipid chains [13, 14]. Other characterized mechanisms for the regulation of protein localization include targeting or more often retention through interactors which can include proteins, lipids and nucleic acid chains through the use of interaction domains [15–17]. Protein localization often results from the integration, in the proper order, of several of these mechanisms.
The regulation of translocation across the nuclear envelope has been particularly well characterized. Targeting to the nucleus from the cytoplasm typically involves NLSs, several classes of which have been described. Classical NLSs, the first to be identified, are short motifs involving basic residues, and can be divided into two main groups [18, 19]. Monopartite NLSs consist of a stretch of three to four basic residues [9, 18, 20] while bipartite NLSs are composed of two segments of basic residues separated by a linker of 10 to 12 residues [18]. Classical NLSs are recognized by Kapα-Kapβ1 importin heterodimers, of the karyopherin superfamily, for translocation across the nuclear pore complex and into the nucleus [19]. Many non-classical and more diverse NLSs have also been described, including combinations of polar/charged and non-polar residues [3, 21, 22]. More recently, longer nuclear targeting motifs recognized by the karyopherin Kapβ2 and averaging between 20 and 30 residues in length were described [23]. These PY-NLSs (Proline-Tyrosine Nuclear Localization Signals), unlike the classical NLS, do not have a strong consensus for their motifs, which are composed of a hydrophobic or basic N-terminal region and a C-terminal RX2-5PY motif [24].
Nuclear export sequences (NESs), specifying translocation from the nucleus to the cytoplasm have also been extensively characterized [25]. NESs are short motifs typically containing four hydrophobic residues, and most often leucines, separated by a small number of spacing residues [26]. NESs are also recognized by a member of the karyopherin superfamily of transport receptors, the CRM1 exportin, for export to the cytoplasm [25].
While the use of NLSs and NESs for nucleocytoplasmic transport is prevalent, some nuclear proteins do not contain these signals [20, 27]. Several such proteins employ other strategies to shuttle to and from the nucleus (for example by piggy-back onto other proteins that do contain NLSs [27–29]) but for most, targeting mechanisms are currently unknown [20]. NLSs and NESs are often regulated by PTMs, and their accessibility can also be regulated by conformational change, allowing a dynamic control of their usage [30, 31].
In addition to the post-translational regulation of protein localization mentioned above, the targeting of proteins can also be regulated through pre-translational mechanisms, adding another level of complexity in the control of subcellular localization. In particular, the inclusion of targeting motifs in transcripts can be regulated by different types of pre-translational mechanisms. As illustrated in Fig.
1
, alternative transcription/translation initiation sites, alternative splicing of the motif-encoding exon, alternative translation ends and coding frameshifts can all lead to protein isoforms encoded by the same gene but differing in the presence of targeting motifs [
32
–
34
]. Many different studies of individual genes have made light of such mechanisms which lead to the targeting of encoded proteins to more than one compartment. In particular, the subcellular distribution of many enzymes reflects the differential presence of mitochondrial targeting sequences or peroxisomal targeting sequences, as regulated at the pre-translational level [
32
–
34
]. On a transcriptome-wide level, the differential use of signal peptides and transmembrane domains as regulated at the pre-translational level has been investigated in mouse by considering all transcripts defined by the RIKEN FANTOM3 project [
35
,
36
]. Similarly, the pre-translational regulation of short linear motifs, including short protein targeting motifs, has been characterized and classified by the Gibson group (for example, [
37
–
39
]). Collectively, these studies show that pre-translational regulation mechanisms represent an important and widely-used level of regulation of the inclusion of protein targeting motifs and ultimately of protein subcellular localization. However, the dynamic and diverse cellular roles of this type of regulation, have not been extensively and systematically investigated.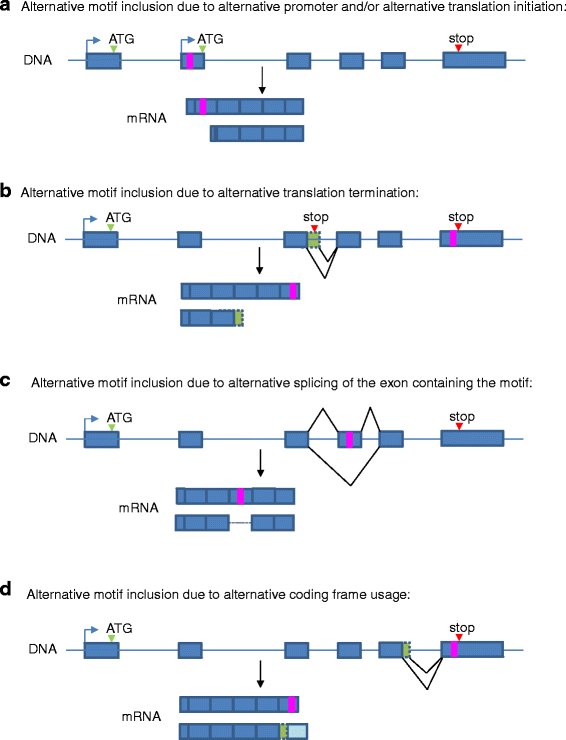 Here, we investigate of the extent of regulation of protein localization at the pre-translational level, through the study of targeting motif inclusion in transcripts, using the NLS and NES as model signals. The transcriptome-wide characterization of these targeting motifs reveals that 39 % of NLSs are constitutive in the sense that they are present in all coding isoforms of their encoding gene. The remaining 61 % of NLSs are considered to be alternatively regulated as they are not present in all coding transcripts of the same gene. In the case of NESs, 72 % are alternative. The inclusion of most alternative NLSs and NESs is regulated by alternative translation initiation and termination, although direct alternative splicing of the exon encoding the motif is also an important mechanism. The analysis of different deep-sequencing datasets in human indicates that the regulation of the inclusion of these targeting motifs at a pre-translational level can be dynamic and vary according to tissue-type, is more prominently used by proteins with diverse interactors, can be tightly regulated in a combinatorial way, and can be deregulated in disease states. Collectively, our findings show evidence of extensive and tightly-regulated use of pre-translational regulation mechanisms for the inclusion of the NLSs and NESs.
Discussion and Conclusions
Timely regulation of protein subcellular localization is crucial and underlies many cellular pathways. While protein localization can be controlled through several post-translational mechanisms, cells also regulate protein localization by varying the inclusion of targeting motifs at pre-translational levels [32, 33, 37, 38]. Here, we describe the extensive cellular use of these mechanisms for the control of nucleo-cytoplasmic traffic through the study of the inclusion of NLSs and NESs. The analysis of experimentally validated human NLSs and NESs indicates that these motifs are modular and that their inclusion is regulated by the use of alternative promoter and/or translation initiation, as previously described for signal peptides [35, 36], as well as by alternative splicing, by alternative translation termination, and also by coding frameshift for a small number of genes. Alternative initiation and termination are the predominant mechanisms in use for this regulation as was found for signal peptides and transmembrane domains [36]. The inclusion levels of these motifs, as analyzed quantitatively using RNA-seq datasets, vary from 0 to 100 %, depending on the gene and the tissue type. While many NLSs and NESs are highly included (most or all transcripts generated from the gene containing the motif), others are included at very low levels or at variable levels which, for well characterized proteins, can be explained by their molecular function. A majority of these motifs are not present in a constitutive manner (61 % of NLSs and 72 % of NESs are alternative) making the pre-translational regulation of the inclusion of these motifs a widely used mechanism in the regulation of protein cellular localization.
The pre-translational regulation of the inclusion of targeting motifs is the first of several levels of regulation for these localization signals. Subsequently, once included in proteins, the accessibility of targeting motifs can be modulated by interaction with other molecules or by allostery, and can also be regulated by post-translational modification [37]. In addition, the presence of different targeting motifs within the same protein can lead to competition between the motifs to determine the final localization. These distinct levels of regulation serve different purposes and exhibit different characteristics. While the regulation of targeting motif accessibility is typically a reversible regulation, the pre-translational regulation of their inclusion is irreversible [37, 39], and thus the cell commits to the level of motif inclusion it chooses, and has less flexibility for immediate responses requiring localization translocation. Nonetheless, this mode of regulation does provide the possibility of co-regulation in the case of proteins with significantly different sets of interactors depending on their localization, as seems to be the case in particular for some kinases shuttling between the nucleus and cytoplasm. Thus the inclusion of specific targeting motifs could be coordinated to occur when their substrates/interactors present in the targeted compartment are expressed, for example. The further characterization of this widespread mechanism of regulation of protein localization and the study of its use in combination with post-translational regulation mechanisms will shed light on and lead to better models of the regulation of this fundamental protein characteristic and the causes of its deregulation in disease states.
Declarations
Acknowledgements
The authors are grateful to Profs. Sherif Abou Elela and Martin Bisaillon for their insightful comments and suggestions as well as Leandro Fequino for technical support. SM was supported by a summer student scholarship from the Faculty of Medicine and Health Sciences of the University of Sherbrooke. DCT was supported by a Global Excel scholarship. MSS is a recipient of a Fonds de Recherche du Québec – Santé Research Scholar Junior 1 Career Award. MSS is a member of the RNA group and the Centre de recherche du Centre hospitalier universitaire de Sherbrooke (CRCHUS).
Funding
This research project is funded by a grant to MSS by the Natural Sciences and Engineering Research Council of Canada (NSERC). The funder played no role in the design of the study, the collection, analysis, and interpretation of data and in writing the manuscript.
Availability of supporting data and materials
The data sets supporting the results of this article are included within the article and its additional files.
Authors' contributions
SM, AAA, MJL, DCT and MSS participated in building the database and curating the literature for experimentally validated NLSs and NESs. MJL wrote the SQL queries to map the motifs and their position in transcripts, quantified their inclusion by analyzing RNA-seq data. MJL, DCT and MSS performed the statistical analyses, plotted the data and helped to interpret the results in light of the literature. AAA participated in the design of the experiments and the analysis of the data. MSS conceived and designed the study, participated in the analysis and interpretation of the results and wrote the manuscript. All authors read and approved the final manuscript.
Competing interests
The authors declare that they have no competing interests.
Open AccessThis article is distributed under the terms of the Creative Commons Attribution 4.0 International License (http://creativecommons.org/licenses/by/4.0/), which permits unrestricted use, distribution, and reproduction in any medium, provided you give appropriate credit to the original author(s) and the source, provide a link to the Creative Commons license, and indicate if changes were made. The Creative Commons Public Domain Dedication waiver (http://creativecommons.org/publicdomain/zero/1.0/) applies to the data made available in this article, unless otherwise stated.
Authors' Affiliations
(1)
Department of Biochemistry and RNA group, Faculty of Medicine and Health Sciences, University of Sherbrooke, Sherbrooke, Canada