Research article
Open Access
Modeling central metabolism and energy biosynthesis across microbial life
Received: 27 October 2015
Accepted: 6 July 2016
Published: 8 August 2016
Abstract
Background
Automatically generated bacterial metabolic models, and even some curated models, lack accuracy in predicting energy yields due to poor representation of key pathways in energy biosynthesis and the electron transport chain (ETC). Further compounding the problem, complex interlinking pathways in genome-scale metabolic models, and the need for extensive gapfilling to support complex biomass reactions, often results in predicting unrealistic yields or unrealistic physiological flux profiles.
Results
To overcome this challenge, we developed methods and tools (http://coremodels.mcs.anl.gov) to build high quality core metabolic models (CMM) representing accurate energy biosynthesis based on a well studied, phylogenetically diverse set of model organisms. We compare these models to explore the variability of core pathways across all microbial life, and by analyzing the ability of our core models to synthesize ATP and essential biomass precursors, we evaluate the extent to which the core metabolic pathways and functional ETCs are known for all microbes. 6,600 (80 %) of our models were found to have some type of aerobic ETC, whereas 5,100 (62 %) have an anaerobic ETC, and 1,279 (15 %) do not have any ETC. Using our manually curated ETC and energy biosynthesis pathways with no gapfilling at all, we predict accurate ATP yields for nearly 5586 (70 %) of the models under aerobic and anaerobic growth conditions. This study revealed gaps in our knowledge of the central pathways that result in 2,495 (30 %) CMMs being unable to produce ATP under any of the tested conditions. We then established a methodology for the systematic identification and correction of inconsistent annotations using core metabolic models coupled with phylogenetic analysis.
Conclusions
We predict accurate energy yields based on our improved annotations in energy biosynthesis pathways and the implementation of diverse ETC reactions across the microbial tree of life. We highlighted missing annotations that were essential to energy biosynthesis in our models. We examine the diversity of these pathways across all microbial life and enable the scientific community to explore the analyses generated from this large-scale analysis of over 8000 microbial genomes.
Keywords
Metabolic ModelFlux Balance AnalysisFermentation PathwayCentral Metabolic PathwayModel Seed
Background
One of the most important elements of an organism's biochemistry is its ability to produce energy in the form of ATP from nutrients in the environment under a wide variety of environmental conditions. Energy production pathways are of fundamental importance because these pathways define much of the behavior of a microbe and have the greatest impact on the quantitative prediction of biomass and metabolite production yields [1]. Cellular energy generation in microbes is a crucial aspect of metabolic modeling, which depends on environmental factors such as carbon source, electron donor, fermentation capability, presence of electron acceptors, and variations in the electron transport chain (ETC).
Metabolic models provide a valuable means for simulating and understanding energy metabolism based on annotated genome sequences [2]. Recently, tools such as the Model SEED [3–5] have emerged to automate the generation of draft metabolic models to keep pace with the ever growing set of sequenced genomes. However, automatically reconstructed models, and even some curated models, struggle to represent energy biosynthesis accurately primarily for three reasons: (1) genome-scale models integrate complex interweaving pathways that, when under-constrained, can interact to form routes for energy production that are not biologically meaningful or even physically feasible; (2) poor representation of complex and diverse bacterial ETCs and the key pathways related to energy production; and (3) these models often require extensive gapfilling [6] that can lead to the inclusion of some pathways that are not actually present in the species being modeled.
Here we present a set of tools and analyses aimed at a focused understanding of energy biosynthesis across the prokaryotic tree of life. Building on important early work in metabolic modeling and engineering [
7
], we define a "core metabolic model" (CMM), which has a reduced scope consisting of well-annotated central metabolism, fermentation, and ETC pathways. We developed a new high-throughput pipeline for the reconstruction, comparison, and analysis of CMMs for prokaryotic genomes (Fig.
1
, Additional file
1
: Figure S1). Then we applied our pipeline to the reconstruction and analysis of CMMs for over 8,000 (Additional file
2
: Table S1) completely sequenced prokaryotic genomes (
http://coremodels.mcs.anl.gov
). The CMMs produced by our pipeline had minimal need for gapfilling, demonstrating a key value in CMMs as functional models that are as close as possible to raw annotation output, minimizing model-driven conjectures. In tests of the ATP yield on our models, the results show nearly complete agreement with known values for model organisms. Most importantly, comparative analysis of our core models revealed substantial variation in energy biosynthesis strategies and pathway representation, including variations even at short phylogenetic distances. We observe only a small fraction of theoretically possible combinations of these pathways, with both positive and negative correlations in energy biosynthesis pathways, suggesting a limited number of optimal pathway configurations.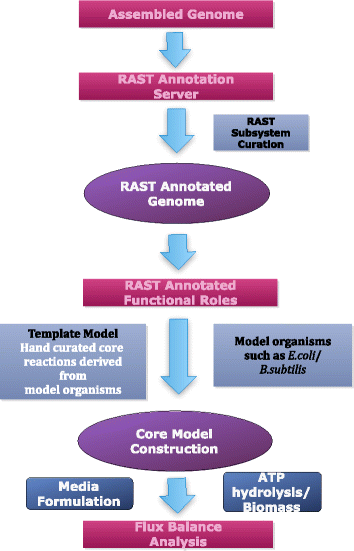 Conclusions
Here we present CMMs and comparative analysis for over 8,000 completely sequenced genomes in diverse phylogenetic groups that are derived from a manually curated core model template. Unlike the complexity of genome scale models, CMMs are simpler, offering a quick and accurate way of determining: (i) respiration type(s) (Additional file 1: Figure S5 and Additional file 2: Table S8) and ATP yield predictions (Fig. 3), (ii) electron acceptors that can be reduced during anaerobic respiration (Additional file 2: Table S5), (iii) ability to produce useful fermentation products (Additional file 1: Figure S3 and Additional file 2: Table S4), (iv) presence/absence of functional pathways in central metabolism (Additional file 1: Figure S4 and Additional file 2: Table S4) and (v) evaluate ability to produce key pathway intermediates in central metabolism which are precursors of essential biomass compounds (Additional file 2: Table S7). Having integrated a set of highly curated reactions that represent ETCs, fermentation, and central metabolic pathways, CMMs are able to predict ATP yield variations under aerobic and anaerobic conditions mediated by anaerobic electron acceptors present in the growth medium (Fig. 3) [18, 30]. Using glucose or glycerol as the sole carbon source, we found ~30 % (2,495) of the genomes (Additional file 2: Table S6) used in this study could not be simulated to produce ATP solely based on existing RAST annotations due to incomplete or missing annotations that mapped to reactions comprising the energy producing pathways and ETCs. A major piece of missing ETCs consisted of key reducing reactions for inorganic electron acceptors including iron, chromium, and sulphur that are not consistently annotated across the prokaryotic tree of life. Annotation inconsistencies and missing annotations identified in this study evaluate the quality of RAST annotations and highlight the areas where more attention is needed. Metabolic pathway determination data (Additional file 2: Table S4) and respiration type determinations (Additional file 2: Table S8) are a valuable resource in recognizing inconsistent annotations across the tree of life, even at short phylogenetic distances. Using pathway determinations we identified patterns in pathway co-occurrence and identified potential physiological trade-offs that may influence the ability of organisms to maintain individual central metabolic pathways (Fig. 2). While these tools and analyses were developed specifically to examine central metabolism, the approach is easily scalable to consider the entire metabolic network or other subsets of metabolism of interest enabling researches to address specific research goals.
Abbreviations
AEA, alternate electron acceptors; BDOH, 2,3 butanediol; CMM, core metabolic models; CMT, core model template; ED pathway, Entner-Doudoroff pathway; ETC, electron transport chain; FBA, flux balance analysis; GPR, gene protein-reaction; OF, objective function; OTU, operational taxonomic units
Declarations
Acknowledgments
This material was based upon work supported by the U.S. Department of Energy, Office of Biological and Environmental Research; under contract DE-AC02-06CH11357 as a part of the DOE Knowledgebase project, and by the National Science Foundation grant number MCB-1153357. We acknowledge the RAST annotation and development team for producing the annotations and computational infrastructure that make this work possible. We thank Gary Olsen for the insight provided on generating phylogenetic trees. We thank Matt DeJongh and Aaron Best for proofreading the manuscript and providing us with valuable feedback.
Funding
This material was based upon work supported by the U.S. Department of Energy, Office of Biological and Environmental Research; under contract DE-AC02-06CH11357 as a part of the DOE Knowledgebase project, and by the National Science Foundation grant number MCB-1153357.
Availability of data and material
The data sets supporting the results of this article are included within the article, in supplementary material submitted with the article and through the public website http://coremodels.mcs.anl.gov. The core metabolic model construction pipeline with supporting commentary can be accessed through KBase narrative interface at https://narrative.kbase.us/narrative/ws.15253.obj.1.
Phylogenetic data have been deposited to Dryad database and are accessible via the URL: http://dx.doi.org/10.5061/dryad.gs51v.
Additional supporting data are included as supplementary/additional files.
Authors' contributions
JNE, PW and CSH designed and executed the model generation and analysis with assistance from all other authors. JNE designed the model template and the media conditions for the analysis. NC contributed significantly to Core Model Viewer website development. RO contributed in determining linear pathways. FX contributed in generating phylogenetic trees and visualizing pathway data. RLS contributed to the design and staging of our modeling infrastructure. All authors contributed to the writing and revision of the manuscript. CSH conceived of and oversaw this project. All authors have read and approved the final manuscript.
Competing interests
The authors declare that they have no competing interests.
Consent for publication
Not applicable
Ethics approval and consent to participate
Not applicable
Open AccessThis article is distributed under the terms of the Creative Commons Attribution 4.0 International License (http://creativecommons.org/licenses/by/4.0/), which permits unrestricted use, distribution, and reproduction in any medium, provided you give appropriate credit to the original author(s) and the source, provide a link to the Creative Commons license, and indicate if changes were made. The Creative Commons Public Domain Dedication waiver (http://creativecommons.org/publicdomain/zero/1.0/) applies to the data made available in this article, unless otherwise stated.
Authors' Affiliations
(1)
Mathematics and Computer Science Department, Argonne National Laboratory, Argonne, USA
(2)
Computer Science Department and Computation Institute, University of Chicago, Chicago, USA