Methodology article
Open Access
An integrative and applicable phylogenetic footprinting framework for cis-regulatory motifs identification in prokaryotic genomes
Received: 5 April 2016
Accepted: 29 July 2016
Published: 9 August 2016
Abstract
Background
Phylogenetic footprinting is an important computational technique for identifying cis-regulatory motifs in orthologous regulatory regions from multiple genomes, as motifs tend to evolve slower than their surrounding non-functional sequences. Its application, however, has several difficulties for optimizing the selection of orthologous data and reducing the false positives in motif prediction.
Results
Here we present an integrative phylogenetic footprinting framework for accurate motif predictions in prokaryotic genomes (MP3). The framework includes a new orthologous data preparation procedure, an additional promoter scoring and pruning method and an integration of six existing motif finding algorithms as basic motif search engines. Specifically, we collected orthologous genes from available prokaryotic genomes and built the orthologous regulatory regions based on sequence similarity of promoter regions. This procedure made full use of the large-scale genomic data and taxonomy information and filtered out the promoters with limited contribution to produce a high quality orthologous promoter set. The promoter scoring and pruning is implemented through motif voting by a set of complementary predicting tools that mine as many motif candidates as possible and simultaneously eliminate the effect of random noise. We have applied the framework to Escherichia coli k12 genome and evaluated the prediction performance through comparison with seven existing programs. This evaluation was systematically carried out at the nucleotide and binding site level, and the results showed that MP3 consistently outperformed other popular motif finding tools. We have integrated MP3 into our motif identification and analysis server DMINDA, allowing users to efficiently identify and analyze motifs in 2,072 completely sequenced prokaryotic genomes.
Conclusion
The performance evaluation indicated that MP3 is effective for predicting regulatory motifs in prokaryotic genomes. Its application may enhance progress in elucidating transcription regulation mechanism, thus provide benefit to the genomic research community and prokaryotic genome researchers in particular.
Keywords
Cis-regulatory motifPhylogenetic footprintingProkaryotic genomesComparative genomics
Background
Identification of regulatory DNA motifs represents a fundamental step in the study of transcriptional regulation mechanisms. Regulatory motifs typically facilitate the gene transcriptional regulation as transcription factors binding sites (TFBSs). Computational prediction of motifs in promoters has evolved as an increasingly important problem since it was proposed in 1980s [1–3]. In the past three decades, a number of programs have been developed such as AlignACE, Biprospector, CONSENSUS, MDscan, MEME, CUBIC and BOBRO [4–13]. In spite of the substantial number of applications that have been developed, it is still a very challenging problem and there is much room for improvement in motif identification performance [2, 3, 14, 15].
The phylogenetic footprinting strategy, first proposed by Tagle et al. in 1988 [16, 17], has proven useful in de novo motif finding. This strategy is based on a common principle that the regulatory elements in promoters tend to evolve at a lower rate and be more conserved at the DNA sequence level than their surrounding non-functional sequences. Following this line of research, scientists first applied comparative genomics methods [18] and co-regulation based motif finding tools on orthologous promoters to detect regulatory signals. Later, specific tools for phylogenetic footprinting [19–24] were designed to improve the performance of motif identification. In the last decade, with the increased availability of sequenced prokaryotic genomes and the sequence-similarity based orthology mapping technology, researchers have made application of phylogenetic footprinting less difficult and more powerful [25].
However, the application of phylogenetic footprinting is still intractable for researchers, because almost all existing methods require several tough procedures. Many factors need to be considered for proper phylogenetic footprinting application use, such as reference species selection, orthology mapping and promoter region cutting [15]. The noise induced by each of these factors can increase motif prediction false positives. Further the promoters generated for a set of orthologous genes should be divergent enough so that the to-be-identified motifs stand out, yet limit the mutations, thus maintaining the conserved motif properties. Specifically, phylogenetic footprinting applications have the following limitations [16]: (i) Lack of reliable genome-scale operon structure integration, which is essential for regulatory motif prediction in prokaryotes [26, 27]; (ii) Lack of universally applicable promoter collecting framework, which makes full use of abundant sequenced genome data. (iii) Neglecting to identify the phylogenetic relationship among promoters. (iv) The need for users to set poorly-defined motif feature parameters or other algorithmic thresholds. (v) Lack of intuitive and user-friendly tools or web server, although some methods have been proven effective on biological data sets. Most users do not understand how to adjust these factors and application parameters to ensure accurate motif prediction.
In this paper, we propose a framework for Motif Prediction based on Phylogenetic footprinting (MP3) (Additional file 1: Figure S1), aiming to avoid the drawbacks described above and make the pipeline effective and widely applicable. New strategies were developed for (i) integrating the sequence-similarity and functional association information in orthologous promoter selection, (ii) promoter scoring and pruning through motif voting using a set of complementary predicting tools and (iii) motif signal cross validation using a curve fitting method. We validated MP3 using the whole genome of E. coli K12, which has many documented TFBSs in RegulonDB [28]. The performance was systematically evaluated and compared with seven other existing tools. The comparisons show that MP3 has significantly improved performance over other existing tools. We implemented MP3 into a stand-alone program, which is available at http://csbl.bmb.uga.edu/DMINDA/download.php. Furthermore, the whole pipeline has also been implanted into DMINDA (http://csbl.bmb.uga.edu/DMINDA/) [29], which is an integrated web server for DNA motif prediction and analyses based on our in-house motif identification programs BOBRO [5, 30] and the DOOR2.0 database containing operons for 2,072 prokaryotic genomes [27]. DMINDA allows MP3 to be readily applied on any of the 2,072 integrated prokaryotic genomes and provides a user-friendly platform for visualization and display of the prediction results.
Methods
MP
3
has four components: reference promoter set (RPS) preparation from sequenced prokaryotic genomes (Fig.
1a
), candidate binding region (CBR) detection by motif voting strategy and peak finding (Fig.
1b
), candidate binding region clustering based on a graph model (Fig.
1c
), and motif profile identification through curve fitting (Fig.
1d
).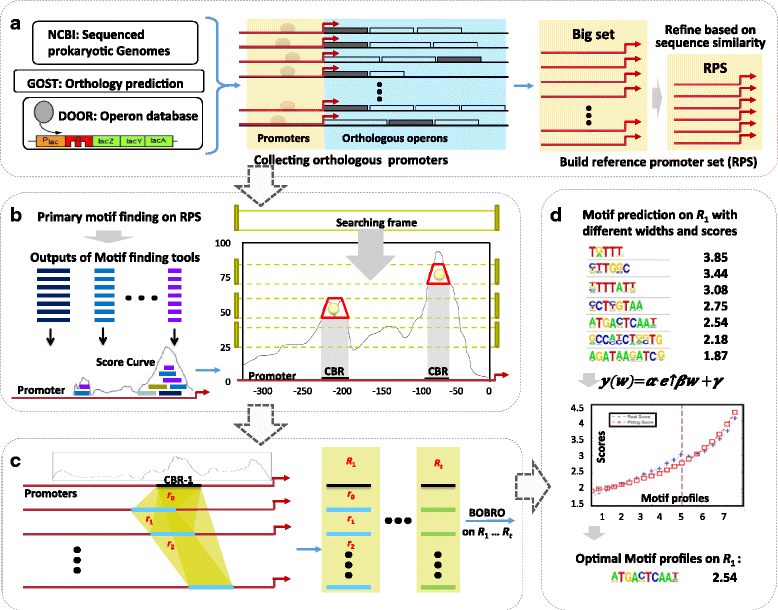 Results
MP3 was applied on all the 4,146 genes of E. coli K12, with all the documented TFBSs from the RegulonDB database. The unique features of MP3 resulted in a positive effect in motif finding: the new strategy for orthologous promoter sequences selection makes phylogenetic footprinting efficiently applicable on most of prokaryotic genes, e.g. 90.5 % (2,252 out of 2,379) of E. coli operons have at least three orthologous operons. The promoter pruning method with motif voting and peak calling reduced the false positive rate, the positive prediction value increased from 0.43 to 0.584 and the F-score increased from 0.191 to 0.306 in performance evaluation on binding site level. The curve fitting for motif width optimization in the last step helped to build high quality motif profiles. In addition, with implementation of MP3 in DMINDA, users can obtain the motif prediction by simply clicking the name of a gene from each of the 2,072 prokaryotic genome in our back-end database and conduct further analyses (e.g. motif comparison, motif clustering, and motif co-occurrence analysis) for predicted motifs on the DMINDA platform.
Discussion
The phylogenetic footprinting technique has several intrinsic limitations in de novo motif finding. For example, it cannot be used on genes that have almost no orthology in other sequenced genomes; and it is incapable of identifying TFBSs that have no conservation properties at the sequence level (i.e., lack of sequence specificity) [40]. Lateral gene transfer and operon structure exist widely throughout prokaryotic genomes unlike in vertebrates. Therefore, direct use of the species tree and the phylogenetic tree inferred from the targets genes, as done in current published methods, is not the best choice for prokaryotic genomes [25]. However, an improved phylogenetic footprinting method would be useful as it also has important applications for elucidating the underlying gene regulatory networks [41]. Recently, Novichkov et al. proposed an algorithm Regpredict to generate regulons, which are defined as maximal co-regulated gene sets [42, 43]. Regpredict takes advantage of phylogenetic footprinting to reduce the false positives, thus improves the reliability of predicted regulon on multiple genomes.
MP3 was developed to overcome the drawbacks of the existing phylogenetic footprinting tools. The MP3 framework (Fig. 1) has the following unique features: (i) full consideration of the operon structures; (ii) new promoter collection method following a principle named as big data source, reduced final set, which not only takes advantage of high throughput genomic data, but also considers the computational efficiency; (iii) extracting phylogenetic relationship from regulatory sequences to refine the orthologous promoter set. (iv) pruning promoters to generate CBRs based on the weighting score on each nucleotide, which is generated by a voting strategy on six popular motif finding tools; and (v) a curve-fitting method to identify optimal motif profiles. Based on these features, MP3 had a much better performance in motif finding.
For our new phylogenetic footprinting pipeline, a potential and reasonable improvement is integrating some experimental data, if available, e.g. Chromatin immunoprecipitation followed by sequencing (ChIP-seq). It is a technique used for genome-wide profiling of DNA-binding proteins, histone modifications, or nucleosomes; and has become an indispensable tool for studying gene regulation [44, 45] as it can provide transcription factor binding information with higher resolution, less noise, and greater coverage than traditional array-based predecessor, like ChIP-chip [46]. However, it cannot replace the computational prediction tools particularly for prokaryote. Firstly, there is very small amounts ChIP-seq data available for prokaryote [47]; secondly, ChIP-seq is not suitable for TFs with only a few binding sites; thirdly, the complexity of regulation can also lead to bias because TFs may not bind on their binding sites in certain environments. Specifically, the score curves used in MP3 can be further optimized by integrating the binding signal from ChIP-seq, using machine learning or pattern classification. The ChIP-seq based peaks and CBRs identified by MP3 can be cross-validated by each other in application, aiming to overcome some intrinsic computational challenges in high-throughput data analyses. Upon the availability of large-scale ChIP-seq data in prokaryote [47], we believe that the information integration in our framework can further improve the performance in motif prediction and analysis.
An intuitive application of the MP3 motif prediction pipeline is to elucidate the genome-scale transcription regulatory network, which is one of the most important goals in systems biology. It can help infer how gene regulatory networks will respond under various conditions or with specific genetic perturbations; and to understand how different gene expression states are controlled by their underlying regulatory systems. Mathematically, this is modeled as a regulon identification problem, aiming to identify all the co-regulated genes by each of regulatory transcription factors. We note that there is a limitation in the MP3 application. For predicted motif profiles, we found that the motif profiles composed by orthologous binding sites may not perfectly coincide with those composed by binding sites of co-regulated genes in the same genome. For example, the transcription factor ArgR has 25 known binding sites in E. coli. The orthologous binding sites from the promoters of gene argR and its orthologous showed high similarity with only eight out of the 25, thus the motif logos have some differences (Additional file 1: Figure S5). The reason for this phenomenon may lie in the evolution mechanism for binding sites. The differences in orthologous binding sites are caused by heredity while the binding sites upstream of co-regulatory genes may be caused by gene duplication or even random mutation, thus leading to variation in these two motif profiles. The phenomenon described above may challenge the computational application and require additional algorithm development in motif based regulon construction.
Conclusion
In this paper, we designed a new framework, MP3, for phylogenetic footprinting motif identification and provide it as a web service. The framework is based on several new ideas, integrated several existing motif finding tools, conquered the existing obstacles for orthology generation, false positive elimination etc. MP3 first generates CBRs, which may be directly used by researchers who only care to identify the functional regulatory regions of target genes; and then produces motif profiles for those that need motif profiles for motif search and comparison. The automatic pipeline of data acquisition, processing and implantation as web server allow easy application of MP3 to most sequenced prokaryotic genomes. Application on E. coli K12 genome in this study showed that MP3 worked better than existing motif finding tools and provides accurate results with less redundancy. We believe that MP3 will enhance progress toward elucidating the transcription regulation mechanism, especially for the genomes that have not been well studied. Thus, MP3 will benefit the genomic research community, and prokaryotic genome researchers in particular. In addition, using MP3 with other experimental techniques and knowledge will provide more reliable and useful results for regulatory research.
Abbreviations
CBR, candidate binding region; ChIP-seq, chromatin immunoprecipitation followed by sequencing; IC, information content; MP3, motif prediction based on phylogenetic footprinting; nCC, correlated co efficient on nucleotide level; nPC, performance coefficient on nucleotide level; nPPV, positive prediction value on nucleotide level; nSN, sensitivity on nucleotide level; nSP, specificity on nucleotide level; RPS, reference promoter set; sASP, average site performance on site level; sPPV, positive prediction value on site level; sSN, sensitivity on site level
Declarations
Acknowledgements
We thank Dr. Phuongan Dam, preceding lab manager of the Computational Systems Biology Lab at the University of Georgia, for her valuable suggestions at the beginning of this project. We thank graduated students, Mr. Jianyang Sun, Mr. Yang Li, Ms. Xin Jin, and Ms. Xiaochen Yuan for their assistance on collection of motif prediction results on MicroFootprinter web-server. We also thank Adam McDermaid for his kind assistance in paper writing.
Funding
This work was supported by the State of South Dakota Research Innovation Center and the Agriculture Experiment Station of South Dakota State University. This work was also supported by the National Nature Science Foundation of China (NSFC) [61303084 to B. Liu, 31571354, 61272016 and 61432010 to G. Li.]; B. Liu's work also be supported by Young Scholars Program of Shandong University (YSPSDU, 2015WLJH19).
Availability of data and material
All the dataset, which can be used to test this method, are available at the web server DMINDA (http://csbl.bmb.uga.edu/DMINDA/).
Authors' contributions
QM, BL: Conceived and designed the study and wrote the manuscript. BL, CZ: Developed the bioinformatics programs and performed the analysis. HZ, QM: implant the framework in DMINDA webserver. AF: Polished the whole manuscript. GL, GW, YK, QL: Contributed to the analysis and edited the manuscript. All authors read and approved the final manuscript.
Competing interests
The authors declare that they have no competing interests.
Consent for publication
Not applicable.
Ethics approval and consent to participate
Not applicable.
Open AccessThis article is distributed under the terms of the Creative Commons Attribution 4.0 International License (http://creativecommons.org/licenses/by/4.0/), which permits unrestricted use, distribution, and reproduction in any medium, provided you give appropriate credit to the original author(s) and the source, provide a link to the Creative Commons license, and indicate if changes were made. The Creative Commons Public Domain Dedication waiver (http://creativecommons.org/publicdomain/zero/1.0/) applies to the data made available in this article, unless otherwise stated.
Authors' Affiliations
(1)
School of Mathematics, Shandong University, Jinan, China
(2)
Systems Biology and Biomedical Informatics (SBBI) Laboratory University of Nebraska-Lincoln, Lincoln, USA
(3)
Department of Agronomy, Horticulture, and Plant Science, South Dakota State University, Brookings, USA
(4)
BioSNTR, Brookings, USA
(5)
CAS Key Laboratory of Genome Sciences and information, Beijing Institute of Genomics of CAS, Beijing, People's Republic of China
(6)
Department of Bioinformatics, School of Life Sciences and Technology, Tongji University, Shanghai, China