Research article
Open Access
Short tandem repeats, segmental duplications, gene deletion, and genomic instability in a rapidly diversified immune gene family
Received: 5 July 2016
Accepted: 1 November 2016
Published: 9 November 2016
Abstract
Background
Genomic regions with repetitive sequences are considered unstable and prone to swift DNA diversification processes. A highly diverse immune gene family of the sea urchin (Strongylocentrotus purpuratus), called Sp185/333, is composed of clustered genes with similar sequence as well as several types of repeats ranging in size from short tandem repeats (STRs) to large segmental duplications. This repetitive structure may have been the basis for the incorrect assembly of this gene family in the sea urchin genome sequence. Consequently, we have resolved the structure of the family and profiled the members by sequencing selected BAC clones using Illumina and PacBio approaches.
Results
BAC insert assemblies identified 15 predicted genes that are organized into three clusters. Two of the gene clusters have almost identical flanking regions, suggesting that they may be non-matching allelic clusters residing at the same genomic locus. GA STRs surround all genes and appear in large stretches at locations of putatively deleted genes. GAT STRs are positioned at the edges of segmental duplications that include a subset of the genes. The unique locations of the STRs suggest their involvement in gene deletions and segmental duplications. Genomic profiling of the Sp185/333 gene diversity in 10 sea urchins shows that no gene repertoires are shared among individuals indicating a very high gene diversification rate for this family.
Conclusions
The repetitive genomic structure of the Sp185/333 family that includes STRs in strategic locations may serve as platform for a controlled mechanism which regulates the processes of gene recombination, gene conversion, duplication and deletion. The outcome is genomic instability and allelic mismatches, which may further drive the swift diversification of the Sp185/333 gene family that may improve the immune fitness of the species.
Keywords
Strongylocentrotus purpuratus Gene diversificationAllelic mispairingGenomic instability Sp185/333 Illumina vs. PacBio
Background
Most regions of eukaryote genomes are generally stable, show few changes between generations and over evolutionary time, and are maintained by accurate DNA repair mechanisms [1]. In contrast, some genomic regions are regarded as unstable (also called "fragile" [2]) and show more rapid changes particularly when they appear in association with tandem sequence repeats [3–6]. These regions show a higher frequency of breakage and are subject to increased errors and mutation rates during homologous repair processes (reviewed in [7]). Genomic regions that contain repeats can show swift changes in sequence, of which some are subject to selection, leading to rapid genome evolution. Clustered arrays of duplicated genes with similar sequence can be identified computationally as large tandem repeats, and relative to the practical problem of genome assembly, these regions are particularly difficult to assemble from short sequencing reads [3, 8]. This type of unstable genomic organization can be found in immune gene families in a wide range of organisms including human killer immunoglobulin-like receptor (KIR) gene family [9], genes encoding the fibrinogen related proteins (FREPs) in fresh water snails [10], allorecognition (alr) genes in a marine hydroid [11, 12], and disease resistance (R) genes in higher plants ([13, 14], reviewed in [15]). The beneficial outcome of genomic instability in regions that harbor immune gene clusters is the appearance of new genes within a family that increase its diversity (reviewed in [16]), which, when under positive selection from pathogen pressure, may result in improved immune function for detecting and responding to different pathogens or symbionts, and thereby improving the fitness and survival of the host.
The purple sea urchin (
Strongylocentrotus purpuratus
) has a well characterized genome sequence, which is ~814 mb [
17
], was the first completed genome from a large, long-lived invertebrate, and has been updated three times to the current version (ver. 4.2; (
http://www.echinobase.org
)). This genome sequence is characterized by several large gene families that encode proteins with immune activities (e.g.
,
Toll-like receptors, NOD-like receptors, scavenger receptors, C-type lectins [
18
,
19
]) and each of these families has undergone specific expansions within the echinoid lineage. Echinoid genomes also accommodate a unique immune response gene family, the
185/333
genes that have been partially characterized in two sea urchin species,
Strongylocentrotus purpuratus
(
Sp185/333
; [
20
,
21
]) and
Heliocidaris erythrogramma
(
He185/333
; [
22
]). The
Sp185/333
genes function in the immune effector arm of sea urchin immunity and are strongly upregulated in response to different types of pathogens and PAMPs [
23
–
28
]. The
Sp185/333
genes have two exons, of which the first encodes the signal sequence, and the second of variable size among genes encodes the mature protein [
20
]. The second exon is composed of 25–27 blocks of sequences called elements (predicted from two equally optimal sequence alignments, see [
20
,
29
]) that are present in different mosaic combinations resulting in 51 element patterns that have been identified to date (Fig.
1a
) [
20
,
25
]. Although the mechanism by which the mosaic element patterns are generated is unknown, this unique modular structure in the second exon results in great sequence diversity among the different genes and the encoded proteins [
23
,
27
,
30
], while maintaining a consistent general structure (Fig.
1b
) [
20
,
29
].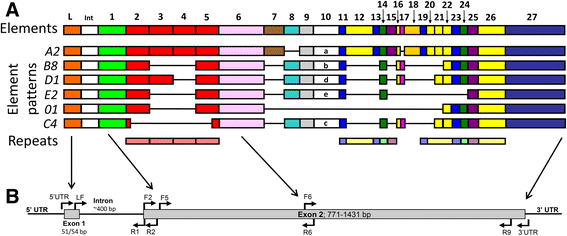 The size of the family is a point of considerable debate because gene prediction estimates based on the numbers of unique sequences isolated from individuals, the gene copy number in genomes obtained by qPCR, and estimates from the numbers of BAC clones isolated from two genomic libraries predict a family size of about 50 ± 10 [26, 29, 31, 32]. However, analyses of the S. purpuratus genome sequence (both the current and previous assemblies) indicate that the members of the Sp185/333 family are largely absent with only five genes present [18]. Previous work has suggested that this discrepancy may be the consequence of the unique repetitive structure of the family and the sequence similarity among the genes that likely led to incorrect assembly of the gene family due to the collapse of multiple genes into a few loci of consensus sequence [21]. To obtain a more reliable evaluation of the Sp185/333 gene family, Miller et al. [21] re-sequenced and re-assembled a single Sp185/333-positive BAC clone (GenBank accession number BK007096) and the verified insert sequence contained six Sp185/333 genes clustered together within 34 kb. However, it was not known whether this BAC encompassed the entire family, whether additional clusters were present in the genome sequence, whether the clustered structure was typical of the entire family, whether all of the genes in the family were flanked by short tandem repeats (STRs), and whether additional pseudogenes (only one has been identified [20]) or gene fragments might be present within the assembled genome. To address this, a thorough screen of the S. purpuratus BAC library (large inserts of ~140 kb that was constructed from sperm DNA from a single sea urchin, which was the basis for the assembled genome sequence [33]) identified BACs with Sp185/333 sequences. Selected BAC inserts were evaluated by next generation sequencing using both short read (Illumina) and long-read (Pacific BioSciences; PacBio) platforms. We report here that the Sp185/333 family is present in an unusual repetitive genomic structure with three gene clusters that contain two to seven genes. Two types of STRs surround the genes, are present in locations of putatively deleted genes, and flank large segmental duplications. BAC insert sequences harboring two gene clusters show sequence matches in the flanking regions outside of the gene clusters suggesting that the sequences may reside within the same genomic locus and indicating a mismatch among alleles on homologous chromosomes. No pseudogenes or gene fragments are present in the genome sequence, which is unusual for tightly clustered genes with shared sequence. Evaluation of the Sp185/333 gene content within genomes of 10 sea urchins using fragment length analysis shows exceptional diversity among individuals including unique gene sizes and repertoires. We propose that this genomic structure with shared sequences among tightly linked genes, STRs associated with gene duplications, deletions and segmental duplications and allelic regions with mismatched genes, is highly unusual, is likely a basis for very swift changes to the gene family that is selected over generations through interactions with pathogens (as has been identified in other systems (reviewed in [16]) and is likely to benefit the species by improving its immune fitness.
Discussion
The 185/333 immune gene family in echinoids presents several unique but poorly understood genomic characteristics that are the focus of this study. The under representation of the Sp185/333 gene family in the sequenced sea urchin genome is likely rooted in the fundamental technical problem that causes tandemly organized repetitive genomic sequences to be collapsed into artificial hybrid sequences or to be deleted from the assembly [3, 37]. Attempts to assemble the Sp185/333 gene clusters using short reads generated by Illumina were generally poor and arose from repeats, a problem that was eliminated by employing long reads generating by PacBio. Similarly, when long reads were used to assemble a high quality genome for the western lowland gorilla, this approach solved the significant problem of incorporating repeats into the assembly and resulted in long N50 contigs [38]. Assemblies of echinoderm genomes could be improved significantly with long read sequencing, which is particularly evident from the poor assembly of the Sp185/333 gene family in the current sea urchin genome sequence, which appears at a single locus in scaffold 125 as a hybrid sequence of Clusters 1 and 2, and does not include Cluster 3.
Based on the unusual characteristics of the clustered Sp185/333 genes reported previously [21], we pursued additional sequences of the family to determine whether these characteristics were standard for this gene family. The general outcomes from long read sequencing technology following genomic library screening approaches verified several genomic features of the Sp185/333 family that included gene structure and clustering, GA STRs surrounding all genes, and segmental duplications bounded by GAT STRs that are consistent with the previous study that was based on assembly from Sanger sequencing reads [21]. New genomic features of the Sp185/333 gene family include the probable allelic mismatch between the Sp185/333 genes in Clusters 1 and 2, the identification of Cluster 3, GA STRs positioned at putative gene deletion sites on both sides of Cluster 3, and GAT STRs associated with two types of segmental duplications that either carry D1 or E2 genes. The second exon of the Sp185/333 genes is composed of a variety of mosaic combinations of elements (Fig. 1a), which imparts significant genetic variability within the Sp185/333 gene family and is consistent with different Sp185/333 genomic repertoires among individual purple sea urchins (Table 2) [20, 26, 29]. The expanded analysis of the Sp185/333 gene family in 10 sea urchins provides evidence that the family is unstable, is highly variable in size and gene composition, and is unique among individuals. This is consistent with very preliminary results from Southern blots of genomic DNA from individual sea urchins probed for the Sp185/333 sequences [26].
Conclusions
The central differences in the genomic structure of the Sp185/333 gene family compared to the examples of clustered immune response genes reviewed above is that the diversification rate appears to be particularly swift (see [29, 31]) and may be regulated given that pseudogenes are almost absent. This lack of pseudogenes is an unusual characteristic that is not understood, however the concept of sequence correction has been proposed as an outcome of active gene conversion that is limited by the positions of the flanking STRs [21]. We suspect that additional novel gene diversification processes may also be involved. Clues may be the unique positioning of the STRs [21] that flank genes and segmental duplications, and their locations at putative gene deletion sites. When the concepts of a dynamically changing Sp185/333 gene family are combined with the notion that the encoded proteins may all have multitasking, anti-pathogen binding capabilities [28], the outcome is an innate immune system in the sea urchin that is highly sophisticated, complex and flexible. The dynamics of this gene family including rapid changes in its genomic organization and coding sequence may provide a significant evolutionary advantage to these invertebrates for their survival over millennia in their marine habitat.
Methods
BAC DNA isolation and Sp185/333 gene verification
BACs (75) were identified by screening the large insert (~140 kb) sea urchin BAC library prepared from sperm DNA from a single animal [33] as reported in [21] and obtained from Eric Davidson and Andrew Cameron at the Center for Computational Regulatory Genomics, the California Institute of Technology. Escherichia coli (DH10B) transfected with BAC clones were cultured over night at 37 °C in 2xYT culture media [55] with 12.5 μg/ml chloramphenicol. BAC DNA was isolated by an alkaline lysis protocol as described [20], and the presence of the vector (pBACe3.6) was confirmed by PCR amplification using 3.6F and 3.6R primers (Additional file 1: Table S1). BAC inserts were released from pBACe3.6 vector by NotI (New England BioLabs) digestion, and evaluated for size by PFGE (1 % agarose, pulsed field certified, 6 V/cm; switch time of 1–15 s over 16 h) by comparison to the MidRange PFG Marker I (New England BioLabs). BAC DNA was subjected to multiple PCR amplification reactions using five sets of Sp185/333 degenerate primer pairs including four sets to amplify the genes (5′UTR/3′UTR, F2/R6, F6/R9, F2/R9) and one pair to amplify the intergenic regions (F5/R1; Additional file 1: Table S1; Additional file 2: Figure S1B). Primers were designed previously based on 121 unique Sp185/333 cloned gene sequences and had been tested for their ability to amplify different regions within and between the genes [20, 21]. PCR reactions of 20 μl and 27 cycles included 50–100 ng BAC DNA template, 1X GoTaq ready mix (Promega), 0.1 μM each primer using the appropriate annealing temperature for the primer pair (see Additional file 1: Table S1) with elongation time of 30 s to 4 min depending on the expected amplicon size.
Southern blots
BAC DNA was double digested with Not1 plus either SalI, Xho1 or BamHI (New England BioLabs) and fragments were separated on a 0.7 % agarose gel. DNA was transferred to nylon membranes (GeneScreen Hybridization Transfer Membrane; PerkinElmer) by standard capillary blotting [55] and membranes were blocked with hybridization solution according to [56]. Blots were evaluated with 32P-riboprobes generated with either T3 or T7 RNA polymerase from three, linearized gene clone templates (2-034 (GenBank accession number EF607716), 4-1521 (EF607770) and 4-1543 (EF607784)) according to [20, 21]. The specificity of the 32P-riboprobe to hybridize with Sp185/333 sequences was evaluated with three Sp185/333 genes of different element patterns in addition to an SpC3 cDNA [57] that served as the negative control (Additional file 3: Figure S2A). Probes were hybridized to the filters in hybridization solution at 42 °C with rocking overnight according to [56]. Membranes were washed in 4X, 2X and 1X SSC (20X SSC is 0.3 M Na citrate, 3 M NaCl, pH 7) with 1 % SDS at 65 °C, dried and exposed to X-OMAT AR film (Eastman Kodak) for 1 or 3 h at room temperature or 24 h at −70 °C with an intensifying screen.
Genomic DNA isolation
Sperm was obtained from 10 sea urchins that were spawned by exposure to a non-lethal electric shock (6–10 volts). DNA was extracted from ~5 μl of dry sperm using DNeasy Blood & Tissue Kit (Qiagen) according the manufacturer's instructions for blood extraction.
Fragment length analysis
Sp185/333 genes of different sizes and copy number in the BAC clones (50 ng) or from genomic DNA (5 ng) were estimated by fragment length analysis using F6 and R9 modified with 6-fluorescein amidite (R9-FAM; Integrated DNA Technologies; Additional file 1: Table S1; Additional file 2: Figure S1B) to amplify the 3′ half of the second exon of the Sp185/333 genes. Labeled amplicons were analyzed by electrophoresis on a 1 % agarose gel to estimate quantities, and 0.5–2 μl of the product were mixed with 10 μl Hi-Di formamide containing 2.5 % GeneScan™ 1200 LIZ® size standard (ThermoFisher) and loaded onto an ABI PRISM 3130 Genetic Analyzer for capillary electrophoresis operated by ABI3130 Data Collection software (ThermoFisher). Peaks were analysed by GeneMarker® HID ver. 1.90 (SoftGenetics) based on length in nt, relative height and relative area of each peak according to the following calculation: peak intensity (height or area) divided by the tallest peak (or largest area) in a given sample, which resulted in fractional ratios of each individual peak in a sample.
BAC sequencing and insert assembly
BAC DNA (20 μg) was isolated using the Large-Construct Kit (Qiagen). Contamination with E. coli (DH10B) genomic DNA was detected by amplification of two regions of the genome using primer pairs Ec1F/Ec1R and Ec2F/Ec2R (Additional file 1: Table S1). The level of contamination was determined by comparing E. coli amplicon intensity to amplicons of similar size from pBACe3.6 vector using primer pairs; 3.6-1F/3.6-1R and 3.6-2F/3.2-2R (Additional file 1: Table S1) that amplified two different genomic regions of 1 kb. E. coli DNA contamination that was 10 fold less than the amount of isolated BAC DNA was deemed sufficient for sequencing. Illumina sequencing and assembly for 11 BAC clones were conducted at the J. Craig Venter Institute (Rockville, MD). Two libraries were constructed for each BAC clone: a 500 nt paired-end library and a 5 kb mate pair library into which barcodes were incorporated to allow multiplexed sequencing. Subclone libraries from all BACs were sequenced on one lane of an Illumina MiSeq sequencer with an average read length of 250 nt. Reads were processed with BOWTIE2 [58] to remove matches to E. coli (DH10B) and pBACe3.6 sequences. Reads were separated by bar-code index, and adapter and primer sequences and poor quality regions (base quality < 10) were trimmed using TRIMMOMATIC [59]. Because read coverage varied greatly across different regions of individual BACs, coverage was normalized to 45X using DIGINORM (http://ged.msu.edu/papers/2012-diginorm), which had been used for the Drosophila melanogaster genome assembly [60]. Reads were assembled with ALLPATHS-LG (ver. R47449 [61]) with ploidy = 1 and MIN_CONTIG = 200. Intra-scaffold gaps were closed when possible using GapFiller [62]. The ligation sites between the pBACe3.6 vector and the insert were identified by reads that crossed these regions. The reads were assembled to reconstruct the vector ends; vecL was next to the EcoRI site at position 10 in the vector, and vecR was next to the EcoR1 site at position 2801 in the vector. Reconstruction of the vector – insert ligation sites allowed verification that the entire insert sequence had been obtained and enabled the orientation of the insert sequence relative to the vector.
Single molecule real time (SMRT; Pacific Biosciences, Menlo Park, CA) sequencing and assembly was carried out at the University of Maryland Genome Research Center (Baltimore, MD). DNA was sheared to 6–20 kb fragments using a g-Tube (Covaris) and libraries were constructed using the DNA Template Prep Kit and the DNA/Polymerase Binding Kit (Pacific Biosciences). Libraries were loaded onto SMRT Cells, and sequenced with the DNA Sequencing Kit (Pacific Biosciences). Assemblies of reads for each BAC were performed using Celera Assembler (ver. 82; (http://wgs-assembler.sourceforge.net/wiki/index.php?title=Main_Page)) and HGAP3 (SMRT Analysis ver. 2.3.0) using standard parameter sets. The read filtration procedure HGAP3 was used to assemble each bar-coded set of reads independently on each set of de-multiplexed reads. The best assembly was selected based on manual review and metrics including contig count, contig N50, assembly size compared to BAC digests evaluated by PFGE (see above), and gene profiles obtained by fragment length analysis (see above). Sequences that overlapped the insert and the vector were detected and Minimus2 [63] was used to overlap and trim the ends of the contigs. The final contig set for each BAC was improved using Quiver [64]. pBACe3.6 vector sequences at the edges of the insert were identified after assembly using VecScreen NCBI tool (http://www.ncbi.nlm.nih.gov/tools/vecscreen/) and removed manually. Correctness of the sequence outside the Sp185/333 gene cluster was verified and corrected manually based on pairwise alignments for the SMRT and Illumina assemblies that covered the same region.
Verification of BAC insert assemblies and identification of Sp185/333 genes
The identification of Sp185/333 gene sequences and their positions within the BAC insert assemblies was established using GenePalette [65] based on the presence and locations of the Sp185/333 primer sequences (R1, F2, F5, F6, R6 and R9; Additional file 1: Table S1; Additional file 2: Figure S1B) within the two exons and the verification of the gene ends based on the conserved primer sequences at the 5′ and the 3′ ends of the genes (5′UTR, 3′UTR; Additional file 1: Table S1; Additional file 2: Figure S1B). Amplicon sizes (estimated by gel electrophoresis images and fragment length analysis) of intragenic and intergenic sequences were compared to sizes and distances predicted in the insert assemblies as calculated by the locations of the primer sequences. Pairwise alignments of the assemblies to self and to each other in addition to the generation of dot plots were done using Global align (https://blast.ncbi.nlm.nih.gov/Blast.cgi). The element pattern for each gene was identified from alignments to 121 known unique Sp185/333 gene sequences [20] using BioEdit [66] and genes were named according to matches to previously characterized gene element patterns (see Fig. 1a) [26].
Identification of segmental duplications and short tandem repeats
Segmental sequence duplications were identified by dot plot analyses of each assembly to itself using Global align (https://blast.ncbi.nlm.nih.gov/Blast.cgi). STRs were identified using Tandem Repeat Finder [67] with alignment parameters of match = 2, mismatch = 7, indels = 7, and a minimum alignment score = 40. The large STR regions located to the left and right of Cluster 3 were analyzed with the parameters of match = 2, mismatch = 3, indels = 5, and a minimum alignment score = 30. Searches for GATs used the parameters of match = 2, mismatch = 3, InDels = 5, minimum alignment score = 30, maximum period size = 3. STR sequences were screened by eye to identify internal repetitive sequences that did not conform to the major repeat sequence and that occupied up to 10 % of the STR sequence. Additional searches for GAT (three repeats) and GA (four repeats) STRs were done with GenePalette [65] including allowances for mismatches.
Alignments and phylogenic trees
The segmental duplications bounded by GAT STRs and that included the D1 genes were collected from the Sp185/333 gene clusters and the regions surrounding B8 and B8a of corresponding size and position as the D1 segmental duplications were selected as outgroup sequences. Alignments were conducted using MEGA (ver. 7; (http://www.megasoftware.net)) using default parameters for ClustalW and were not improved manually. Phylogenic trees were generated by both maximum likelihood and maximum parsimony using pre-set parameters with 500 bootstrap iterations.
Abbreviations
alr:

Allorecognition
BAC:

Bacterial artificial chromosome
FREPs:

Fibrinogen related proteins
FuHC:

Fusion histocompatibility
kb:

Kilo base
KIR:

Killer immunoglobulin-like receptor
mb:

Mega base
NCBI:

National Center for Biotechnology Information
NK:

Natural killer
NOD:

Nucleotide oligomerization domain
nt:

Nucleotides
PFGE:

Pulsed field gel electrophoresis
qPCR:

Quantitative polymerase chain reaction
R :

Resistance genes
SDS :

Sodium dodecyl sulfate
SMRT:

Single molecule real time
SSC:

Sodium chloride sodium citrate buffer
STR:

Short tandem repeat
UTR:

Untranslated region
V/cm:

Volts per centimeter
Declarations
Acknowledgements
The authors are grateful for lab assistance from Hung-Yen Chou and Carolyn Reynolds for sea urchin care and assistance with sequence analysis, and to Cheng Man Lun for lab assistance. The authors are indebted to Dr. Haibao Tang for bioinformatics advice, and Drs. Katherine Buckley and Leon Grayfer and the anonymous reviewers for thoughtful comments for improvements to the manuscript.
Funding
This work was supported by funding from Wilbur V. Harlan Trust through the Department of Biological Sciences to MABH, and the National Science Foundation (IOS-1146124) to LCS and (IOS-1550474) to LCS and MO.
Availability of data and materials
Raw reads from Illumina sequencing were deposited in GenBank with BioProject accession number PRJNA246605. Raw reads from PacBio sequencing were deposited in GenBank with BioProject accession number PRJNA293233. Five BAC insert assemblies based on PacBio reads were deposited in GenBank with accession numbers KU668450–KU668454. The sequences employed in the phylogenic analysis are defined in the legend for Fig. 6 and are available from the BAC insert sequences on GenBank.
Authors' contributions
The experimental plans were conceived by MO, DP and LCS. Research was carried out by MO and MABH with assistance from BD, JA and AG. The manuscript was written, reviewed and revised by MO, MABH and LCS. All authors read and approved the manuscript.
Competing interests
The authors declare that they have no competing interests.
Consent for publication
Not applicable.
Ethics approval
Not applicable.
Open AccessThis article is distributed under the terms of the Creative Commons Attribution 4.0 International License (http://creativecommons.org/licenses/by/4.0/), which permits unrestricted use, distribution, and reproduction in any medium, provided you give appropriate credit to the original author(s) and the source, provide a link to the Creative Commons license, and indicate if changes were made. The Creative Commons Public Domain Dedication waiver (http://creativecommons.org/publicdomain/zero/1.0/) applies to the data made available in this article, unless otherwise stated.
Authors' Affiliations
(1)
The Department of Biological Sciences, George Washington University, Washington, USA
(2)
Department of Forensic Sciences, George Washington University, Washington, USA
(3)
Present Address: Pennsylvania College of Optometry, Salus University, Elkins Park, USA