Research article

Open Access
Maternal smoking impacts key biological pathways in newborns through epigenetic modification in Utero
Received: 9 February 2016
Accepted: 17 November 2016
Published: 25 November 2016
Abstract
Background
Children exposed to maternal smoking during pregnancy exhibit increased risk for many adverse health effects. Maternal smoking influences methylation in newborns at specific CpG sites (CpGs). Here, we extend evaluation of individual CpGs to gene-level and pathway-level analyses among 1062 participants in the Norwegian Mother and Child Cohort Study (MoBa) using the Illumina 450 K platform to measure methylation in newborn DNA and maternal smoking in pregnancy, assessed using the biomarker, plasma cotinine. We used novel implementations of bioinformatics tools to collapse epigenome-wide methylation data into gene- and pathway-level effects to test whether exposure to maternal smoking in utero differentially methylated CpGs in genes enriched in biologic pathways. Unlike most pathway analysis applications, our approach allows replication in an independent cohort.
Results
Data on 485,577 CpGs, mapping to a total of 20,199 genes, were used to create gene scores that were tested for association with maternal plasma cotinine levels using Sequence Kernel Association Test (SKAT), and 15 genes were found to be associated (q < 0.25). Six of these 15 genes (GFI1, MYO1G, CYP1A1, RUNX1, LCTL, and AHRR) contained individual CpGs that were differentially methylated with regards to cotinine levels (p < 1.06 × 10−7). Nine of the 15 genes (FCRLA, MIR641, SLC25A24, TRAK1, C1orf180, ITLN2, GLIS1, LRFN1, and MIR451) were associated with cotinine at the gene-level (q < 0.25) but had no genome-wide significant individual CpGs (p > 1.06 × 10−7). Pathway analyses using gene scores resulted in 51 significantly associated pathways, which we tested for replication in an independent cohort (q < 0.05). Of those 32 replicated in an independent cohort, which clustered into six groups. The largest cluster consisted of pathways related to cancer, cell cycle, ERα receptor signaling, and angiogenesis. The second cluster, organized into five smaller pathway groups, related to immune system function, such as T-cell regulation and other white blood cell related pathways.
Conclusions
Here we use novel implementations of bioinformatics tools to determine biological pathways impacted through epigenetic changes in utero by maternal smoking in 1062 participants in the MoBa, and successfully replicate these findings in an independent cohort. The results provide new insight into biological mechanisms that may contribute to adverse health effects from exposure to tobacco smoke in utero.
Keywords
SmokingEpigeneticsPathway analysisCancer In utero
Background
Although many adverse effects of maternal smoking on offspring have been well identified, little is known about the underlying biological mechanisms. [1, 2] One proposed mechanism for how in utero exposure to tobacco smoke may impact health is through epigenetic effects including DNA methylation. Previously, Joubert et al. collected genome-wide methylation data from 1062 MoBa mother-offspring pairs and demonstrated that maternal smoking, assessed objectively by cotinine levels, is significantly associated with 1) differential DNA methylation in genes involved in metabolism of tobacco smoke compounds, and 2) novel genes involved in diverse developmental processes not previously linked to tobacco response [3]. These findings have since been widely replicated [3–6].
It has been recognized that genome wide association studies, using single nucleotide polymorphisms, that rely on single locus variation explain little of the overall heritability of complex traits [7, 8]. While there are many potential sources of this "missing heritability", single locus analysis typically ignores a large number of loci with moderate effects, due to stringent significance thresholds. Gene-based association analysis takes a gene as basic unit for association analysis. As this method can combine genetic information given by all the markers in a gene, it can obtain more informative results and increase the capability of finding novel genes and gene sets. This method has been used as a novel complement method for SNP-based GWAS in identifying disease susceptibility genes [9, 10], and we extend such an approach to methylation data here.
Additionally, To investigate the biological processes (i.e. pathways) impacted by maternal smoking during pregnancy and associated altered fetal methylation, we performed gene set/pathway analysis to further dissect the biological impact of maternal smoking. We applied a novel approach that combines analysis tools for collapsing epigenome-wide methylation data into gene- and pathway-based effects (Fig.
1
). Pathway analysis combines significant genes into sets of genes, or pathways, that are thought to have coordinated effects on a biological endpoint.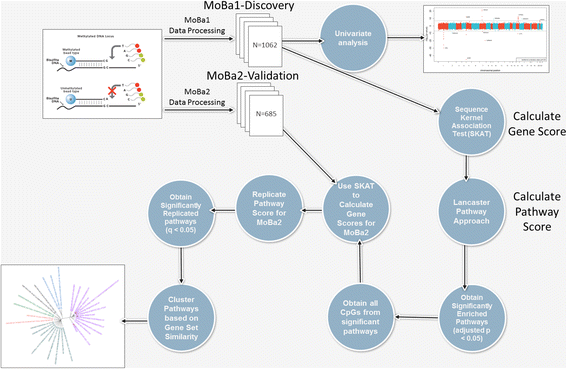 A number of pathway analysis methods have been developed, and have been widely applied in human genetics and genomics. The majority of pathway analysis methods were originally developed for microarray, gene expression data, and the most popular methods perform enrichment analysis for gene sets defined by external knowledge bases [11]. In the current study, we modified the bioinformatics approaches that have been developed in other contexts to be valid for epigenome-wide data analysis.
Importantly, we performed a two stage study, performing both discovery and replication of the gene-based and pathway-based associations. While replication is standard in genetic association studies for individual variants it is rarely performed for pathway analyses. Whether due to the limited availability of proper validation cohorts in many studies, or challenges in adapting pathway approaches to allow for a discovery and replication approach, this lack of replication is an important limitation of many pathway analysis studies. The previously described MoBa cohort, referred to as MoBa1 was used as the discovery cohort. We subsequently measured DNA methylation in an additional 685 MoBa newborns; this dataset is referred to as MoBa2 and is used as the replication cohort.
Results
Only two genes, CNTNAP2 and FMRD4A, had genome-wide significant individual CpGs (p < 1.06 × 10−7), but did not result in gene scores with q < 0.25. Eighty CpGs mapped to CNTNAP2 but only one (cg25949550), located in the gene body, was statistically significant (q = 1.07 × 10−13) resulting in a gene score (q = 0.32) that did not reach our threshold for association (Additional file 1). There were 127 CpGs mapped to FRMD4A on this platform and only two CpGs (cg11813497, cg15507334), located within 200 bp of the transcriptional start site, were at or near genome-wide significance, for an overall gene score with a q = 0.28 (Additional file 1).
Subsequently, we attempted to replicate the pathway analysis by calculating gene scores in the MoBa2 replication cohort data for all genes in the 51 statistically significant pathways from the MoBa1 discovery cohort. Gene and pathway level association scores were calculated identically to the procedure described for the discovery cohort (Fig. 1), and a FDR correction was used to correct for multiple testing. Of the 51 pathways identified in the MoBa1 cohort (p < 8.6 × 10−6), 32 replicated (q < 0.05) (Table 2).
Discussion
There is an overwhelming body of epidemiological evidence linking smoking during pregnancy to various health outcomes in the offspring including low birth weight, reduced lung function, and increased respiratory infections [1]. Additional associations have also been reported between maternal smoking during pregnancy and 1) rheumatoid arthritis and other inflammatory polyarthropathies [14–17], 2) child behavior and cognitive functioning, and 3) mixed results of associations with childhood cancers. While these associations are consistent, the underlying mechanisms leading to these outcomes have remained elusive. The analyses presented here support the possibility that epigenetic mechanisms may play a role, and point towards a number of pathways that may be involved.
Multiple pathways related to T-cell function were altered by maternal smoking. GFI1, previously reported by Joubert et al. [3], was a main driver for many of the T-cell, eosinophil, and neutrophil related pathway scores (e.g. GSE17974_0H_VS_12H_IN_VITRO_ACT_CD4_TCELL_UP, GSE3982_CENT_MEMORY_CD4_TCELL_VS_TH1_DN, GSE3982_NEUTROPHIL_VS_TH1_DN, GSE3982_EOSINOPHIL_VS_TH1_DN). Additional genes that contributed to the impact on immune response pathways include IL22 (p = 0.039, q = 0.28) and IL2RA (p = 0.002, q = 0.28) which were not detected in the analysis of Joubert et al. [3] based on single CpGs.
IL22 is a cytokine involved in the initiation of innate immune response against pathogens, and is especially active in epithelial cells of the gut and lung [18]. Reduced expression of IL2RA on the surface of immune cells has been known to cause chronic immune suppression and may be linked to type 1 diabetes mellitus [19, 20]. Collectively, these pathways are relevant to various health effects in newborns that have been associated with exposure to maternal smoking during pregnancy [14, 17, 21].
Mixed results have been found regarding in utero tobacco exposure and increased incidence of childhood cancers. Some studies have found increased risk of childhood cancers with maternal smoking during pregnancy [16, 22], whereas, others have found null results [15, 23]. However, here we present evidence that alterations in methylation may affect key pathways related to cancer. Joubert et al. [24] demonstrated that maternal smoking affects newborn methylation if the mother smokes through gestational week 18, whereas significant effects on methylation were not observed for mothers that quit before 18 gestational weeks. Some studies assessed smoking during pregnancy as any smoking versus no smoking. Thus if sustained smoking during pregnancy is required, as suggested by the methylation analyses, associations with cancer might be attenuated or missed entirely.
In addition to cancer-specific pathways (i.e. HEDENFALK_BREAST_CANCER_BRACX_UP, ENGELMANN_CANCER_PROGENITORS_UP, FALVELLA_SMOKERS_WITH_LUNG_CANCER, CASORELLI_ACUTE_PROMYELOCYTIC_LEUKEMIA_UP), changes in pathways related to cell cycle were detected, which are also relevant to cancer (i.e. G1_S_TRANSITION_OF_MITOTIC_CELL_CYCLE, INTERPHASE_OF_MITOTIC_CELL_CYCLE). These pathway level effects were also mainly driven by GFI1.
However, decreased methylation of the gene Speedy (SPDYA) (p = 0.024, q = 0.28) also contributed to the impact on INTERPHASE_OF_MITOTIC_CELL_CYCLE. SPDYA was not identified in the analysis of individual CpGs by Joubert et al. [3]. It is a cell cycle regulator that has been shown to increase cell proliferation through activation of cyclin dependent kinase-2 (cdk2) during the G1/S phase of cellular replication [25]. The ABE_VEGFA_TARGETS_2HR pathway, related to vascular endothelial growth factor-A gene (VEGFA), was significantly altered (replication q = 0.03). VEGFA mediates angiogenesis, suppresses apoptosis, and is the pharmacological target for Bevacizumab, a monoclonal antibody chemotherapeutic drug [26–28]. VEGFA is increased during oxidative stress and results in a compensatory increase in angiogenesis, a hallmark of cancer [28–30].
Furthermore, impacts on pathways WILLIAMS_ESR1_TARGETS_DN and FRASOR_RESPONSE_TO_ESTRADIOL_UP point towards effects related to estrogen receptor-alpha (ERα) signaling which is important in several cancers [31–33]. Effects on these pathways were largely mediated through CYP1A1 (p = 1.21 × 10−9), which was previously identified by Joubert et al., and PDZK1 (p = 0.0007) which was not.
Effects on pathways related to cell cycle and angiogenesis may also point towards mechanisms by which birth weight may be affected. Recently, a study by Miller et al. [34] demonstrated a differential effect on male birth weight from non-smoking mothers if the maternal grandmother smoked while pregnant, suggesting a potential epigenetic mechanism may be responsible. Decreased birth weight is a well-established effect of maternal smoking on offspring, although the mechanism by which this occurs has not been elucidated [35].
Through the novel implementation of methods for creating gene scores [13] and pathway scores [36], we have identified and replicated key biological processes related to maternal smoking via its impact on newborn DNA methylation. These methods permit replication, which limits the likelihood of false-positive findings. To our knowledge, until now no studies of pathway impacts on methylation have been performed in tandem with a replication dataset. Furthermore, using gene based tests, we identified associations with genes not identified by CpG specific analyses alone – these included FCRLA, MIR641, SLC25A24, TRAK1, C1orf180, ITLN2, GLIS1, LRFN1, and MIR451.
The replicated pathway analysis conducted offers potential new insights into the biological impacts of maternal smoking on fetal DNA methylation. The genes and pathways detected point to effects on T-cell mediation, cell cycle, and xenobiotic metabolism. In turn, these data further support a potential epigenetic role for the adverse health effects observed in children exposed to maternal smoking during pregnancy.
Conclusions
We used a novel implementation of bioinformatics tools to collapse individual CpG results to a gene score and performed pathway analysis to test for in utero epigenetic changes by maternal smoking in 1062 participants in the MoBa. By collapsing individual CpG effects to gene scores, we found significant differential methylation in 15 genes (q<0.25), nine of which were not detected by only testing individual CpGs. Furthermore, pathway analysis revealed significant associations with 51 pathways, 32 of which replicated in an independent cohort of 685 participants. Significantly associated pathways, that replicated in the independent cohort, represent diverse biological processes including cancer, cell cycle, ERα receptor signaling, angiogenesis, and immune system function. This approach may provide new insight into the biological mechanisms that may lead to adverse health effects from exposure to tobacco smoke in utero.
Abbreviations
BMIQ:

Beta Mixture Quantile dilation
cdk2:

cyclin dependent kinase-2
CpGs:

Region where cytosine and guanine are separated by one phosphate. The cytosine at these sites can be methylated
FDR:

False Discovery Rate
GO:

Gene Ontology
GSEA:

Gene Set Enrichment Analysis
KEGG:

Kyoto Encyclopedia of Genes and Genomes
MoBa:

Norwegian Mother and Child Cohort Study
MSigDB:

Molecular Signatures Database v4.0
SKAT:

Sequence Kernel Association Test
SPDYA :

Speedy gene
VEGFA :

Vascular endothelial growth factor-A gene
Declarations
Acknowledgments
We are grateful to all the participating families in Norway who take part in this on-going cohort study. The authors thank Dr. Frank Day of NIEHS and Dr. Jianping Jin of Westat, Inc for expert technical assistance.
Funding
The Norwegian Mother and Child Cohort Study are supported by the Norwegian Ministry of Health and Care Services and the Ministry of Education and Research, NIH/NIEHS (contract no N01-ES-75558), NIH/NINDS (grant no.1 UO1 NS 047537-01 and grant no.2 UO1 NS 047537-06A1). For this work, MoBa 1 and 2 were supported by the Intramural Research Program of the NIH, National Institute of Environmental Health Sciences (Z01-ES-49019) and the Norwegian Research Council/BIOBANK (grant no 221097). We are grateful to all the participating families in Norway who take part in this on-going cohort study.
Availability of data and materials
Access to individual-level Illumina HumanMethyl450 Beadchip data for the MoBa study dataset is available by application to the Norwegian Institute of Public Health using a form available on the English language portion of their website at http://www.fhi.no/eway/. Specific questions regarding MoBa data access can be directed to Wenche Nystad: Wenche.Nystad@fhi.no.
Authors' contributions
Project concept and design: SJL, DMR, AM. DMR was primarily responsible for the data analysis with input from BRJ, SKW, MCW, and SJL and supervision from AM. Data collection: BRJ, SHE, RMN, PMU, WN, SJL. DMR drafted the manuscript. All authors read and approved the manuscript.
Competing interests
The authors declare that they have no competing interests.
Consent for publication
Not Applicable.
Ethics approval and consent to participate
The MoBa study has been approved by the Regional Committee for Ethics in Medical Research, the Norwegian Data Inspectorate, and the Institutional Review Board of the National Institute of Environmental Health Sciences, North Carolina, and written informed consent was provided by all participants.
Open AccessThis article is distributed under the terms of the Creative Commons Attribution 4.0 International License (http://creativecommons.org/licenses/by/4.0/), which permits unrestricted use, distribution, and reproduction in any medium, provided you give appropriate credit to the original author(s) and the source, provide a link to the Creative Commons license, and indicate if changes were made. The Creative Commons Public Domain Dedication waiver (http://creativecommons.org/publicdomain/zero/1.0/) applies to the data made available in this article, unless otherwise stated.
Authors' Affiliations
(1)
Bioinformatics Research Center, North Carolina State University, Raleigh, USA
(2)
Department of Statistics, North Carolina State University, Raleigh, USA
(3)
Division of Intramural Research, National Institute of Environmental Health Sciences, National Institutes of Health, Department of Health and Human Services, Research Triangle Park, USA
(4)
Norwegian Institute of Public Health, Oslo, Norway
(5)
Public Health Sciences Division, Fred Hutchinson Cancer Research Center, Seattle, USA
(6)
Centre for Clinical Research, Haukeland University Hospital, Bergen, Norway
(7)
Department of Clinical Science, University of Bergen, Bergen, Norway
(8)
Laboratory of Clinical Biochemistry, Haukeland University Hospital, Bergen, Norway
(9)
Center for Comparative Medicine and Translational Research, North Carolina State University, Raleigh, USA