Research Article
Open Access
Maternal BMI as a predictor of methylation of obesity-related genes in saliva samples from preschool-age Hispanic children at-risk for obesity
Received: 11 February 2016
Accepted: 26 December 2016
Published: 9 January 2017
Abstract
Background
The study of epigenetic processes and mechanisms present a dynamic approach to assess complex individual variation in obesity susceptibility. However, few studies have examined epigenetic patterns in preschool-age children at-risk for obesity despite the relevance of this developmental stage to trajectories of weight gain. We hypothesized that salivary DNA methylation patterns of key obesogenic genes in Hispanic children would 1) correlate with maternal BMI and 2) allow for identification of pathways associated with children at-risk for obesity.
Results
Genome-wide DNA methylation was conducted on 92 saliva samples collected from Hispanic preschool children using the Infinium Illumina HumanMethylation 450 K BeadChip (Illumina, San Diego, CA, USA), which interrogates >484,000 CpG sites associated with ~24,000 genes. The analysis was limited to 936 genes that have been associated with obesity in a prior GWAS Study.
Child DNA methylation at 17 CpG sites was found to be significantly associated with maternal BMI, with increased methylation at 12 CpG sites and decreased methylation at 5 CpG sites. Pathway analysis revealed methylation at these sites related to homocysteine and methionine degradation as well as cysteine biosynthesis and circadian rhythm. Furthermore, eight of the 17 CpG sites reside in genes (FSTL1, SORCS2, NRF1, DLC1, PPARGC1B, CHN2, NXPH1) that have prior known associations with obesity, diabetes, and the insulin pathway.
Conclusions
Our study confirms that saliva is a practical human tissue to obtain in community settings and in pediatric populations. These salivary findings indicate potential epigenetic differences in Hispanic preschool children at risk for pediatric obesity. Identifying early biomarkers and understanding pathways that are epigenetically regulated during this critical stage of child development may present an opportunity for prevention or early intervention for addressing childhood obesity.
Trial registration
The clinical trial protocol is available at ClinicalTrials.gov (NCT01316653). Registered 3 March 2011
Keywords
ObesityHispanic childrenEpigeneticsMethylationMethionineCysteine biosynthesisHomocysteine
Background
Prevalence of childhood obesity remains a significant public health concern, especially in Hispanic populations who have the higher pediatric obesity rates [1]. Despite having increased risk of developing pediatric and adult obesity compared to other ethnic groups [2], Hispanic children are currently underrepresented in public health research. This is particularly significant as Hispanics are the most populous and rapidly growing ethnic minority in the United States, meaning this population's health comorbidities secondary to obesity will increase healthcare costs and rates of morbidity [3, 4]. Genetic predisposition, exposure to unhealthy dietary options, and lack of adequate physical activity have all been identified as contributors to pediatric obesity [5]. However, recent literature indicates a more nuanced dynamic mechanism associated with later childhood and adult obesity that reflects the interaction between genetics, environment, and developmental stage via epigenetic modifications [6–8]. While the study of the epigenome is complex, it has the potential to inform the prevention and treatment of pediatric obesity by enhancing our understanding of timing and the mechanisms by which the genetic code could be susceptible to environmental influences [9, 10].
Genetic factors are known to affect multiple cellular and metabolic pathways underlying the development of obesity such as: adipogenesis and fat storage, adipocyte accumulation, the hypothalamic-pituitary adrenal (HPA) system stress response affecting cardiovascular and metabolic health, gastrointestinal tract regulatory signals, orexigenic and anorexigenic and satiety mechanisms, and insulin regulation [11, 12]. For example, there is evidence that adipocyte growth in number and size is established early, by the age of 2, and is indicative of future weight trajectory [13]. Additionally, maternal Body Mass Index (BMI) is correlated with child's BMI status at age 6 [14] and is a better indicator of child's BMI trajectory than child birth weight alone [6]. Current maternal BMI has been shown to be significantly associated with current child's BMI more than other maternal socioeconomic factors (including age, marital status, education). These and other studies indicate that both current and pre-pregnancy maternal BMI are significantly associated with child's BMI trajectory [15, 16].
However, the epigenetic mechanisms affecting potential candidate genes linked to biological processes, such as adipocyte accumulation, are relatively unknown in pediatric populations. Epigenetic mechanisms regulate the level of gene transcription, which occurs through multiple processes including DNA methylation [8, 17]. Research indicates that methyl groups can bind the genetic code in either a heritably stable or an environmentally-induced transient manner, affecting the child's trajectory for excessive weight gain relative to height [18, 19]. There is some evidence of in utero environmentally-induced methylation associated with exposure to maternal gestational diabetes [20, 21]; maternal inadequate nutrition or insulin resistance that can cause an adaptive response in the child, resulting in epigenetic modifications signaling caloric retention [22–25]. In addition, Liu and colleagues reported that maternal pre-pregnancy BMI was associated with alterations in offspring DNA methylation in cord blood at CpG sites annotated to genes related to the development of various complex chronic diseases, such as cardiovascular disease [9].
While the study by Liu et al. linked maternal weight phenotypes (normal weight; overweight; and obese) to epigenetic patterns in offspring neonatal cord blood samples [9], children between the ages 3–5 have been relatively understudied in the field of epigenetics. This is likely due to the convenience of neonatal cord blood at a younger age and the limited feasibility of obtaining blood samples until older ages. Yet, this age range is particularly important as it falls closest to the adiposity rebound stage and could play a significant role in a child's future BMI trajectory [26]. Thus, examining the link between current maternal BMI and young children's DNA methylation patterns, particularly among Hispanic children at high risk for obesity, can fill important gaps in current epigenetic research.
Saliva is a promising yet relatively underutilized source of DNA [27, 28]. Previous studies indicate that up to 74% of DNA in saliva comes from white blood cells, although there is high variability in individual samples [29]. Additionally, saliva is part of the gastrointestinal tract, and therefore, an important tissue to examine in obesity research [30]. Furthermore, using saliva samples rather than blood to yield epigenetic information introduces a more practical method to measure epigenetics from young children in a variety of settings, including the home and community [31].
While epigenetic patterns are tissue-dependent and results may not be consistent with other tissues [32], this study examines if there is variation in salivary DNA methylation in young children at risk for later obesity. We had three study aims: 1) to examine the association of maternal BMI phenotype with methylation patterns in preschool Hispanic child saliva by analyzing CpG sites located in genes previously associated with obesity [33]; 2) to assess if preschool child saliva would yield distinct epigenetic signatures in children at-risk for obesity compared to children of normal weight mothers; and 3) to identify biological pathways and genes in children correlated with maternal BMI. These findings could then identify potential epigenetic signatures in saliva among young children at risk for obesity, but not yet obese.
Results
Methylation analysis
The elastic net identified 17 CpG sites that were associated with maternal BMI (Fig.
1
). Twelve of the 17 CpGs had increased methylation with increased maternal BMI while 5 of the 17 CpGs had decreased methylation associated with increased maternal BMI. Of these CpGs, all were significantly and independently associated with maternal BMI, as determined by linear regression (Table
2
). Five CpGs were found within an enhancer region of the associated gene, 1 CpG was associated with the promotor region, and 5 CpGs were unclassified.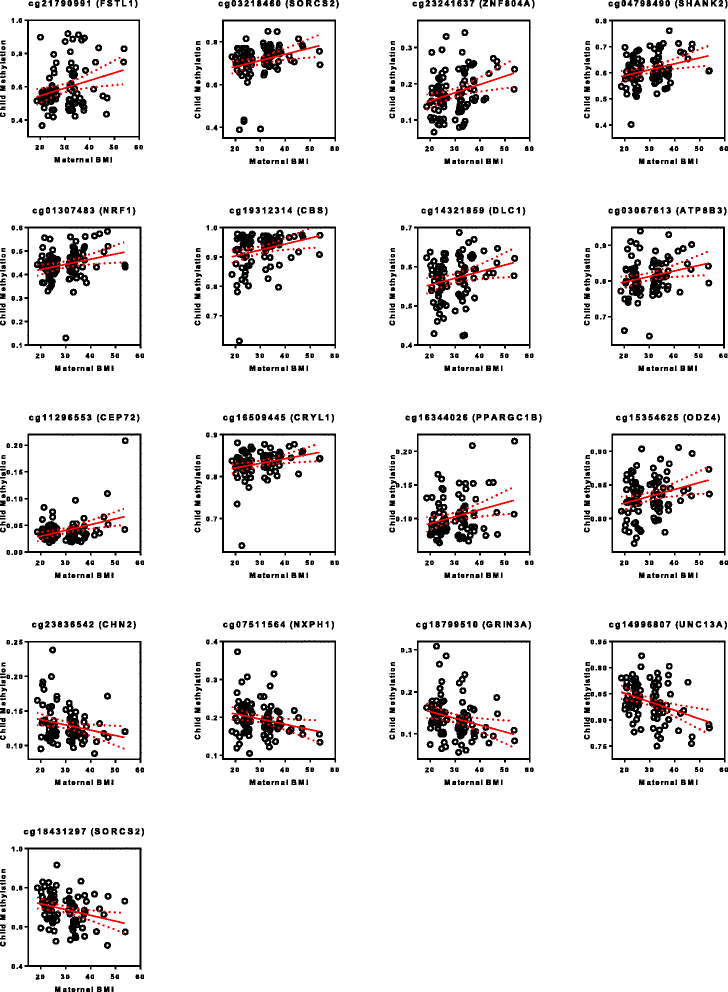 Table 2
Linear regression analysis of child DNA methylation signal predicted by maternal BMI
| Probe | Gene | Effect | Standard Deviation | P-Value* | Associated Pathology |
| --- | --- | --- | --- | --- | --- |
| cg21790991 a | FSTL1 | 0.005058 | 0.001776 | 0.0156 | |
| Cg03218460 | SORCS2 | 0.003025 | 0.001091 | 0.0165 | Cardiovascular disease [67] |
| Cg23241637 | ZNF804A | 0.002443 | 0.00081 | 0.0143 | |
| Cg04798490 | SHANK2 | 0.002391 | 0.000787 | 0.0143 | |
| cg01307483 | NRF1 | 0.002344 | 0.000879 | 0.0172 | |
| cg19312314 | CBS | 0.001952 | 0.000813 | 0.0243 | Cardiovascular Disease [86] |
| cg14321859 | DLC1 | 0.001801 | 0.00076 | 0.0243 | Insulin-Pathway [90] |
| cg03067613 | ATP8B3 | 0.001547 | 0.000672 | 0.0253 | Liver Disease [97] |
| cg11296553 | CEP72 | 0.001159 | 0.000312 | 0.0041 | Ulcerative colitis [86] |
| cg16509445 | CRYL1 | 0.001091 | 0.000427 | 0.0204 | |
| Cg16344026 | PPARGC1B | 0.001021 | 0.000403 | 0.0204 | |
| Cg15354625 | ODZ4 | 0.000932 | 0.000402 | 0.0253 | |
| cg23836542 | CHN2 | −0.00081 | 0.000337 | 0.0243 | Insulin-Pathway [106] |
| cg07511564 | NXPH1 | −0.00135 | 0.00061 | 0.0295 | |
| cg18799510 | GRIN3A | −0.00171 | 0.000633 | 0.0172 | |
| Cg14996807 | UNC13A | −0.00174 | 0.00048 | 0.0041 | |
| Cg18431297 | SORCS2 | −0.00316 | 0.001079 | 0.0146 | Cardiovascular disease [67] |
Pathway analysis
The top 10 canonical signaling pathways included cysteine biosynthesis, homocysteine degradation, cysteine biosynthesesis III, superpathway of methionine degradation, D-glucuronate degradation I, and Circadium Rhythm Signaling (Table
3
).
Table 3
Top 10 signaling pathways derived from top differentially methylated genes
Top Canonical Pathways

Adjusted P-value

Cysteine Biosynthesis/Homocysteine Degradation

1.55E-03

D-glucuronate Degradation I

2.33E-03

Cysteine Biosynthesis III (Mammalia)

1.46E-02

Superpathway of Methionine Degradation

2.45E-02

Circadian Rhythm Signaling

2.53E-02

Top Diseases and Bio Functions

Developmental Disorders (3 Molecules)

4.70E-02 - 7.76E-04 3

Hematological Disease (6 Molecules)

3.98E-02 - 7.76E-04 6

Hereditary Disorder (5 Molecules)

4.70E-02 - 7.76E-04 5

Metabolic Disease (5 Molecules)

3.96E-02 - 7.76E-04 5

Neurological Disease (8 Molecules)

4.41E-02 - 7.76E-04
Discussion
To our knowledge, this is the first study examining DNA methylation in saliva samples obtained from preschool-age Hispanic children to investigate epigenetic patterns in children at-risk for later childhood obesity. We identified 17 CpG sites in saliva of children to be associated with maternal BMI, indicating a potential intergenerational transmission of risk for obesity in children of obese mothers.
Conclusions
Results of this proof of principle study indicate that saliva is a practical way to obtain biologically plausible findings in an epigenetic analysis of preschool-age children. It is important to understand the potential pathways that could be epigenetically regulated in preschool aged children who are not currently obese but at higher risk of obesity. Moreover, saliva, an easily accessible tissue, could assist in the future identification of early biomarkers of later childhood obesity and metabolic dysfunction, presenting an opportunity for prevention or early intervention for addressing childhood obesity.
Abbreviations
BMI:

Body Mass Index
GROW:

The Growing Right Onto Wellness Trial
GWAS:

Genome-wide Association Studies
HPA:

Hypothalamic-Pituitary Adrenal
RCT:

Randomized Controlled Trial
VANTAGE:

the Vanderbilt Technologies for Advanced Genomics
WIC:

The Special Supplemental Nutrition Program for Women, Infants, and Children
Declarations
Acknowledgements
We are grateful for the participation of the Hispanic families involved in this study.
Funding
This research was supported by grants (U01 HL103620) with additional support for the remaining members of the COPTR Consortium (U01HL103622, U01HL103561, U01HD068890, U01HL103629) from the National Heart, Lung, and Blood Institute and the Eunice Kennedy Shriver National Institute of Child Health and Development and the Office of Behavioral and Social Sciences Research. The content is solely the responsibility of the authors and does not necessarily represent the official views of the National Heart, Lung, And Blood Institute, the National Institutes of Health, or the National Institute of Child Health and Development. This research was also supported by grants 5P30DK092986-03 from the National Institute of Diabetes and Digestive and Kidney Diseases (NIDDK) and 5UL1TR0045 from the Vanderbilt Institute for Clinical and Translational Research (VICTR).
Authors' contribution
Conceived and designed the experiments: SB and KT. Analyzed the data: YG. Wrote the paper: SB, KT, AN, ST. Edited and proofed the paper: all authors. All authors read and approved the final manuascript.
Competing interests
The authors declare that they have no competing interests.
Consent for publication
Not applicable.
Ethics approval and consent to participate
Data were collected after informed consent was obtained by parent/legal guardian. This study was approved by the Vanderbilt University Institutional Review Board (IRB No. 120643).
Open AccessThis article is distributed under the terms of the Creative Commons Attribution 4.0 International License (http://creativecommons.org/licenses/by/4.0/), which permits unrestricted use, distribution, and reproduction in any medium, provided you give appropriate credit to the original author(s) and the source, provide a link to the Creative Commons license, and indicate if changes were made. The Creative Commons Public Domain Dedication waiver (http://creativecommons.org/publicdomain/zero/1.0/) applies to the data made available in this article, unless otherwise stated.
Authors' Affiliations
(1)
College of Medicine, Medical University of South Carolina, Charleston, USA
(2)
Center for Quantitative Research, School of Medicine, Vanderbilt University, Nashville, USA
(3)
Department of Biological Sciences, Vanderbilt University, Nashville, USA
(4)
Department of Anthropology, University of California San Diego, La Jolla, USA
(5)
Department of Pediatrics, Vanderbilt University School of Medicine, Nashville, USA
(6)
Pediatric Obesity Research, Diabetes Research and Training Center, Vanderbilt University School of Medicine, Nashville, USA