Research article

Open Access
Response of microRNAs to cold treatment in the young spikes of common wheat
Received: 2 June 2016
Accepted: 3 February 2017
Published: 28 February 2017
Abstract
Background
MicroRNAs (miRNAs) are a class of small non-coding RNAs that play important roles in biotic and abiotic stresses by regulating their target genes. For common wheat, spring frost damage frequently occurs, especially when low temperature coincides with plants at early floral organ differentiation, which may result in significant yield loss. Up to date, the role of miRNAs in wheat response to frost stress is not well understood.
Results
We report here the sequencing of small RNA transcriptomes from the young spikes that were treated with cold stress and the comparative analysis with those of the control. A total of 192 conserved miRNAs from 105 families and nine novel miRNAs were identified. Among them, 34 conserved and five novel miRNAs were differentially expressed between the cold-stressed samples and the controls. The expression patterns of 18 miRNAs were further validated by quantitative real time polymerase chain reaction (qRT-PCR). Moreover, nearly half of the miRNAs were cross inducible by biotic and abiotic stresses when compared with previously published work. Target genes were predicted and validated by degradome sequencing. Gene Ontology (GO) enrichment analysis showed that the target genes of differentially expressed miRNAs were enriched for response to the stimulus, regulation of transcription, and ion transport functions. Since many targets of differentially expressed miRNAs were transcription factors that are associated with floral development such as ARF, SPB (Squamosa Promoter Binding like protein), MADS-box (MCM1, AG, DEFA and SRF), MYB, SPX (SYG1, Pho81 and XPR1), TCP (TEOSINTE BRANCHED, Cycloidea and PCF), and PPR (PentatricoPeptide Repeat) genes, cold-altered miRNA expression may cause abnormal reproductive organ development.
Conclusion
Analysis of small RNA transcriptomes and their target genes provide new insight into miRNA regulation in developing wheat inflorescences under cold stress. MiRNAs provide another layer of gene regulation in cold stress response that can be genetically manipulated to reduce yield loss in wheat.
Keywords
Cold stress
Degradome
Inflorescence development
MicroRNA
Wheat
Background
Low temperature is one of the most important environmental stimuli that affect plant growth and development. Common wheat, as a classical vernalization-required plant, is tolerant to lower temperatures at the vegetative development stage. However, it will suffer frost injury when low temperatures coincide with the reproductive stage of wheat. In spring, the low temperature occurring at the stage when pistil and stamen differentiate into anthers will cause anther sterility and floret abortion, leading to significant yield loss in wheat [1]. In the vegetative developmental stage, vernalization genes VRN1, VRN2, and VRN3 regulate the transition between the vegetative and reproductive stages and interconnect with the cold acclimation regulation locus FR2 including the CBF and COR genes. These genes have been characterized to respond to freezing tolerance [2, 3]. For the spring freeze, stress-related, photosynthesis, and plastid-associated genes are demonstrated as responsive genes by transcriptomic and proteomic analyses [4]. For example, a set of spring freeze-responsive genes were identified by using the Affymetrix GeneChip in barley [5], while using a similar approach a variety of genes are reported to be involved in wheat spring freeze stimulus including WCOR413, LEA, glycine-rich RNA-binding protein, ferritin, aquaporin 2, and a pathogen-induced protein, the ice recrystallization protein, cold-related proteins, CBF transcription factors, calcium-dependent protein kinases, Na+/H+ antiporters, aquaporins, and many metabolic enzymes [6]. Recently, RNA-seq and digital gene expression analysis also identified a series of protein-coding genes from cold-treated young spikes in wheat [7]. In general, frost resistances at the vegetative stage and the reproductive stage seem to confer overlapping regulatory networks such as the one mediated by the CBF gene. Despite this, gene networks for frost resistance at the reproductive stage appear to be more complicated and involve more physiological processes.
MicroRNAs (miRNAs) are classical small non-coding RNAs that guide post-transcriptional gene regulation. MiRNAs have been shown to play key roles in various biological processes, including development, hormone responses and stress adaptation [8–11]. Recently, many studies have demonstrated the role of plant miRNAs in cold stress response. In Arabidopsis, 16 miRNAs, including miR156, miR159, miR164, miR165, miR168, miR169, miR172, miR319, miR389, miR393, miR396, miR397, miR398, miR400, miR402, and miR408, were identified by RNA gel blot analysis [12], microarray analysis [13], and a computation-based approach to be related to cold response [14]. In Populus, 19 cold stress-responsive miRNAs were identified by miRNA microarray [15], among which miR156, miR164, miR168, miR169, miR393, and miR396 were overlapped with those in Arabidopsis. In addition, 25 species-specific miRNAs were identified as cold regulated in Brachypodium by high-throughput sequencing [16]. These works indicate conserved mechanisms for cold-responsive miRNAs as well as the diverged species-specific regulation. In common wheat (Triticum aestivum), many conserved, Triticum-specific, and wheat-specific miRNAs have been identified, including the wheat A genome progenitor, the wheat D genome progenitor, and the AABBDD hexaploid wheat [17–26]. MiRNAs have been identified to play important roles in various stresses in wheat [9], including abiotic stresses such as salt [27, 28], drought [28, 29], dehydration [30], phosphorus [31], heat [32] and biotic stresses such as the fungal infection of powdery mildew [32] and Puccinia striiformis f. sp. Tritici [33]. So far, six miRNAs, miR167c, tae-miR167d, tae-miR172a, tae-miR393, tae-miR396a, and tae-miR444c.1 were considered to be cold responsive in a thermosensitive genic male sterile (TGMS) lines of wheat [34]. In addition, seven miRNAs, miR159, miR164, miR169, miR319, miR398, miR1029, and miR1126 were also identified to be cold-responsive in the seedling of wheat [9].
Despite these efforts, our knowledge about the roles of miRNAs in wheat response to cold stress is still limited. Here, we sequenced small RNAs of cold treated young spikes at the pistil and stamen differentiation stage and controls. A diverse set of wheat small RNAs were identified, some of which were differentially expressed between cold-treated and control samples. MiRNA targets were then validated by degradome sequencing. By comparing with miRNAs reported previously under other stress and developmental conditions, we provided a comprehensive picture of miRNA functions in cold treated wheat inflorescences that may assist cold tolerance improvement in wheat.
Discussion
MiRNAs demonstrate important regulatory functions in adaptive responses to biotic and abiotic stresses in plants [
9
,
11
,
12
,
43
]. Budak and colleagues had summarized the stress-associated miRNAs and their related regulatory mechanisms in cereals and
Triticum
[
9
–
11
,
43
]. MiRNAs as the post-transcript regulators, had been detected as multi-responsive to multi-environmental conditions individually and/or together with their various miRNA partners [
9
,
11
]. Some of miRNA behaved the regulation roles with the great potential for the stress responses such as drought stress in the wild emmer wheat [
64
]. In
Triticum
, several studies have shown miRNAs responding to abiotic stresses such as salt, phosphorous, drought, and heat stress, and biotic stresses such as powdery mildew and stripe rust infection [
27
,
28
,
31
,
32
,
43
,
64
,
65
]. Here, we compared cold responding miRNAs with those responsive to various other stresses and developmental conditions and present an interactive analysis of miRNAs in multiple regulatory pathways, which resulted from the high-through sequencing of small RNAs (Fig.
6
).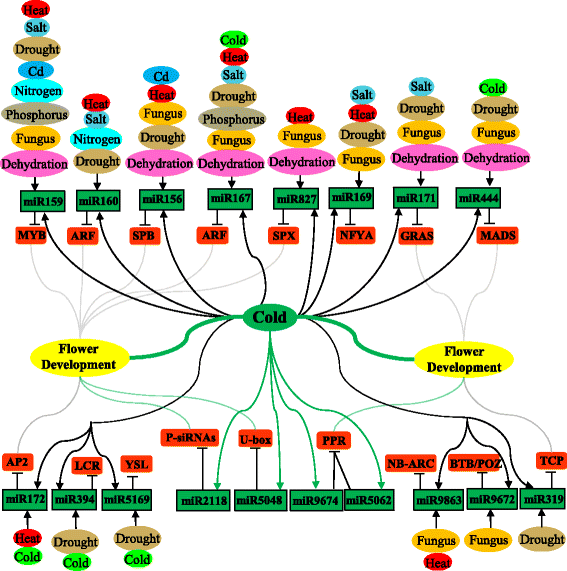 MiRNAs are extensively involved in cold responses in plants
The sensitive response of miRNA expression levels during cold treatment indicates that miRNAs are important regulatory nodes for plant cold response. Although different species confer different set of miRNAs responding to cold, there a set of core miRNAs that are shared by most species. In wheat, 39 miRNAs from 28 families were differentially expressed under cold treatment. Among them, 12 (31%) were conserved in plants, i.e., conserved in Arabidopsis, populus, Brachypodium, and Medicago [41]. The remaining appears to be temperate grass-specific. It is not clear if plants growing in cold weather develop more complicated cold response mechanisms. Judging from the functions of their targets, we found that genes regulated by cold are often involved in other stress response such as heat, drought, and salt stress. Many conserved miRNAs are also closely involved in plant development. Despite this, some miRNAs seem to be functioning mainly in stress responses. For instance, MiR394 is a cold response miRNA in wheat as shown in this study. MiR394 targets the LEAF CURLING RESPONSIVENESS (LCR) gene which is involved in salt and drought stress responses, and Fe-responsive in Arabidopsis [9, 66]. Similar, miR394 was found to respond to drought stress in wheat as well [29], while grass-specific miRNA miR5169 targets YELLOW STRIPE LIKE 6 (YSL6) which together with YSL4 controls iron release from chloroplasts [67]. The differential expression of miR5169 under cold stress may affect the iron transporter as suggested by Gene Ontology analysis. In addition, miR169 was identified to respond to cold stress by the regulation of NFYA in Arabidopsis [12, 13], Populus [15], and Brachypodium [16]. MiR169 as a big miRNA family in plants were detected with various expression in different tissues [9, 42], which also response to drought, salinity, heat and powdery mildew resistance [11, 43]. However, only two miRNA members miR169g and miR169n(o) with the drought responsive element and ABA-responsive element were showed to the response to the drought and salinity stresses through ABA-dependent and ABA-independent stress-inducible gene expression pathways [11]. Therefore, the post-transcriptional regulatory mode of miRNAs to their targets probably provides more efficient regulation on multiple genes that function in different biological processes.
Co-induction of miRNAs by cold and other stresses
Although cold response miRNAs seem to be prevalent in plants, they are also responsive to other stress conditions. Up to date, most cold-responsive miRNAs also respond to additional abiotic and biotic stresses [9]. In wheat, for example, miR160 and miR167 are involved in the response to multiple biotic and abiotic stresses [27, 28, 31, 32, 34, 65]. Both miR160 and miR167 targets auxin-response factors (ARFs), but they displayed opposite expression patterns. MiR160 was up-regulated and miR167 down-regulated in this study, which is similar to their expression profiles in Medicago in response to cold and freezing stresses [45]. In addition, they were both heat-responsive miRNAs [9, 11]. In wheat and Aegilops tauschii, miR167 exhibited the reverse responses to drought stress. MiR167 is up regulated after drought stress in Aegilops tauschii, while down regulated in wheat [68]. For the nutrient stresses, miR160 had a role in the N homeostasis [9], and miR167 was observed to responsive to Pi deprivation in wheat [9]. In the biotic stress, miR167 were also involved in the defence responses to the infection of Puccinia striiformis f. sp. Tritici in wheat [43], while miR160 were responsive to the Magnaporthe oryzae infection in rice [11]. Thus, miRNA may regulate different auxin regulation factors involved in different stress response pathways. In wheat, miR159 is inducible by abiotic stresses, including heat, cold in this study, salt, drought, dehydration and nutrient stress such as N deficiency, Cd Stress, and phosphorus stresses, as well as biotic stress such as powdery mildew infection and Puccinia striiformis stress [9, 11, 27, 28, 30–32, 34, 43, 65, 69], whereas it showed transient or mild regulation under cold stress in Arabidopsis [13]. Differential expression of the MYB-miR159 module was detected as Aluminum toxicity-responsive in soybean and Fe-responsive in Arabidopsis [9]. Since over-expression of miR159 leads to male sterility, cold stress may be one important factor to inhibit anther development via miRNAs [70], which could be as promising candidates to be used in development of higher yielding in wheat [9, 11].
The correlation of cold responsive miRNAs with biotic response was exemplified by miR9672 which targets BTB/POB, a disease-resistance domain protein that is involved in the immune system responses, including those to biotic stress such as powdery mildew infection [32, 55]. Similarly, miR9863 targets disease resistance with the classical domain NB-ARC (Nucleotide-Binding, Apaf-1, R-proteins, and CED-4) that triggers isolate-specific immune responses against the powdery mildew fungus in Triticum [54]. The cross response of miRNA to biotic and abiotic stress was also observed. MiR827, for example, responds to powdery mildew infection, heat, dehydration and cold stress via targeting the SPX family [30, 32]. The SPX family is associated with sensitivity to cold stress in rice seedlings [71] and semi-male sterility, resulting in the reduction of grain yield in rice [72]. These versatile regulatory capabilities demonstrate miRNAs as plural potent regulator for plant stress responses.
Development related miRNAs are sensitive to cold
Among cold responsive miRNAs, miR156 and miR172 are most important developing related miRNAs. In Arabidopsis, the interaction of miR156 and miR172 controls developmental timing by the regulation of SPB and AP2 in Arabidopsis [48]. Furthermore, miR156 acts in concert to secure male fertility by targeting the SPB transcript factors in Arabidopsis [73]. Thus, overexpressed miRNA156 will increase the biomass in cereals such as the energy crop switchgrass. In wheat, miR156 responds to heat, drought, dehydration, and Cd stresses, and fungus stresses in wheat [28, 30, 32, 64], while Tae-miR172 expresses in the tapetum and microsporocytes at the anther development stage [34]. The response of miR156 and miR172 to cold, heat, and drought are conserved in Arabidopsis, rice, and Brachypodium [13, 74]. MiR171 responds to powdery mildew infection [32], dehydration [30], drought [29, 64], and salinity stresses [9] in wheat, which is also shown responding to cold stress in this study. It targeted the GRAS (GAI, RGA, and SCR) family. In GRAS, the member of GS6, plays an important role in the control of grain development in rice [75]. MiR319, which responds to both cold stress and drought stress in wheat [29], was also characterized in Arabidopsis and rice for cold stress [12–14, 76]. It targets members of the TCP gene family, which is specifically expressed in the flower organs [77], which will contribute to the higher yield in crops under stress conditions. MiR444 regulates the MADs-box genes, especially in monocot species, and has been demonstrated to regulate flower development [78]. In wheat, it was observed to respond to powdery mildew infection [32], dehydration [30], drought [29] and cold stress in our study. MADS28 was demonstrated to specifically regulate the floral organ number, filament length and pollen release in soybean [79]. Other less conserved miRNAs that respond to cold treatment are also involved in developmental processes. For instance, miR2118 triggers the generation of phased siRNAs, which are involved in panicle development [80, 81], while miR5062 and miR9674 targets the PPR protein gene, which regulates inflorescence branch development in rice [82] and can restore fertility in the cytoplasmic male-sterile line in Brassica napus [83]. MiR5048 targets the U-box. The U-Box/ARM was discovered to regulate flowering time in Arabidopsis [84]. Therefore, there are a number of targets of cold responsive miRNAs that also work in plant development, especially flower development, male sterility, and floret and spike development. Such an observation is interesting and may be the result of the tissue and treatment we sued in this study because the real cold tolerance genes such as CBF, FR2, COR, and LEA seem not to be the target of any miRNAs. In other words, the dramatic change in miRNA expression levels in wheat young inflorescences will cause sensitive reaction of their targets which will regulate proper flower organ development and hence the correct timing in the wild. Such mechanisms may be explored to manipulate genetically to enhance cold tolerance in wheat contributing to yield increase.
Conclusions
This work provides the first small RNA expression profiles of young spikes at the differentiation stage of the pistil and stamen in common wheat. Our small RNA sequencing data and degradome dataset revealed regulatory roles of miRNAs during wheat cold response. The cross-response of miRNAs to multi-biotic and abiotic stresses indicated that wheat has evolved sophisticated miRNA-mediated pathways to cope with ever changing environments. Further study of these mechanisms should help our understanding of plant cold response and further secure grain yield in wheat.
Abbreviations
AP2:

AP2-like ethylene-responsive transcription factor
ARF:

Auxin response factor
GO:

Gene ontology
GRAS:

GAINSENSITIVE (GAI), REPRESSOR OF gal-3 (RGA), and SCARECROW (SCR)
LRR:

Leucine-rich repeat receptor-like protein kinase family
MADS:

MCM1, AG, DEFA and SRF
MiRNA:

MicroRNAs
NB-ARC:

Nucleotide-binding, Apaf-1, R-proteins, and CED-4
NFYA:

Nuclear transcription factor Y subunit A
PPR:

PentatricoPeptide repeat
qRT-PCR:

Quantitative real time polymerase chain reaction
SPB:

Squamosa promoter binding like protein
SPX:

SYG1, Pho81 and XPR1
TCP:

TEOSINTE BRANCHED, Cycloidea and PCF
TGMS:

Thermosensitive genic male sterile
TPM:

Transcripts per million
YSL6:

YELLOW STRIPE LIKE 6
Declarations
Acknowledgements
We are thankful for the helpful modifications and comments on the manuscript from Professor Aili Li, Institute of Crop Science, CAAS.
Funding
This work was supported by the Shandong Science and Technology Development Plan (2014GSF121001), the National Natural Science Foundation of China (31501312, 31401378 and 31601301), the Natural Science Foundation of Shandong Province (ZR2014CM006), the Agricultural Science and Technology Innovation Project of Shandong Academy of Agricultural Sciences (CXGC2016C09), the Youth Talent Program of Shandong Academy of Agricultural Sciences, and the Youth Foundation of Shandong Academy of Agricultural Sciences (2014QNZ02).
Availability of data and materials
The four small RNA datasets and two degradome datasets have been deposited in the NCBI SRA database with the accessions SRP076764 and SRP076763, respectively. The publicly available genome sequences of the Chinese Spring and plant miRNA sequences supporting the results of this article are available at the IWGSC website (http://www.wheatgenome.org), miRBase website (http://www.mirbase.org), PNRD (http://structuralbiology.cau.edu.cn/PNRD), PmiRExat (http://pmirexat.nabi.res.in) and miRNAs identified by Mayers et al [24]. The datasets supporting the conclusions of this article are included within the article and its additional files.
Authors' contributions
GYL and GQS conceived and supervised this study. RZZ and GQS analysed the data. GQS, YLL, SJZ, JG, XDH, MLC, JW and WL performed the experiments. RZZ, GQS, and GYL interpreted the results and wrote the manuscript. All of the authors read and approved this manuscript.
Competing interests
The authors declare that they have no competing interests.
Consent for publication
Not applicable.
Ethics approval and consent to participate
Not applicable.
Open AccessThis article is distributed under the terms of the Creative Commons Attribution 4.0 International License (http://creativecommons.org/licenses/by/4.0/), which permits unrestricted use, distribution, and reproduction in any medium, provided you give appropriate credit to the original author(s) and the source, provide a link to the Creative Commons license, and indicate if changes were made. The Creative Commons Public Domain Dedication waiver (http://creativecommons.org/publicdomain/zero/1.0/) applies to the data made available in this article, unless otherwise stated.
Authors' Affiliations
(1)
Crop Research Institute, Shandong Academy of Agricultural Sciences, Jinan, China
(2)
Key Laboratory of Wheat Biology & Genetic Improvement on North Yellow & Huai River Valley, Ministry of Agriculture, Jinan, China
(3)
National Engineering Laboratory for Wheat & Maize, Jinan, China