Research article

Open Access
Transcriptomic profiling provides molecular insights into hydrogen peroxide-induced adventitious rooting in mung bean seedlings
Received: 2 June 2016
Accepted: 9 February 2017
Published: 17 February 2017
Abstract
Background
Hydrogen peroxide (H2O2) has been known to function as a signalling molecule involved in the modulation of various physiological processes in plants. H2O2 has been shown to act as a promoter during adventitious root formation in hypocotyl cuttings. In this study, RNA-Seq was performed to reveal the molecular mechanisms underlying H2O2-induced adventitious rooting.
Results
RNA-Seq data revealed that H2O2 treatment greatly increased the numbers of clean reads and expressed genes and abundance of gene expression relative to the water treatment. Gene Ontology (GO) and Kyoto Encyclopedia of Genes and Genomes (KEGG) pathway enrichment analyses indicated that a profound change in gene function occurred in the 6-h H2O2 treatment and that H2O2 mainly enhanced gene expression levels at the 6-h time point but reduced gene expression levels at the 24-h time point compared with the water treatment. In total, 4579 differentially expressed (2-fold change > 2) unigenes (DEGs), of which 78.3% were up-regulated and 21.7% were down-regulated; 3525 DEGs, of which 64.0% were up-regulated and 36.0% were down-regulated; and 7383 DEGs, of which 40.8% were up-regulated and 59.2% were down-regulated were selected in the 6-h, 24-h, and from 6- to 24-h treatments, respectively. The number of DEGs in the 6-h treatment was 29.9% higher than that in the 24-h treatment. The functions of the most highly regulated genes were associated with stress response, cell redox homeostasis and oxidative stress response, cell wall loosening and modification, metabolic processes, and transcription factors (TFs), as well as plant hormone signalling, including auxin, ethylene, cytokinin, gibberellin, and abscisic acid pathways. Notably, a large number of genes encoding for heat shock proteins (HSPs) and heat shock transcription factors (HSFs) were significantly up-regulated during H2O2 treatments. Furthermore, real-time quantitative PCR (qRT-PCR) results showed that, during H2O2 treatments, the expression levels of ARFs, IAAs, AUXs, NACs, RD22, AHKs, MYBs, PIN1, AUX15A, LBD29, LBD41, ADH1b, and QORL were significantly up-regulated at the 6- and/or 24-h time points. In contrast, PER1 and PER2 were significantly down-regulated by H2O2 treatment. These qRT-PCR results strongly correlated with the RNA-Seq data.
Conclusions
Using RNA-Seq and qRT-PCR techniques, we analysed the global changes in gene expression and functional profiling during H2O2-induced adventitious rooting in mung bean seedlings. These results strengthen the current understanding of H2O2-induced adventitious rooting and the molecular traits of H2O2 priming in plants.
Keywords
Vigna radiata (L.) R. WilczekAdventitious rootsGene expressionHydrogen peroxide (H2O2)TranscriptomeRNA-Seq
Background
The plant root system is composed of primary roots, lateral roots, and adventitious roots. Adventitious roots refer to roots that form from any non-root tissue. These roots can generates from the tissues of old roots, stems or leaves during normal development to replenish and strengthen the roles of primary roots and in response to stresses [1]. The formation of adventitious roots is an important technique for commercial propagation of homogeneous horticultural plants and forest trees [2]. In addition, the process of adventitious root formation provides an ideal experimental system with which to study the important physiological and molecular events that occur during the tissue dedifferentiation and morphogenesis [3]. Many exogenous and endogenous factors that play important roles in adventitious rooting have been extensively studied using physiological and molecular methods. Auxin is known to play a critical role in inducing cell dedifferentiation and root primordia formation in cuttings. Other molecules, such as hydrogen peroxide (H2O2) and nitric oxide (NO) that produced by cells in response to various stresses, also act as signalling molecules that are involved in modulating of the induction and initiation of adventitious root formation [4]. H2O2 and NO are considered as key components of the molecular control of adventitious root formation in cuttings responding to wounding and auxin [5]. Li et al. reported that exogenous application of H2O2 promoted adventitious rooting in mung bean and cucumber hypocotyl cuttings and that H2O2 acts as a downstream signalling molecule in auxin-induced adventitious rooting [6, 7]. Yang demonstrated that H2O2 acts as a downstream modulator in SA-triggered adventitious root formation in mung bean seedlings [8]. However, the molecular mechanisms by which H2O2 promotes adventitious root development remain elusive.
H2O2 has been well known to act as a key signalling molecule that mediates a wide range of physiological processes [9], including senescence [10], photorespiration and photosynthesis [11], stomatal movement [12], cell cycle [13], seed germination [14], programmed cell death (PCD) [15], growth and development [16], as well as coordination of responses to biotic and abiotic stresses [17]. A number of studies have demonstrated that pre-treatment with an appropriate level of H2O2, now known as H2O2 priming, can enhance tolerance to abiotic and biotic stresses through the modulation of multiple physiological processes and stress-responsive pathways [17]. H2O2 pre-treatment induces increases in reactive oxygen species (ROS) scavenging enzyme activities and modulates the expression of genes involved in ROS control; signal transduction; transcriptional regulation; and protein, carbohydrate, and lipid metabolism [18]. For example, exogenously applied H2O2 increased the expression of genes encoding ROS scavenging proteins, such as genes GPX (glutathione peroxidase) and GST (glutathione S-transferase) [19]; SOD (superoxide dismutase) [20]; GPX1 (glutathione peroxidase) [21]; CAT1, CAT2 and CAT3 (catalase) [20, 22]; GST1 [23]; APX (ascorbate peroxidase) [14, 20]; GR (glutathione reductase) [20]; and AOX1a (alternative oxidase) [23], as well as genes encoding proteins required for peroxisome biogenesis [24]. Another study demonstrated that H2O2 induced the expression of genes encoding proteins related to plant signalling and development, cell elongation and division, and cell cycle control, including 14-3-3-like protein, profiling 4, proteasome-alpha-type-5, translationally controlled tumour protein homolog, and benzoquinone reductase, but reduced the expression of genes encoding lectin, albumin-2, ABA-responsive protein ABR18, and cell-autonomous heat shock cognate protein 70 [14]. H2O2 also increased the expression of genes encoding pyrroline-5-carboxylate synthase, sucrose- phosphate synthase, and small heat shock proteins [25]. Furthermore, exogenous H2O2 has been shown to be involved in the activation of mitogen-activated protein kinase (MAPK) cascade pathways [26]. H2O2 strongly activates MAPK4, MAPK12 [27], MPK1/2 [20], MPK6, and nucleotide diphosphate kinase 2 (NDPK2), which specifically interacts with MPK3 and MPK6, thereby regulating the cellular redox state [28]. However, little molecular information is available regarding H2O2-induced adventitious root development.
In our previous studies, we reported that exogenous H2O2 strongly promoted adventitious rooting in mung bean hypocotyl cuttings [6]. Recently, we characterized the mung bean transcriptome and gene expression profiles during the induction and initiation stages of adventitious rooting in water-treated [29] or IBA-treated [30] mung bean hypocotyl cuttings using RNA-Seq technology. In the present study, RNA-Seq technology and qRT-PCR were exploited to reveal the transcriptome of H2O2 promotion adventitious rooting in mung bean hypocotyl cuttings. Our main objective of the present study was to analyse the gene profiles and metabolic pathways that specifically responded to exogenous H2O2 treatment and further to uncover the molecular basis of H2O2 priming and promotion of adventitious rooting in plants.
Conclusions
It is well known that H2O2 functions as an important regulator molecule that is involved in many signalling pathways in plant cells. Exogenous application of H2O2 at an appropriate level has been demonstrated to improve cell tolerance to abiotic and biotic stresses. Low concentration application of H2O2 also acts as a promoter of adventitious root formation. The present study provides a transcriptome insight into the molecular basis of specific responses to H2O2 priming under adventitious rooting in mung bean. H2O2 treatment highly increased the number of reads, the ratio of expressed genes, and the abundance of gene expression. In terms of the time duration, H2O2 strongly influenced the cell metabolism and functions by regulating gene expression, particularly up-regulating gene expression at 6-h time point, which is the induction phase for adventitious rooting in mung bean. The Gene Ontology (GO) classification, Kyoto Encyclopedia of Genes and Genomes (KEGG) pathway enrichment, and differentially expression genes (DEGs) profiling results revealed that H2O2 triggers adventitious rooting through the regulation of many cellular processes, including the functions associated with stress response, cell redox homeostasis and oxidative stress response, secondary metabolism and flavonoid synthesis, cell wall loosening and modification, nutrients and energy metabolic processes, cellular component movement, transcription, DNA synthesis, cell cycle, and transcription factors (TFs), as well as plant hormone signalling pathways. In some ways, the gene expression profile that specifically responds to H2O2 during adventitious rooting in mung bean was similar to that in response to IBA. Last, this study provides a list of candidate genes that specifically respond to H2O2 priming in plants.
By integrating the results of GO and KO enrichment and analyses of most highly differentially expressed genes in response to H
2
O
2
, we proposed a model including the most highly regulated pathways by H
2
O
2
-priming that might be involved in the induction and initiation of adventitious roots in mung bean seedlings (Fig.
6
).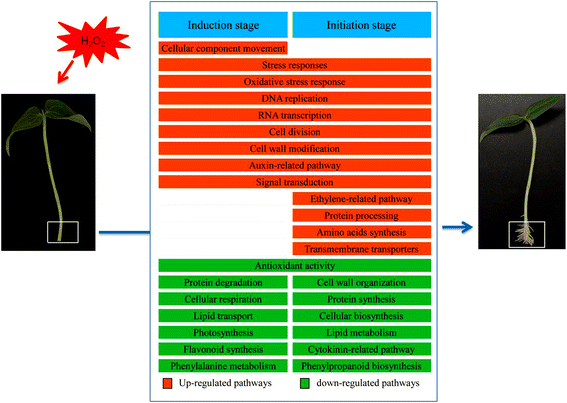 Methods
Plant material and culture conditions
After mung bean [Vigna radiata (L.) R. Wilczek] seeds were surface-sterilized in a 6% NaClO solution for 15 min and rinsed three times in sterile distilled water, they were covered with a thin layer of sterilized perlite and germinated in Petri dishes in a growth chamber at 25 ± 1 °C for 36 h in the dark and then at 25 ± 1 °C with a 14-h light/10-h dark photoperiod under white fluorescent lamps (PAR of 100 μM m−2 s−1). The five-day seedlings that were 5 cm in height were used as experimental material. After the primary roots were removed from the bases of the hypocotyls, the resulting seedlings were incubated in 50-mL beakers (10 per beaker), each containing 40 mL of sterilized distilled water or 10 mM H2O2 under the same aseptic conditions as the seedling culture. To evaluate the gene expression profile during adventitious rooting, the basal part (5 mm in length) of each hypocotyl, where the adventitious roots would form, was harvested separately at the 0, 6, and 24 h incubation time points and used as samples for RNA extraction. Each sample contained ten stem cutting bases in three biological replicates in parallel. The samples were separately marked as Con, Wat6, HO6, Wat24, and HO24, immediately frozen in liquid nitrogen and stored at −80 °C until further analysis.
Total RNA extraction, cDNA library construction and Illumina RNA-Seq
For total RNA extraction, 50 mg of the samples was fully ground in liquid nitrogen, and total RNA extraction was performed using a plant total RNA Kit according to the manufacturer's protocol (kit SK8631, Sangon, Shanghai, China). The resulting total RNA was dissolved in 50 μL of RNase-free water, and stored at −80 °C. The RNA integrity was quantified with RNA integrity number (RIN) values of 8.1-9.9 using a 2100 Bioanalyzer (Agilent Technologies, Santa Clara, CA, USA), and RNA concentration was determined using a NanoDrop ND-1000 Spectrophotometer.
Equal amounts of total RNA from each sample were used to purify the Poly (A) mRNAs using Oligo(dT) 25 beads (Invitrogen) according to the manufacturer's instructions. The Fragment Mix reactive system was used to fragment the purified mRNA at 94 °C for 4 min. The first-strand cDNA was synthesized from fragmented mRNA templates using Superscript II reverse transcriptase (Invitrogen), random hexamer primers, and First Strand Master Mix at 25 °C for 10 min, 42 °C for 50 min, and 70 °C for 15 min, with a final hold at 4 °C. The RNA template was then removed and second-strand cDNA was synthesized using Second Strand Master Mix (Invitrogen). After the double-strand cDNA was synthesized, it was purified with Agencourt AMPure XP Beads (Agencourt), and the 3′ ends were repaired using End Repair Control, followed by purification with AMPure XP beads. Subsequently, an A-base was added to the blunt end fragments using Klenow exo (M0212L, NEB) to perform the adenylation of the 3′ ends of the cDNA fragments. Thereafter, Illumina indexing adapters were ligated to the cDNA fragments using T4 Ligase (Fermentas) according to the standard protocol. After the ligated cDNAs were purified twice using AMPure XP Beads, they were enriched and amplified using selective PCR according to the following procedure: 98 °C for 30 s; 15 cycles of 98 °C for 10 s, 60 °C for 30 s, 72 °C for 30 s, and 72 °C for 5 min; holding at 4 °C, followed by purification with AMPure XP beads. The quality and concentration of the cDNA library were confirmed using an Agilent 2100 Bioanalyzer and Qubit 2.0 (Life Technologies). The resulting cDNA libraries were then paired-end sequencing on an Illumina HiSeq 2000 system and performed at Sangon Biotech Co., Ltd. (Shanghai, China). The sequencing quality was checked using FastQC V0.10.1 with an ASCII Q-score offset of 33.
De novo assembly and sequence clustering
For de novo assembly, the adaptor sequences, low quality reads, and reads with unknown sequences > 5% were removed from the raw sequence, and then the resulting high quality sequence reads were de novo assembled using the Trinity paired-end assembly method [31]. The assembled sequences were clustered with Chrysalis. The longest sequences that could not be extended on either end within each clustered loci were obtained and defined as unigenes [29]. Finally, similarity alignment of the resulting unigenes were performed against the public protein and nucleotide sequence databases NR, SWISS-PROT, TrEMBL, Pfam, and CDD with similarity set at >30% and an E-value ≤ 1e-5 using BLASTx locally installed BLAST+ v2.2.27 software [87] and MEGABLAST, respectively. BLAST annotations were filtered using either subject or query coverage (>30%) and sequence identity (>50% for MEGABLAST and >30% for BLASTx). The results that presented the best alignment were used to identify the sequence direction and to predict the coding regions using BLASTx searches against protein databases, with the priority order of NR, SWISS-PROT, KEGG and KOG if conflicting results were obtained. The ESTScan software [88] was used to analyse the unigenes that did not align to any of the above databases. The assembled unigenes were deposited in the Transcriptome Shotgun Assembly Sequence Database (http://www.ncbi.nih.gov/genbank/tsa.html) at DDBJ/EMBL/GenBank under the sequence read archive SRR 1653637 and the accession numbers GBXO01000001-GBXO01078617.
GO and KEGG pathway enrichment of the unigenes
To understand which functional categories of DEGs were modulated during H2O2-induced adventitious rooting in mung bean seedlings, the unigenes were further aligned against the KOG (Clusters of Orthologous Groups for eukaryotic complete genomes) and KEGG (Kyoto Encyclopedia of Genes and Genomes) pathway annotations using BLASTALL and KEGG Automatic Annotation Server (KAAS) software with an E-value ≤ 1e-5. The resulting blast hits were processed using Blast2GO software (version 2.3.5) [31] with an E-value threshold of 1e-5 to retrieve associated Gene Ontology (GO) terms, and WEGO software was used for achievement of GO classification [31]. To further enrich the pathway annotations, unigenes were submitted to the KAAS [33], and the single-directional best-hit information method was selected. To identify the enriched pathways, the phyper test was used to measure the relative coverage of the annotated KEGG orthologous groups of a pathway against the transcriptome background, and the pathways with a p-value ≤ 0.05 were classified as enriched. The difference analysis between a pair samples was performed between HO6 and Wat6, HO24 and Wat24, and HO24 and HO6 and was represented as HO6 vs. Wat6, HO24 vs. Wat24, and HO24 vs. HO6, respectively.
Unigene expression analysis and DEG confirmation
To calculate unigene expression levels, the unigene sequences were mapped to the reference sequences [29, 30, 89]. The clean reads were mapped back to the assembled unigenes using Bowtie 2 in the end-to-end alignment mode, and the number of clean reads that were mapped to each unigene was calculated and then normalized to RPKM (reads per kb per million reads) using ERANGE3.1 software [90]. The DEGseq R package was used to analyse the unigene expression levels [38] with the MARS (MA-plot-based method with Random Sampling) model. To further know the DEGs that were specifically regulated during H2O2-induced adventitious rooting, we screened the DEGs and their expression levels between HO6 and Wat6, HO24 and Wat24, and HO24 and HO6. The DEGs between each pair of samples were screened using the Audic-Claverie algorithm [91] with an FDR threshold of ≤0.001 and an absolute value of log2 ≥ 1, and the Benjamini-Hochberg correction was used to perform multiple test corrections for the p-value and FDR [92].
Quantitative reverse transcription PCR (qRT-PCR) validation
To validate the results from RNA-Seq, qRT-PCR was performed. For q-PCR, each of three biological replicates (n = 10) same as those subjected to Illumina RNA-Seq were used for total RNA extraction. Total RNA was extracted using TRIzol reagent (Invitrogen, Carlsbad, CA, USA) according to the manufacturer's protocol. RNA integrity was examined with an Agilent Bioanalyzer 2100 (Agilent Technologies). In brief, cDNA samples preparation was performed as described in our previous study [30]. In this experiment, 36 genes that had been shown to be involved in auxin-related development and the stress response were selected for q-PCR analysis. The genes CPY20, eIF5A, and ACTIN (Actin-related protein 4) were selected as internal reference genes according to the RNA-Seq results and a previous report [93]. The gene-specific primer pairs were designed using Primer Premier 5.0 software (Applied Biosystems, Foster City, CA, USA) according to the sequences from RNA-Seq (Additional file 10). Real-time PCR was run using a LightCycler 480 II (Roche Applied Science) and ABI SYBR Green PCR Master Mix (ABI, Foster, USA). The PCR cycling conditions were as follows: 95 °C for 3 min, 40 cycles at 95 °C for 15 s, and 60 °C for 40 s. For negative controls, 'No cDNA' samples (water) and 'no RT' samples were included. All reactions were performed in triplicate. To evaluate the primer specificity for each primer set, melting curve analysis was conducted to verify the presence of a single melting peak. All q-PCR reactions were carried out with three independent biological replicates. The relative expression levels of the selected genes were calculated in relation to the reference gene using the comparative threshold cycle method with the delta-delta Ct method [94]. Statistical analyses were conducted with Student's t-tests at the P < 0.05 level of significance.
Abbreviations
ABCB/PGP:

ATP binding cassette-type B/ P-Glycoproteins
ACC:

1-Aminocyclopropane-1-carboxylic acid
ACO:

1-Aminocyclopropane-1-carboxylic acid oxidase
ACS:

1-Aminocyclopropane-1-carboxylic acid synthase
AHK:

Arabidopsis histidine kinase
AOX:

Alternative oxidase
AP2/ERF:

Apetala2/Ethylene response factor
APX:

Ascorbate peroxidase
ARF:

Auxin response factor
ARL1:

Adventitious rootiless1
AUX1/LAX:

Auxin/IAA
bHLH:

Basic/helix-loop-helix
bZIP:

basic leucine zipper
CASPL:

Casparian strip membrane protein-like
CAT:

Catalase
CHS:

Chalcone synthase
CRL1:

Crown rootless1
DEGs:

Differentially expressed genes
Dof:

Dof zinc finger protein
EIN:

Ethylene-insensitive protein
ETO:

Ethylene-overproduction protein
GATA:

GATA transcription factor
GH:

Glycoside hydrolase
GH3:

Gretchen hagen 3
GO:

Gene ontology
GPX:

Glutathione peroxidase
GR:

Glutathione reductase
GST:

Glutathione S-transferase
HD-Zip:

Homeobox-leucine zipper protein
HSFs:

Heat shock transcription factors
HSPs:

Heat shock proteins
IBA:

Indole-3-butyric acid
JA:

Jasmonic acid
KAAS:

Automatic annotation server
KEGG:

Kyoto encyclopedia of genes and genomes
KOG:

Clusters of orthologous groups for eukaryotic complete genomes
LBD16:

Lateral organ boundaries-domain
LEA:

Late embryogenesis abundant
LOB-domain:

Lateral organ boundaries-domain
LOXs:

Lipoxygenases
LRR:

Leucine-rich repeat
MAPK:

Mitogen-activated protein kinase
NAC:

NAM, ATAF, and CUC2
NAM:

No apical meristem
NDPK:

Nucleotide diphosphate kinase
NR:

NCBI non-redundant protein
PCD:

Programmed cell death
PER:

Peroxidase
PIN:

PIN-formed
PYR:

Pyrabactin resistance
QC:

Quiescent center
QORL:

Quinone oxidoreductase-like protein
qRT-PCR:

Real-time quantitative polymerase chain reaction
RAM:

Root apical meristem
RNA-seq:

RNA-sequencing
ROS:

Reactive oxygen species
RPKM:

Reads per kb per million reads
RTCS:

Rootless concerning crown and seminal roots
SAM:

S-adenosylmethionine
SCR:

Scarecrow
TFs:

Transcription factors
WRKY:

WRKYGQK domain protein
ZF:

Zinc finger protein
Declarations
Funding
This work was financially supported by the National Natural Science Foundation of China (31560121 and 31260090).
Availability of data and materials
The ungene sequence information of this article is available in the Transcriptome Shotgun Assembly Sequence Database (http://www.ncbi.nih. gov/genbank/tsa.html) at DDBJ/EMBL/GenBank under the sequence read archive SRR 1653637 and the accession numbers GBXO01000001-GBXO01078617. The datasets supporting the conclusions of this article are included within the article and its additional files.
Authors' contributions
LSW conceived and designed the experimental plan, analysed and interpreted the sequence data, and drafted the manuscript. LY and SRF performed the experiments and analysed the sequence data. All authors read and approved the final manuscript.
Competing interests
The authors declare that they have no competing interests.
Consent for publication
Not applicable.
Ethics approval and consent to participate
Not applicable.
Open AccessThis article is distributed under the terms of the Creative Commons Attribution 4.0 International License (http://creativecommons.org/licenses/by/4.0/), which permits unrestricted use, distribution, and reproduction in any medium, provided you give appropriate credit to the original author(s) and the source, provide a link to the Creative Commons license, and indicate if changes were made. The Creative Commons Public Domain Dedication waiver (http://creativecommons.org/publicdomain/zero/1.0/) applies to the data made available in this article, unless otherwise stated.
Authors' Affiliations
(1)
School of Environmental and Municipal Engineering, Key Laboratory of Extreme Environmental Microbial Resources and Engineering, Gansu Province, Lanzhou Jiaotong University, Lanzhou, People's Republic of China