Research Article
Open Access
Draft de novo transcriptome assembly and proteome characterization of the electric lobe of Tetronarce californica: a molecular tool for the study of cholinergic neurotransmission in the electric organ
Received: 24 August 2016
Accepted: 21 June 2017
Published: 14 August 2017
Abstract
Background
The electric organ of Tetronarce californica (an electric ray formerly known as Torpedo californica) is a classic preparation for biochemical studies of cholinergic neurotransmission. To broaden the usefulness of this preparation, we have performed a transcriptome assembly of the presynaptic component of the electric organ (the electric lobe). We combined our assembled transcriptome with a previous transcriptome of the postsynaptic electric organ, to define a MetaProteome containing pre- and post-synaptic components of the electric organ.
Results
Sequencing yielded 102 million paired-end 100 bp reads. De novo Trinity assembly was performed at Kmer 25 (default) and Kmers 27, 29, and 31. Trinity, generated around 103,000 transcripts, and 78,000 genes per assembly. Assemblies were evaluated based on the number of bases/transcripts assembled, RSEM-EVAL scores and informational content and completeness. We found that different assemblies scored differently according to the evaluation criteria used, and that while each individual assembly contained unique information, much of the assembly information was shared by all assemblies. To generate the presynaptic transcriptome (electric lobe), while capturing all information, assemblies were first clustered and then combined with postsynaptic transcripts (electric organ) downloaded from NCBI. The completness of the resulting clustered predicted MetaProteome was rigorously evaluated by comparing its information against the predicted proteomes from Homo sapiens, Callorhinchus milli, and the Transporter Classification Database (TCDB).
Conclusions
In summary, we obtained a MetaProteome containing 92%, 88.5%, and 66% of the expected set of ultra-conserved sequences (i.e., BUSCOs), expected to be found for Eukaryotes, Metazoa, and Vertebrata, respectively. We cross-annotated the conserved set of proteins shared between the T. californica MetaProteome and the proteomes of H. sapiens and C. milli, using the H. sapiens genome as a reference. This information was used to predict the position in human pathways of the conserved members of the T. californica MetaProteome. We found proteins not detected before in T. californica, corresponding to processes involved in synaptic vesicle biology. Finally, we identified 42 transporter proteins in TCDB that were detected by the T. californica MetaProteome (electric fish) and not selected by a control proteome consisting of the combined proteomes of 12 widely diverse non-electric fishes by Reverse-Blast-Hit Blast. Combined, the information provided here is not only a unique tool for the study of cholinergic neurotransmission, but it is also a starting point for understanding the evolution of early vertebrates.
Keywords
Torpedo californica Transcriptome assemblyTrinity assemblyAssembly clusteringCholinergic neurotransmissionFish genomesTransportersReverse blast hitTransporter classification database
Background
Electric rays have a long history of scientific inquiry, dating back to ancient times [
1
]. The strong narcotizing powers that Aristotle and Plutarch discussed are the result of high voltage shocks (50-600 volts) that the rays can produce in a pair of specialized organs, termed electric organs, on either side of the rays' bodies (Fig.
1
). In fish, electric organs are thought to have evolved independently from primordial muscle tissue at least six or more times [
2
]. The organs are developmentally derived from an enlargement of the vertebrate neuromuscular junction (NMJ). In humans, NMJs are usually 30 microns in size, and occupy less than 0.1% of the muscle cell's surface. In the rays, the electric organs begin life as muscle cells; however during development, the muscle cells lose their contractile apparatus and morphologically change into disc-like electroplaque cells that are approximately 1 cm in diameter and 10 microns in depth. The entire surface of one side of each disc is innervated by cholinergic presynaptic boutons; thus, a single electroplaque possesses 100,000 times more presynaptic innervation than a vertebrate muscle cell. The massive hypertrification of this synapse has made it a powerful model for the biochemical and physiological study of cholinergic nerve impulse transmission [
3
] of the synapse. A single ray, such as
Tetronarce californica
, can provide over 1 kg of tissue highly enriched in both pre and postsynaptic proteins involved in cholinergic transmission.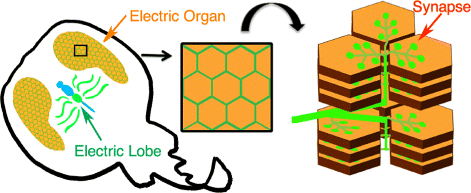 Molecular genomics tools have been rather limited for the rays. To date, only the transcriptome of the postsynaptic electric organ of T. californica has been studied [4, 5], and no organismal genomic sequences are yet available for these animals. In the ray, the cholinergic neurons that innervate the electric organ reside in a specialized pair of lobes within the central nervous system, termed the electric lobes (Fig. 1). The lack of a transcriptome from the presynaptic cholinergic neurons, located in the electric lobe, hinders our ability to study the presynaptic components of the synapse, and more generally, the lack of genomic and transcriptome information hinders the study of the evolution and ecology of these early vertebrates. To address this deficit, we have isolated mRNAs from the electric lobe of T. californica, and applied a Next Generation Sequencing (NGS) approach to provide the first transcriptome of the cholinergic presynaptic neurons that innervate the peripheral electric organs.
Conclusions
We have assembled a de novo transcriptome corresponding to the electric lobe of T. californica. We critically evaluated the quality of our assemblies using 'Industry Standard' methods. We found a high degree of variability between assemblies produced at different Kmers. Neither the number of transcripts assembled nor the value of the Detonate scores calculated gave us a definitive prediction for best assembly. In contrast, we observed that the only reliable parameter for assembly evaluation was related to the information content of the assembly in question, when compared to a standard database. We also generated a non-redundant set of transcripts by combining the transcriptome of the electric lobe with previous transcriptome of the electric organ, and determined those predicted proteins having high homology against the genomes of both H. sapiens and C. milli. Finally, we mapped and cross-annotated these highly-conserved predicted proteins against the well annotated Human biochemical and developmental pathways. We also identified transporter proteins present in the T. californica MetaProteome and in a MetaProteome set corresponding to the proteomes of 12-Fish genomes and identified a set of important transporters that were only detected by the T. californica MetaProteome. The combined information provides not only a unique tool for the study of cholinergic neurotransmission, but also a starting point for understanding the biology of early vertebrates, as well as, the biology of strongly electric fish, such as T. californica.
Methods
Poly(A)+ RNA purification, cDNA library preparation, and sequencing
The electric lobe from a female marine ray Tetronarce californica (Aquatic Research Consultants; San Pedro, CA) was dissected from the central nervous system, and total RNA was isolated from the frozen tissue as described [45]. RNA concentration was determined using a Nanodrop spectrophotometer and quality assessed by denaturing gel electrophoresis in formaldehyde gels and Northern analyses [45]. Poly(A)+RNA was purified using Poly(A)Purist MAG Kit (Ambion) and further cleaned up with Turbo DNase (Ambion) and Terminator-5'-phosphate-dependent exonuclease (Epicentre) to remove any trace amount of DNA and rRNA. cDNA was synthesized from purified poly(A)+mRNA using random hexamer oligonucleotide or oligo dT as primer. Synthesized cDNA was then sheared into small pieces of 100 to 800 bp in length using a Biorupter. The fragmented cDNA was prepared for Illumina sequencing using TruSeq Sample Prep Kit (Illumina). Paired-end sequencing (100 bp) of the cDNA libraries was performed on a HiSeq 2500 instrument (Illumina).
De novo transcriptome assembly
The description of the software, version number and origin (when applicable) and representative commands and databases used are presented in Additional file 2.
Declarations
Acknowledgements
We would like to dedicate this work to the memory of Maria Stravianaku (1964-2014). Maya's premature departure has become our motivation and inspiration to understand how the brain works. This work was in part performed using the Supercomputer Ada, managed and maintained by the Texas A&M University High Performance Research Computing Resources Center (http://hprc.tamu.edu). In particular, we would like to acknowledge Dr. Michael Dickens for his invaluable help and support during the realization of this work and Tatiana Aramayo for her invaluable help editing the manuscript.
Funding
Funding was provided by National Institute of General Medical Sciences (Grants No. R01GM58770 and R01GM123139) to RA and by the National Science Foundation (Award No. HRD-1612776) to RP.
Availability of data and materials
The reads assembled during this project have been deposited in the National Center for Biotechnology Information (NCBI) as Bioproject PRJNA322346 (Transcriptome Assembly of the Electric Organ of Tetronarce californica ) and as Biosample SAMN05158845 (Transcriptome Assembly of the Electric Organ of Tetronarce californica ). Transcripts larger than 200 bp generated by this project have been deposited in the National Center for Biotechnology Information (NCBI) at DDBJEMBLGenBank under the accession GFBV00000000. The version described in this paper is the first version, GFBV01000000. GeneBank IDs corresponding to NCBI sequences that were incorporated into the MetaProteome are presented in Additional file 4. Because NCBI rules precludes submission of sequences shorter than 200 bp long, the nucleotide sequences shorter than 200 bp, whose predicted peptides were incorporated into the MetaProteome are presented in Additional file 24: (Nucleotide) and Additional file 25: (Peptides). The authors will gladly provide any files and/or additional information related to this work upon request.
Authors' contributions
Listed from highest to lowest. Experimental Design and Methodology: RA, RP, MS and MH. Software Selection, Implementation and Scripts Generation: RA and RP. RNA Extraction, purification and library preparation: CW. Analysis: RA and RP. Figures: RA, RP and MH. Tables: RA and RP. Supplemental Data compilation and assembly: RA. Computational Resources: RA. Data Curation: RA. Writing - Original Draft: RA. Writing - Review and Editing: RA, RP and MH. Visualization: RA and RP. Funding Acquisition: RA, RP and MH. All authors read and approved the final manuscript.
Ethics approval and consent to participate
Not applicable
Consent for publication
Not applicable
Competing interests
The authors declare that they have no competing interests.
Publisher's Note
Springer Nature remains neutral with regard to jurisdictional claims in published maps and institutional affiliations.
Open Access This article is distributed under the terms of the Creative Commons Attribution 4.0 International License (http://creativecommons.org/licenses/by/4.0/), which permits unrestricted use, distribution, and reproduction in any medium, provided you give appropriate credit to the original author(s) and the source, provide a link to the Creative Commons license, and indicate if changes were made. The Creative Commons Public Domain Dedication waiver(http://creativecommons.org/publicdomain/zero/1.0/) applies to the data made available in this article, unless otherwise stated.
Authors' Affiliations
(1)
Department of Biology, Texas A&M University, College Station, USA
References
Moller P. Chapman & Hall fish and fisheries series, 1st edn. London: Chapman & Hall; 1995, p. 584.Google Scholar
Bennett MV. Comparative physiology: electric organs. Annu Rev Physiol. 1970; 32:471–528. doi:10.1146/annurev.ph.32.030170.002351.View ArticlePubMedGoogle Scholar
Whittaker VP. The structure and function of cholinergic synaptic vesicles. the third thudichum lecture. Biochem Soc Trans. 1984; 12(4):561–76.View ArticlePubMedGoogle Scholar
Nazarian J, Berry DL, Sanjari S, Razvi M, Brown K, Hathout Y, Vertes A, Dadgar S, Hoffman EP. Evolution and comparative genomics of subcellular specializations: Est sequencing of torpedo electric organ. Mar Genomics. 2011; 4(1):33–40. doi:10.1016/j.margen.2010.12.004.View ArticlePubMedPubMed CentralGoogle Scholar
Nazarian J, Hathout Y, Vertes A, Hoffman EP. The proteome survey of an electricity-generating organ (torpedo californica electric organ). Proteomics. 2007; 7(4):617–27. doi:10.1002/pmic.200600686.View ArticlePubMedGoogle Scholar
Grabherr MG, Haas BJ, Yassour M, Levin JZ, Thompson DA, Amit I, Adiconis X, Fan L, Raychowdhury R, Zeng Q, Chen Z, Mauceli E, Hacohen N, Gnirke A, Rhind N, di Palma F, Birren BW, Nusbaum C, Lindblad-Toh K, Friedman N, Regev A. Full-length transcriptome assembly from rna-seq data without a reference genome. Nat Biotechnol. 2011; 29(7):644–52. doi:10.1038/nbt.1883.View ArticlePubMedPubMed CentralGoogle Scholar
Haas BJ, Papanicolaou A, Yassour M, Grabherr M, Blood PD, Bowden J, Couger MB, Eccles D, Li B, Lieber M, Macmanes MD, Ott M, Orvis J, Pochet N, Strozzi F, Weeks N, Westerman R, William T, Dewey CN, Henschel R, Leduc RD, Friedman N, Regev A. De novo transcript sequence reconstruction from RNA-seq using the Trinity platform for reference generation and analysis. Nat Protocol. 2013; 8(8):1494–512. doi:10.1038/nprot.2013.084.View ArticleGoogle Scholar
Li B, Fillmore N, Bai Y, Collins M, Thomson JA, Stewart R, Dewey CN. Evaluation of de novo transcriptome assemblies from rna-seq data. Genome Biol. 2014; 15(12):553. doi:10.1186/s13059-014-0553-5.View ArticlePubMedPubMed CentralGoogle Scholar
Li W, Jaroszewski L, Godzik A. Tolerating some redundancy significantly speeds up clustering of large protein databases. Bioinform (Oxford Engl). 2002; 18(1):77–82. doi:10.1093/bioinformatics/18.1.77.View ArticleGoogle Scholar
Berriz GF, King OD, Bryant B, Sander C, Roth FP. Bioinformatics applications note. Bioinformatics. 2003; 19(18):2502–4. doi:10.1093/bioinformatics/btg363.View ArticlePubMedGoogle Scholar
Li W, Godzik A. Cd-hit: A fast program for clustering and comparing large sets of protein or nucleotide sequences. Bioinformatics. 2006; 22(13):1658–9. doi:10.1093/bioinformatics/btl158.View ArticlePubMedGoogle Scholar
Huang Y, Niu B, Gao Y, Fu L, Li W. CD-HIT Suite: A web server for clustering and comparing biological sequences. Bioinformatics. 2010; 26(5):680–2. doi:10.1093/bioinformatics/btq003.View ArticlePubMedPubMed CentralGoogle Scholar
Fu L, Niu B, Zhu Z, Wu S, Li W. CD-HIT: Accelerated for clustering the next-generation sequencing data. Bioinformatics. 2012; 28(23):3150–2. doi:10.1093/bioinformatics/bts565.View ArticlePubMedPubMed CentralGoogle Scholar
Cock PJA, Chilton JM, Grüning B, Johnson JE, Soranzo N. NCBI BLAST+ integrated into Galaxy. 2015:bioRxiv, 014043. doi:10.1101/014043.
Camacho C, Coulouris G, Avagyan V, Ma N, Papadopoulos J, Bealer K, Madden TL. BLAST plus: architecture and applications. BMC Bioinforma. 2009; 10(421):1. doi:10.1186/1471-2105-10-421.Google Scholar
Apweiler R, Bairoch A, Wu CH. Protein sequence databases. Curr Opin Chem Biol. 2004; 8(1):76–80. doi:10.1016/j.cbpa.2003.12.004.View ArticlePubMedGoogle Scholar
Suzek BE, Huang H, McGarvey P, Mazumder R, Wu CH. UniRef: Comprehensive and non-redundant UniProt reference clusters. Bioinformatics. 2007; 23(10):1282–8. doi:10.1093/bioinformatics/btm098.View ArticlePubMedGoogle Scholar
Berriz GF, King OD, Bryant B, Sander C, Roth FP. Bioinformatics applications note. Bioinformatics. 2003; 19(18):2502–4. doi:10.1093/bioinformatics/btg363.View ArticlePubMedGoogle Scholar
Li W, Jaroszewski L, Godzik A. Tolerating some redundancy significantly speeds up clustering of large protein databases. Bioinform (Oxford Engl). 2002; 18(1):77–82. doi:10.1093/bioinformatics/18.1.77.View ArticleGoogle Scholar
Simão FA, Waterhouse RM, Ioannidis P, Kriventseva EV, Zdobnov EM. BUSCO: Assessing genome assembly and annotation completeness with single-copy orthologs. Bioinformatics. 2015; 31(19):3210–2. doi:10.1093/bioinformatics/btv351.View ArticlePubMedGoogle Scholar
Schulz MH. Letting the data speak for themselves: a fully Bayesian approach to transcriptome assembly. Genome Biol. 2014; 15(10):498. doi:10.1186/s13059-014-0498-8.View ArticlePubMedPubMed CentralGoogle Scholar
Nakasugi K, Crowhurst R, Bally J, Waterhouse P. Combining transcriptome assemblies from multiple de novo assemblers in the allo-tetraploid plant nicotiana benthamiana. PLoS ONE. 2014;9(3). doi:10.1371/journal.pone.0091776.
Moreton J, Izquierdo A, Emes RD. Assembly, assessment and availability of de novo generated eukaryotic transcriptomes. Front Genet. 2015; 6(January):1–9. doi:10.3389/fgene.2015.00361.Google Scholar
Mbandi SK, Hesse U, Rees DJG, Christoffels A. A glance at quality score: Implication for de novo transcriptome reconstruction of Illumina reads. Front Genet. 2014; 5(FEB):1–5. doi:10.3389/fgene.2014.00017.Google Scholar
Maretty L, Sibbesen J, Krogh A. Bayesian transcriptome assembly. Genome Biol. 2014; 15(10):501. doi:10.1186/s13059-014-0501-4.View ArticlePubMedPubMed CentralGoogle Scholar
He B, Zhao S, Chen Y, Cao Q, Wei C, Cheng X, Zhang Y. Optimal assembly strategies of transcriptome related to ploidies of eukaryotic organisms. BMC Genomics. 2015; 16(1):65. doi:10.1186/s12864-014-1192-7.View ArticlePubMedPubMed CentralGoogle Scholar
Tasnim M, Ma S, Yang EW, Jiang T, Li W. Accurate inference of isoforms from multiple sample rna-seq data. BMC Genomics. 2015; 16(2):1–12. doi:10.1186/1471-2164-16-S2-S15.Google Scholar
Mi H, Poudel S, Muruganujan A, Casagrande JT, Thomas PD. PANTHER version 10: expanded protein families and functions, and analysis tools. Nucleic Acids Res. 2015; 44(D1):336–42. doi:10.1093/nar/gkv1194.View ArticleGoogle Scholar
Thomas PD, Kejariwal A, Guo N, Mi H, Campbell MJ, Muruganujan A, Lazareva-Ulitsky B. Applications for protein sequence-function evolution data: mRNA/protein expression analysis and coding SNP scoring tools. Nucleic Acids Res. 2006; 34(WEB. SERV. ISS.):645–50. doi:10.1093/nar/gkl229.View ArticleGoogle Scholar
Mi H, Muruganujan A, Casagrande JT, Thomas PD. Large-scale gene function analysis with the PANTHER classification system. Nat Protoc. 2013; 8(8):1551–66. doi:10.1038/nprot.2013.092.View ArticlePubMedGoogle Scholar
Mi H, Thomas P, Vol. 563. Protein Networks and Pathway Analysis; 2009, pp. 123–40. doi:10.1007/978-1-60761-175-2, arXiv:1011.1669v3. http://link.springer.com/10.1007/978-1-60761-175-2.
Saier MH, Reddy VS, Tsu BV, Ahmed MS, Li C, Moreno-Hagelsieb G. The Transporter Classification Database (TCDB): recent advances. Nucleic Acids Res. 2016; 44(D1):372–9. [PubMed Central:PMC4702804] [doi:10.1093/nar/gkv1103] [PubMed:26546518].View ArticleGoogle Scholar
Saier MH, Reddy VS, Tamang DG, Vastermark A. The transporter classification database. Nucleic Acids Res. 2014; 42(Database issue):251–8. [PubMed Central:PMC3964967] [doi:10.1093/nar/gkt1097] [PubMed:24225317].View ArticleGoogle Scholar
Saier MH, Yen MR, Noto K, Tamang DG, Elkan C. The Transporter Classification Database: recent advances. Nucleic Acids Res. 2009; 37(Database issue):274–8. [PubMed Central:PMC2686586] [doi:10.1093/nar/gkn862] [PubMed:19022853].View ArticleGoogle Scholar
Saier MH, Tran CV, Barabote RD. TCDB: the Transporter Classification Database for membrane transport protein analyses and information. Nucleic Acids Res. 2006; 34(Database issue):181–6. [PubMed Central:PMC1334385] [doi:10.1093/nar/gkj001] [PubMed:16381841].View ArticleGoogle Scholar
Martin-Granados C, Philp A, Oxenham SK, Prescott AR, Cohen PT. Depletion of protein phosphatase 4 in human cells reveals essential roles in centrosome maturation, cell migration and the regulation of Rho GTPases. Int J Biochem Cell Biol. 2008; 40(10):2315–32. [doi:10.1016/j.biocel.2008.03.021] [PubMed:18487071].View ArticlePubMedGoogle Scholar
Kittler R, Putz G, Pelletier L, Poser I, Heninger AK, Drechsel D, Fischer S, Konstantinova I, Habermann B, Grabner H, Yaspo ML, Himmelbauer H, Korn B, Neugebauer K, Pisabarro MT, Buchholz F. An endoribonuclease-prepared siRNA screen in human cells identifies genes essential for cell division. Nature. 2004; 432(7020):1036–40. [doi:10.1038/nature03159] [PubMed:15616564].View ArticlePubMedGoogle Scholar
Ogata H, Goto S, Sato K, Fujibuchi W, Bono H, Kanehisa M. KEGG: Kyoto encyclopedia of genes and genomes. Nucleic Acids Res. 1999; 27(1):29–34. doi:10.1093/nar/27.1.29.View ArticlePubMedPubMed CentralGoogle Scholar
Choi KD, Jen JC, Choi SY, Shin JH, Kim HS, Kim HJ, Kim JS, Choi JH. Late-onset episodic ataxia associated with SLC1A3 mutation. J Hum Genet. 2017; 62(3):443–6.View ArticlePubMedGoogle Scholar
Jordt SE, Jentsch TJ. Molecular dissection of gating in the ClC-2 chloride channel. EMBO J. 1997; 16(7):1582–92.View ArticlePubMedPubMed CentralGoogle Scholar
Liu G, Shi J, Yang L, Cao L, Park SM, Cui J, Marx SO. Assembly of a Ca2+-dependent BK channel signaling complex by binding to beta2 adrenergic receptor. EMBO J. 2004; 23(11):2196–205.View ArticlePubMedPubMed CentralGoogle Scholar
Wenzel A, Fritschy JM, Mohler H, Benke D. NMDA receptor heterogeneity during postnatal development of the rat brain: differential expression of the NR2A, NR2B, and NR2C subunit proteins. J Neurochem. 1997; 68(2):469–78.View ArticlePubMedGoogle Scholar
Angelotti TP, Macdonald RL. Assembly of GABAA receptor subunits: alpha 1 beta 1 and alpha 1 beta 1 gamma 2S subunits produce unique ion channels with dissimilar single-channel properties. J Neurosci. 1993; 13(4):1429–40.PubMedGoogle Scholar
Birman S, Meunier FM, Lesbats B, Le Caer JP, Rossier J, Israel M. A 15 kDa proteolipid found in mediatophore preparations from Torpedo electric organ presents high sequence homology with the bovine chromaffin granule protonophore. FEBS Lett. 1990; 261(2):303–6.View ArticlePubMedGoogle Scholar
Wei J, Zhang Y, Ivanov IP, Sachs MS. The stringency of start codon selection in the filamentous fungus Neurospora crassa. J Biol Chem. 2013; 288(13):9549–62. doi:10.1074/jbc.M112.447177.View ArticlePubMedPubMed CentralGoogle Scholar
Martin M. Cutadapt removes adapter sequences from high-throughput sequencing reads. EMBnet.journal. 2011; 17(1):10. doi:10.14806/ej.17.1.200.View ArticleGoogle Scholar
Tange O. Gnu parallel - the command-line power tool. ;login: The USENIX Magazine. 2011; 36(1):42–7. doi:10.5281/zenodo.16303.Google Scholar
Kuhn RM, Haussler D, Kent WJ. The UCSC genome browser and associated tools. Brief Bioinforma. 2013; 14(2):144–61.View ArticleGoogle Scholar
Kent WJ. BLAT–the BLAST-like alignment tool. Genome Res. 2002; 12(4):656–64.View ArticlePubMedPubMed CentralGoogle Scholar