Research article

Open Access
Tissue and cell-specific transcriptomes in cotton reveal the subtleties of gene regulation underlying the diversity of plant secondary cell walls
Received: 20 February 2017
Accepted: 22 June 2017
Published: 18 July 2017
The Correction to this article has been published in BMC Genomics 2018 19:261
Abstract
Background
Knowledge of plant secondary cell wall (SCW) regulation and deposition is mainly based on the Arabidopsis model of a 'typical' lignocellulosic SCW. However, SCWs in other plants can vary from this. The SCW of mature cotton seed fibres is highly cellulosic and lacks lignification whereas xylem SCWs are lignocellulosic. We used cotton as a model to study different SCWs and the expression of the genes involved in their formation via RNA deep sequencing and chemical analysis of stem and seed fibre.
Results
Transcriptome comparisons from cotton xylem and pith as well as from a developmental series of seed fibres revealed tissue-specific and developmentally regulated expression of several NAC transcription factors some of which are likely to be important as top tier regulators of SCW formation in xylem and/or seed fibre. A so far undescribed hierarchy was identified between the top tier NAC transcription factors SND1-like and NST1/2 in cotton. Key SCW MYB transcription factors, homologs of Arabidopsis MYB46/83, were practically absent in cotton stem xylem. Lack of expression of other lignin-specific MYBs in seed fibre relative to xylem could account for the lack of lignin deposition in seed fibre. Expression of a MYB103 homolog correlated with temporal expression of SCW CesAs and cellulose synthesis in seed fibres. FLAs were highly expressed and may be important structural components of seed fibre SCWs. Finally, we made the unexpected observation that cell walls in the pith of cotton stems contained lignin and had a higher S:G ratio than in xylem, despite that tissue's lacking many of the gene transcripts normally associated with lignin biosynthesis.
Conclusions
Our study in cotton confirmed some features of the currently accepted gene regulatory cascade for 'typical' plant SCWs, but also revealed substantial differences, especially with key downstream NACs and MYBs. The lignocellulosic SCW of cotton xylem appears to be achieved differently from that in Arabidopsis. Pith cell walls in cotton stems are compositionally very different from that reported for other plant species, including Arabidopsis. The current definition of a 'typical' primary or secondary cell wall might not be applicable to all cell types in all plant species.
Keywords
Secondary cell wall
Primary cell wall
Transcription factor
Cotton
Gossypium hirsutum
Cellulose synthase
Lignin
Syringyl
Guaiacyl
p-Hydroxyphenyl
Background
Development of secondary cell walls (SCWs) was a key event during the evolution of land plants. The thick, specialised SCWs of xylem vessels and xylem fibres of angiosperms and tracheids of gymnosperms allow trees to grow to more than 100 m in height. In many species, pollen release and fertilisation, as well as seed dispersal are facilitated by specialised SCWs. Plants can also deposit localised 'SCW-like' structures in response to pathogen attack, or in specialised cells types such as transfer cells. Domesticated cottons produce long seed fibres that have extremely thick SCWs and hence are traded globally in textile and biomaterial markets. Our most comprehensive understanding on how SCWs are made has mainly come from detailed work over the last decade on xylem vessels and fibres in Arabidopsis thaliana [1–3] and other plants such as poplar [4], rice [5], grasses [6], spruce [7]. The SCWs in these plants are generally considered as 'typical' SCWs: they are composed of approximately equal measures of cellulose, lignins and hemicelluloses, and some proteins, but the specific composition can be variable between tissues and species. SCWs are deposited between the cell's external primary cell wall (PCW) and the plasma membrane, often once cell expansion has ceased, and are usually orders of magnitude thicker than the PCW.
The current view of the regulation of lignocellulosic SCW deposition is that a cascade of SCW-specific NAC (for NAM, ATAF1/2, and CUC2) and MYB (myeloblastosis) transcription factors (TFs) regulate downstream TFs such as other NACs, MYBs, and KNATs (knotted-like from A rabidopsis t haliana) and the SCW biosynthetic genes encoding, for example, cellulose synthases (CesAs), lignin-related enzymes, enzymes for hemicellulose synthesis, and other cell wall structural components [1–3].
Different pairs of NACs act in a top tier of these lignocellulosic SCW regulatory cascades in particular Arabidopsis cell types [8, 9]. VND6/VND7 (for vascular related NAC domain) have been shown to activate the SCW program of xylem vessels [9, 10], SND1/NST1 (for secondary wall-associated NAC domain protein1/NAC secondary thickening promoting factor1) that of xylem fibres [11–13] and anthers [14], whereas NST1/NST2 control the SCW program of the anther endothecium [15]. Orthologues of these genes have been identified in species such as poplar [16], rice [5], and maize [5]. The non-vascular moss Physcomitrella patens has VND-related NACs with roles for thick cell wall formation [17]. Some SCW NACs such as VNI1 (for VND-Interacting 1) and VNI2 can have repressor functions [18].
MYBs appear to play key roles as transcriptional activators in the middle tier of the SCW regulatory cascade both in angiosperms and gymnosperms. In Arabidopsis, the critical TFs are the partially redundant MYB46 and MYB83 [19–21] and this appears to also be the case in tree species [22, 23], rice, and maize [5]. The top tier NACs and MYB46/83 coordinate the expression of downstream TFs that may be activators or repressors and include XND1, SND2, SND3, KNAT7, MYB103, MYB20, MYB42, MYB43, MYB52, MYB54, MYB69, and MYB85 [24]; reviewed by [1, 9].
The genes encoding enzymes of SCW biosynthesis have been investigated in most detail in Arabidopsis, but also in woody plants [2, 25–30]. Of the ten known Arabidopsis CesAs, AtCesA4, AtCesA7, and AtCesA8 are considered important for SCW synthesis, whereas AtCesA1, AtCesA3, and AtCesA6 are essential for PCWs. Homologs of the SCW CesAs are known in many other species, such as cotton [31, 32], rice [33], poplar [34], and Brachypodium [35]. Other proteins/enzymes involved in cellulose biosynthesis, structure, and deposition, including in SCWs [25, 26], include COBL4 (Cobra-like 4), CTL1 (chitinase-like protein 1), CTL2 (chitinase-like protein 2), TED6 (tracheary element differentiation-related 6), POM2/CSI (pom pom 2/cellulose synthase-interactive protein1), KOR (KORRIGAN), certain RLKs (receptor-like kinases) such as HERK1 (Hercules1) [36], FLA11 and FLA12 (fasciclin-like arabinogalactan proteins 11, 12) [37], FRA1 (fragile fibre 1) [38], and SuS (sucrose synthase) [39].
Lignins are composed of syringyl (S), guaiacyl (G), and/or p-hydroxyphenyl (H) units derived from the phenylpropanoid pathway [40, 41]. Lignin composition varies across cell types and genera, but the enzymes of the general and lignin-specific phenylpropanoid pathway are well conserved across many species and include phenylalanine ammonia lyase (PAL), cinnamate-4-hydroxylase (C4H), 4-hydroxycinnamate CoA ligase (4CL), hydroxycinnamoyl transferase (HCT), coumarate 3-hydroxylase (C3H), caffeoyl-CoA O-methyltransferase (CCoAOMT), ferulate 5-hydroxylase (F5H), caffeic acid O-methyltransferase (COMT), cinnamoyl-CoA reductase (CCR), and cinnamyl alcohol dehydrogenase (CAD) [42, 43]. Monolignols are oxidized in the cell wall by laccases or peroxidases and form lignin in a spontaneous process [40, 43, 44]. Transcriptional activators of lignin synthesis include MYBs such as AtMYB58, AtMYB63, and PtrMYB28 [45] and other TFs. On the other hand, AtMYB4-, AtMYB7-, and AtMYB32-related TFs from different species have been shown to specifically repress lignin biosynthetic genes [46–48].
'Typical' SCWs also contain hemicelluloses [49], of which xylans such as glucuronoxylan (major dicot form) and glucuronoarabinoxylan (major gymnosperm and monocot form) are major components. Some genes encoding enzymes for xylan synthesis have been proposed [2].
Cotton seed fibres are long single cells surrounded by a PCW that elongates from the seed coat to reach a few centimetres in length before filling with a thick SCW. They are an exceptional example of a 'highly cellulosic' SCW being composed of ~94% cellulose [50–52] and with almost no lignin [53, 54]. Its SCW is so different to lignocellulosic SCWs that it is not surprising that the genes involved in its formation, or at least their expression, are different [55, 56]. On the other hand, the SCWs in cotton stem xylem are more likely to be similar to those in other plants. In a novel approach, that enables understanding of how the same genome can translate to entirely different cell walls, we have used cotton as a model to study global gene expression differences in a range of tissues and cells depositing compositionally different cell walls to understand how those compositions may be regulated at a transcriptional level. We also use state of the art NMR and biochemical analyses as well as microimaging to determine the compositional differences amongst xylem, pith, and seed fibre cells within the cotton plant. We discovered that cotton tissues contain a number of 'atypical' cell wall types that are regulated through modified hierarchical gene cascades that have diverged from those found in other plants.
Methods
Plant growth and tissue harvest
Gossypium hirsutum Coker 315–11 plants were grown in temperature controlled glasshouse conditions (31 °C 18 h day-time; 26 °C 6 h night-time) under natural summer daylight in Canberra, Australia. Plants were grown in pots containing soil and Osmocote fertiliser for approximately 10 weeks. Xylem and pith samples were hand-dissected from internodes 5, 6, and 7 (distance from cotyledons) from stem and flash-frozen in liquid nitrogen and stored at −80 °C; three biological replicates were harvested. Hand sections were checked using microscopy to ensure there was no cross-contamination from other tissues (Additional file 1). Seeds and attached seed fibres were harvested at 7 DPA (days post anthesis), pooled 14, 15, 16 DPA (average 15 DPA), and 25 DPA, from three biological replicates (2 bolls each), flash-frozen in liquid nitrogen, and stored at −80 °C. Seed fibres were separated from the seeds using tweezers and hand-ground to a fine powder using a mortar and pestle in liquid nitrogen. Appropriate time points for seed fibre harvest were identified based on in-house chemical analyses of a developmental series of seed fibre (Pettolino et al., submitted) and [50].
Histology
Freshly harvested stem segments were fixed in 70% (v/v) ethanol and cross-sectioned to approximately 120 μm. Sections were stained with toluidine blue for 1 min and washed twice with water. Sections were viewed and photographed under a Leica DMR upright fluorescence microscope using brightfield settings.
Cell wall polysaccharide composition from monosaccharide-linkage analysis
Ground seed fibre, pith, and xylem tissue was extracted with successive washes of 70% (v/v) ethanol (three times), chloroform and methanol (1:1), methanol and then acetone before drying to prepare an alcohol-insoluble residue (AIR) enriched in cell walls. AIR was de-starched using porcine pancreatic α-amylase (Sigma A3176), then carboxyl reduced (to assist in the determination of uronic acids and their methyl esters) before derivatisation by methylation, hydrolysis, reduction and acetylation according to Pettolino, Walsh [57]. Deduced monosaccharide linkages, as determined by GC-MS, were grouped according to most likely polysaccharide assignments for summation of mol% of those derivatives to give estimates of the relative proportion of each polysaccharide in the sample [57].
Lignin analysis
Cell wall lignin content was determined as acetyl bromide lignin essentially as described [58] using alkali lignin from Aldrich (370959) as a standard. AIR was de-starched as above and protein depleted by successive washes with phosphate buffer, Triton X-100, sodium chloride, water, and acetone according to Moreira-Vilar, Siqueira-Soares [59].
Samples were prepared for 2D–NMR for each seed fibre, pith, and xylem tissue [
60
]. Freeze dried tissues were cut into small pieces and pre-ground using a Mixer Mill MM 400 (Retsch) under the condition of 30 s
−1
vibrational frequency for 30–180 s, depending on the amount of sample. The pre-ground samples were extracted successively under ultra-sonication with distilled water (20 min, three times), 80% aqueous ethanol (20 min, three times) and acetone (20 min, twice). After drying in a freeze dryer, samples were ball-milled using a Fritsch planetary micro mill Pulverisette 7 vibrating at 600 rpm with zirconium dioxide (ZrO
2
) vessels containing ZrO
2
ball bearings (10 mm × 10). The ball-milled pith and xylem tissues were gelled in DMSO-d
6
/pyridine-d
5
(4:1) for NMR analysis. To concentrate cell wall components other than polysaccharides, the ball-milled seed fibre was subjected to digestion (72 h × 2) using Cellulysin® cellulase,
Trichoderma viride
(Calbiochem), at 35 °C in acetate buffer (pH 5.0). The residues after the enzyme digestion were dissolved into DMSO-d
6
/pyridine-d
5
(4:1). NMR spectra were acquired on a Bruker Biospin AVANCE 700-MHz spectrometer fitted with a cryogenically-cooled 5-mm quadruple-resonance
1
H/
31
P/
13
C/
15
N QCI gradient probe with inverse geometry (proton coils closest to the sample).
1
H–
13
C HSQC experiments were carried out using the standard Bruker pulse sequence 'hsqcetgpsisp2.2' (phase-sensitive gradient-edited 2D HSQC using adiabatic pulses for inversion and refocusing), using the following parameters: acquired from 11.5 to −0.5 ppm in F2 (
1
H) with 1682 data points (acquisition time 100 ms), from 215 to −5 ppm in F1 (
13
C) with 620 increments (F1 acquisition time 8.0 ms) with a 0.5 s interscan delay (D1); the d
24
delay was set to 0.86 ms (1/8 J, J = 145 Hz). Processing used typical matched-Gaussian apodization (GB = 0.001, LB = −0.1) in F2, and squared cosine-bell and one level of linear prediction (32 coefficients) in F1. The central DMSO peak was used as internal reference (δ
C
: 39.51, δ
H
: 2.49 ppm). Volume integration of contours was performed on data reprocessed without linear prediction, and used Bruker's TopSpin 3.2 (Mac) software. For S/G/H quantification, the S2/6 (C
2
-H
2
/C
6
-H
6
), G2 (C
2
-H
2
) and H2/6 (C
2
-H
2
/C
6
-H
6
) correlations were used, and the G2 integral was logically doubled. For measurements of major lignin interunit linkages in their β-O-4, β-β, and β-5 structures, the contours corresponding to
A
α,
B
α and
C
α (Fig.
1
) were integrated.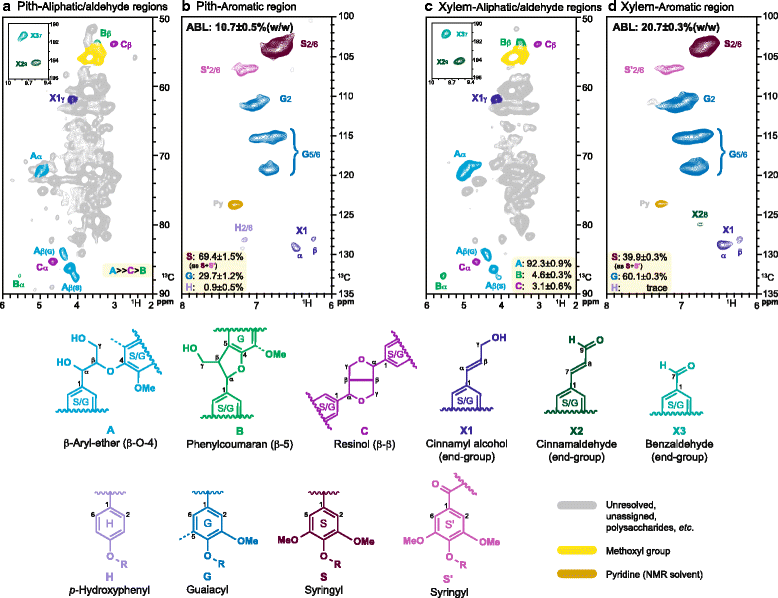 RNA extraction, cDNA synthesis, and quantitative real-time PCR (qPCR)
RNA was extracted from xylem, pith, and seed fibre samples using a Qiagen RNeasy plant miniKit following the manufacturer's instructions, with the exception that the RLT buffer was modified to include dithiothreitol (0.31% w/v; Boehringer), proteinase K (0.33% w/v; Amresco K525), polyvinylpyrrolidone-40 (2% w/v; Sigma PVP-40) and that the RLT-incubation step was performed for approximately 5 min at 40 °C to increase RNA yield and quality as assessed on a NanoDrop spectrophotometer (Thermo Scientific). Rnase-free DNase (Qiagen) treatment was performed on-column as recommended. Quality of RNA intended for sequencing was confirmed on a BioAnalyzer 2100 (Agilent Inc.).
cDNA synthesis was performed on 700 ng RNA using Superscript III (Invitrogen) following the manufacturer's instructions and an oligo(dT)22V primer. qPCR was performed with four technical replicates using diluted cDNA, specified primer pairs (Additional file 2), Fast SYBR Green Master Mix (LifeTechnologies), and a 7900HT Fast Real-Time PCR System (Applied Biosystems) using comparative quantitation analysis against an internal reference gene (Gh_D_13g1487).
RNAseq
Individual sequencing libraries were prepared at the ACRF Biomolecular Resource Facility, The Australian National University, from total RNA from stem xylem and pith and seed fibre using in-house protocols. Each library had unique barcode adaptors and were pooled before sequencing across 5 lanes using Illumina HiSeq2000 according to the manufacturer's protocol. All reads were aligned to the G. raimondii reference genome [61, 62] using TopHat [63] (version 2.0.9, default parameters). Aligned BAM files were further processed using Cufflinks [64] (version 2.1.1, default parameters) and Cuffmerge [64] was used to produce a non-redundant set of transcripts. Read counts were then generated for each gene in each sample using the intersectBed program [65] (BedTools version 2.16.2) and custom Perl scripts by using annotated gene locations. Unaligned reads were not further analysed.
Differential expression analysis was performed using edgeR [66] (version 2.6.12) between samples following the authors' recommendations; read counts per gene were normalised using the trimmed-mean of M-values (TMM) method [67].
Gene set enrichment analysis was performed using G:Profiler [68, 69]. Benjamini-Hochberg [70] adjusted p value (false-discovery rate) thresholds of 0.05 were used to evaluate the overall number of differentially expressed genes and a p-value of <1e−6 to identify the more highly significant differentially regulated genes.
Conclusions
Despite both having SCWs, cotton seed fibres and xylem tissues are very different in both cell wall composition and transcript profiles. Cotton seed fibre transcriptomes after about 15 DPA show that they become dedicated to the production of their main cell wall polysaccharide, cellulose, leading to their unusual highly cellulosic SCWs that are essentially devoid of any lignin at maturity. It has been suggested [55, 56] that SCW production during seed fibre development has been re-programmed during domestication and selection in modern breeding to suppress lignin biosynthesis whilst recruiting stress-response genes needed to achieve greater fibre cell length and make cotton fibres more useful for textiles, and this is evident in our transcriptome data.
We used stem pith as an example of a non-seed fibre PCW tissue, but discovered that cotton pith walls appear to be another example of an 'atypical' dicot wall. Histology and transcript analysis suggest they are PCWs, but compositional analysis detected significant levels of lignin and xylan normally characteristic of SCWs. Few studies have compared the chemistry of PCWs and SCWs from the same species and in the same part of the plant, so it is difficult to determine if this truly is unusual or specific to cotton.
Comparisons between different tissues within cotton have indicated that cotton SCW deposition, like that in Arabidopsis, is probably regulated by a hierarchical cascade of transcriptional activation and repression that regulates cell wall polysaccharide, lignin, and protein composition. Top tier factors like SND1/NST1 and VND, that are conserved between cotton and Arabidopsis, initiate cotton SCW development, but key MYB regulators in lower tiers are missing from seed fibres and in the other tissues are different to those prominent in Arabidopsis, explaining their 'atypical' cell wall compositions. Even stem xylem that contains a more 'typical' SCW, has a regulatory network that is different in detail to those described for other species.
Figure
10
summarises our key findings on cotton SCW biogenesis in both seed fibre and xylem. In xylem SCW development, a number of key NAC TFs, including ANAC036/61, ANAC071/96, VND, SND2/3, NST1/2, and the MYB TF MYB61 are some of the most abundant of the SCW activators. The lignin transcriptional activator MYB42/85 is also very abundant. In this tissue, the monolignol biosynthetic genes are far more abundant than those for cellulose synthesis and deposition or for cell wall structural proteins. The situation in seed fibres, however, is quite different. At the transition to SCW deposition, SND1
-like
, MYB103, and MYB61 are amongst the most abundant transcriptional activators, while the repressors KNAT7 and MYB4/7/32 are also abundant. There is very little expression of the lignin transcriptional activator MYB42/85. By 25 DPA, there is an increased abundance of SND2, MYB103, and KNAT7, and to a lesser extent MYB61, SND1
-like
, NST1/2, while MYB42/85 expression remains low. Also at this stage there is very high expression of cellulose biosynthetic genes, and cell wall structural genes like FLAs. In contrast, the monolignol biosynthetic genes, except for
F5H
, are very low in abundance. SND1
-like
appears to act upstream of the other factors and together with MYB103, SND2, MYB61, and NST1/2 leads to the strong activation of cellulose production and some cell wall structural proteins, while MYB42/85 expression is repressed or not activated, resulting in the absence of lignin in theses 'atypical' SCWs that make cotton fibres so ideal for industrial uses.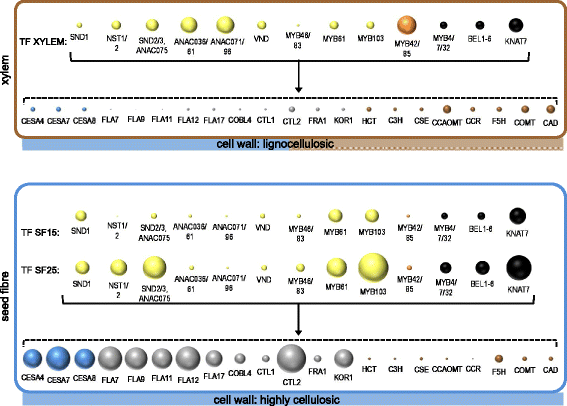 Declarations
Acknowledgements
The authors would like to thank Dina Yulia for her assistance with the cell wall analysis, and Ping hua He for providing RNA samples from floral and seedling tissues. CPM, HB, DL, and FAP would like to thank Cotton Breeding Australia for their support.
Funding
CPM was funded by Cotton Breeding Australia, a joint venture between Cotton Seed Distributors and CSIRO (Project No. CBA19). HB was funded by the CSIRO's Office of the Chief Executive (OCE) Postdoctoral Fellowship program. YT and JR were funded in part by Stanford University's Global Climate and Energy Program, and in part by the DOE Great Lakes Bioenergy Research Center (DOE BER Office of Science, DE-FC02–07ER64494).
Availability of data and materials
The dataset supporting the conclusions of this article is included within the article and its additional files.
Author's contributions
CPM conceived the project, prepared the samples for RNAseq analysis, including histology, conceptualised the RNAseq experimental design with AC, performed the qPCR profiling, analysed data and was a major contributor in writing the manuscript. HB prepared samples for NMR and acetyl bromide lignin determination, analysed data and was a major contributor in writing the manuscript. AC conducted the RNAseq bioinformatics. EB provided samples and optimised protocols. YT and JR performed NMR analysis and contributed to writing the manuscript. ESD and DW analysed data and edited the manuscript. FAP performed monosaccharide-linkage analysis and acetyl bromide lignin determination, analysed data and was a major contributor in writing the manuscript. All authors read and approved the final manuscript.
Ethics approval and consent to participate
Not applicable.
Consent for publication
Not applicable.
Competing interests
The authors declare that they have no competing interests.
Publisher's Note
Springer Nature remains neutral with regard to jurisdictional claims in published maps and institutional affiliations.
Open AccessThis article is distributed under the terms of the Creative Commons Attribution 4.0 International License (http://creativecommons.org/licenses/by/4.0/), which permits unrestricted use, distribution, and reproduction in any medium, provided you give appropriate credit to the original author(s) and the source, provide a link to the Creative Commons license, and indicate if changes were made. The Creative Commons Public Domain Dedication waiver (http://creativecommons.org/publicdomain/zero/1.0/) applies to the data made available in this article, unless otherwise stated.
Authors' Affiliations
(1)
CSIRO Agriculture and Food, Canberra, Australia
(2)
Present address: Research School of Biology, The Australian National University, Canberra, Australia
(3)
John Curtin School of Medical Research, The Australian National University, Canberra, Australia
(4)
Department of Biochemistry and the Department of Energy's Great Lakes BioEnergy Research Center, The Wisconsin Energy Institute, Madison, USA