Erratum to: Sequence differences in the seed dormancy gene Qsd1 among various wheat genomes
Received: 10 August 2017
Accepted: 10 August 2017
Published: 29 August 2017
After the publication of this article [1] the authors noted that Fig. 2 was incorrect and a number of species abbreviations were not in their intended positions, such as At2 and Bd2.
A correct version of Fig. 2 is included with this Erratum.
The original article has been corrected.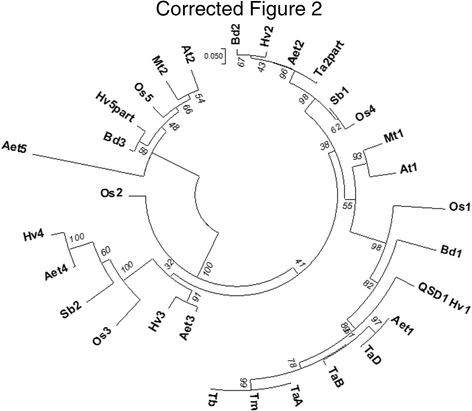 Open AccessThis article is distributed under the terms of the Creative Commons Attribution 4.0 International License (http://creativecommons.org/licenses/by/4.0/), which permits unrestricted use, distribution, and reproduction in any medium, provided you give appropriate credit to the original author(s) and the source, provide a link to the Creative Commons license, and indicate if changes were made. The Creative Commons Public Domain Dedication waiver (http://creativecommons.org/publicdomain/zero/1.0/) applies to the data made available in this article, unless otherwise stated.
(1)
Obihiro University of Agriculture and Veterinary Medicine, Obihiro 080-8555, Japan
(2)
Institute of Plant Science and Resources, Okayama University, Kurashiki 710-0046, Japan
(3)
Institute of Crop Science, National Agriculture and Food Research Organization, Tsukuba 305-8634, Japan
Onishi K, Yamane M, Yamaji N, Tokui M, Kanamori H, Wu J, Komatsuda T, Sato K. Sequence differences in the seed dormancy gene Qsd1 among various wheat genomes. BMC Genomics. 2017;18:497. doi:10.1186/s12864-017-3880-6.