Orthonome – a new pipeline for predicting high quality orthologue gene sets applicable to complete and draft genomes
Received: 15 January 2017
Accepted: 21 August 2017
Published: 31 August 2017
Abstract
Background
Distinguishing orthologous and paralogous relationships between genes across multiple species is essential for comparative genomic analyses. Various computational approaches have been developed to resolve these evolutionary relationships, but strong trade-offs between precision and recall of orthologue prediction remains an ongoing challenge.
Results
Here we present Orthonome, an orthologue prediction pipeline, designed to reduce the trade-off between orthologue capture rates (recall) and accuracy of multi-species orthologue prediction. The pipeline compares sequence domains and then forms sequence-similar clusters before using phylogenetic comparisons to identify inparalogues. It then corrects sequence similarity metrics for fragment and gene length bias using a novel scoring metric capturing relationships between full length as well as fragmented genes. The remaining genes are then brought together for the identification of orthologues within a phylogenetic framework. The orthologue predictions are further calibrated along with inparalogues and gene births, using synteny, to identify novel orthologous relationships. We use 12 high quality Drosophila genomes to show that, compared to other orthologue prediction pipelines, Orthonome provides orthogroups with minimal error but high recall. Furthermore, Orthonome is resilient to suboptimal assembly/annotation quality, with the inclusion of draft genomes from eight additional Drosophila species still providing >6500 1:1 orthologues across all twenty species while retaining a better combination of accuracy and recall than other pipelines. Orthonome is implemented as a searchable database and query tool along with multiple-sequence alignment browsers for all sets of orthologues. The underlying documentation and database are accessible at http://www.orthonome.com.
Conclusion
We demonstrate that Orthonome provides a superior combination of orthologue capture rates and accuracy on complete and draft drosophilid genomes when tested alongside previously published pipelines. The study also highlights a greater degree of evolutionary conservation across drosophilid species than earlier thought.
Keywords
OrthologueInparalogueGene duplicationGene birth
Background
Distinguishing orthologous and paralogous relationships among gene complements of whole genomes in different eukaryote species is crucial to understanding patterns of functional conservation and change through the course of evolution [1]. Analyses of these patterns could become far more powerful with the rapid growth in the number of species for which whole genome sequences are available.
Several methods have been developed over the past two decades for orthologue prediction, including tree-based methods (Ensembl Compara [2], PANTHER [3] and PhylomeDB [4]), graph-based methods (i.e., based on pairwise comparisons; Best Reciprocal Hits [5], Reciprocal Smallest Distance (RSD), EggNOG [6], Hieranoid [7], InParanoid [8], OMA [9] and OrthoInspector [10]) and meta-methods combining phylogenetic information derived from different databases (e.g. MetaPhors [11]). Most of these methods were developed prior to the widespread availability of whole genome data so they are not well suited to exploit the contextual information (e.g. positional information or splice variation) provided by such data [12]. Additionally, the graph-based methods involve finding genes in pairs of genomes that share the strongest sequence similarity or have the least genetic distance. However, phenomena such as violations of molecular clock behaviour or rapid gene duplications can compromise their performance [1, 13]. Tree-based methods, on the other hand, typically improve the quality of orthologue inference in the presence of such phenomena [13] and further improvements can be made if synteny information is also used (e.g. BBH-LS [14] or the recently developed MSOAR [15–17]). The MSOAR algorithms utilise genomic context in a genome evolution framework to predict orthologues without relying exclusively on either gene homology or conserved gene order [12, 16, 17]. However MSOAR is unsuitable for analysing draft genomes because it requires chromosome-level assignment of annotated gene models. It also uses approximate measures of genetic similarity rather than the more accurate Smith-Waterman alignments.
The Orthonome orthologue prediction pipeline presented here overcomes the issues highlighted above. Orthonome uses whole genome data but is tolerant of fragmented draft genomes. The pipeline also has a toolkit of scripts to enable orthologue-based whole genome phylogenetic analyses. Orthonome delivers high quality orthologue predictions among eukaryote genomes while maintaining high recall compared to other pipelines. However, Orthonome in its current implementation may not be suited to prokaryote genomes where the prevalence of horizontal gene transfers can confound the evolutionary relationships across species [18]. The accuracy and sensitivity of the pipeline are validated using tests developed by Altenhoff, et al. [19] and published data for twenty Drosophila genomes, twelve of which have been extensively curated.
Implementation
The Orthonome pipeline
Orthonome is a multimodular pipeline and toolkit for orthologue prediction and phylogenetic and gene evolution analysis. The workflow consists of five major steps as summarised in Fig.
1
and detailed as follows:

Comparisons between Orthonome and other pipelines
Data used in the comparisons
The genome and annotation data for the implementation of Orthonome herein use the 12 Flybase Drosophila species (Drosophila ananassae, D. erecta, D. grimshawi, D. melanogaster, D. mojavensis, D. persimilis, D. pseudoobscura, D. sechellia, D. simulans, D. virilis, D. willistoni, D. yakuba; accessible at ftp://ftp.flybase.net/genomes/) [27] and the additional eight draft genomes in modENCODE (D. biarmipes, D. bipectinata, D. elegans, D. eugracilis, D. ficusphila, D. kikkawai, D. rhopaloa, D. takahashii; https://www.hgsc.bcm.edu/arthropods/drosophila-modencode-project) (Additional file 1: Table S1). A total of 308,667 genes were analysed using this approach across the 20 species (Additional file 1: Table S1). We did not use the 66 metazoan species set proposed by Altenhoff, et al. [19] because Orthonome depends upon whole genome information, including both genome sequence and annotation, which is unavailable for most of the 66 species.
The three performance comparisons were carried out as follows:
1.

Comparison between Orthonome and five other orthologue prediction pipelines.
The six orthologue prediction pipelines (Orthonome, OrthoDB [
28
], Reciprocal bi-directional hit, MetaPhors [
11
], OMA (two modes: groups and GETHOGS) [
9
] and MultiMSOAR2 [
17
]) were compared according to methods which Altenhoff
,
et al. [
19
] developed to (i) evaluate phylogenetic discordance between species trees and gene trees constructed using orthologue sets, and (ii) measure the number of orthologue clusters with representatives from all species – representing a recall of conserved orthologues. For pipelines that do not produce orthogonal 1:1 orthogroup predictions (e.g. RBH, OrthoDB and GETHOG's), we used the Quest for Orthologs method (as proposed by the authors) to sample a maximal path across all species, starting with a randomly selected gene and selecting a gene from the 'next' species and resolving soft polytomies (or one:many relationships) using random selection and bootstrapping (see Altenhoff
,
et al. [
19
]). We did not use the gene tree or ontology-based methods of comparison from Altenhoff
,
et al. [
19
] because only one of the 20 species has the manually annotated gene ontologies and gene trees required for those tests.
2.

Comparison between Orthonome and the published data on the 12 drosophila genomes obtained from Flybase.
We also compared the output of Orthonome to that of OrthoDB and MSOAR2 for 20 Drosophila species using the default parameters defined by Kriventseva, et al. [28] for OrthoDB and Shi, et al. [17] for MSOAR2.
Results and discussion
Benchmarking against current pipelines
To assess its performance, we applied Orthonome to datasets of 12 and 20 Drosophila species and compared our results to those generated with OrthoDB [29], Reciprocal bi-directional best hit [5], MetaPhors [11], OMA (groups and GETHOGS) [9] and MultiMSOAR2 [16, 17] using two measures described in Altenhoff, et al. [19]. Firstly, we calculated the average tree error (Robinson-Foulds distance between the reference species phylogeny and the tree obtained from orthologous clusters with all tested species [19]) for each method using the 12 and 20 genome sets. This test assumes that a true orthologous group with all species represented (1:1 (n=all) orthogroups in the case of Orthonome) should give rise to the same phylogenetic tree as the overall species tree. Therefore a lower average tree error represents better predictive capacity of the pipeline. For the second of the measures we calculated the recall statistic, namely the number of complete (1:1 (n=all) or maximal path search) orthologous group sets recovered by the pipeline, where a higher number indicates better resolution of orthologous relationships.
Application of the six pipelines above to the 12 high quality Flybase genomes showed Orthonome had the lowest average tree error rate and second highest recall (9538 1:1
(n=all)
orthogroups, Fig.
2
). By comparison, MultiMSOAR2, which had the highest recall (9595 1:1
(n=all)
orthogroups), also had the highest average tree error rate. The performance of Orthonome is likely to reflect improved pairwise orthologue identification due to use of the
S′
score. The latter uses the more accurate Smith Waterman alignment rather than heuristic BLAST alignments and accounts for weighted similarity per amino acid, which will further prefer the orthologous relationship between species over recently formed inparalogues. OMA (groups), which had the second lowest average tree error rate had nearly four-fold lower recall compared to Orthonome. Additionally, OrthoDB, which is the most widely accepted source of orthologues for the
Drosophila
species [
30
], also had lower quality (3rd best) and recall (4th best) compared to Orthonome. Therefore, for the 12 genomes we found that Orthonome had the best combination of average tree error rate and recall compared to the six other pipelines tested.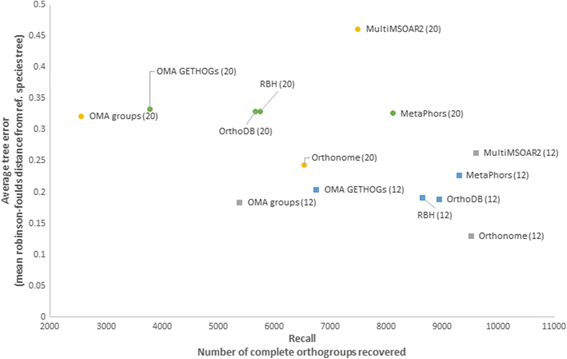 Addition of the eight lower quality modENCODE genomes to the data set yielded a broadly similar pattern of differences among the pipelines [Fig. 2]. The recall rate for Orthonome was now rated 3rd best, but it still had the best combination of recall and accuracy. The lower number of 1:1 (n=all) orthogroups recovered by all pipelines from the 20 genome data set is most likely due to the lower quality annotations (e.g. chimeric and missing genes) in the eight modENCODE genomes [31].
Detailed comparison of Orthonome with OrthoDB using the 12 genome data set
The analysis of the 12 well curated
Drosophila
genomes in Flybase with Orthonome identified orthologous relationships for an average of ~1.8% more genes in each species than did OrthoDB (13,516 vs 13,270), including resolving cryptic relationships between multiple genes and discovering more novel orthologous relationships. One such example is the orthologous pair:
D. melanogaster
gene FBgn0004554 and its
D. sechellia
counterpart FBgn0170274 (see e.g. in Fig.
3a
/b and Additional file
1
: Note 2). Orthonome also found ~44% more 1:1
(n=all)
orthogroups (9538 vs 6621) than did OrthoDB (Table
1
, Additional file
1
: Table S1 [
29
]). Specifically, it resolved an additional 2917 1:1
(n=all)
orthogroups from among orthogroups that OrthoDB had left as 1:many or many:many sets (Fig.
3c
and Additional file
1
: Table S2). Furthermore, 94%, or 6228, of the 1:1
(n=all)
orthogroups predicted by OrthoDB were also predicted by Orthonome.
Table 1
Numbers of orthologues, orthogroups, inparalogues and gene births identified by Orthonome, OrthoDB, MultiMSOAR2, OMA groups and reciprocal best hit (RBH) using the same input data
Comparison

Measures

Orthonome

OrthoDB

Multi

MSOAR2

OMA

RBH

Twelve FlyBase genomes

Average number of genes per species

15,446

Average number of orthologues per species

13,517

13,270

13,310

12,934

13,545

Average number of inparalogues per species

1519

NA

1543

NA

NA

Average number of gene births per species

400

2805

593

NA

NA

Number of 1:1 (n=all) orthogroups

9538

6621

9595

5380

8643

Number of 1:1 (1<n<all) orthogroups

6711

10,231

6042

15,493

9756

Twenty genomes (Twelve FlyBase + eight modENCODE)

Average number of genes per species

15,055

Average number of orthologues per species

13,272

13,091

12,964

12,565

13,504

Average number of inparalogues per species

1305

NA

1422

NA

NA

Average number of gene births per species

468

2343

670

NA

NA

Number of 1:1 (n=all) orthogroups

6541

3912

7491

2555

5757

Number of 1:1 (1<n<all) orthogroups

14,047

16,681

11,880

25,694

16,799
The greatly enhanced capability of Orthonome to resolve 1:many and many:many into 1:1 relationships was evident in an analysis of 11 gene families associated with stress tolerances and prone to rapid amplification and loss in insects [32]. Orthonome could resolve 45–133% more of these genes into 1:1 (n=all) orthogroups than OrthoDB (Additional file 1: Table S3). For example, cytochrome P450 monooxygenases (P450s) were classified into 51 1:1 (n=all) orthogroups by Orthonome compared to 22 by OrthoDB (Additional file 1: Table S3). An example of the improved orthologue assignment by Orthonome in a particular P450 gene cluster is illustrated in Fig. 3c.
Detailed comparison of Orthonome with OrthoDB using the 20 genome data set
Compared to the 12 Flybase genomes above, the eight draft modENCODE genomes had significantly shorter post-assembly contig and scaffold N50 s (averages of 493Kb cf. 1.9 Mb and 1.1 Mb cf. 12.8 Mb respectively; Additional file 1: Table S1) and more missing members of the universal insect gene set identified by BUSCO (0.06% vs 1.65% respectively). Application of Orthonome to the eight draft modENCODE Drosophila genomes again achieved a further 0.5% improvement in orthologue recovery per species compared to OrthoDB. Compared to the 12 genomes analysis above, both pipelines had a reduction in the average number of orthologues recovery per species (OrthoDB: 1.8%; Orthonome:1.3%), which we can attribute to missing gene models in the additional draft genomes (Additional file 1: Fig. S1b). However, the number of 1:1 (n=all) orthogroups per genome obtained from the combined data sets using Orthonome was 67% higher than the number obtained with OrthoDB, bearing out the value of Orthonome even for poorer quality genome assemblies.
The ability of Orthonome to identify orthologues and in particular to resolve 1:many and many:many orthogroups into 1:1 (n=all) orthogroups with greater accuracy (Figs. 2 and 3c) also means that genes in each genome that do not fall into the latter class can be partitioned into three other classes, namely 1:1 (1<n<all) orthogroups, inparalogues and de novo gene births (Table 1). OrthoDB does not provide for such partitioning. As noted earlier, another pipeline, OMA, which also produces orthogonal 1:1 prediction, does so with very low recall while also having a higher discordance compared to species phylogeny (Fig. 2).
The numbers of genes assigned to the orthogroup, inparalogue and de novo gene birth categories will be less prone to error in the 12 genome analysis than the 20 genome analyses because the 12 genome analysis gives the best estimate of the number of 1:1 (n=all) orthogroups, as explained above. As such, the finding of an average of 1519 inparalogues above and 400 de novo gene births per genome in the 12 genome analysis (Table 1) represents the best estimates yet available for these two crucial sources of genetic novelty in the genus. Nevertheless we observed a negative relationship between the number of 1:1 (n=all) orthogroups per genome and the quality of genome assembly/annotation (see above, Additional file 1: Note 2). As a result, although they are the most up-to-date at the time of writing, the estimates of gene birth and inparalogues are still very likely to be overestimates of the true values for these quantities because of the residual errors in the underlying assemblies and annotations.
Conclusion
By comparing multiple pipelines we also find that Orthonome provides the best combination of accuracy and recall of orthologue assignments. Whereas previous pipelines are limited to classifying most genes in a genome into 1:many or many:many groups of orthologues, especially in draft genomes, Orthonome has separated the majority into 1:1 (n=all) orthogroups (representing evolutionary conservation) or inparalogues and gene births (representing the genetic novelty from which new functions may evolve). While the current study is limited to Drosophila species, the application of Orthonome in other species orders ([32] and unpublished data) demonstrates a broader usability of the pipeline, though it may be possible to further improve the quality of orthologue prediction using substitution matrices optimised for specific phylogenetic lineages. As the quality of genome assemblies and annotations continues to improve, Orthonome and any subsequent improvements on it should provide increasingly accurate estimates of the various sources of genomic variation fundamental to evolutionary change.
Abbreviations
BL50:

BLOSUM50 substitution matrix
BUSCO:

Benchmarking Universal Single-Copy Orthologs
CSV:

Comma separated values format
GFF3:

General feature format version 3
HGT:

Horizontal gene transfers
MCL:

Markov cluster algorithm
OG:

Orthogroup
OrthoXML:

XML schema for storage of orthologue information
RSD:

Reciprocal smallest distance
SOG:

Super orthologue group
XLSX:

Microsoft excel format
Declarations
Acknowledgements
We thank Karl Gordon and Alexandre Fournier-Level for valuable discussion and suggestions. We also thank the NeCTAR cloud research facility for allocating significant computational resources for the continuance of the Orthonome database.
Funding
This work was funded by the Australian Science and Industry Endowment Fund (SIEF) and a NeCTAR computation grant to RVR. The funders had no role in study design, data collection and analysis, decision to publish or preparation of the manuscript.
Authors' contributions
RVR and SFL conceptualised the study. RVR designed the pipeline and wrote the scripts. The web interface was conceptualised developed by RVR and databases implemented/maintained by TN. JO, AH and SFL helped interpret the biological significance of results. RVR, JO, AH and SFL wrote the manuscript. All authors read and approved the final manuscript.
Ethics approval and consent to participate
Not applicable
Consent for publication
Not applicable
Competing interests
The authors declare that they have no competing interests.
Publisher's Note
Springer Nature remains neutral with regard to jurisdictional claims in published maps and institutional affiliations.
Open AccessThis article is distributed under the terms of the Creative Commons Attribution 4.0 International License (http://creativecommons.org/licenses/by/4.0/), which permits unrestricted use, distribution, and reproduction in any medium, provided you give appropriate credit to the original author(s) and the source, provide a link to the Creative Commons license, and indicate if changes were made. The Creative Commons Public Domain Dedication waiver (http://creativecommons.org/publicdomain/zero/1.0/) applies to the data made available in this article, unless otherwise stated.
Authors' Affiliations
(1)
Bio21 Institute, School of Biosciences, The University of Melbourne, Melbourne, Australia
(2)
CSIRO, Canberra, Australia
(3)
Department of Biological Sciences, Macquarie University, Sydney, Australia